Crowley Lake fishing for trout is not to be missed. There are good reasons it is considered one of the premier trout fishing destinations in the entire country.
Trout can put on 6 to 9 inches in a year in this incredibly rich environment. That's massive growth. The lake holds solid numbers of rainbows and browns, with some Lahontan cutthroat added for fun.
There is also a self-sustaining population of Sacramento perch, which occasionally become prolific in the lake and attract their own angling fans. Plus, the bigger trout snack on them, so there is a benefit.
The setting couldn't be more beautiful. Nestled in the Eastern Sierras on the upper Owens River, it's 12 miles long and offers fantastic fishing throughout.
There's plenty of other activities to do as well. Check out the geographic anomaly that is the Crowley Lake Stone Columns, or stop by one of the several "hot tubs" in the area.
Before you load up the gang and head out to the lake, make sure you check current regulations for the current fishing season. It begins the last Saturday in April and runs through November 15th. Opening day is the stuff of legends around here.
Then from August 1st through mid-November, the lake changes to artificial lures only (no bait fishing) and the trout limit also drops, but your opportunities to land an Instagram-worthy trout go up again when the water cools into fall and the summer crowds thin.
These rules are subject to change, of course, so stay up to date by checking with the California Department of Fish and Wildlife (CDFW) for the current regulations.
A significant difference between Crowley Lake and other destination trout lakes is the wind.
"Every lake gets wind," we hear you say, and you're right. However, not every lake gets an afternoon easterly flow that matches the direction of the lake perfectly.
What that means, based on the direction of the lake, is the wind picks up the cool water at the deep end near the dam and distributes it throughout the lake, including the shallower end. That arrangement tends to keep the entire lake nice and cool throughout the summer heat.
Rainbow Trout Fishing
The lake currently holds three strains of rainbow trout. Coleman, Kamloops and Eagle Lake rainbows all call Crowley Lake home. They get along well with each other, with each type moving shallow at different times of the year.
The Kamloops strain are great for shore anglers during the early part of the season, as they tend to be a shallow water fish before heading up the tributaries to spawn.
After the spawn, they head back to the lake, rest up in the shallows again, and give the shore anglers another chance to get ahold of some aerial stunt performers in June.
Coleman trout are hanging out with the Eagle Lake trout in deeper water during the summer. They will provide some excellent action for those trolling along the section from the fish camp back into the McGee Bay area or up the main channel. Either route should pay off well.
Try trolling with the standard go-to lures like Needlefish and Kastmasters, or try out a Mira Shad or Tasmanian Devil.
The Tas is a fun little wobbler that can get some strikes on the deadfall or a slow retrieve if you find the right color. Try it out from shore, and you might find a new go-to lure for when nothing seems to be biting.
The Eagle Lake trout start their spawn in the spring, so they head up the tributaries along with the Kamloops, but they don't feed in shallow waters as much as their cousins do. You're not likely to catch an Eagle Lake 'bow from shore in the spring through early summer.
Once July hits, the game changes.
Eagle Lake trout start feeding aggressively in July and keep at it throughout the remainder of the season.
Get after them casting lures from shore or by trolling in 15 to 25 feet of water, focusing your efforts on Alligator Point up to Green Banks and McGee Bay down to Pelican Point.
Of the three strains in the lake, the Kamloops and Coleman are less likely to have successful holdovers than are Eagle Lake trout. Eagle Lake strain tend to have several times more holdovers and, therefore, more larger fish to catch.
When fishing with bait (before the bait closure), the usual suspects work well. Dough baits, nightcrawlers and other trout baits with scents, particularly garlic, work well. Be sure to keep it off the bottom.
Staying in the water column at around 15 feet deep is ideal.
It's probably pretty easy to see why Crowley Lake ranks among the best rainbow trout fishing lakes in California.
Brown Trout Fishing
The browns in Crowley Lake can be real monsters. There have been browns caught weighing over 25 pounds, and every year, anglers hit the water to try their best to bring in an even bigger beast.
Just imagine tossing out a streamer on a 6wt fly rod and connecting with a beautiful brown weighing 15 pounds with shoulders like a linebacker.
After working and finessing it to the net and getting that once-in-a-lifetime photo op on Crowley Lake with the rugged, snow-capped Sierra Nevada Mountains soaring impressively in the background, you let the fish slide effortlessly beneath the surface to be caught again another day.
You know you've found it—the perfect lake.
Good numbers of brown trout are found throughout the lake. Every fall, the CDFG plants around 200,000 rainbows and browns, keeping the action good throughout the season. That ensures the populations are replenished after the summer action.
The best areas correlate well with the same spots for 'bows. Browns are holding in the same waters and will pick up most of the same lures.
They hit Tasmanian Devils with force will follow them right to the boat, letting you know if they're interested or not.
Late summer and fall bring on the best times to target browns, so it's time to head up to Crowley Lake and get after them once it gets a bit cooler.
The browns are fall spawners and tend to move up into the Owens River Arm on the lake's northern end in the late season.
To intercept them, target the area along the Chalk Cliffs up to Alligator Point, and you'll likely hook into a decent-sized fish or two.
Work your way across the lake up to North Landing and then head down to Sandy Point before returning to Chalk Cliffs.
The fish finder should have gone crazy at some point in your wandering through this area, and you should have brought some to the net by now. If not, rinse and repeat.
As with the 'bows, the rich waters of Crowley Lake place it among the best brown trout lakes and rivers in California.
Cutthroat Trout Fishing
Lahontan cutthroat trout are found in Crowley Lake, and when you get into one, it'll let you know.
They spawn in the spring in the creeks feeding the lake, and the CDFW plants 100,000 fingerlings annually, though how many of those get snapped up by other fish remains to be seen.
Anglers seek these fish as they are a real prize to catch. Some years at the lake are better than others, though catch rates are generally relatively low in comparison. The fish are in there, but there are far more rainbows and browns to contend with, and they attack the same baits and lures.
If you do get ahold of a sizeable cutty, you're in for a fight. They get big and fight like it.
The cool water and lack of any real competition once they get out of fingerling size mean there's not much to slow their growth down.
The best chance of singling them out is in the early season after the spawn. They're also at their most colorful. When they return to the lake, they'll eat almost anything.
In frigid years, ice has been on the lake in patches, and fly anglers have had good luck with imitation mice dragging them off the ice into the water. The cutties smash them as soon as they hit the surface.
Catch More Trout
Do yourself a favor and read our free how-to guide with the best trout fishing tips and techniques.
Sacramento Perch Fishing
These aggressive perch have taken hold of the lake, much to the happiness of fat rainbows, browns and cutthroats cruising around picking off the smaller ones.
Sacramento perch are the only species of sunfish native to California, and they aren't doing all that well in much of their native range in the Sacramento River and a handful of other streams. They aren't native in Crowley but have been there for years.
Believe it or not, there are anglers who come to Crowley Lake not for its famous trout fishing but to catch messes of perch. They are tasty like other panfish, but you'll likely need to catch quite a few because they typically produce small fillets.
Some years will find huge numbers of perch, and they will bite on nearly anything. Small jigs often used for crappie will often do the trick for the perch.
Perch populations can run in cycles, so at other times it's more of a struggle, and you'll have to work a bit harder to find them.
Check along weed beds, as they like to hold right above the beds, ready to hide at the sign of a predator like a big trout. Once you get one, there should be several more to follow.
Fly Fishing at Crowley Lake
Fly fishing is very popular at Crowley Lake. There is a good reason for that. The lake is full of tasty bugs for the trout to snack on, and it's the reason they grow so fast.
If fly fishing is for you, here's a quick breakdown of gear and flies to bring along.
A solid rod is a must. You're going to battle with some linebackers out there, so a 4wt isn't going to cut it. Think of the last time you were tangling with an oversized fish on an underweight rod. Sure, it was exciting, but do you want to do that all day?
Stick to a 9-foot 6wt rod. A floating line with a tapered 9-foot leader is the way to go for dry flies and nymphs. Add to that a 3x to a 5x tippet to match with the flies you select, and you're set.
You've got enough backbone for whatever the lake offers, yet still enough play to make the smaller catches fun.
For the flies, be sure to have the usual suspects on board:
Pale Morning Dun, Blue Winged Olive, Zebra Midge, Black Disco Midge, Gillies Broken Back, and the Callibaetis are good to have in the fly box.
We'd also suggest you have some Parachute Adams, and if you're fishing in late summer, bring hoppers. They attract the big boys.
Nearby Fishing
As deserving as Crowley Lake is for its famous trout fishing, you might also want to make a little time during your trip for some of the other excellent fisheries in this region.
Right close by, the Owens River is renowned in its own right for trout fishing, especially fly fishing.
Hot Creek enters the Owens River above Crowley Lake and at times can rank with the best fly fishing rivers in California.
Meanwhile, Convict Lake in the mountains to the west offers some excellent lake fishing for big trout.
If you want something a bit less on the radar, several of the smaller tributaries flowing into Crowley Lake also have fishing opportunities. These include Convict Creek, Crooked Creek, Hilton Creek and McGee Creek.
There are some trout harvest opportunities in some streams in the region, but be sure to check the latest regulations to know whether you can keep any and to follow other rules, including whether bait is allowed or not.
Planning Your Trip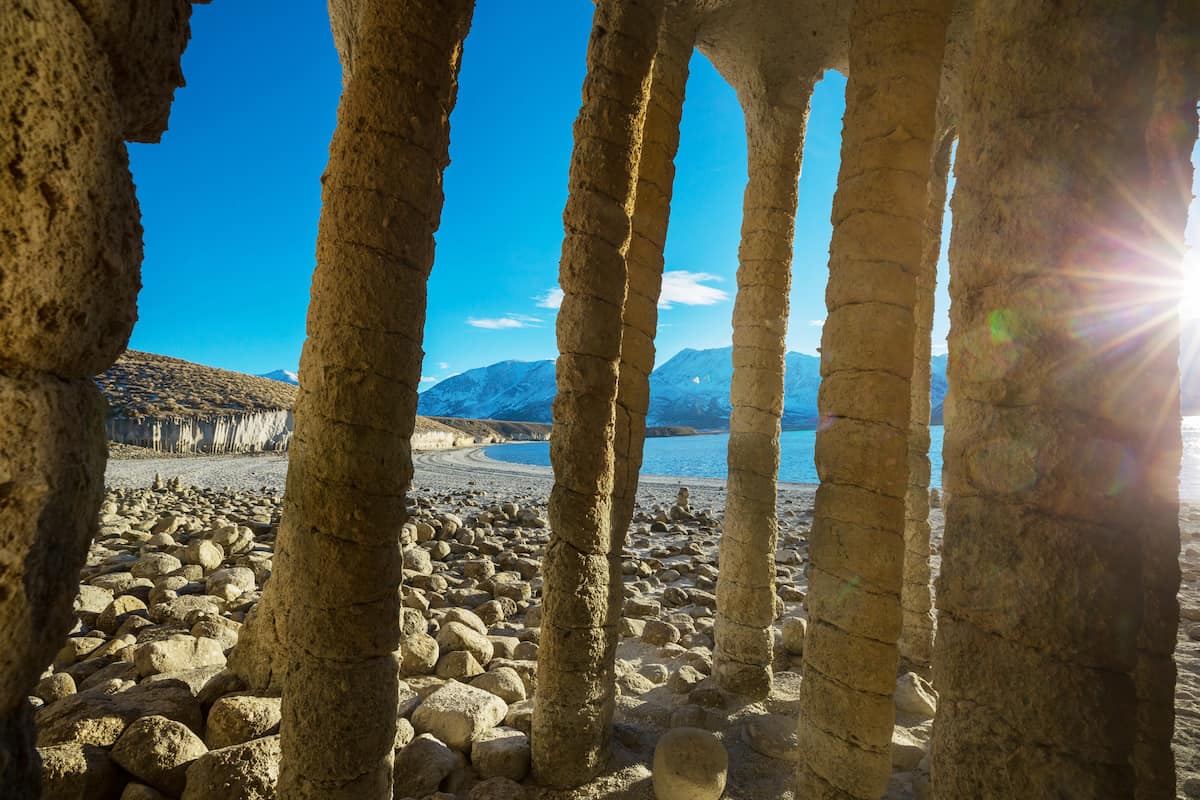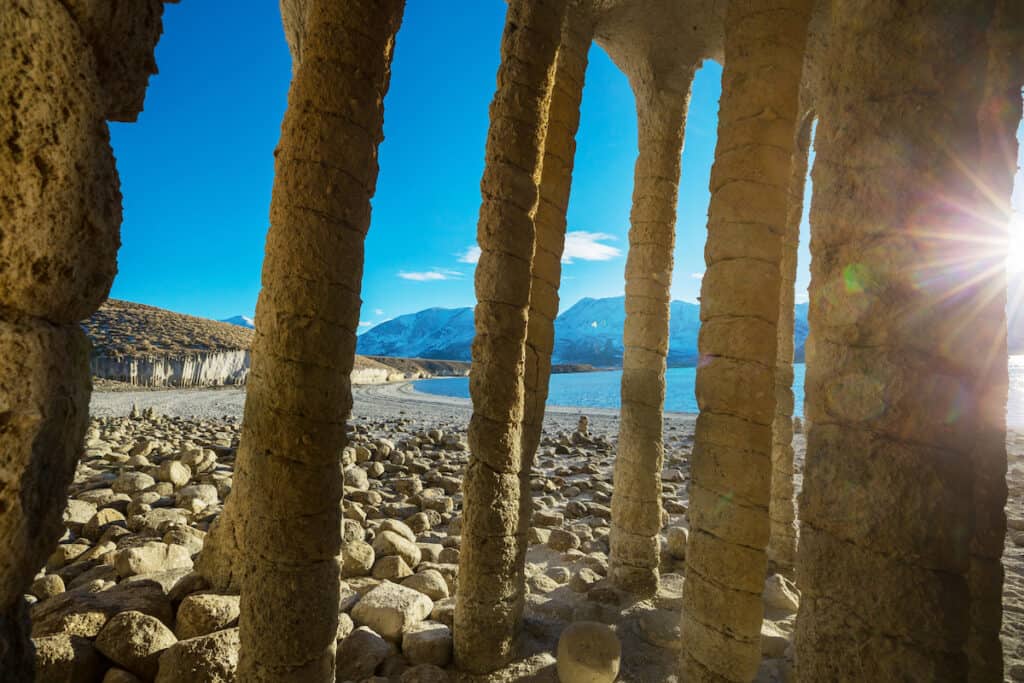 The nearest larger city to Crowley Lake is Reno, Nevada, which is a 3-hour drive. Fresno is a bit farther at 5 hours.
It's a remote destination in Mono County, in the the Eastern Sierra, but anglers make the trek because Crowley Lake is considered one of the top trout destinations in the West, if not the entire United States.
We should say, there are smaller communities nearby, so don't think you're out there with no recourse.
Your family will find tons to do in the area besides fishing, like sitting in the "hot tubs," which are in some cases just rock pools built around warm springs. Others are actual concrete bathtubs that have trapped the naturally heated water in a pipe to keep the it flowing year 'round.
The lake also is popular for water sports including water skiing, wake boarding, kite surfing and paddle boarding. Hiking, horseback riding and wildlife viewing are among options available for land lubbers.
Just remember that this lake sits at over 6,700 feet in elevation, and the early and late seasons certainly can be chilly.
At the extreme ends of the season, you might even be casting around patches of ice on the water, although a solid freeze during the fishing season isn't likely. We can point you to some year-round California lakes with ice fishing.
Boat and Shore Access
For how large Crowley Lake is, it's surprising to find only one full-service marina and boat launch facility.
The Crowley Lake Fish Camp handles all the boat traffic in and out of the lake at its Crowley Lake Marina. They also provide boat rentals, have a tackle shop and sell other supplies during the open season.
Shore access is available around most of the lake, particularly if you have a higher clearance vehicle. The eastern side of the lake has poorly maintained roads along most of its length.
Alligator Point is an excellent spot for shore fishing if you can manage it. Other spots of interest are on the west side, where access can be easier, though the crowds can be a bit bigger as a result.
Float tubes and pontoons are great choices for this lake. Be sure to wear a PFD because the water can get pretty choppy when the wind kicks up.
Camping and Lodging
There's plenty of camping to be found around Crowley Lake (a.k.a. Lake Crowley).
The surrounding mountains are home to the Mammoth Lakes region, which offers anglers all types of lodging and camping adventures. Plus, RV spots with full hookups and tent spots are available at Crowley.
Several RV parks and campgrounds are around the wider area and offer all types of amenities.
There are towns within a quick drive of the lake to pick up a bite to eat, and if you forgot a crucial bit of tackle, the marina has almost anything you could want.
The Mammoth area has all the restaurants and resorts your family could dream of, so if that's what's on the docket, settle in there and head out to the lake early. They'll have a fun day while you fish an epic lake.