Few fish have the ability to bewitch anglers like rainbow trout.
Beautiful and sometimes elusive, they're some of the most spectacular fighters in fresh water. Rainbow trout are prized table fare as well.
Californians are fortunate to live in a state in which rainbow trout fishing is so abundant and widely distributed. This article will show you the best of the best when it comes to lakes.
Lakes and reservoirs all over California are home to stocked, hatchery-raised rainbows, and some waters also have native populations of wild rainbow trout.
Finding rainbows in flat water often depends on an understanding of their needs.
Rainbow trout like waters that are clear, clean and cold. In lakes, they tend to favor water temperatures between 45°F and 64°F.
That means that in most California lakes, they spend their summers in deeper, more comfortable water.
Anglers may pursue them by trolling during the summer months, often covering large areas in the deepest parts of California lakes.
A wide range of spoons and other lures are effective for trolling rainbows, and down riggers are often used to get lures down deep enough to reach the fish.
But for many of us—shore anglers in particular—the cooler months are the prime time to be out on the water.
Lower water temperatures from fall through spring make it possible for rainbow trout to comfortably hunt in shallow water.
Many lakes also are stocked most generously in the spring, and in some lakes, the early season marks the annual spawning run up feeder creeks and rivers.
Any number of tactics can be effective when 'bows are in shallow water. Many fishermen swear by live minnows and nightcrawlers under a bobber, while others turn to salmon eggs and marshmallows. Spoons and spinners of all descriptions may tempt hard strikes.
California's lakes offer opportunities for fly fishing too. Many fly anglers carefully pay attention to local insect populations and life stages in an effort to "match the hatch."
Rainbow trout in their various forms, including steelhead, also account for much of the action in California's best fly fishing rivers.
Regulations may vary from lake to lake, so be sure to check local limits and other rules.
No matter what your approach may be, any of the lakes on our list has the potential to yield an abundance of rainbow trout this year, and perhaps a real trophy or two.
You'll find additional links with more specific fishing information about some of the better lakes on this list, and at the end of the article there's a link to our simple trout fishing guide to boost your odds of catching these fish.
Shasta Lake
Shasta Lake is a giant. At 30,000 acres, it's California's largest man-made reservoir.
The lake is located at the northernmost tip of the Central Valley in the upper Sacramento River drainage, and it is without a doubt one of the best overall fishing destinations in the state.
One of the great things about Shasta is that it's a little-bit-of-everything lake. A trophy bass fishery, the lake also offers prime rainbow trout fishing, often with hefty German brown trout and landlocked Chinook salmon thrown in for good measure.
The challenging thing about Lake Shasta is its sheer size. The lake's four major arms stretch across Shasta County like the fingers of a great hand, and even for an experienced angler, finding trout amid all this water is no small feat.
To put the odds in your favor, start on the Sacramento River Arm. The areas around Big Backbone Creek, Dry Fork and Little Squaw Creek often hold big rainbow trout, especially in spring before the lake begins to warm up.
Nightcrawlers, live minnows and marshmallow-and-egg combos are often effective near shore in spring. Use a float to keep your bait 2 to 3 feet below the surface. Casting spinners and spoons may also be effective.
Later into summer, trolling near the dam is often the best option.
During this hotter time of year, the fishing can be feast or famine. You'll go hours without a strike, but once you find fish, the action can be relentless.
More: Shasta Lake Fishing
Crowley Lake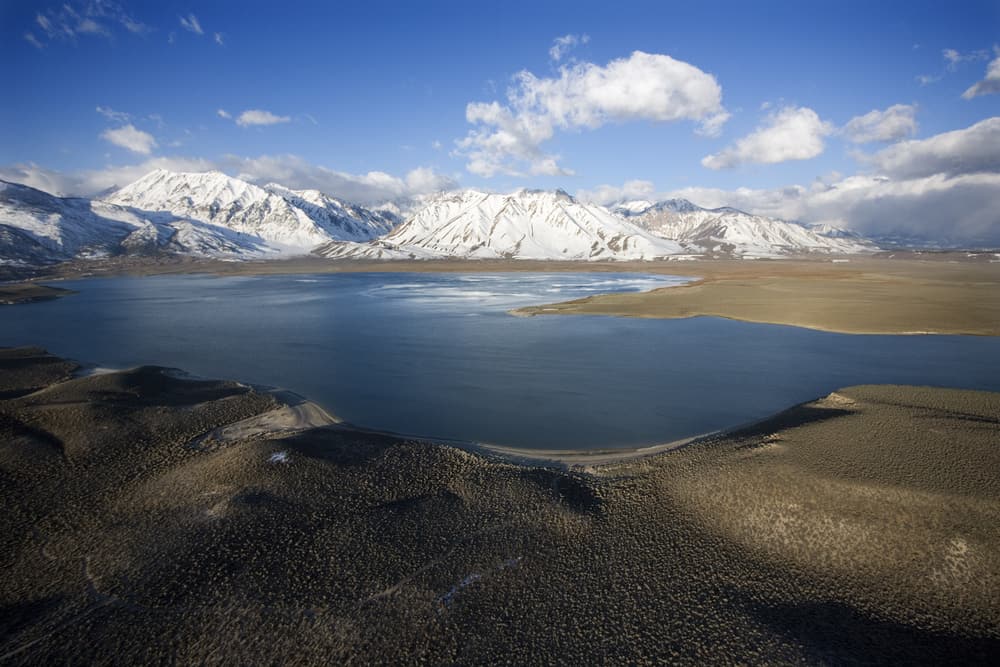 A 5,300-acre lake in the Eastern Sierra of Mono County, Crowley Lake is easily one of the best trout fishing lakes in Southern California.
There may be no better place in the SoCal region to hit the water in pursuit of trophy rainbows. The fact that the scenery is absolutely stunning might be seen as a bonus.
Crowley Lake supports both stocked and native rainbow trout.
A man-made reservoir on the Upper Owens River, its deep, oxygen-rich waters remain cool enough to reliably allow holdover rainbows to survive and thrive. Double-digit 'bows are caught, and often released, quite regularly.
A lot of the usual trolling tactics work here—Rapalas, Kokanee Killers and Needlefish are top choices—but one of Crowley Lake's great charms is that it's an incredible fly-fishing lake.
Trout in Crowley Lake gorge themselves on chironomids (small, mosquito-like insects). For many fly fishermen, choosing patterns that mimic chironomid larvae is the key to success.
Nymphing, which involves using split shot to get a wet fly down to about 12 inches off bottom, is the tactic of choice for most fly fishers.
Crowley Lake harbors big brown trout and cutthroat trout as well as rainbows, and you can reasonably expect to catch a mixed bag of trout species.
The area around Crowley Lake Fish Camp and South Landing is a good place to start.
More: Crowley Lake Fishing
New Melones Lake
Straddling the line between Calaveras and Tuolumne Counties, New Melones Lake is a man-made reservoir fed by the Stanislaus River and surrounded by the picturesque foothills of the central Sierra Nevada.
At over 12,000 acres, it's a big lake with a lot of possibilities for trout fishing.
Some might call New Melones Lake the premier trout fishing lake in Central California, and it would be hard to argue with them.
Rainbow trout weighing 5 to 6 pounds are fairly common, and they average about 2 pounds. A new lake record weighing a little over 14 pounds was caught in 2018, so there are some serious bruiser rainbows out there.
Shore fishing is productive when rainbows congregate in shallower waters in spring. Live worms and PowerBait are the baits of choice for many shore anglers, but you can also have great success patrolling the bank with spinners and small Rapala crankbaits.
New Melones Lake has a lot of accessible shoreline.
The Glory Hole Recreation area is a popular shore fishing spot, and it is also home to the lake's only developed marina, making it the lake's premier boat launch site as well.
New Melones also is among Northern California's best lakes for both spotted bass and largemouth bass, and it's often a great place for kokanee fishing.
More: New Melones Lake Fishing
Eagle Lake
California's second-largest natural lake entirely in the state, 26,000-acre Eagle Lake offers trophy trout fishing and spectacular scenery.
The lake is perched at an elevation of 5,098 feet, among the rugged mountains of Northern California's Lassen County.
Eagle Lake is most famous for being the home of Eagle Lake rainbow trout, a subspecies of rainbow trout that thrives in high-alkaline waters, and it has a reputation for growing faster and fighting harder than other rainbows.
Eagle Lake rainbows have been widely transplanted elsewhere in California, but the fact that they originated here draws many anglers to Eagle Lake every year.
Luckily, this lake is more than just a novelty. It truly is an incredible trout fishery.
Trout season really heats up around the Memorial Day weekend opener.
The shallow, northern areas of the lake around Bucks Point, Rocky Point and Troxel Point are the first to warm up in spring, and some of the most popular for fishing.
There's a second peak season in fall as the lake begins to cool, and some years ice fishing can be an option in the winter before a seasonal closure from March to late May.
When trout are in relatively shallow water in late spring and early summer, shore fishermen use nightcrawlers and PowerBait under a slip float.
Fly fishermen often have success with nymph flies that mimic chironomids, callibaetis and damselflies.
More: Eagle Lake Fishing
Big Bear Lake
Surrounded by the mountainous San Bernardino National Forest, Big Bear Lake is one of the best-known rainbow trout lakes in Southern California.
A man-made reservoir spanning 2,900 acres, Big Bear Lake is fed entirely by mountain snowmelt. It's deep, it's cold, and it's perfect trout habitat.
Big Bear Lake is oriented east-to-west, and the deeper western half of the lake is generally the better area for trout fishing, especially in summer when trout seek cooler water.
Live bait fishing at 15 to 18 feet near the dam is a good bet, and many anglers troll the depths of the lake using down riggers and lead core line.
During the cooler months, shore fishing can be productive in areas all over the lake. Prime spring spots include Juniper Point, Windy Point, Boulder Bay and North Shore Landing.
Lots of 3- to 5-pound rainbows come out of Big Bear Lake every year, and there's always a solid chance of a real giant weighing in the double digits.
Below the dam, Bear Creek also is great for trout fishing (artificial lures and barbless hooks only).
More: Big Bear Lake Fishing
Los Vaqueros Reservoir
Located a stone's throw from San Francisco, Los Vaqueros Reservoir has gained a reputation as one of the Bay Area's best trout fisheries since it first opened to fishing in 2001.
At just 1,400 acres, it's also a relatively small lake, and an easy one to explore.
Trout are planted at Los Vaqueros throughout the year, and the reservoir generally stays cool enough to allow a significant holdover population. Surface temperatures seldom break the 70-degree mark, which is good news for trout and trout anglers alike.
Stocking schedules vary, but there are usually significant rainbow trout plants in winter and spring, and the early spring months are the best time to be on the water. This is especially the case for shore fishing.
The South Cove area offers prime fishing, and the Oak Point area is also popular. The lake offers abundant shore access, including piers and shoreline hiking trails, so anglers have a lot of options.
Panther Martin spinners are a favorite lure among local anglers, but eggs, marshmallows and nightcrawlers are also effective.
Many successful anglers also troll spoons, spinners and nightcrawlers behind dodgers shortly after the lake has been stocked.
Occasionally a much larger fish will grab you lure, as Los Vaqueros Reservoir also is one of the better striped bass fishing lakes in Northern California.
More: Los Vaqueros Reservoir Fishing
Convict Lake
Convict Lake looks like something one would dream up if they were trying to imagine the perfect trout fishing lake.
A turquoise-colored jewel shadowed by the snow-capped peak of 12,268-foot Mount Morrison, fishing at Convict Lake feels stepping back in time.
It also happens to offer truly impressive trout fishing. Trout weighing 8 pounds seem to be caught here every year, and there is an abundance of 5-pounders in its depths.
Rainbow trout are most common, but don't be shocked to find a husky brown trout at the end of your line.
Convict Lake is heavily stocked with trout every spring and fall, and the Convict Lake Resort holds its annual fishing derbies immediately afterward.
The area near the inlet of Convict Creek on the southern shore is a good place to start, and the biggest fish often hold just off the first major drop-off.
Best of all, at just 170 acres, it's a small lake that gives up its secrets readily.
It's the perfect place to explore by float tube, kayak or canoe. With an 8-mile trail encircling the entire shoreline, it's also incredibly accessible to bank fishermen.
The water is deep (up to 140 feet) and cold, making it a prime year-round trout lake.
Fly anglers have great success in Convict Creek, which both feeds and empties the lake.
More: Convict Lake Fishing
Lake Amador
About an hour southeast of Sacramento, Lake Amador is a 400-acre reservoir that offers some very unique trout fishing possibilities. It's one of the likeliest places in California to catch a 10-pound rainbow.
And with a lake record just a hair under 20 pounds, there are some true giants out there.
Despite its relatively small size, no lake in California is more abundantly stocked with trout than Lake Amador. The lake receives 50,000 pounds of trout each season, including some fish over 10 pounds.
The planted trout are primarily rainbows and cutbows—a rainbow and cutthroat trout hybrid—along with Amador golden rainbows.
The latter fish are sometimes called lightning trout, and are a type of hybrid rainbow trout which, thanks to a genetic variation, display brilliant yellow coloration.
Areas of the main lake close to the dam tend to be the best, though there have also been good catches in the Jackson Creek and Carson arms. Many anglers troll the main lake using Speedy Shiner spoons and Rapalas.
Shore fishing can yield substantial catches too, and there's abundant access in the north shore near the dam. Drifting a brightly colored PowerBait worm under a small float is a popular shore fishing technique, and many locals also swear by Kastmaster spoons.
More: Lake Amador Fishing
Honorable Mentions
California's great rainbow trout lakes are almost too numerous to list.
And while the aforementioned waters are the undisputed cream of the crop, there are dozens of other lakes where you're almost as likely to have a great day on the water.
Don't sleep on these 'honorable mention' lakes!
Lake Tahoe
A vast freshwater lake in the Sierra Nevada Mountains, Lake Tahoe spans more than 120,000 acres straddling the border between California and Nevada.
It's one of the best trout fishing destinations in either state. The downside is that it's also a popular tourist spot, and Tahoe suffers from an overabundance of boat traffic.
Still, the lake is huge enough that you can usually find a secluded spot, especially in winter.
Lake Tahoe has been stocked with trout since the 19th century, and today harbors populations of rainbow trout as well as lots of monster lake trout (known locally as Mackinaws) and the occasional lunker brown or cutthroat trout.
Winter, when all three species feed near the surface, is a great time to be on the water.
Slow trolling close to the surface with nightcrawlers or minnows behind dodgers or flashers—a technique known as toplining—tends to yield a mixed bag of trout.
More: Complete Guide to Fishing Lake Tahoe
French Meadows Reservoir
Not to be confused with Frenchman Lake—which we'll be talking about shortly—French Meadows Reservoir is a 1,400-acre reservoir in the High Sierras of Northern California.
The lake sits at about 5,300 feet west of Lake Tahoe, and its cold waters are perfect for trout.
Created in the 1960s with a dam on the Middle Fork of the American River, French Meadows Reservoir has long been one of California's great off-the-beaten-path fishing spots for rainbow trout.
Rainbows are stocked every year, and the lake offers up lots of respectable 12 to 20-inch fish.
Fly-fishing with Wooly Buggers and leech patterns is a great tactic, and many angers find success targeting areas around woody cover and drop-offs.
French Meadows Reservoir harbors some big brown trout up to 6 pounds as well, and it supports a fair smallmouth bass population.
Lake Almanor
Spanning approximately 28,000 acres at full pool, Lake Almanor is one of Northern California's largest lakes. For anglers in pursuit of rainbow trout, it's a lake that offers great rewards, but also some significant challenges.
You have a solid chance of hooking up with fat rainbows in the 4- to 6-pound class here (the brown trout tend to run even bigger) but if you're in the mood for a numbers lake, Almanor can be tough.
The problem is, the lake is so uniformly chilly and rich in forage fish, that trout have a tendency to spread out.
Lake Almanor's trout don't congregate in predictable places at certain times of year like they do in many lakes. So even though there are big fish—and lots of them—they can be tough to nail down.
Trolling 15- to 30-foot depths in springtime is your best bet.
Almanor is also one of California's best smallmouth bass fishing lakes.
More: Lake Almanor Fishing
San Pablo Reservoir
Often referred to as Lake San Pablo, 866-acre San Pablo Reservoir is a favorite rainbow fishing spot in the Bay Area. Known for largemouth bass as well as rainbow trout, this is a great year-round fishery.
If it's rainbows you're after, late winter and early spring offer prime opportunities. The lake is heavily stocked this time of year, and there are days when it seems just about anything you throw will get bites.
The lake is surrounded by San Pablo Reservoir Recreation Area not far from Berkeley, and there is a modest day use fee to access the lake.
Jet Skis and other personal watercraft are not allowed, so this is a great lake to quietly explore by canoe or kayak.
More: San Pablo Reservoir Fishing
Lake Davis
The rise, fall, and rise again of Lake Davis has been an incredible thing to watch.
Once one of the great trout lakes of the Sierra Nevada, Lake Davis was overrun with invasive northern pike in the 1990s, sending trout populations crashing.
But the pike have been eliminated, and rainbow trout have been on the rebound over the years. These days, there are a lot of 2- and 3-pound rainbows in Davis, and 5-pound fish are becoming more and more common.
The trout here forage mostly on insects like mayflies and damselflies, so fly-fishing can be productive. Tiny spoons, including Dick Nites and Needlefish, are also popular among locals who often fish the lake.
Lake Davis encompasses just over 4,000 acres and is located within Plumas National Forest. The U.S. Forest Service maintains several fishing access sites and public boat ramps around the shoreline.
Frenchman Lake
Less than an hour from Lake Davis in the rugged landscape of Plumas National Forest, Frenchman Lake is a great under-the-radar trout fishing destination surrounded by picturesque mountain peaks and towering Ponderosa pines.
This 1,500-acre lake offers diverse habitat, including fertile flats, deep creek channels and steep drop-offs.
Popular shore fishing areas include Nightcrawler Bay, Snallygaster Point, Salmon Egg Shoal and Frenchman Dam.
Trout in Frenchman Lake feast on chironomids, mayflies, freshwater snails and red shiners, so a lot of different techniques are effective.
Spring and fall offer excellent stillwater fly-fishing, and small shiner-imitating spoons are also effective.
Lake Del Valle
A 700-acre storage reservoir in the Bay Area, Lake Del Valle is a diverse fishing lake that offers largemouth and striped bass as well as rainbow trout.
Anglers mostly target bass in the summer, but trout offer enticing action during the chillier months.
Trout fishing here is highly reliant on planting, and catchable rainbow trout are planted from fall through spring.
There are great opportunities to stock up on 2- to 3-pound fish, with the outside chance at hooking a giant holdover from previous seasons.
Anything from spoons and spinners to live nightcrawlers and marshmallows can be effective in the periods immediately following a major plant of trout.
Lake Del Valle State Recreation Area provides shore access and boat launch facilities.
More: Lake Del Valle Fishing
Bridgeport Reservoir
Located among the slopes of the Eastern Sierra, 3,100-acre Bridgeport Reservoir is best known for producing trophy brown trout, including a former state record.
But it's a solid rainbow lake too. And it's also a very fun lake to fly fish from a float tube.
Trout fishing at Bridgeport Reservoir suffers during the dry season, and drought years can take their toll.
But any time the region gets a couple of wet years back-to-back, this lake has one of the highest growth rates for trout in California.
Spring is arguably the best time to try your luck, and fly anglers tend to employ nymphing techniques during the spring months. There's also a solid streamer bite in fall.
Folsom Lake
This large reservoir a short drive from Sacramento is perhaps better known for its fishing for three species of black bass, or even for its landlocked Chinook salmon.
But don't forget about trout, because Folsom Lake is stocked with plenty of them, and some reach very good sizes in this deep lake, and trolling, casting and still-fishing techniques all catch fish.
Trout fishing is best in the cooler months and they tend to hide out in the cooler depths when summer comes around.
Access is excellent for boaters and bank-fishers alike, but drought years can put a serious dent in all of the fisheries here.
More: Folsom Lake Fishing
Catch More Trout
Our simple how-to guide with trout fishing tips and techniques will give you some more tactics and help you hook more rainbows and other types of trout in California and beyond.