The rolling Sierra Nevada foothills provide a picturesque backdrop to New Melones Lake, a popular fishing spot in north-central California.
This man-made lake hosts bass tournaments throughout the year but is also beloved by locals for its scrappy rainbow trout and kokanee salmon, among the many gamefish here.
If you want to find a lake with all-around excellent fishing for many species of game fish, New Melones Lake would have to be high on your list.
Formed by a dam on the Stanislaus River, 12,500-acre New Melones Lake sits at the heart of California's Gold Country, a region that's as renowned for its splendid scenery as it is for the gold that was discovered here more than 150 years ago. The Gold Rush town of Sonora is just 9 miles from the lake.
New Melones Lake—which is often referred to as New Melones Reservoir—has an almost entirely undeveloped shoreline, save for a marina and a handful of public recreation areas.
Despite being a popular lake within a two-hour drive of several major cities, Its large size and wild shoreline make it a great place for anyone who likes to fish far from the crowds.
Easy access makes it a great place for shore fishing as well.
Largemouth Bass
New Melones Lake offers some truly excellent largemouth bass fishing.
And although there have been years when bass populations have taken a hit due to drought, they always seem quick to rebound.
Largemouth bass in the 2- to 5-pound range are so abundant here that 50-fish days are a real possibility when the stars align.
There are big bass too—a few 10-pounders are caught almost every year—but overall New Melones is more of a numbers lake than a trophy bass lake.
But as anyone who's ever reeled in feisty 3-pound bass until their arms were sore will tell you, that's not a bad thing.
Fishing for largemouths is consistently good here in springtime, when bass are in various stages of pre-spawn, spawn and post-spawn in different parts of the lake.
Spring is also the best time to catch bigger bass.
The action gets underway as early as February some years, but late March through early June offers the most consistent quality bass fishing.
Jigs and soft plastics are the lures of choice when bass are in their beds or getting ready to spawn. As the season shifts into post-spawn mode in early summer, crankbaits, jerkbaits and spinnerbaits get the call.
Big trout-pattern swimbaits can tempt strikes too, and these lures may land the biggest bass of the season.
New Melones Lake is stocked with fingerling trout in winter and early spring, and big largemouths love to make a meal of them.
New Melones is sort of a Y-shaped lake, and the Angels Creek arm—which forms the left fork of the Y—tends to be better for largemouth bass.
Focus on coves and creek mouths in spring and shift your attention toward nearby points in summer.
A couple of the best spring spots are the Glory Hole area and Carson's Creek, which are both in the general vicinity of where the two main arms of the lake meet.
Mormon Creek Inlet and the main lake islands can provide some great fishing too.
New Melones Lake is on our list of best largemouth bass fishing lakes in Northern California.
Spotted Bass
Spotted bass tend to take a backseat to largemouths in New Melones Lake, but there are plenty of them out there.
The reservoir consistently produces chunky 2- to 4-pound spots, and occasionally much larger fish. The lake held the state record for a time, with a 10.48-pound spotted bass caught in 2014.
For the most part, spotted bass hang out in a lot of the same areas that largemouth bass do, especially submerged timber. It's common to catch a mixed bag of the two species.
But spotted bass tend to be less tied to cover.
They're a bit more willing than largemouths to roam open water, and you can often find them chasing schools of shad far from shore. Trout fishermen sometimes catch spots while trolling.
Shad-imitating crankbaits, spinnerbaits and spoons are great options, especially in summer, but spotted bass are just as likely to gobble up wacky worms and other soft plastics along New Melones Lake's many long, sloping points.
If you're fishing New Melones Lake in springtime, go with an open mind and be prepared to try a lot of different tactics.
Spotted bass will gradually work their way up from winter depths during the month of March, and it's common to find fish anywhere from 10 to 40 feet.
New Melones also is on our rundown of the very best spotted bass lakes in California.
How to Catch Bass
Want more tactics in your arsenal? Read our simple bass fishing techniques and tips.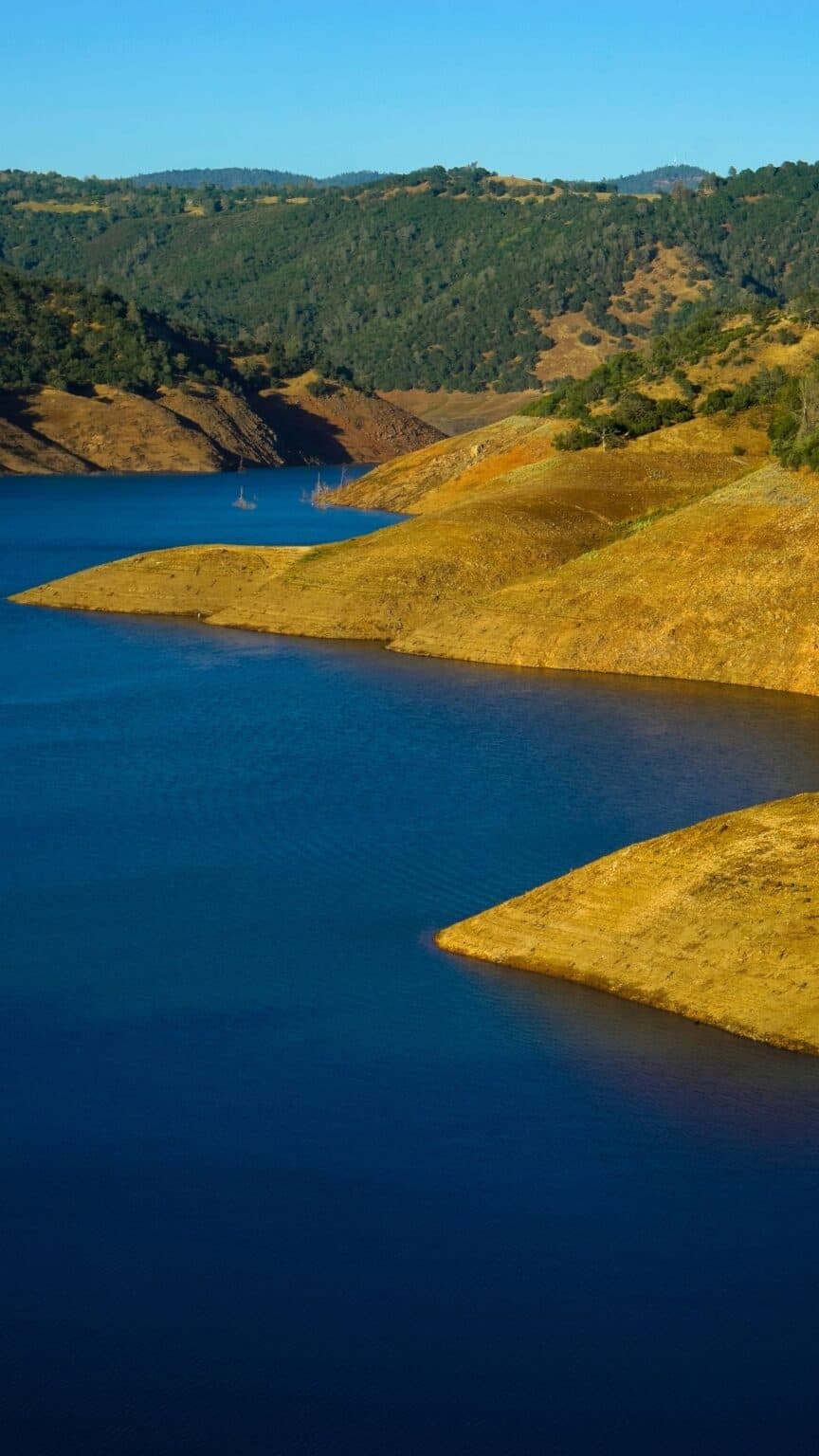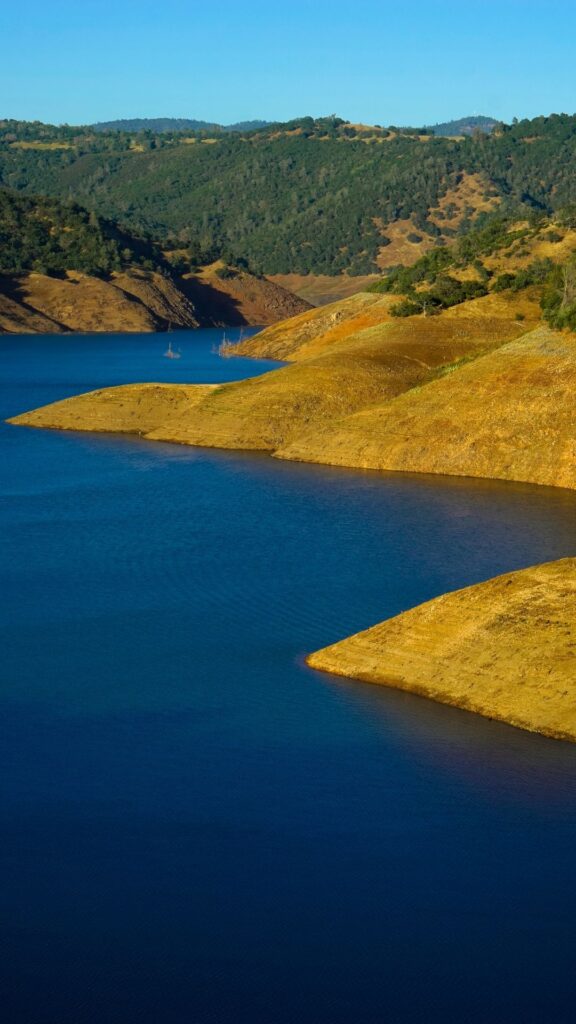 Rainbow Trout
New Melones Lake is deep and cold, with chilly alpine water fed by the Stanislaus River and a maximum depth of well over 500 feet at full pool. That makes it a perfect environment in which cold water game fish like trout can thrive.
Rainbow trout are most common. The California Department of Fish and Wildlife stocks thousands of pounds of fingerling and catchable rainbows in the reservoir every winter and spring.
Some the best rainbow trout fishing takes place in early spring, especially during the month of March, when the water temperature is cool enough that trout are comfortable in shallow water.
Many of the rainbows you'll catch this time of year are modestly sized fish that were just stocked, but there are always some big holdover fish from previous trout plants.
Two-pounders are common, but the lake has decent numbers of 5-pound-plus rainbows.
Kastmaster lures and various spinners are great for casting to near-shore rainbow trout in springtime. Live nightcrawlers, PowerBait (LINK) and marshmallows are also some favorite baits among local trout anglers.
You can expect rainbows to be anywhere from 20 feet down to right on the surface in springtime. Glory Hole Recreation Area, Angels Creek and the CA-49 bridge are popular spring shore fishing spots.
As the water warms in late spring into summer, trout move toward deeper, cooler water. They feed heavily on shad and other baitfish this time of year, but catching them usually requires leaving the bank behind.
The best way to catch rainbow trout in summer is trolling over deep water in the main lake channel. Needlefish and Speedy Shiners in shad patterns are popular lures.
Trout can be anywhere from 15 to 50 feet down, so be prepared to experiment with depth. As a general rule, the warmer and sunnier it gets, the deeper they go.
Find the best rainbow trout fishing lakes in California.
Brown Trout
Brown trout are far less abundant than rainbows in New Melones Lake, but some real bruisers show up in anglers' catches every spring.
It's not all that uncommon to find yourself tangling with a 6- to 8-pound brown trout, and plenty of 10-pounders have been pulled from the reservoir.
But let's be honest: Browns are elusive, and tough to hook, but that only adds to their charm for serious trophy trout anglers.
If you want to catch brown trout on purpose—as opposed to catching one or two accidentally while targeting rainbows—your best bet is to focus on Angels, Carson, Coyote and Mormon creeks in spring and fall.
These creek arms have lots of cover, including standing timber, and brown trout have a habit of staying closer to cover than rainbow trout. As a general rule, they're not usually open water fish.
Try tolling jointed Rapalas in shad or fire tiger patterns around standing timber.
Some locals also target brown trout by trolling live shad (or "rolling shad," as the tactic is sometimes called).
Another option is to drift live minnows under a slip float among the standing timber in one of these creeks.
In the spring months, when all of New Melones Lake's game fish are actively feeding, you could find anything at the end of your line, from a brown or rainbow trout to bass or crappie.
Let us help you find the best brown trout fishing lakes and rivers in California.
How to Catch Trout
Learn some of the best basic trout fishing techniques so you'll start out on the right foot.
Kokanee Salmon
Small, silver-sided, landlocked versions of sockeye salmon, kokanee have been stocked in several of Northern California's deep reservoirs.
At New Melones Lake, every spring begins with local anglers wondering if it will be a good year for kokanee.
That depends partly on how many are stocked any given year, as well as other factors, but New Melones Reservoir typically receives generous plants and has a reputation for growing some of the biggest 'kokes in the state.
Fish in the 12- to 15-inch range are common, and a few 18-inch kokanee are caught most years, which lands New Melones Lake a spot on our list of best kokanee fishing lakes in California.
The best time of year for kokanee fishing is a matter of perspective.
These fish are most abundant in spring, but they grow over the course of the season, and the biggest fish of the year are usually caught in late summer.
No matter the season, the key to catching kokanee is trolling deep open water. These fish like colder water than trout, and it's common to catch them down to 50 feet in spring, and as deep as 100 feet in summer.
Use lead-core line or a downrigger to get your lure down to depth, and be prepared to cover a lot of water.
Kokanee roam open water, feeding mostly on zooplankton, so you may need to do some hunting to find them.
Deep areas off Glory Hole Point, near New Melones Dam and spillway, and around Rose Island are prime kokanee spots.
Pink hoochies and Kokanee Killer lures are great trolling options. Tip the hook with a kernel of white shoepeg corn to make it extra tempting.
Pick up a bunch more kokanee fishing tactics in our simple how-to guide.
Other Fish Species
Whether you're fishing to bring food home for the table, or simply for the pure enjoyment, New Melones Lake offers a lot of options beyond its most popular game fish.
For example, this reservoir harbors a large population of channel catfish and also routinely produces some of the biggest crappies in Northern California.
Crappie
Spring is prime time for black crappie anglers at New Melones Lake.
These feisty panfish head toward shallow water in droves to feed and spawn in springtime, and fish over 2 pounds are common.
Anyone with a light spinning rod and a few small jigs is likely to go home with a mess of crappies from New Melones Lake in springtime.
Small live minnows fished under a bobber do the trick too.
The action starts in March and is often consistently good throughout April and May. Once the water starts to warm in June, crappies start to disperse into deeper water such as creek channels and become harder to find.
The best spring spots tend to be submerged brush and timber near shore, and there's a lot of this type of cover in the coves off the main lake.
The area right around the marina at Glory Hole Recreation Area is also a popular and productive spring crappie haunt.
New Melones Lake has earned a spot in our spotlight of the best crappie fishing lakes in California.
Learn more crappie fishing tips and techniques.
Catfish
New Melones Lake is home to white catfish, bullheads and channel catfish. Of the three, channel cats are by far the largest and most sought-after by anglers.
Catfishing on New Melones Lake is at its best in summer.
Big cats hunker down in deep water in winter, but as the water warms up, they become more active and start to move toward the shallows.
On summer evenings, try fishing from shore with natural baits like anchovies, sardines and mackerel, as well as the usual nightcrawlers and chicken livers, close to the bottom.
The best catfish bite typically starts as the sun goes down and continues long after dark.
You can expect to catch channel catfish in the 5- to 10-pound range pretty regularly in summer, while white and bullhead catfish are typically much smaller.
The best spots tend to be along main lake points and sloping muddy banks at 5 to 20 feet of water.
Find New Melones and lots of other spots in our article naming the best catfish fishing lakes and rivers in California.
Also, we have lots more fishing tips and bait suggestions for catching catfish.
Smallmouth Bass
New Melones has historically been home to a moderate smallmouth bass population.
Unfortunately, smallmouths seem to have declined in the reservoir over the last decade or so, most likely as a result of competition with spotted bass.
If you're out after smallies, rocky habitat in the Glory Hole area and around the lake's islands are some of the best places to find them, although be prepared to catch the other bass species.
Bouncing crawfish-imitating jigs off the bottom tends to work pretty well. Try a color pattern with some red in it.
If you really want smallies, check out the best smallmouth bass fishing lakes and rivers in California.
Planning Your Trip
New Melones Lake's central location makes it easy to get to from just about anywhere in this part of California.
This makes it a popular destination not only for fishing but for outdoor recreation of all kinds and also is in a region that includes many excellent fishing spots, including nearby Don Pedro Reservoir.
Spring is the best time to fish New Melones Lake.
The lake doesn't get too busy for water skiing and other recreational boaters until summer, and your main competition for space in springtime will most likely be from other anglers.
Be sure to check the current lake levels before planning a trip to New Melones Lake.
The lake is prone to significant fluctuations, which can impact the fishing as well as the accessibility of the lake's boat ramps.
As a general rule, the reservoir is fullest by early summer and lowest in mid-winter, although the cold months are less crowded and great for wildlife viewing, including bald eagles.
Getting There
New Melones Lake is just 15 minutes away from Sonora via CA-49 North.
Heading south from Angels Camp, the highway crosses the Stanislaus River Arm of the lake—the area under the CA-49 bridge is a popular shore fishing spot—and provides easy access to some of the lake's major recreation areas.
It's a little over an hour's drive to New Melones Lake from the cities of Stockton and Modesto, and a little over 90 minutes from Sacramento.
Boat Access
Public boat launch ramps on New Melones Lake are located at Glory Hole Recreation Area, Tuttletown Recreation Area, Angels Creek and the New Melones Lake Visitor Center.
The Glory Hole and Tuttletown launch ramps are the most popular and well-appointed, with courtesy docks, restrooms, fish cleaning stations and paved parking. A small fee is required to launch.
Be aware that the Glory Hole and Tuttletown Recreation Areas are both closed and gated at night (exact hours vary by season).
New Melones Lake has only one full-service marina. It's located at Glory Hole Recreation Area, and offers rental boats and dockage, along with a fully stocked marina store with bait, tackle, ice, snacks and other essentials.
Shore Fishing
New Melones Lake offers excellent bank fishing. Although the lake's steep banks make access challenging in many places, its undeveloped miles of shoreline provides a lot of great options.
Glory Hole Recreation Area and Tuttletown Recreation Area each offer open shoreline for bank fishing, and both can be productive. Shore access in Angels Creek near the boat ramp is often good for spring trout fishing.
The area around the New Melones Lake Visitors Center and the nearby CA-49 bridge is also popular with bank anglers. It's another proven spring trout spot, and catfish anglers often find luck here in summer.
Camping
U.S. Bureau of Reclamation campgrounds are located at the Glory Hole and Tuttletown Recreation Areas, each offering hundreds of campsites for tents and RVs.
No hookups are available, but restrooms, drinking water, campfire rings and picnic tables are provided. Many campsites are located directly on the water.
Sites are available by reservation and on a first-come, first-served basis.
The area around the lake offers a wide range of other recreational opportunities as well, including many miles of hiking, mountain biking and horseback riding trails.