Thriving in deep, clear reservoirs and lakes, spotted bass offer tremendous opportunities for California anglers.
Although they don't reach the epic size of largemouth bass—spotted bass over 4-5 pounds are rare most places—they are often easier to catch, in large part because they can be numerous and strike voraciously on a wide variety of lures.
Many California lakes offer perfect habitat for spotted bass.
These fish spawn in deeper, colder water than either smallmouth or largemouth bass, which allows them to reproduce with little competition.
This tolerance for chilly conditions also makes them a target for winter anglers, in seasons when largemouth and smallmouth fishing slows down.
"Spots," as they are often called, also behave a bit differently than other freshwater bass species.
While largemouth love brush and weeds, and smallmouths stick close to rocky structure, spotted bass are more likely to suspend in open water.
This trait makes them perfectly poised to grow fat and happy on the abundance of open water forage fish—shad, smelt, kokanee and yearling trout—that abound in big California lakes.
Spotted bass weren't introduced into California lakes until 1974. Ask local anglers who fish some of these lakes if that was a good idea, and you'll get some decidedly mixed opinions.
Spots have come to thrive in lakes all over the state, in some cases to the detriment of largemouth and smallmouth bass populations.
An argument could be made that in California waters where spotted bass flourish, other bass species end up stunted in growth, and reduced in numbers.
Of course, when you consider that none of these species were originally native to the Golden State, it's fair to say that spotted bass have as much right to be here as their small- and large-mouthed cousins.
In the lakes and reservoirs listed below, spots now offer unique angling opportunities that have yielded record-class fish.
Also, stick around to find a link to our favorite bass-fishing tips at the end of this article.
New Bullards Bar Reservoir
For quite a while now it's been safe to assume that any time a new California state record is set for spotted bass, it's also going to be a world record.
So it is for the current record-holder, a 11-pound, 4-ounce monster that Nick Dulleck pulled from New Bullards Bar Reservoir in 2017.
It's the biggest spot ever caught, at least for now. And the smart money says that next time the world record is set, it will more than likely come from the very same place.
Few lakes in California or elsewhere can crank out giant spotted bass the way New Bullards Bar Reservoir does.
A lot of the spots' success at here comes down to one factor: kokanee salmon. The lake holds an incredible abundance of 6- to 10-inch kokanee.
It takes a pretty good-sized bass to eat a pan-sized salmon, but once spotted bass grow big enough to start taking advantage of this forage, their growth rate skyrockets.
A lot of anglers who regularly fish this lake head straight for open water, watching their fish finders not for bass, but for schools of kokanee.
Salmon-imitating swimbaits are often the lure of choice, and wacky-rigged stickbaits are great when the bass are being a little pickier.
New Bullards Bar Reservoir also has several waterfalls that feed the lake, and fishing near these falls is often a reliable pattern for spotted bass. Bridger Falls and Indian Falls are both worth a few casts on any given day.
More: New Bullards Bar Reservoir Fishing
Lake Berryessa
Lake Berryessa has a bit of an "always a bridesmaid, never a bride" reputation.
Though a consistently reliable fishery, it never seems to gain the status of California's top-tier bass lakes. It's always the Shastas, Castaics and Clear Lakes of the world that seem to get all the glory.
Those who fish Berryessa regularly are probably just fine with that, because this is, without a doubt, one of the best all-around bass fishing lakes on the West Coast, especially if your quarry is big spotted bass.
A massive reservoir with more than 160 miles of shoreline, Lake Berryessa is chock-full of quality bass forage. Threadfin shad, bluegill, yearling trout and crawfish all play a role in spotted bass' diet here.
Landlocked salmon seem to be less crucial on the menu than elsewhere, perhaps because the salmon seem to be larger (some are Chinooks) and less numerous than in other major spot lakes.
But anglers often catch their limit of hefty spotted bass on jigs, wacky worms and swimbaits.
Lake Berryessa probably isn't a lake that will soon yield a world record spot. But you'd be hard-pressed to find a lake with more 5-pound fish.
In late winter and early spring, spotted bass fishing on Berryessa is hard to beat as the fish move toward spawning grounds.
As spring rolls on, Lake Berryessa is one of the best California lakes to catch a "grand slam" of largemouth, smallmouth and spotted bass all on the same day.
You'll find enough big largemouths that we also list Berryessa among Northern California's best largemouth bass fishing lakes.
While spots are by far the most numerous bass in the lake, you'll find all three species in areas with submerged timber and steep, rocky drop-offs.
More: Lake Berryessa Fishing
Shasta Lake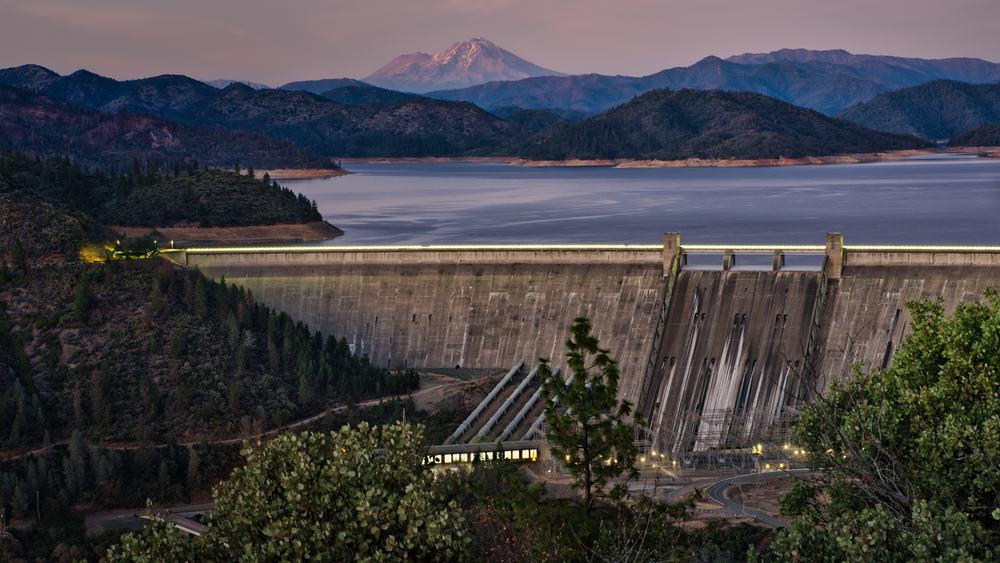 Spotted bass get a bad rap for negatively impacting other bass species—especially smallmouths—in California lakes.
But Shasta Lake (a.k.a. Lake Shasta) seems to be an exception. It's a lake where an apparent balance of bass has been reached.
In addition to remaining one of the state's absolute best smallmouth bass lakes, Shasta Lake is one heck of a good spotted bass destination.
At 30,000 acres, it's the largest manmade reservoir in the state and has enough quality bass habitat to keep even the most devoted bass fisherman busy for a lifetime.
Rocky structure in the lake's deep river arms is usually a good place to find spotted bass.
Also check out standing timber in the Pitt River and Squaw Creek Arms, especially in spring.
Jigs and soft plastics around rocky and woody cover are almost always effective.
Shasta Lake lacks a strong kokanee population, which is probably the reason why spotted bass, while incredibly abundant, have not completely taken over.
In all likelihood, it's also the reason they don't reach trophy size here, but on a good day you won't be able to keep the 1- and 2-pound spots off your hook. It's a numbers game at Shasta Lake.
Still, there are plenty of 5-pound spotted bass to be caught, and a 7-pounder turns up every now and then.
Another of the lake's attractions for bassers is that it's one of the only places in California where you're likely to catch smallmouths and spots on back-to-back casts.
Finesse worms are a go-to bait for many bass fishermen on Shasta Lake. Spider grubs are a favorite as well, and when all else fails, a wacky worm will surely do the job.
More: Shasta Lake Fishing
Pine Flat Lake
The world record for spotted bass has changed hands quite a few times in the last few decades. Pine Flat Lake has held the title more than once, most recently with a 10.27-pound bruiser brought in by Bryan Shishido during a tournament in 2001.
There could very well still be a 10-pounder in Pine Flat Lake.
Nestled in the southern Sierras about an hour from Fresno, Pine Flat Lake is a long, meandering reservoir that spans just under 6,000 acres.
It has a reputation is a big spotted bass factory. This is a lake where a 5-pounder is common enough hardly to merit a mention.
Chalk it up to varied habitat and abundant forage, including threadfin shad, crawfish, rainbow trout, and our old friends the kokanee salmon.
As in most lakes where kokanee are a major forage fish, the biggest spotted bass in Pine Flat Lake often suspend in deep water, the same place you'll find kokanee.
One of the best times to be on the lake is late winter to early spring, when the salmon head shallow, and the bass follow.
The Kings River Arm of the lake seems to be where the action is, especially around the Big Creek and Sycamore Creek inlets.
Closer to the main lake, the Lefever Creek, Zebe Creek and Windy Gap areas are all worth a few casts.
You could try dropping a clear wacky worm like Shishido did when he caught his record fish, or maybe head out deeper with kokanee-imitating swimbaits.
Be sure to have a selection of finesse worms, spinnerbaits and cranks handy too.
More: Fishing at Pine Flat Lake
Honorable Mentions
California is home to a lot of truly exceptional spotted bass fisheries. The aforementioned lakes are arguably your best bets if you're out to fill your limit of bragging-size spots, but they're by no means your only options.
On a good day, these honorable mentions can be nearly as good as our top picks.
Lake Oroville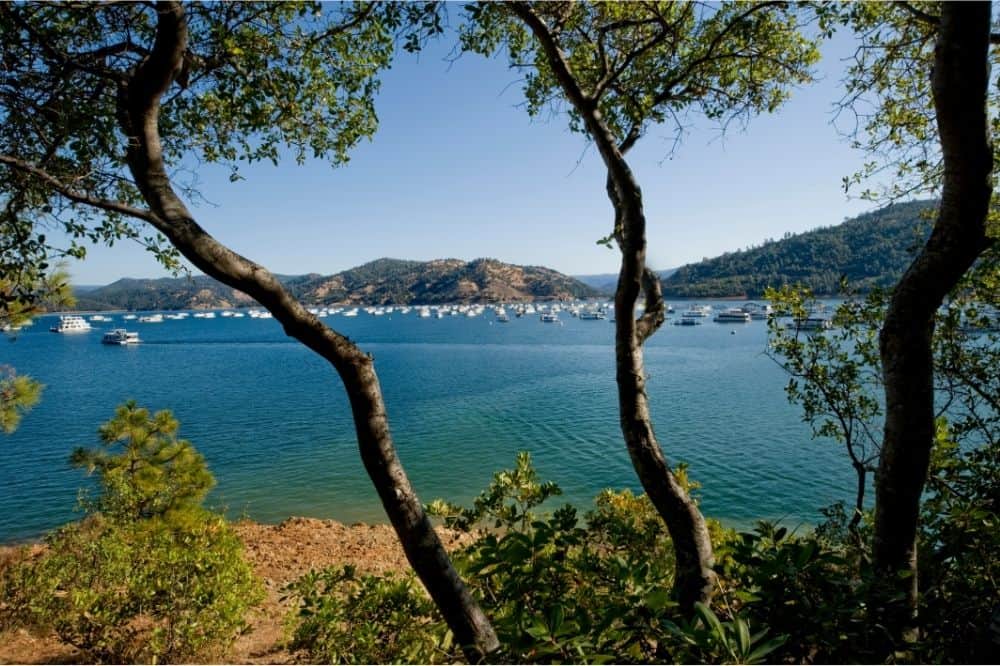 Oroville is one of those lakes where a once-great largemouth fishery has been forever altered by the introduction of spotted bass.
And while there are still big largemouths at Oroville, at this point it's safe to say that spotted bass are the dominant species.
For some, that's not such a bad thing. Lake Oroville is California's second-largest reservoir at 15,500 acres, and offers an abundance of prime bass habitats.
Points leading into creeks and coves on the North and Middle Forks of the lake are go-to targets for fishermen in search of spotted bass.
But the biggest spots—those 7- and 8-pounders that occasionally show up during tournaments on Lake Oroville—often suspend in deeper water, and they can be tough to find.
Finesse worms on drop-shot rigs are a great presentation if you want to catch lots of small-to-medium fish.
For bigger spots, 6-inch wacky worms, oversized twin-tail grubs and smaller-sized swimbaits can all draw strikes.
More: Lake Oroville Fishing
Lake McClure
Lake McClure sometimes gets overlooked. Maybe it's just because California has so many great bass lakes, but this 7,000-acre gem in the Sierra Nevada foothills is a great under-the-radar spotted bass destination.
Spotted bass have come to dominate over largemouths here, but you have a decent shot at catching a mixed bag of both species.
The lake is heavily stocked with trout, and bass have grown fat gobbling up fingerling rainbows and shad. A handful of 8-pound-plus spots have been pulled from McClure in the last few years.
Swimbaits are the go-to for anyone in search of a trophy on Lake McClure. But if you just want to catch a mess of fish, crankbaits and wacky worms are usually effective.
Trolling near the dam is a good tactic, and many anglers find success exploring rocky points and drop-offs in the lake's Merced River Arm.
More: Lake McClure Fishing
Folsom Lake
Located a stone's throw from Sacramento, Folsom Lake is a 11,400-acre reservoir that routinely cranks out big numbers of spotted bass around 2 pounds. And don't be surprised to find the occasional 5-pounder on your line.
Pond smelt and shad are the main forage species for spotted bass on Folsom Lake, and jigging spoons around schools of these baitfish are often effective.
As with many California lakes, wacky worms and drop-shot rigs are popular when fish go deep. There are times when topwater jerkbaits also produce strikes.
The problem with Folsom is that it's a popular lake. Try to visit on a weekday to beat the crowds if you can.
The fish here can sometimes become so pressured that you really need to get creative to get bites, but areas just off main lake rockpiles tend to be safe bets to find fish.
More: Folsom Lake Fishing
New Melones Lake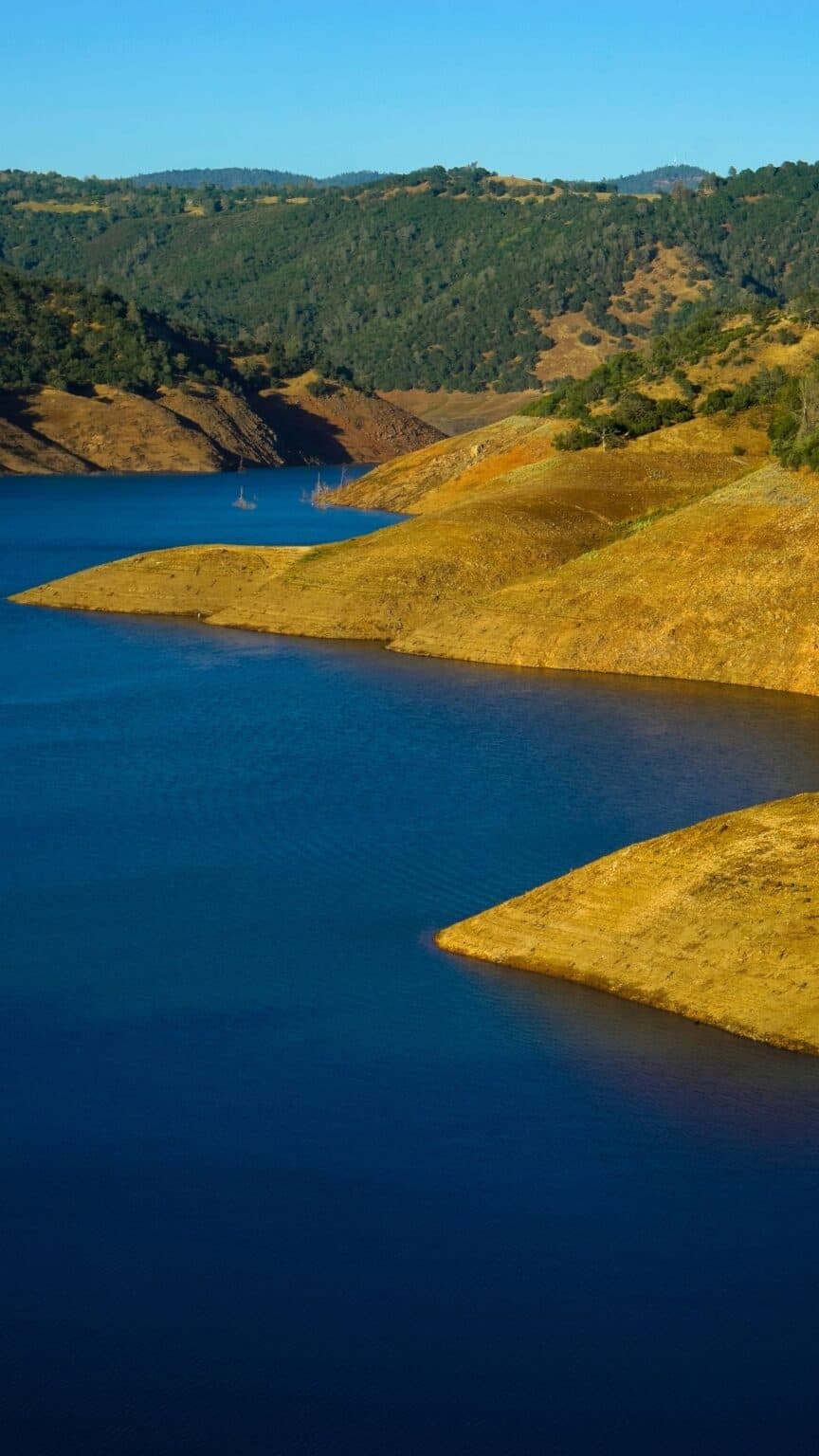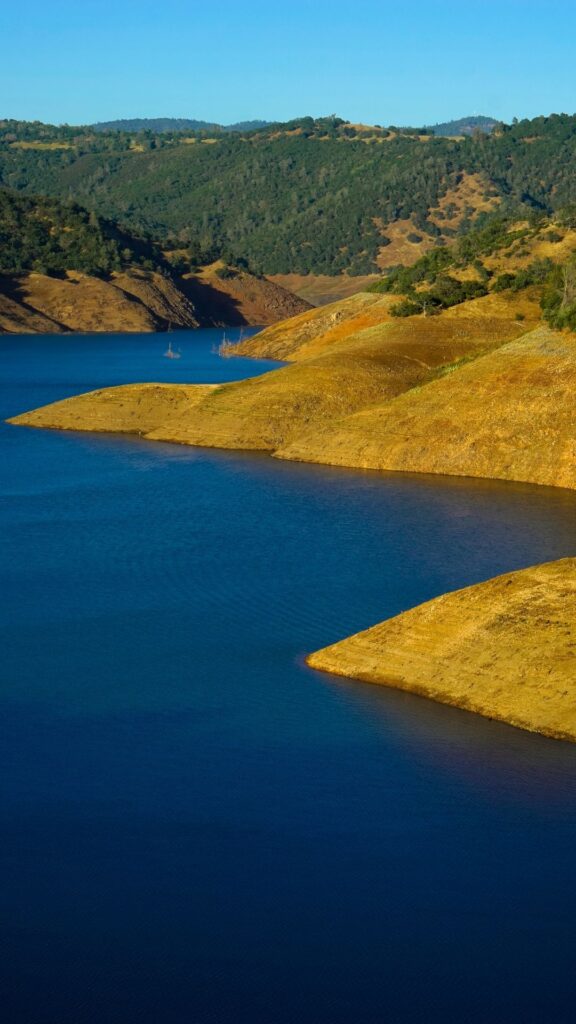 New Melones Lake held California's spotted bass record for a while, after a 10.48-pound beast was pulled from the lake by Keith Bryan in 2014.
And although Bullards Bar Reservoir has now become California's hot ticket for the next record fish, don't write off New Melones Lake.
This 12,000-acre reservoir has 99 miles of shoreline, and it remains a reliable spotted bass factory.
Shad seem to be the primary forage here, and on summer days you'll often find big spots circling schools of the baitfish in open water. Shad-imitating crankbaits, spinnerbaits and spoons are all effective when the bite is on.
On many days, you'll catch a mix of largemouth and spotted bass on New Melones Lake.
Largemouths tend to stick closer to cover, and there are some real giants out there.
More: New Melones Lake Fishing
Whiskeytown Lake
Whiskeytown Lake is a reliable bass fishing destination in Northern California's Shasta County. Trophy spotted bass are rare here in the 3,220-acre lake, but it's common to catch a solid limit of 2- and 3-pound fish, often with the occasional 5-plus pound kicker.
There's always a good chance of catching a few largemouths and the occasional smallmouth too. Rocky points and drop-offs are often productive areas.
Wacky-rigged soft plastics are go-to baits for many who fish Whiskeytown Lake regularly.
Also try a locally popular variation on the wacky rig, known as a Neko rig, which involves inserting a nail weight into one end of the wacky work to give it a unique action as it falls.
More: Whiskeytown Lake Fishing
Lake Nacimiento
Some years back, this big reservoir would have been found on our rundown of the best largemouth bass lakes.
Not so much anymore, as "Lake Naci" is now overrun with spotted bass.
Find some rocky shoreline in the main lake or up into the creek arms, toss some swimbaits or other lures that imitate baitfish or crayfish that the spots much on, and you should be in business.
Hitting a 50-bass day is possible here, though admittedly a large majority of those will be modest-sized spotted bass, along with a few chunkier spots and perhaps a handful of largemouths and the occasional smallmouth.
Lake Nacimiento has a variety of other warm water fishing opportunities, most famously for being the best place in California to land white bass.
More: Lake Nacimiento Fishing
How to Catch Spotted Bass
Now that you know where to catch spotted bass in California, click over to our simple bass fishing guide to learn all the methods to catch these and other black bass.