Who could have predicted the popularity of kokanee salmon among California anglers?
A landlocked form of sockeye salmon, these feisty fish have been widely stocked in California lakes and reservoirs since 1941.
In the decades since, kokanee have become a fun and exciting fishing opportunity for countless anglers looking for a change of pace from the typical trout and bass trips.
Kokanee are known for being great on the grill—with a flavor comparable to wild Alaska sockeye salmon—and for fighting well above their weight class.
Even small "kokes" exhibit acrobatic jumps and line-straining runs that would put their larger cousins to shame.
If you're out gunning for kokanee, the first thing to know is that they like it cold. Their optimum temperature range is between 50°F and 59°F.
The result is that throughout most of the year, they stay in open water, and often quite deep.
The unfortunate upshot of that is that for shore anglers, opportunities to catch kokanee salmon are hard to come by. Most anglers pursue these fish by trolling the open waters of California's deep, cool reservoirs.
Summer is generally considered the peak of kokanee fishing season, in large part because these fish are usually stocked in winter and early spring. By summer, they will have grown to catchable size.
The key to finding kokanee tends to be depth. During the warmer months, they may be anywhere from 30 to 100 feet below the surface.
Kokanee will strike a wide range of spoons and spinners, as well as squid-like lures known as hoochies.
A common tactic is to troll a lure behind a dodger or set of lake trolls to give it some extra flash and vibration.
It's usually necessary to employ either a downrigger or leadcore line to get the offering down to the appropriate depth.
No matter what lure you choose and how deep you work it, California kokanee anglers agree on one essential tactic: Tip the hook of your lure with a kernel of white shoepeg corn. Nobody seems to know just why the kokanee can't resist it, but the results are impossible to argue with.
Not every lake these fish are stocked in becomes a great kokanee lake. In many waters, for a variety of reasons, they become stunted, seldom growing past 8 to 10 inches. But in certain bodies of water, they grow and thrive.
Most of the best kokanee lakes on our list are in the colder waters of Northern California.
In many of the following fishing holes, kokes in the 12- to 16-inch range are the norm, and 20-inch fish are not out of the question in a few locations.
Whiskeytown Lake
One of three major reservoirs in the Shasta-Trinity National Recreation Area, Whiskeytown Lake tends to get overshadowed by nearby Shasta Lake and Trinity Lake.
But kokanee lovers know that Whiskeytown is deserving of more attention.
Whiskeytown Lake encompasses 3,200 surface acres and has 36 miles of shoreline. The best area for kokanee fishing tends to be between the Highway 299 bridge and around Oak Bottom, but there are a lot of good spots.
In spring, many anglers have good luck trolling at 20 to 40 feet. By mid-summer, depths in the 70- to 100-foot range tend to be more productive.
Whiskeytown also offers a solid winter kokanee fishery.
Catches tend to be less abundant in winter, but this is the time when you may get some of the biggest fish of the year.
They're also closer to the surface during the colder months, making it easier to catch them by slow trolling without a downrigger.
Kokanee reproduce naturally here, making an annual fall spawning run up Whiskeytown Lake's tributaries. The Department of Fish and Wildlife typically only plants additional kokanee when a poor spawning year makes it necessary to support the population.
Whiskeytown Lake's kokanee tend to live for several years, making this one of the best lakes for big kokanee. It's not unreasonable to expect to catch 18-inch fish.
More: Whiskeytown Lake Fishing
Lake Berryessa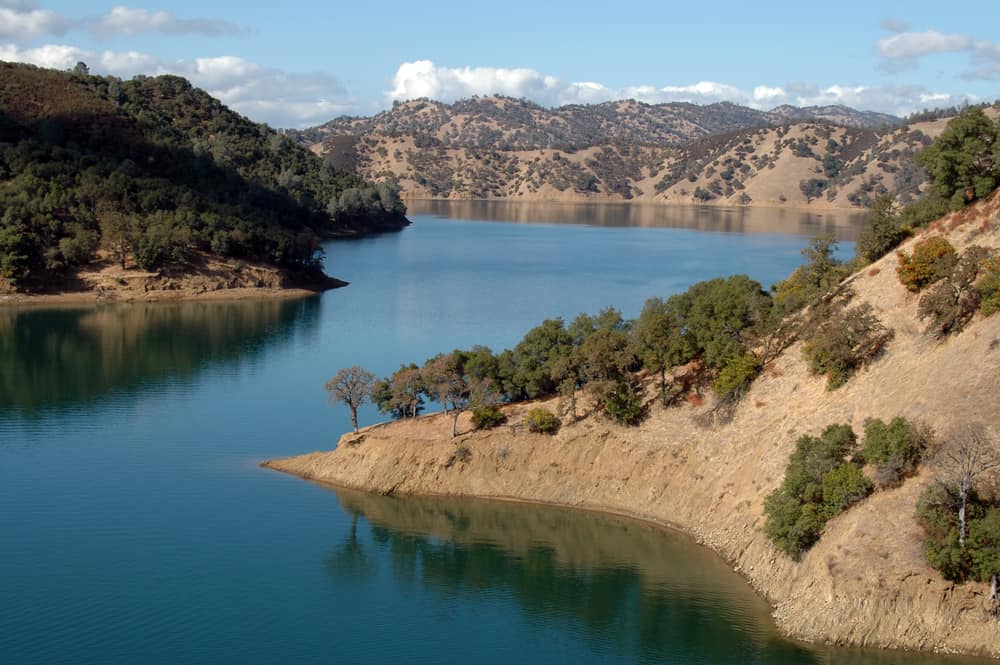 Lake Berryessa has been on the map for many years as one of California's great two-story fisheries. Not only does this giant NorCal reservoir crank out big bass and giant catfish, but it's also a reliable trout and salmon factory.
At 18,500 acres and a depth of 275 feet, Lake Berryessa provides exactly the type of deep, cold habitat in which kokanee thrive. This lake also generates abundant zooplankton—kokanee's favorite forage—which may explain why these fish do so well here.
Whatever the reason, Lake Berryessa is one of California's most consistent producers of kokanee 15-plus inch kokanee, with a good shot at catching multiple 18-inch fish on a good day toward the end of summer.
The area between the dam and the mouth of Markley Cove is a favorite spot for trolling kokes. Hoochies and Apex spoons behind a dodger are the lures of choice.
Depth, as always, is the big variable. Kokanee here tend to hold around 70 feet in July and may be as deep as 100 feet by August.
Lake Berryessa also harbors giant landlocked Chinook salmon. They tend to hang out a little shallower than kokanee, but don't be surprised if you accidently hook a monster.
More: Lake Berryessa Fishing
Bass Lake
Built in 1910 and just 20 miles from Yosemite National Park, Central California's Bass Lake is one of the oldest and most scenic lakes on our list.
Spanning 1,170 acres, Bass Lake is—get ready for a shock—also known for its bass fishing.
But the California Department of Fish & Wildlife has been stocking kokanee in Bass Lake for years, and these silvery salmon have caught on in a big way.
Trolling with downriggers in the southern end of the lake near the dam is the tactic of choice for many local kokanee enthusiasts. There's a deep area near the dam with a lot of submerged standing timber, and substantial catches routinely come from this area.
Areas off Fawn Point, Miller's Landing and the Wishon Boat Ramp are also popular.
June through August are the peak kokanee fishing months at Bass Lake, with some of the biggest fish coming into the boat in late August and early September before the fish move fully into spawn mode.
Bass lake is a popular water sports lake, especially in summer, which can be frustrating when you're trying to fish.
To avoid the Jet Skis and powerboats, try to get on the water as early as possible. There's a 5 mph speed limit until 8 a.m.
More: Bass Lake Fishing
New Melones Lake
Surrounded by the rugged Sierra Nevada foothills east of Stockton, New Melones Lake is a 12,500-acre reservoir on the Stanislaus River.
This is a place with many fishing personas, so many anglers may know it as one of California's top rainbow trout fishing lakes or maybe for its renowned warm water fisheries, including largemouth and spotted bass.
Here's the thing: New Melones Lake also has 500-plus foot depths that keep it plenty cool enough for kokanee to thrive.
And thrive they do. The lake's kokanee population has been through a lot of peaks and valleys over the years, with banner years followed by major crashes.
But at this writing, coming off a pair of strong seasons, there's hope that things have evened out.
When the bite is on at New Melones Lake, it's really on. And even when it's a little off, the few kokanee one does catch tend to be big ones.
Kokanee 15 to 18 inches are the norm, and there aren't many lakes where you're more likely than New Melones to catch kokanee approaching the elusive 20-inch mark.
Apex lures and hoochies behind chartreuse dodgers are almost certain to tempt strikes by hungry kokanee. The question is, where to catch them?
The area just off Glory Hole is a prime spot, along with Rose Island and South Island.
Look for kokanee around the neighborhood of 50 feet in July, and closer to 100 feet by mid-August. Bear Cove and the Peoria Creek Arm can be excellent late-summer spots.
More: New Melones Lake Fishing
Stampede Reservoir
Stampede Reservoir has earned a reputation as one of California's most consistent kokanee lakes over the last couple of decades.
The Department of Fish & Wildlife stocks the lake regularly, and biologists carefully monitors kokanee spawning activity to track the population.
Perched on the east side of the Sierra Nevada, Stampede Reservoir spans about 3,350 acres at full pool, and the relatively moderate summers in this part of the state allows the water to stay within kokanee's comfort range year-round.
For that reason, you don't always have to look as deep here as you do in most lakes. The fishing starts to really heat up in May, with plenty of opportunities to catch kokanee at 10 to 30 feet.
There's a definite morning bite here—get on the water as early as you can—and on a good day you can catch 50-plus fish before the sun is high.
Stampede Reservoir usually offers up an abundance of 16-inch kokanee.
The Sage Hen and Davies arms are great places to start in late spring and early summer, with most of the action moving into the main body of the lake by mid-summer.
Hoochies in hot pink and watermelon colors are always popular here.
More: Stampede Reservoir Fishing
Lake Tahoe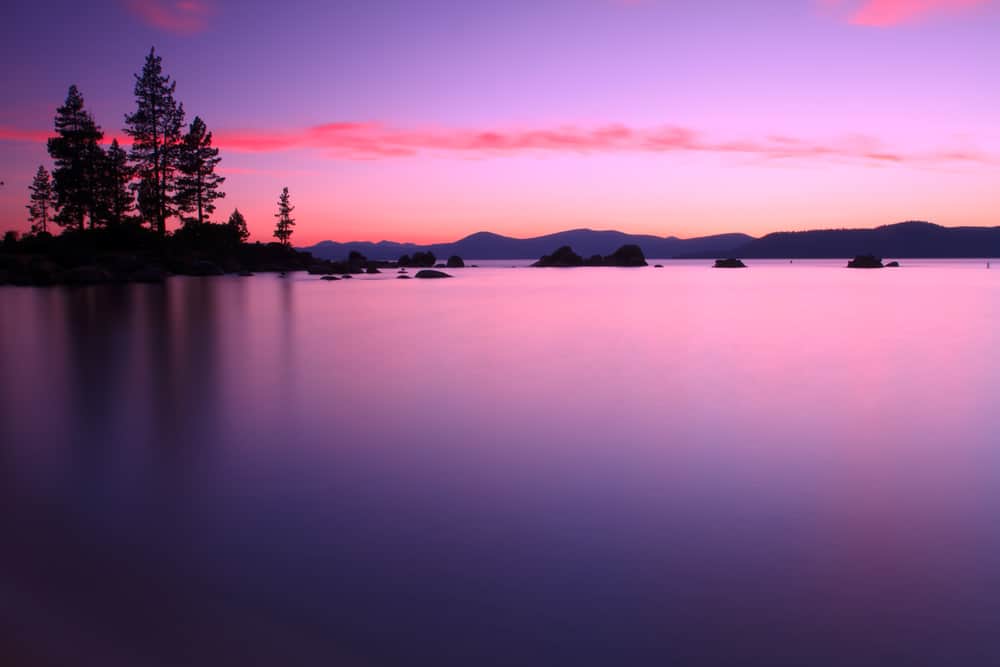 Extending across the state line into Nevada, Lake Tahoe is by far California's largest natural lake at 122,600 acres.
Tahoe has long been considered a kokanee powerhouse, and is the home of California's state record kokanee, a 24.75-inch, 5-pund, 2-ounce brute caught in 2013.
Lake Tahoe was also one of the first California lakes to be stocked with these fish back in the 1940s.
These days, the Department of Fish & Wildlife stocks more kokes here than any other lake. A lot of that stocking happens in the Taylor Creek area.
Peak kokanee season is July through October, and the areas around Camp Richardson, Meeks Bay and Cave Rock Boat Ramp are prime summer spots. The fish congregate in deep water here as they make their way back toward Taylor Creek to spawn in fall.
Look for fish 30 to 60 feet deep in July, and down around 60 to 90 feet in August to September. You'll likely catch the biggest fish, including the possibility of 18-inchers, toward the end of the season.
The two most common tactics are spinners trolled behind a flasher and hoochies trolled behind a dodger. In either case, don't forget to tip your hooks with sweet corn.
Jigging can sometimes be deadly for kokanee if you can pinpoint a school tightly enough to drop a brightly colored metal jig right into the thick of things, but beware that a much larger fish may also snatch that jig, as Tahoe also is among California's best lake trout (mackinaw) fishing lakes.
The autumn kokanee run in October is truly a remarkable thing to behold.
Kokanee begin to develop the hooked jaws and classic red coloration of sockeye salmon in early fall, and by October and November they spawn in Taylor Creek in vast numbers.
More: Complete Fishing Guide to Lake Tahoe
Honorable Mentions
Dozens of California lakes harbor substantial kokanee salmon populations.
While many of these lakes may not have achieved best-of-the-best status, they still provide great opportunities for kokanee anglers.
Many of the lakes on the list here have a lot of potential to climb the ladder in years to come.
New Bullards Bar Reservoir
Surrounded by the rolling hills of Tahoe National Forest, New Bullards Bar Reservoir is a great place if you're eager to fill your 10-fish bag limit of kokanee but aren't too concerned with size.
Bullards Bar supports an incredible abundance of kokanee salmon, but they tend to run small. The action can be non-stop for 12- to 13-inch kokes, but any fish over 15 inches would be exceptional. Still, fishing here can be a lot of fun.
Expect to find fish around 70 feet down in late June, and then progressively deeper as summer wears on.
The area from Moran Cove to Dark Bay is one of many potentially productive trolling spots, and many local anglers consider hot pink to be the go-to bait color.
More: Fishing at New Bullards Bar Reservoir
Don Pedro Reservoir
Kokanee fishing at Don Pedro Reservoir (also called Don Pedro Lake) can be hit or miss, with bonanza years followed by years in which the pickings are slim. Still, the future of this 13,000-acre lake looks promising.
Located about 50 miles from Yosemite, Don Pedro is exceptionally deep and supports a healthy two-story fishery. Some of the best kokanee action seems to take place on early mid-summer mornings at depths between 80 and 100 feet.
Don Pedro Lake is a long, meandering reservoir with an abundance of coves and points; the area between Jenkins Hill and Middle Bay is a perennial favorite for kokanee trolling.
Apex lures work well, and there's a solid chance of catching 16-inch fish when the fishing is good.
More: Don Pedro Reservoir Fishing
Shaver Lake
The southernmost lake on our list, 2,177-acre Shaver Lake an hour outside of Fresno was one of California's great kokanee hot spots in the early aughts.
A major lake drawdown for dam maintenance in 2011 sent fish populations crashing, and the lake has been on the rebound ever since.
Today, the kokanee fishing isn't quite at its pre-2011 peak yet, but the recovery has been significant. There are kokanee up to 15 inches, and solid numbers of 12- to 13-inch fish.
The area around the dam is arguably the best spot for kokanee, and trollers often ply the waters between Boy Scout Cove and Black Rock. Expect a few rainbow trout mixed in.
More: Shaver Lake Fishing
Union Valley Reservoir
Located in among the conifer-covered slopes of the Sierra Nevada in Eldorado National Forest, Union Valley Reservoir spans 2,890 acres and has been generously stocked with kokanee over the years.
Kokanee fishing here tends not to be the all-out bonanza it is in lakes like Berryessa, but you'll have no trouble catching your limit when the bite is on. There's often a decent shot at an 18-incher.
The kokanee season tends to hit its peak in August.
Try trolling at around 60 to 70 feet around the spillway and dam peninsula area.
The lake also harbors significant populations of rainbow trout, which tend to run a little shallower than kokanee, and mackinaw (lake trout), which tend to run a little deeper.
Pardee Reservoir
Nestled in the Sierra Nevada foothills about an hour from Sacramento, Pardee Reservoir is another lake where the kokanee fishing is all about numbers.
The average kokanee in Pardee Reservoir is about 12 inches, which is actually a big improvement from a decade ago, when any fish over 10 inches would have been noteworthy. We hope to see them grow more in the coming years.
Trolling hoochies behind a dodger brings in substantial catches in summer, and spoons like Needlefish often get strikes too.
Many fishermen catch a mixed bag of trout and kokanee, often with trout hitting closer to the surface and schools of kokanee below.
More: Pardee Lake Fishing
Donner Lake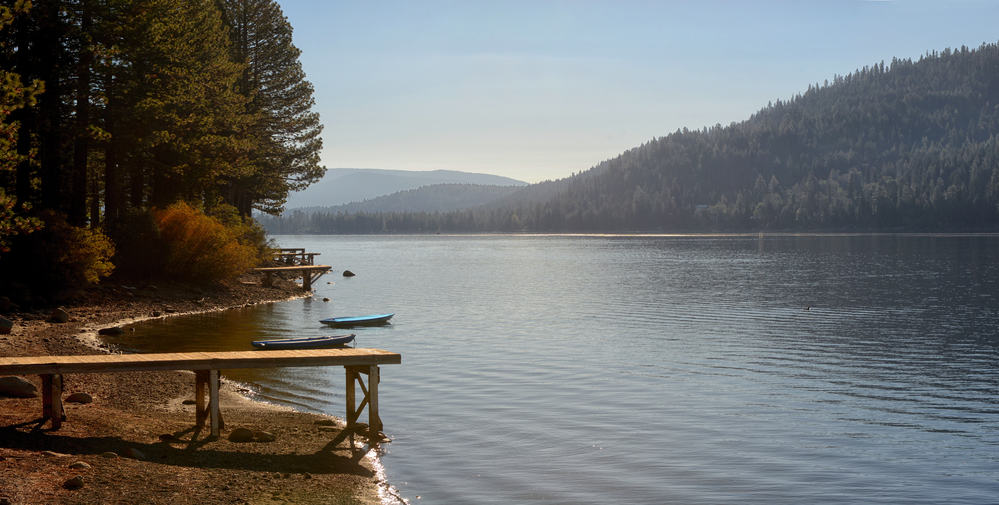 Donner Lake is named for the ill-fated Donner Party, who got stuck in nearby Donner Pass during the winter of 1846-47. Here's hoping your fishing trip fares somewhat better!
Despite its relatively small size, 960-acre Donner Lake is over 300 feet deep, and its cold waters are perfect for kokanee.
Many anglers come here in pursuit of Mackinaw and rainbow trout, but kokanee have been heavily planted, and there are big ones out there.
Donner isn't a numbers lake, but 20-inch kokanee have been confirmed.
The span of water between China Cove and Loch Leven Lodge is the place to be, and the bite tends to be somewhere between 30 and 60 feet in mid-summer.
Donner Lake's kokanee here tend to bite on a lot of the usual suspects, especially pink-colored hoochies behind a flasher.
More: Donner Lake Fishing
Shasta Lake
Let's call Shasta Lake a lake for kokanee anglers to keep an eye on.
The vast 30,000-acre reservoir with 365 miles of shoreline in Northern California, Lake Shasta hasn't historically been a kokanee fishing lake, that could be about to change.
The California DFW had an excess of kokanee fingerlings in 2019, so they decided to release them in Shasta, in hopes that it would develop into a sustainable fishery within a few years.
Shasta Lake has long been considered one of California's premier fishing lakes, but much of its attention has been focused on largemouth and smallmouth bass, rainbow and brown trout, and landlocked Chinook salmon. Time will tell if kokanee will soon be among the fish that draw anglers to this massive lake.
More: Shasta Lake Fishing
How to Catch Kokanee
Have we whet your appetite for catching these fantastic freshwater salmon but don't know quite how to make it happen?
We suggest you start by reading our simple guide to kokanee fishing.