Brown trout are especially prized by California anglers, but they're not easy to catch. They're often wary and they spook easily.
But brown trout are also some of the most beautiful, hardest-fighting fish in fresh water. We'll show you more than a dozen great places to fish for them.
Brown trout are not native to California, or even to North America. They originated in Europe, parts of North Africa and Western Asia, and were introduced to California in 1893.
The first brown trout eggs to be imported to the U.S. came from Germany, which is why some folks call them "German brown trout." In fact, there's no substantial difference between a German brown trout and any other brown trout.
As non-native fish, the California Department of Fish & Wildlife stocks brown trout quite sparingly compared to rainbow trout.
There are also naturally reproducing brown trout populations that have become established in many California rivers and streams, especially in the Sierra Nevada.
Brown trout are notoriously selective.
If you're accustomed to visiting a lake right after it's been stocked with hatchery-raised rainbows that bite on almost anything, you might find fishing for browns an unexpected challenge.
One of the best ways to catch them is often by fly fishing, and many anglers go to extreme lengths to match the hatch with precision.
Also, brown trout (especially the big ones) tend to feed on smaller fish, so crankbaits, spoons and other lures that resemble this favorite prey can be very effective.
Some California anglers occasionally catch brown trout by mistake while targeting rainbow trout.
But there are a select few who pursue brown trout with a passion. If you count yourself among the latter, or want to try joining them this year, then these are the best lakes and rivers to plan your next fishing adventure.
Shasta Lake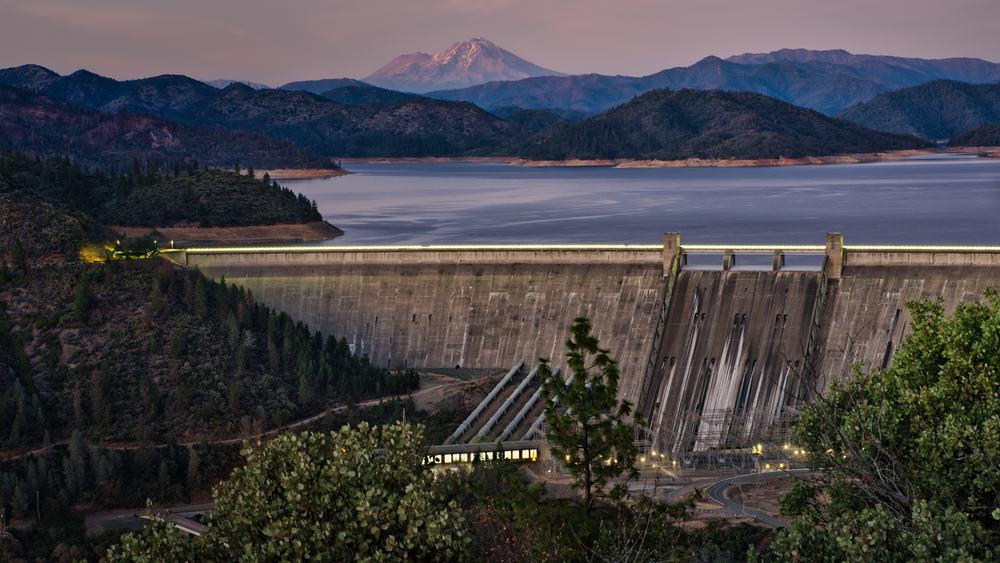 Encompassing 30,000 acres with 365 miles of shoreline, Shasta Lake is a fisherman's dream, and the largest man-made lake in California.
It's also one of the few lakes in the state where anglers can target brown trout specifically with relative ease.
To do so, head to the McCloud River Arm. One of several major tributaries that feed the lake, the McCloud River originates on the slopes of Mt. Shasta, and is where the majority of Shasta Lake's brown trout go to spawn every fall.
Brown trout start heading in that direction in midsummer, and return to the lake in late November. The best time to go after them is usually August and September.
Trolling the McCloud arm with spoons and plugs often brings in substantial catches.
But when the bite is really on, brown trout are abundant and easy enough to find that live bait is just as effective.
Many locals cast live minnows (and occasionally live worms or PowerBait) toward the bank, with minimal weight on the line, and work it slowly back to the boat while letting themselves drift.
More: Shasta Lake Fishing
Twin Lakes
The pair of Mono County Lakes known as the Twin Lakes have a pretty major claim to fame when it comes to brown trout, namely that the state record was caught here.
That fish was caught in 1987, and weighed an epic 26 pounds, 8 ounces. It came from Upper Twin Lake, and bested the previous state record from Lower Twin Lake.
The big question is, are there still record-caliber fish in the Twin Lakes?
The answer, unfortunately, is probably not.
While local brown trout enthusiasts swear there's another record out there, the California Department of Fish & Game stopped stocking brown trout in the Twin Lakes a decade ago.
But don't get too discouraged. Resident browns are known to reproduce in the lakes' tributaries, fueling an enduring population.
Rainbow trout are much more common these days, but browns in the 5-pound class are still caught fairly regularly.
Upper Twin Lake (265 acres) and Lower Twin Lake (391 acres) both offer abundant shore access, and they are great places to fish from a kayak or float tube.
Brown trout have been caught while trolling 30 to 60 feet with Rapalas and other small minnow lures.
Hat Creek
A nearly 48-mile stream that flows into the Pit River in Shasta County, Hat Creek provides some of Northern California's best wild trout water.
Wild rainbow and brown trout are abundant in the creek, often reaching sizes up to 20 inches, making this one of California's best fly fishing rivers.
The lower 3.5 miles of Hat Creek have been designated a Wild Trout Waterway by the California DFW. That means that trout are never stocked here, but only allowed to reproduce naturally.
This lower section has a special daily limit of two trout, with a minimum size limit of 18 inches. Only artificial lures with barbless hooks may be used.
Insect hatches here are plentiful and fairly predictable.
Little Sister Caddis fly imitations are usually effective, and Trico flies that mimic the abundant mayfly hatches from July to October excellent choices too.
The streambed of Hat Creek is composed largely of diatomaceous earth, which is rare for California but makes the stream similar to the chalk bed streams of southern England. This gives the stream a "classic" Old World feel.
Crowley Lake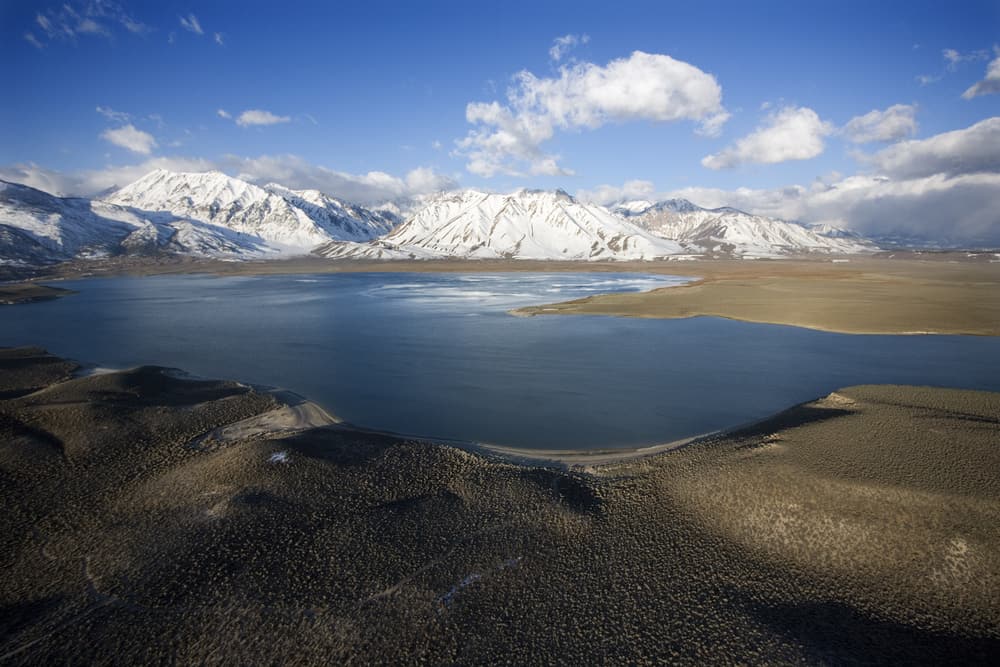 Located among the Easter Sierra in Mono County, 5,300-acre Crowley Lake is one of Southern California's most famous trout fisheries.
Thousands of anglers make their way to Crowley lake for the season opener in April. And for good reason.
It's one of the region's top producers for brown trout as well as being one of California's best rainbow trout fishing lakes.
This lake can put out brown trout in the double-digits—the lake record weighed over 26 pounds, nearly a state record—and at last check the DFW was still planting catchable brown trout at least some years.
Trolling with Rapalas and Needlefish works here, but Crowley Lake is also a truly great fly-fishing lake. The favored flies here are nymphs that mimic chironomids, small mosquito-like insects that hatch profusely on the lake.
The area on the south shore near Crowley Lake Fish Camp is a good starting point to begin exploring the lake.
Fishing is only permitted with barbless lures or flies, and the daily trout limit (all species combined) is two fish of 18 inches or longer. Check the regulations for specifics or updates.
Lake Almanor
Home to rainbow trout, brown trout and landlocked Chinook salmon, Lake Almanor is one of the most prolific trout lakes in Northern California.
But it's not without its challenges. At 28,000 acres, it's one of the largest lakes in the state, and its size can be daunting.
Lale Almanor is divided into two basins, east and west.
The west basin of the lake warms up faster in spring, and insect hatches begin earlier. So if fly-fishing is your game, head west.
But the deeper east basin is home to a huge pond smelt population, and big brown trout have a serious appetite for pond smelt.
You can catch brown trout by casting smelt imitations like Needlefish around rocky structure in the east basin relatively close to shore in springtime. But by May and June, the water warms and the trout scatter.
In summer, insect hatches skyrocket, and there's an especially large hatch of Hexagenia mayfly (the "hex hatch") in the west basin.
Browns and rainbows both gorge themselves on mayflies in June and July, and nymphing with a slip float over deep water is a great tactic.
More: Lake Almanor Fishing
Baum Lake
A small, 77-acre reservoir in Northern California's Shasta County, Baum Lake is a bit off the beaten path, but well worth the effort.
The lake holds an abundance of brown, rainbow and brook trout, which is not surprising considering that the Crystal Lake Hatchery is located on its shoreline.
The lake record is a 23-pound, 5-ounce brown trout, and 10-pounders are not uncommon.
Brown trout tend to make up a larger share of the population at Baum lake than at most California lakes, but the fishing does have its ups and downs, largely because it is so reliant on stocking.
A long, narrow man-made lake, Baum lake has a discernable current, which is worth factoring into your presentation.
It's a great kayak and canoe lake (motorized craft are prohibited) and a lot of fun to explore with a pair of waders and a fly rod.
In summer, trout congregate in the deepest part of the lake channel, and nymphing with a wet fly below a light split shot and float can be highly effective.
A lot of locals also favor dry flies, especially in the morning and evening.
Hell Hole Reservoir
Don't let the name scare you off. Hell Hole Reservoir, located in Placer County a stone's throw from the similarly ominous sounding Desolation Wilderness, is a prime trout lake where big browns reign supreme.
A 1,300-acre lake surrounded by picturesque mountains, Hell Hole Reservoir is deep and crystal clear.
Sunlight penetrates way down into the lakes depths, so that leaves you with two options: get there at the crack of dawn while the sun is still low, or plan on fishing deep water.
Trolling with minnow-imitating plugs and spoons is the go-to tactic for big brown trout at Hell Hole Reservoir. Apex spoons and FlatFish lures are also popular for casting.
It's not the best lake for fly-fishing, but there are good opportunities for fly anglers in the tailwater area below the dam.
Catching 5-pound browns is a common occurrence at Hell Hole Reservoir, and double-digit fish are not out of the question.
In addition to stocked brown trout, the lake has a self-sustaining Mackinaw (lake trout) population and has been stocked with kokanee salmon.
Honorable Mentions
Brown trout have become very widespread on either side of the Sierras in California.
Countless lakes and streams have small to moderate brown trout populations, and if you can't make it to one of the waters mentioned above, these "honorable mention" waters are the next-best thing.
Stumpy Meadows Reservoir
At just 330 acres, Stumpy Meadows Reservoir is a smallish lake in El Dorado National Forest with big potential.
Rainbow trout are by far the most common species here—the DFW stocks rainbows every other week from May through August—but Stumpy Meadows Reservoir also offers some burly brown trout.
Bait fishing is popular, and many anglers drift worms and minnows under a slip bobber. Casting Needlefish and Blue Fox spinners can also tempt strikes.
Shore access is available on the north shore, but many prefer to paddle via kayak or float tube to the south shore, where the fishing is arguably better.
Bucks Lake
About an hour south of Lake Almanor in Plumas National Forest, Bucks Lake is a pretty great mixed-bag trout fishery.
You might find a chunky brown trout at the end of your line, but you're just as likely to reel in a rainbow trout, Mackinaw, kokanee salmon or brook trout.
The 1,827-acre reservoir offers its best fishing in spring and fall, particularly around the Haskin Valley inlet and Bucks Creek inlet.
Bucks Lake is not especially deep, and summer often finds trout stacked up in the deepest available water, and getting them to bite during warm weather can be a challenge.
Upper Sacramento River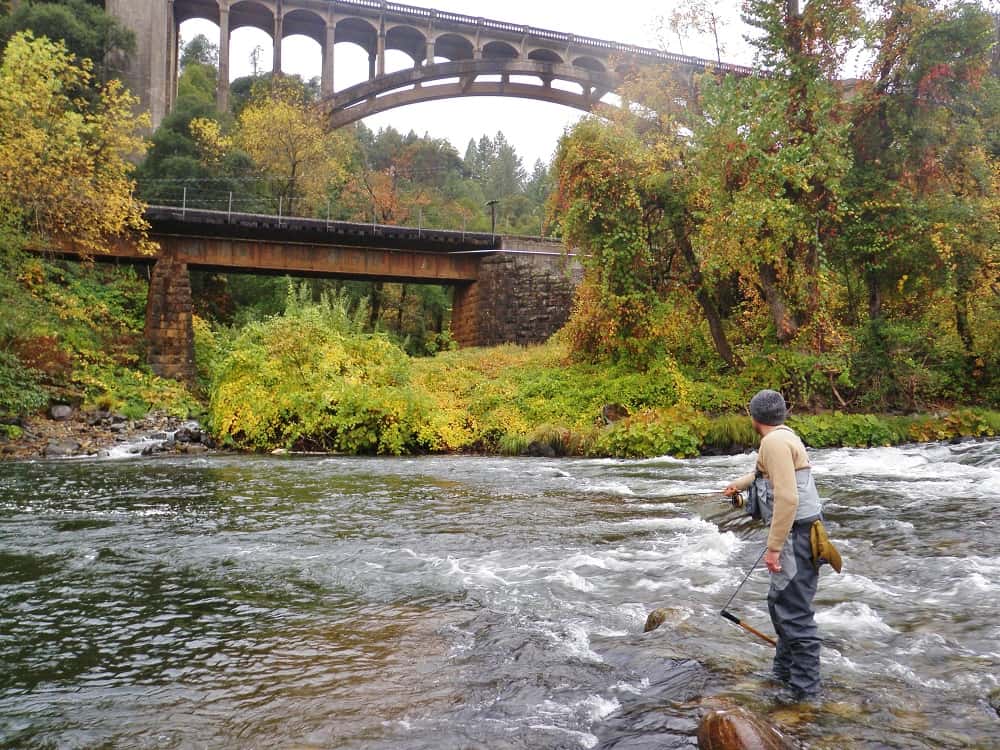 The section of the Sacramento River that flows through the mountains of Northern California, upstream from Lake Shasta and north of Redding, is one of the state's true trout fishing gems.
The scenery is spectacularly beautiful, and the trout are abundant.
It's true that rainbow trout are by far the most common species here, but there are enough brown trout in the Upper Sacramento to keep things interesting.
Most consider it dry fly territory, but nymphs work too on days when insect activity is limited. Several access sites are located just off I-5.
See our article about fly fishing the Upper Sacramento River.
French Meadows Reservoir
French Meadows Reservoir spans about 1,400 acres in the High Sierras of Northern California.
It's a picturesque trout lake that offers an abundance of rainbow trout in the 12- to 22-inch range, but don't be too shocked if your rod doubles over under the weight of a 5-pound brown.
While brown trout are less common here than rainbows, they can be huge.
Casting plugs hear the dam is a popular way to target them specifically, or you can accept that you'll catch a mixed bag, and try fly fishing with caddis imitations on summer evenings.
Owens River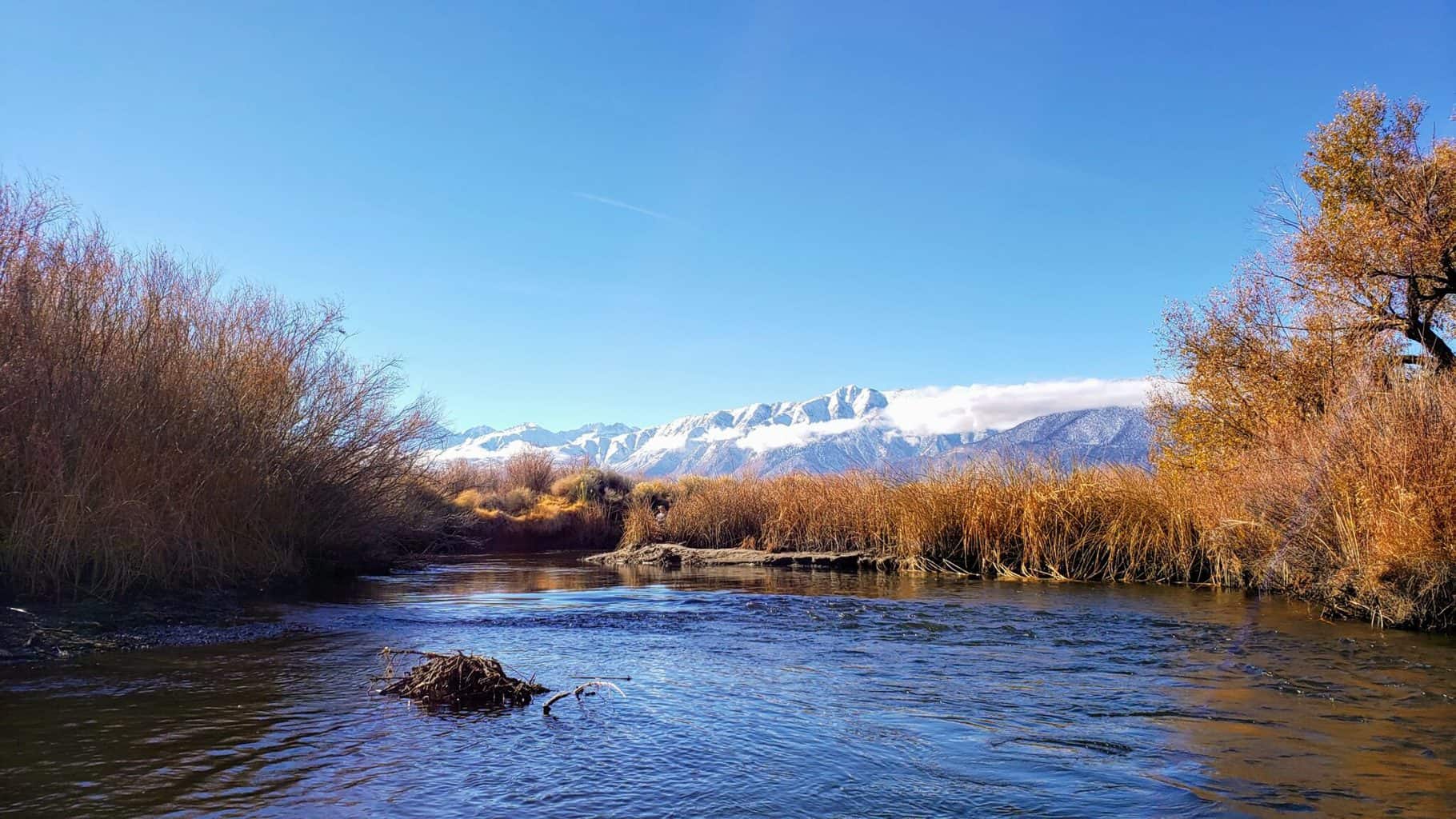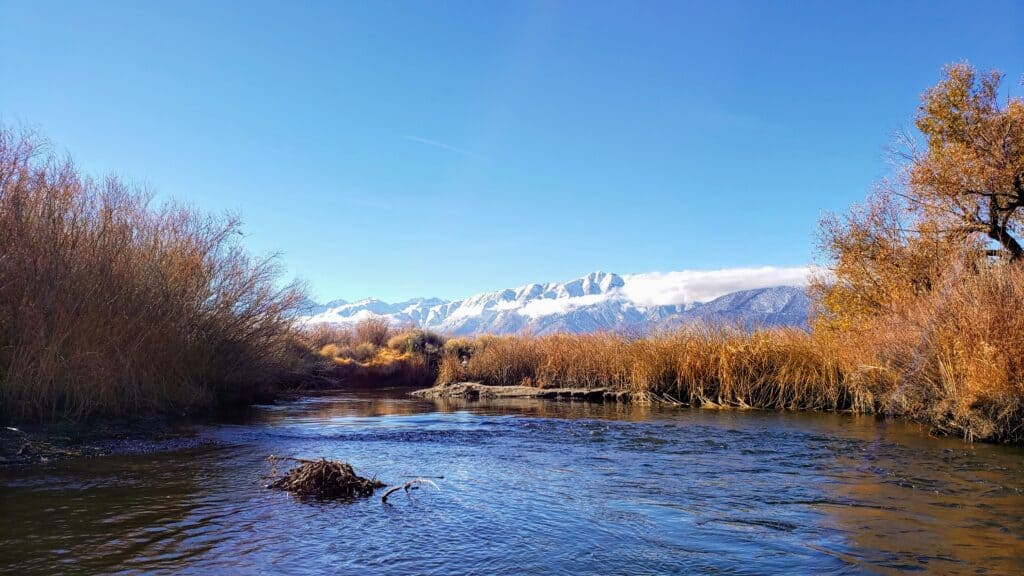 Mono County's Owens River offers stocked rainbows and wild brown trout.
The river has an upper and lower section, with the upper offering the best trout fishing.
Stonefly and mayfly imitations work like a charm, and there are a lot of wild browns in the 12- to 14-inch range.
Owens River is one of Southern California's best and most accessible trout streams.
As you can imagine, popularity is a double-edged sword. It can get pretty crowded, and you'll have your best shot at finding a secluded stretch of water if you go on a weekday.
More: Owens River Fishing
Ice House Reservoir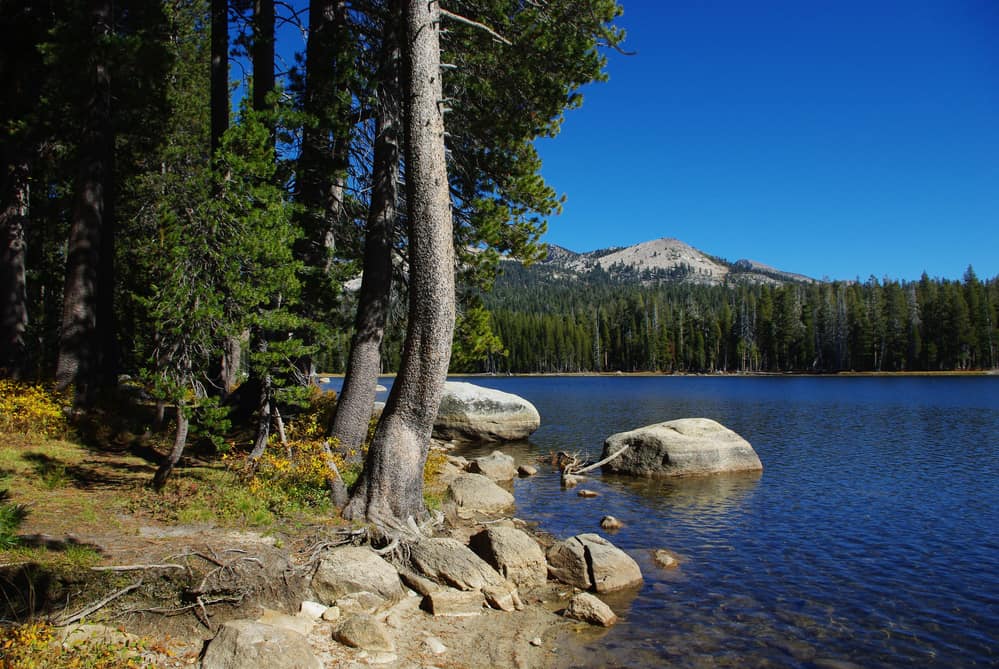 Ice House Reservoir is home to some hefty browns as well as scrappy brook trout.
The 700-acre lake's beautiful rocky shores are surrounded by the towering pines of El Dorado National Forest.
It's an excellent kayak lake, and the area on the eastern end of the reservoir where Silver Creek enters is a prime trout fishing spot.
Bank access, launch facilities and campsites on Ice House Reservoir are provided by the U.S. Forest Service at the Ice House Campground.
Neighboring Union Valley Reservoir also has a limited brown trout population, but is best known for rainbow trout and kokanee fishing.
How to Catch Trout
Read our comprehensive guide to the very best trout fishing techniques and tips.