This complete guide to fishing at Lake Tahoe will tell you where, when and how to catch its most famous fish species, including lake trout (Mackinaw), rainbows, and kokanee salmon. Use the table of contents below to jump right to the information you need.
Spanning an incredible 191 square miles, Lake Tahoe is the largest alpine lake in North America. By volume, the only larger lakes in the U.S. are the Great Lakes.
Needless to say, Lake Tahoe contains a lot of water and, by extension, a whole lot of fishing opportunity.
But this vast lake on the California-Nevada border has a reputation for being hard on anglers not familiar with its secrets. Amid all that water, where does one even begin?
Lake Tahoe offers great rewards for anglers who are able to figure out its puzzles.
It's arguably the best lake trout fishery in either of the states that partially contain it, and also offers abundant populations of rainbow trout and kokanee salmon.
Connecting with this bounty of fish is a matter of being at the right place at the right time. And therein lies the challenge.
Lake Tahoe is not only vast in terms of surface area. It's also shockingly deep. Reaching depths of 1,645 feet, it's the second-deepest lake in the U.S. following Oregon's Crater Lake.
Fish have a lot of water to choose from, and trout—lake trout in particular—have a strong preference for deep, cold water.
Most anglers who find success on Lake Tahoe do so by fishing from a boat, and to be honest many hire a guide.
With a few exceptions we'll tell you about, the fish in Lake Tahoe simply don't come close enough to shore to get a good cast at them, at least throughout most of the year.
Tahoe fishing success also relies on understanding the habits of the fish you're going after, and targeting your presentation accordingly. So let's get to it!
Lake Trout (Mackinaw)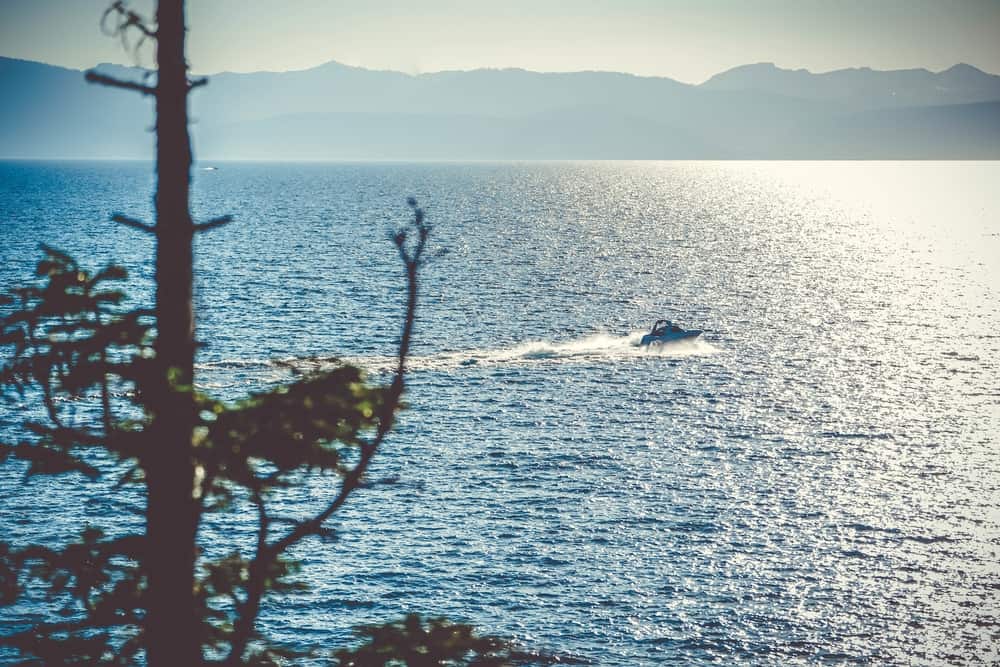 Lake trout—also referred to as mackinaw trout, or simply mackinaw—are the chief attraction at Lake Tahoe for many anglers. One good reason: Lake trout are the biggest fishing in Lake Tahoe, and it's not really a close call.
Native to Canada and the Great Lakes, these fish have been stocked in select lakes across the mountainous West, including a few lakes in the Sierras, but few in which they dominate like they do in Lake Tahoe.
Mackinaw grow to well over 20 pounds, and favor deep, clear, cold waters like Lake Tahoe. The California and Nevada state record lake trout, which tipped the scales at a gargantuan 37 pounds, 6 ounces, was caught here in 1974. (See California Game Fish Records and Nevada Game Fish Records.)
Unlike other trout species, lake trout aren't primarily insect eaters. They're predatory in nature, and prey on smaller fish including other trout and kokanee.
Most anglers who go after the big ones, also called lakers, do so by trolling minnow-imitating lures including Apex lures, Rapalas, Flatfish, and a variety of similar plugs and spoons.
Minnows are also highly effective but make sure you're following the bait-fishing regulations.
Mackinaw favor waters below 52°F, and their movements are largely motivated by a desire to find the most comfortable temperature.
Lake Tahoe lake trout often congregate around steep ledges or shelves where the water drops rapidly to 100 feet or more.
In these areas, lake trout can rise and descend easily as needed to follow bait fish or find a more comfortable temperature. Trolling along ledges using different baits at different depths is a handy way to pinpoint their location.
Points in North Lake Tahoe like Sugar Pine Point and Dollar Point offer steep drops that are often loaded with mackinaw.
In South Lake Tahoe, steep offshore shelves at Tahoe Keys and Cave Rock are popular and productive spots.
Around 80 feet is a good depth to start at, but lake trout may be a bit closer to the surface in the colder months, and considerably deeper in the summertime. Be prepared to experiment with depths. 
Trolling is a good way to start fishing for Lake Tahoe mackinaw because it allows you to cover water more quickly and find fish.
But after pinpointing an area where lake trout are biting consistently, many anglers switch to jigging for a fun, hands-on approach.
Find all of the best lake trout (mackinaw) fishing lakes in California.
Kokanee Salmon Fishing
Kokanee are a landlocked form of sockeye salmon that have been widely introduced to California's large, deep lakes and reservoirs.
While they don't reach impressive sizes—12 to 18 inches is typical—they are excellent fighters for their size and prized table fare.
For many anglers, kokanee are an option they can fall back on if the lake trout don't cooperate on any given day.
There are many who pursue kokanee either for the table, or for the pure enjoyment of catching them. They bite readily, and often travel in huge schools.
Like lake trout, kokanee favor waters that are deep and cool, but they're a bit more likely to rise toward the surface at times.
Their preferred temperature range is between 50°F and 59°F, and they could be anywhere from 30 to 100 feet below the surface, depending on the season. The warmer the water is, the deeper they're likely to be.
Areas just off Camp Richardson, Meeks Bay and Cave Rock are prime Lake Tahoe kokanee fishing spots.
The best season starts in early spring, and as a general rule spring is the best time for numbers, but if you want to catch the biggest kokanee, late summer is your best bet.
Trolling with small spinners, spoons and squid-like plastic lures called hoochies is a tactic that usually does the trick for Tahoe 'kokes.
Many locals use downriggers to troll at greater depths without loading weight on their line, and they usually add flashers or dodgers to create some extra flash and vibration that catches the kokanees' attention.
Whatever lure you choose, most anglers agree that the secret to success is tipping the hook with a kernel of white shoepeg corn. Don't leave the dock without a can or two!
Learn all the tricks of the trade with our Kokanee Fishing: Simple Techniques and Tips.
Kokanee salmon are heavily stocked in Lake Tahoe, but they have also established a naturally reproducing population.
Kokanee spawn in several of Lake Tahoe's tributaries every autumn, most notably Taylor Creek in South Lake Tahoe.
August and September are often the best times of year to go after bigger kokanee, as they make their way toward areas like Taylor Creek, and congregate just off the nearest drop-off as they stage for the spawn.
A 5-pound, 2-ounce kokanee salmon was caught in Lake Tahoe in 2013, and is currently the state record for both California and Nevada.
Can't get enough kokanee? We've scoured the state of California for all the best kokanee fishing lakes.
Rainbow Trout Fishing
While rainbow trout are not quite as common as lake trout or kokanee salmon, Lake Tahoe still offers a solid rainbow fishery, with good numbers of fish in the 5- to 10-pound range.
Rainbows are stocked in Tahoe several times throughout the year, and the decent quantity and excellent size of these trout make it one of the more noteworthy rainbow trout lakes in California.
Toplining, which is a method of trolling lures or baits like minnows and nightcrawlers close to the surface, is a popular tactic for rainbow trout on Lake Tahoe.
The western half (California side) of the lake is generally considered the better area for rainbow trout, but don't think of that as a firm rule.
Trolling off Dollar Point, and along the west shore south of Tahoe City can be highly productive.
But great catches also come from Crystal Bay Point and Sand Harbor in the northeast corner of the lake, and also off Cave Rock, which is farther south along the eastern shore.
Rainbow trout are often likely to be a little closer to the surface than Mackinaw or kokanee, but that can be a double-edged sword.
On one hand, you don't always have to troll at great depth, and throughout much of the year you can catch rainbows from shore.
On the other hand, Lake Tahoe's notoriously clear water is a challenge. Lake Tahoe is gin-clear, and on a calm day, rainbow trout in relatively shallow water can see you coming a mile away.
The best way to put the odds in your favor is to fish during the low-light hours of early morning and evening.
Another good approach is to pick a day when the wind creates a bit of a chop on the water's surface. The waves obscure the silhouettes of you and your boat, making it less likely that trout will get spooked and bolt.
Fishing Lake Tahoe From Shore
Rainbow trout are the most likely fish you'll catch while shore fishing at Lake Tahoe.
If you're going after rainbows from the bank, look for areas with rocky bottoms and lots of cover, often where a steep drop-off is close to shore.
Rubicon Point is a popular shore fishing spot on the western shore, and Cave Rock is one of the best eastern shore spots.
The best time to catch trout from shore is in spring, when the water temperatures are more agreeable for them along the bank.
You can catch trout from shore in summer too, but it tends to be more of a waiting game. Nightcrawlers, spinners and spoons are popular among shore anglers.
Overall, lots of rainbow trout in the 12- to 15-inch range are caught from shore, but the really big rainbows are more likely to roam farther out, near the first major drop-off.
Learn more ways to catch trout with these fishing techniques and tips.
Other Fish Species
In addition to the species mentioned above, Lake Tahoe has also produced catches of brown trout, brook trout and cutthroat trout.
All three species have been stocked in Lake Tahoe on occasion, but due to lower numbers, catches seem to be mostly incidental.
Cutthroat Trout
Lahontan cutthroat trout are an endangered species in parts of their range.
They were once native to Lake Tahoe but were driven close to extinction by the introduction of other trout into the lake. They still inhabit other waters in the Truckee River watershed and nearby Pyramid Lake.
Cutthroats and have been stocked in Lake Tahoe a handful of times in recent years, including several generous plantings.
Typically, there will be a flurry of interest immediately after they're planted, but anglers tend to mostly fish them out within a few months.
Brown Trout
Catches of brown trout are not exactly common in Lake Tahoe, but every once in a while anglers will catch a giant, often while targeting rainbows or mackinaw.
Brown trout are also a popular quarry of fly anglers on the Truckee River, Lake Tahoe's only outlet stream, and fish weighing over 20 pounds have been caught there.
In Lake Tahoe proper, the western part of the lake tends to be the most likely area to find brown trout.
The Truckee River flows out of the lake in Tahoe City, and nearby areas are your best bet for browns.
Try live nightcrawlers and minnow-imitating lures in rocky-bottomed areas in early summer, especially around dusk.
If you want to really target this species, read our Best Brown Trout Fishing Lakes and Rivers in California article.
Bass and Panfish
Anglers have also increasingly reported catches of warmwater game fish over the last decade or so, including largemouth bass, crappie and bluegill.
For the most part, these seem to be found in fishable numbers largely in shallower areas in the southern part of the lake, particularly the Tahoe Keys area.
We've found that enough anglers are interested in this topic that it's a bit much to cover in this article, so we've written a separate Lake Tahoe Bass Fishing article just for you.
Planning Your Trip
On a smaller body of water, you might be able to get away with winging it, but not Lake Tahoe. A successful fishing trip here requires careful planning.
Here's what you need to know before you go.
Getting There
Lake Tahoe lies along the border between California and Nevada, in the Sierra Nevada Mountains.
The lake is about 2 hours northeast of Sacramento via I-80, and less than an hour southwest of Reno, Nevada.
Although the lake is roughly bisected into eastern and western halves by the state line, Lake Tahoe is more often thought of as being divided into northern and southern halves.
North Lake Tahoe and South Lake Tahoe each have a different character, and tend to attract a different type of tourist.
South Lake Tahoe might be considered the more touristy part of the lake. The largest city in this area is South Lake Tahoe, which has plenty of non-angling attractions as well as fishing and boating opportunities.
Of course, there's good fishing in the southern half of the lake, so don't let that put you off. It's just something to be aware of.
North Lake Tahoe is a little quieter, and has the atmosphere of an area that moves at a somewhat slower pace.
And although places like Tahoe City have all the amenities you would expect in a mid-sized lakefront town, this part of the lake also offer more opportunities to get away from the crowds.
Lake Tahoe Fishing Licenses and Regulations
It's always a good idea to know the rules before you hit the water!
As with just about any lake, a fishing license is required, but because Lake Tahoe straddles the line between two states, some unique rules apply.
Put simply, boat anglers may fish throughout Lake Tahoe using a fishing license from either California or Nevada. But if you're fishing from shore or a pier, you must have a valid fishing license from the state you are standing on.
Areas of Lake Tahoe within 300 feet of its tributaries are closed to fishing from October 1 through June 30 to protect trout during their annual spawning season.
Throughout the rest of the year, the entire lake is open to fishing.
Bank and Boat Access: California
California is home to the larger share of Lake Tahoe, including several of its most populated areas.
Numerous parks, piers and public launch ramps provide access on the California side of the lake.
Kings Beach Boat Launch offers paved launch ramps at the north end of the lake, adjacent to Kings Beach State Park. Shore fishing is limited.
Lake Forest Boat Ramp provides launch facilities on the west shore between Tahoe City and Dollar Point. Launch passes can be purchased at nearby Forest Park Beach. Shore fishing access is also available along Dollar Point.
Rubicon Point is one of the best shore fishing spots on the western part of the lake. Access is available from the parking area at Calawee Cove Beach.
Emerald Bay State Park, on the southwest corner of Lake Tahoe, offers bank access and sites suitable for launching canoes and kayaks. There is no developed boat ramp for larger craft.
South Lake Tahoe Public Pier is a popular fishing pier in the city of South Lake Tahoe.
El Dorado Beach and Boat Ramp is a popular launch site, beach and picnic area in South Lake Tahoe.
Several privately owned marinas also provide docking, fuel, launch facilities and other amenities on the California side.
These include North Tahoe Marina in North Tahoe, Sunnyside Marina just outside Tahoe City, Tahoe Keys Marina and Timber Cove Marina in South Lake Tahoe.
Bank and Boat Access: Nevada
Nevada lays claim to a smaller portion of Lake Tahoe, and access is somewhat more limited on this side.
Still, you'll find ample shoreline and some great fishing on the east side of Lake Tahoe.
Cave Rock is one of the best and most popular access sites on the eastern shore of Lake Tahoe. The state of Nevada operates a public launch ramp here (there is a fee) and an abundance of rocky shoreline provides bank fishing access. This area is popular because rainbow trout are stocked here, and they often stay nearby, at least for a while.
Sand Harbor State Park offers two launch ramps and lots of open shoreline toward the northern end of the lake on the Nevada side. This is also a popular kayaking area.
Nevada Beach and Campground offers limited shore access near Zephyr Cove. Kayak rentals are available at the beach.
Launch facilities, boat docks, rentals and other amenities are available at several privately owned marinas on the Nevada side of the lake as well.
These include Zephyr Cove Marina and Round Hill Pines Marina, both in Zephyr Cove.
Camping on Lake Tahoe
It definitely pays to spend more than one day at Lake Tahoe, and camping is a great way to extend your fishing trip for a full weekend, or maybe even longer.
Camping is available at numerous locations on both sides of the lake:
Lake Forest Campground is one of the most rustic campgrounds on the lake, offering 20 primitive tent sites with minimal amenities near Tahoe City. Sites are available on a first-come, first-served basis.
Tahoe State Recreation Area is located in Tahoe City, and offers 31 tent and RV sites as well as a fishing pier and lakeside picnic area.
Sugar Pine Point State Park includes one of Lake Tahoe's largest campgrounds, with 175 campsites suitable for both tents and RVs. Located in Tahoma, California, the park also has a small fishing pier and many miles of hiking trails.
Emerald Bay State Park is home to two campgrounds, including a boat-in camp that is accessible only by boat or on foot. Neighboring D.L. Bliss State Park also has campsites. Both parks are located just south of Rubicon Bay.
City of Lake Tahoe Campground is located in South Lake Tahoe, and caters mostly to RVs.
Nevada Beach and Campground in Zephyr Cove, Nevada, offers dozens of campsites for both tents and RVs near one of Lake Tahoe's most popular beaches.
Zephyr Cove RV Park & Campground is one of the more popular campgrounds on the Nevada side of the lake, offering full-hookup RV campsites as well as more rustic tent sites.