Is there anything more satisfying than spending a day on the lake chasing crappies?
These beloved panfish thrive in waters all over California, and for many anglers, the spring crappie bonanza is something to look forward to all year long.
And why not? Crappies are beautiful, scrappy panfish that put up a mean fight on light tackle. It doesn't hurt that they're tasty, too.
Crappies have the deep, flattened body shape typical of sunfish, but they also have the large mouths of a predatory fish, giving them an overall appearance that could be described as a cross between a bass and a sunfish.
They're silvery in color, often with darker black or olive markings, depending on species and water body.
Typically weighing about a pound but occasionally reaching 3 pounds or more, crappies thrive in any body of water that lacks strong current.
Lakes, ponds, reservoirs and even slow-moving rivers can be home to substantial crappie populations.
Crappie in California
Crappies were introduced to California beginning in the late 1800s. By the mid-20th century, they were widespread in lakes and reservoirs across the state.
Two species found widely across the U.S., black crappies and white crappies, are both available to California anglers.
The habits and habitat of the two species don't vary all that much, but white crappies thrive in slightly warmer, murkier waters.
White crappie tend to be most abundant in Southern California. Black crappies, generally speaking, fare better in the deep, clear reservoirs in the northern part of the state.
But the fact is, the two species are both widely distributed. In fact, many California lakes are home to both species.
Crappies tend to stick close to cover, often schooling around submerged trees, weed beds and brush. Rocky shorelines and docks are also good areas to find them.
Spring and fall, when water temperatures are in the 50s and crappies having spawning on their minds, are the best times to find crappies around cover in shallow water (often 10 feet or less) in California lakes.
But in summer and in much of the rest of the year, they are more likely to move to somewhat deeper water and even roam open water.
Crappie Tackle and Tactics
The tackle needed to catch crappies is simple and straightforward.
Most crappie anglers prefer a light or ultralight spinning rod and reel combo.
Look for a long rod with a flexible tip, and spool the reel with light monofilament line, so you can cast small baits farther and feel subtle strikes. Anything heavier than 6-pound test line is overkill.
Small jigs are almost universally the leading lure choice for crappies.
That being said, crappie jigs come in a head-swimming array of colors and designs, from fuzzy marabou jigs to soft plastics like tube jigs and curlytail grubs.
The brightest colors often work the best but be ready to switch to lighter or darker hues depending on what the fish tell you with their strikes.
Fortunately, crappie jigs are inexpensive, which gives you a lot of freedom to experiment.
Jigheads weighing 1/32 or 1/16 oz. are usually about right, but you could go a little lighter or heavier in some circumstances.
Casting and retrieving jigs offers a lot of options; sometimes an erratic action works best; but other times a slow, steady retrieve is all it takes. Suspending a jig under a bobber works too, especially if there's a little chop to the water.
Other options include miniature crankbaits, plugs, jerkbaits and spinnerbaits, all of which can catch crappies, but risk getting tangled in the thick cover these fish tend to favor.
Of course, there are plenty of crappie fishermen who prefer live bait, and for good reason.
Few things tempt crappies quite like a small minnow under a bobber, or a few mealworms wriggling on a thin Aberdeen hook. Be sure to follow local regulations with live bait, especially minnows that you may need to buy or catch on location.
One of the most important keys, regardless of the bait you choose, is to keep your bait high in the water column.
Crappies are much more likely to strike a bait above them than below, and the way their mouths are shaped makes it nearly impossible for them to pick a bait up off the bottom.
Nevertheless, you'll want to get the bait or lure close enough to tempt them, so finding the right type of cover and depth is critical.
Where and When
While crappies aren't difficult to catch, finding them is often the greater challenge.
The easiest time to locate crappies in California is in the spring, when they head toward shallow coves, bays and inlets to spawn.
The best fishing of the year takes place once the water warms up to the mid-50s. That could be as early as February in some Southern California Lakes, but doesn't arrive until April farther north.
Crappies feed most actively in the morning and evening, so stick to those times of the day for the highest catch rates.
But even in springtime, when crappies congregate in fairly predictable shallow areas, locating a school of these fish isn't always easy. It can be especially challenging on an unfamiliar lake.
Crappies often gather in schools numbering in the hundreds.
You could catch 50 of them by casting jigs to a single dock. But you may also strike out at a hundred other docks before you find the one where crappies are gathered.
The best tactic, generally, is to stay mobile. If a spot doesn't yield a strike after a few casts, move on.
But once you find fish at one of these great California crappie lakes, the action can be non-stop at that same spot for days or even weeks.
Clear Lake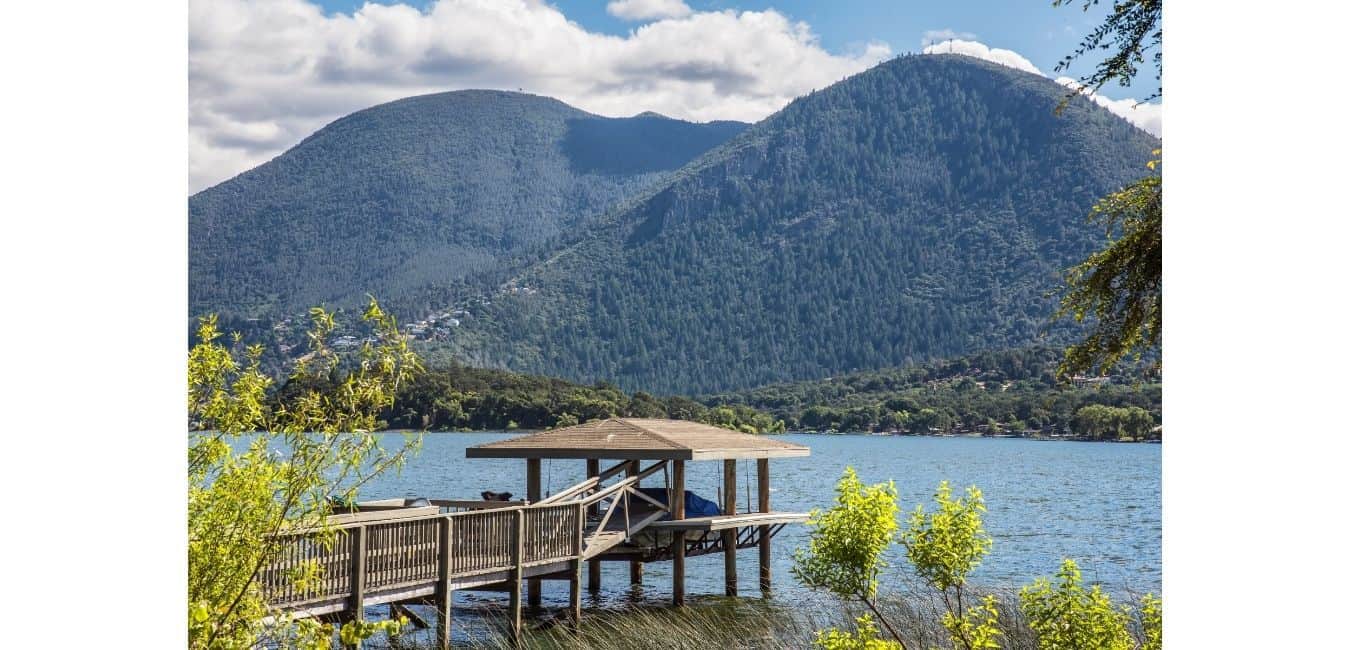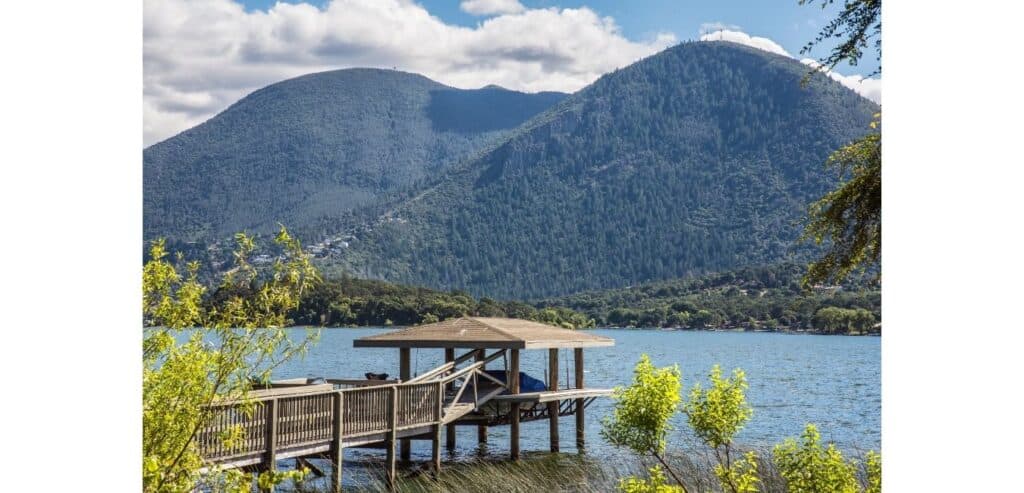 Clear Lake is often referred to as the "Bass Capital of the West," but it could just as easily be dubbed California's crappie capital.
Home to both black and white crappie, this 43,600-acre lake north of Wine Country offers perfect crappie habitat and consistently good fishing.
The largest natural lake in California, Clear Lake is warm and relatively shallow. It's less than 60 feet at its deepest point, and offers an abundance of the types of aquatic vegetation and submerged brushy cover that crappies love.
The crappie bite heats up during February in Clear Lake, as crappie head toward shallow areas in droves to spawn and feed.
Great crappie fishing is available throughout the spring months, only slowing down as the water warms up toward the end of May.
Look for crappies around brush piles, submerged timber and boat docks.
Dock fishing is a consistent spring pattern in Clear Lake, and there are many areas of the lake where you can slowly cruise along the shoreline, casting to one dock after another.
Good spots for crappie fishing include the Lakeport area, the mouth of Kelsey Creek, Baylis Point and Lucerne Harbor. Shore fishing is available at Clear Lake State Park and Lakeside County Park.
Crappie in the 10- to 12-inch range are abundant, with plenty larger fish weighing 2 pounds or more.
A new California state record black crappie weighing 4 pounds, 5 ounces was caught in Clear Lake in February 2021, unseating a 46-year-old record.
California's state record white crappie, a 4-pound, 8-ounce monster unsurpassed since 1971, also hailed from Clear Lake.
Clear Lake also makes our roundups for Best Largemouth Bass Fishing in Northern California and Best Catfish Fishing in California.
More: Clear Lake Fishing
Lake Hodges
Located in Escondido, about 30 miles outside of San Diego, Lake Hodges is one of California's most reliable crappie factories.
Home to a longstanding former state record black crappie, it's known for producing not only good numbers of fish, but big ones.
Spanning a little over 1,200 acres, Lake Hodges is used as a water supply reservoir, and its waters are clean and clear. It's a fairly long, narrow lake that has a lot of shallow brush and timber.
Like many SoCal lakes, Lake Hodges warms up quickly in springtime.
The crappie bite is often excellent in February, and by March you can expect the water temperatures to be in the mid to upper 50s, bringing crappies close to the bank.
Fishing from a kayak or float tube tends to be the best way to ply the shoreline of Lake Hodges for crappies. Boat launch facilities and shore access are available in the recreation area along Lake Hodges Way.
Lake Hodges is tightly managed, and only open to the public from February through October, on Wednesdays, Saturdays and Sundays. On those days, the lake is open from half an hour before sunrise until sunset.
Lake Berryessa
Crappie fishing at Lake Berryessa has seen its share of ups and downs.
A crappie powerhouse back in the 1980s, the lake saw a major decline in crappie populations starting in the '90s. Fortunately, things have improved significantly in recent years.
With 160 miles of shoreline and over 20,000 acres of water at full pool, Lake Beryessa is one of Northern California's largest reservoirs. For those in search of crappies, it's best to focus your efforts on the shallower coves.
Capell Cove, in particular, is a great place to target springtime crappies.
Locals use red-and-white mini jigs to ply the submerged brush and trees in this cove. By the time water temps crack the mid 50s in April, you can easily catch your limit any given day.
Steele Canyon and Portuguese Cove are good spots too. There's good fishing access at Spanish Flat Recreation Area and Steele Canyon Recreation Area, and it's not uncommon to see crappies being caught right from the boat docks, one after another.
Crappies in Lake Berryessa take up a more nomadic lifestyle in summer, roaming open waters following schools of small baitfish.
It's not uncommon for trout and kokanee fishermen to catch crappies incidentally while trolling off the Berryessa Islands.
More: Fishing at Lake Berryessa
New Melones Lake
12,500-acre New Melones Lake sits at the heart of California's Gold Country, surrounded by the rolling foothills of the Sierra Nevada.
It's one of Northern California's best panfish lakes, with abundant populations of black crappie as well as bluegill.
Spring crappie action usually gets underway in March.
You'll find crappie suspended at depths of 30 to 60 feet toward the deep end of coves in late winter, and they'll gradually make their way closer to the bank as spring progresses.
By April, the crappie action is often nonstop.
New Melones Lake has a lot of timber-filled main lake coves that attract crappies in springtime.
Coyote Creek and Bear Cove are perennial favorites, and there's also good shore fishing access at Tuttletown Recreation Area and Glory Hole Recreation Area.
New Melones Lake harbors a lot of crappies in the 1- to 2-pound range. Beetle Spins are a favorite lure here, but just about any small jig or spinnerbait will do the trick.
Crappies leave the shallows to roam open water in summer, but there's a solid fall bite as well.
Steep drop-offs and main lake points often hold schools of bass mixed with crappies at various depths, and some of the biggest crappies of the year may be caught in autumn.
New Melones also has excellent prospects for rainbow trout, kokanee, largemouth and spotted bass.
More: New Melones Lake Fishing
Lake Isabella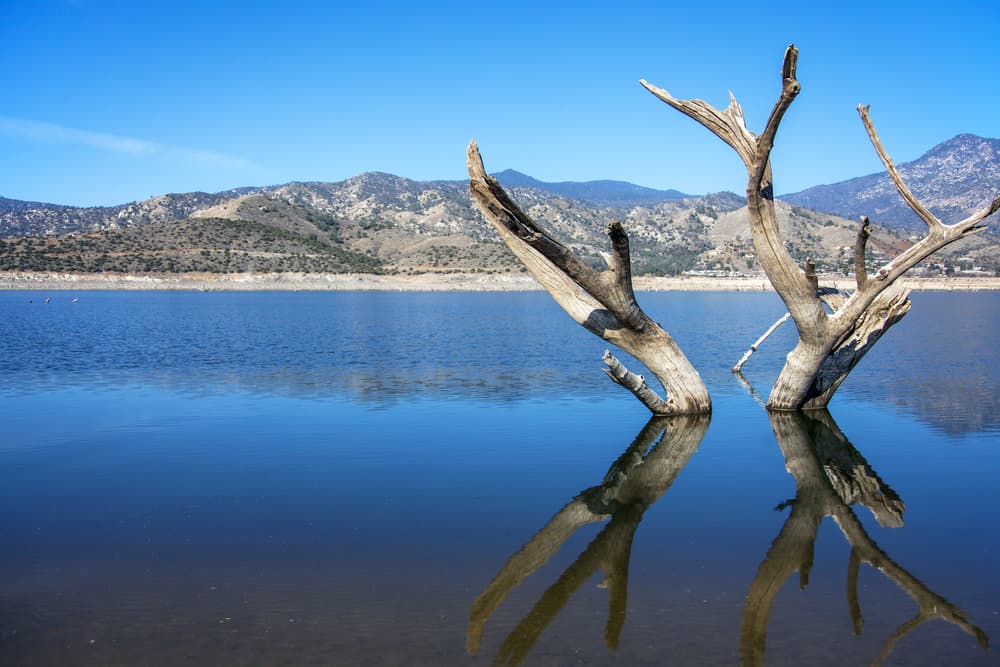 Situated among the rugged hills of Sequoia National Forest, Lake Isabella is an 11,200-acre reservoir known for being one of the best crappie fishing lakes in Southern California.
Both black and white crappie are present.
The areas just off Freear Park near the Kern River entrance and French Gulch Marina closer to the dam have a reputation as especially good spring crappie spots. Both have abundant brushy cover.
It's not uncommon to see fishermen bring in full 25-fish limits of 1.5- to 2.5-pound crappies.
The main body of the lake has a reputation for sudden winds, which can make fishing a challenge. But this area also happens to offer some of the best crappie fishing, so many anglers choose to brave the gusts.
The North Fork is more sheltered, and a great place to explore by kayak.
Like a lot of crappie lakes, the quality of the fishing in Lake Isabella rises and falls in cycles, often depending on spring water levels, which dictate the success of the annual crappie spawn.
The lake gained a lot of attention in 2019, when it had one of the best years on record for crappie fishing.
Only time will tell what the future holds for Lake Isabella crappie fishing.
Lake Isabella also maintains a spot on our rundown of Best Largemouth Bass Fishing Spots in Southern California.
More: Lake Isabella Fishing
El Capitan Reservoir
El Capitan Reservoir is a water storage lake about 30 miles from San Diego.
With over 1,500 acres of water at full pool, El Capitan has a reputation as one of California's best crappie lakes.
You can catch black crappie as well as white crappie here, and some of the best fishing tends to be in the northernmost end of the long, narrow reservoir.
The no-wake zone at the northern end is especially popular among kayak anglers, who often score by trolling jigs and minnows over brush piles.
The bank drops off steeply around most of the lake, but rocks and brush piles are scattered throughout the north end, providing excellent crappie habitat.
El Cap is a solid bass and bluegill lake too, and fishing here tends to be most enjoyable if you keep an open mind about what you plan to catch. A mixed bag of fish species is always a distinct possibility.
A marina is located within El Capitan Reservoir Recreation Area, at the south end of the lake near the dam.
Shore fishing can be good in springtime, but the steep banks limit bank access somewhat. Many anglers wear waders or explore the shallows in a float tube.
More: El Capitan Reservoir Fishing
Honorable Mentions
California Lakes that harbor crappies are too numerous to list, but you have a lot of great choices in addition to the top lakes mentioned above.
Many crappie lakes are cyclical, and great years are often followed by years when populations crash.
Overfishing may be partly to blame, but it also has to do with the way water levels affect crappies' spawning success.
The best fishing on these 'honorable mention' lakes tends be a year or two following a year when water is high in springtime, allowing crappies spawn successfully.
Shasta Lake
California's largest man-made reservoir, Lake Shasta is an outstanding multi-species fishery, with 30,000 acres of water and more than 360 miles of shoreline.
Crappies tend to take a backseat to trout, salmon and bass in this vast Northern California lake, but there are plenty of them in there.
The lake has four main arms and dozens of smaller coves and inlets, all of which are prime crappie territory.
On spring mornings and evenings it's common to catch crappies mixed with bass in submerged tree-filled coves. Try the Dry Creek area and the Little Sugarloaf Creek Arm.
More: Shasta Lake Fishing
Lake Cuyamaca
Lake Cuyamaca lies about an hour east of San Diego. This small 110-acre lake is best known for trout and bass, but there's also a sleeper population of crappies here.
Like a lot of lakes in this part of the state, late winter and early spring are the best time to go after them.
Don't expect huge fish, but the numbers of 10- to 12-inch crappies are solid.
Slowly trolling miniature crankbaits along the north shore or drifting mini-jigs beneath a bobber can be highly effective.
Lake Cuyamaca also offers a fishing pier and rock jetty, which can be great places to catch crappies from shore.
More: Lake Cuyamaca Fishing
Rollins Lake
Spanning a little over 800 acres, Rollins Lake (also known as Rollins Reservoir) is a great off-the-beaten-path crappie fishery in Northern California.
It's especially enjoyable in fall, after the recreational boater crowds of summer have subsided.
Anglers here often catch a mixed bag of crappie, spotted bass and largemouths.
It's a fun lake to fish from a float tube or kayak on quiet mornings, and there are plenty of 10- to 12-inch crappies to be found.
Formed by an earthen dam on the Bear River, this Nevada County lake also has lots of accessible shoreline for bank fishing.
Lake Perris
Just a short drive from the Los Angeles area, 2,250-acre Lake Perris once had a reputation as one of California's best crappie lakes.
The banner years of seemingly endless 2-pound crappies appear to be behind us, but this lake still offers up solid numbers of 10- to 12-inch fish, along with the occasional monster.
The docks at the marina often hold lots of crappies in springtime, and strategically placed brush piles around the lake also yield fish.
Crappies are often mixed in with bluegill, and there are some really giant 'gills in Lake Perris. It's just as common to find a 10-inch bluegill or other sunfish species on your jig as a 12-inch crappie.
More: Lake Perris Fishing
Henshaw Lake
Located in the shadow of Palomar Mountain 70 miles northeast of San Diego, Henshaw Lake encompasses a little over 1,100 acres.
Crappie fishing tends to be cyclical here, with banner years followed by years in which a bite is hard to come by.
But overall Henshaw Lake is known for kicking out good numbers of 1-pound crappies.
Locals catch them on minnows and jigs from the docks right next to the boat launch in springtime.
The lake also has a long stretch of rocky shoreline near the dam that can be productive.
Sacramento and San Joaquin River Delta
A vast inland estuary where the Sacramento and San Joaquin Rivers meet before emptying into San Francisco Bay, the Sacramento and San Joaquin River Delta offers anglers more than 1,100 miles of waterways to choose from.
Crappies are among the many species you can catch here, and they can take a backseat to stripers, various black bass, sturgeon and even salmon.
Although crappies are abundant in the Delta's many sloughs, backwaters and channels, pinning down their location isn't always easy, especially with this much fishable water to choose from.
Snodgrass Slough and Whiskey Slough are popular spring crappie spots, and Frank's Tract can be productive in summer.
Areas farther up the San Joaquin River, especially around the 8-Mile Road Bridge, also offer great shore fishing for crappies.
More: Fishing the Sacramento and San Joaquin River Delta
How to Catch Crappie
Here are even more crappie fishing tips and techniques.