Catfish aren't glamorous. They don't dazzle anglers with their acrobatic runs or mesmerize with their brilliant colors.
But they're big, hard-fighting fish that are abundant in countless California lakes, and it's not hard to see why they have a devoted following.
It doesn't hurt that catfish filets, dredged in cornmeal and deep-fried to golden-brown perfection, are among of the most delicious simple pleasures that life has to offer.
There's something nostalgic about catfish too.
If you ever spent a night on a riverbank as a youngster, waiting for channel cats to make off with your cut bait in the murky depths, then there's something about catfishing in these California lakes and rivers that can really take you back to a simpler time.
So, if you like the easy fishing techniques and delicious results that come with catfish fishing, stick around and learn the best places to catch them in California, along with some more tips that will increase your catches.
Catfish in California
California is home to several species of catfish, none of which are native to California.
Like a lot of Eastern game fish, catfish were introduced to the Golden State in the late 19th century both for food and for sport. They took to California waters quickly.
Channel catfish are the most abundant in California, an also a favorite among anglers. Channel cats also are stocked in a fair number of waters to increase catches even more.
Typically weighing 2 to 10 pounds (and occasionally reaching 30 pounds or more), channel cats are silvery-gray to olive in color, with deeply forked tails. They inhabit lakes in practically every corner of the state.
Blue Catfish are less widespread, and are confined mostly to a handful of lakes in Southern California.
Blues are similar in appearance to channel catfish, but generally take on a blueish tint, sometimes even dark purple, that gives them their name. They also reach truly epic proportions, sometimes exceeding 100 pounds.
Flathead catfish can be identified by their brown color and oversized, flattened heads with a protruding lower jaw.
They're adapted best to big, slow rivers and are rare in California, but in the select waters in which they thrive, flatheads are greatly sought-after by anglers.
Bullhead and white catfish are also present throughout the state. Although they are smaller and less prized by fishermen, they can be great fun to catch, especially for kids on family fishing trips.
Baits for Catfish
Catfish are, generally speaking, bottom feeders.
They hunt mostly by using their keen senses of taste and smell, although evidence suggests that they may also use their eyesight and attack live prey more often than most of us give them credit for.
Still, it tends to the smelliest natural baits that are most tempting for catfish. Cut baits, including shad, anchovies, sardines and mackerel are especially popular.
Preferred catfish baits vary from one region to the next, and even from lake to lake. Local anglers in many areas have their own "secret" baits that they swear by.
Various types of worms, clams and shrimp are widely popular, and chicken livers are a perennial favorite. Dough baits of both the store-bought and homemade varieties have their devotees as well.
Catfish will certainly bite nightcrawlers and other worms, but some serious catfishers avoid them because those baits also are likely to soon get the attention of bait-stealing smaller fish, such as sunfish.
Catfish Tackle
Rigging varies as well. Many anglers use a variation on a drop-shot rig with the sinker at the end of the line, and a baited hook some distance above. Others prefer to rig up with a sliding sinker above the bait.
In any case, using enough weight is key to keeping your bait near the bottom, and also helps if longer casts are in order.
In lakes and ponds, sinkers weighing 1/2 to 1 ounces are typical, but in rivers with strong currents, many anglers use sinkers weighing 3 ounces or more.
Medium spinning tackle is ideal for catfishing in most situations. Be sure to use at least 10-pound test line (many experienced catfish anglers use 20 lb. line). Catfish are not line shy like some gamefish.
There's always a real possibility of hooking up with a giant fish. Hooks sized 2/0 to 4/0 are usually about right for areas with good-sized catfish.
You can get away with your trout or bass rod and smaller terminal tackle in waters dominated by smaller catfish, such as bullheads or recently stocked pan-sized channel cats.
Where and When to Catch Catfish
Catfish often bite readily, but timing and location are essential.
As a general rule, catfish are most active in warm water, and the summer months offer the best opportunities to catch catfish in California.
Big catfish spend their days in deep holes, but they emerge at night to feed on shallow flats, and most anglers agree that the best catfishing is after dark and during the twilight hours of early morning and late evening.
Of course, follow the legal fishing times for a given water.
Don't write off your chances of catching catfish in daytime. Cats will still bite if you put a bait close enough for them to smell it. This is especially true in murkier waters where the light doesn't penetrate as deep.
As a general rule, the biggest catfish are most active after dark, but you can still catch your limit of small to medium-sized catfish during the day.
No matter when you're planning to go, the following are the best catfish waters in California.
Sacramento and San Joaquin River Delta
A vast inland river delta and estuary that feeds into San Francisco Bay, the Sacramento and San Joaquin River Delta encompasses nearly 200 islands and more than 1,100 miles of waterways.
Most folks call it the California Delta, or simply "the Delta." It's one of the best fishing destinations in the state for a wide rage of game fish, catfish included.
Channel catfish are the most sought-after species in the Delta, but you'll find an abundance of bullheads and white catfish as well.
Finding catfish in the Delta doesn't tend to be all that challenging. These fish are common throughout the Delta's slow-moving sloughs, channels and backwaters.
White Slough, Frank's Tract and Sherman Lake are especially productive for catfish fishing.
Spring and summer in the California Delta often find catfish closest to shore, making these the favorite seasons among local catfish anglers.
Anchovies, sardines, clams and bloodworms are popular baits.
The waters of the California Delta are influenced by the tide, but the farther upriver you go, the less the impact of the tide will have.
Catfish bite readily here, so as a general rule, if you haven't had a bite after half an hour, it's best to move on to another spot.
More: Fishing in the California Delta
Colorado River
Flathead catfish are far less common in California than channel catfish, but the Colorado River is a unique place where flatheads flourish.
The river meanders along the Arizona border in Southern California, and the section of river near the community of Blythe, California, is known for producing astonishing numbers of flatheads.
There are seemingly endless 2- to 5-pound flatheads in this section of the Colorado River, but you might end up tangling with giants too.
Fish weighing over 50 pounds have been caught, and 10-pounders are reasonably common.
Much like channel cats, flathead catfish don't especially care for fast-moving water, and the best way to locate them is by targeting deep pools, eddies, backwaters and sloughs.
Anywhere there's slack to the current can be a great place to find flatheads.
Flatheads hunt more actively than most catfish, often waiting among the tules that grow along the riverbank to ambush prey.
They have larger mouths than channel catfish, and oversized live baits can be effective. Some locals use live bluegill, which is legal as long as you catch them in the same water you use them in.
Fishing the Colorado River at night is usually the best option, and not just because catfish are more active after dark. Daytime temperatures in this part of the state are routinely over 100 degrees.
Flathead catfish also are caught in several Colorado River reservoirs, including popular Lake Havasu.
And, not surprisingly, this boundary river also is one of the best catfish fishing spots in Arizona.
Clear Lake
Spanning 43,600 acres, Clear Lake is the largest natural freshwater lake in California.
Geologically speaking, it's also the oldest lake in North America, and its fertile waters offer some of the best fishing on the West Coast.
Clear Lake is best known as one of California's best trophy bass lakes and also has some of the state's biggest crappie, but don't let that distract you entirely because there are some epic catfish in its depth as well.
Channel catfish over 30 pounds have been pulled from Clear Lake, and any summer evening can easily yield a limit of feisty 2- to 5-pound cats, which are the best eating size.
Just shy of 60 feet at its deepest point, Clear Lake is relatively shallow, and offers an abundance of aquatic vegetation and woody cover.
Catfish often spend their days here in deep holes, and emerge to feed on shallow flats at night.
Local favorite baits include shad, uncooked shrimp, and even chunks of hot dogs.
Areas just off Frasier Point and Rattlesnake Island are productive for catfish on Clear Lake. Popular shore fishing spots include Lakeside County Park and the area under the bridge that spans Rodman Slough.
Clear Lake hosts the largest catfish tournament west of the Mississippi: the Clearlake Oaks-Glenhaven Catfish Derby. It's been going strong for 30-plus years, and offers thousands of dollars in prizes for the biggest catfish.
More: Clear Lake Fishing
San Vicente Reservoir
Blue catfish are the undisputed heavyweight champions among California's catfish species. While they aren't nearly as widespread as channel cats, blues are usually the biggest fish in any lake they call home.
Take San Vicente Reservoir as a prime example.
This 1,500-acre reservoir near San Diego is home to California's record blue catfish, a hulking 113-pound, 5-ounce monster that was caught in 2008.
In fact, San Vicente in a rare class of California lakes that have yielded multiple hundred-pound catfish.
Blue cats have a habit of hiding in holes or cavities, and some of the best spots are parts of the reservoir where boulders have been piled on the bottom, forming natural "caves" that these fish can hide in.
The Barona and Kimball arms of San Vicente Reservoir are popular among catfish anglers, and the area around Lowell Island is another favorite spot.
Mackerel cut into bite-size chunks is the bait of choice here.
San Vicente Reservoir is open to the public from half an hour before sunrise until sunset, so night fishing is not an option here.
Starting early in the morning is your best bet, but blue cats in deep holes will bite during midday.
More: San Vicente Reservoir Fishing
Lake Casitas
Lake Casitas is best known as one of Southern California's best big bass lakes, and is routinely listed among most likely spots where the next world record largemouth will be caught.
But every once in a while, a giant catfish from Lake Casitas will make local headlines as well.
Channel cats weighing 20 pounds or more turn up every few years in this 1,100-acre Ventura County Reservoir, and 10-pounders are fairly common.
The areas around Mallard and Grebe Campgrounds are popular for shore fishing.
The catfish bite is pretty consistent at Lake Casitas throughout the spring and summer months.
One pattern that seems to hold true here is that the best fishing is right after a heavy rain. Rains tend to swell the lake and stir up the water, which prompts catfish to feed.
The lake is accessible through Lake Casitas Recreation Area, which is generally open daily from 6 a.m. to 6 p.m. Night fishing from shore is permitted on select weekend nights, weather permitting, until 11 p.m.
More: Lake Casitas Fishing
Irvine Lake
An Orange County reservoir spanning over 700 acres when full, Irvine Lake is arguably California's second-best lake for blue catfish, after San Vicente Reservoir.
This lake has produced several former state records, including one just a hair shy of 90 pounds.
One thing that makes Irvine Lake unique is that boats of any kind are prohibited, so it's open to shore fishing only.
Also, the lake is only open from 6:30 a.m. to 4 p.m., Friday through Sunday, but there is lots of shoreline to fish during those hours.
Worms, mackerel and dough baits are popular among the local anglers, and can be purchased on-site at the bait shop.
All catfish larger than 24 inches must be released back into Irvine Lake, and this practice has helped sustain a population of true giants.
Catchable-sized catfish are stocked each spring, so there should be ample numbers of keepers.
Although Irvine Lake has fluctuated greatly in recent years due to drought, it's the only lake in SoCal that has never been completely drained. This has led some to speculate that catfish over 100 pounds may lurk in its depths.
This is a rare place where you don't need a fishing license, but there are a number of special rules, so it's a good idea to read up before planning your trip.
More: Irvine Lake Fishing
Lake Berryessa
Home to substantial populations of channel catfish as well as bullheads and white catfish, Lake Berryessa is one of Northern California's great multi-species fisheries.
This 20,700-acre Napa County Reservoir is just as productive for bass and trout as it is for catfish.
But there's a lot of water to cover, which can be challenging.
For those in search of catfish, shore fishing simplifies things.
Putah Creek Inlet and Pope Creek Inlet are great areas for catfish, and the Putah Creek Recreation Area—located on a peninsula of sorts between the two inlets—offers prime bank access.
The Eticuera Day Use Area, at the northernmost tip of the lake, is also a popular spot. Fishing after dark is especially productive here on warm summer nights. The best catfish bite often comes just after sundown.
Expect to catch a lot of good eating-size channel cats in the 2- to 5-pound range, but don't be too surprised if you find yourself fighting a giant.
Lake Berryessa has given up plenty of 20-pound catfish.
More: Lake Berryessa Fishing
Honorable Mentions
From warm, weedy SoCal lakes to the deep, clear mountain reservoirs of Northern California, there are countless bodies of water in California that offer outstanding catfish angling opportunities.
These spots include many lakes where catfish fly—or perhaps swim—under the radar, while fishermen focus on other game fish like bass and trout.
Lake Cuyamaca
Lake Cuyamaca is located about an hour east of San Diego, and its high-elevation makes it one of the few year-round trout fisheries in this part of the state.
For that reason, most anglers come here in pursuit of trout, and completely ignore Cuyamaca's chunky channel cats.
The lake is home to lots of catfish weighing 5 to 10 pounds, and they seem to have a real appetite for uncooked shrimp.
The fishing dock and jetty on the north shore of this 110-acre lake are popular spots, but most of the lakeshore is open to fishing, and there's also a boat launch and lakeside campground.
More: Lake Cuyamaca Fishing
Lower Otay Reservoir
A stone's throw from the Mexican border, Lower Otay Reservoir is best known for its trophy-sized largemouth bass.
But like San Vicente mentioned above, it's also one of the best blue catfish lakes in the state, and one of the few places in CA where a 100-plus-pound blue has been caught.
Look for areas with deep holes and thick cover where blue cats like to hide out.
The mouth of the Harvey Arm is a good place to start, and a lot of big blues have been caught along the buoy line near the dam.
Mackerel seems to be the best bait.
More: Lower Otay Lake Fishing
New Melones Lake
12,500-New Melones Lake is a great NorCal fishing lake for bass and trout as well as catfish.
Expect lots of 4 to 8 pound cats here.
The area under the CA-49 bridge, not far from the New Melones Lake Visitors Center is a popular shore fishing spot for catfish.
Glory Hole Recreation Area offers bank access as well as a campground.
Many of the lake's shallower coves and creek arms, including the Coyote Creek and Angels Creek arms, are home to lots of big catfish.
More: New Melones Lake Fishing
San Pablo Reservoir
Located in the East Bay Area, San Pablo Reservoir is an 866-acre water storage reservoir is regularly stocked with both rainbow trout and channel catfish.
Both species offer excellent fishing opportunities, with many anglers focusing on trout in springtime, and then switching gears to target catfish as the water warms in summer.
The State Recreation Area on the western shore offers bank fishing access and boat launch facilities.
Lots of cats under 5 pounds offer consistently good fishing all summer long, but there are at least a few giants out there too. A 40-pound channel catfish was caught and released in 2016.
More: San Pablo Reservoir Fishing
Lake Almanor
Surrounded by the picturesque Sierra Nevada Mountains in Lassen National Forest, Lake Almanor is, without a doubt, one of California's most beautiful catfish lakes.
And on warm summer evenings, channel catfish, bullheads and white catfish are all on the menu.
Lake Almanor offers a lot of easy shore fishing access.
The aptly named Catfish Beach, near the North Shore Campground just of CA-36, is a great place to start. Many anglers also cast for catfish under the CA-36 causeway.
More: Lake Almanor Fishing
Lake Jennings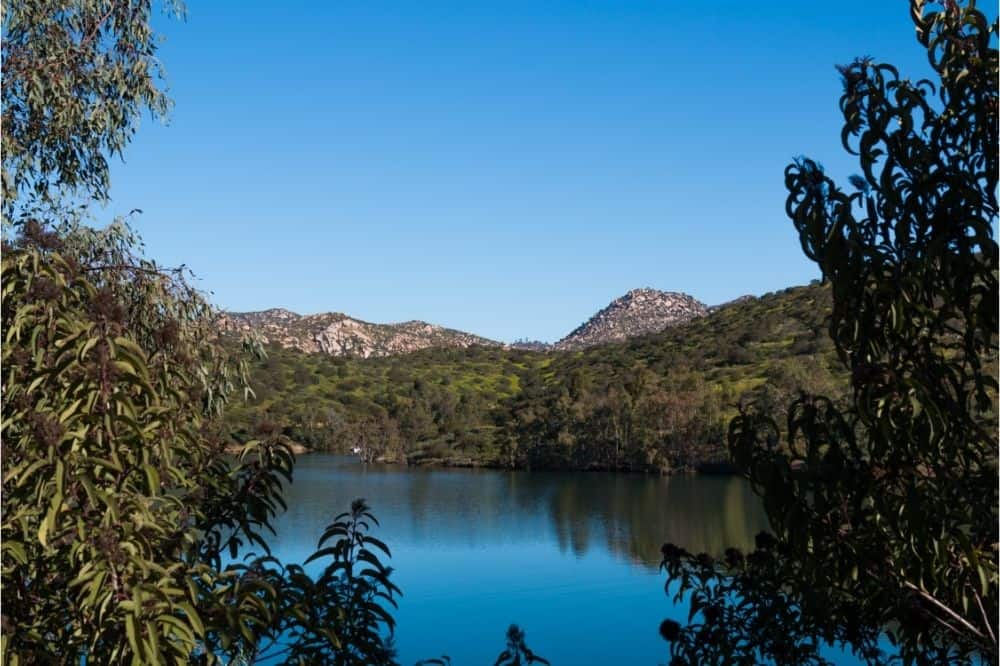 Another San Diego area lake known for producing big blue catfish, Lake Jennings is a small reservoir at just 85 acres, but offers some serious catfish potential.
There's a deep channel not far from the Lake Jennings Campground where big blues are known to hang out.
Lake Jennings is home to a solid channel catfish population too, thanks in large part to regular summertime stocking.
Look for channel cats in Hermit Cove, where man-made catfish spawning structures have been placed on the bottom.
Anchovies, sardines and mackerel are all good baits.
More: Lake Jennings Fishing
Lake Amador
Nestled in the Sierra foothills of Northern California's Gold Country, 400-acre Lake Amador is managed primarily as a trout fishery (several species are stocked heavily each winter and spring).
But when water warms up and the trout fishing peters out in summer, attentions turn to catfish.
Lake Amador harbors a substantial channel catfish population, and cats weighing over 30 pounds have been caught here.
Coves along the south shore of the lake offer some of the best catfish action in summer, and the lake hosts a major catfish derby every year.
More: Lake Amador Fishing