This article provides a brief introduction to the best fishing rivers and lakes in Trinity County, a lightly populated area in northwestern California.
For anglers, the Trinity River and Trinity Lake around standouts, and several other spots also offer fishing in this mountainous region that includes the Klamath and Salmon mountains.
The county has no incorporated cities and fewer than 20,000 residents at this writing. Communities include Weaverville, Hayfork, Lewiston, Douglas City, Junction City, and Mad River.
After checking out the various fishing spots in Trinity County, take another minute to read the "Fishing in Neighboring Counties" section below. That section will show you some additional fishing spots within easy reach, and you can use the links there for more detailed information.
Carrville Pond
This small pond located just north of Trinity Lake is stocked with catchable rainbow trout, often from mid-spring through the summer.
Carrville Pond isn't always easy to fish, with steep, rocky banks and thick willows at the water's edge
Coffee Creek
Coffee Creek is a tributary of the upper Trinity River, flowing into the main river near the small community of Coffee Creek a few miles north of Trinity Lake.
The stream is stocked with catchable rainbow trout during the prime season, often from April to September.
The area is known for rattlesnakes and bears, so be aware of your surroundings.
Ewing Reservoir
This 40-acre reservoir, also known as Ewing Gulch Reservoir, is stocked with catchable rainbow trout during the mid- to late spring, when trout fishing will be best.
As trout fishing fades into summer, bass, catfish and panfish will still bite.
Ewing Reservoir is located slightly more than a mile off Highway 3, just northeast of the community of Hayfork.
Lewiston Lake
This 610-acre Trinity River reservoir is most popularly fished for trout.
Located just is located north of the community Lewiston, the reservoir is regularly stocked with catchable rainbow trout starting in April and continuing through the warm months.
Anglers also have reported catching brown trout in the reservoir, and some brook trout might be available.
The lake also offers campgrounds, marina and other amenities.
For more detailed information, visit the park website.
Ruth Reservoir
Ruth Reservoir (also known as Ruth Lake) is a good-sized lake (covering nearly 1,200 acres when full) with a variety of fish to catch.
Fishing will be especially popular when it's stocked with rainbow trout, which can start as early as March and might continue until as late as September. Some brown trout also are in the lake.
Besides trout, this is one of the few decent bass fishing lakes in this general area and also has catfish and various panfish.
The reservoir was created with the damming of the Mad River and is located in the southern part of the county.
The lake also offers boat ramps along with a fuel station for anglers who own boats.
With concerns about aquatic invasive species, all boats and flotation devices must be inspected before entering the lake.
For more detailed information, visit the park website.
Trinity Lake (Clair Engle Lake)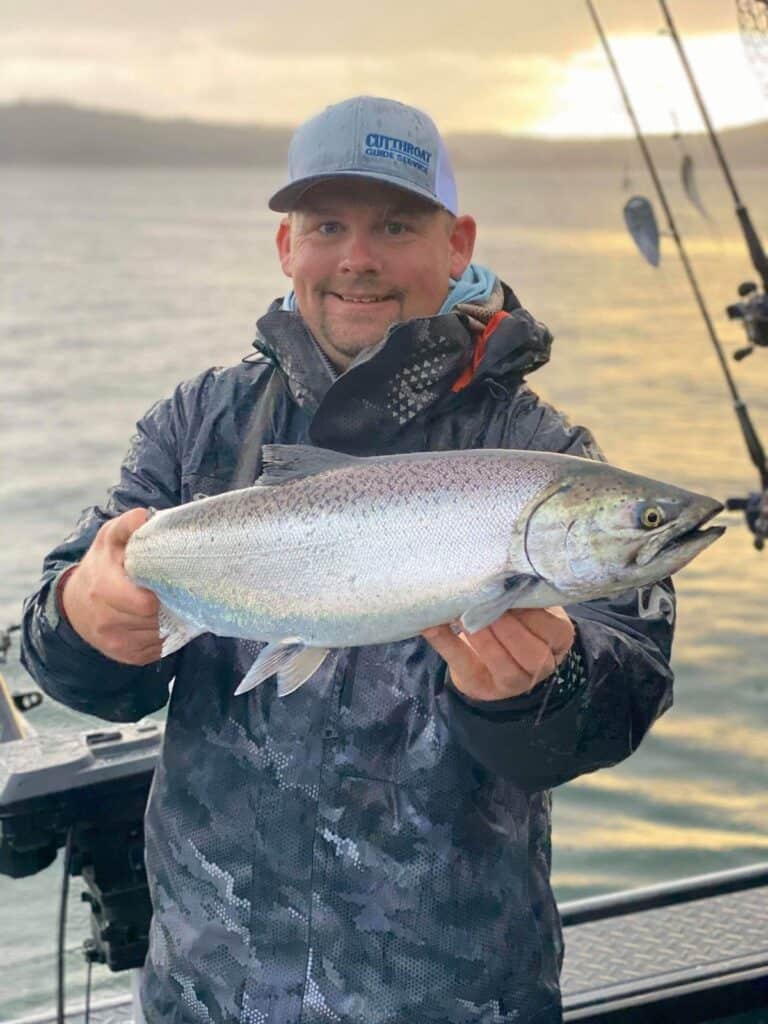 With 16,400 surface acres when full, Trinity Lake is by far the largest man-made reservoir in the county, and certainly one of its best-know fishing holes.
Trinity Lake is featured elsewhere on our website for having some of the best smallmouth bass fishing in California and also for being among the best places in California to catch landlocked Chinook salmon.
Trinity has produced a past record for smallmouth and the current mark for brown bullhead catfish.
Trinity Lake also is a great spot to catch rainbow trout, which are stocked in good numbers as keeper size and occasionally can reach larger sizes as well.
Other game fish here include kokanee, brown trout, largemouth bass, catfish and others.
Trinity Lake also offers various campgrounds, boat ramps and fuel stations among the amenities.
See the link for our full story.
More: Trinity Lake Fishing
Trinity River
Trinity River provides a wealth of fishing opportunities.
Both salmon and steelhead run up from the Pacific Ocean and provide opportunity for much of the year, with Chinook arriving in spring and fall runs.
Smaller "half pounder" steelhead also return in the fall, ahead of the larger winter run of steelhead.
There is a hatchery that supports these sport fisheries, but always make sure to study up on regulations before fishing.
The river also is a good trout stream, with rainbow and brown trout both above and below the reservoirs.
The Trinity in the first couple miles below the dam at Lewiston has some big wild trout, while parts of the system including East and Stuart forks and main stem above Trinity Lake also are stocked with keeper rainbows during spring and summer months.
Depending on where you are, established campgrounds or primitive campsites are available.
As mentioned above with tributary Coffee Creek, some of these areas are known for rattlesnakes and bears, so be aware of your surroundings and keep food items out of reach in camp.
More: Trinity River Fishing
Van Duzen River
The upper reaches of this river flow through the western part of Trinity County, although it's the lower reaches in Humboldt County that feature the steelhead runs that bring most anglers to the Van Duzen.
The upper sections are most likely to have trout including native rainbows and non-native brook trout.
Read the regulations before fishing these areas.
More: Van Duzen River Fishing
Fishing in Neighboring Counties
Siskiyou County: To the north, this rugged county around Yreka is loaded with plenty of fishing, especially when it comes to some of the state's best trout streams and lakes.
Shasta County: To the east, this county is ground zero for some of the most famous fisheries in Northern California, including Shasta and Whiskeytown lakes and some incredible trout streams.
Tehama County: To the southeast, the Red Bluff area includes a productive stretch of the Sacramento River as well as a handful of other noteworthy fishing holes.
Mendocino County: To the south, this coastal county around Ukiah has everything from freshwater standouts like the Russian River to excellent offshore fishing for salmon and other sport fish.
Humboldt County: To the west, another big coastal county, the area around Eureka has more legendary steelhead and salmon rivers than almost anywhere, including the Eel, Mad, Mattole, Van Duzen and part of the lower Klamath River. Throw in some great ocean fishing and there's enough to kept your line tight all year long.