Editor's Note: Officials are forecasting extremely low salmon returns to the Sacramento and Klamath rivers in 2023. Anglers should expect significant ocean and river salmon fishing closures and check for regulation updates before fishing for salmon in the state.
Humboldt County includes one of the longest and wildest sections of the incredible California coastline.
It's home to giant Coast Redwoods and crashing Pacific Ocean beaches and headlands.
Eureka and other cities around Humboldt Bay are where most of its residents live, but Highway 101 cuts a well-traveled path for locals and tourists alike down the coastline.
To find some of the crown jewels of fishing here, you'll need to get off the main highway and head into the forests.
As you'll read below, Humboldt County is chock full of great fishing rivers, offering some of the very best salmon and steelhead fishing in California.
The Eel, Mad, Mattole and Van Duzen and part of the Klamath River are its most legendary fishing rivers, so when the runs are good this is ground zero for anglers in the fall and winter. Follow the links from those listings to full articles that will get you started on any of these great rivers.
Of course, come during the spring and summer too, as there are lots of trout in the lakes and saltwater fishing can be spectacular.
Chartered and private boats will catch plenty of salmon, bottom fish, halibut, albacore and Dungeness crabs in season, while shore anglers will hook into surf perch, rockfish and other near-shore denizens.
If you live in or are visiting Eureka or other cities including Arcata, Fortuna and Rio Dell, these fishing spots are nearby.
The county is home to Redwood National and State Parks and several other state parks featuring these iconic evergreen trees, among many other attractions. Parts of the Six Rivers and Trinity National Forests also are inside its borders.
The heart of this article highlights the better fishing streams, lakes and saltwater spots in Humboldt County.
After that, stick around a few moments to read about Fishing in Neighboring Counties, your quick guide to learning about much of the best angling in northwestern California.
Big Lagoon
This big lagoon sitting alongside U.S. 101 about 30 miles north of Eureka is highly visible but lightly fished. Some people probably assume it's saltwater, seeing as it is tucked right against the ocean.
Big Lagoon isn't stocked with trout like Freshwater Lagoon a little farther north, and bass and panfish don't tend to do well here.
However, there is a population of cutthroat trout, including some nice-sized searuns. The trout will hit lures or bait, but you're going for the chance to catch a larger fish or two. Don't expect big numbers.
Even larger steelhead pass through but are harder still to catch.
Black Lake
Black Lake sits at about 5,000 feet in elevation in the Horse Trail Ridge area east of the Hoopa Valley Reservation, providing a cool retreat for trout fishing during the summer season.
The hike-in lake can be stocked with rainbow trout fingerlings, which grow to legal size for the following year.
Black Lake is about an hour from the Hoopa community on Highway 96.
Blue Lake
This mountain lake is only about 5 miles north of Weitchpec and the Klamath River down on Highway 96, but your route will be round-a-bout and include hiking.
If you're game, this lake has at times been stocked with trout, though we can't vouch for its current fishing. At least you shouldn't have to share it with many people.
Eel River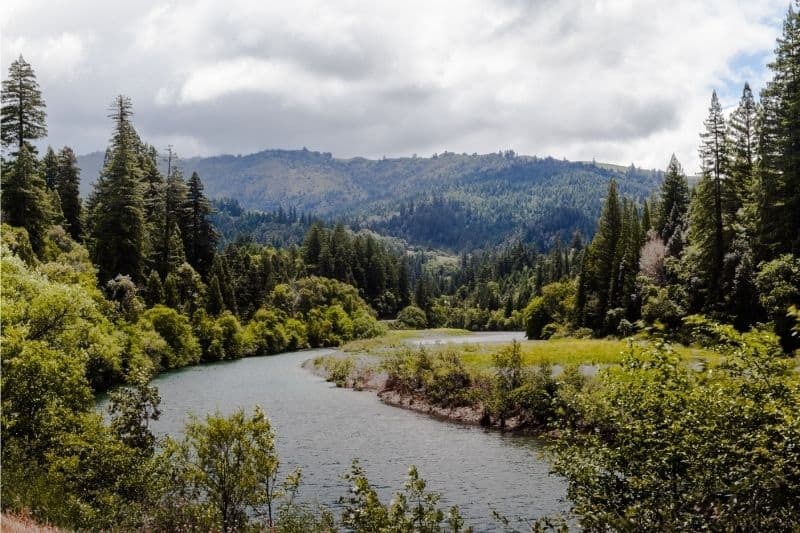 This pretty and accessible river just south of Eureka is known for its good fishing for both salmon and steelhead when the runs are strong.
As with these types of fish anywhere, those run strengths will vary wildly, so keep an eye on shifting run forecasts and regulations.
Given enough rainfall, the main salmon run will enter the river in the fall, heading upstream as the river rises to let the big fish pass.
In winter, the pattern shifts to steelhead and you'll want to time your visits between the heaviest rains, which will blow this river out of shape, and the long dry spells that will make fishing tougher. In between, the fishing can be good in the mainstem and up into the South Fork.
Human access is good, as U.S. 101 parallels a fair bit of the stream.
More: Eel River Fishing
Fish Lake
This 40-acre lake in the Six Rivers National Forest offers promising fishing opportunities for anglers from spring into early fall, when it is typically stocked with catchable rainbow trout.
Anglers may also catch other varieties of fish, perhaps including smallmouth bass, bluegill and brook trout.
People fishing in boats tend to do better at Fish Lake than shore anglers. Only non-motorized boats are allowed.
Fish Lake also offers other outdoor activities such as camping and hiking on trails that link this lake with Red Mountain and Blue Lakes.
The lake and campground are open seasonally. For more detailed information, visit the Fish Lake Campground website.
Freshwater Lagoon
This 245-acre lake located in Humboldt Lagoon State Park offers a variety of fishing opportunities about 40 miles north of Eureka.
The lake is stocked with catchable rainbow trout several times during the spring or early summer, when trout fishing is best.
Freshwater Lagoon also offers anglers with an opportunity to catch catfish, largemouth bass and possibly some other fish. Surf perch are available in the nearby saltwater.
Freshwater Lagoon is open all year and also offers boat ramps and allows kayaking with protection from strong north winds.
You can read a brochure from the Humboldt Lagoon State Park for more detailed information.
Humboldt Bay
This bay at Eureka offers a variety of fishing opportunities, including summertime salmon as well as California halibut, perch and even sharks.
Lingcod and other bottomfish can be caught from the jetties at the mouth.
Charter boats heading out from Humboldt and Arcata bays fish for salmon, lingcod and other species on the open ocean.
Klamath River
Often one of California's very best salmon rivers, a long section of productive water passes through Humboldt County before heading north into Del Norte County to flow into the Pacific Ocean.
The lower reaches are best for salmon, especially in late summer into September when lots of eager anglers show up here.
The Klamath also has a good run of steelhead that can be caught in free-flowing sections, as well as resident trout.
More: Klamath River Fishing
Mad River
This river near Eureka obtained a fair bit of fame for its steelhead fishing many years ago, though it's had some rough times since.
However, there are signs of improvement and better catches these days, enough for it to land a spot among the best steelhead rivers in California.
Winter steelhead fishing becomes worthwhile in December and continues through the winter months. Time your trips between heavy rains or this stream will be too muddy for you to have much chance.
Most of the fish are headed to a hatchery just upstream (south) of the town of Blue Lake, and fishing in the river near the hatchery can be productive but also crowded when the fish are in.
Salmon runs here are more modest.
The mouth of the Mad River has some excellent surf perch fishing in late summer and early fall, but watch out for an earlier closure in this area to protect returning salmon.
More: Mad River Fishing
Mattole River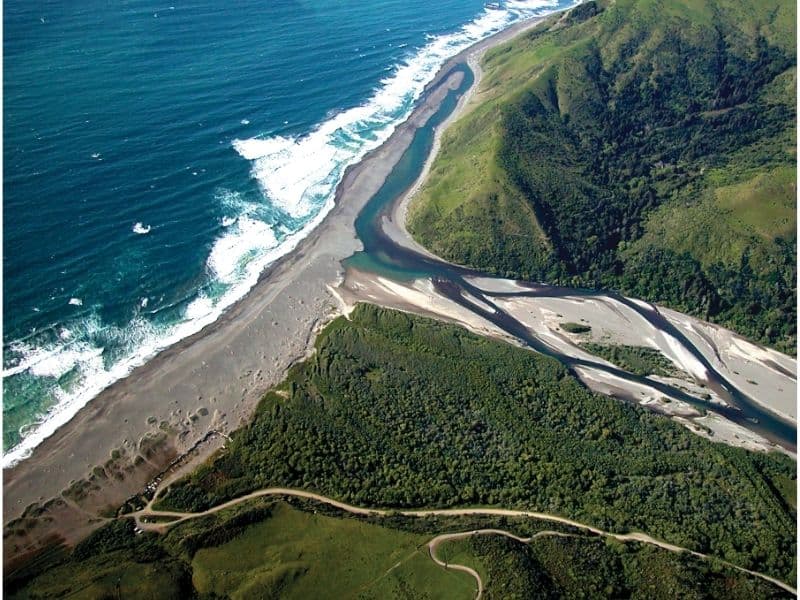 This is another stream some anglers overlook on the way to the better-known Eel and Klamath.
Maybe because it's located on the so-called Lost Coast, away from the stream of tourists who often stream up the northern coastline. This is where both U.S. 101 and Highway 1 leave the coastline alone.
But the Mattole can be quite good for winter steelhead, if you learn where to access it without crossing abundant private property.
More: Mattole River Fishing
Mill Creek Lakes
Mill Creek Lakes are high up near North Rinity Mountain, at an elevation of about 5,300 feet on Packsaddle Ridge Trail.
It's a cool and secluded place to fish during the warmer months.
The lower lake is your best bet, and maybe your only real option, as it has been stocked with rainbow trout fingerlings many years, and those fish grow into keepers at the lake. The upper lake is tiny.
Pacific Ocean
Deep-sea charter boats in this region ply the waters for salmon, lingcod, rockfish, halibut, albacore tuna, Dungeness crabs and a host of lesser-known species.
Some spots to think about include the Del Norte Fishing Pier in Eureka, another small fishing and crabbing pier as well as boat docks at Trinidad, north of Eureka, as well as a more remote boat launch farther south at Shelter Cove, in the Lost Coast area.
Shorebound anglers can hook into nice schools of surf perch off the beaches, with the mouths of rivers and creeks mentioned in this article often very good places to focus your attention.
Little River State Beach and Clam Beach County Park are other places to try your luck in saltwater.
Redwood Creek
This smallish stream flows into the Pacific Ocean about midway between Eureka and Crescent City.
The creek is best known for its moderate run of steelhead. Access is fairly good at Orick near U.S. 101.
Stone Lagoon
Set in a state park 38 miles north of Eureka along U.S. 101, Stone Lagoon offers an opportunity to catch good-sized wild cutthroat trout.
Anglers catch-and-release the cutthroats along with the rare hooking of steelhead passing through the lagoon.
If you're looking to keep some trout, check out the listing for Freshwater Lagoon, which is located just to the north and on the east side of the highway.
Van Duzen River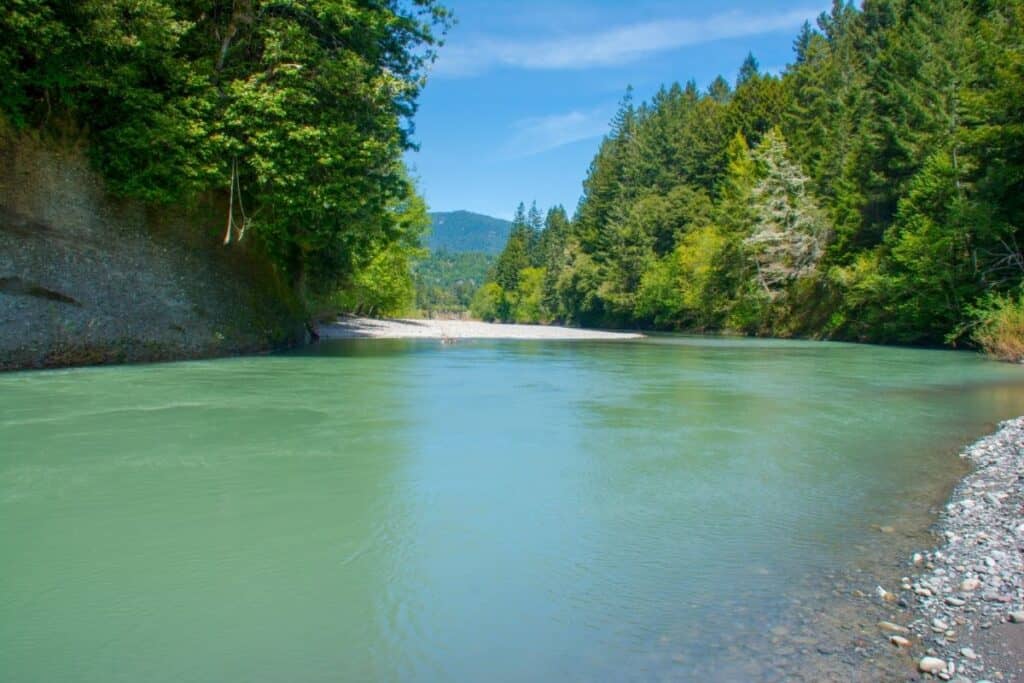 This Eel River tributary is a favorite with local anglers but off the radar for many others.
The river hosts both fall salmon and winter steelhead runs. Regulations are in place to protect a small summer steelhead population.
More: Van Duzen River Fishing
Fishing in Neighboring Counties
Del Norte County: To the north, this smaller far northern coastal county comes up big for salmon and steelhead, especially on the Smith and lower Klamath rivers. Ocean fishing out of Crescent City can be spectacular.
Siskiyou County: To the northeast, heading inland toward Yreka, you'll still find steelhead in the Klamath River along with famous trout streams like the Upper Sacramento and McCloud rivers and tons of mountain lakes.
Trinity County: To the east, this big, rural county is best known among anglers for the salmon, trout and steelhead in the Trinity River as well as the salmon, trout and bass in massive Trinity Lake.
Mendocino County: To the south, this similar-sized north coast county offers a variety of freshwater and saltwater fishing opportunities. Standouts include the Russian River and Lake Mendocino's multi-species fisheries.