Editor's Note: Officials are forecasting extremely low salmon returns to the Sacramento and Klamath rivers in 2023. Anglers should expect significant ocean and river salmon fishing closures and check for regulation updates before fishing for salmon in the state.
Mendocino County features great fishing along the coast, including parts of the Russian and Eel rivers and Lake Mendocino.
Residents live in Ukiah as well as Fort Bragg, Willits, Brooktrails, Redwood Valley, Covelo, and other small communities and rural areas.
Beyond fishing, some of the other attractions here include the magnificent Coastal redwoods as well as Glass Beach, Russian Gulch State Park, MacKerricher State Park, Mendocino Headlands State Park, and Henry Woods State Park.
But you're here for the fishing, and this article will point you in the direction of the best rivers and lakes in Mendocino County.
After the list, check out the "Fishing in Neighboring Counties" section at the bottom of this article. It will easily take you beyond the county lines but keep you close for even more great fishing spots.
Cleone, Lake
This small lake just in from the beach in MacKerricher State Park is stocked with trout at times. And not at times.
It wasn't on the stocking schedule the last time we checked, but the state's fishing guide suggests hatchery trout are there. It's worth a couple of casts to check if you're staying at the campground or driving along Highway 1.
Eel River, South Fork
This fork of the Eel, shared with Humboldt County to the north, can offer some pretty darned good winter steelhead fishing when the returns are decent.
Many anglers focus their attention from Leggett downriver. U.S. 101 follows the river through this productive stretch.
Emily, Lake
This small lake located on the northwest of Brooktrails is most popularly fished for trout stocked during the spring.
At times this lake also has produced a variety of warm-water fish, potentially largemouth bass and bluegill among them.
Fort Bragg (Noyo Bay)
Access to the open ocean between the Klamath and Sacramento rivers can spell excellent saltwater salmon fishing here, especially in the summer.
Rockfish, lingcod and Dungeness crab are among the other bounties of the sea brought into port here.
Gualala River
The short mainstem of this small coastal river shares the southern county border with Sonoma County.
This stream is best known for its winter steelhead, which can provide good fishing near the coast starting in the latter part of December or early January and continuing for the rest of winter and first weeks of spring.
Hammerhorn Lake
This small lake located at about 3,500 feet near Buck Rock in the Mendocino National Forest is sometimes stocked with trout.
Non-motorized boats are allowed.
Hammerhorn Lake historically has camping, but at last check the campground was closed due to fire damage. Check the campground website for updates.
Howard Lake
This Mendocino National Forest spot doesn't appear to be stocked with trout these days and instead is infested with non-native golden shiners.
For being a member of the minnow family, those shiners can reach a respectable 10 inches or so and will take a fly. Good place to practice your casting?
Mendocino, Lake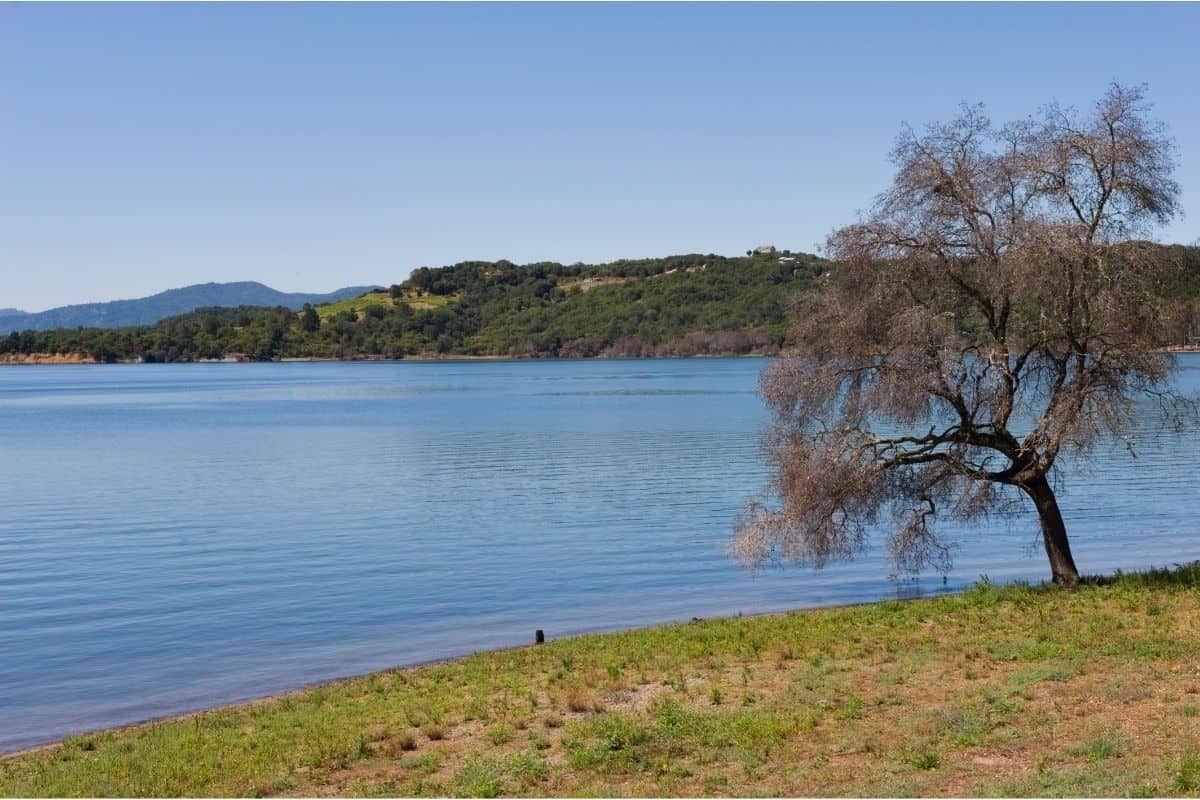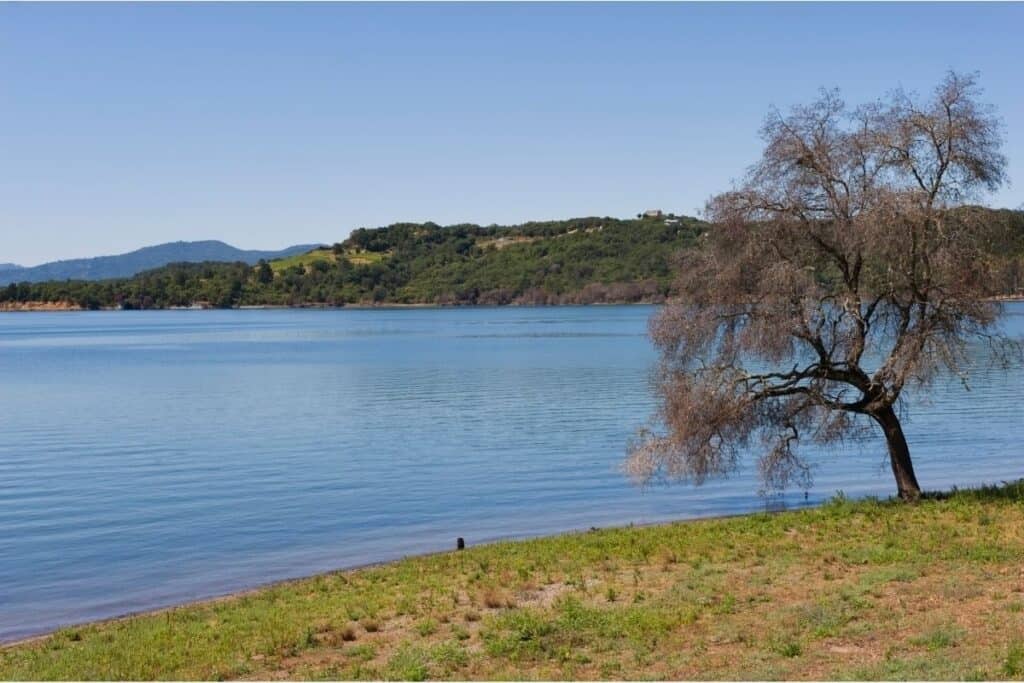 Lake Mendocino is a 1,740-acre lake in the Russian River drainage that is located in Mendocino National Forest that offers good fishing opportunities for anglers.
The primary fishery here is for a variety of fish such as striped bass, largemouth bass, catfish and several panfish species.
Trout fishing might be hit or miss, as it has fallen on and off the state's stocking schedule.
There is a large campground as well as lots of hiking and biking trails and a wilderness area.
Lake Mendocino also offers 300 campsites for daily guests along with over 15 miles of hiking and biking trails, some of which are in the native wilderness area.
It is located near Ukiah.
Visit the Lake Mendocino Recreation Area website for more detailed information.
Mill Creek Lake
This small lake on the base of North Cow Mountain east of Ukiah provides good fishing opportunities.
The lake is stocked with catchable steelhead or other trout to start the season in the spring.
Anglers may also catch some warmwater species.
The lake is part of a park system along Mill Creek that includes dams forming a trio of small lakes. It also features a small playground, horseshoe pits, barbeque pits, and picnic area.
Visit the park website for more detailed information.
Moura Pond
This small pond offers an fishing opportunity for veteran anglers and young anglers.
The pond is stocked with catchable rainbow trout during the late spring.
Pacific Ocean
There are a variety of saltwater fish and crab available in the Mendocino County stretch of coastline.
The Point Arena Pier and Caspar Headlands, Greenwood, Schooner Gulch and Westport-Union Landing state beaches are other public access points where fishing can be worth your while.
See the listing for Fort Bragg for offshore opportunities.
Russian River
The East Branch, also locally known as Cold Creek, is stocked with catchable rainbow trout in a couple-mile section in the Potter Valley area above Lake Mendocino.
The river system as a whole is best known for a run of hatchery winter steelhead as well as good fishing for modest-sized smallmouth bass and a pretty decent run of American shad in the spring.
Some of those fishing opportunities are more often taken downriver in Sonoma County.
More: Russian River Fishing
Fishing in Neighboring Counties
Humboldt County: To the north, this coastal area near Eureka is home to many great fishing spots, including the Klamath, Eel and Mad rivers.
Trinity County: To the north, this mountainous and lightly populated county features excellent fishing at Trinity Lake and the Trinity River, among others.
Tehama County: To the northeast, the Red Bluff area features part of the incomparable Sacramento River among its go-to fishing spots.
Lake County: To the southeast, this area features Clear Lake, simply one of the best bass and panfish lakes in California (some would say the world).
Sonoma County: To the south, this Wine Country county around Santa Rosa stretches from great ocean fishing out of Bodega Bay, to strong fish runs in the Russian River, to awesome warm-water fishing at Lake Sonoma.