These are the best places to go fishing near Mount Shasta and all across Siskiyou County.
Antelope Creek
A two-mile section of this high-mountain stream is stocked with catchable rainbow trout each spring, usually late April through May.
The creek is stocked in an area southwest of the community of Tennant, in sagebrush and pine country at over 4,800 feet in elevation.
The creek also offers primitive campsites and Antelope Creek Lodge, which has a landing strip.
Bass Lake
This Bass Lake is not the bigger, more famous fishing spot closer to Fresno and Yosemite.
The Siskiyou County Bass Lake is moderate in size (85 acres) and has been at times stocked with rainbow trout.
There's a boat ramp and restrooms.
It's located about 10 miles east of Yreka in a cluster of smallish lakes, including Trout Lake.
Bulls Eye Lake
This 5-acre lake is high in the mountains (6,700 feet) near Medicine Lake and can be good for trout when stocked with hatchery fish, which might not be as consistently as Medicine Lake (see that entry).
Butte Creek
This small stream is stocked with catchable rainbow trout during the spring, typically a few times around April and May, and that early season fishing will be better than later into summer.
Butte Creek flows through a mixture of sparse forests and meadows to the north of Orr Lake (see Orr Lake entry).
Cold Creek
This creek (a.k.a. Kid's Creek) spills into Lake Siskiyou on Mt. Shasta.
Cold Creek flows through somewhat overgrown and rough terrain, but it's likely worth the work during the spring, when it's stocked a handful of times with catchable rainbow trout, often April into June or so.
Greenhorn Reservoir
This 23-acre reservoir near Yreka offers anglers with good access to a variety of game fish.
At least some years, Greenhorn Reservoir is stocked with catchable rainbow trout early in the season (maybe March).
Anglers also can catch resident fish including bass, catfish and panfish.
The reservoir also has picnic tables and a playground and is wheelchair accessible.
It's located just south of Yreka along Greenhorn Road.
Juanita Lake
This 55-acre lake located between mountains in the Klamath National Forest due west of Macdoel is stocked with trout several times in the spring, and early season fishing is likely to be most productive.
The lake features a campground, boat launch for non-motorized watercraft and other activities such as hiking, nature viewing and picnicking. There is wheelchair accessibility.
Visit the National Forest website for more detailed information.
Kangaroo Lake
This remote, 21-acre lake sits at a little over 6,000 feet in elevation in the Scott Mountains area of Klamath National Forest, offering cooler summertime conditions and good seasonal fishing.
The 110-foot deep lake provides a good summer refuge for trout, and trout are frequently stocked here in May and June.
The lake reportedly has both rainbows and brook trout.
The lake also offers a campground with 18 campsites and recreational activities such as hiking, backpacking, nature viewing, swimming and boating. There is an accessible fishing pier and other spots to fish from the bank.
Motors are not allowed in Kangaroo Lake, there is no boat ramp and boats have to be carried 400 feet to the water from the parking area, so craft such as kayaks and float tubes are best suited for this water.
It's located about a half-hour's drive east from Callahan, off Highway 3.
Visit this website for more detailed information.
Kelly Lake
This 15-acre lake in the Klamath National Forest located East of Lookout Mountain provides good access as well as fishing opportunities, especially when it is stocked with hatchery trout.
Kelly Lake also has some camping and access to hiking, backpacking and nature viewing.
The lake holds a Children's Fishing Derby in June for young anglers to experience, and it's typically stocked for that event. The lake does not have water and garbage services.
The lake is about 19 miles northwest of Happy Camp, with a short hike from the parking area to the lake.
For more detailed information, visit the National Forest website.
Klamath River
Parts of this river that flow through central and western Siskiyou County include some of the best steelhead water in the state.
Fishing for steelhead (both adults and smaller half-pounders) is usually excellent in the fall and there's lots of access and great holding water all along Highway 96 from Somes Bar to Happy Camp into the river north of Yreka.
Higher up in the river system closer to Oregon, anadromous fish runs are halted below dams but trout become the primary pursuit of anglers and there can be some good fly fishing.
More: Klamath River Fishing
McCloud River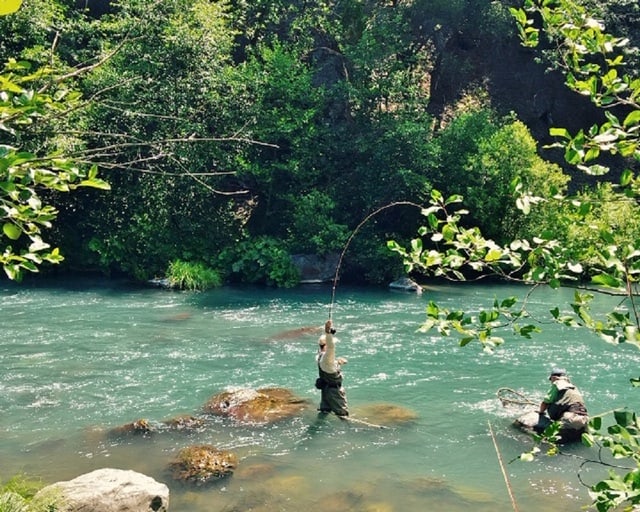 This is a famous trout stream shared with Shasta County.
There are wild fish to be had, and this can be a heavily fished and challenging river to master.
If you want easier fishing, there's a fairly short stretch below the Lower and Middle Falls near the Volcanic Legacy Scenic Byway that provides good fishing opportunities for trout stocked in spring and early summer.
This part of the river is just east of the community of McCloud.
The river upstream from the Upper Falls is managed for restoration of Redband Trout, a type of native rainbow trout. Bull trout once inhabited these waters but have gone extinct in the California part of their range.
The McCloud as well as the Upper Sacramento River (listed below) are both included in our Best Fly Fishing Rivers in California.
Medicine Lake
This is a good-sized fishing spot for a high-mountain lake, with 440 acres at 6,700 feet in elevation near Medicine Mountain in the Modoc National Forest.
This is a stunning place, located in the crater of an extinct volcano.
At that elevation, the lake freezes in winter and can get off to a slow start as things warm up. A couple plantings of trout likely around the June time period should help things along, at least for the early part of the season.
Anglers can also catch brook trout at Medicine Lake alongside the rainbows.
The lake offers a variety of recreational activities including lots of camping plus picnicking, hiking, boating and swimming.
Medicine Lake has a concrete boat ramp that can accommodate motorized and non-motorized boats.
Little Medicine Lake off the northwest end of the big lake at times has been stocked and has a day-use area but no overnight stays or facilities. It is truly little at 3.5 acres, but you can put a small boat on it.
For more detailed information, visit this website.
Orr Lake
This 99-acre lake north of Mt. Shasta can provide anglers with a variety of fishing options along with a scenic view of the surrounding mountains.
The lake is often stocked with catchable rainbow trout in the spring (April).
Anglers can also catch bass and catfish at Orr Lake, which is partly covered with lily pads in the warmer season.
Orr Lake also has campsites, boat ramps and access to hiking trails.
Visit the Klamath National Forest's Orr Lake page for more detailed information.
Sacramento River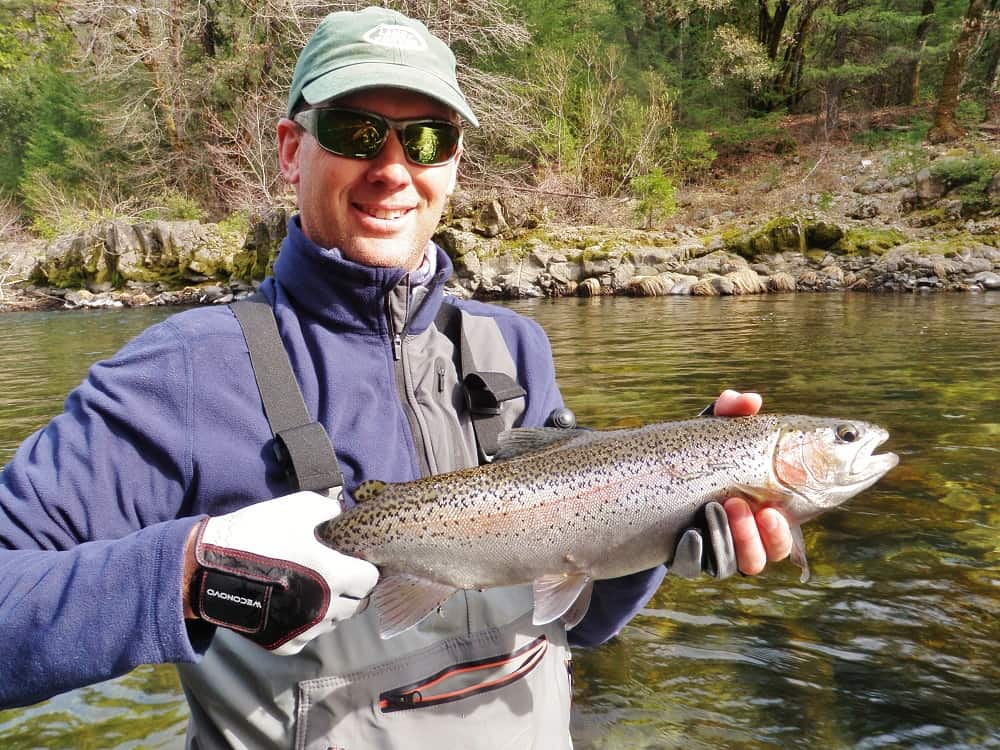 The section of the Upper Sacramento River flowing near Interstate 5 in the Dunsmuir area offers excellent fishing in large part because its wild fish populations are bolstered by regular plants of hatchery rainbow trout starting in May.
There are a smaller number of brown trout inhabiting the upper river in this area as well, with occasional catches of quite large trout of both species.
This section of stream is quite popular and is part of the Upper Sacramento River included among the Best Fly Fishing Rivers in California.
More: Complete Guide to Sacramento River Fishing
Sacramento River, South Fork
This section of small stream above Lake Siskiyou provides a remote feeling for anglers but is only about seven miles from I-5 at the city of Mt. Shasta.
The stretch of stream along W A Barr Road has been stocked some years, but be aware that dry years can reduce this fork to a trickle (or worse). It's best fished early in the season after a planting.
Shastina, Lake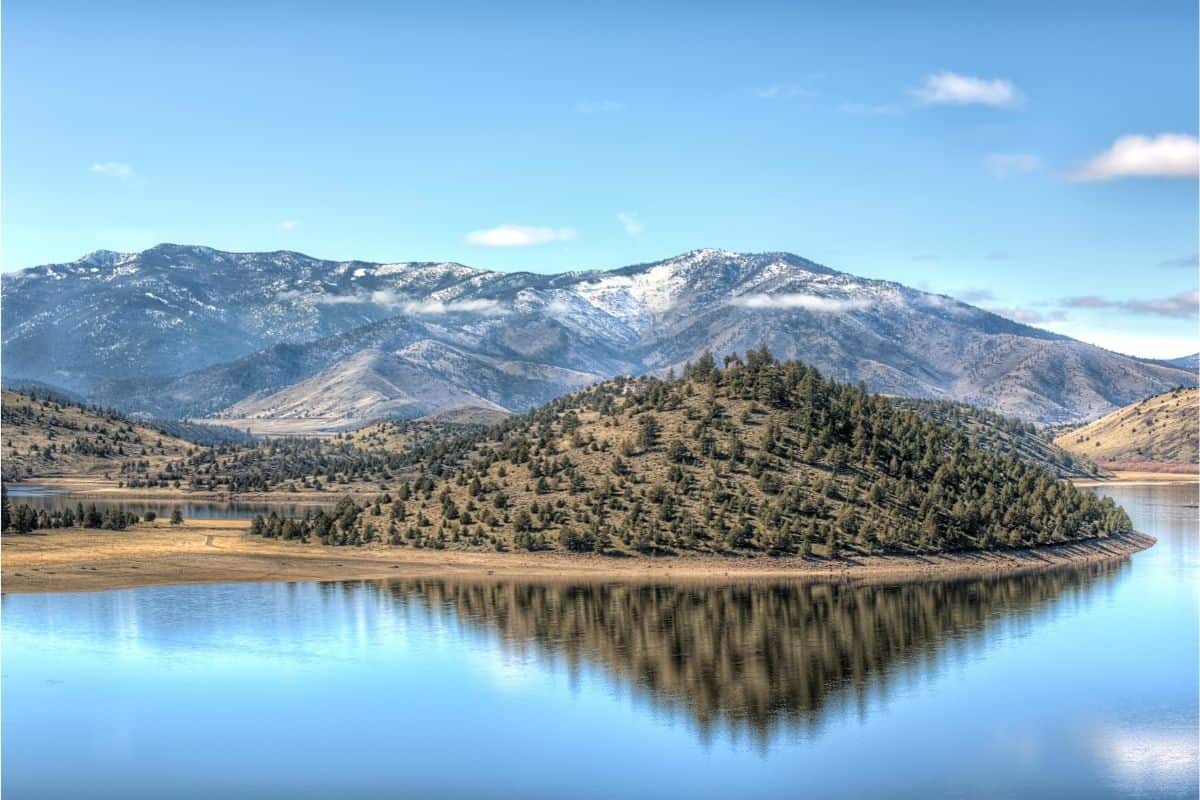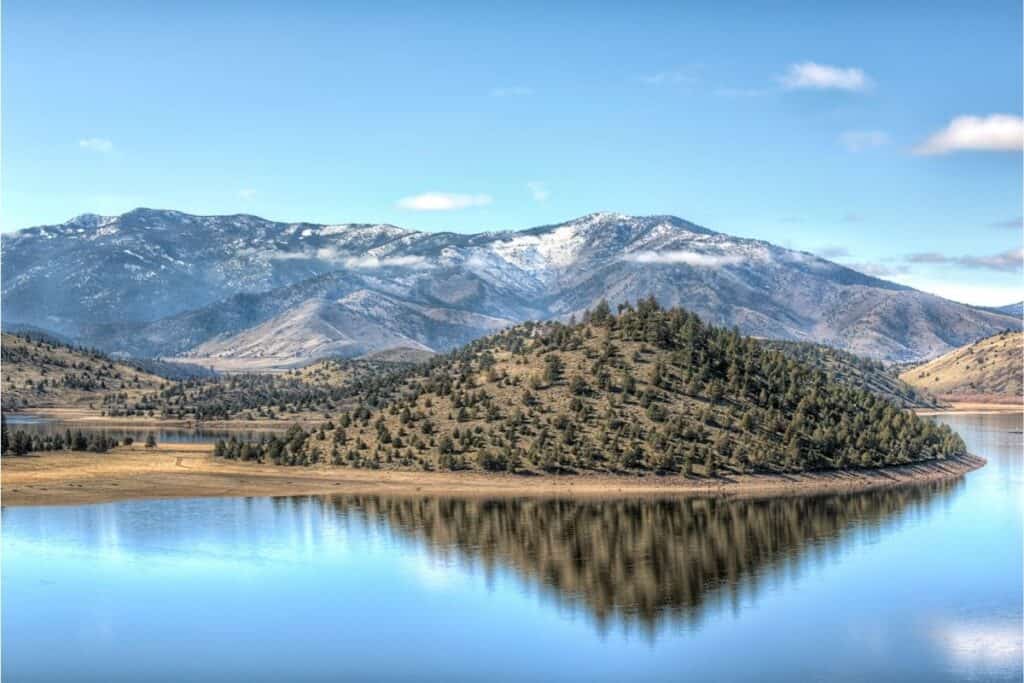 This 1,850-acre lake northwest of Mt. Shasta provides a variety of fishing options for anglers.
The reservoir is stocked with catchable rainbow trout from late winter into spring and also has pretty good seasonal fisheries for bass, catfish and possibly some panfish.
The lake is in a sparsely-treed area and offers primitive camping, a golf resort, and some shorelines have partially built subdivisions.
Sudden strong winds are notorious here and might cause problems for smaller boats, so keep a close watch and be ready to head to shore at the first time of gusts.
The lake is only about 20 minutes north of Weed and easily accessed from I-5.
Siskiyou, Lake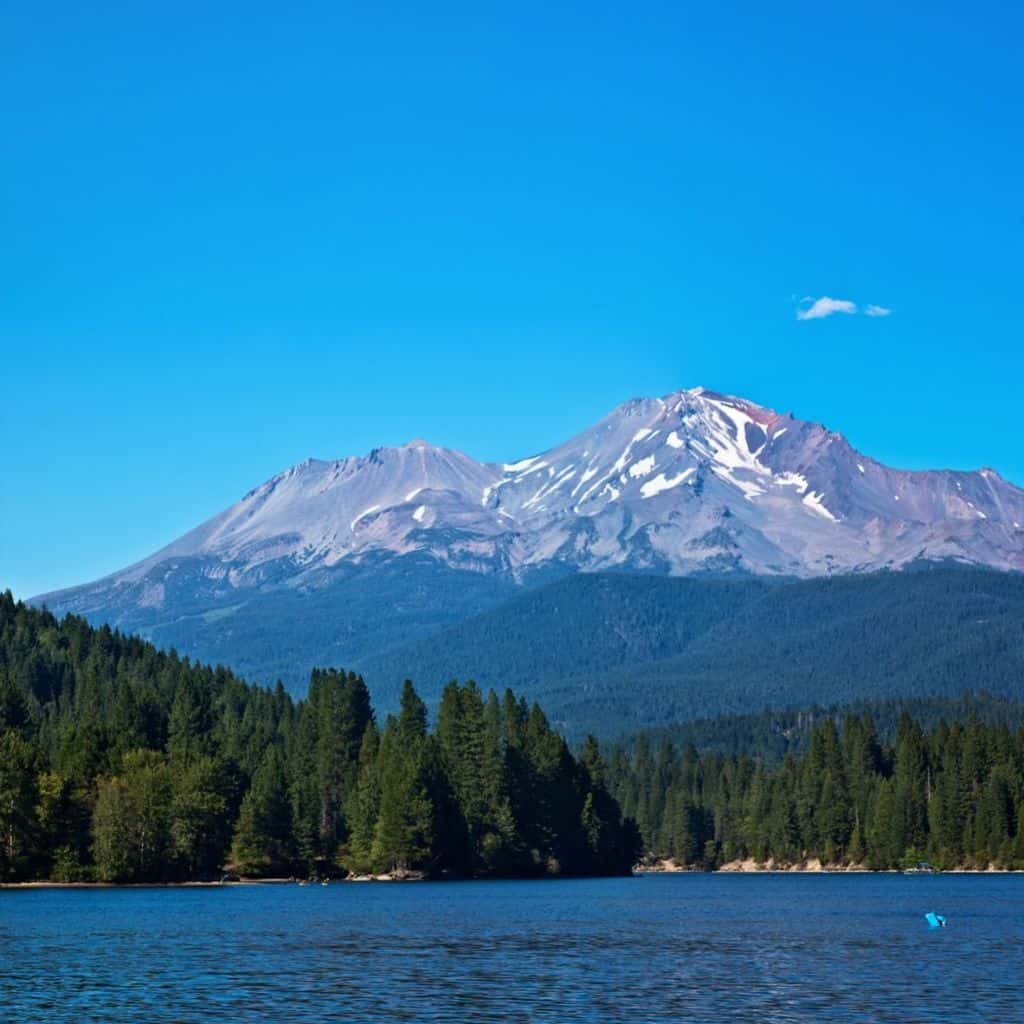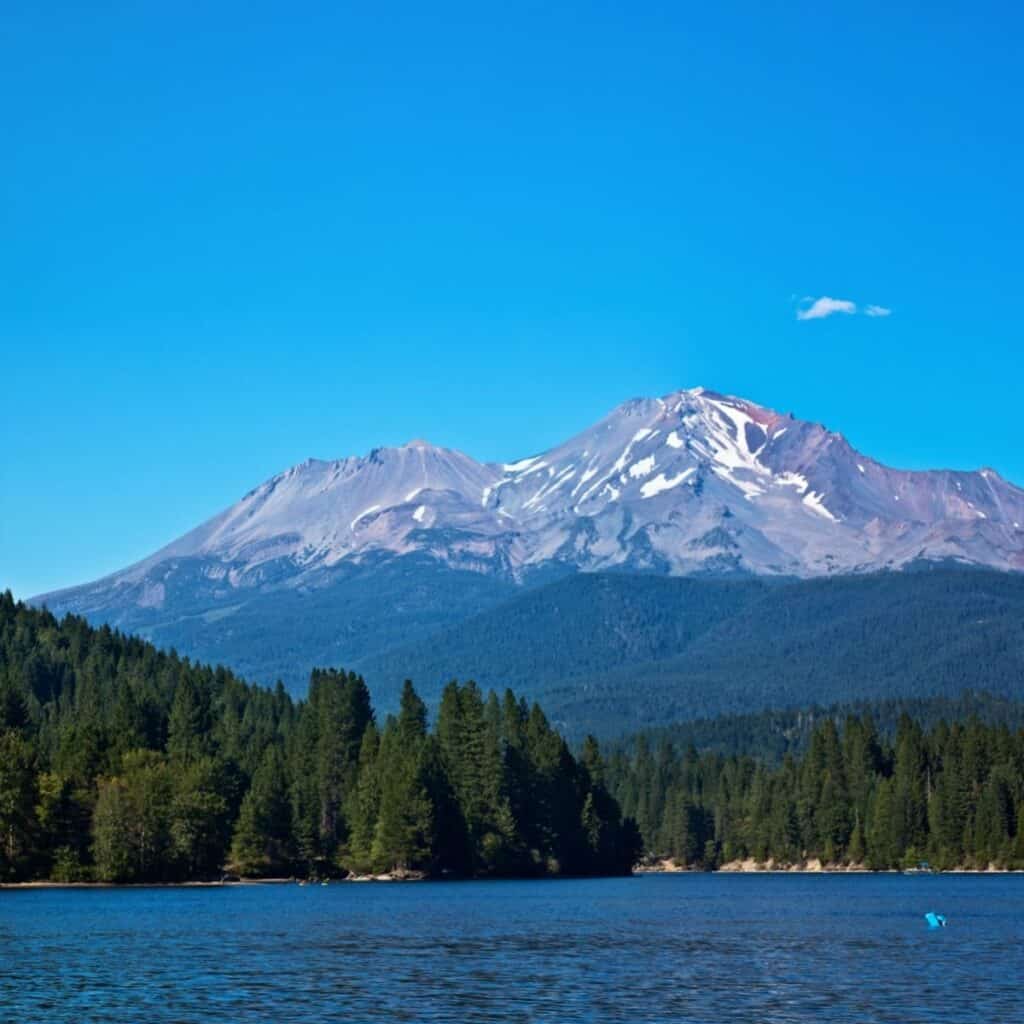 This 430-acre lake near the city of Mt. Shasta is most often fished for trout, which are planted here in good numbers (both adults and fingerlings) from spring into early summer.
that can be found to the East of Mt. Eddy provides anglers with a variety of fishing options.
Lake Siskiyou is stocked with both catchable and fingerling rainbow and Eagle Lake trout during the late cooler months until the warmer months, typically in the month of January to August.
There also may be some brook and brown trout that perhaps will show up in your catch, as they have been stocked here at times. Big browns have been reported.
Anglers also can hook into good numbers of smallmouth bass, though not typically very large ones. Still, they are scrappers on the end of your line.
The lake offers primitive campsites along with boat ramps, a marina, bait, tackle, fuel and other amenities, including a wheelchair-accessible fishing dock.
It's just 5 miles southwest of Mt. Shasta at I-5.
Squaw Creek
This creek, also known as Squaw Valley Creek, has at times been stocked with hatchery trout near the community of McCloud.
It's located just off the Volcanic Legacy Scenic Byway (Highway 89).
Trout Lake
This small warm water lake, located within the Shasta Valley Wildlife Area east of Yreka, ironically is best fished for catfish and bass.
Wagon Creek
This tributary stream flows into the northeastern side of Lake Siskiyou and is stocked with hatchery trout from mid-spring into early summer.
It's just a few miles outside of the city of Mt. Shasta.
Fish in the North Shore Road area.