Editor's Note: Officials are forecasting extremely low salmon returns to the Sacramento and Klamath rivers in 2023. Anglers should expect significant ocean and river salmon fishing closures and check for regulation updates before fishing for salmon in the state.
Del Norte County sits in the far northwestern corner of California.
It's a fairly small place but you probably know it for its towering Coastal Redwoods and wild Pacific Coast.
If you're an angler, you should know it for its giant salmon and steelhead from the Smith and lower Klamath rivers and its fantastic ocean fishing for salmon, lingcod and other game fish out of Crescent City. A handful of small fishing lakes round up the angling opportunities here.
Crescent City is the only incorporated city as well as the hub of activity. The city and nearby areas will be the place to find the most motel rooms, restaurants, tackle shops and fishing charters in Del Norte County.
Other communities here include Klamath, Smith River, Fort Dick and Gasquet.
Highway 101 cuts down the coastline and Highway 199 follows the Smith River up into the mountains. Take either far enough north and you're in Oregon pretty quickly.
Besides the excellent fishing, visitors come for the Redwood National Park, Jedediah Smith Redwoods State Park, Del Norte Coast Redwoods State Park, and several other forests, beaches and recreational areas.
We've spent some time here and it's a place you visit in awe of its natural beauty, even if you don't catch a trophy on your trip. (Been there too!)
But come back and give it another try. It's not only the trees that grow big here.
The following are the best freshwater and saltwater fishing spots in Del Norte County.
Once you read through those, check out our Fishing in Neighboring Counties feature at the bottom of this article. The links there will take you to nearby hot spots just down the road.
Dead Lake
This sometimes hidden in plain sight lake near Crescent City is most enthusiastically fished for largemouth bass, judging from several YouTube videos chronicling catches here.
In its roughly 25 acres, you might also catch other warm water species, possibly including crappie. It's not stocked with trout.
Dead Lake is located just east of the Del Norte Regional Airport, just 6 minutes west of Walmart taking West Washington Boulevard and turning north on Riverside Street to the lake.
There's a small boat launch and dock with a parking area at about mid-lake.
Dry Lake
This small mountain lake is surrounded by fir and deciduous trees in the Six Rivers National Forest, and it is stocked with catchable rainbow trout during cooler months.
Reports suggest you might also catch Eastern brook trout or catfish in the lake, which is just over three acres in size.
Tent camping and toilets are available on site.
Dry Lake is located along Hurdygurdy Creek and French Hill Road (County Road 405).
Island Lake
Island Lake is a hike-in lake located at an elevation of 5,002 feet in the Jedediah Mountains, which makes it much cooler and more secluded than most lakes in the county.
The lake has typically been stocked with rainbow trout fingerlings, which grow into catchable trout in the lake.
The lake is located just north of Jedediah Mountain, off Forest Service roads about an hour east of Crescent City.
Klamath River, Lower
Only the lowest several miles of this long and famous fishing river are in Del Norte County, but this is the first place for anglers to intercept returning Chinook salmon, especially the bigger fall runs that start up in mid- to late summer.
Like salmon fishing most places these days, the Klamath River runs can be legendary or kind of a bust, depending on a variety of factors including river and ocean conditions.
The Klamath also hosts some pretty good steelhead runs, although most of the fishing for them is upstream.
More: Klamath River Fishing
Muslatt Lake
This lake near Muslatt Mountain has been stocked in some years with fingerling rainbow trout, which grow into legal fish.
Some sources say you also might catch catfish.
The tiny lake, which is only about an acre in size, is open all year.
Pacific Ocean
This area is full of saltwater fishing opportunities, though best known for its off-shore fishing, especially when the Chinook salmon are running during the summer months.
Lingcod, rockfish and other bottomfish species are caught year-round and can be especially tempting as the salmon fades into early fall, when ocean conditions can still be good many days.
Crabbing also is good out on the ocean, and the hearty can take longer trips for halibut or albacore tuna in season.
We suggest that most anglers should book a charter trip out of Crescent City for open ocean fishing trips, as these can be dangerous waters for novices.
Shorebound anglers have a fair number of choices, so it's worth exploring.
The B Street Pier in Crescent City offers modest opportunities to catch Dungeness and red rock crabs along with some near-shore fish species.
Open beaches in the county can be quite good for surf perch, while rockier areas hold additional species.
Sanger Lake
The lake sits in a glacial scour at about 5,200 feet, so expect cold weather for much of the year but some excellent summertime conditions.
At that elevation, the water is cold enough for brook trout, which have been stocked here at times as fingerlings.
Route your way along Forest Service roads off U.S. 199 north of Idlewild.
Smith River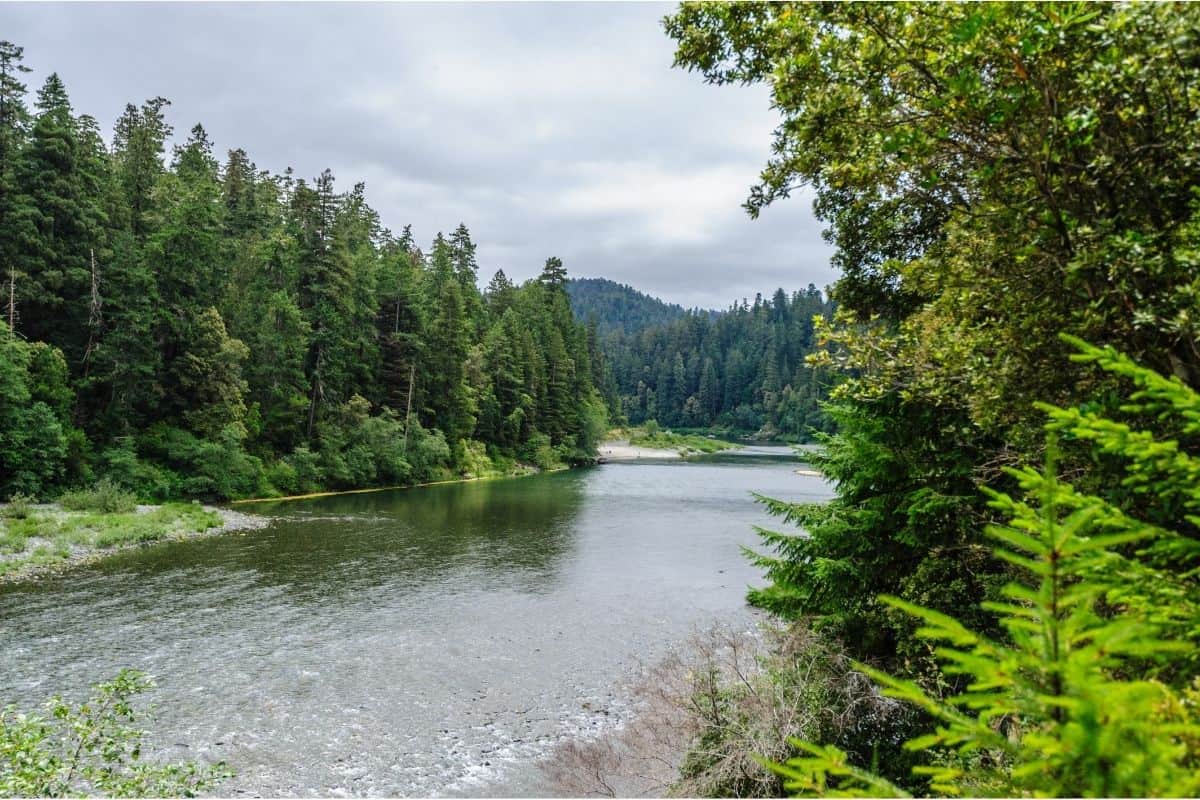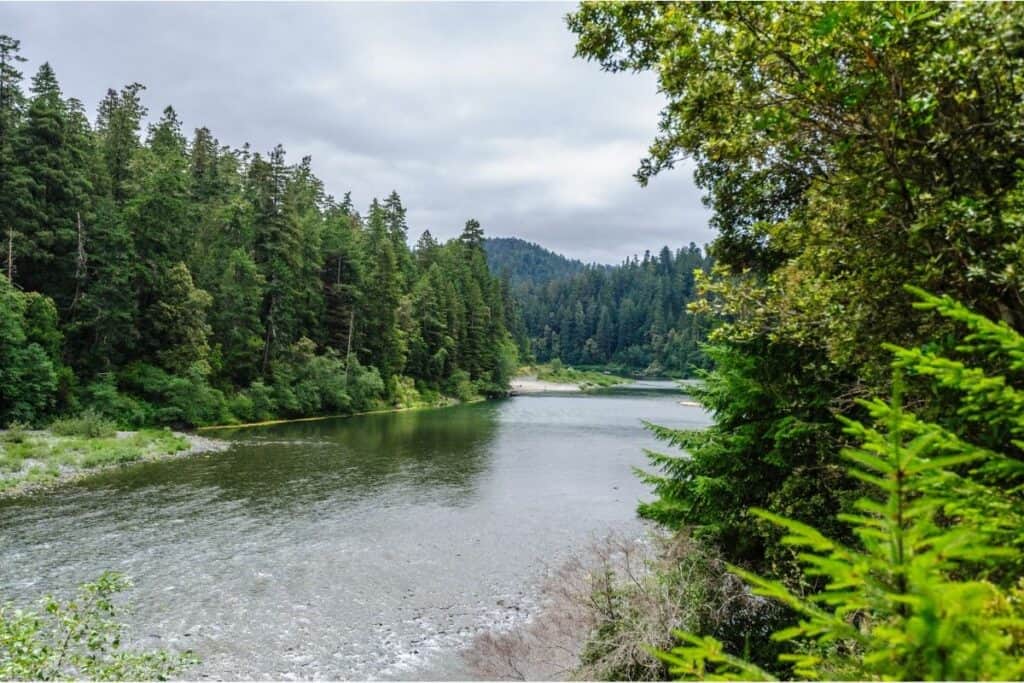 This Wild and Scenic river is one of the most famous steelhead streams in California and on the West Coast, known for particularly large fish.
The Smith also has larger-than-average Chinook salmon, though not necessarily as many as other North Coast rivers like the nearby Klamath.
More: Smith River Fishing
Fishing in Neighboring Counties
Siskiyou County: To the east, this big northern county boasts a ton of trout fishing in famous streams such as the Upper Sacramento and McCloud rivers, steelhead and trout in the middle Klamath River, and mountain lakes galore.
Humboldt County: To the south, this coastal neighbor not only shares the state's fabulous Coast Redwoods but also contains some of California's best salmon and steelhead rivers and ocean fishing, among other types of fishing.
Curry County (Oregon): To the north, this Southwestern Oregon county contains the lower reaches of the world famous Rogue River as well as lesser known but incredible fisheries including the Chetco and Elk rivers.
Josephine County (Oregon): To the northeast, this Southwestern Oregon county also contains very productive sections of the Rogue River as well as the Applegate River and several awesome fishing lakes.