Anglers in Arizona know that there's more to the Grand Canyon State than meets the eye. We're all aware of Arizona's rugged desert scenery, majestic cacti, scorching summers and mild winters.
But bass fishing might just be Arizona's best-kept secret.
Arizona is not native territory for black bass. Largemouth bass were first introduced to Arizona in 1897, and smallmouths followed 1921.
By the middle of the 20th century—the era of dam-building and vast, sprawling reservoirs—both species had come to thrive here.
They still do.
Despite being far from their home turf, Arizona lakes offer everything bass need. Ample forage. Diverse habitat. Prime spawning grounds. Optimal temperatures. If you're a bass, this place has it all.
That's good news for anybody lost in the desert and looking for a place to wet a line. Arizona's best bass lakes and rivers offer not just numbers of bass, but some pretty impressive specimens as well.
Largemouths over 10 pounds seem to be more and more common in Arizona, and there are more than a few lakes that harbor smallies topping 5 pounds.
As usual, finding success is a matter of being in the right place at the right time, and having the right lure at the ready. This article will help in all those departments.
Arizona Bass Fishing Tips
Bass are the top predators in many lakes they call home.
Largemouths will gobble up anything they can fit in their cavernous maws—shad, bluegill, trout, frogs, mice, snakes—and may strike a lure more out of aggression than hunger.
Smallmouths are a little more selective in their eating habits, but no less voracious. Crayfish and minnows make up much of their diet, and they often eat a lot of aquatic insects as well, especially in rivers.
Largemouth and smallmouth bass display different preferences when it comes to habitat, too.
Largemouths, as a general rule, favor weeds and vegetation and woody structures, while smallmouths prefer rocky areas. Each species has coloration that helps it blend in with its preferred environment.
In a lot of Arizona lakes, vegetation is scarce. In its absence, largemouths often hunt around standing timber and submerged brush piles, which are common in many of the state's large man-made reservoirs.
Thanks to Arizona's balmy climate, the state offers more-or-less year-round bass fishing opportunities. That said, some seasons are better than others.
Winters in Arizona actually do get rather chilly, and summers are often blazing hot. In both cases, bass will seek out deeper, more comfortable waters.
As a general rule, look for bass in 15 to 30 feet of water during summer and winter. In summer, bass may feed in shallower water during cool morning and evening hours, and spend the hottest part of midday in the depths.
Overall, the best and easiest seasons to catch bass in Arizona are spring and, to a lesser extent, fall. It's common to find bass in 10 feet of water or less when the weather is mild and moderate.
Some of the best places to catch bass are steep drop-offs and sloping points, which offer a transition between deep and shallow water, and are used by bass as an aquatic highway system of sorts.
Spring is also spawning season for bass.
Both largemouth and smallmouth bass head toward the shallows to spawn when water temperatures are around the 60-degree mark. In Arizona, that could be any time between February and June, depending on the location and elevation.
That being said, March and April are the prime spawning months in most lakes.
Also, not all bass are on the same schedule, so if you see bass on their beds, chances are that there are others in pre-spawn or post-spawn mode in the different parts of the same lake.
When bass are actively hunting in shallow water, some of the most effective lures are spinnerbaits and shallow crankbaits, along with soft plastic lures of all shapes and sizes.
Soft plastics, which include worms, creature baits, tubes and the ever-popular Senko, are arguably the most versatile bass baits.
You can rig one weightless or on a light jighead and flip it under docks and into pockets between reeds and weeds. Or you can put one on a drop-shot rig or Texas rig to probe deeper waters.
Be sure to also include a few topwaters in your arsenal. Chatterbaits, buzzbaits, poppers, floating frogs and topwater plugs can draw explosive surface strikes, especially in the morning and evening.
For even more fish-catching ideas, read our Bass Fishing: Simple How-To Techniques and Tips.
Now, on to the very best bass waters in Arizona.
Lake Havasu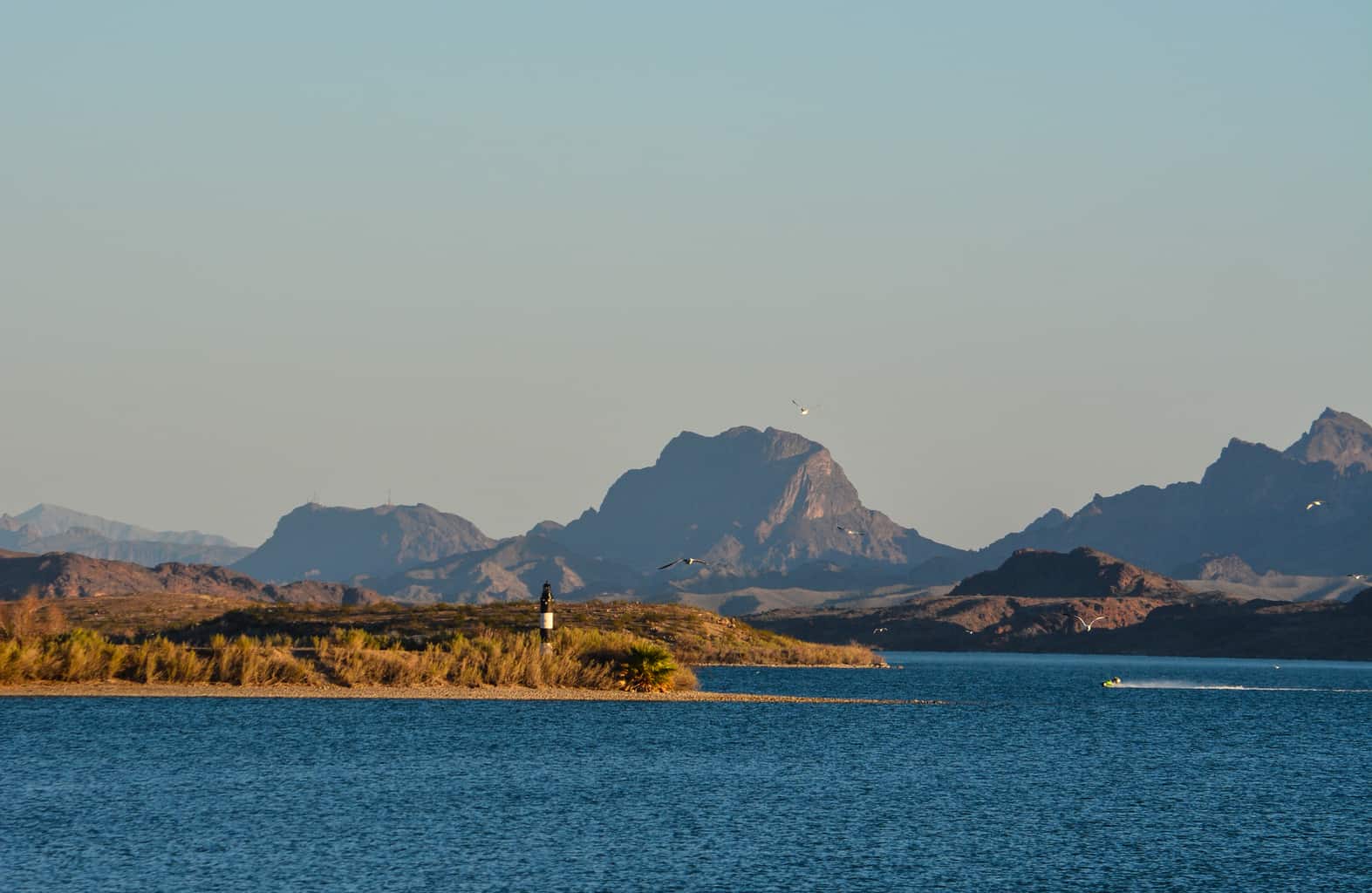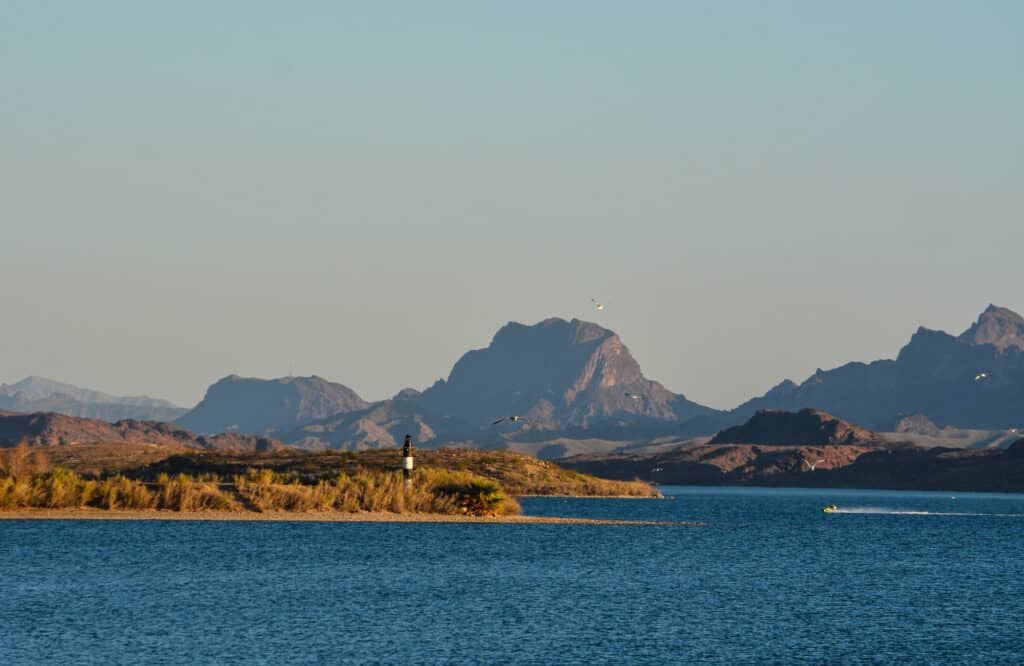 Straddling the border between Arizona and California, Lake Havasu is a 19,300-acre reservoir formed by Parker Dam on the Colorado River. The lake is long and narrow, stretching about 26 miles end-to-end and 2.8 miles across at its widest point.
Historically, bass fishing in Lake Havasu has been focused on largemouths. But smallmouth bass populations have exploded in recent years, to the point that anglers now have equal opportunities to target both.
Top-level professional bass tournaments often stop here, and it's fairly common for anglers landing in the money to weigh in with both species.
With around 540 miles of shoreline, there's a lot of potential bass habitat to target here, so much so that really getting a feel for the lake requires multiple trips. It can be a bit overwhelming for a first-time visitor.
Still, it helps to know where to start. The best largemouth bass fishing on Lake Havasu tends to be toward its uppermost end, where the Colorado River enters the lake.
This area, which includes Catfish Bay and Jops Harbor, includes an abundance of tule and reed-lined banks that harbor a lot of big largemouth bass. Largemouths weighing 4 to 5 pounds are pretty common up here, and double-digit bass are a real possibility.
Weedless frogs are a favorite lure among the reeds, especially on spring mornings and evenings when bass prowl the shallows.
Spinnerbaits and chatterbaits can be effective too, and many anglers flip soft plastics around the edges of vegetation. Try a Texas-rigged Sanko or a Mojo-rigged soft plastic bait when bass demand a bit more finesse.
Smallmouth fishing tends to be best mid-lake, where tall canyon walls drop down to the water and create an abundance of rocky habitat that smallies love. Rocky points, drop-offs and coves here harbor loads of big smallmouths.
Tube jigs are a perennial favorite for Lake Havasu's smallmouths, and drop shot rigs and Neko rigs are popular as well. Any finesse soft plastic can draw strikes. The water is usually clear, and a stealthy approach is often required.
The Arizona Game & Fish Department has also sunk fish-attracting structures in areas all over Lake Havasu, but especially in the mid-lake area.
These structures often harbor both smallmouths and largemouths, along with catfish, redear sunfish and other species, so learning their locations can boost your odds.
Lake Havasu State Park is one of the most popular launch points on the Arizona side of Lake Havasu. The park offers boat ramps, ample shore access and campground facilities.
The lake and lower Colorado River also have some of the best catfish fishing in Arizona and California. Ditto for striped bass fishing in Arizona and stripers in California.
Much more: Lake Havasu Fishing
Roosevelt Lake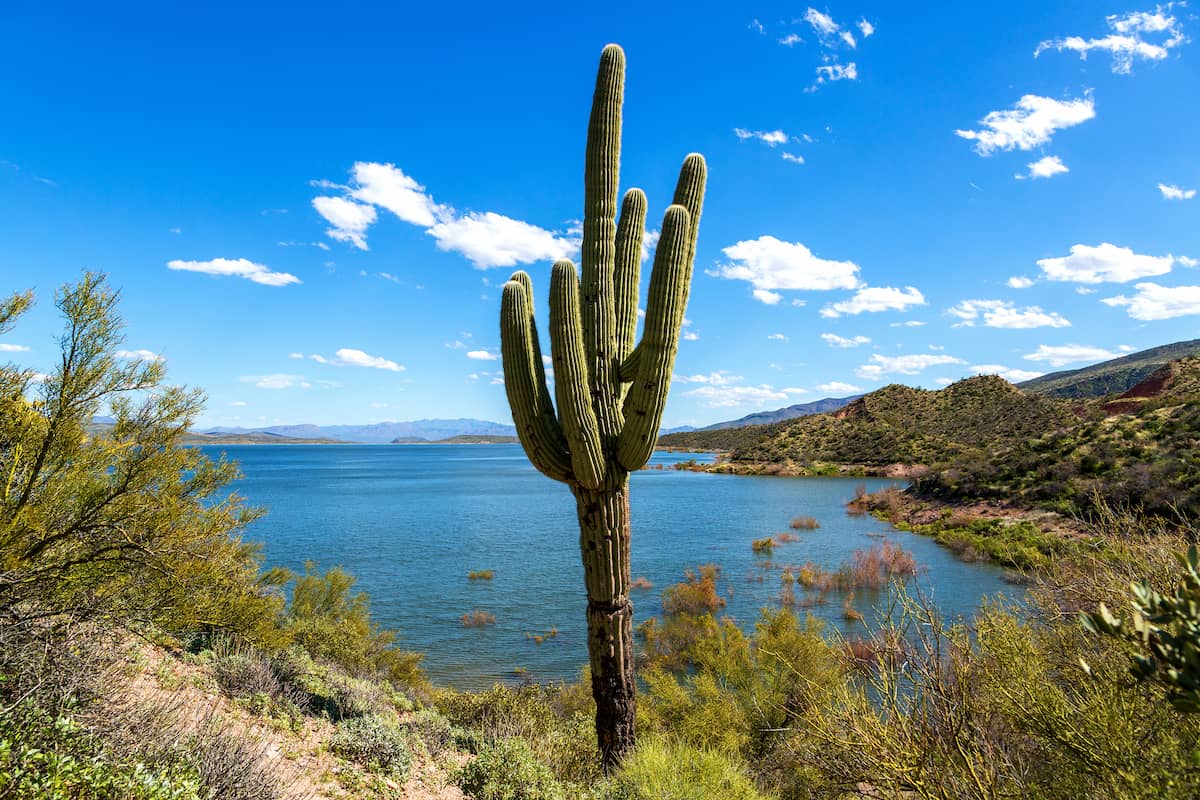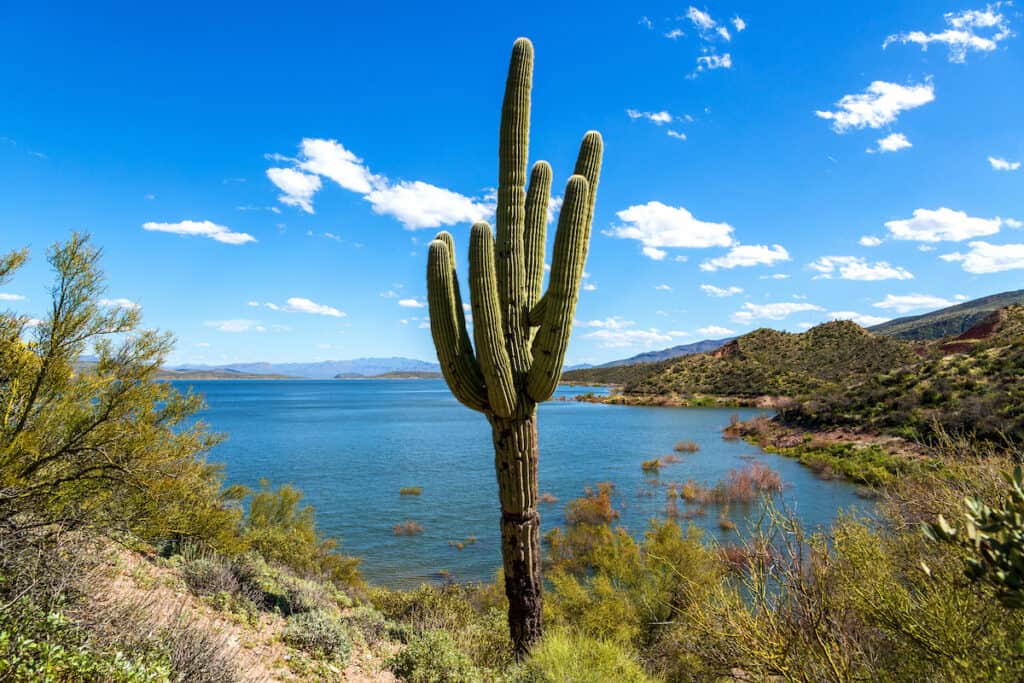 The Salt River flows about 200 miles across the heart of Arizona, and has been dammed to form a series of lakes for irrigation and drinking water by the Salt River Project.
The largest of these lakes, and the farthest upriver, is Theodore Roosevelt Lake.
Over 22 miles long and encompassing 21,400 acres at full pool, Roosevelt Lake provides some of the best largemouth bass fishing in the state, as well as some solid smallmouth action.
In 2016, Florida strain largemouths were stocked in Roosevelt Lake for the first time since the '80s, so there's some real big-bass potential here.
The key structure on Roosevelt Lake tends to be flooded trees and brush. There's a ton of it along much of the shoreline, and it's almost always productive in spring when bass head shallow to spawn.
Look for bass in 1 to 15 feet of water in springtime, especially in areas where woody cover combines with rocks and gravel.
In summer, most bass head a little deeper and hang out around drop-offs, points and channer edges around 15 to 30 feet.
Good fishing spots are too numerous to even begin listing, but a lot of the best bass action tends to take place near the Salt River inlet at the east end of the lake, and around the more remote Tonto Creek inlet.
All along the south shore are numerous small brushy coves that attract spawning bass in spring.
The water is often quite turbid in springtime because of runoff, so choose scented soft plastics or vibrating lures to catch the bass' attention.
Shad and bluegill are the primary forage, and you can have great luck with spinnerbaits and rattling crankbaits.
Heavy line is a good idea at Roosevelt Lake.
Between the naturally-occurring flooded timber and the numerous artificial fish habitat structures placed around the lake by the Game & Fish Department, it seems there's always something for a big bass to wrap your line around.
With all that structure, Roosevelt Lake also happens to be one of the best crappie fishing lakes in Arizona.
Roosevelt Lake is located within Tonto National Forest, and the U.S. Forest Service operates campgrounds and access sites around the lakeshore.
Much more: Roosevelt Lake Fishing
Patagonia Lake
A little over an hour south of Tucson and within spitting distance of the Mexican border, Patagonia Lake is a small reservoir that's well off the beaten path.
It's best known as a bird watching destination, but this 260-acre gem is one of Arizona's best-kept bass fishing secrets.
The environment here is very different from Arizona's typical desert canyon reservoirs. The shoreline of Patagonia Lake is lush with vegetation, including reeds, cattails, overhanging trees and an abundance of weed beds, giving bass plenty of places to hide and thrive.
Largemouths are the only bass species in Patagonia Lake, and there are few places in Arizona that can match this lake for numbers. Trophy bass are rare, but 2- and 3-pound largemouths are so common that you can stay busy catching them all day long.
There's always a chance that an 8-pound monster will take the bait too.
Warm, sunny days tend to bring bass close to shore at Patagonia Lake, but they go deep in winter.
Overall, your best bets are around the west end of the lake, especially Cattail Point in the Ash Canyon Cove. Fish around the edges of the cattails, or flip soft plastic baits right into the little breaks and pockets between the cattails.
There's also a productive stretch of rocky shoreline right across from the marina that has yielded some of the lake's biggest bass.
Plastic worms, jigs and Senkos are all productive baits. You can get some explosive strikes of a weedless frog here too. Along with bluegill and various baitfish, frogs are a big part of bass' diet at Patagonia Lake.
Shore fishing access is somewhat limited, though there are a few good spots at Patagonia Lake State Park. For the most part, you need a boat to get to the best bass water.
Patagonia Lake is small enough that it's an ideal canoe or kayak lake. About half of the water is a designated no-wake zone, so anglers in small craft can fish without worrying too much about being overpowered by bigger boats.
Much more: Patagonia Lake Fishing
Alamo Lake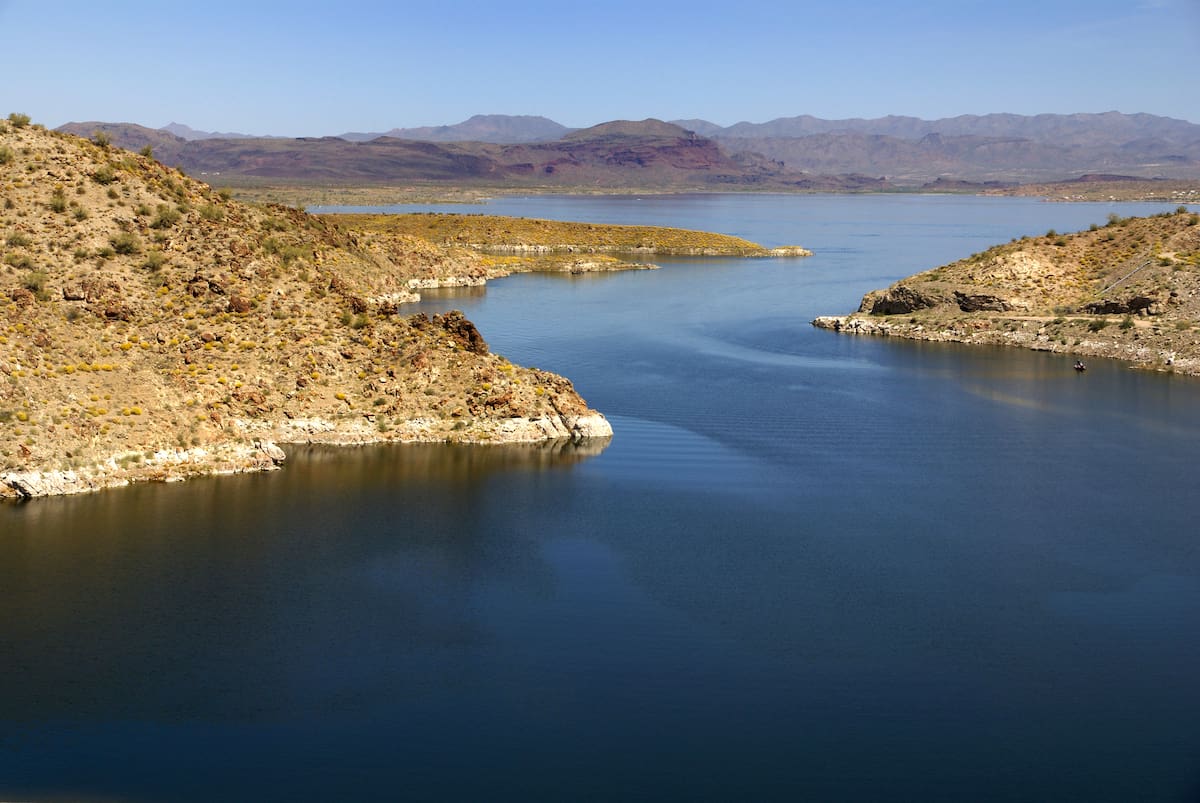 Western Arizona's Alamo Lake is surrounded by the spectacular scenery of the Sonoran Desert, and provides some of Arizona's best largemouth bass and crappie fishing.
A man-made reservoir of about 3,500 acres, Alamo Lake is home to boatloads of largemouths in the 3- to 5-pound range.
Alamo Lake also has virtually unlimited bank access, making it one of the best places in Arizona to fish for bass from shore. The best time to do that tends to be the spawn and post-spawn periods.
Throughout much of the year, though, deeper fishing techniques tend to fare better. Bass congregate on flats adjacent to steep drop-offs around 20 to 30 feet in early spring before moving shallow to spawn.
They typically transition back toward similar depths during hot summer days, though there's often a good surface bite in the morning and evening.
When the sun is out, anything that casts a shadow has the potential to hold fish.
The water is usually slightly to moderately stained, and can also get downright muddy at the river end. The water is usually clearest at the dam.
White and chartreuse baits work best at the muddy end, and natural colors along with black/blue combinations do well elsewhere.
Drop-shot rigs, jigs and deep-diving crankbaits are effective when bass hold in deep water, but don't hesitate to tie on a chatterbait or topwater when the sun swings low. Pitching plastics to timber is a good tactic, too, and this lake has a lot of timber.
Roughly half of Alamo lake consists of submerged or partially-submerged trees and brush. There's a stand of vertical timber right in the middle that routinely harbors some of the biggest bass in the lake.
Fishing at Alamo Lake should always come with a word of warning due to its abundance of standing timber. Some of it is visible above the water, and some of it hidden mere inches below the lake's surface.
That fact, coupled with the lake's tendency for drastic fluctuations in water levels (sometimes multiple feet in a single day) requires that boaters use extreme caution.
On the plus side, the lake's remote location and unpredictable water conditions tend to keep crowds to a minimum.
Much more: Alamo Lake Fishing
Black River
No list of great Arizona bass waters would be complete without mentioning the state's best smallmouth stream—the Black River.
This 114-mile river tumbles down out of the White Mountains before eventually feeding the Salt River.
The high mountain portions of the Black River are mainly trout water, but as you head downstream, the water warms and the trout become more scarce. In their place are smallmouth bass, which thrive in the Black River's clear water and abundant rocky habitat.
The river harbors incredible numbers of 2- to 3-pound bass, as well as some in the 5-pound class. It's possible to catch dozens of them in a day using fairly simple techniques.
Spinners and small crankbaits are effective at tempting Black River smallies, and finesse soft plastics do the job too.
It's worth noting that crayfish make up about 50 percent of the bass' diet here, so anything that looks and moves like a cawdad can get a bite.
The best places to find smallmouths in the Black River are usually the upper end of a deep pool, where the fish position themselves with their noses pointed upstream waiting for any edible morsel to come tumbling down into their mouths.
Any significant current break is also worth a few casts, as are rocky shorelines adjacent to deep water.
Fly anglers also find success using crawfish-pattern flies and Wooly buggers in size 4 and 2. You might end up with a mix of smallmouths and hefty brown trout in the middle portion of the river.
Official access sites are somewhat limited, and exploring the Black River fully requires a willingness to drive rutted dirt backroads and do some good old-fashioned hiking. For the most part, the river is very open and accessible to exploring on foot.
The best fishing is generally in the lower Black River, which flows through the San Carlos Apache Reservation.
Because of that, a special permit is required to fish here, but the permit is easy to obtain—most local gas stations and convenience stores sell them—and quite affordable.
Honorable Mentions
Arizona has a lot of really top-notch bass fishing lakes and rivers. Those listed above are the cream of the crop, but they only scratch the surface of what the state has to offer.
Any of the following 'honorable mention' bass lakes could just as easily be the setting for a memorable fishing adventure.
Lake Mohave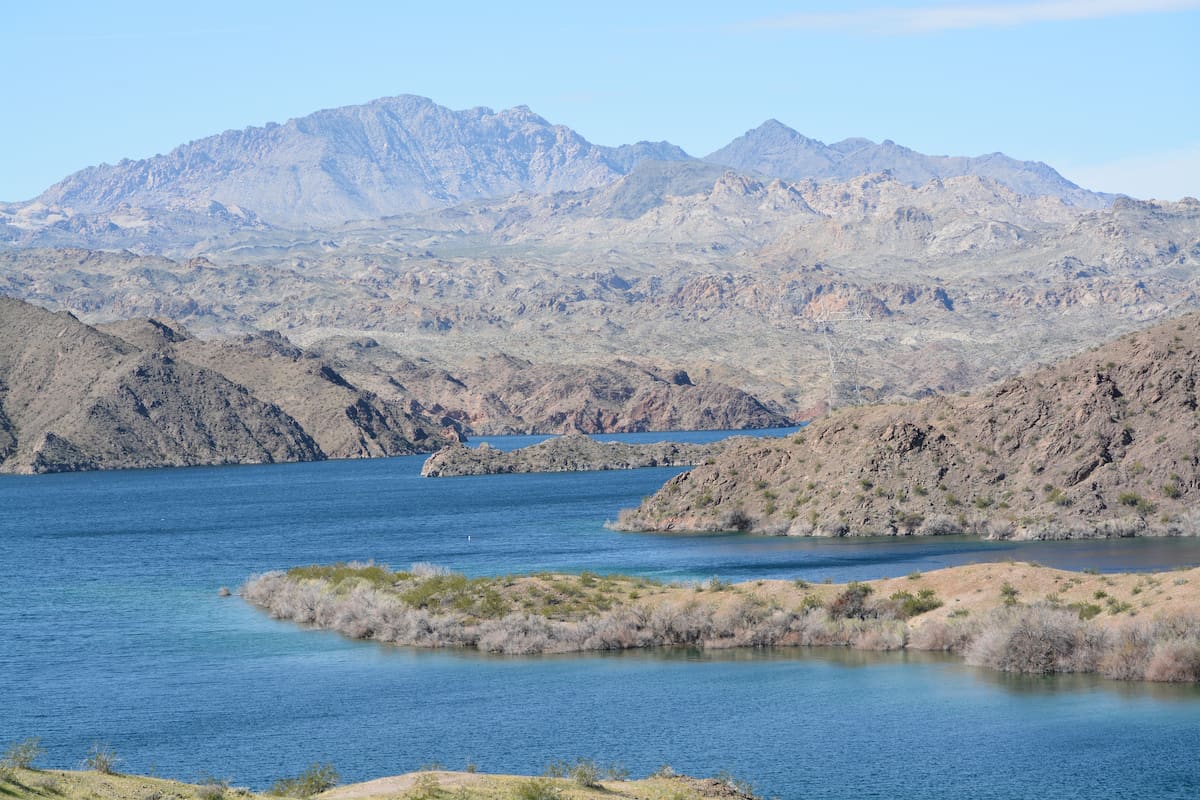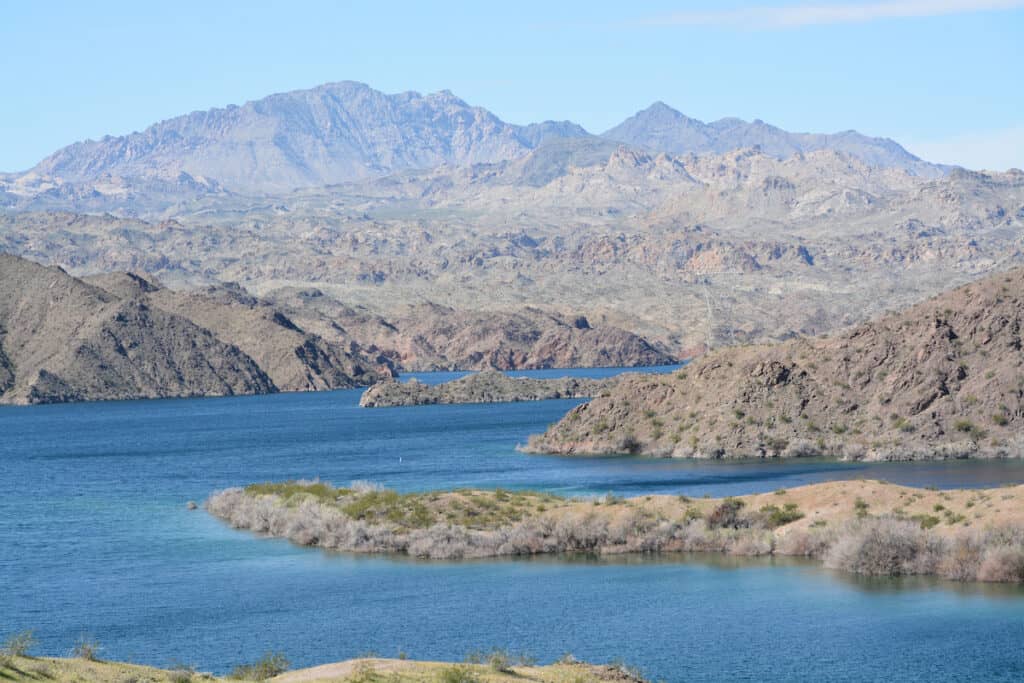 Lake Mohave is a vast reservoir that offers a pretty staggering array of fishing options.
The lake is held in place by the Davis Dam on the Colorado River, above Lake Havasu where the river forms the border between Arizona and Nevada.
Much like its downstream neighbor, Lake Mohave has historically been a great largemouth lake. But an exploding smallmouth population in recent years has shifted the balance. These days, smallies are everywhere.
The best bass fishing on Lake Mohave is usually from March through June, as bass head toward shallow haunts to spawn, and then gradually transition back toward deep water following points and creek channels.
Lake Mohave has exceptionally clear water, which can be a blessing and a curse.
In spring, sight fishing for bass in shallow water can be a lot of fun. But if you can see them, it's a safe bet they can also see you. Don't forget your polarized sunglasses.
Finesse is often the key to success on Lake Mohave. The lake spans over 26,000 acres at full pool, with abundant rocky shores, outcroppings and cliffs that hold fish. There are also areas of flooded mesquite trees that are favored by largemouths.
Apache Lake
One of several large Salt River Reservoirs, Apache Lake is next in line when you head downstream from Roosevelt Lake.
At about 2,500 acres, it's still a good-sized lake despite being much smaller than its neighbor.
Apache also gets a bit less attention from anglers than Roosevelt does, which is all well and good for the locals who come here to chase largemouths and smallmouths. Both species are abundant here, and Apache Lake kicks out a lot of bass weighing 5 pounds or more.
Apache Lake is a classic Arizona reservoir in the sense that it's almost entirely hemmed-in by steep cliffs and canyon walls. Shore access is limited, and you really need a boat to unlock this lake's full potential.
The best place to start is the Resort and Marina within Tonto National Forest.
The steep, rocky banks of Apache Lake are riddled with cuts and coves that harbor bass.
The stretch of shoreline extending from Saguaro Point to Horsetail Bay is especially productive, along with the area from Gila Bay to Chukar Wash.
Apache Lake has seen some setbacks in recent years due to algae blooms and fish kills. But this lake has displayed its ability to rebound before, and there's always reason to look forward to the next fishing season.
Bartlett Lake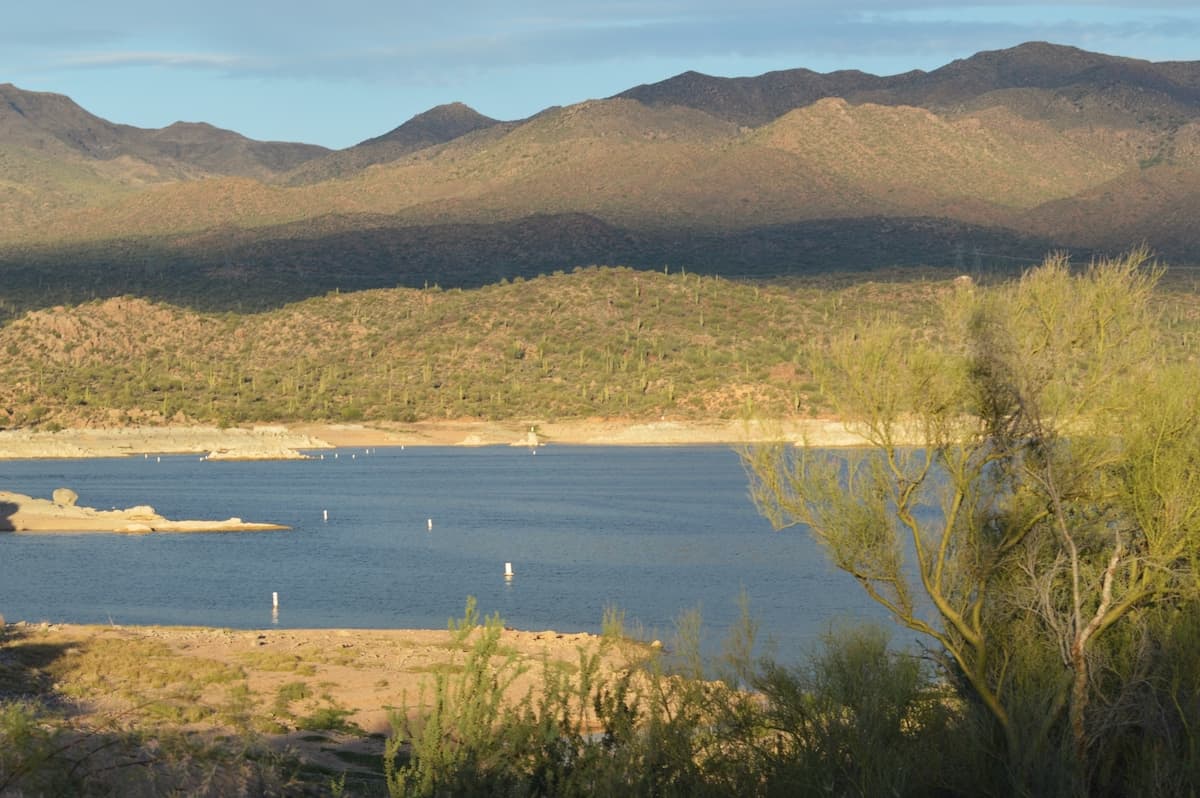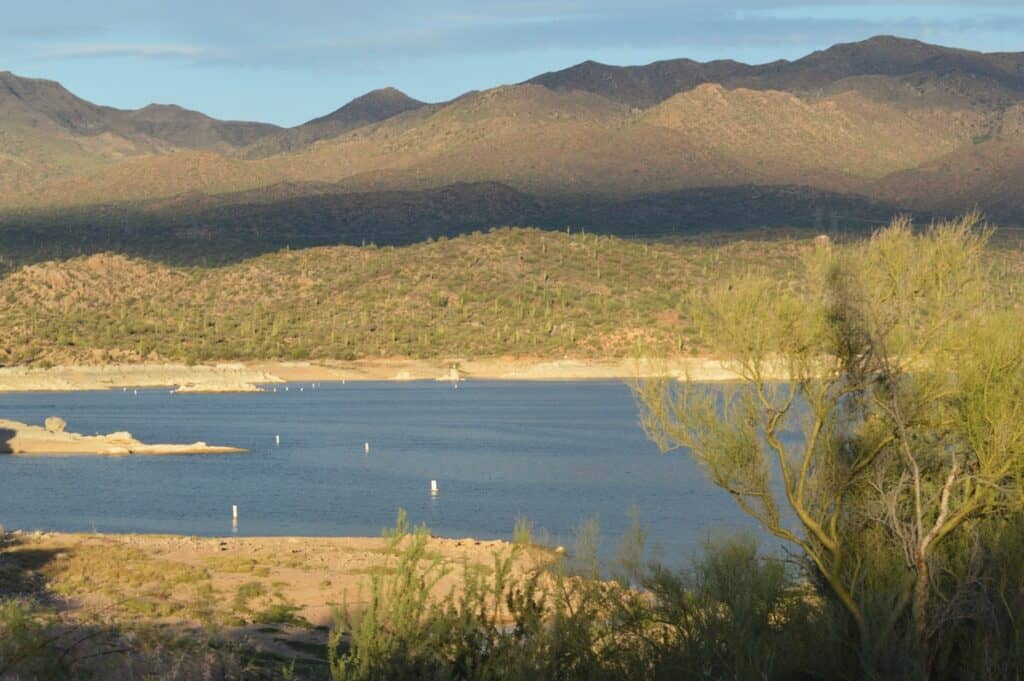 A little over 2,000 acres, Bartlett Lake is a man-made reservoir along the Verde River in Central Arizona. It's a great spot for both largemouth and smallmouth bass, though largemouths are by far the more common of the two.
Bartlett Lake is also gaining a reputation as a trophy bass lake. A few bass over 10 pounds have been caught here, and Florida strain largemouths have been stocked in recent years.
The area around the marina is a great place to start (and not just because that's where the boat ramp is).
The marina is nestled in a cove that often harbors some big bass. Right across the lake on the opposite shore, you'll find a series of wind-blown coves and cuts that are some of the most reliable bass-producing spots on the lake.
As is often the case in Arizona, bass in Bartlett Lake head deep in summertime, but there's often a great shallow fall bite as the water cools and bass are once again more willing to hunt closer to shore.
On sunny days, key in on shade, whether it's the shady side of a rock pile, overhanging cliff or submerged drop-off.
There are also thousands of man-made fish habitat structures around the lake, many of them fully visible when water levels drop in summer.
More: Bartlett Lake Fishing
Saguaro Lake
Yet another Salt River reservoir worthy of your attention, Saguaro Lake is one of the smaller lakes in the river system at just over 1,200 acres. Still, there are plenty of bass to go around.
Overall, bass numbers at Saguaro Lake tend to be a bit below those in Roosevelt and Apache lakes, but they make up for it in size. Florida strain largemouths over 10 pounds have been caught from Saguaro Lake.
Rainbow trout are also stocked in Saguaro Lake every winter, and small trout are definitely on the menu for the lake's biggest bass. This is a good place to tie on an oversized trout-pattern swimbait and give it a try.
Crankbaits and spinnerbaits are popular as well.
Saguaro Lake is less than an hour outside of Phoenix, making it one of the best fishing options in the Phoenix area.
It's a good spot for shore fishing too, with lots of open bank, shoreline hiking trails and a public fishing platform in Butcher Jones Recreation Area.
The Butcher Jones area and nearby Peregrine Cove are good places to fish from a boat too, with shallow flats, floating mats of vegetation, rip-rap banks and numerous artificial sunken fish habitats that attract bass. Try a topwater or floating frog here in the early morning.
You also can double your fish-catching fun by also trying out the tailwater area of the Salt River below the reservoir, which is among the best trout fishing rivers in Arizona.
Show Low Lake
One of the best fishing spots in Northern Arizona, Show Low Lake is a great mixed-bag fishery. It's stocked with rainbow trout every year, and is known for being one of the top walleye lakes in the state.
But there are bass here too, both largemouth and smallmouth.
The period surrounding the spring spawn is the best time to go after them.
Show Low Lake sits at high elevation in the White Mountains, so things get moving a little later here. May and June are prime bass fishing months.
Because Show Low Lake has such a dearth of aquatic vegetation, keying in on rocks and woody cover is crucial to success. The rip-rap shorelines at the northwest end of the lake on either side of the dam are some of the most productive spots.
One of the great things about Show Low Lake is that, at just 100 acres, it's an easy lake to get to know. Shore access is abundant, and you'll find boat launch facilities at Show Low Lake Campground.
Boats on Show Low Lake are restricted to 10 horsepower gas motors or less, along with electric trolling motors and non-powered craft. It's a thoroughly enjoyable lake to fish from a kayak or float tube.
Show Low Lake also has a variety of other fisheries, including being among the best walleye fishing lakes in Arizona.