Northwest Zone
Steelhead
This is the month many rivers with hatchery winter runs get rolling, especially in the last couple weeks around the holidays.
While many of these streams will peak in January, the North Fork Nehalem very often has its best catches in December.
The Alsea, Nestucca, Siletz, Siuslaw and Wilson rivers peak later but get some good early numbers.
Three Rivers on the Nestucca system has a really nice early run, as do most of the smaller hatchery supported runs found with it on this page: Northwest Oregon's Best Small Streams for Steelhead Fishing.
Salmon
Late Chinook come into many rivers, though in far smaller numbers than back in October.
The Wilson River is particularly well known for kicking out some chrome bright kings to surprised steelheaders every winter. It's open through Dec. 31 for Chinook (all year for steelhead).
Fresh Chinook also arrive late in other rivers, including the nearby Kilchis, on a smaller scale.
Southwest Zone
Steelhead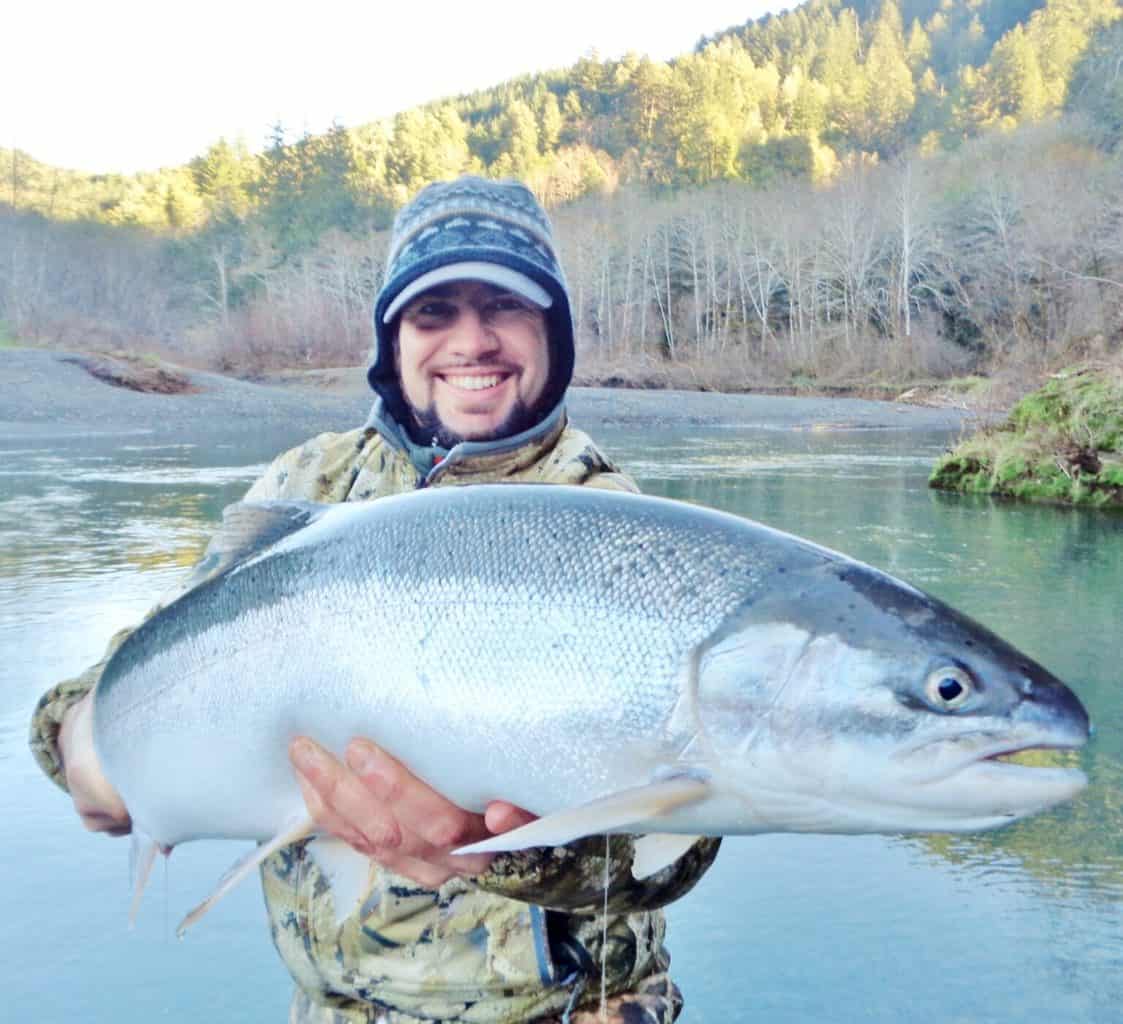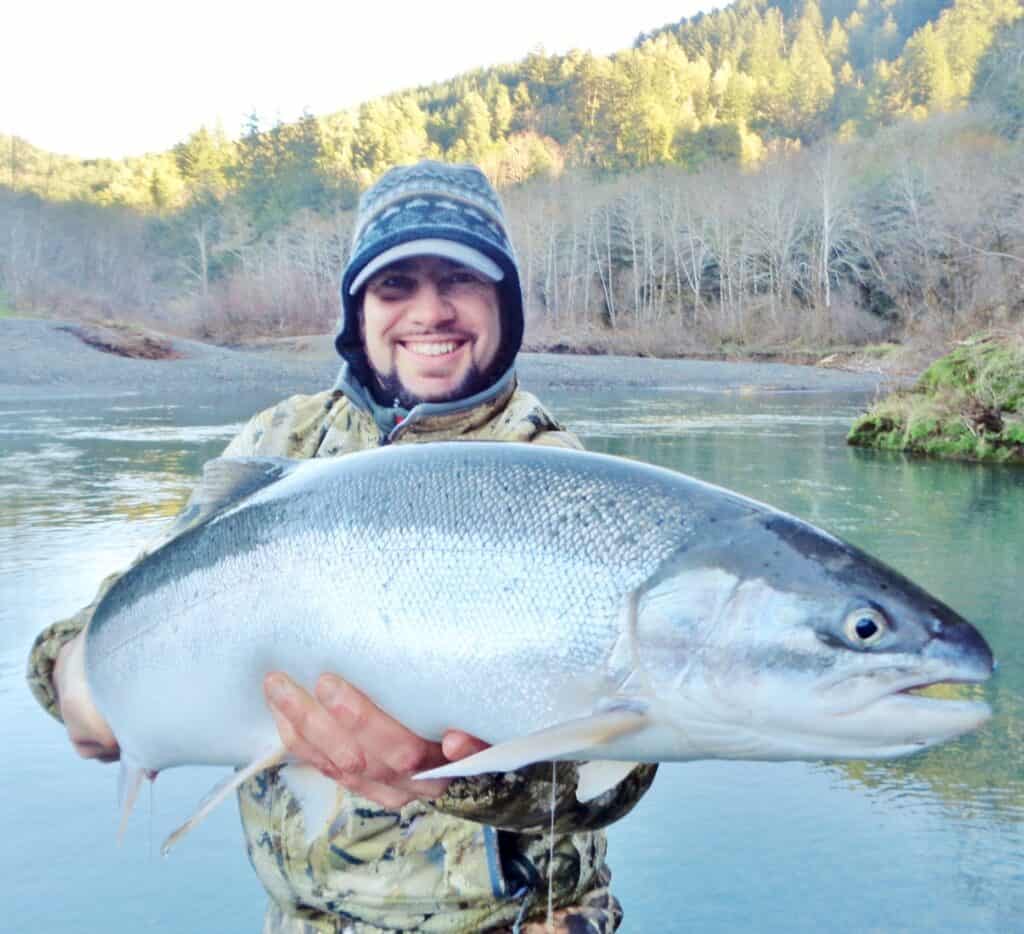 Winter run steelhead should really get going this month in the South Fork Coos and East and West Fork Millicoma rivers, North and South forks of the Coquille River, Tenmile Creek and Chetco River.
Some years, summer steelhead catches can be fair and even good for the last of the run in the upper Rogue River (above former Gold Ray to hatchery).
Chinook salmon
The Elk River and Sixes River still put out Chinook into December for a possible double with the first winter steelhead. There might be a few harvest-worthy Chinook left on the Chetco River early in the month.
Coho salmon
Tenmile Lakes on average have the latest seasonal coho run you'll find, typically peaking in December after enough rains have unplugged the mouth.
Harvest of the wild coho that spawn in tributary streams and rear in the lakes is open through December 31 above Hilltop Bridge under annual ODFW regulations.
Most success comes from anglers who troll or cast spinners in creek channels right after a big rain.
Trout
Low- and mid-elevation lakes are worth a try.
Lost Creek Lake maintains fish all year and often is accessible.
Medco Pond and Selmac Lake are also cold-season options. So are coastal lakes, including Tenmile and Saunders.
Coastal stream cutthroat trout fishing is closed.
Willamette Zone
Steelhead
Beach anglers will start to pick off winter steelhead in the Willamette River, especially at Meldrum Bar (just below the mouth of the Clackamas River).
With decent rainfall, catches will begin in earnest on the Clackamas River below Eagle Creek and in Eagle Creek itself (after a good rain). The Clack's early winter run predominantly returns to the federal hatchery on the creek.
Trout
McKenzie River fly anglers will continue to pick up trout, but they'll have fewer breaks in the weather to get out. Watch for blue-winged olive hatches in the afternoon.
Walter Wirth Lake and Walling Pond in Salem and several valley ponds like Junction City Pond, Huddleston Pond (Willamina) and Sheridan Pond may get hatchery trout stocked in late fall or early to mid-winter.
Check the ODFW Recreation Report or trout stocking schedule at the bottom of this page and watch for possible free fishing days on December 31 and New Year's Day.
Sturgeon
Good catch-and-release fishing continues for sturgeon on the lower Willamette River.
Central Zone
Trout
Crooked, Fall and Metolius rivers all have sections open to year-round trout fishing, and angling can be good if you catch a weather break.
Winter hatches often include blue-winged olives and/or midges. Nymphing is popular.
Steelhead
While the majority of anglers have packed it in for the year here, December can still produce some pretty good catches with little competition.
Steelhead will be anywhere on the lower Deschutes River, but the numbers most likely are going to be best up toward Warm Springs and down to about Maupin.
Also, look for bright winter steelhead numbers to be building on Hood River.
Kokanee
This staple of spring and summer often bites quite well in the winter at Lake Billy Chinook, a good part of which is open all year and usually very accessible.
Southeast Zone
Trout
Ana, Thief Valley and Wolf Creek reservoirs sometimes fish pretty well in December.
Ana River remains open and ice-free all winter for stream anglers to get their fly-fishing fix.
Northeast Zone
Steelhead
Steelhead are widespread but weather will dampen catches. During breaks, try the Grande Ronde, Imnaha or lower reaches of the Wallowa River.
Farther west, the Umatilla and John Day rivers are open and have fair to good fishing if the weather cooperates. (The John Day Arm may be closed to steelheading at this time if ODFW sets a thermal sanctuary zone there during spring rule-making.)
Trout
Look for brook trout to be staging for the spawn in shallow water, including the beach near the picnic area at Magone Lake.
Trout Farm Pond has good late-fall fishing for rainbow and brook trout, but snow may block the road by December.
Snake River Zone
Panfish
Try fishing deeper water for crappie, perch and bluegill with jigs or bait (or bait-tipped jigs).
Steelhead
Some years find peak catches below Hells Canyon Dam in December, although November is a safer bet weather-wise.
Hells Canyon Reservoir is stocked with surplus steelhead during good run years. These are fished like large trout, with black flies worth a try up-reservoir near Oxbow Dam.
One steelhead over 20 inches may be kept per day, considered part of a trout limit.
Columbia River Zone
Sturgeon
Regulations may allow retention of keeper-sized sturgeon in some pools but definitely check before fishing.
Steelhead
Boat and bank anglers will still be catching fish in the John Day Arm and John Day Pool of the Columbia River. However, recent sanctuary rules may shut down the Arm fishery, so check for updates when summer and fall salmon and steelhead rules are set for the Columbia.
A large number of these John Day steelhead will be wild (intact adipose fin) and must be released, but reasonable numbers of hatchery steelhead may also be around for keeping.
Bass
Smallmouth bass will be schooled up and probably in deeper water with structure that breaks the current. Soft plastic grubs and worms worked slowly can be effective when you find holding fish.
Marine Zone
Bottomfish
Breaks in the weather can bring beautifully flat oceans and great fishing, but it's tough to time and often brief in duration.
This is the time of year when big lingcod start moving close to shore for the winter months and can be caught off jetties and rocks … but be careful!
Crabs
The ocean usually reopens to recreational crabbing Dec. 1, but it's subject to delays.
Commercial crabbers also usually start setting traps sometime this month, depending on the season opener (determined by crab quality) and prices.
Once the commercial pots go in, the numbers of keeper-sized crabs begin falling off.
Oregon bay crabbing conditions are best this month after longer dry spells. Netarts Bay and the lower Columbia River estuary often are some better winter options because they are less impacted by swollen coastal rivers.
Clamming
Razor clamming can be good (if the weather isn't too gnarly), but minus tides usually occur after dark this month so bring your own light source.
Sturgeon
Estuaries start to see more sturgeon coming through, although it gets better in a month or two.
Tillamook Bay is a viable option now. This fishing is catch and release at this writing, but check regulations for updates.
For more information, try the following main pages or use the search bar below:
Return to Oregon Fishing Calendar
Find the best Oregon fishing by regional zones
Find the best Oregon fishing by target species
Return to the Oregon home page
Oregon Resources
ODFW Weekly Fishing Report
ODFW Trout Stocking Schedule
Oregon Fishing Regulations
National Weather Service