Oregon's Clatsop County, in the far northwestern corner of the state, is bounded by the rich fishing waters of the Pacific Ocean on the west and the mighty Columbia River on the north.
Besides the Columbia River, and its array of salmon, steelhead, sturgeon and warmwater fish, Clatsop County has a handful of very good smaller streams that offer fishing for steelhead, salmon and native cutthroat trout.
Several of its lakes have excellent fishing for stocked rainbow trout and resident largemouth bass, crappie and other species.
This article spotlights fishing the inland waterways, but Clatsop County's main ports (Astoria, Hammond and Warrenton) also provide access to the open ocean for a variety of angling on private boats as well as guide and charter boats based here.
Salmon is king on the lower Columbia, but halibut, albacore tuna and other gamefish also are pursued.
Learn more on our website about Oregon's best ocean fishing ports.
The focus of this article is on hook and line angling, but our website also covers shellfish, and Clatsop County has some great opportunities.
In particular, the vast beaches stretching down the coast from the Columbia River's South Jetty to Gearhart and Seaside make up Oregon's very best razor clam digging spot. Find more on in Best Razor Clamming Beaches in Oregon.
Also, the large Columbia River estuary is among the state's very best crabbing bays. Read all about the Best Crabbing Spots on the Oregon Coast.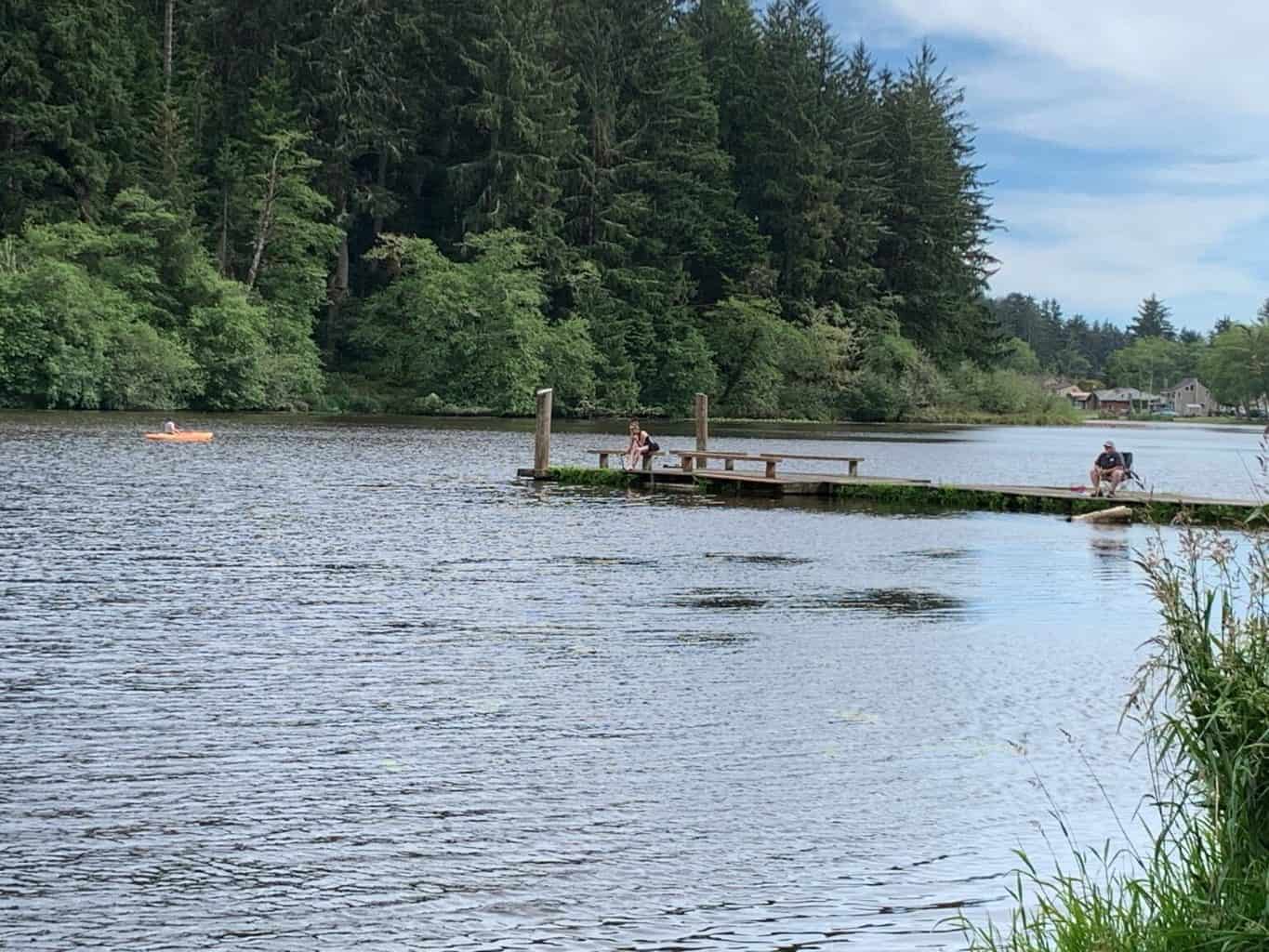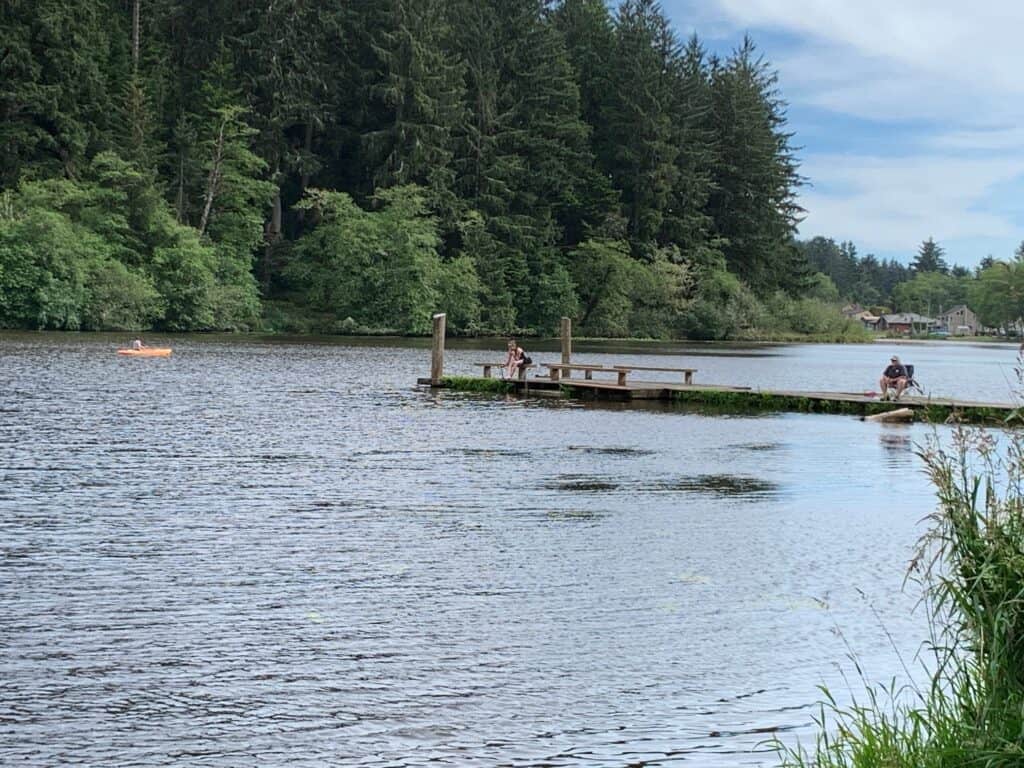 Throughout this article, and also at the end, you will find lots of links to various resources that will help you get the most out of fishing in Clatsop County and elsewhere in Oregon, including neighboring counties.
For regulations, look in the Oregon Department of Fish and Wildlife's Northwest, Columbia River and Marine zones.
The cities in this area include Astoria, Cannon Beach, Gearhart, Seaside and Warrenton.
Other communities here include Arch Cape, Elsie, Hammond, Jewell, Knappa, Olney, Surf Pines, Tolavana Park, Wauna and Westport.
If you're strictly focused on the Astoria area, we have a more compact article called Fishing in Astoria, Oregon. It zeroes in on the fishing and shellfishing in the lower Columbia River estuary, salmon and steelhead in nearby streams, and bass and trout in the best local lakes.
Listed alphabetically, here are some of the best fishing spots in Clatsop County:
Big Creek
Despite its name, this is a relatively small stream that flows into the Columbia River near Knappa, a short drive east of Astoria on Highway 30.
Big Creek has a hatchery and is primarily fished for fall Chinook and winter steelhead, with some opportunity for spring Chinook and coho salmon.
Salmon anglers must be aware that all angling is currently closed here during September, with many of its fall Chinook tagged near the mouth in August.
This is one of the top winter steelhead fishing streams in the Astoria area and is best for this run in late December through January. We have this on our list of best small winter steelhead fishing streams in Northwest Oregon.
There are native cutthroat trout, but they must be released.
Look for good stream access at the hatchery and Big Creek Park.
More: Big Creek Salmon and Steelhead Fishing.
Cemetery Lake
This 10-acre lake south of Warrenton is a warmwater fishery with largemouth bass and a variety of panfish.
Cemetery Lake is located on the west side of Ocean View Cemetery, not far from Warrenton High School.
Clatsop County Beaches
Those wide-open expanses of sand and waves right outside your hotel window?
Yep, there's some pretty darned good surfperch fishing there all year long, with probably the best odds of catching them in the spring and early summer.
Try using heavy tackle, a good-sized weight and a chunk of clam, mussel or shrimp meat, or an artificial version of it.
Often the perch will dip into deeper depressions and hang out near small creek mouths foraging for food.
Redtail surfperch are the most common on the open beaches, but different perch, greenling and other species can be found, especially near rocks.
Oh, and be really, really careful around waves. A life jacket is not out of line here.
Coffenbury Lake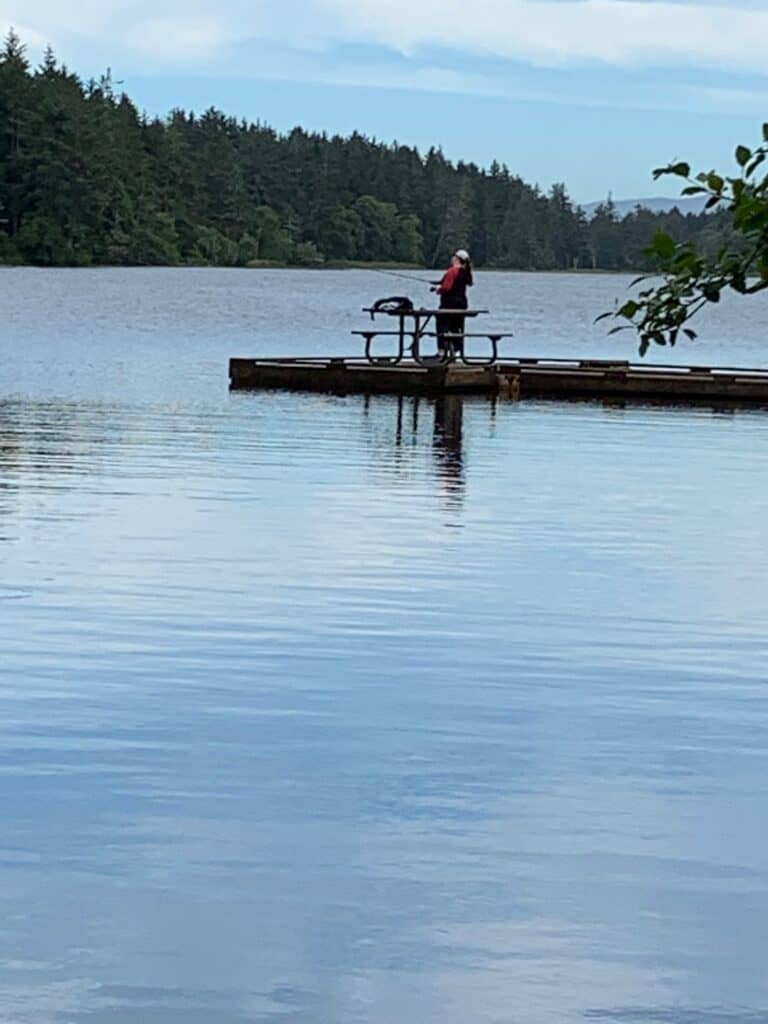 This is the favorite fishing lake inside Fort Stevens State Park, especially just after it's planted with hatchery-raised trout.
Look for the highest numbers of trout soon after plantings in the late winter through spring months.
Also, this is one of a few area lakes (also Sunset, Lost) that are frequently stocked with jumbo-sized trophy rainbows in September. They put up quite a fight on light gear.
Coffenbury also has a fair warmwater fishery, including largemouth bass, bullhead catfish and yellow perch.
There is excellent bank access to this 50-acre lake, including handicapped-accessible fishing areas and a path around the shoreline.
Small boats may also launch.
Also within the state park, there are some other modest warmwater fisheries at Crabapple and Creep & Crawl lakes that might be worth a cast from spring to early fall.
More: Coffenbury Lake Fishing.
Columbia River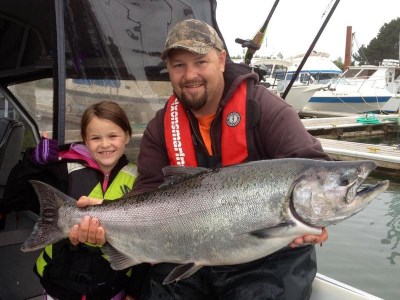 In the Columbia's estuary, especially in the second half of August, you will find some of Oregon's very best salmon fishing.
Depending on the run years, there is good and sometimes truly great fishing for Chinook and coho (silvers) during the famed Buoy 10 salmon fishery, a fishing zone defined by the numbered buoy at its western end up to Tongue Point at its eastern end.
Upriver in the county, there also are opportunities for salmon (including fall and spring Chinook) as well as steelhead, especially summer runs.
The Columbia estuary and lower river also have excellent sturgeon fishing, as well as some opportunities for saltwater fish such as flounder, perch, greenling, rockfish and lingcod (the latter species are mostly found along the jetty).
Lower river sloughs, such as Brownsmead, are fished primarily for largemouth bass, crappie and yellow perch and also contain bullhead catfish, sunfish and carp.
More lower Columbia River fishing highlights are here.
Or for a very broad look at angling opportunities in this very broad river, read Columbia River Fishing.
Cullaby Lake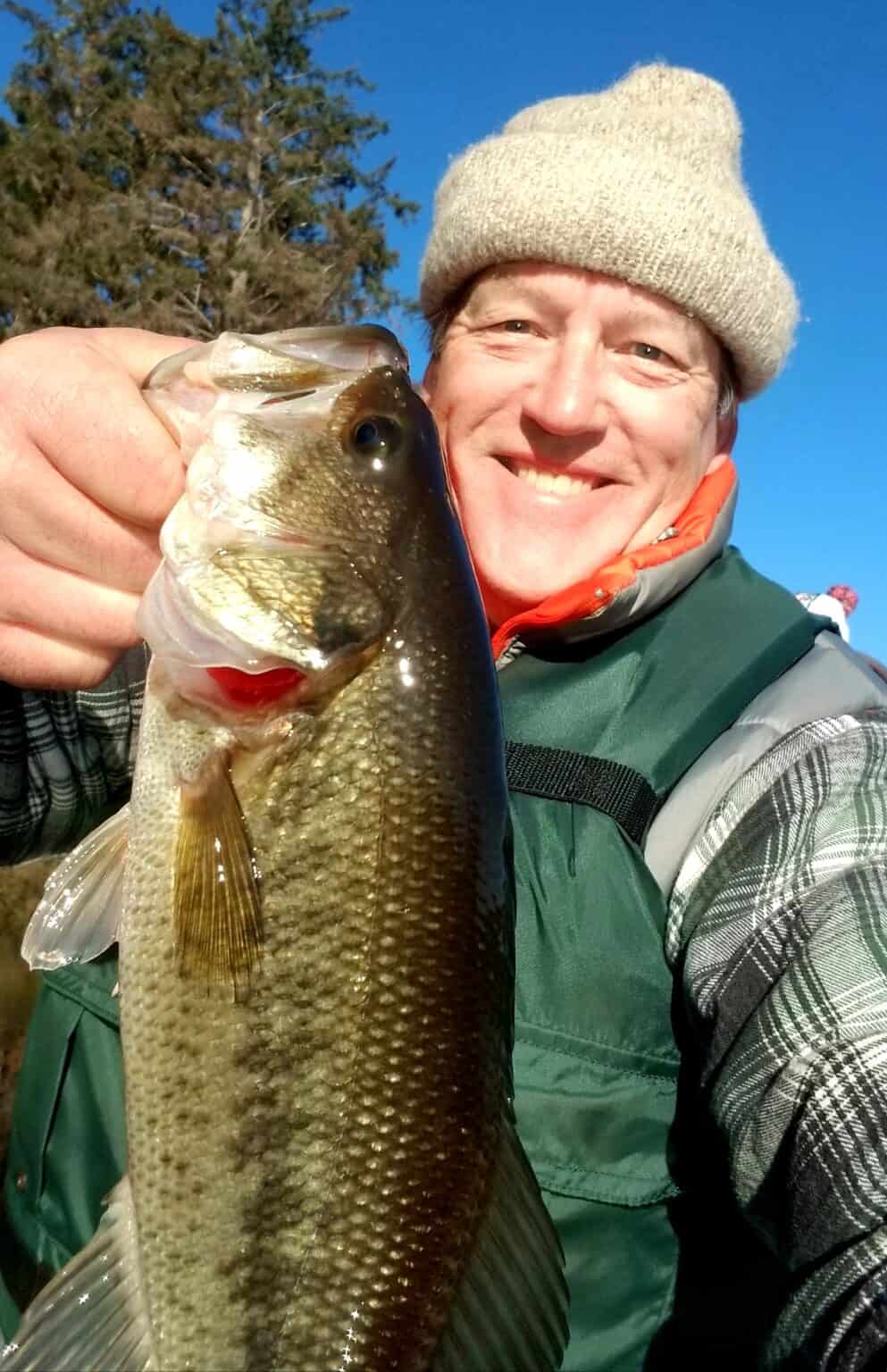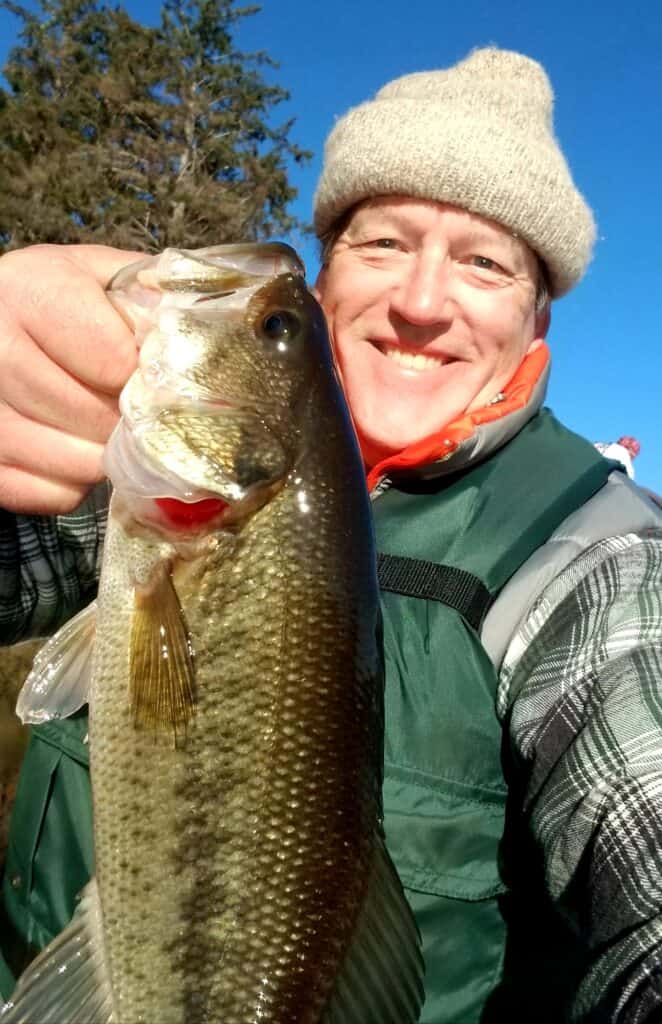 This is one of the north coast's best all-around warmwater fisheries, with some good largemouth bass angling at times and the potential for good catches of crappie and yellow perch.
ODFW often will plant a modest number of trout here in March as well, but that isn't the primary focus and trout seekers will want to check out nearby Sunset or Coffenbury lakes for higher numbers of fish.
There is limited bank access to this 200-acre lake but excellent boating facilities at the county park. Just follow the signs turning eastward from Highway 101 roughly halfway between Warrenton and Gearhart.
More: Cullaby Lake Fishing.
Gnat Creek
This is a creek tiny enough to make nearby Big Creek look big.
Gnat Creek is a very nice spot to know for hatchery winter steelhead because its diminutive size means it quickly clear into fishing shape following a downpour.
The best steelheading on this hatchery stream is from late December to early February, often peaking in January.
There also is a nice hatchery spring Chinook fishery here, with best catches starting in May and holding up into early July.
The hatchery has parking and good bank access near Highway 30 about five miles east of Kappa.
More: Gnat Creek Fishing.
Klaskanine River
This river flows into Youngs Bay southeast of Astoria, near the community of Olney.
There are modest fisheries in the system for spring and fall Chinook and a locally popular winter steelhead fishery with decent catches of hatchery-marked fish.
Steelheading is typically best on the North Fork Klaskanine from late December through January or early February.
Find bank access at the hatchery and Sigfredson County Park.
Watch for seasonal salmon closures on the forks.
More: Klaskanine River Fishing.
Lost Lake
This is a popular but somewhat off-the-beaten-path keeper trout lake in the Coast Range south of Highway 26 in the Elsie area, and east of Spruce Run Park on the Nehalem River.
Lost Lake is periodically stocked with hatchery rainbows from March through late spring.
Watch the stocking schedule because it also regularly gets plantings of extra-large trout in September, when the water cools again.
Lost may also get some recycled hatchery steelhead, typically announced in the weekly recreation report (linked below).
Finally, for all of the above, Lost Lake is actually quite an excellent fly fishing spot. It's one of our recommendations in Best Fly Fishing Lakes in Oregon.
Necanicum River
This is a nice fishing stream popular for both its fairly good salmon and steelhead runs and for its easy access.
The Necanicum is the stream you follow as you near Seaside and Cannon Beach on Highway 26.
Most years the best fishery here is the winter steelhead run, typically starting up around Thanksgiving and going through mid-winter. The peak is likely to occur in December and January.
Good catch rates and fast recovery after heavy rains make this another of our favorite small winter steelhead streams in Northwest Oregon.
Access spots include Kloochie Creek (Big Spruce Hole) and Black's Bridge along Highway 26 as well as a couple of spots along Highway 101 near Seaside.
There is a modest fishery here for fall Chinook salmon in the estuary and lower river.
There also is good angling for native cutthroat trout, with a two-trout limit. Flyfishing is popular for them.
Sea-run cutthroats will be available in the estuary and lower river during the late summer and early fall.
There is a small crab fishery in the bay at Seaside.
More: Necanicum River Fishing.
Nehalem River
The middle section of this large river flows through Clatsop County. This stretch is primarily fished for cutthroat trout, with opportunities for mostly catch-and-release fishing for winter steelhead (they must be let go unless they are the rare fin-marked strays for other rivers that have hatchery programs).
Watch for seasonal closures and special salmon rules.
Chinook salmon run up the Nehalem but are fished in the lower river in Tillamook County.
This entire river system is also great for catching crayfish (crawdads).
Slusher Lake
Note: A reader has informed us that this lake is no longer accessible for fishing.
This is a small coastal lake in the dunes between Astoria and Seaside on the north Oregon Coast.
The lake is occasionally stocked with hatchery rainbow trout in the late spring or into summer, so watch the stocking schedule linked below for the best time to catch trout.
Slusher also is home to locally common species of warm water fish, so your catch may include largemouth bass, perch and bullhead catfish. These species can be caught year-round but bite best during the spring, summer and early fall.
Slusher Lake is located in the vicinity of Sunset and Smith lakes, but a little farther west (closer to the ocean).
To reach it, take Patriot Way west from Highway 101 at the entrance to Camp Rilea, and then pick up Pacific Road to Slusher Lake Road to the lake.
Sunset Lake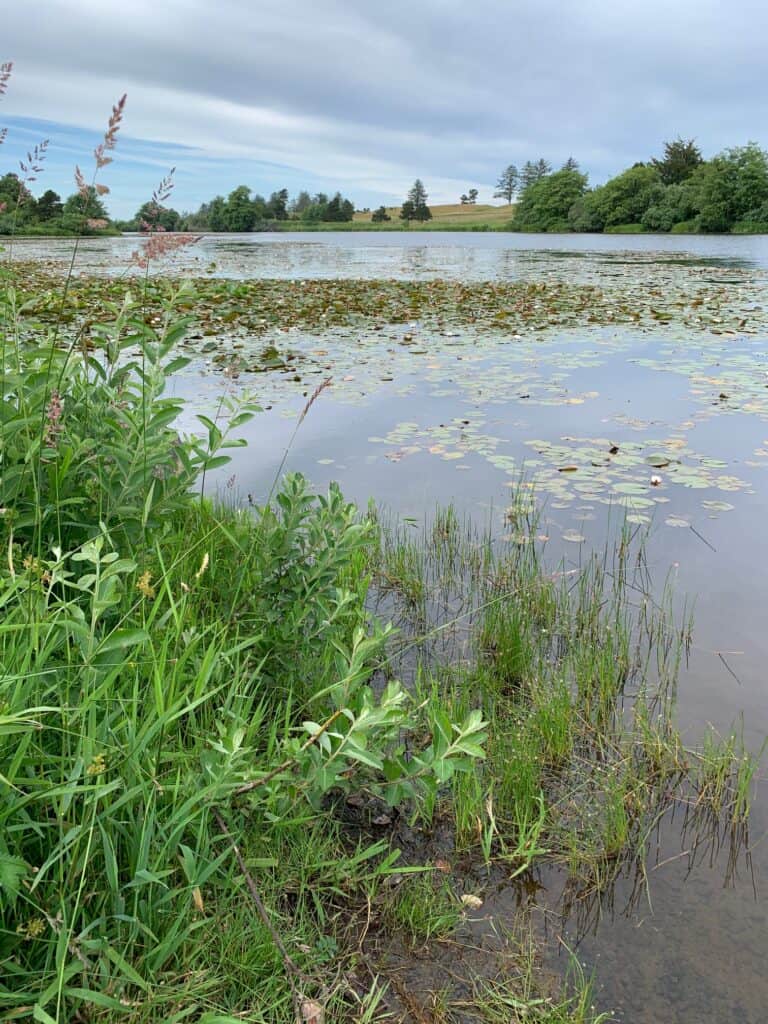 This long, thin lake is a stocked trout destination just off Highway 101 between Gearhart and Warrenton, across the highway from Cullaby Lake and on the road to Sunset Beach.
Look for bank and small boat access at the public park after turning toward the beach.
This lake is usually stocked throughout the spring season (at the same times as nearby Coffenbury Lake) and also often gets a load of extra-large trout in September.
There also are a bunch of bullhead catfish here, along with some bass and yellow perch.
Fishing in Neighboring Counties
Columbia County: To the east, with good Columbia River fishing for salmon and steelhead, as well as several smaller lakes with good fishing for trout, bass and other species.
Tillamook County: To the south, loaded with coastal salmon and steelhead fisheries, excellent crabbing and clamming and many other angling opportunities.
Washington County: To the southeast, this county stretches from Coast Range forests to Portland's suburbia and includes popular Hagg Lake.
Oregon Resources
ODFW Weekly Fishing Report
ODFW Trout Stocking Schedule
Oregon Fishing Regulations
National Weather Service
For boating information about these waters, see the Oregon State Marine Board's launch locator map.