You couldn't ask for a better spot for a fishing town than Astoria, on the northwestern tip of Oregon.
This is where the biggest river in the West meets the biggest ocean in the world, and the mixing of the mighty Columbia with the even mightier Pacific brings opportunities to catch salmon, steelhead, sturgeon, rockfish, lingcod, and plenty of other gamefish just off of Astoria's shores.
This article covers the best fishing spots in Astoria and within a few miles away, including Warrenton and Hammond. Besides the lower Columbia River, we'll tell you about the best fishing streams and lakes, all within minutes from Astoria.
See the bottom of this article to link to a broader article covering fishing spots across Clatsop County, which also includes Seaside and Cannon Beach.
Let's start with the big one!
Columbia River Estuary and Buoy 10
This giant estuary stretches from the mouth of the river at the Columbia River's South Jetty upriver.
For the purposes of this article, we'll talk about the estuary synonymously with what's known as the Buoy 10 salmon fishery. The marker that is Buoy 10 is out at the mouth, and the fishery that takes its name extends upriver to Tongue Point, which sticks out into the river east of Astoria.
Buoy 10 Salmon Fishing Near Astoria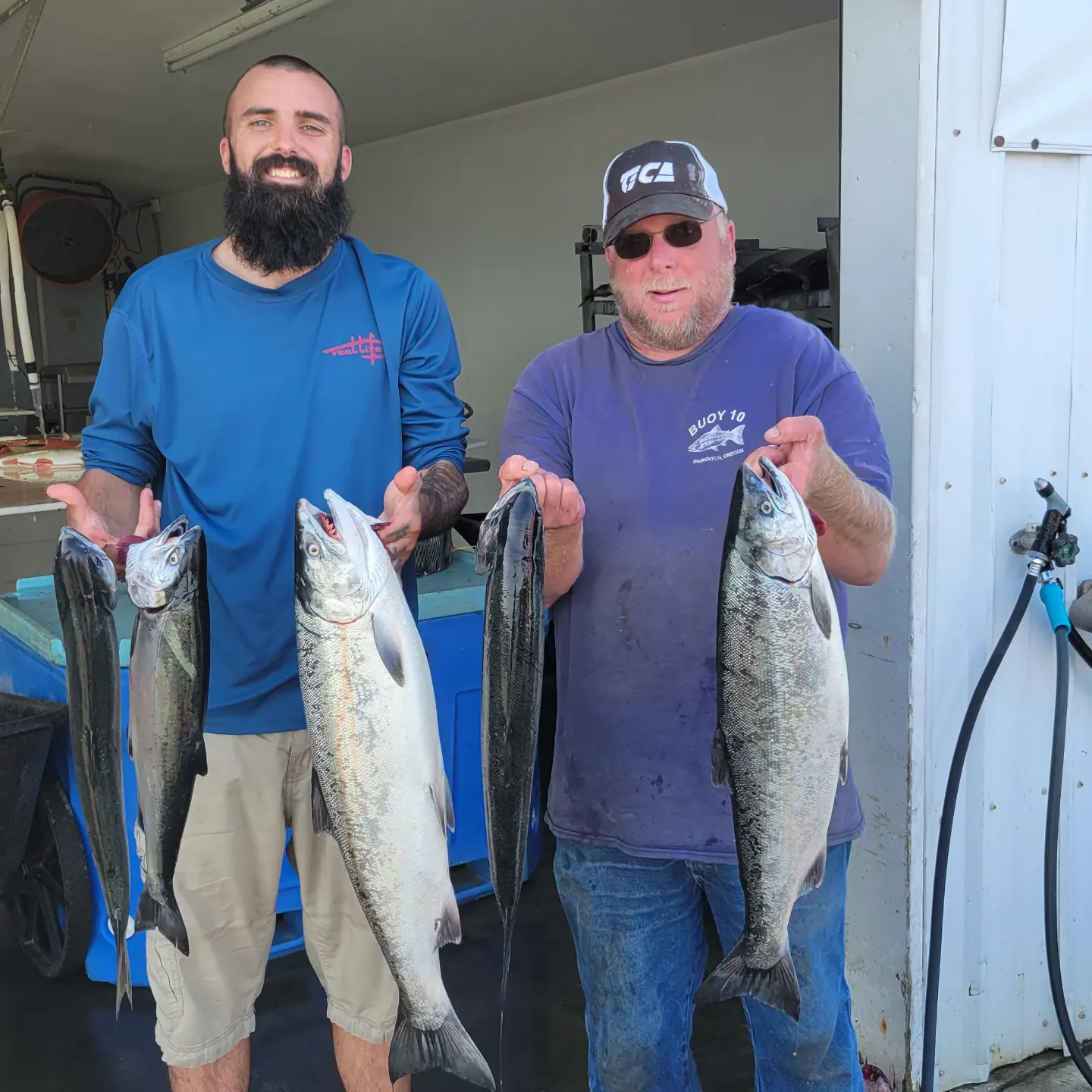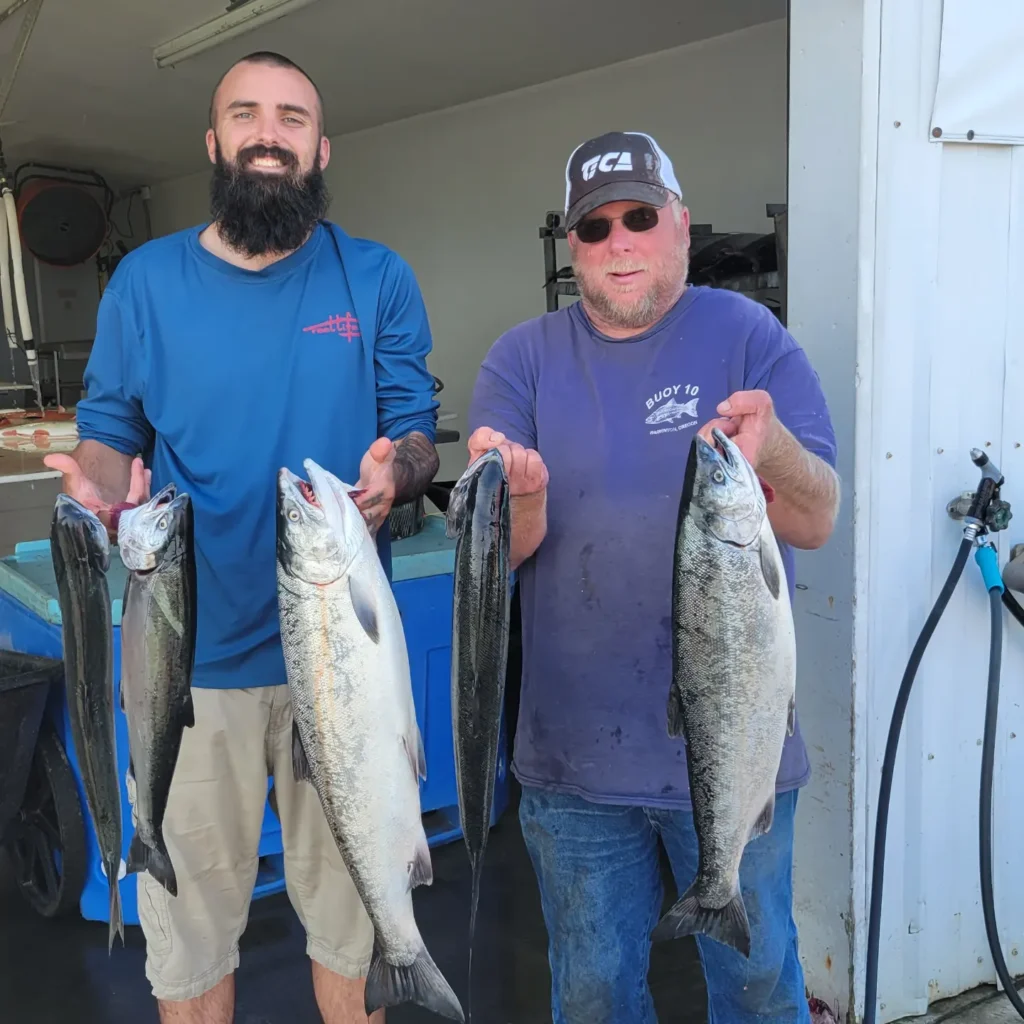 You can't talk about fishing in the Columbia River estuary without talking about salmon fishing. Often simply known as "Buoy 10," the fall runs of salmon here are legendary.
Salmon anglers first start arriving in the Astoria area's ports in late June or early July, but they are heading out across the Columbia River bar and into the Pacific Ocean.
The salmon amass offshore early, feeding on massive schools of baitfish like anchovies and sardines, while they await time to migrate upriver. This fishing season is set each year but often opens earlier than Buoy 10.
The Buoy 10 area typically opens on August 1 for both Chinook and coho salmon, the two main targets of anglers here. (Sockeye salmon also pass through here on their way upriver, but these smaller salmon are seldom caught in the estuary and often are farther upriver by August anyway.)
If you're after Chinook at Buoy 10, plan to fish in August and possibly the first few days of September. The Chinook fishery often closes up after Labor Day, and it certainly has closed earlier by design or emergency.
By contrast, hatchery coho tend to arrive in high numbers a few weeks after the Chinook. Most years, fishery managers in Oregon and Washington allow fishing for these fin-clipped silvers to continue on into September.
When the run looks promising, you might even be able to keep up to three hatchery silvers.
That all said, regulations have a tendency to be moving targets, so always check for updates.
When I plan a Buoy 10 fishing trip with hopes of landing both Chinook and coho, I look from the period beginning in mid- to late August up until that year's Chinook closure.
But don't call it a year after Chinook closes because you can have phenomenal days fishing for coho salmon near Astoria far in September, and the weather is quite often perfect on the Oregon Coast as summer fades into early fall.
Trolling whole or plug-cut herring is a popular tactic for salmon in the estuary. Spinners and plugs also can work very well.
Salmon are the big show in Astoria, but they aren't the only one, for sure.
For more salmon fishing tips and updated season information, read: Complete Guide to Buoy 10 Fishing
Sturgeon Fishing Near Astoria
Sturgeon fishing can be great here as well.
While it's nearly always catch-and-release these days, these prehistoric giants follow the flood tides out onto the vast flats around Astoria.
The best known is Desdemona Sands, a vast expanse of shallow water near the Astoria-Megler Bridge, just north of the deep shipping channel close to the Astoria side of the river. Other flats around the estuary also attract sturgeon, which feed on shrimp, clams, and other forage.
Sand shrimp, smelt and other baits work well for sturgeon.
More: Complete Guide to Columbia River Sturgeon Fishing
More Astoria Saltwater Fishing
The sandy flats also are home to species of flatfish, such as starry flounder, which can be bait-stealers when you're trying to catch something else, but they also happen to be delicious.
The Columbia River's South Jetty, first built in the late 1800s and improved since, is the only real rocky structure nearby to attract structure-loving fish like rockfish, lingcod, greenling, perch and other species.
Boat anglers can fish parts of the jetty in good weather conditions, but be sure to play it safe. Rock-hopping and sneaker waves pose definite hazards.
Also during calm seas, boats can fish the length of the jetty, even across some submerged rocks off the tip.
Twisty-tailed soft plastics on jig heads are a top choice for bass and lings, while shrimp are great for smaller jetty fish like greenling and perch.
Redtail surf perch are common on the ocean side of the jetty, near the breaking waves along the rocks as well as out on the open beaches heading southward. Sand shrimp and pieces of clam or mussels are great baits for them.
Astoria Deep Sea Fishing
Deep sea fishing is also popular for trips originating from Astoria and other nearby ports.
Because of the potential hazards of crossing the bar and traveling long distances over the ocean, many anglers book these trips with charter operators. A variety of larger party boats and small to mid-sized guide vessels will book offshore trips from both sides of the river.
Halibut seasons are set off the mouth of the Columbia each year, typically from late spring into summer.
Albacore tuna pass by Astoria in the late summer and early fall. These can be especially long-range trips, depending on how near or close these schools of fast-swimming, hard-fighting fish get to the coastline.
As with salmon, many anglers opt to hire an expert for those tuna trips because they can be so far offshore.
We talk more about offshore opportunities in our article about Oregon's best ocean fishing ports.
Small Fishing Rivers Near Astoria
Now let's take a look at a trio of small streams that enter the lower Columbia River near Astoria and have runs of salmon and steelhead.
By the way, all three are in our rundown of the best small steelhead fishing streams in northwestern Oregon, along with some additional streams from the Necanicum down to the Central Coast area.
Big Creek
I'd rank this as the best-known small fishing stream near Astoria, only about 15 easy miles heading east along Highway 30.
Big Creek has a hatchery that produces salmon and steelhead.
Fishing kicks off here with the arrival of spring Chinook salmon in April. Catches can remain fairly good until about July.
Fishing is best near the mouth around the railroad trestle, but check regulations before fishing. For example, this stream only allows harvest of fin-clipped Chinook and has certain periods when it's closed.
Coho salmon come blasting up the river toward the hatchery with the first big rains of fall. October is often the prime month for silvers, often caught on drift gear, jigs, spinners and spoons.
Winter steelhead is another popular fishery here, with catches usually beginning in earnest at some point in December (often later in the month) and continuing through January and February.
Try to time your trips when the stream is flowing well but neither blown out with too much rain or gin clear with too little.
Big Creek County Park and below the hatchery are popular steelhead fishing spots. Drift fishing with salmon roe or sand shrimp, bobbers and jigs, and spinners and spoons are common steelhead tactics.
More: Complete Guide to Fishing Big Creek Near Astoria
Gnat Creek
This tiny stream, another 4-5 miles east of Big Creek, is a good spot to know when other rivers are blown out from heavy rainfall.
Being so short and small, Gnat Creek recovers quickly. However, for the same reasons, it also tends to quickly get too clear for great fishing during drier periods.
Gnat Creek also has spring Chinook and winter steelhead but few coho.
Springers arrive in about April and some years the best fishing near the mouth is later on, toward June and July.
As with Big Creek, Gnat Creek's winter steelhead run tends to arrive between December and February. I like to fish it on a fairly dry day, just a day after a pretty decent rain brings in new fish.
There's some public access near Highway 30 and below the fish hatchery.
More: Complete Guide to Fishing Gnat Creek
Klaskanine River
This small stream flows into Youngs Bay southeast of Astoria and is easily reached from the Nehalem Highway (202).
The hatchery here is on the river's North Fork, and understandably that's where most of the spring salmon and winter steelhead are caught on their return. Some also are caught on the mainstem, but just a few hatchery fish stray over into the South Fork.
Spring Chinook come to the stream from April to July. May and June can be top producers.
The winter steelhead run follows the typical pattern of starting in earnest during December, often peaking between the holidays and January, and continuing to produce at least part-way into February before petering out.
There's good bank access near the hatchery, and boats can reach the tidewater reaches from Youngs Bay.
More: Complete Guide to Fishing Klaskanine River
Astoria Area Fishing Lakes
While there are quite a few small lakes in the area surrounding Astoria, the following three stand out because they are stocked with trout and have fair to excellent bass and panfish fishing.
Coffenbury Lake
This is my favorite trout lake near Astoria. I've often used this as a two-fer after salmon fishing. Even when the coho weren't cooperative, the trout usually were.
It's a pretty spot within Fort Stevens State Park just southwest of Astoria, and it's nicely stocked with hatchery rainbow trout. Later in the year, the trout planted here are often larger "trophy" size rainbows.
Expect lots of legal-sized stocked trout to kick off the season in the spring.
We keep track of the stocking in our Coffenbury Lake fishing guide linked a few paragraphs down.
Summer tends to bring a lull in the trout action before those larger fish are planted sometime around or soon after Labor Day.
Coffenbury also has a moderate fishery for warm-water species, including largemouth bass, yellow perch and bullhead catfish.
Bank access is excellent near the parking area and along shoreline trails, and there's a small boat launch to get out on the 50-acre lake.
More: Coffenbury Lake Fishing
Cullaby Lake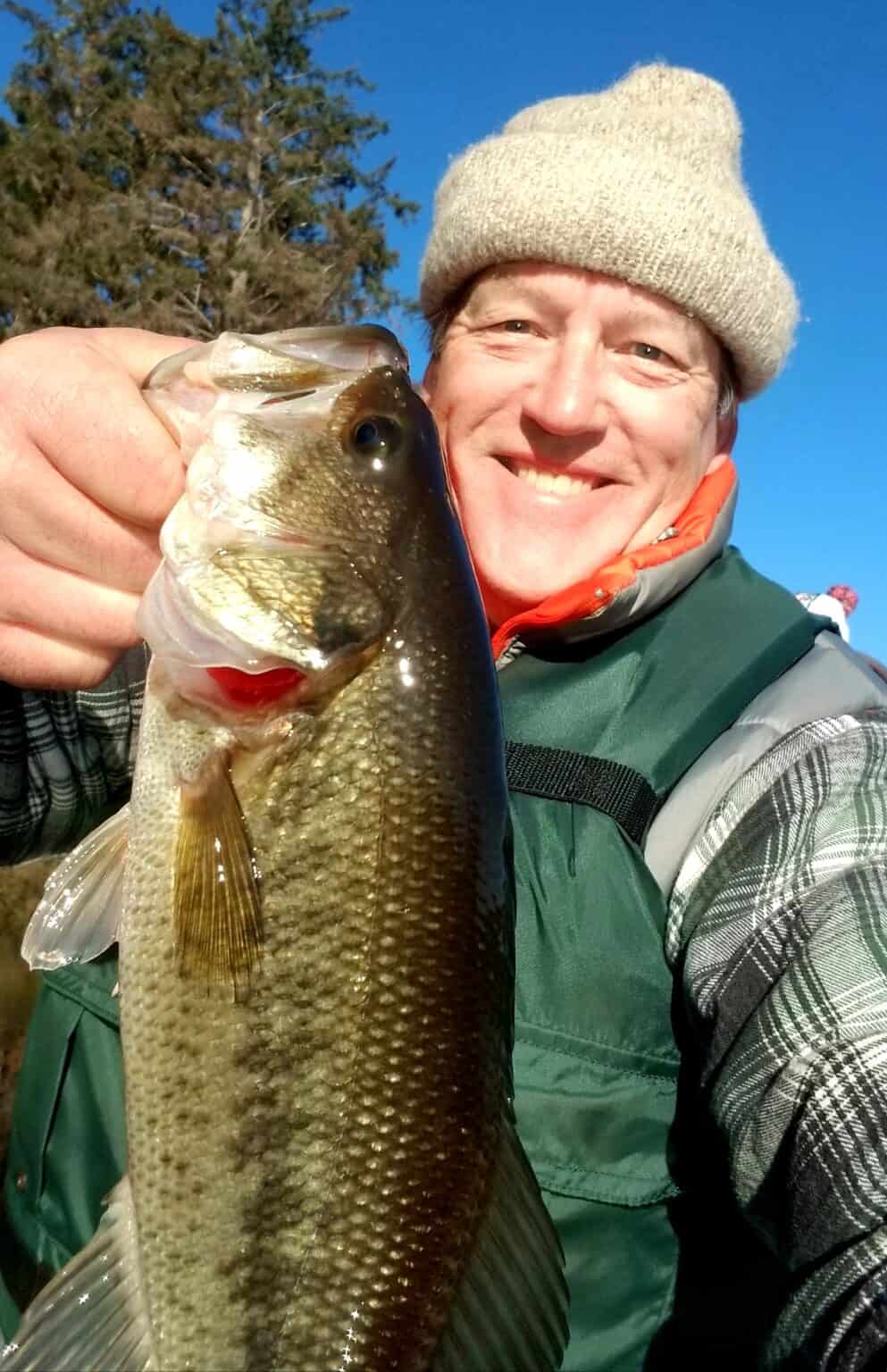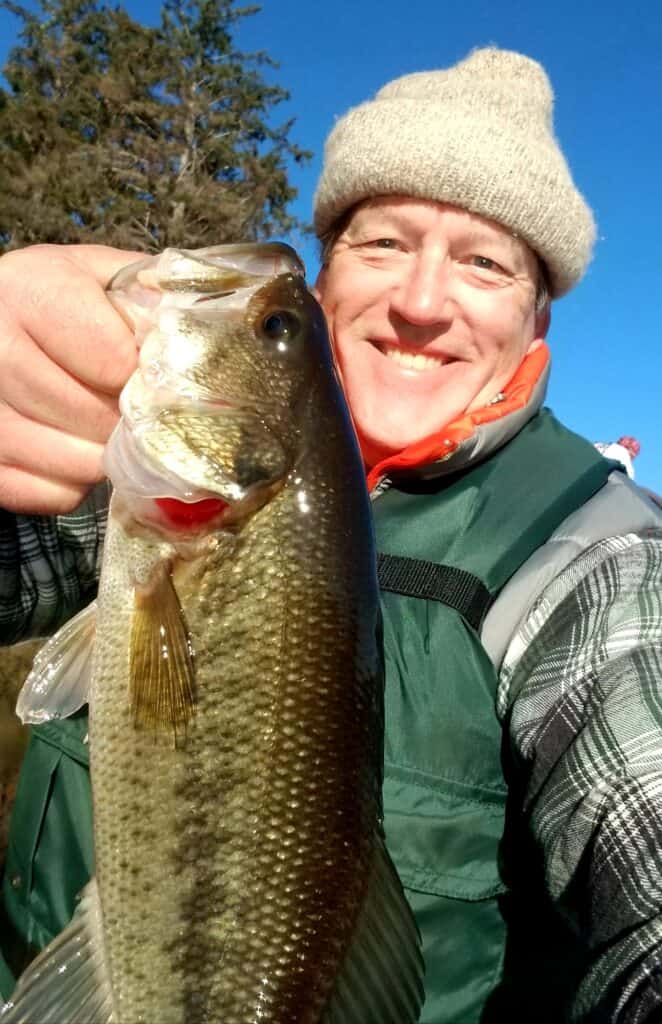 While Coffenbury is my favorite trout lake near Astoria, Cullaby gets my vote when it comes to bass and panfish fishing in the area.
Located a short drive from Astoria off Highway 101, this lake has lily pads, submerged trees, and other forms of cover that these warmwater species love.
Bass can grow to impressive sizes while gobbling up perch, bluegill and even the occasional stocked trout. And there's lots of cover along the lake shore and its coves to keep you throwing at targets all day (better yet, early in the mornings and in the evenings).
Yellow perch and crappie fishing can be good if you can find the schools, and bluegill are a reliable bet along the banks and docks. Bullhead catfish will snap up bait on the bottom.
Cullaby Lake does get a modest stocking of hatchery trout in the early spring, often near spring break, when there will be a flurry of cold-water fishing before warm-water fishing takes the spotlight from mid-spring until fall.
There's a big boat ramp in the county park and a smaller one on the north side, with bank fishing in both areas.
More: Cullaby Lake Fishing
Sunset Lake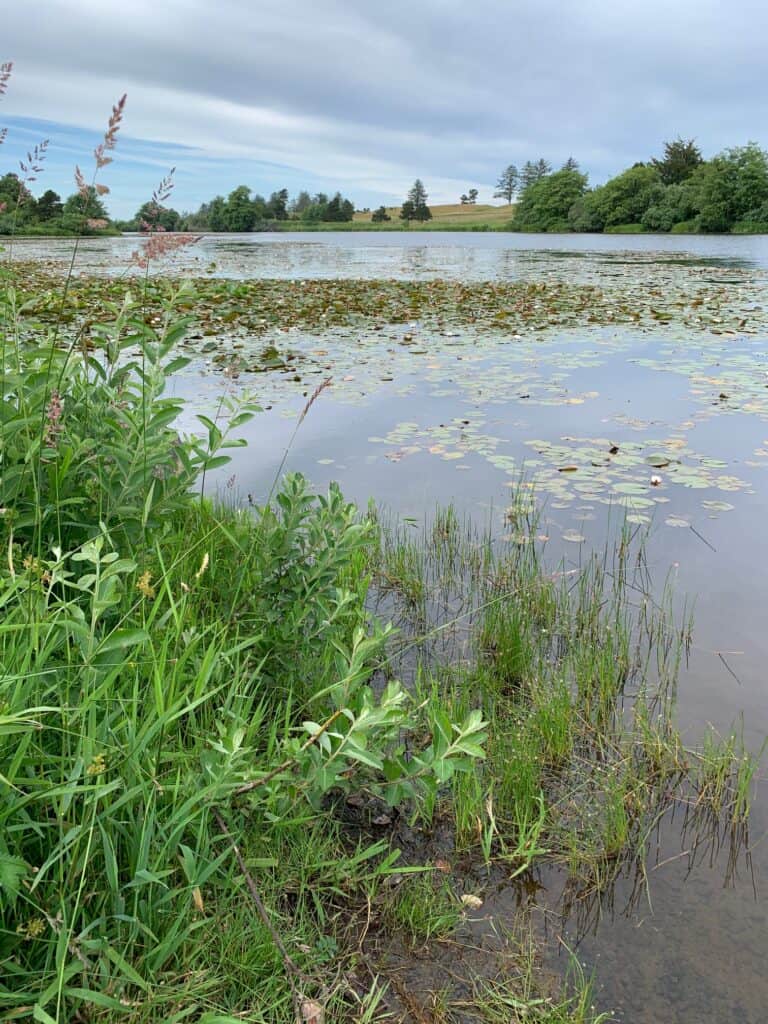 For whatever reason, I haven't fished this one like I have Coffenbury and Cullaby, and that's probably an oversight I should correct because I've heard of some big bass being caught and released.
Easily reached on the west side of Highway 101 just south of Astoria (about midway between Warrenton and Gearhart), this lake basically has the both of best worlds.
In the early spring, Sunset Lake is a trout fishing lake, freshly stocked with hatchery rainbows. These plantings are likely to take place before spring break and again in the latter half of April.
Like Coffenbury, Sunset Lake also is the beneficiary of a nice dose of larger hatchery rainbows planted when the water starts cooling again around the middle of September.
But Sunset Lake also has what I believe is overall a better bass and panfish fishery than Coffenbury, and flies a little more under the radar than the bass fishing at Cullaby.
There's a lot of shoreline aquatic vegetation and shoreline grass and structures where you just know the bass are lurking, waiting to ambush your passing lure.
You're also likely to catch a mix of panfish and bullhead catfish common to coastal lakes in the region.
Take the road toward Sunset Beach off Highway 101 and you'll quickly come a small parking area with a boat launch and bank fishing access.
Crabbing Near Astoria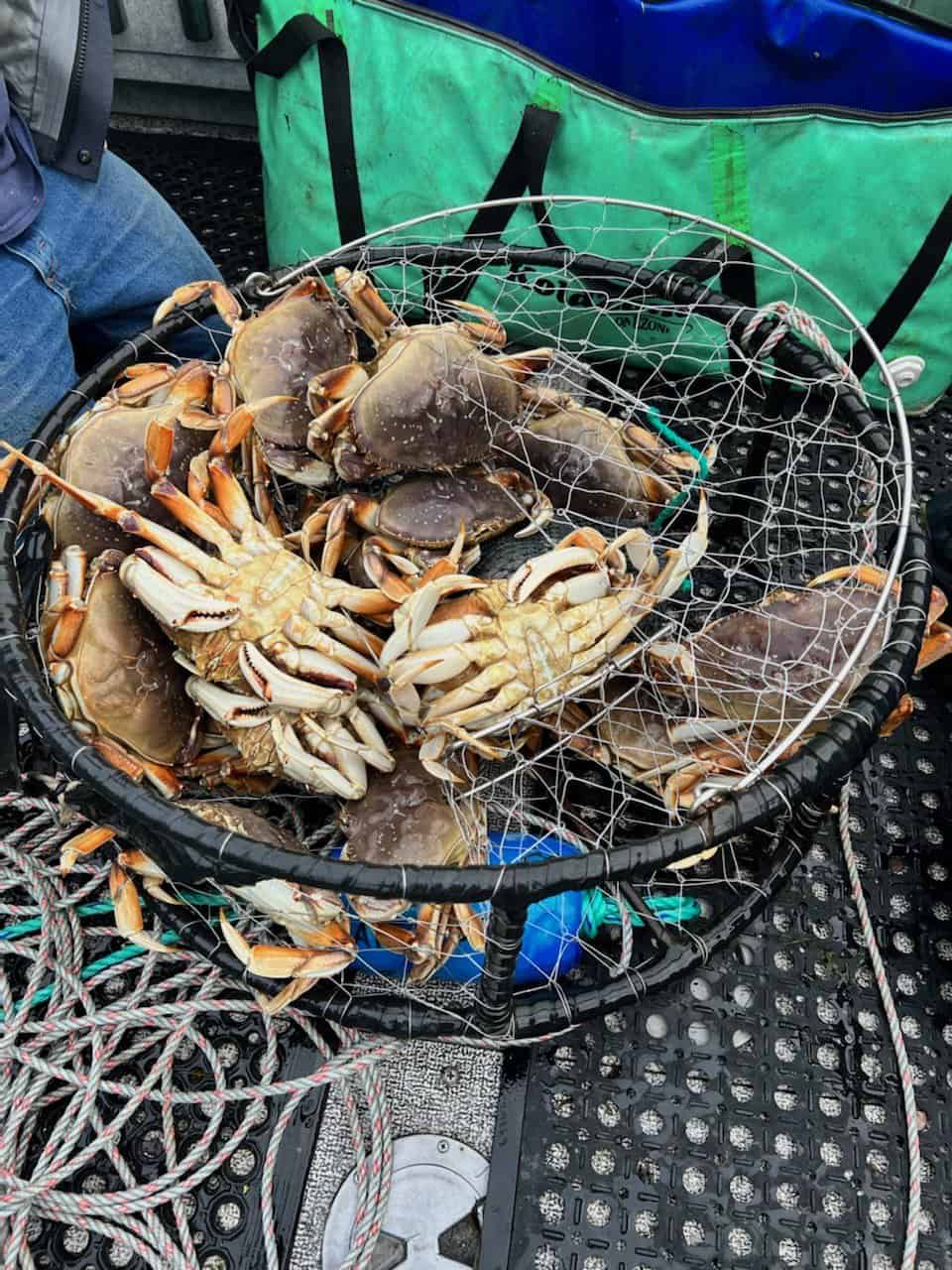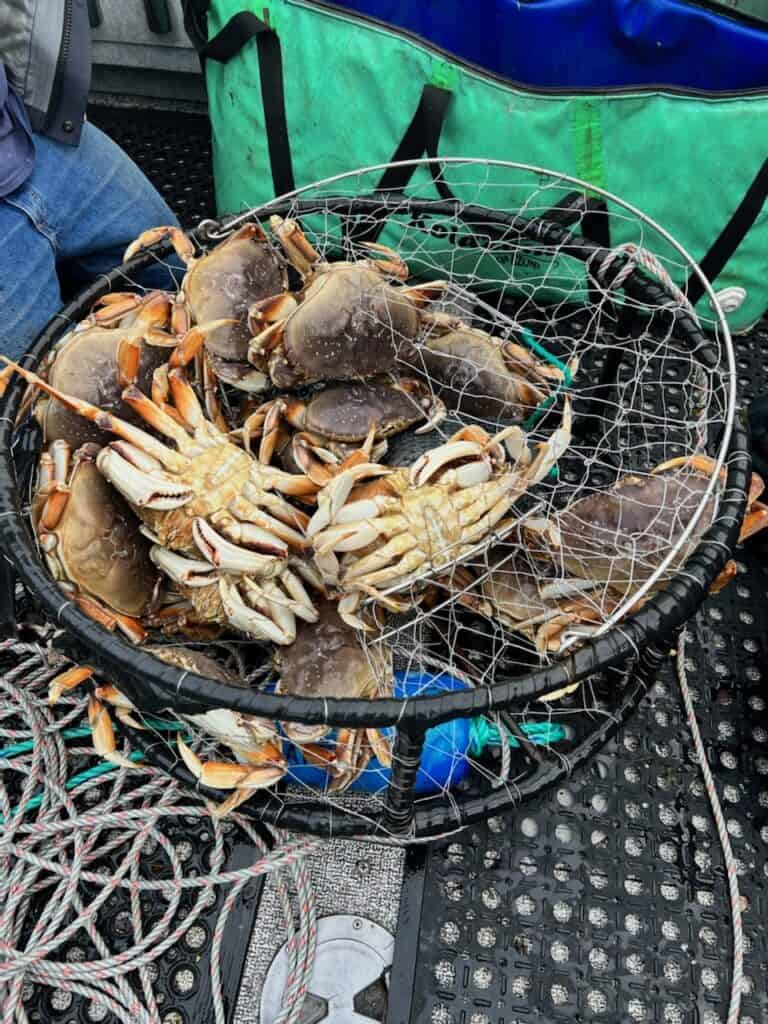 Dungeness crabs are one of the top fisheries along the entire Oregon Coast, and Astoria is ground zero for the Columbia River estuary's amazing crabbing opportunities.
Crabbing is open all year here, but certain times are better than others.
Summertime crabbing is pleasant, but experienced crabbers tend to pick through their keepers to find those with harder shells, which are fuller with tasty meat. Softshell crabs have molted recently and aren't considered as good, and those are most common in the spring and summer.
Fall offers incredibly good crabbing in the estuary, especially from the Hammond area out toward the jetties, where the saltier water is best suited for crabs.
Usually by October, most crabs have hard shells and are in perfect eating condition, and this is before commercial seasons open up and thin the crab numbers.
What I like about crabbing in the Columbia River is that it doesn't get flooded with freshwater during the fall and winter seasons, unlike most bays along the coast. This means crabbing tends to be good throughout the cold months.
On the flip side, once the snowmelt starts in the spring, the Columbia River rises and flushes a lot of freshwater into the bay. For my money, that's the worst time to crab in the estuary.
More: Best Crabbing Bays in Oregon
Clamming Near Astoria
While there are certainly clams in the estuary itself, the conditions here aren't ideal for the most popular types of bay clams or clamming access.
However, turn the corner onto the beaches of Clatsop County, and you'll find some of the best razor clamming south of Alaska.
Big razor clams roughly the size, shape and color of maple bar doughnuts can be dug in the surf during low tides.
The best tides (strong minus tides) and biggest razor clams tend to come in the spring. Note that there is a short closure during razor clam breeding season starting in mid-July.
More: Best Razor Clamming Beaches in Oregon
More Clatsop County Fishing
Be sure to read our full rundown of all the great fishing opportunities in Clatsop County, including additional trout, steelhead, and shellfish hotspots closer to Seaside and Cannon Beach.
Oregon Resources
ODFW Weekly Fishing Report
ODFW Trout Stocking Schedule
Oregon Fishing Regulations
National Weather Service