Oregon's Tillamook County may also be known for its cheese, but among anglers this is a prime destination for abundant salmon, steelhead and trout, along with some other types of fishing.
Tillamook County is due west of the Portland area, and many of its best fishing waters are located in little more than an hour's drive from the big city.
This article has a focus on inland waterways, but if fishing the open ocean is your thing, the primary port on this part of the coast is located at Garibaldi on Tillamook Bay.
A few boats will go out from Nehalem or Nestucca bays, but these can be tough crossings.
Dory boats launch from the beach at Pacific City for one of Oregon's more unique fisheries. See this article for details on Oregon's major recreational fishing ports.
From the shoreline of the vast Pacific Ocean, anglers catch surf perch from sandy beaches and rockfish, greenling and other fish from rocky areas.
See below for similar options inside the county's bays.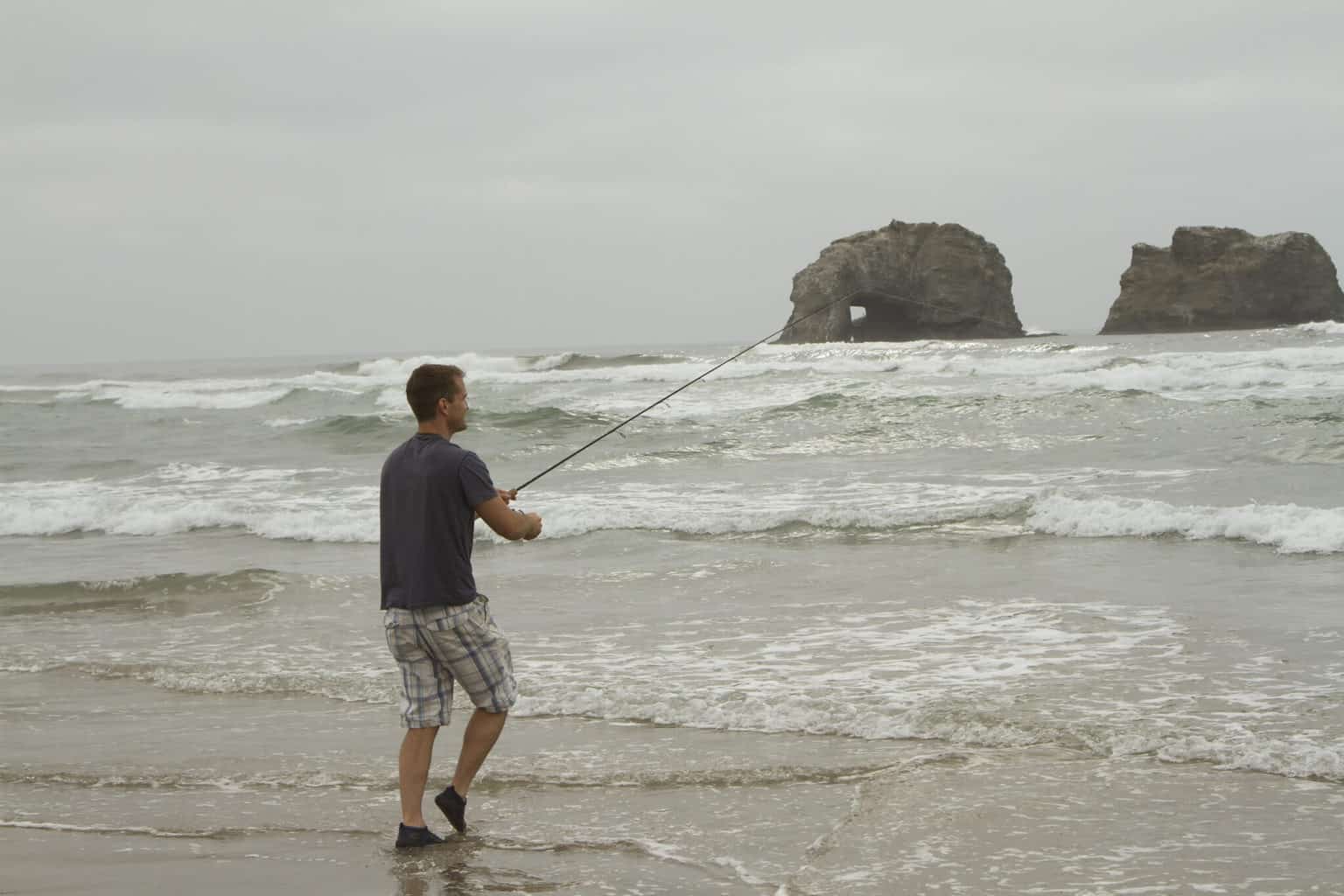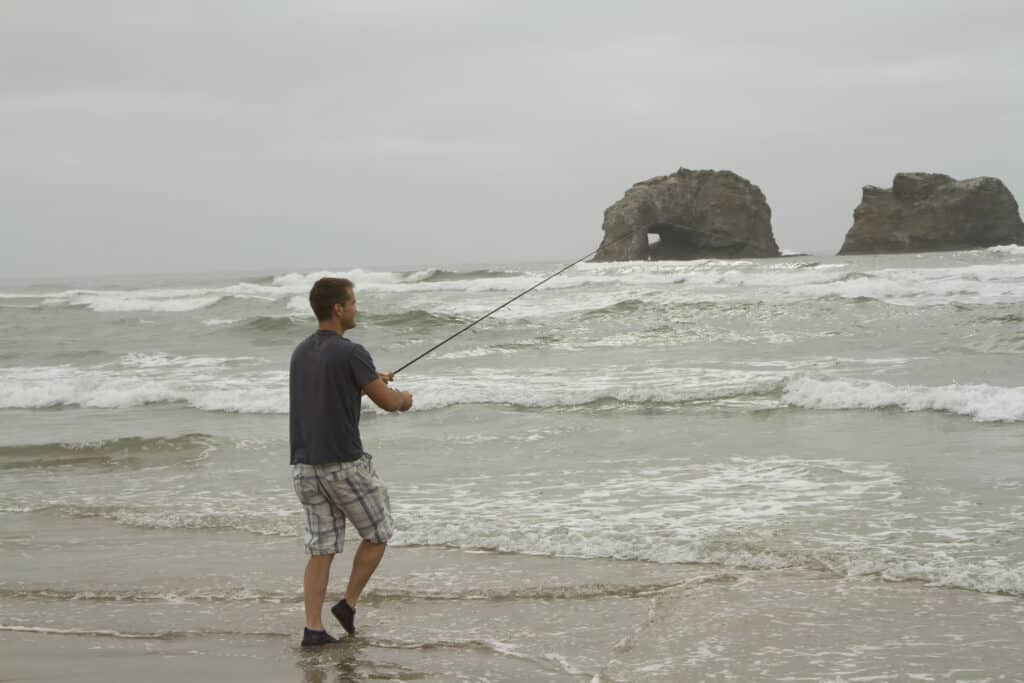 Also, this article's information is geared toward rod and reel anglers. Our website also covers shellfish, and Tillamook County's bays are among the best for this fun (and tasty) activity, particularly for Dungeness crabs and bay clams.
After the list of waters in this county, you will find links to various resources to get the most out of fishing in Tillamook County and elsewhere in Oregon, including neighboring counties.
The waters of Tillamook County are regulated under the Oregon Department of Fish and Wildlife's Northwest and Marine Zones.
The cities in this area include Bay City, Garibaldi, Manzanita, Nehalem, Rockaway Beach, Tillamook and Wheeler.
Other communities here include Barview, Bayocean, Beaver, Cape Meares, Cloverdale, Foss, Hebo, Lee's Camp, Mohler, Neahkahnie Beach, Nadonna Beach, Neskowin, Netarts, Oceanside, Pacific City, Sandlake and Twin Rocks.
Listed alphabetically, here are some of the best fishing spots in Tillamook County:
Battle Lake
A small lake requiring a short hike to reach in the Nestucca River drainage that is stocked with fingerling trout and can offer good fishing at times.
To reach it, take Blaine Road east 3.6 miles and turn north on Borba Road (NFD 8573). The trailhead is four miles up that road, and the trail through the Siuslaw National Forest is 0.6 miles to the lake.
Cape Meares Lake
The main attraction at this 120-acre lake on the west side of Tillamook Bay are the large spring plantings of hatchery rainbow trout.
Watch the stocking schedule because this lake also might be stocked in September with fewer but quite large hatchery trout around the time most anglers here are turning their attention to fall chinook salmon next door in the bay.
This lake also has modest fishing for largemouth bass, sunfish and bullhead catfish.
Read: Cape Meares Lake Fishing.
Hebo Lake
This little lake (3 acres) is located in the Coast Range east of Hebo, reached by Forest Road 14.
Stocked trout are the main quarry here. Look for several plantings from mid- to late spring.
If it's been awhile for you, note that Hebo Lake was rejuvenated several years back. Access is good, including barrier-free access. There is often a family fishing event scheduled here.
Kilchis River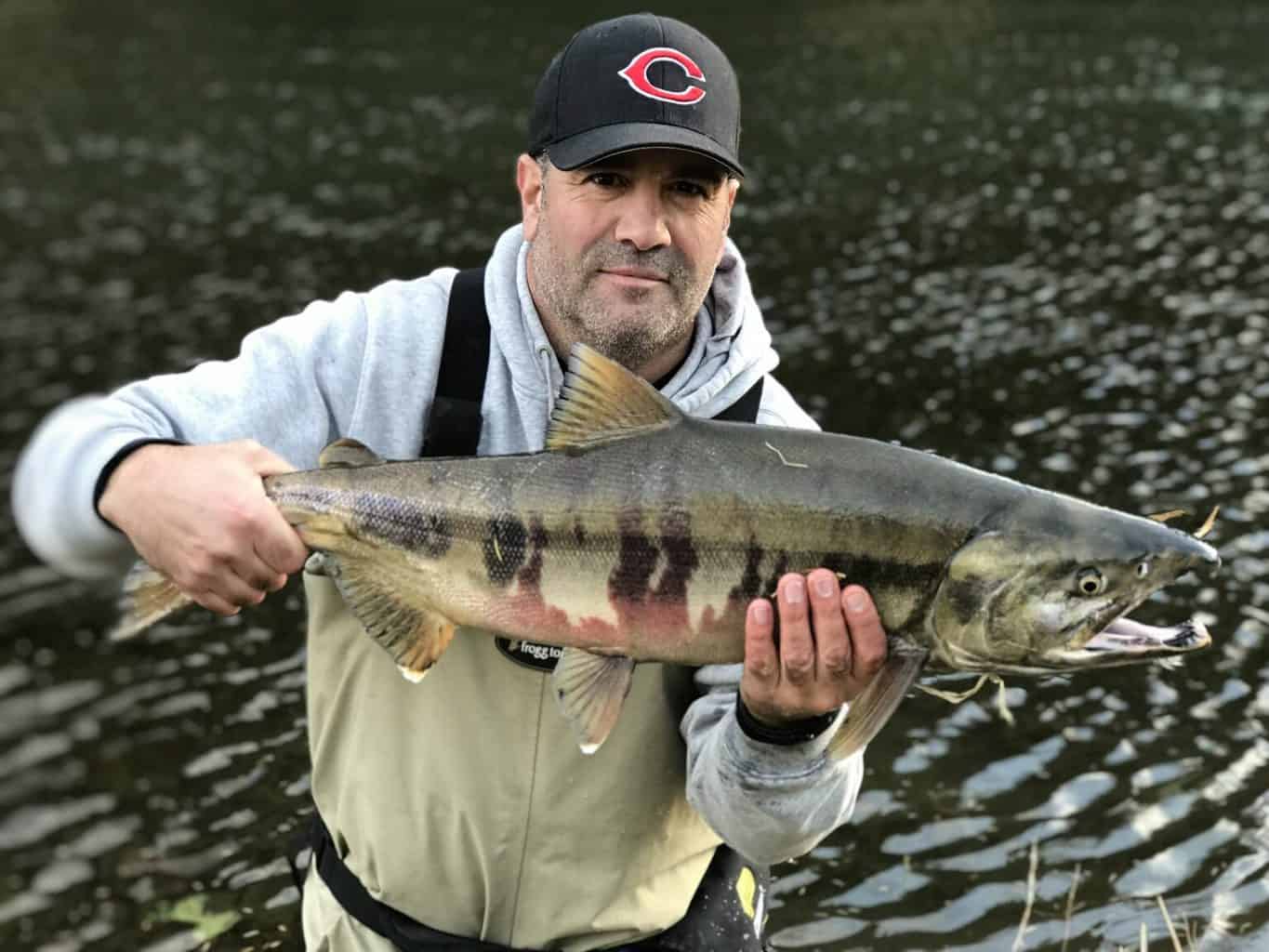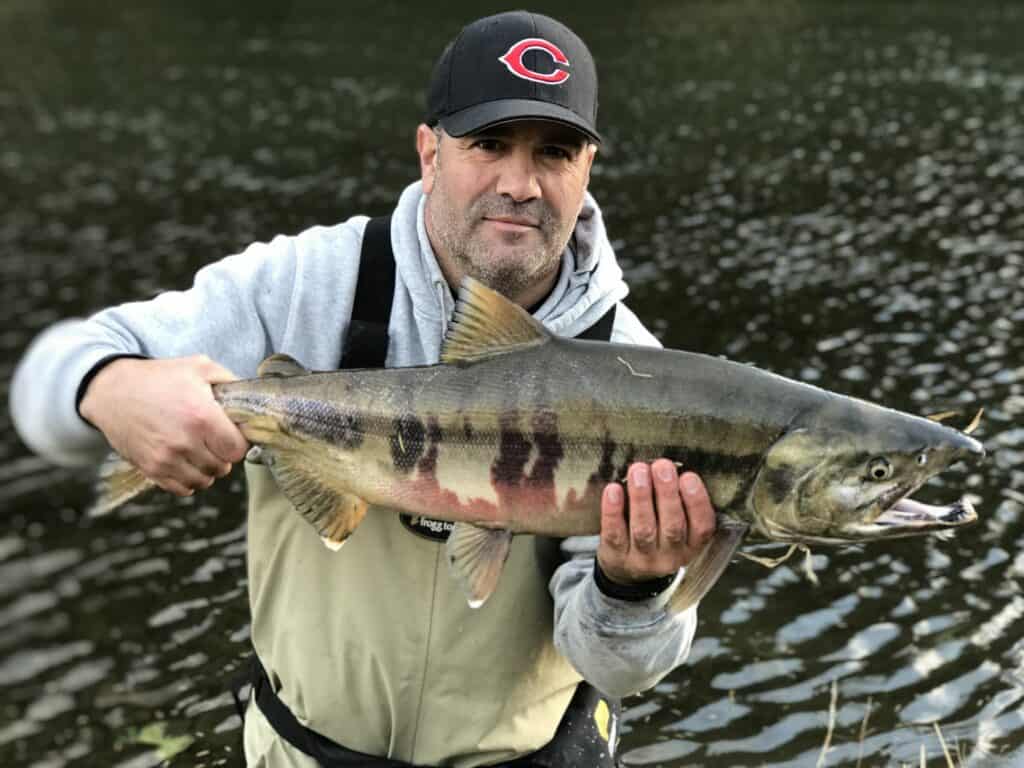 This mid-sized tributary of Tillamook Bay offers decent fishing for fall Chinook and winter steelhead.
The Chinook here run a little later than many, often peaking in November.
Hatchery winter steelhead will arrive on their heels and peak from the holidays into January, with the wild run following in late winter.
The Kilchis and the smaller Miami River to its north have a unique (to Oregon) opportunity to catch and release chum salmon in the fall.
More: Kilchis River Fishing for Salmon, Steelhead and Trout.
Lake Lytle
This lake right on Highway 101 in Rockway Beach is generously stocked with hatchery rainbow trout early each spring, usually at least once before Spring Break and likely again in April.
The best trout fishing will be shortly after plantings.
Lytle also has a pretty decent largemouth bass fishery for its modest size, along with sunfish and bullhead catfish.
More: Lake Lytle Fishing.
Loren's Pond
This smallish pond near the Trask River Hatchery east of Tillamook is nicely developed and well-stocked with hatchery trout during the early spring, especially if there is a family fishing event planned.
Excess hatchery steelhead might also be available in the winter.
From Tillamook, take Long Prairie Road and Chance Road east toward the hatchery (on south side of river), then use the access road to Loren's Drift for pond access.
Miami River
This is the smallest of the Tillamook Bay tributary streams, best known for catch-and-release fishing for chum salmon in the late fall.
Chinook salmon also are caught then, but in small numbers.
There are mostly wild winter steelhead (must be released if not fin-clipped) and cutthroat trout.
See: Miami River Salmon, Steelhead and Trout Fishing.
Nedonna Pond
This is a tiny pond stocked during the early spring with catchable rainbow trout.
It is near Manhattan Beach State Park between Rockaway Beach and Nehalem Bay. Just take Beach Street west from Highway 101 and turn on Nadonna Avenue.
Nehalem Bay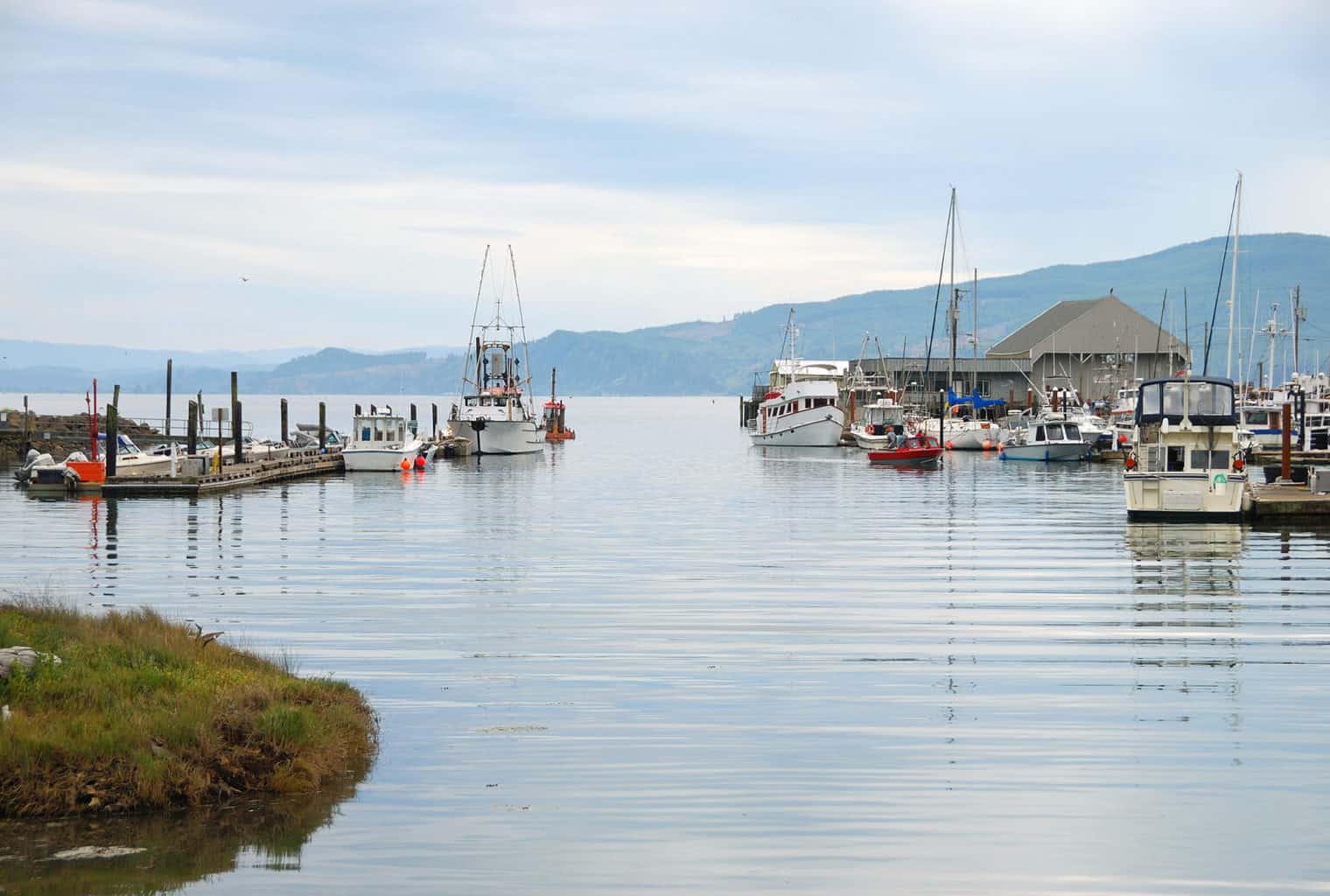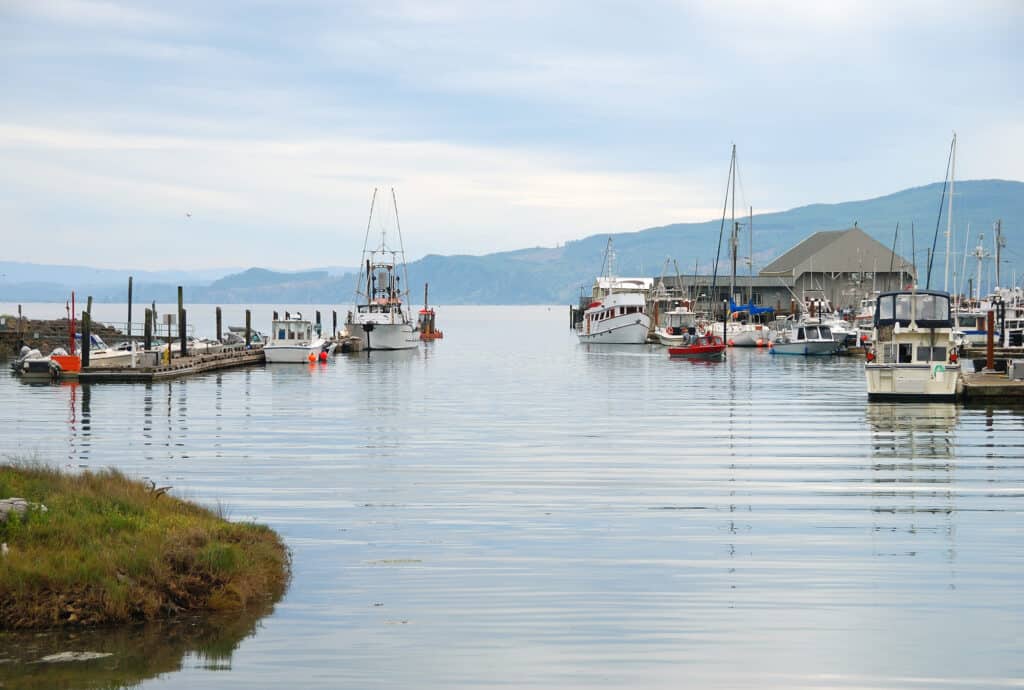 Sometimes overshadowed by the larger Tillamook Bay to its south, Nehalem Bay can have some very good fishing for both fall Chinook and coho salmon.
Nehalem Bay's fall Chinook fishery is one of the earlier ones, often producing good catches by August and into September.
There are both fin-clipped (hatchery) and wild coho here, but it takes special regulations to be enacted to keep the latter. Coho numbers likely will peak in September.
On occasion there can be good sturgeon fishing here, and the locals watch for the spring perch run.
Crabbing can be very good, and there are opportunities for bay clams.
More: Nehalem Bay Fishing, Crabbing and Clamming.
Nehalem River
Also known as the South Fork, the mainstem of the Nehalem is the northern Oregon Coast's longest river, looping far inland through several counties.
The tidal zone and lower holes in Tillamook County are the place for Chinook salmon fishing, which starts in August and goes through October. Figure on a September peak.
Watch for special regulations that might open up wild coho harvests.
The mainstem Nehalem River's winter steelhead run also is wild, except for the occasional fin-clipped stray, but can be strong enough for good catch-and-release fishing.
Its Salmonberry River tributary is famous for its extra-large wild steelhead but is challenging to access and fish.
It's only open to fishing during a four-month winter season.
The Nehalem has a good wild cutthroat trout population with a two-trout daily limit, but note the fall closures above Highway 26.
Nehalem River, North Fork
This smaller of the basin's two main systems hosts a hatchery that produces winter steelhead and coho salmon.
The steelhead are the big show here, often producing excellent early catches starting around Thanksgiving and peaking around Christmas and into January. See this article for details.
The coho can be finicky to catch in freshwater but on occasion make for a decent fishery.
There also is a modest fall Chinook catch in the river, along with cutthroat trout.
Nestucca River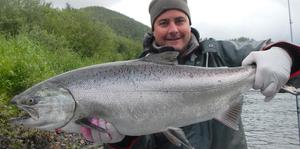 If you want an all-around salmon and steelhead fishing river on the north coast, this might just be it.
The mainstem Nestucca often has good runs of both fall and spring Chinook salmon and summer and winter steelhead.
Coho are a minor fishery and must be released unless wild harvests are approved for a given year.
Fall Chinook first show up in the small bay and tidewater in late summer, but you can't fish for them above the Cloverdale Bridge before mid-September and they'll probably peak in October. See this article for specifics about the fall Chinook fishery.
Spring Chinook start running in May, with peak fishing typically in June. Here's another article about both Nestucca Chinook runs.
Summer steelhead come in about the same time as the springers, but fishing holds on into early fall.
The first winter steelhead come with the holidays, but the fishing here is often better in the late winter.
See this article for year-round steelhead fishing details.
Netarts Bay
With no major tributary streams and no jetties, the fishing in this very shallow bay southwest of Tillamook is quite limited.
However, Netarts has some of the Oregon Coast's most outstanding crabbing and clamming.
Details: Netarts Bay Clamming , Crabbing and Fishing.
Smith Lake
This 45-acre lake along the west side of Highway 101 near Barview Jetty Park (between Garibaldi and Rockaway Beach) is planted with hatchery rainbow trout in the early spring, usually before Spring Break and probably again in April.
There is a very small warmwater fishery.
This is not to be confused with another Smith Lake in Clatsop County.
Spring Lake
This lake hugs the east side of Highway 101 just south of Rockaway Beach (several miles north of Garibaldi) and is planted each spring with hatchery rainbow trout. Access is along the highway.
Tahoe Lake
This 2-acre lake is no threat to becoming more famous than the Lake Tahoe.
However, this out-of-the-way spot on the upper Trask River watershed is an easy place to catch and keep trout stocked during March and April, before river trout-fishing season begins in late May.
Drive up the north side of the Trask River beyond where the pavement ends and watch for signs.
Three Rivers
This small stream joins the mainstem Nestucca at Hebo and hosts the system's hatchery.
Three Rivers can be good for hatchery steelhead (winter and summer) and fall and spring Chinook, and is a go-to place when the larger river is running high.
We consider it one of Northwest Oregon's best small winter steelhead rivers.
Tillamook Bay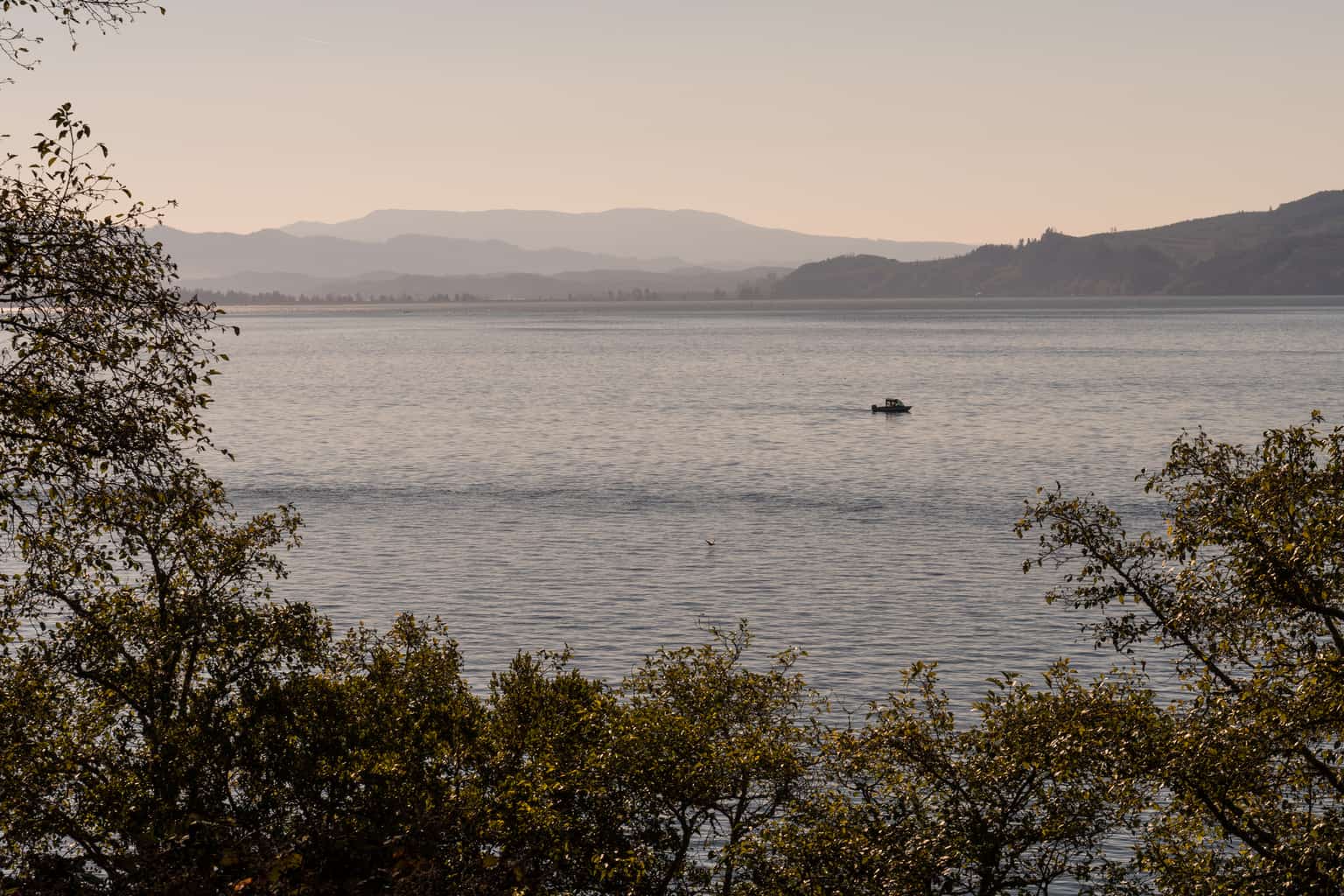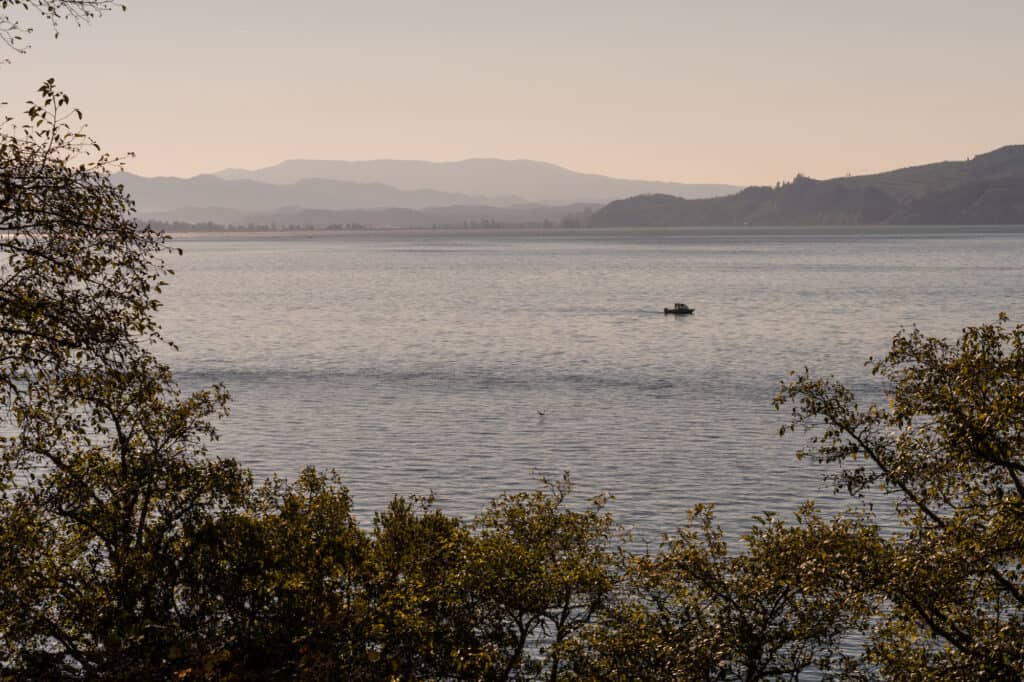 This large bay, fed by five rivers, is one of the premier salmon fishing destinations on Oregon's north coast, most famous for its large run of big fall Chinook salmon, along with fall coho and a nice spring Chinook fishery.
There's some of the Oregon coast's best sturgeon fishing while the jetties are popular for rockfish, greenling and other species, including some large lingcod in the late winter.
Perch come into the bay in good numbers to spawn and feed.
Tillamook Bay is simply among Oregon's best for crabbing and clamming.
Much more detail: Tillamook Bay Fishing, Crabbing and Clamming.
Tillamook River
This is smaller and with much less public access than the major Tillamook Bay feeder rivers, including nearby Trask, but at times it can be fair to good for fall Chinook salmon and winter steelhead.
There also are spring Chinook, coho salmon, cutthroat trout and, in the tidewater, sturgeon. Check regulations carefully.
Town Lake
This is a 9-acre coastal impoundment about a mile north of the community of Woods, near Pacific City.
Town Lake is generously stocked with hatchery trout, beginning in March and periodically throughout spring.
Bank access is somewhat limited, but you can launch a small boat.
See: Town Lake Fishing.
Trask River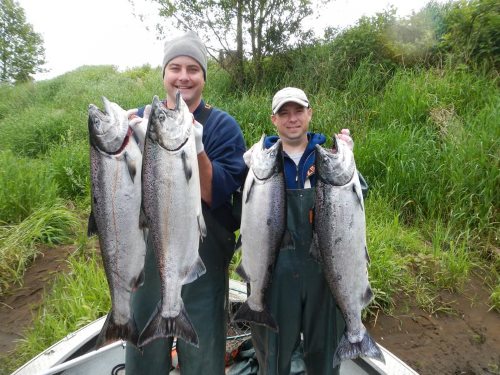 The Trask easily is one of the north coast's best Chinook salmon rivers, with strong runs in both the spring and the fall.
The springers build up through May and peak in June.
Fall Chinook fishing starts in September, when tidewater fishing is popular, and typically will produce best upstream in October with some opportunity into November. (For more specific Trask River Chinook fishing info, click here.)
There is a hatchery run of coho up to the hatchery, but it finishes quickly and catch rates often are low. But there can be a really golden day or two with this fishery, if you hit it just right.
Hatchery steelhead are not planted in the Trask, but it has a top-notch catch-and-release fishery for wild winter steelhead (with the occasional fin-clipped stray you can keep).
Cutthroat trout fishing can be quite good in the mainstem and in the forks.
More: Trask River Fishing.
Wilson River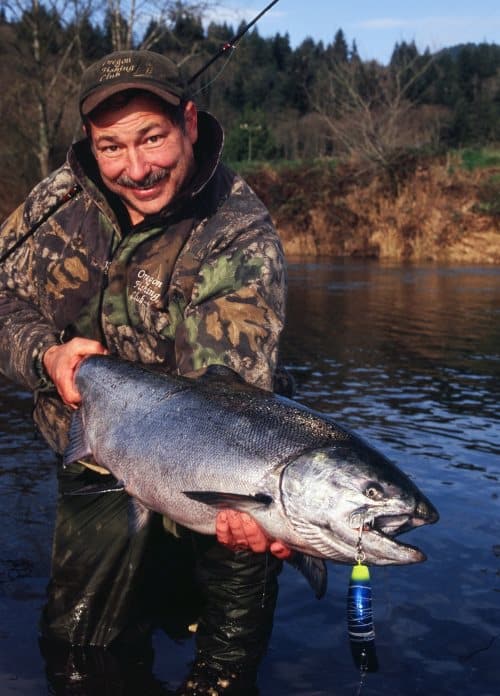 Another year-round salmon and steelhead river, like the Nestucca, but it really shines during the fall Chinook and winter steelhead seasons.
Fall Chinook fishing is on the late side here. While it can be good in October, November is typically best.
Salmon fishing is best in the lower river, while winter steelhead are caught clear up to the South Fork.
The first winter steelhead arrive in the lower river around the holidays, but even better angling is typically found in late winter (try March). See Wilson River steelhead fishing.)
At this writing, the spring Chinook and summer steelhead fishing is typically fair at best, and the hatchery spring Chinook program in the basin largely is focused on the nearby Trask.
The Wilson also has a good population of cutthroat trout, including searuns in the late summer.
This is an easily accessed river from Highway 6, and it can get crowded.
Still more: Wilson River Fishing.
Fishing in Neighboring Counties
Clatsop County: To the north, with the famous lower Columbia River salmon fishery and lots of small stream fishing.
Columbia County: To the northeast, with good Columbia River fishing for salmon and steelhead, as well as several smaller lakes with good fishing for trout, bass and other species.
Washington County: To the east (north end), this county stretches from Coast Range forests to Portland's suburbia and includes popular Hagg Lake.
Yamhill County: To the east (south end), several stocked lakes and ponds along with wild cutthroat trout fishing in streams.
Polk County: To the southeast, small county with one of the north valley's few stocked trout streams.
Lincoln County: To the south, excellent coastal river fishing for salmon and steelhead, along with some good options for stocked trout.
More Fishing Resources:
In addition to other sources, the following websites were very helpful while compiling these county fishing pages, and the information there is valuable to all Oregon anglers.
For current regulations, trout stocking, weekly angling reports and more, find links on the Oregon Department of Fish and Wildlife's Fishing Resources Page.
For boating information about these waters, see the Oregon State Marine Board's launch locator map.
Return to Best Fishing in Oregon page
Oregon Resources
ODFW Weekly Fishing Report
ODFW Trout Stocking Schedule
Oregon Fishing Regulations
National Weather Service