Wasco County borders or outright contains a majority of the lower Deschutes River, arguably the most famous trout stream in Oregon and one of the state's finest summer steelhead rivers.
The county also has a wealth of other angling opportunities, including trout lakes in a variety of settings, access to the mid-Columbia River's excellent salmon, steelhead and warmwater fishing, plus a border on a stretch of the tremendous John Day River, best known for smallmouth bass fishing.
This article serves as a simple introduction to some of the best places to fish in Wasco County.
For additional information, follow the links within the article and at its end. The list of neighboring counties will quickly guide you to even more fishy waters in nearby areas.
Regulations for these waters are found in the Oregon Department of Fish and Wildlife's Central and Columbia River zones.
Incorporated cities in Wasco County include Antelope, Dufur, Maupin, Mosier, Shaniko and The Dalles.
A large part of the Warm Springs Indian Reservation (including Simnasho and the now-closed Kah-Nee-Ta resort) is in the county. Other noteworthy locations include Celilo Village and Tygh Valley.
Listed alphabetically, here are some of the best fishing spots in Wasco County:
Baker Pond
This small water is located in the vicinity of Pine Hollow Reservoir, to its north near Friend Road.
Many years it has received spring plantings of hatchery rainbow trout, but best to check before heading there. There should be brown bullheads to catch just about anytime.
Bikini Pond
This 4-acre pond in Mayer State Park along the Columbia River near Interstate 84 is stocked with trout, possibly a couple times in early to mid-spring and often again in the fall.
It is located between Mosier and The Dalles.
See: Bikini Pond Fishing.
Clear Lake
This is a mountain lake generously stocked with hatchery rainbow trout, usually by about May in normal snow years.
It is located in the Mount Hood National Forest near Highway 26 high on the east slope of the Cascade Mountains, just about 12 miles beyond Government Camp for those coming from the Portland area.
This is a popular spot, with camping and day use, plus a boat launch.
See: Fishing at Clear Lake Near Mt. Hood.
Columbia River (Bonneville and The Dalles Pools)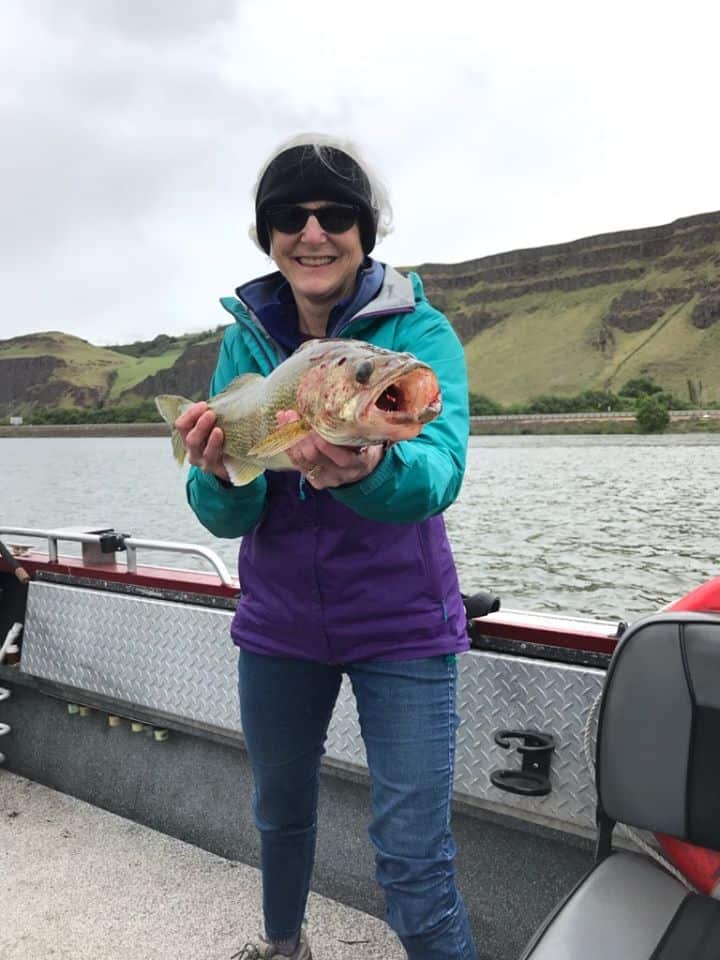 Wasco County's stretch of river includes areas below and above The Dalles Dam. Both areas are fished for salmon, especially fall Chinook, which peak in September.
Summer steelhead are also popular and tend to peak a little earlier (August).
Coho fishing can be decent, especially in the Bonneville Pool in October.
Popular spots for these migrating fish include the mouths of cooler tributaries feeding both pools.
Sturgeon fishing can be good, with limited retention fisheries in both pools. Check ODFW for details.
Walleye fishing is excellent in this part of the big river. The Dalles Pool (a.k.a. Lake Celilo) is among the best. See this article for details.
Smallmouth bass fishing also is extremely good in the mid-Columbia area, attracting several tournaments and finding good ranking on national lists of top fisheries.
For more on mid-Columbia River fisheries, check this article.
For an even broader look at fishing the big river, read Columbia River Fishing.
Deschutes River (Lower)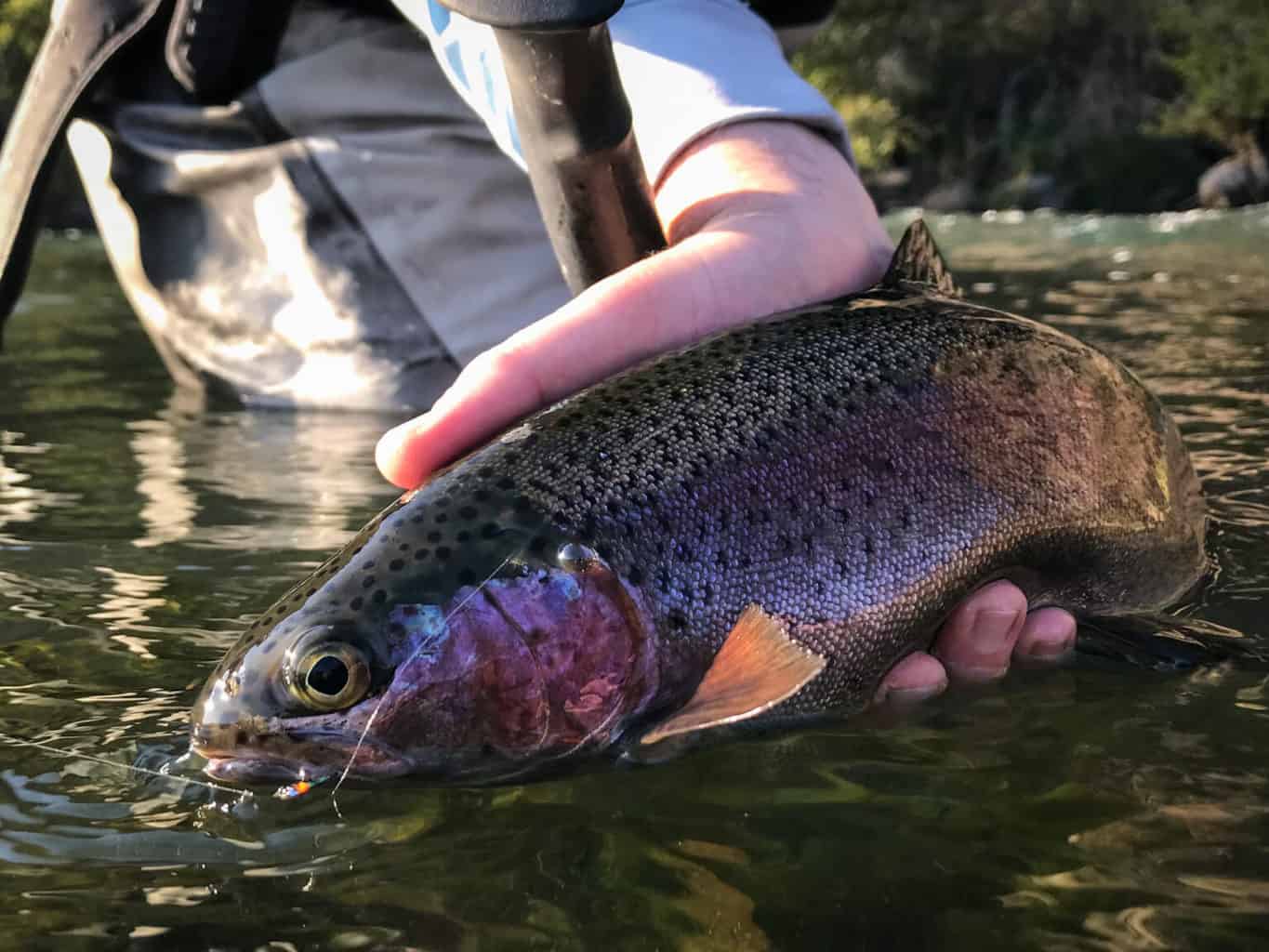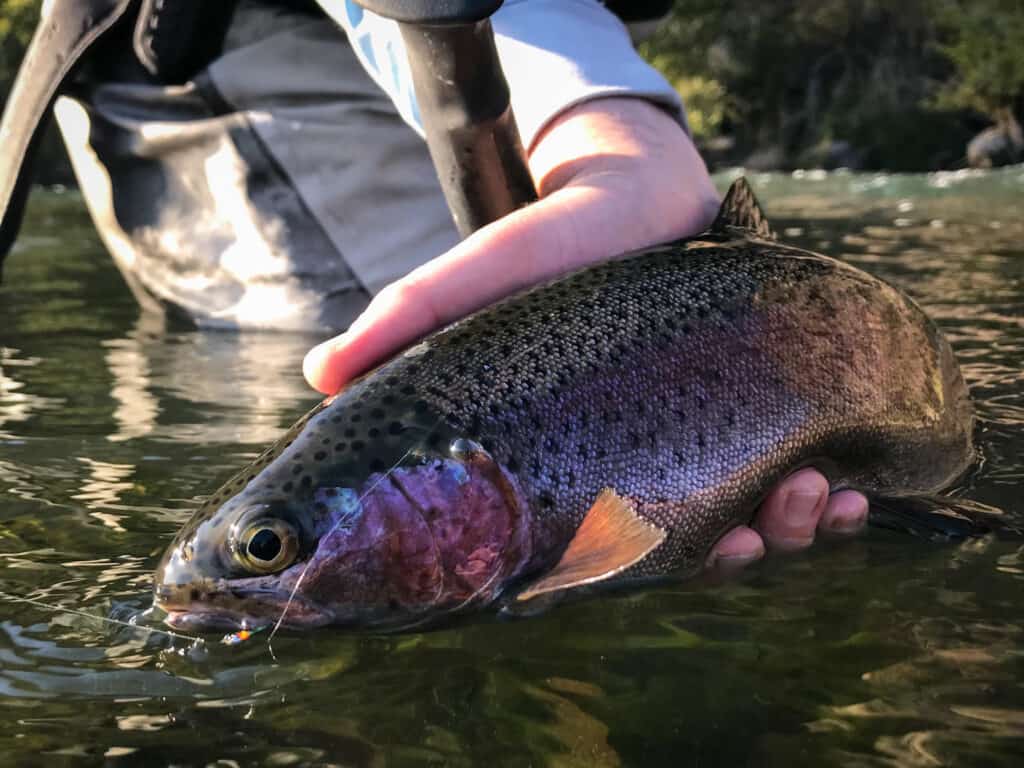 The lower Deschutes is a legendary fly fishing river on too many "best of" and "bucket lists" to count. The main reason is the abundant population of hard-fighting native rainbow trout, known as redsides.
This is an all-year fishery downstream from the Warm Springs Indian Reservation and seasonal from the reservation boundary upriver to Pelton Dam.
Many trout anglers focus on the river from above its confluence with the White River up to a deadline near the dam.
The White, a silty glacier-fed tributary entering about five miles downriver from Maupin, tends to color the main river below, although there can still be good trout fishing farther downstream.
Regulations require flies or artificial lures except in a three-mile stretch below Sherars Falls (to accommodate salmon anglers).
Most anglers release redsides even though there is a small slot limit for those who want to keep a couple.
While there is months of good trout fishing, the biggest single draw is the salmonfly hatch in May.
Beyond resident trout, the Deschutes also is historically an excellent summer steelhead river, and anglers have little hesitation about keeping hatchery-marked fish (wild steelhead must be released).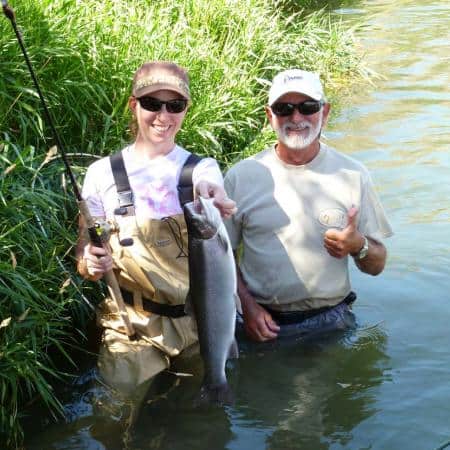 Many of these steelhead are caught in the lowest section of river during the late summer, but a fairly good number run available above Sherars Falls by early fall.
Note that rules have gotten tighter in recent years as runs have been historically low, so check regulations before fishing.
For instance, there are closures at the mouth throughout the prime season, and the remainder of the lower river may be closed until August 15. That closure could extend if there aren't enough fish.
Check this link for more details on this great fishery and nearby steelhead runs in this part of Oregon.
Chinook salmon fishing can be quite good on the Deschutes, but spring seasons are allowed only under special regulations when run forecasts are promising.
Watch the ODFW website for season announcements.
The best salmon fishing area is just below Sherars Falls.
Look for spring Chinook to peak in May, while the fall fish are caught from late August to early October (peaking in September).
A few coho will be available in the early fall.
We also discuss the Deschutes and other area rivers in this article.
For a full overview of this river: Deschutes River Fishing.
Frog Lake
This natural lake (really more of a shallow pond, at 11 acres) is more popular than its small size might suggest.
That's because it's located just off Highway 26 beyond Government Camp and its crystal-clear waters are well-stocked with hatchery rainbow trout during the late spring.
This is a high-elevation lake, so expect winter snows to retreat slowly. It's quite close to Clear Lake, located just to the south and also described within this article.
See: Frog Lake Fishing.
John Day River
The John Day in this stretch is most popularly fished for smallmouth bass from spring into fall. Summertime fishing is so hot (but so is the weather) that you can land 100 fish per day, 200 if you're good and really work it.
The Clarno area east of Antelope is a popular start or end of long fishing float trips.
For more on John Day smallmouth fishing, check out our spring and summer articles.
Steelhead also return to the John Day in good numbers. Most are wild and must be released, but you can keep the occasional fin-clipped hatchery stray.
Best catches for John Day steelhead are usually fall and again in late winter and very early spring.
Pine Hollow Reservoir
This 240-acre irrigation reservoir is most popularly fished for plentiful rainbow trout stocked in the spring and often again in the fall, sometimes including very large hatchery trout.
There also is some decent largemouth bass fishing here, with good cover in shoreline willows.
Bluegill and bullhead catfish can be easy to catch.
There is a resort and other facilities.
The reservoir is located west of Tygh Valley and under an hour's drive from The Dalles.
We talk about this and other top lakes in central Oregon (north of Bend) in this article.
See: Fishing at Pine Hollow Reservoir.
Rock Creek Reservoir
In the same vicinity as Pine Hollow Reservoir is this smaller (about 100 acres) irrigation reservoir.
It also is quite well-stocked with hatchery rainbow trout during the spring months, when fishing is best before summer draw-down.
You might also find some fair fishing for bass and sunfish.
This is easy to find heading southwest from Tygh Valley, beyond Wamic.
Cody Ponds are this same area can be another option for bass and sunfish fishing.
See: Fishing at Rock Creek Reservoir.
Smock Prairie Reservoir
This small reservoir may get a planting of hatchery trout in the spring, possibly including a modest number of huge broodstock rainbows.
Fishing will be best in spring after a planting and before hot weather takes hold.
The reservoir is located in the White River Wildlife Area west of Maupin and east of Highway 26, via Highway 216.
Taylor Lake
This very accessible spot along the Columbia River just a mile north of The Dalles is popularly fished for rainbow trout stocked in good numbers each spring and typically again in the fall.
Taylor Lake also has a nice warmwater fishery including largemouth bass and redear sunfish.
It is located off Interstate 5 at Exit 82.
See: Taylor Lake Fishing.
Fishing in Neighboring Counties
Sherman County: This small county is bounded by extremely fishy sections of the Deschutes River on the west, the John Day River on the east and Columbia on the north.
Gilliam County: To the northeast, borders a very productive stretch of the John Day River and some excellent Columbia River fishing.
Jefferson County: To the south, includes famous trout-fishing areas on the Deschutes and Metolius rivers as well as Lake Billy Chinook's kokanee and bull trout fishing.
Marion County: To the southwest, excellent trout and steelhead fishing in the North Santiam River drainage.
Clackamas County: To the west, very good trout, salmon and steelhead fishing in the Clackamas River basin, plus the productive stretch of Willamette River near the falls.
Hood River County: To the northwest, good access to the Columbia River's salmon and sturgeon (including keepers), plus trout in stunning mountain lakes.
More Fishing Resources:
In addition to other sources, the following websites were very helpful while compiling these county fishing pages, and the information there is valuable to all Oregon anglers.
For current regulations, trout stocking, weekly angling reports and more, find links on the Oregon Department of Fish and Wildlife's Fishing Resources Page.
For boating information about these waters, see the Oregon State Marine Board's launch locator map.
Return to Best Fishing in Oregon page
Oregon Resources
ODFW Weekly Fishing Report
ODFW Trout Stocking Schedule
Oregon Fishing Regulations
National Weather Service