Pine Hollow Reservoir is a relatively young fishing spot, but is a favorite destination in north-central Oregon for husky rainbow trout, some good-sized largemouth bass and various panfish.
The 240-acre manmade lake, finished in the late 1960s, is tucked just outside the Mount Hood National Forest and near the community of Wamic, west of Tygh Valley. It is located south of The Dalles and north of Madras.
Trout Fishing
The Oregon Department of Fish and Wildlife keeps Pine Hollow well-stocked with rainbow trout, and this is the fishery many anglers target during the spring and fall months.
Those seasons are when ODFW often stocks trout by the thousands, when the weather is cool enough for trout and still pleasant for trout anglers.
A fair number of those ODFW-stocked trout include trophy-sized rainbows, and the agency even plants some of its giant brood trout many years. Trout weighing into the teens have been landed here.
Trout fishing slows a bit in mid-summer, in part due to the heat, the reduced stocking, and perhaps the popularity of summertime power boating.
It picks up again in mid-September, and in recent years the fishing has been very good in October and November, after ODFW plants more rainbows, possibly including some larger fish.
Pine Hollow often freezes over in the winter, sometimes hard enough to allow ice-fishing. If you want to have a surer fishing experience, plan to arrive after the trout stocking resumes in March and runs pretty strong throughout spring.
Bank anglers can find good fishing spots near boat ramps at the north shore at the resort or on the south shore at a day-use area. Bait fishing is popular from the bank.
How to Catch Trout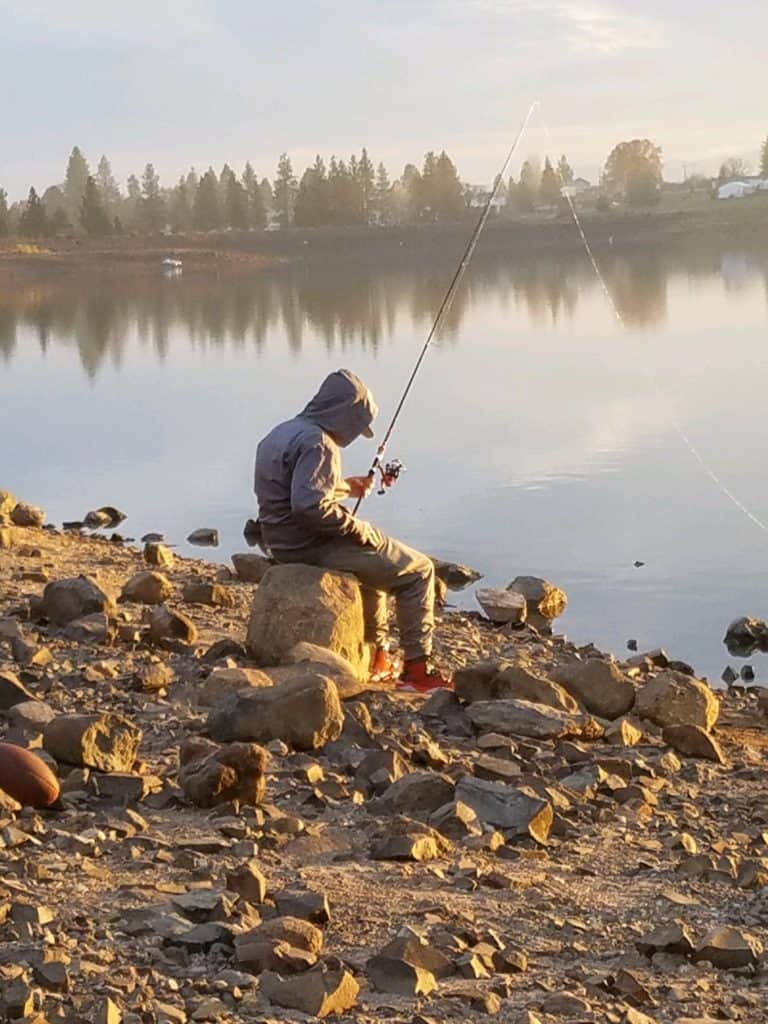 As with most lakes that get hatchery plantings, Pine Hollow sees its share of Berkley PowerBait. Popular colors include pink, rainbow and yellow (corn scent), according to Frank Marquez, whose family has long owned the resort.
Worms or nightcrawlers also are popular baits and may also attract warm-water species.
Most trout anglers float their crawlers off the bottom by adding a marshmallow to the hook. Use the minis found in grocery stores or the Mike's Glo Mallows available at many tackle shops.
Boaters often troll either in a figure-8 pattern around the buoy line or in an east-west line from the dam toward mid-lake, turning around near the buoy line. In the summer heat, trout seek out deep water closer to the dam.
Trolling also works well at Pine Hollow, especially in the spring. Many anglers still use attractors, including full-sized standards such as Luhr Jensen's Ford Fenders or sets of smaller blades.
Many trollers stick with Mack's Wedding Ring spinners, often in pink, chartreuse or bright red colors, according to Marquez. They tip the hook with a piece of worm. In the heat of summer, add weight or use a downrigger to get your lures into cooler water.
Another lure you might spot trout anglers using at Pine Hollow is the Thomas Buoyant Lure, which has an erratic wounded-baitfish action that not only catches good numbers here but also seems to draw strikes from the larger fish.
Most anglers troll the Thomas lures without an attractor and well behind the boat. Popular finishes are Firetiger, Copper (with spots) and Rainbow Trout.
Fly fishing has a small following among trout anglers at Pine Hollow. Anglers in float tubes and single-person pontoon boats often work near the dam or around the point near the campground.
If you need to brush up on your trout-fishing methods, read this article: Trout Fishing: Basic How-To Techniques and Tips.
Bass and Panfish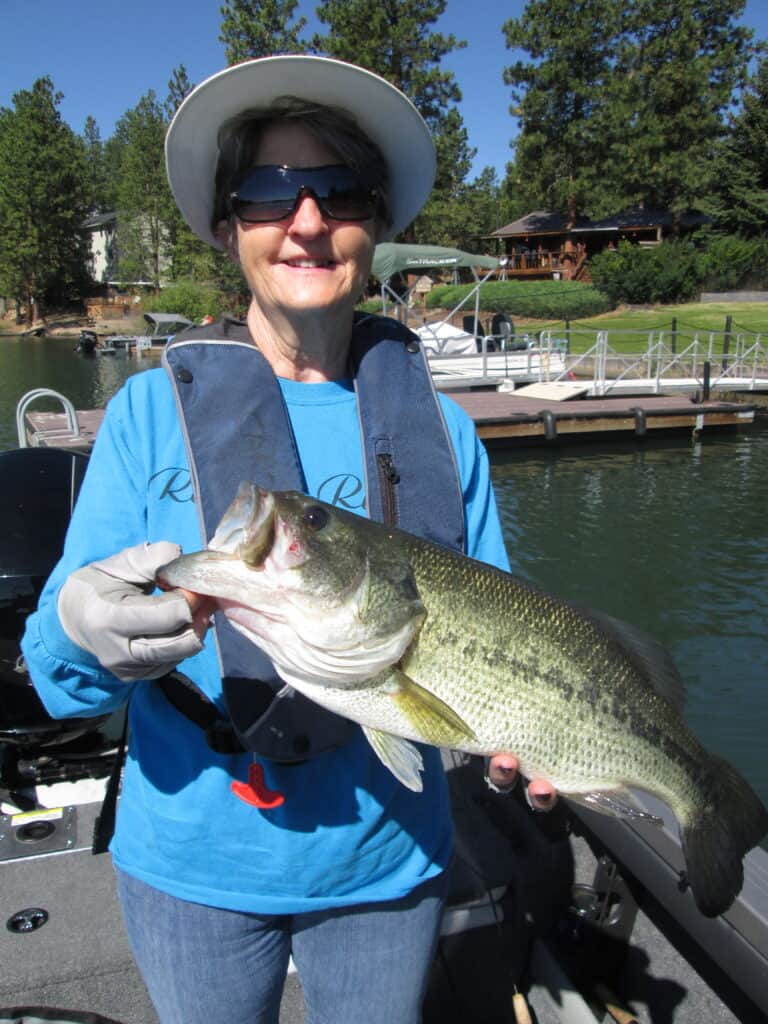 Largemouth bass fishing can be quite good here at times, with a modest number of fish to good size.
An Oregon Bass & Panfish Club member said his experience was that there were a lot of smaller bass but some photo-worthy specimens for anglers who mastered the finesse it took to find then and convince them to strike.
You'll always find us advocating catch-and-release fishing for big largemouth bass for several reasons.
Freshwater bass are a long-lived species, so releasing them helps maintain trophy fisheries. Also, bigger bass aren't that great for eating and are quite likely to contain higher concentrations of the natural toxin mercury built up in the flesh of older resident fish.
When the reservoir is full early in the season, the bigger bass can sometimes be found right up into the shoreline willows. Once those are high and dry, try working the water off from some of the points and coves.
Docks are another potential cover spot for largemouths.
Anglers looking for easier action might find brown bullhead catfish and bluegill within casting range.
If you locate either, they are willing to bite natural baits, including worms, especially in warmer weather.
Where is Pine Hollow Reservoir?
In ODFW's Central Zone, Pine Hollow Reservoir is open to year-round fishing, but winter weather can sometimes limit access and success. It has typical trout and warm-water fishing rules, including bag limits.
Also, the water level drops as the dry season progresses, shrinking the lake.
There is a 10-mph speed limit on the entire lake for much of the year, but between July 1 and the Tuesday after Labor Day, speedier boating activities are allowed on the west end.
The reservoir is largely encircled by private property, but there is a 10-foot easement all the way around, allowing anglers to walk in from public access points to reach spots right on the bank.
2023 Pine Hollow Reservoir Trout Stocking
| | |
| --- | --- |
| 2023 Stocking | Total |
| Mar. 20 – 24 | 2,700* |
| Apr. 3 – 7 | 2,500 |
| Apr. 17 – 21 | 2,500 |
| Apr. 24 – 28 | 2,500 |
| Sep. 25 – 29 | 1,875* |
| Oct. 30 – Nov. 3 | 1,875* |
*These stocking dates include 200 – 375 trophy-sized rainbows.
Stocked fish are legal-sized rainbow trout unless otherwise noted. Stocking schedules are subject to change for a variety of reasons. The ODFW Weekly Fishing Report linked under Oregon Resources below may provide updated information.
Frank Marquez provided some of the tips found in this article, especially for catching trout. He and his family have operated Pine Hollow Lakeside Resort & RV Park since 1988.
Find more Oregon trout fishing
Find more fishing spots in Wasco County
Oregon Resources
ODFW Weekly Fishing Report
ODFW Trout Stocking Schedule
Oregon Fishing Regulations
National Weather Service