The Lower Deschutes River is one of the West's richest and most rewarding rivers, offering anglers two distinct fisheries and 100 miles of prime "real estate" to fish.
The lower river's resident trout are primarily native rainbows, locally known as redsides.
The Deschutes also hosts a summer and fall run of steelhead that are very sporty on the fly rod. Hooking a steelhead on the fly is considered by many to be a pinnacle freshwater fly fishing experience.
Deschutes steelhead average 4 to 8 pounds, most having spent one or two years in the ocean before returning to the river.
Most anglers use traditional wet fly swinging tactics and leverage two handed spey rods to cover the broad currents of the Deschutes.
The Deschutes is prized as a floating line fishery. Many anglers love Deschutes River steelhead for their fondness of surface or near surface presentations.
Maupin, Oregon, is a tiny town nestled in the Deschutes River Canyon and a hub from which a good part of the steelhead fishing takes place.
Maupin is only about an hour and a half drive from Bend and two hours from most of Portland.
A 35-mile road parallels the river along the east bank in this area, providing access to countless runs and several boat launches and take outs.
Other access points include Kloan Road in the canyon area and at the mouth of the Deschutes from Heritage Landing or Deschutes River State Recreation Area. The latter two are just off Interstate 84 (which follows the Columbia River), located about 15 miles east of The Dalles.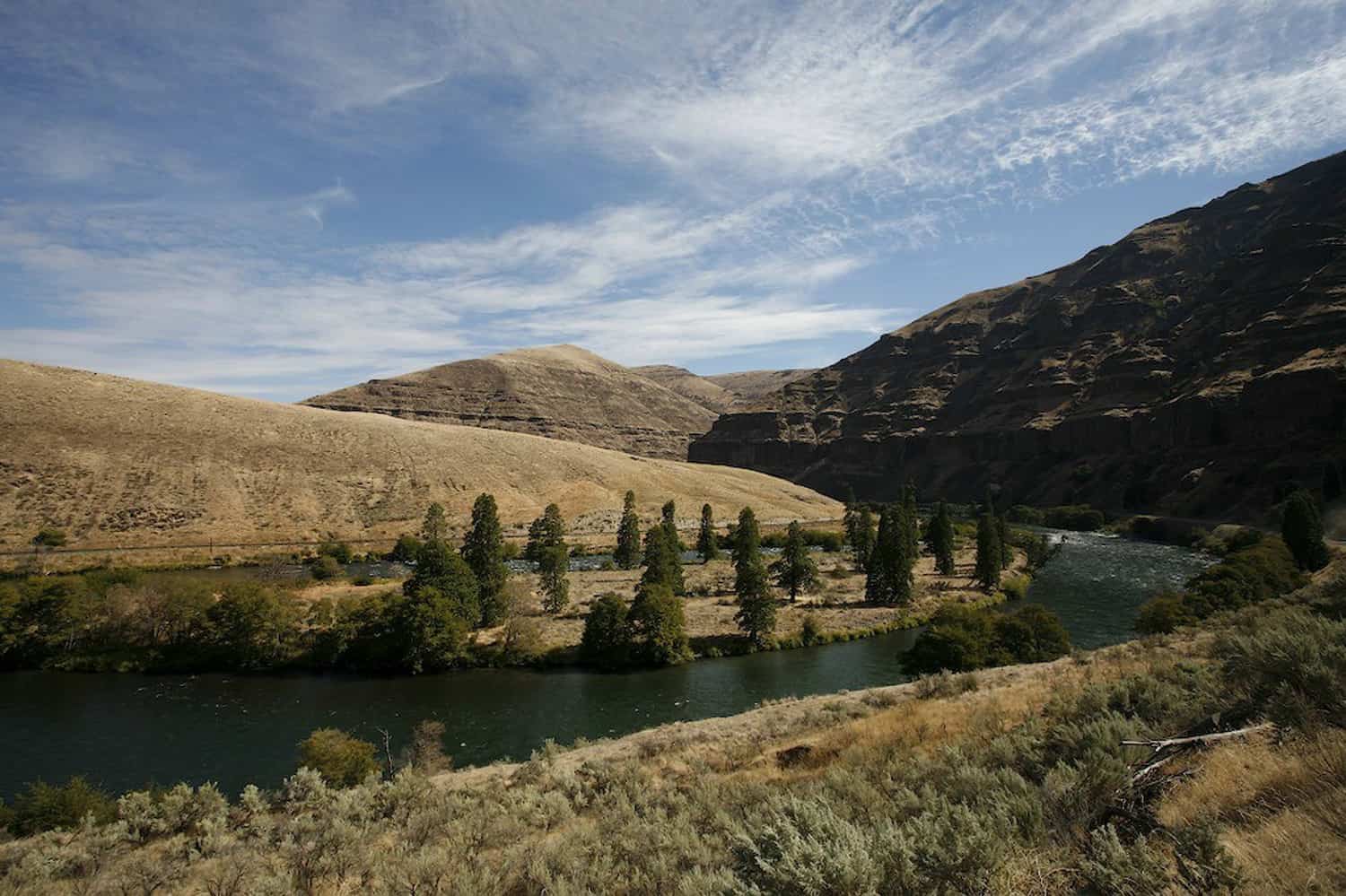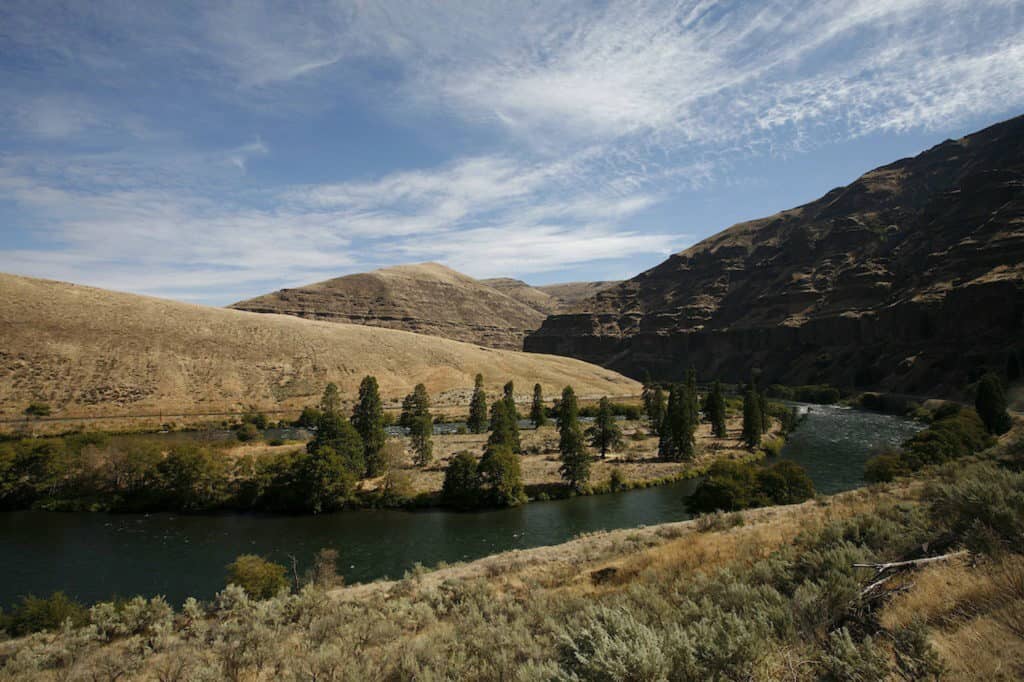 Fishing Regulations
Steelhead fishing rules have been shifting in recent years, due to a string of low return years.
Currently, ODFW monitors the counts at Bonneville before deciding whether there are enough fish to open the season. The opener would typically be announced in late July or early August and take effect August 15, if the run is of sufficient size.
The majority of the Lower Deschutes used to be open to angling for steelhead year 'round, but now closes June 1 until at least mid-August. It would remain closed in exceptionally poor run years.
There also are closures at the mouth below Moody Rapids, and there are seasonal closures in place along the Warm Springs Indian Reservation. (See the Boating Rules section for more details.)
The daily limit for hatchery (fin clipped) steelhead is two. All wild (non-fin clipped) steelhead must be released.
Current philosophies in fish handling lean toward keeping wild fish in the water at all times before being released to avoid damage caused by contact with the air, especially during extreme warm and cold temperatures.
Only flies and artificial lures can be used on the Lower Deschutes, which the exception of a three-mile area between Sherars Falls and the upper trestle, which is a popular Chinook fishing area when salmon fishing is permitted.
Angling from a floating device is prohibited. Boats can be used as transportation down river and provide access to both banks as well as the many mid-river islands and gravel bars. All fishing is done on foot.
Boating Rules
Anglers will need a valid Oregon fishing license and steelhead tag, as well as a Columbia Basin Endorsement.
Anglers who plan on boating the Deschutes will need a Deschutes Boater Pass, available at boaterpass.com.
The Lower Deschutes is divided into four segments. Boater passes for the lower 40 miles of river are limited in availability seven days a week from May 15 through September 15 for segment 3, and through October 15 on segment 4.
Boaters should carry a copy of the Lower Deschutes River Boater Guide, a Bureau of Land Management (BLM) publication.
Motorized boats are allowed on the Deschutes from the mouth of the river upstream to Mack's Canyon (segment 4) all year except for a season closure in effect during alternating weekends (Thursday through Sunday) beginning the first Thursday through Sunday on or after June 15 and ending October 1.
Motorized boats are allowed upstream to Buckhollow (segment 3) from October 1 through June 14.
An approved portable toilet system is required to be carried on all camping trips. It must be set up and available for use as soon as practical upon arrival at campsite.
There are a number of BLM campsites along the access road both upstream and downstream of Maupin, as well as several lodging options and restaurants in Maupin.
It should be noted that a tribal permit is required to fish the west bank of the Deschutes for an eight-mile section along the Warm Springs Indian Reservation, from Dry Creek Campground to Trout Creek Rapids.
While most of the lower river is open all year, the Warm Springs section has a seasonal angling closure. Consult a current regulations book or online regulations for specifics and updates.
Best Season for Deschutes River Steelhead
The Deschutes begins to see fishable numbers of steelhead in the lower 10 miles of river around the beginning of July.
Historically by the third weekend in July there are good numbers of steelhead spread throughout segment 4 (from the mouth upstream to Mack's Canyon, about 23 miles).
Segment three, from Buckhollow to Mack's Canyon, can fish well as early as mid-July, although August is when most anglers begin to fish this stretch of river in earnest.
The Maupin area (north end of segment 1 and all of segment 2) will begin to fish well mid-August, and September is typically when most steelhead pass through this stretch.
The south section of the Lower Deschutes from Trout Creek to Maupin (segment 1) is a fall fishery, seeing its first big push of steelhead mid- to late September. This 35-mile stretch of river fishes well throughout the fall.
Warm Springs to Trout Creek (the uppermost 10 miles of segment 1) fishes well for steelhead in October, November and December.
The Deschutes steelhead run includes both hatchery fish and wild fish native to the Deschutes Basin.
In addition, the Deschutes sees many stray steelhead bound for other waters that wander into the Deschutes to seek refuge from the warmer waters of the Columbia River as well as to follow natural instincts to spread out the gene pool.
Whatever the reason, many of the steelhead caught in the Deschutes each season are from other watersheds.
It is believed that many of these stray steelhead run up the Deschutes a ways, then turn around and head back to the Columbia providing a second opportunity for anglers fishing the lower river.
Many wild steelhead spawn in the main stem of the Lower Deschutes downstream from Sherars Falls.
Consequently, as the run progresses upriver the fishing tends to remain good on the lower river through the fall.
Where to Fish Steelhead
The Lower Deschutes has plentiful access for both bank anglers and boaters. The 35-mile road that parallels the Deschutes near Maupin provides the lion's share of the access.
There are options for drive-in fishing, day floats and multi-day camping floats.
The Deschutes has class II, III and IV rapids. Whitewater boating skills are required to boat most of the Lower Deschutes.
Once anglers choose the stretch of river that will best suit them (using the timing guide above), it is time to start hunting for steelhead.
To find where steelhead hold you must understand the animal. Steelhead are born in the river, migrate to the ocean for one to three years, and return to the river to spawn. Most of their feeding and growing happens at sea.
When they return to the river, steelhead carry enough fat in their tissue to sustain several months without feeding. It is common knowledge that most steelhead don't actively feed in freshwater.
Steelhead are in the river for one reason only – to reach their spawning grounds and reproduce. It is a widely accepted theory that when a steelhead takes a fly, it is attacking it rather than trying to eat it.
So where do steelhead hang out? They run upstream against powerful currents. They swim through the faster water and rest in the slower water. Anglers should concentrate on fishing places where steelhead are likely resting.
Steelhead will hold in a wide range of slow to moderate paced water.
Anglers swinging flies should focus their efforts on fishing water that is shallow enough for the fish to see the fly, usually three to six feet deep and flowing at the pace of a brisk walk, as a general guideline.
Steelhead prefer water that is flowing into their face (avoid back eddies or places with slack current) that also have a hard bottom (avoid a silt, sand or muddy bottom).
Steelhead tend to hold for longer periods of time in the slower water just below and above a rapid.
River runs loaded with large boulders provide structure for them to hide.
Runs that have raging fast water on the outside force the fish to travel and/or hold within reach. Look at the river as a superhighway for the fish, then examine the current and find the path of least resistance.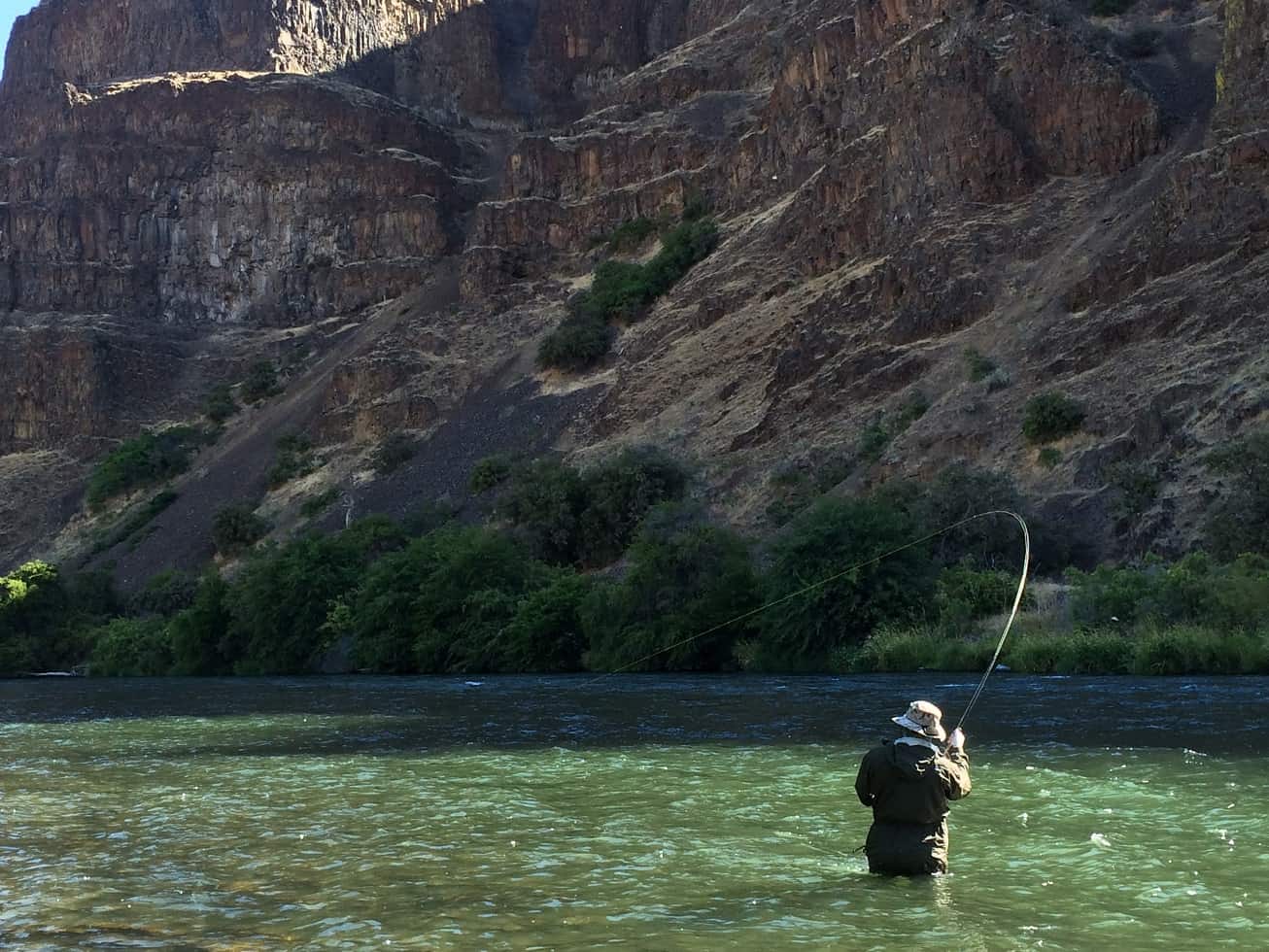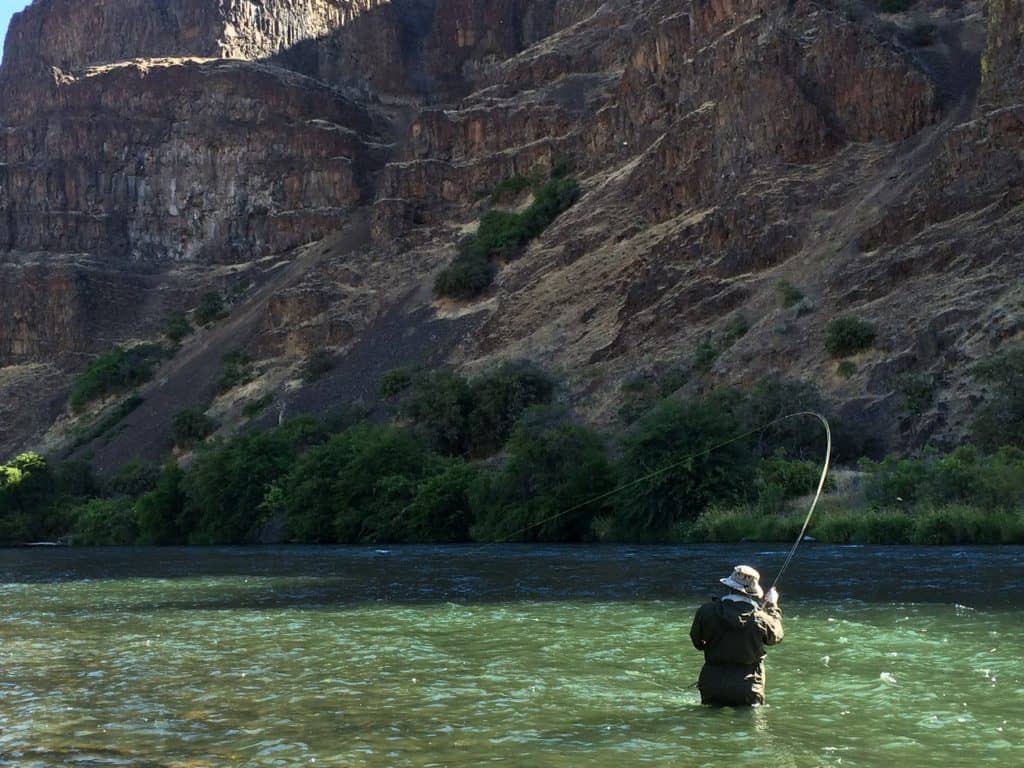 Swinging Flies for Deschutes Steelhead
When it comes to swinging flies for steelhead, success relies heavily on the methodical process of cast, swing and step.
Here's how it works – you generally start with short casts (just the leader) and work your way out to a comfortable casting distance using consistent two- to four-foot increment increases.
After each cast you usually mend the line to slow down the swing, then use the rod tip to creep the fly across the current, under tension, toward the shore.
When the line straightens out and the fly stops swinging, take a few steps down river (four feet or so) and repeat the process.
If you start at the top of a run and finish at the bottom using a grid pattern of swings, there is a good chance that you will find any willing fish in the run.
It is imperative that you take your steps after each cast so that you progress through the run at a good pace. Sometimes you have to fish several runs before you encounter a fish.
Swinging the fly in a slow and consistent way is usually most effective. Avoid twitching or moving the fly in any way while it is swinging.
While mending is important to slow down the swing, many anglers mend their line too often, jerking the fly around mid-way through the swing. A slow dead swing is best.
The Deschutes is world famous as a floating line fishery. Floating lines and unweighted flies likely account for most of the steelhead caught on the Deschutes each season.
Spey rods from 12- to 14-feet equipped with full floating Scandinavian shooting heads, 12-plus-foot monofilament leaders tapered to 12-pound or so, and traditional hairwing wet flies will serve you best.
Best Flies for Deschutes Steelhead
Many classic patterns were developed on the Deschutes, including the Max Canyon, Street Walker, and Deschutes Demon. Other noteworthy patterns are the Muddler Minnow, Green Butt Skunk, Purple Peril, Freight Train and Steel Hammer.
Anglers looking for steelhead nirvana should consider fishing dry flies on the surface.
There are many dry fly patterns that work well, including Baake's Dragonfly, Moorish's POM Skater and the classic Bomber.
Tie on a dry fly, then fish it the same way you would a wet fly – with confidence! If seeing the dry fly take is your goal, stick with shorter casts under 60 feet.
Best Times to Fly Fish for Deschutes Steelhead
The best fishing with floating lines is during the low-light periods of morning and evening, or any time of day when the sun is not directly in the steelhead's eyes.
Successful fishing with floating lines also depends on the river temperature.
Steelhead respond best to surface or near surface presentations when the river is running 50 to 65 degrees. If the river rises above 67 degrees it is best to stop fishing and wait for the following morning when the fish will be less stressed and more likely to take a fly.
During the heat of the day in mid-summer, steelhead seek refuge from the bright sun in deeper and faster water. Many anglers opt for a mid-day break to rest and conserve energy (and attention span) for the evening session.
However, using Skagit shooting heads and sink tips, anglers can find success fishing the daytime holding lies.
Once the river cools below 50 degrees, usually mid-November, sink tips will produce best.
Good fishing with sink tips usually holds up through the fall. While steelhead are present in the Deschutes all winter, it is recommended that anglers stop fishing for them after mid-December or so to let them rest before spawning in the spring.
If All Else Fails
If you are completely stumped as to where to begin fishing, watch where other anglers are fishing.
Set your odometer at various spots, then set out the following morning pre-dawn. Use your odometer to find the spots.
There are usually decent pull outs to park in, and trails that lead to the runs. The most productive runs are quite popular during peak season, so getting there before first light is necessary.
The best way to not hook a steelhead is to give up and go trout fishing. But, if all else fails, there is always trout fishing.
For an overview of this fishery, try: Deschutes River Fishing.
Oregon Resources
ODFW Weekly Fishing Report
ODFW Trout Stocking Schedule
Oregon Fishing Regulations
National Weather Service