San Diego and the surrounding area is widely regarded as one of the most livable places on Earth.
That might be why people want to live here. San Diego County is California's second-most populous county behind only Los Angeles County.
What may not be quite so apparent is that despite having so many people, San Diego County offers a tremendous variety of excellent year-round fishing with some of the best trophy bass lakes in America, abundant giant catfish, plentiful panfish and even cool-season stocked trout, not to mention endless saltwater fishing opportunities.
Outdoor enthusiasts have more than 70 miles of Pacific Ocean coastline that includes big San Diego and Mission Bays and charming seaside communities. Part of the Cleveland National Forest also is located in the county.
Besides San Diego itself, the county is home to many more communities, including larger ones such as Chula Vista, Oceanside, Escondido, Carlsbad, El Cajon, Vista and San Marcos.
The military also finds the county much to its liking, with some 16 military bases including the very well-known Camp Pendleton. Also, San Diego State University and the University of California, San Diego are major high education institutions.
Tourists come for the nearly perfect weather and beaches and also flock to attractions including SeaWorld, San Diego Zoo and Safari Park and Legoland. The border of Mexico and lure of Tijuana are a quick trip south.
While that's all fun and good, you've come to this article for the fishing opportunities in San Diego County, and there's a lot here.
Scroll down and find tons of lakes loaded with all types of game fish, as well as some of the spots where ocean fishing from beaches and piers and boats is not only possible but often productive.
In quite a few cases, we also have highly detailed articles about specific lakes in San Diego County. Follow the links for excellent starter's guides to those places we cover.
Before you leave, check out the Fishing in Neighboring Counties near the end of this article. Those links will take you to even more fishing spots within a reasonable drive.
We also offer some quick resource links for fishing in California at the bottom of this article.
Without further ado, here are the best fishing spots in San Diego County, listed in alphabetical order:
Barrett Lake
This decent-sized lake (also known as Barrett Reservoir) in the hills more than an hour east of San Diego is most popularly fished for bass and panfish, including crappie.
This is a restricted-access location, and you'll need a reservation just to go. But that also means when you do go, it won't be as crowded as many local lakes.
Also, read up on the state fishing regulations for Barrett Lake. At last check, bass and catfish were both listed as zero harvest.
For more about reservations and other information, check the city of San Diego's webpage.
Chollas Park Lake
This small city park lake about 15 minutes east of downtown San Diego can provide good fishing at times.
Also known as Chollas Reservoir, the lake is stocked with catfish heading into the summer season and some years also is stocked with trout during the cooler season.
The lake is along College Grove Drive, near the College Avenue exit off Highway 94.
Find more information on the Chollas Lake Park website.
Cuyamaca, Lake
This medium-sized reservoir is the closest thing the San Diego area has to a high-mountain lake.
Located at just over 4,600 feet in elevation, Lake Cuyamaca stays cool enough to offer a longer trout fishing season than lakes closer to sea level. Trout fishing can be quite good from late winter into spring or early summer.
The reservoir also has a really robust fishery for various warm water species. In fact, Lake Cuyamaca made our lists for best largemouth bass fishing in Southern California, best crappie fishing in California, and best catfish fishing in California.
Overnighters can find everything from tent to RV spots on the lake and in the nearby vicinity.
More: Lake Cuyamaca Fishing
Dixon Lake
Dixon Lake isn't big, but its legend sure is.
This little reservoir (72 acres) near Escondido unofficially produced a largemouth bass weighing 25 pounds. If it had been caught legally, it would be the world record.
Alas, that bass has passed, but maybe, just maybe, its great-grandchildren will reach similarly epic proportions.
Also known as Dixon Reservoir, this fishing spot also is quite good for seasonally stocked trout as well as catfish and panfish.
More: Dixon Lake Fishing
Doane Pond
This three-acre pond in Palomar Mountain State Park is a high-mountain spot in the county.
The pond at times has been stocked with hatchery trout, and that will be the main time this spot is worth fishing. Watch stocking schedules to get in on the action.
A dirt pathway around the pond offers bank access, although much of the shore is surrounded by tules.
There is a day-use picnic area.
The pond is in the Cleveland National Forest in the northern part of the county, about an hour's drive northeast of Escondido.
El Capitan Reservoir
This artificial lake is an excellent warm water fishery near San Diego.
El Cap, as it's often known, is on our run-downs for both best crappie fishing in California as well as best largemouth bass fishing in Southern California.
This is a good-sized reservoir at over 1,500 acres when full, so there's lots of room to spread out.
Note before making your fishing plans that the lake is closed part of each week and has some other special rules.
More: El Capitan Reservoir Fishing
Henshaw, Lake
This is a good-sized lake on the edge of the Cleveland National Forest
Covering about 1,100 acres when full, Lake Henshaw is primarily managed as a warm water fishery, with sometimes very good fishing for crappie, catfish and largemouth bass.
Lake Henshaw is located along Highway 76.
The lake is less than an hour northeast from Escondido.
Hodges, Lake
In a county full of noteworthy largemouth bass fisheries, Lake Hodges is sometimes among the best of the lot.
The largemouth bass run big and plentiful when conditions are favorable.
You also can catch catfish and various panfish here, including some of the best crappie fishing in California.
On the downside, this very accessible lake can get very crowded when times are good.
And, also, its water levels fluctuate to the extremes depending on cycles of normal and drought years.
This serpentine-shaped reservoir is located just south of Escondido and right off Interstate 15.
Jennings, Lake
Lake Jennings offers a varied fishery that includes cool-season trout fishing and year-round angling for other types of game fish in a nice park.
The lake is generously stocked with trout starting in about November.
When the water starts warming into spring, it's time to start thinking about catching bass, catfish and panfish.
In fact, Lake Jennings made the cut for our best catfish fishing lakes and rivers in California.
Besides fishing, the 100-acre park's amenities include camping, hiking and a playground and horseshoe pits.
More: Lake Jennings Fishing
Lindo Lake
One of San Diego's rare natural lakes (most freshwater fisheries here are water storage reservoirs) has at times been stocked with hatchery trout and catfish, although recent stocking schedules haven't shown plants here.
The lake is small and fairly shallow but also is home to a smattering of resident fish including bass and panfish.
Lindo Lake is about a half hour's drive northeast from San Diego.
Lake Miramar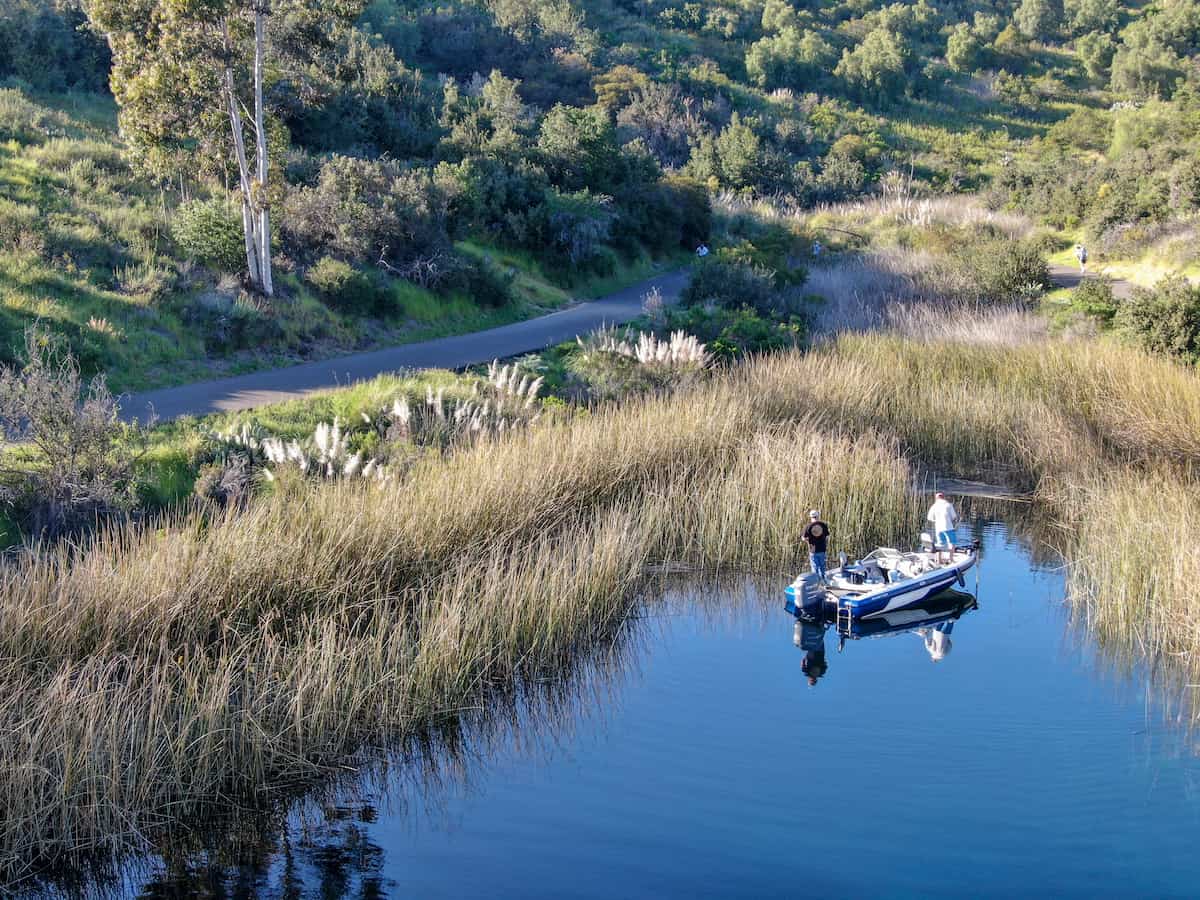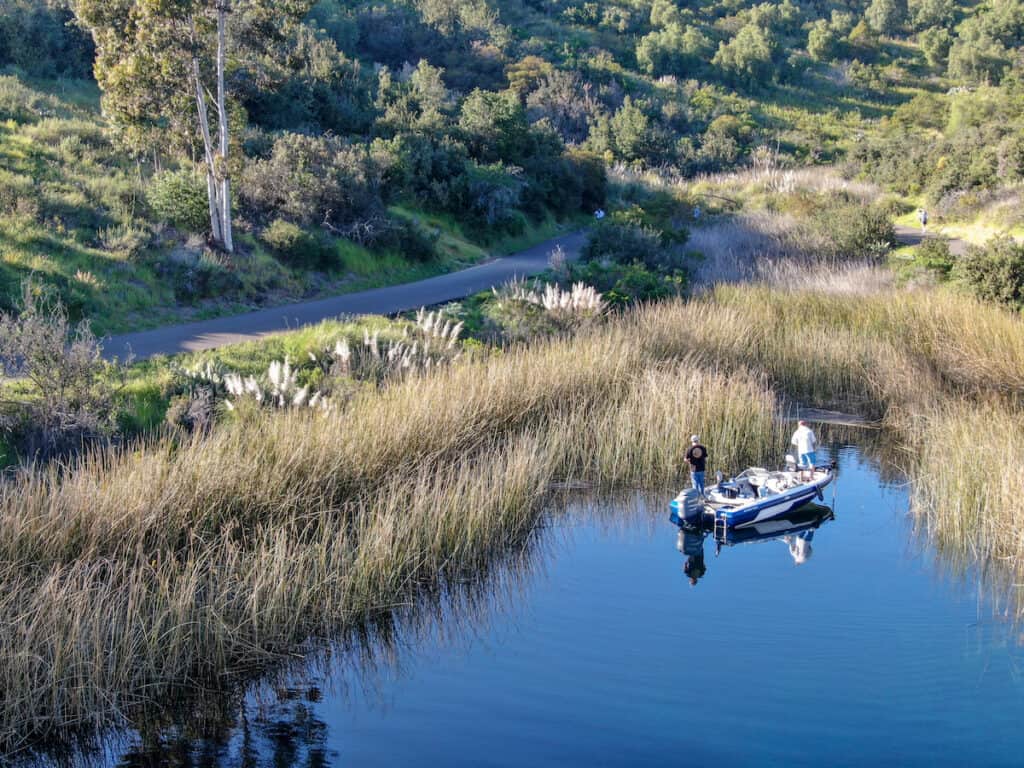 This 162-acre water storage reservoir in the Scripps Ranch area just off I-15 is a popular fishing destination with some of the better fishing opportunities for largemouth bass.
Lake Miramar (also known as Miramar Reservoir) is stocked with catchable rainbow trout in the cooler months.
The reservoir is known to produce some of the biggest largemouth bass in the world, producing at least five that were ranked within top 25 of the biggest largemouth bass ever caught.
Lake Miramar anglers also can catch crappie, catfish, bluegill, sunfish and carp.
Note that at this writing, the lake is currently infested with quagga mussels, so be sure to disinfect any equipment that comes into contact with the reservoir water.
Lake Miramar is easy to get to, located about midway between San Diego and Escondido.
More: Lake Miramar Fishing
Loveland Reservoir
This water-storage reservoir east of San Diego offers bank fishing opportunities on the eastern part of the lake.
The reservoir has a varied population of fish including largemouth bass, catfish, crappie, bluegill and red-ear sunfish. Limits follow typical state guidelines.
Take Japatul Road to get to the fishing program parking area at the northeast side of the reservoir to start your angling.
The 454-acre reservoir is in the hills about an hour's drive east of San Diego.
It's subject to some pretty steep drawdowns at times.
For more information, see the Sweetwater Authority's Loveland Reservoir page.
Morena, Lake
One of the larger reservoirs in the region at more than 1,500 surface acres at full pool, Morena has been stocked with trout when conditions are favorable.
While trout fishing will essentially be over by summer, the lake can provide good fishing for trophy-sized largemouth bass as well as catfish, crappie, bluegill and other fish.
Also known as Morena Reservoir, this getaway spot also offers camping, boating and other outdoors activities about an hour east of San Diego.
For more information, see the Lake Morena County Park website.
Murray, Lake
This 171-acre reservoir is close to San Diego, making it a quick trip when you want to catch stocked trout and catfish.
The trout are typically stocked when the water is at its coolest, which in recent years has included late winter.
Catfish are more of a warm-season fishery.
Lake Murray (also known as Murray Reservoir) also has pretty good populations of resident largemouth bass, bluegill and redear sunfish to catch. You might catch some black crappie as well.
Be aware that there are quagga mussels here and take care to not spread them.
More: Lake Murray Fishing
Otay Lake, Lower
This good-sized reservoir (1,110 acres when full) at the edge of the urban area east of Chula Vista is yet another great spot in the county to catch both largemouth bass.
Lower Otay Lake also has very good catfish fishing for channel catfish as well as a shot at giant blue catfish and smaller bullhead and white catfish.
Additionally, the reservoir provides fun fishing for panfish including both black and white crappie as well as bluegill.
You can fish from a shore or from a boat, either your own or a rental.
Other amenities include picnic areas.
The U.S. Olympic Training Center for rowing sports is located at the reservoir.
The reservoir is open select days, so plan your trips out in advance.
There is a far smaller Upper Otay Lake, but its fishery is fairly limited.
Lower Otay Lake is easy to reach, only about a half hour from downtown San Diego.
More: Lower Otay Lake Fishing
Pacific Ocean
The biggest prizes are much more than a cast off the shore, but charter boat operators and private boats can reach them from the marinas in San Diego and Oceanside.
For the many shorter trips, there's a variety of bass and rockfish, yellowtail and other near-shore species to catch, depending on season. Long-range boats will target albacore and other tuna and even marlin.
The fish grow big in these rich Pacific waters. The state's largest barracuda, bonito and several species of shark and tuna were caught off the San Diego County coastline and are listed in our California Game Fish Records.
If you'd rather keep your feet on something solid, there are lots of options.
Fishing piers jutting into the ocean include those at Ferry Landing, Imperial Beach, Ocean Beach, Oceanside and San Clemente, where anglers pull in a variety of fish species including perch, croaker, kingfish, sand bass and others. Sharks and rays are possible, and lucky anglers hope to land the occasional halibut, bonito or barracuda.
Shelter Island and Embarcadero Marin piers are among top spots to fish inside San Diego Bay.
Beach areas can produce perch and a few other species right off the sand or rocks. State beaches are located at Cardiff, Carlsbad, Leucadia, Moonlight, Ponto, San Elijo, San Onofre, Silver Strand and Torrey Pines.
Poway, Lake
This smallish foothills lake has something for just about every angler all year long.
It's a reliably good warm water fishing destination that also is stocked with trout during the winter months.
While the trout like it cool, come in the warmer season and you're more likely to catch plenty of catfish, especially when they are hosting weekend night fishing events.
On top of all that, Lake Poway is good for various species of panfish and another of the county's good options of largemouth bass, including some big ones.
More: Lake Poway Fishing
Santee Recreational Lakes
This line of seven small reservoirs in a suburban setting in Santee, just 20 minutes northeast of San Diego, offers a wide variety of fishing for guests of the park.
The lakes are regularly stocked with trout in the fall and winter and then with catfish in the spring and summer.
They also are home to largemouth bass and bluegill.
The bass and trout have been caught in the 15-pound-plus range, while the lake records for channel catfish as well as carp have pushed close to 40 pounds.
Two of the lakes are reserved for campers in the complex, while others are open to day-use.
For more information, including fees and amenities, see the Santee Lakes website.
Sutherland, Lake
Lake Sutherland offers a variety of warm water fishing opportunities, including largemouth bass, catfish, crappie, bluegill and carp.
At a little over 500 acres when full, this is a moderate-sized water storage reservoir in the hills about 45 minutes east of Escondido is a little off the beaten path and gets at least a little less angling pressure than some of the county's better-known lakes.
Nevertheless, iit has put out bass into the mid-teens, big channel and blue catfish, and other fish as well, for anglers who come up to fish for the day.
It's not typically stocked with trout and is in fact closed to fishing for much of the time that trout survival would be most viable here.
At this writing, the lake (also known as Sutherland Reservoir) is open to both fishing and boating on Saturdays and Sundays from March through September but is completely closed for most of the fall and winter months.
There also are bank-fishing opportunities most Fridays during the open season.
Check the website for specific schedules and other information.
Make sure you bring what tackle, bait and other supplies you need, as at last check there were no concessions operating at Lake Sutherland.
There also is no camping, swimming or fish cleaning at the lake, among other rules, so be sure to read up before planning your trip.
See the City of San Diego's Sutherland Reservoir web page for more information.
Sweetwater Reservoir
This 960-acre reservoir about 20 minutes east of San Diego is open to shore fishing on part of the south side, typically Fridays through Mondays.
Fish you can catch (and keep within limits) here include largemouth bass, catfish, crappie, bluegill and red-ear sunfish. It's not stocked with trout.
There are modest fees to fish or access the lake.
There's a regional park with a variety of amenities.
For more information, see the Sweetwater Authority's reservoir webpage.
Wohlford, Lake
Lake Wohlford near Escondido has a little something for every angler.
There are trout when it's cool out, bass, panfish and catfish when the weather warms up, and even an opportunity to go bowfishing for carp.
The lake once put out a 19-pound bass, though of course anything over 10 pounds would be worth some bragging rights.
Crappie, bluegill and catfish are all worth your effort during warmer weather, which here is much of the year.
Trout are stocked only in the coldest months, and fishing for them begins with the first planting, which likely won't be until at least December most years.
Read our full article for the best seasons and methods to call all of these fish.
More: Lake Wohlford Fishing
Fishing in Nearby Counties
Orange County: To the northwest, the home of Disneyland may not seem like happiest fishing place on Earth, but it in fact offers some very good fishing lakes and excellent ocean catches.
Riverside County: To the north, this large county offers a dozen or so lakes worth fishing that aren't far away, including excellent spots like Diamond Valley and Perris lakes.
Imperial County: To the east, while the Salton Sea no longer draws many anglers, the lower Colorado River and a couple of smaller lakes stocked with trout and catfish can make for a fine day of fishing.