This inland county stretches from the heavily populated suburbs in the Greater Los Angeles area clear to the Colorado River on the Arizona border.
Most of its nearly 2.5 million residents live in the western part of the county, and much of the fishable water also is in reservoirs and lakes in the mountains and valleys at that end of the county, which is about the size of New Jersey.
The central and eastern parts of the county are far more arid and include much of Joshua Tree National Park and lots of desert.
Riverside is the largest city and county seat. Some other larger cities in the county are Moreno Valley, Corona, Murrieta, and Temecula. Palm Springs, Palm Desert and Coachella are notable desert communities.
The following are the major places to go fishing in Southern California's Riverside County.
Cahuilla, Lake
This 135-acre lake within Lake Cahuilla Veterans Regional Park near La Quinta offers a variety of fishing options.
During the hot season, starting in May, the lake is frequently stocked with channel catfish.
Lake Cahuilla (also known as Cahuilla Park Lake) also is typically stocked with rainbow trout during the winter, when temperatures in this desert climate are cooler.
Striped bass and other game fish may also show up in your catch.
The park is open seasonally for camping. See the park website for more information.
The lake is located in Coachella Valley at the foot of the Santa Rosa Mountains, about a half hour southeast of Palm Desert.
Google Map and Directions to Lake Cahuilla
Diamond Valley Lake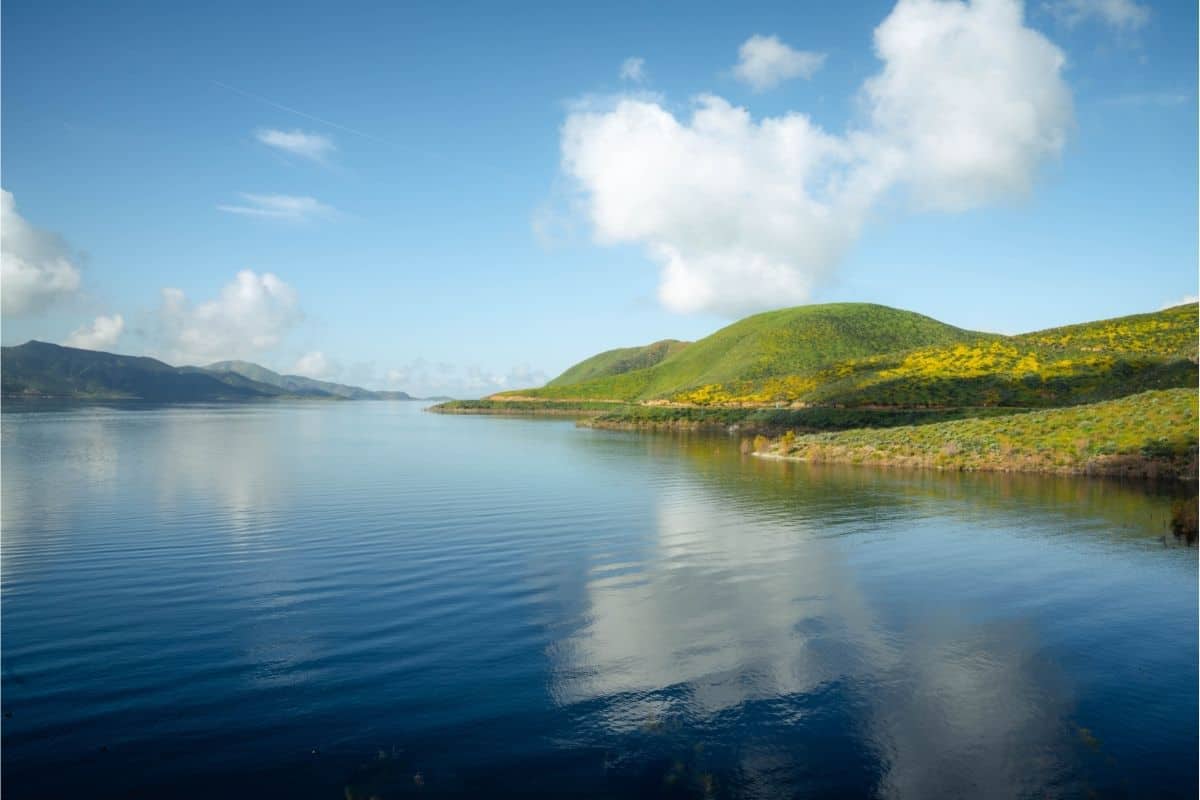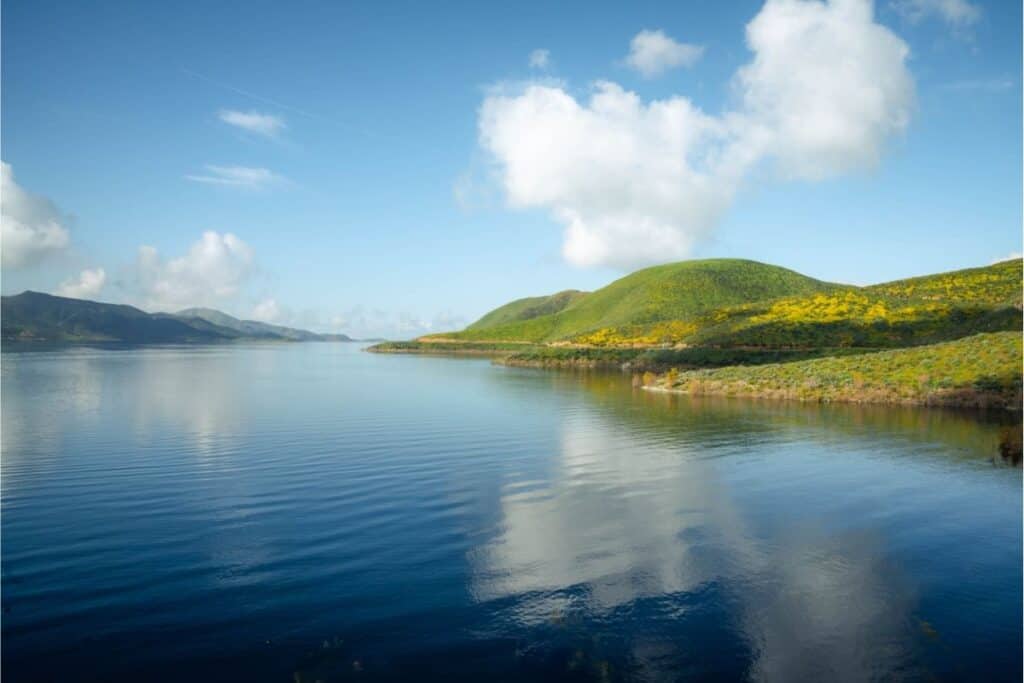 This 4,500-acre reservoir is the largest and one of the most popular fishing lakes in Southern California.
Anglers can catch rainbow trout, largemouth bass, stripers, catfish and panfish.
Trout are stocked regularly during cooler months and the bass species can grow to trophy sizes.
The Diamond Valley Marina is a good place to start, especially if you have a boat or want to rent one.
Diamond Valley Lake is located near Hemet and about 90 miles from either Los Angeles or San Diego.
More: Diamond Valley Lake Fishing
Elsinore, Lake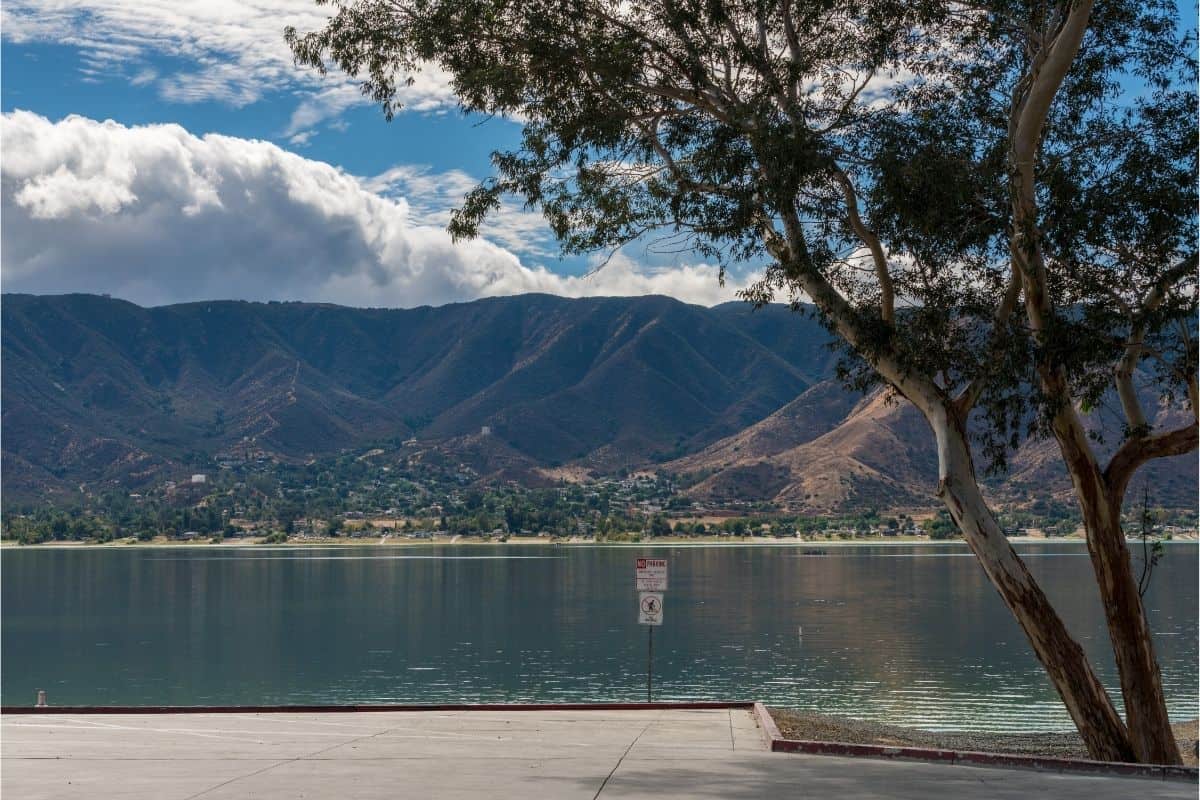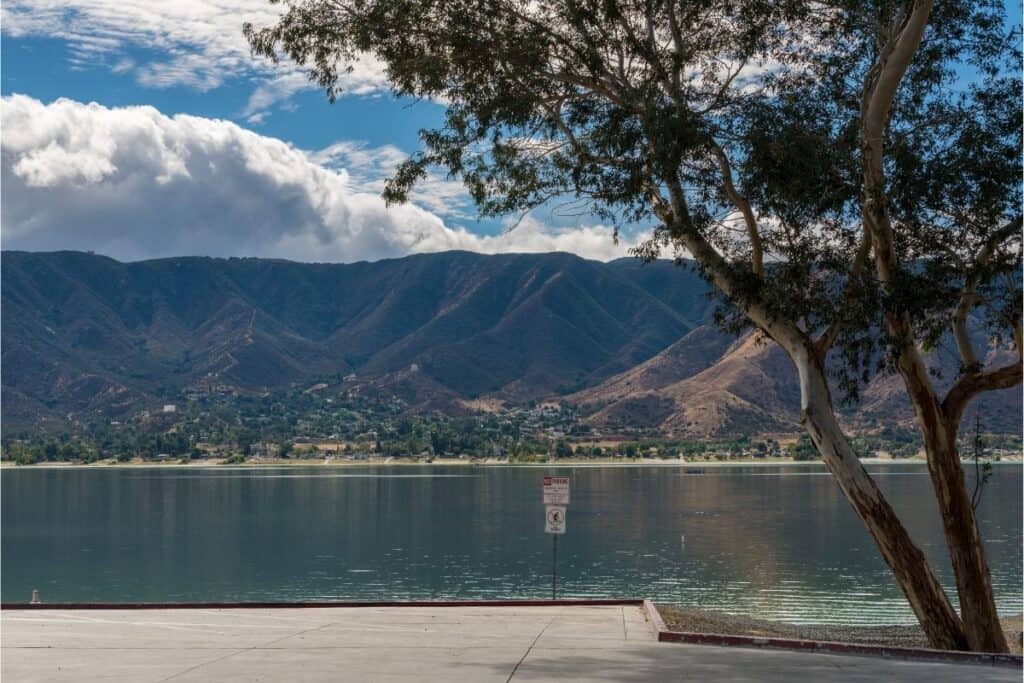 Lake Elsinore is the largest natural freshwater lake in Southern California, offering anglers more than 3,000 acres at full pool and a variety of fishing options.
The lake near the city of the same name is year-round home for various game fish including largemouth bass, white and black crappie, bluegill and several species of catfish, including some nice channel cats.
Hybrid striped bass also have been stocked, partly as an effort to control carp populations, which at times have been so overpopulated they hurt fishing for more popular species.
Lake Elsinore, located south of Riverside, is open daily and offers a variety of recreational activities including fishing and power boating.
More: Lake Elsinore Fishing
Evans, Lake
This lake located in a small Riverside city park at times has been stocked with rainbow trout in the winter and catfish in the warmer months.
Lake Evans also offers bass, bluegill and carp to catch.
Several fishing derbies are held at Lake Evans during the year.
The lake is in Fairmount Park along Market Street just north of downtown Riverside.
Google Map and Directions to Evans Lake
Fulmor, Lake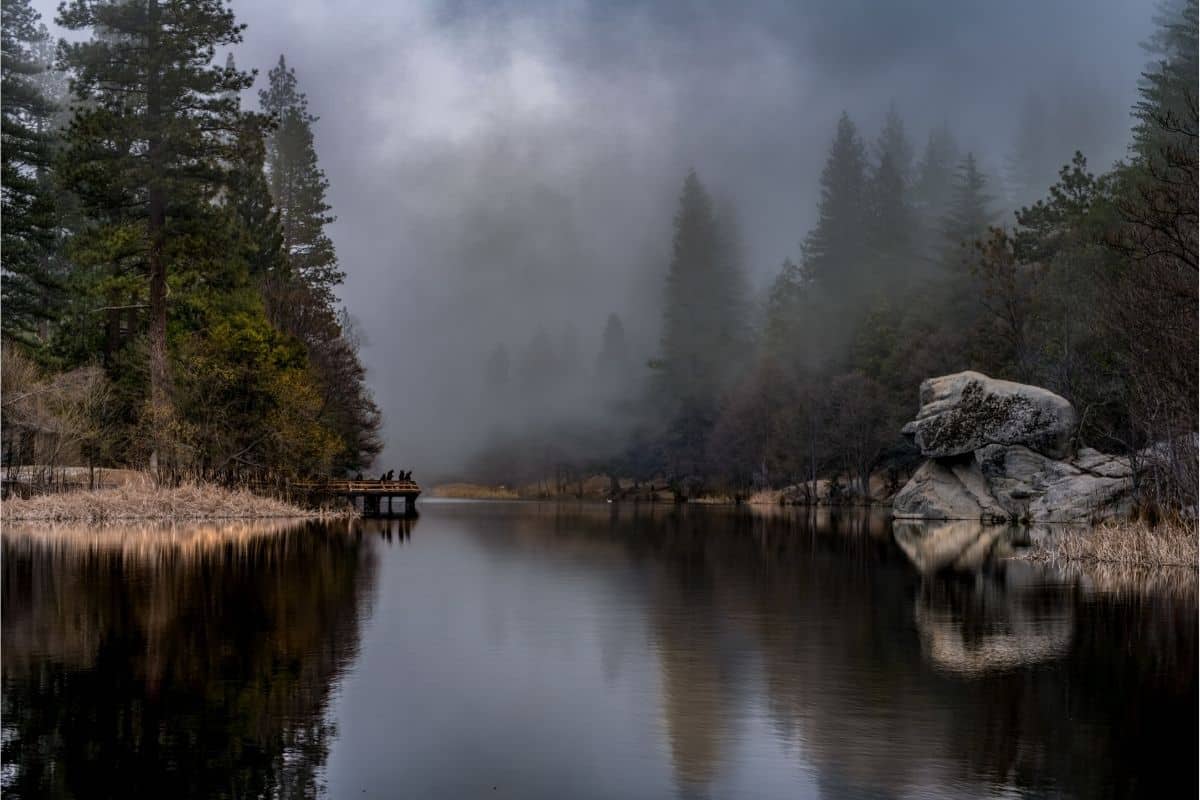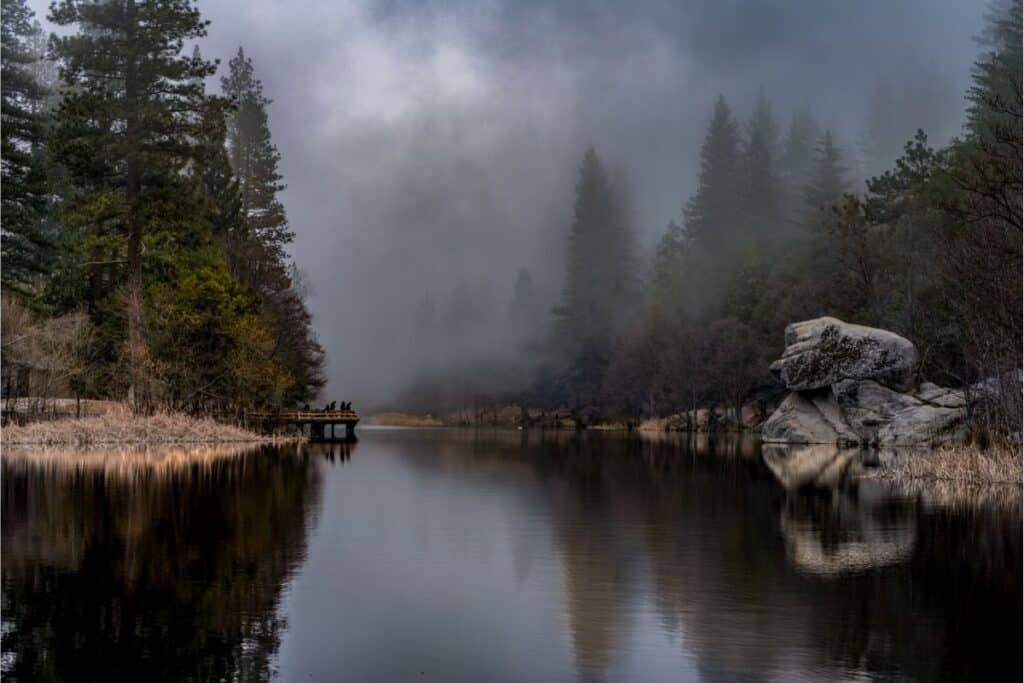 Lake Fulmor can be found way up at 5,300 feet in the San Jacinto Mountains, which makes it cooler and more out of the way than most Southern California lakes.
The small lake offers a variety of fish, often including stocked rainbow trout.
The lake also is home to largemouth bass, catfish and bluegill.
Lake Fulmor (or Fulmor Lake) is in a pretty forested setting.
It's open year-round from sunrise to sunset. A Forest Adventure Pass is required for entry.
Google Map and Directions to Lake Fulmor
Hemet, Lake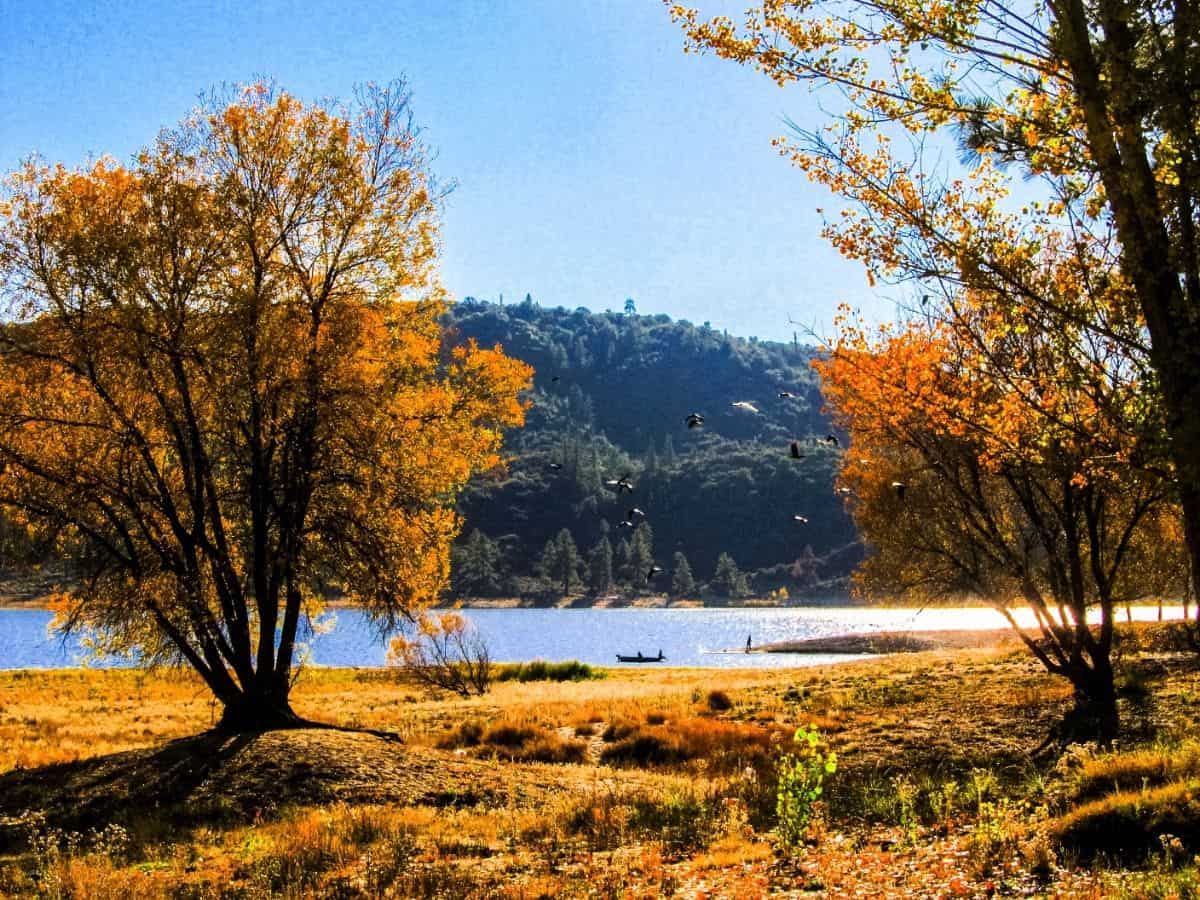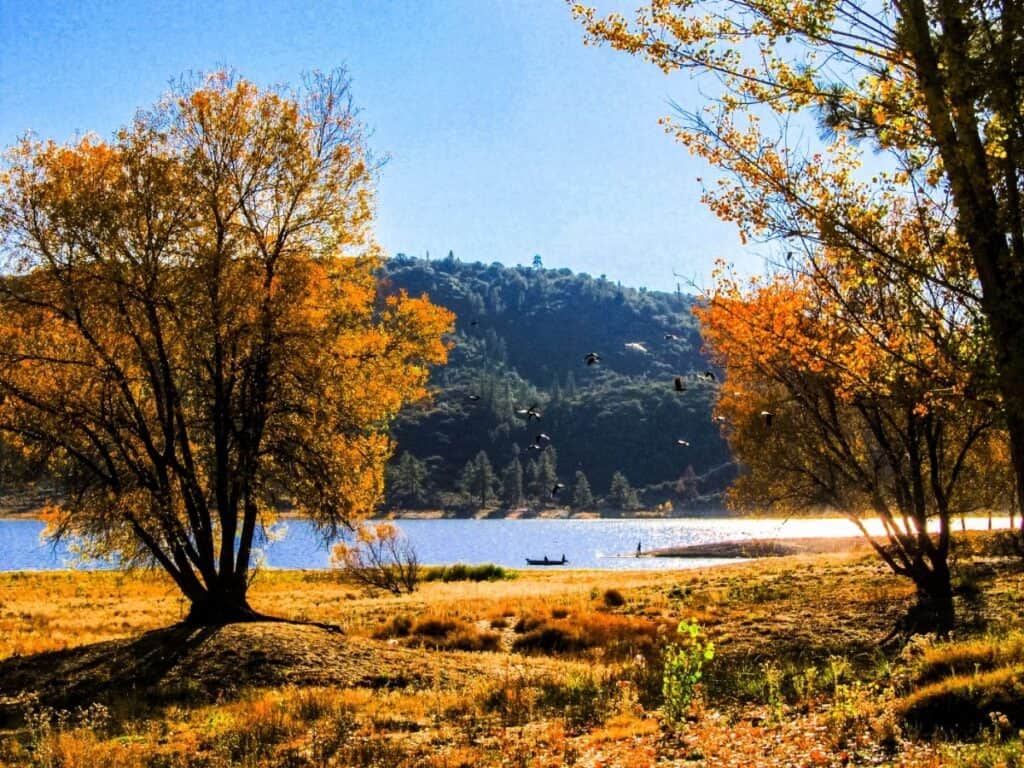 Surrounded by a view of San Jacinto Mountains, 470-acre Lake Hemet is a popular spot for fishing and camping.
The reservoir is very nicely stocked with rainbow and lightning trout during the cooler months, typically from November to April.
Trout fishing will be best when the lake is cool and well-stocked.
Lake Hemet also has healthy populations of bass, bluegill and catfish to catch, which will be the main catches during the hottest months when trout fishing is very slow.
There is good access for both shoreline fishing and boating, and fishing supplies, groceries and other necessities are located on the lake.
Find more information at the Lake Hemet website.
Google Map and Directions to Lake Hemet
Perris, Lake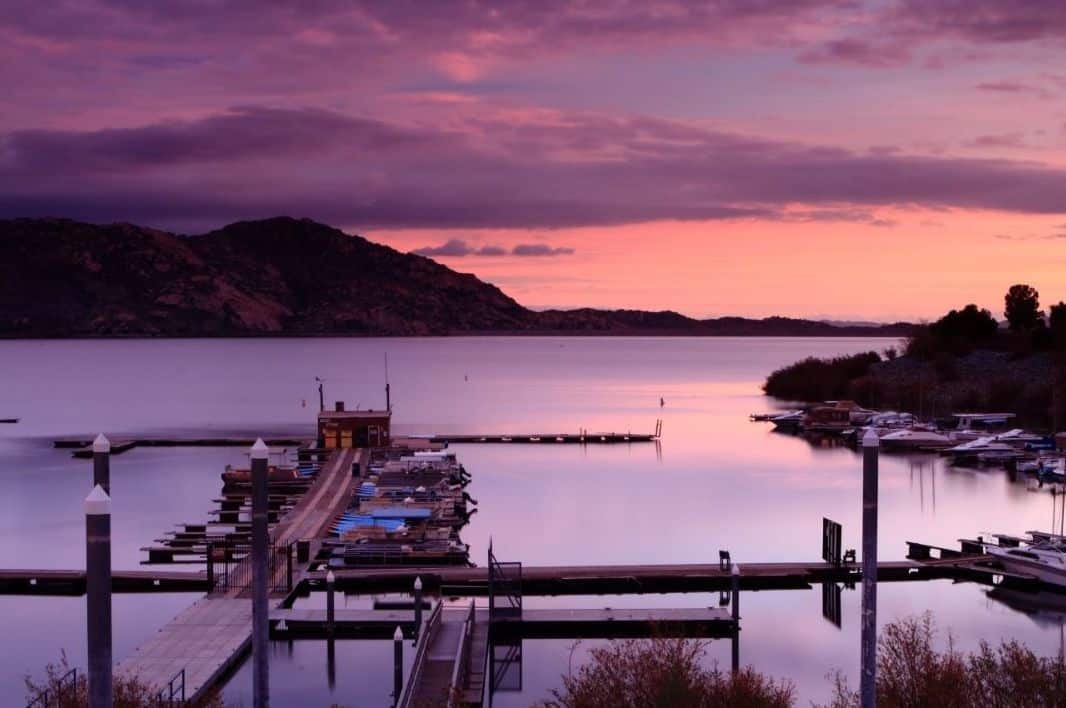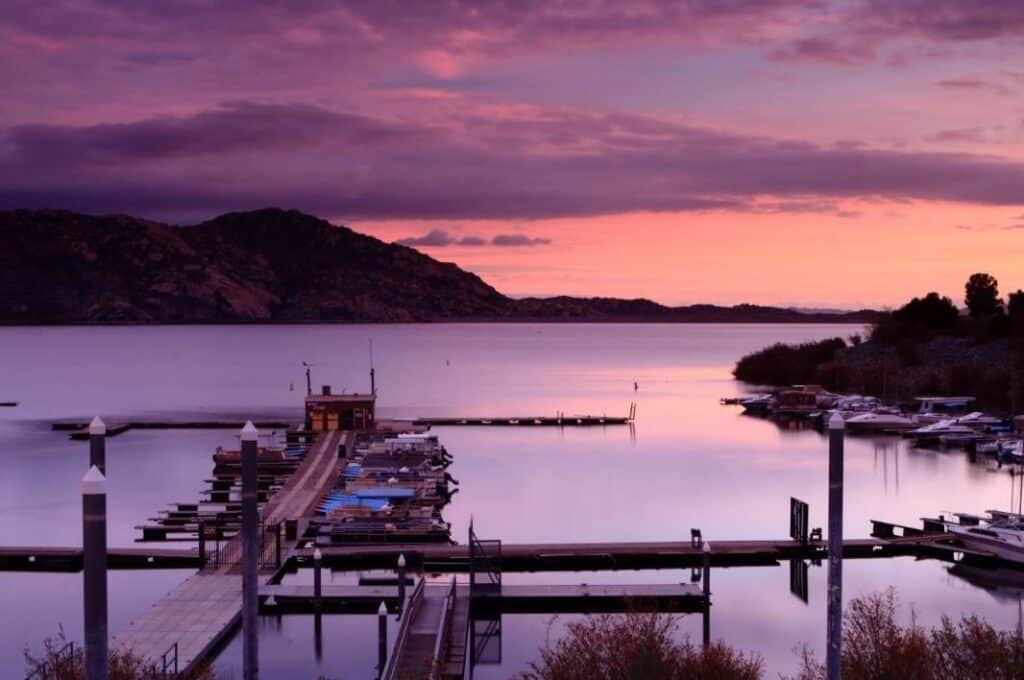 Lake Perris is another large and popular reservoir sitting inside a larger state recreation area.
Anglers most enthusiastically fish for stocked rainbow trout, trophy-sized largemouth bass and a variety of other species including channel catfish and Florida-strain bluegill.
The reservoir once was home to record-breaking Alabama spotted bass, but these days other species are the primary catch and spotted bass are more common in central and northern California waters.
Trout fishing is by far best in the cooler months, when it is nicely stocked with rainbows.
There are a variety of other outdoor activities at Lake Perris (also known as Perris Reservoir), including boating, swimming, biking, hiking, picnicking and more.
More: Lake Perris Fishing
Rancho Jurupa Park Pond
The park's pond is frequently stocked with trout in the winter and catfish in the warmer months, providing a year-round fishery.
The 200-acre regional park is located just west of Riverside, near Mt. Rubidoux.
The park also offers two campgrounds and other outdoor activities, including a water playground, rock climbing, miniature and disc golf, hiking and biking.
Find more information at the Rancho Jarupa Regional Park website.
Google Map and Direction to Rancho Jurupa Park Pond
San Jacinto River (North Fork)
This San Jacinto Mountains stream has at times been stocked with rainbow trout but also home to a moderate population of wild rainbow and brown trout.
A Wilderness Permit is necessary to gain entry within the vicinity of the Mt. San Jacinto.
Google Map and Direction to San Jacinto River (North Fork)
Skinner, Lake
This reservoir of about 1,400 acres provides anglers with a good opportunity for several types of fishing throughout the year.
Trout are stocked and bite best during cooler months while largemouth and striped bass, channel catfish, crappie and bluegill are more likely to bite once the water warms a bit.
Lake Skinner Recreation Area also offers a variety of other outdoor activities such as camping, picnicking, hiking, horseback riding, sailing and a splash pad.
More: Lake Skinner Fishing
Strawberry Creek
This creek in the mountainous Idyllwild area of the San Jacinto Wilderness is often stocked with hatchery rainbow trout in cooler months when water flow is high enough to maintain the fish.
This is rocky terrain, so fishing the creek can be difficult except for the hardiest of anglers.
Google Map and Direction to Strawberry Creek
Vail Lake
This is a decent-sized reservoir about 10 miles from Temecula was historically a good fishing spot, but it has fallen on hard times with desperately low water levels and access closures.
If it rebounds, look for bass, catfish and panfish, and perhaps the return of trout stocking.
There is a campground that offers a variety of non-fishing activities, but access to the water may not always be available and low water may mean no availability of boat-launching, so check ahead for updates before fishing this one.
Google Map and Direction to Vail Lake
Fishing in Nearby Counties
Orange County: To the west, this small but heavily populated county has a surprising amount of fishing. You can cast into the saltwater of the surf or into fresh waters like Irvine Lake to catch a wide range of fish.
San Bernardino County: To the north, from excellent fishing lakes in the mountains like Big Bear and Silverwood lakes to the desert oases like Lake Havasu and the lower Colorado River, this massive county has something for every angler.
Imperial County: To the southeast, this corner of the Southern California desert featuring the Salton Sea borders the lower Colorado River and offers several lakes stocked with catfish and trout.
San Diego County: To the southwest, this highly populated county also is quite filled with fishing opportunities, especially in its many water storage reservoirs and along its Pacific Ocean coastline.