Lake Chabot offers some pretty fantastic fishing close to home in the foothills just east of San Leandro.
The 315-acre reservoir stores emergency drinking water to the East Bay.
For more than 90 years there was no fishing allowed at Lake Chabot, but in the '60s, the state legislature determined that creating a local fishery and other recreation at Lake Chabot was in their best interest.
The fishing at Lake Chabot has had its ups and downs, though the efforts to create a remarkable fishery have really paid off over the last several years.
Trout and catfish are abundant thanks to a generous stocking regimen, and the lake holds some true trophy-sized largemouth and improving panfish angling.
One of the best things about Lake Chabot is how user-friendly it is, but do know that you can't use your powerboat here.
The marina has a bait shop and café, and rumor has it they make a tasty burger. You can rent everything from a rod and reel to a boat here as well.
The lake offers several fish species, with the added bonus of a beautiful location without a long drive from home.
The rainbows are a big draw here in cooler months, with some fantastic catfish opportunities coming when it's hot out, making Lake Chabot a year-round fishing lake.
With the abundance of fish-holding structure in the lake, the largemouth bass have taken hold, and some have grown to trophy proportions.
You'll need to take some time finding the bigger largemouths here, but once you figure them out, you're in for some epic days on the lake.
Fishing at Lake Chabot isn't as renowned as some of its Bay Area neighbors, but if the state keeps up its stocking and management efforts, this reservoir should be counted among the best fishing lakes in the region.
Lake Chabot Trout Fishing
Trout bring the most anglers to Lake Chabot. They are planted regularly and can be caught from shore and by boat in similar numbers.
The lake impounds San Leandro Creek, which historically had a good run of steelhead (ocean-going rainbow trout) but were cut off from much of their habitat with the damming of the stream.
Today it's the landlocked, hatchery reared rainbow trout that dominate the fishery.
Some of the trout stocked here are steelhead-sized, even 10-pounders or larger. So be ready to tackle big fish, though it's far more common to catch trout between 2 – 4 pounds.
We know they're in there, now how do we catch them?
Targeting rainbows from shore is pretty straightforward here.
If they were recently stocked, one good tactic is to toss shiny Kastmasters at them. Stocked rainbows are too aggressive for their own good, and they will go nuts for shiny lures.
After they've acclimated, and they start getting hungry without hatchery workers supplying them with food pellets, they tend to prefer PowerBait or nightcrawlers.
Depending on the depth where you're fishing, lures like Rooster Tails, Panther Martins, Jakes Spinners and those Kastmasters are great from fall through mid-spring.
Tip them with a bit of crawler or some power eggs for added attraction when the bite is slow. The deeper you go, the more bait you'll want on your lures.
Fish love scented baits, and these trout are no different. Think about using garlic or anise scents.
Focus your attention on the western arm of the lake from the marina up to Alder Point. There are some great spots along the trail, so be sure to explore.
Indian Cove is great from shore, as is Raccoon Point.
Lake Chabot also offers several fishing piers that can be good when water temperatures are still reasonably cool, when the trout should be within easy reach.
Hit the lake in a rental boat or your own human-powered craft, and you widen your scope immensely and open up the option of trolling.
Head along the eastern arm and troll with Rapalas, Needlefish, Apexes and the like.
Suppose you're not getting any bites, tip the hooks with nightcrawlers and slow your speed.
Spring is the very best time to be out on the boat trolling for trout.
One of the most productive options is to troll a nightcrawler behind some flashers with around 20- 25 inches of leader from the flashers to the bait.
Also know that rainbow patterns work well, so troll a Rapala or similar lure with some action, and you'll be into them in no time.
Trolling Lake Chabot from Indian Cove up to Raccoon Point and back is often one of the best approaches out on the water when seeking trout.
Just stay to the east of Live Oak Island and keep going back and forth between the cove and the point.
There are big enough populations of trout in the lake to give you some chance of catching one at any time of year, though trout fishing definitely slows in summer, so that season is better spent targeting the catfish cruising the lake.
Much more: Trout Fishing: How-To Techniques and Tips and Best Rainbow Trout Fishing Lakes in California.
Catfish At Lake Chabot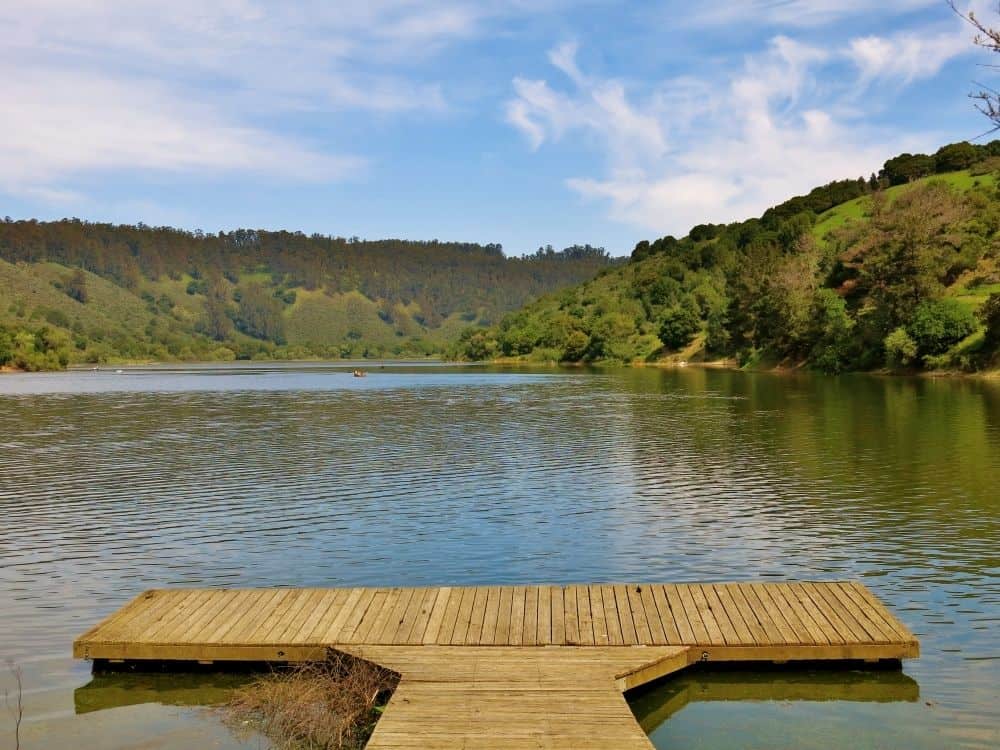 Channel catfish are the main draw in the summer, when the water temperature favors this tasty native of the Mississippi River.
Channel cats are stocked in excellent numbers throughout the summer and fall. Once it's too warm to plant trout, the game changes.
Bank fishing for cats can be highly productive during the summer months. Cast any bait with a strong scent, and you'll be on them. Chicken liver, mackerel, stink baits and worms are all very effective at catching catfish.
Not surprisingly, Catfish Landing is a must spot to try, as is Honker Bay. You'll be sure to catch quality cats in either spot.
Half Moon Bay is excellent from a boat. The eastern bank along that section is restricted, so be sure not to land your boat.
Break out your heavier equipment and sit off the island. There tend to be bigger cats holding around the island, but again you aren't allowed to land and get out there.
Some (practically) required reading: Catfish Fishing: Simple How-to Techniques and Tips and Best Catfish Fishing Lakes and Rivers in California.
Largemouth Bass Fishing
The bucket mouths in Lake Chabot are plentiful enough to provide good action, and the lake is a bit off the radar but at times offers one of the Bay Area's best trophy largemouth fisheries.
Years of habitat improvement have led to a rapidly expanding largie population. There is enough cover to support the adults and the juveniles, allowing next year's brood to keep growing.
Bass are most active at Lake Chabot throughout the spring months. When it starts to heat up in the summer, the bass become more sluggish and often are found in deeper water.
Fall fishing can be good as well, as the bass sense the cooling water and try to pack on the weight before winter.
Target your search around Alders Point and Half Moon Bay.
The big trick to this lake is the weather, so time your trips accordingly.
Overcast days are the best for bass. Sunny, clear days find them hiding out, ignoring almost any presentation. Cloudy days can turn the bite back on like a switch.
If you're targeting bass for numbers, go with a plastic worm finesse approach. You'll boat quite a few.
If you're targeting the bigger fish, go with bigger lures and jigs. Jigging can be super effective on overcast days.
Cover in the reservoir has improved dramatically in recent decades with the introduction of new structures for fish habitat.
Christmas trees and other cover have been steadily added to boost the fishery for bass and other species.
Silverside minnows and an abundance of crawfish are the forage of choice for the bass in the lake, and the largest bass will take down a pan-sized rainbow trout as well.
Check out these resources: Bass Fishing: Simple How-To Techniques and Tips and Best Largemouth Bass Fishing in Northern California.
Crappie and Sunfish Fishing
Crappie are becoming more abundant in the reservoir.
As with bass, the habitat improvements have provided the hiding and ambushing opportunities these fish crave.
Standard techniques for crappie will work here, although know that fishing with live minnows and other fish isn't legal in this location.
Target them early in the day or in the evening. Any areas with shade or structure are opportune spots to toss a crappie jig tipped with a bit of mealworm.
You are likely to catch a few bluegill while targeting crappie, especially with a bit of bait on the hook. Chabot has a healthy population of these feisty fish in the shallower areas.
The fishing piers on the lake offer good cover for both crappie and bluegill and are good spots to cast for trout.
Learn about the best crappie fishing lakes in California.
Other Fish
One major surprise you might encounter while fishing with bait off the bottom is the occasional white sturgeon.
There have been reports of these swimming dinosaurs being caught periodically over the years. You might just get lucky and land one.
Another large fish that might nab your bait and give quite a battle on typical trout or panfish gear are common carp.
Planning Your Trip
The north bank of Lake Chabot is in the Oakland city limits, and a quick 25-minute drive from San Francisco will have you at lakeside. So it's close to lots of people.
With its prime location, this lake can get pretty busy on weekends, though not as crowded as some of the other lakes that offer swimming. Since this is a water store lake, there is no direct body contact allowed.
Much of the quickest access for day use is on the southern and western shores, reached from Lake Chabot Road.
Canoes, kayaks, some types of rafts and other people-powered crafts can be carried in and launched for a small fee, but you aren't allowed to launch your own motor boat in a measure to help maintain water quality.
You can use float tubes as long as you are in waders and you're not coming in contact with the water.
Regulations here also require a valid California Fishing license as well as an East Bay Regional Park District fishing access permit, the latter of which helps fund the fish stocking program that probably makes you want to come in the first place.
Weekdays are the best at Lake Chabot. Smaller crowds mean less crowded fishing spots.
Boat and Shore Access
Bank access is readily available a short distance from the marina and around a good portion of the lake. The West Shore Trail, East Shore Trail, Honker Bay Trail and Bass Cove Trail are among the paths that will get you to lots of bank fishing.
However, the shoreline section in and around Half Moon Bay is restricted from bank access, as is the dam.
Boat rentals and supplies can be found at Lake Chabot Marina Cafe and Lake Chabot Fishing Charters and Bait Shop.
Be sure to check current fishing regulations as well as boating and other rules for Lake Chabot Regional Park.
Where To Stay
There are several campgrounds in the area, including on the north side of the lake and in connected Anthony Chabot Regional Park. Check out the family and group campgrounds near the lake if camping is on your agenda.
You also have a broad choice of hotels and vacation rentals in the Bay Area. Plan ahead and reserve your spot.
Oakland has several major hotels and restaurants to choose from, or you can eat at the marina at the lake.
RV spots are around with full hookups to accommodate your family.
Remember to bring along your bike and hit some of the trails around the lake. There are over 20 miles of mountain bike trails, so your family will have plenty to do.
The wider region on the east side of the Bay Area includes many good fishing lakes, including San Pablo Reservoir, Los Vaqueros Reservoir and Lake Del Valle.