Wallowa County includes the ultra-rugged northeast corner of Oregon, home to many of the state's wolves but also to a good bit of idyllic high country dotted with trout-filled lakes and rivers that run with steelhead, salmon and trout.
Wallowa County is full of great fishing opportunities.
Among the biggest draws are Wallowa Lake, which produced the world record kokanee and gives up lots of trout (including lunker lake trout), and the Grand Ronde River system (including the Wallowa River), with strong runs of late-arriving summer steelhead as well as trout and salmon.
This article serves as a simple introduction to many of the best fishing options in Wallowa County.
Want more? Try following links on this to topics of interest located on this website and elsewhere. You'll find them in the main article and at the bottom of this page.
Click the names of neighboring Oregon counties for nearby angling opportunities.
Regulations governing sport fishing in this area are mostly under the Oregon Department of Fish and Wildlife's Northeast Zone, but look for regulations on fishing in the Snake River and its reservoirs under the Snake River Zone.
Incorporated cities in Wallowa County are Enterprise, Joseph, Lostine and Wallowa. Unincorporated areas of interest to anglers include Imnaha, Minam and Troy.
Major attractions include the Hells Canyon National Recreation Area, Wallowa-Whitman National Forest and Eagle Cap Wilderness.
The area is so stunning, Travel Oregon named it one of the Seven Wonders of Oregon.
Listed alphabetically, here are the best fishing spots in Wallowa County:
Eagle Cap Wilderness lakes
There are a number of lakes in this area that are stocked by helicopter with rainbow trout, and several also have self-sustaining populations of brook trout.
You'll have to hike to most of these. Check out ODFW's map for locations and directions.
Also find some Wallowa mountain lakes in Best Fishing in Oregon's Northeast Zone.
Grande Ronde River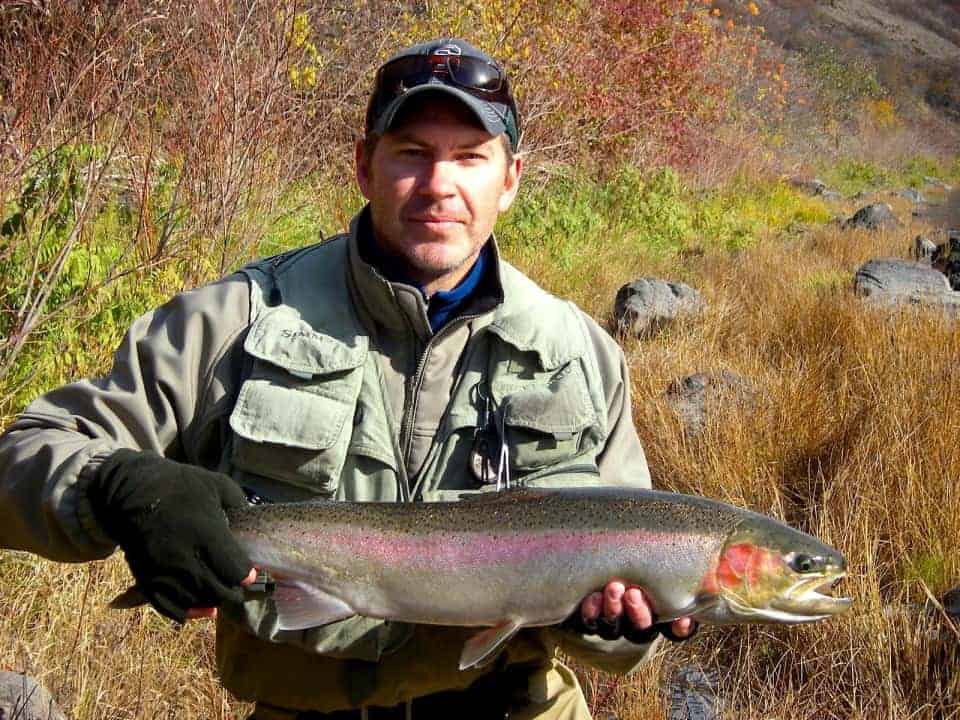 The lower end of this river, which flows into Washington before joining the Snake River, is in Wallowa County and is best known for its large run of summer steelhead, which actually don't arrive in any number until well after the season opens Sept. 1.
Look for the best angling for these ocean-going rainbows to occur around mid-fall, before the weather really turns cold, with some catches coming in through the April 15 closure.
See this article for more out northeastern Oregon steelheading.
If you prefer warmer weather fishing, smallmouth bass are available in good numbers during the summer months, with some of the better fishing from about Troy to the state line.
Watch for the possible short-term openings on the lower river for catches of hatchery (fin-clipped) spring Chinook salmon when run forecasts allow, but otherwise salmon are off-limits.
Also off-limits are protected bull trout and any other wild trout without a clipped fin.
The clipped "trout" are probably juvenile hatchery steelhead.
This river offers some of the best fishing in Northeast Oregon.
More: Fishing the Grande Ronde River
Hells Canyon Reservoir
The lowest of three large reservoirs on the Snake River is most popularly fished for smallmouth bass, crappie, catfish and trout.
We discuss it more in Baker County, which has more of Oregon's access to the reservoir.
Also see: Best Fishing in the Snake River Zone.
Honeymoon and Teepee ponds
These two small ponds provide good angling for stocked hatchery trout in the late spring and early summer, and again after the stocking truck revisits in late September.
Both are about 50 miles northeast of Enterprise in the Wallowa-Whitman National Forest, near Buckhorn Road (46) in the extreme northeast corner of Oregon.
Imnaha River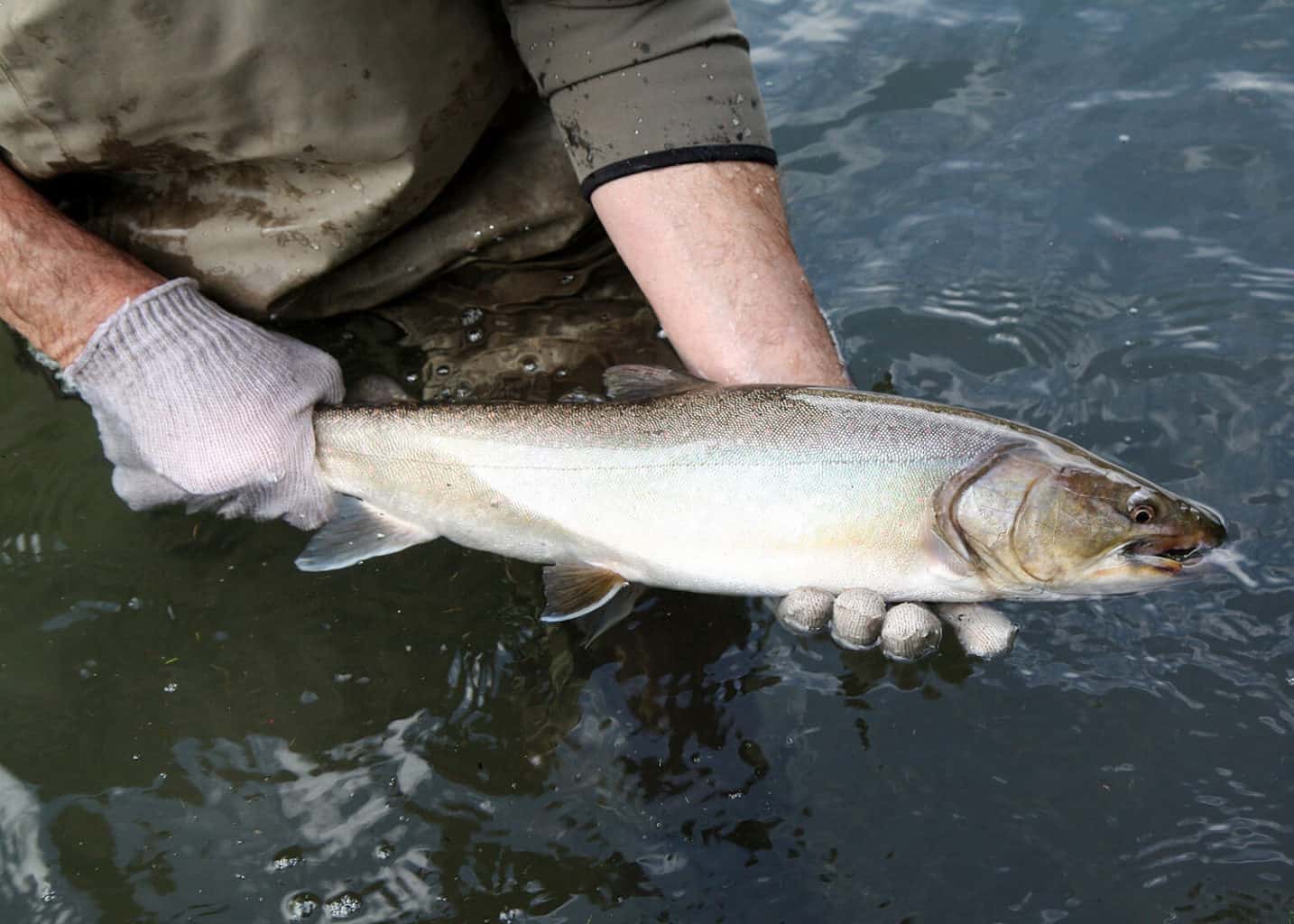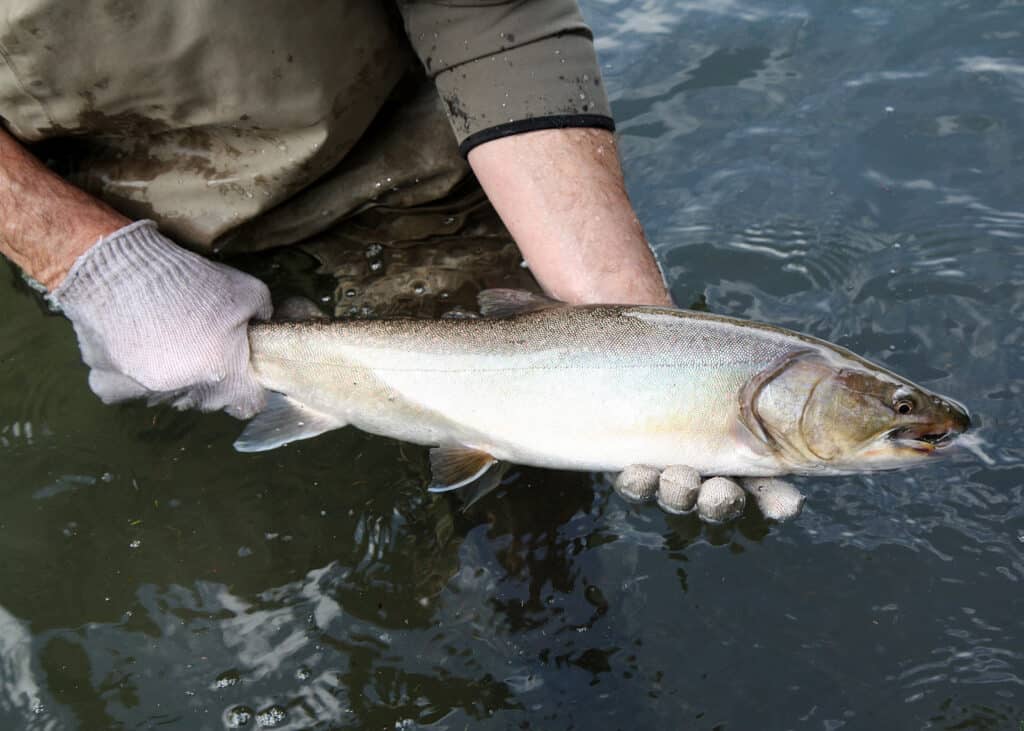 This river is really remote, but it has some pretty decent fishing for hatchery-marked steelhead in the lower river, from Big Sheep Creek down to the mouth at the Snake River.
You may also retain hatchery steelhead in the open part of Big Sheep Creek in season.
Although they are technically summer-run fish, they start arriving in the fall. Sometimes the best catches will occur after the worst of winter begins to break in February and March.
For more on steelhead fishing in this part of Oregon, read this article.
Like several other northeastern streams, the Imnaha also can be opened to spring Chinook fishing under emergency regulations, but watch these closely because closures can come with short notice.
The river also has fishing for trout and whitefish, often higher up. Bull trout can be fished catch-and-release in an area above Big Sheep Creek.
In the summer, smallmouth bass are fun to catch in the lower stretches near the Snake River.
More: Fishing the Imnaha River
Kinney Lake
This 20-acre reservoir east of Wallowa Lake is on private land but open to anglers.
ODFW has been stocking this water generously from about May to July, providing excellent angling during that time of year.
There historically have been too many bullhead catfish here, but let's hope a recent treatment of the lake improved matters.
Fishing from non-motorized craft is now allowed here after previously being prohibited.
Marr Pond
This former mill pond in Enterprise is stocked with hatchery rainbow trout every spring and offers easy angling for beginners.
Fishing is good during this stocking period, usually beginning in April and going to about the Fourth of July.
Surplus hatchery steelhead from the Wallowa River may be planted in early spring when the run allows.
You'll find this small pond (under an acre) at the southwest corner of town, at the end of Marr Pond Road.
Snake River
Wallowa County borders the incredible Hells Canyon, a wild ride of a river once it's set free below Hells Canyon Dam.
For anglers, that dam is a focal point for steelhead and salmon fishing because it's where these large fish come to a migratory halt and bunch up.
Steelhead start arriving in the fall, with numbers building through about Christmas. Angling can continue to be worthwhile through the end of winter.
For more on the region's steelhead fisheries, click here.
Chinook salmon fisheries are a rare option below the dam but only open when big runs are anticipated.
Getting below the dam takes a fair bit of a drive. From Oxbow in Baker County, cross the river into Idaho and then drive along Hells Canyon Road northward for about an hour before crossing back into Oregon over the dam.
There is a fishing deadline below the dam, so be sure you know where it's legal to fish.
In the summer, anglers focus on the river's abundant smallmouth bass, and there also are pretty good chances to catch channel catfish.
You also may keep fin-clipped trout (typically juvenile steelhead).
Access to other areas of the Snake along Oregon's border can be tough. Consider floating it with an experienced river guide.
Also see: Best Fishing in the Snake River Zone.
Wallowa Lake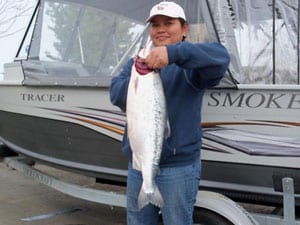 This large and beautiful natural lake in the upper Wallowa River drainage at Joseph (near Enterprise) produces some incredible fishing at times.
Several years back, the kokanee were running so large during a spike in the lake's shrimp population they produced multiple state records and finally a world record for these land-locked sockeye salmon.
While the sizes of these fish have returned closer to normal, catches both in terms of numbers and size can still be impressive. See this article for details.
Wallowa is also an extremely reliable rainbow trout fishery, supported by frequent stockings of hatchery fish during the main season. Check out Wallowa Lake rainbow trout fishing.
Finally, the lake also has Eastern Oregon's best fishing for lake trout, also known as Mackinaw.
These non-natives feel right at home in Wallowa, where they munch kokanee and other prey and grow to sizes pushing almost to 40 pounds. More on catching Wallowa Lake macks in this article.
There are plenty of places to stay (from camping on up to luxury guest homes), launch a boat, and take care of your other needs.
The state park is a popular destination.
For all of the above, we also list Wallowa in the following articles: Best Rainbow Trout Fishing Lakes in Oregon, Best Lake Trout (Mackinaw) Fishing in Oregon and Best Fishing in Oregon's Northeast Zone.
Wallowa River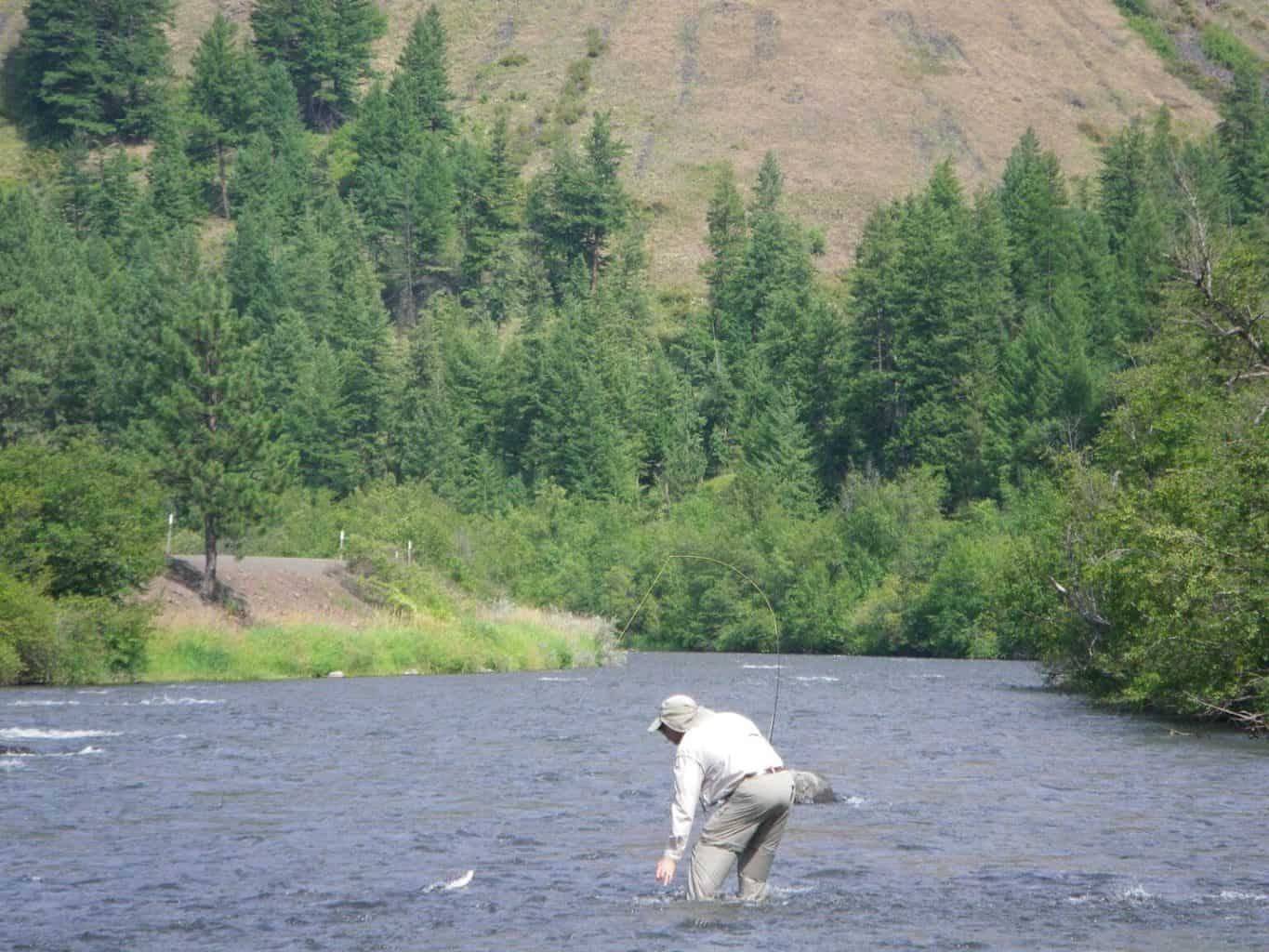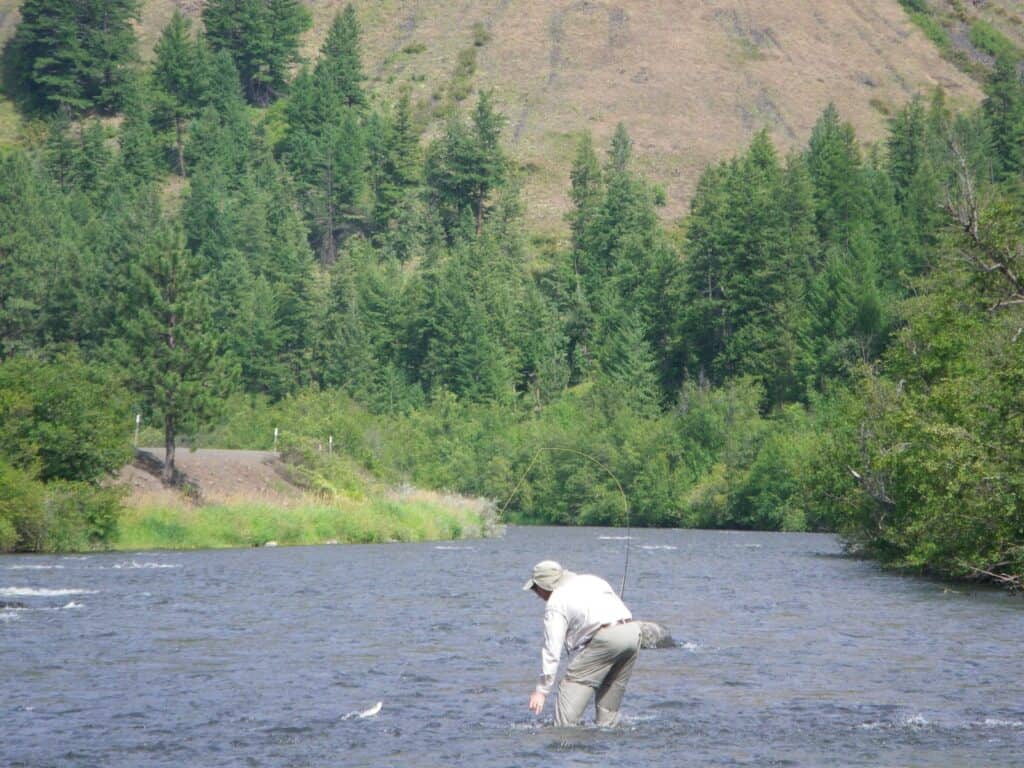 Despite its distance from the ocean, this river can have one of the higher steelhead catches around, thanks to a hatchery program.
While these are technically summer-run fish, angling is open from September through April, with very good catches possible in this river around February and March. See Best Steelhead Fishing in Northeast Oregon for details.
Spring Chinook salmon fishing can be opened under special regulations if the run forecast allows, but it's usually pretty modest here. Learn about regional spring Chinook fisheries here.
There also are fine opportunities to fish for trout, including rainbows and brookies, but take a careful look at fin-clip requirements for retention in the lower river and artificial lure and fly requirements in the upper basin.
Also, major tributaries to the Wallowa River, mainly the Lostine and Minam rivers flowing out of the Eagle Cap Wilderness, have nice trout-fishing opportunities.
More: Fishing the Wallowa River
Weaver and Victor ponds
These are two, easily accessed small ponds just northwest of the town of Wallowa. Both are stocked with trout.
Weaver Pond is stocked a bit earlier (April) and more often, but both get fish during mid- to late spring.
Weaver sometimes also gets plants of surplus hatchery steelhead when the run of the Wallowa River is good.
Weaver is located in the Wallowa Wildlife Area. Turn south off the Wallowa Lake Highway (82) on Lower Diamond Lane, only about three miles from Wallowa.
Victor, which might not be stocked until May, is closer to town, along the highway at Promise Road.
Wenaha River
This is a nice, remote river in the northeastern part of Wallowa County where you can keep up to two trout, as long as they aren't bull trout, which you may catch but must release unharmed.
Below Crooked Creek, you might catch the occasional fin-clipped steelhead that strays in during the fall and winter and may be kept.
Fishing in Neighboring Counties
Baker County: To the south, excellent access to Brownlee Reservoir and other great warmwater angling along the Snake River, plus some excellent mountain trout fishing.
Union County: To the southwest, a mountainous county full of great trout fishing.
Umatilla County: To the northwest, excellent Columbia River angling for many species, great bass and crappie fishing in McKay Reservoir and lots of places to catch trout.
More Fishing Resources:
In addition to other sources, the following websites were very helpful while compiling these county fishing pages, and the information there is valuable to all Oregon anglers.
For current regulations, trout stocking, weekly angling reports and more, find links on the Oregon Department of Fish and Wildlife's Fishing Resources Page.
For boating information about these waters, see the Oregon State Marine Board's launch locator map.
Return to Best Fishing in Oregon page
Oregon Resources
ODFW Weekly Fishing Report
ODFW Trout Stocking Schedule
Oregon Fishing Regulations
National Weather Service