Fly fishing is often referred to as one of the most complicated and most difficult forms of fishing.
While that old adage may ring true for some, the truth is that fly fishing is just as approachable as any form of fishing, as long as you're equipped with the right toolkit of knowledge.
The Pacific Northwest is one of the greatest regions for fly fishing in the country. From steelhead on the Olympic Peninsula to high desert brown trout in eastern Oregon, there's something for just about everyone.
Fly fishing in Oregon and Washington can be tricky if you don't know which flies to use. Being in tune with local patterns and bugs can be the difference between a successful fishing trip and getting skunked.
With that in mind, we've compiled the 13 flies you absolutely need if you're fly fishing in the Pacific Northwest.
This list includes a dozen downright excellent trout flies as well as a handful of some of the best steelhead flies you can tie on for giant sea-run rainbow trout.
The patterns are all perfect for fishing in the best fly fishing spots Oregon and Washington, and a good number of these flies will be staples for fly fishing for trout and steelhead far beyond those state lines.
Jig-Style Pheasant Tail
The traditional pheasant tail is arguably one of the most common and effective flies in the entire world. However, the jig-style pheasant tail is a pattern that excels in the Pacific Northwest due to its ability to avoid snags in the water.
Jig-style pheasant tails are great for trout and steelhead, but bass will go for them on occasion as well.
If you're serious about fly fishing, consider getting all your nymphs (including this pheasant tail) with a tungsten beadhead. They sink about four times faster than traditional nymphs, meaning you can get down to the fish quickly in deep and swift water.
Recommended sizes: 4 to 10 for steelhead, 14 to 20 for trout.
Zebra Midge
The rivers and lakes in the Pacific Northwest are chock-full of midges, making the zebra midge one of the most desirable patterns in this part of the country.
They are particularly effective in tailwaters like the Crooked River and the Owyhee River, where they are arguably the most effective pattern for catching large numbers of fish.
Recommended sizes: 16 to 20 for most rivers and lakes, and 18 to 22 for tailwater fisheries
Green Drake
Some of the best trout fishing in the Pacific Northwest happens during green drake hatches, particularly on rivers like the Metolius and Deschutes.
Though green drakes are very seasonal and usually only show up for a few weeks during select parts of the season, the fishing during green drake hatches is fast and furious.
Recommended sizes: 10 to 16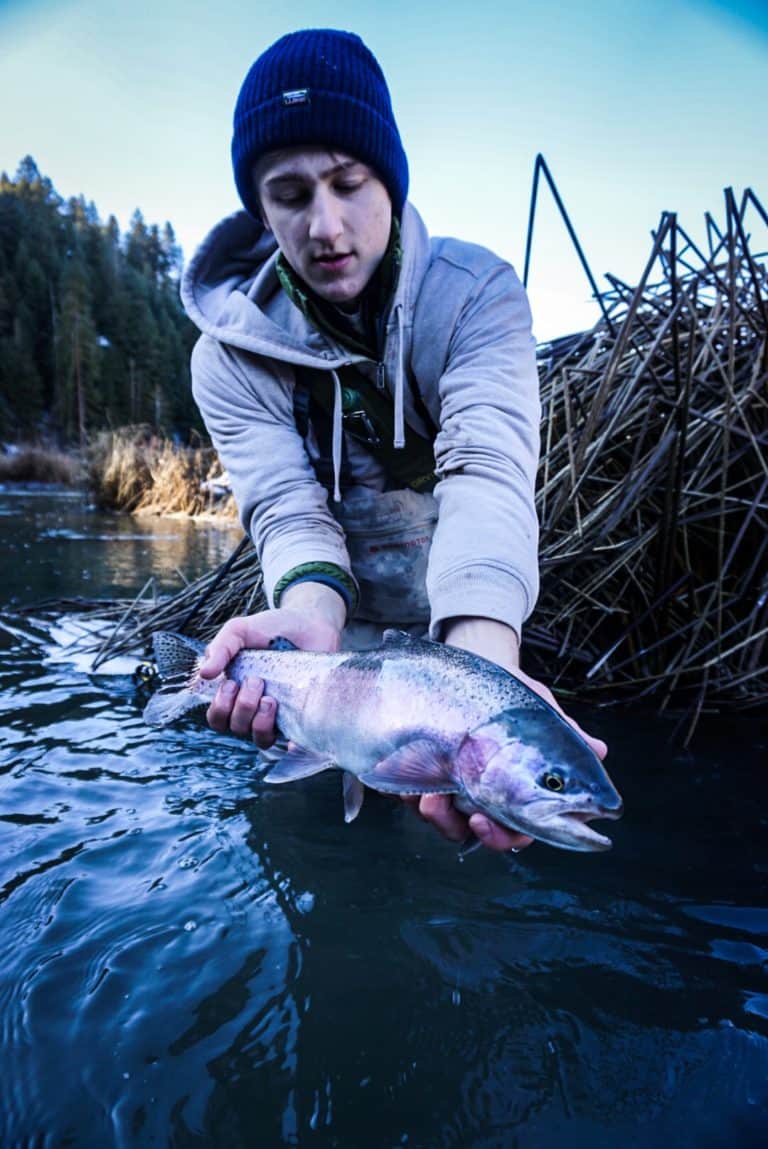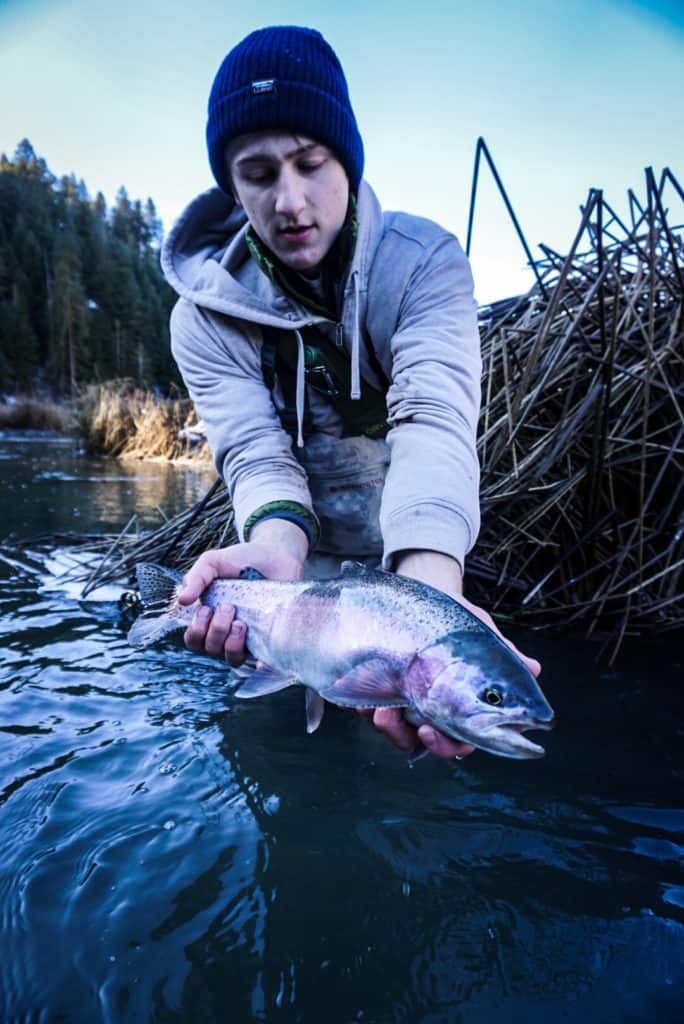 Sculpzilla
The sculpzilla is a particular sculpin imitation that excels in many waters in the Pacific Northwest.
A champion of trout, steelhead, and bass, the sculpzilla is known to catch massive trout. In central Oregon, for example, they're used on the Deschutes to catch some of the biggest trout in the river.
Recommended sizes: 6 to 10
Blue Winged Olive
Blue winged olive patterns are essential if you want to successfully fish dry fly hatches in the Pacific Northwest.
BWOs, as they are commonly known, are one of the most common hatches on many of the most famous rivers in the Pacific Northwest, and the BWO pattern is critical if you're going to have successful days catching wary fish.
Recommended sizes: 16 to 20
Green Butt Skunk
One of the most legendary steelhead patterns of all time is the Green Butt Skunk, which is a battle-tested fly perfect for spey fishermen.
It is one of the most productive patterns for fly fishing for steelhead on the Deschutes River, and it catches its fair share of steelhead up north in the Olympic Peninsula as well.
Put simply, if you're spey fishing for steelhead, you can't go wrong with a green butt skunk in your arsenal.
Recommended sizes: 2 to 6
RS2
The RS2 is one of those sneaky, underrated patterns that you won't hear many fly fishermen talk about, but it catches just as many fish as some of the more popular flies on this list.
RS2 patterns are particularly effective in tailwater stretches; you'll want to fish these in the same places you're fishing tiny zebra midges.
If you're stuck and the fish are being picky, tie on an RS2 – it could turn your day around for the better.
Recommended sizes: 18 to 22
Soft Hackle Pheasant Tail
It seems unfair to have two separate pheasant tail patterns on this list, but a traditional soft hackle pheasant tail is a deadly fly, especially in crystal clear fisheries where fish are ridiculously picky about what they eat.
The soft hackle on this fly makes it look more natural in the current than a standard pheasant tail pattern, and it's a great fly to tie on if fish are being stubborn.
Recommended sizes: 16 to 20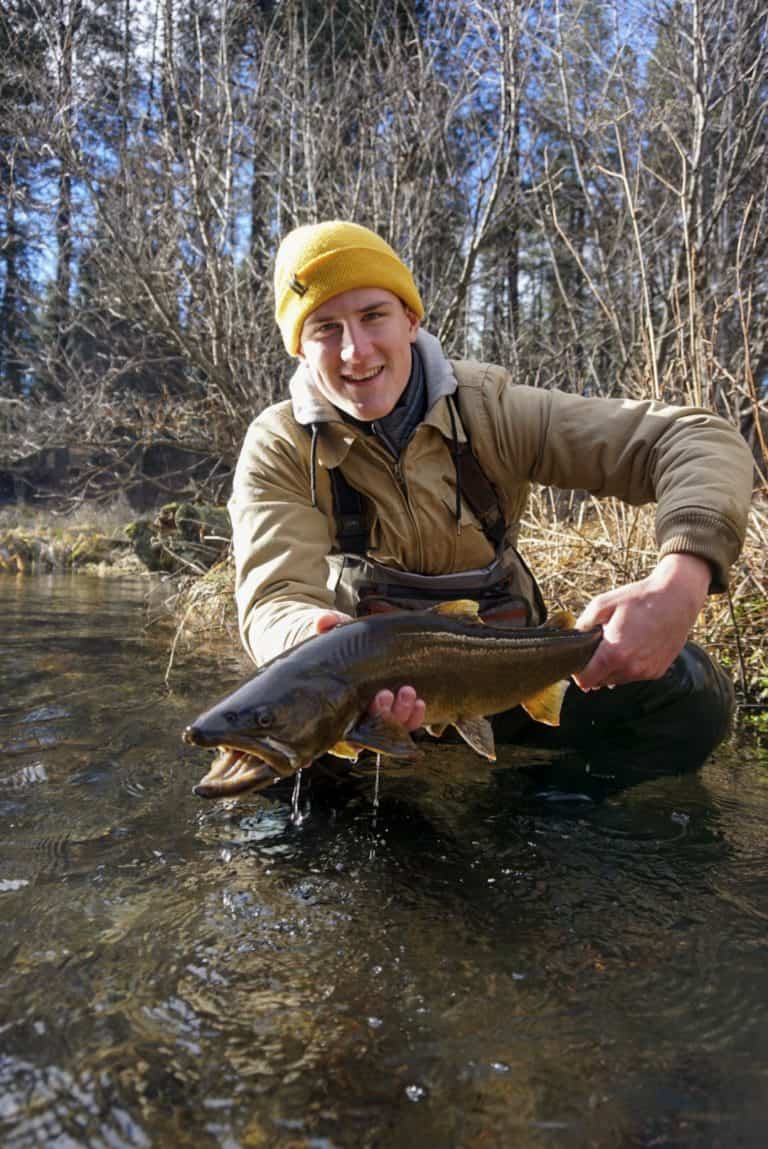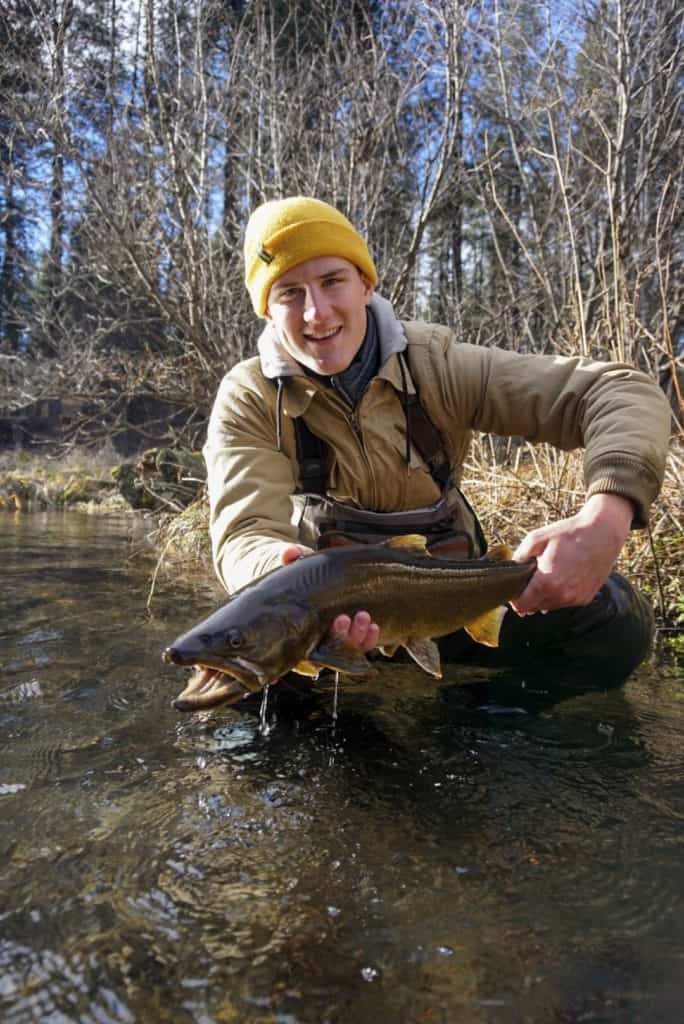 Wooly Bugger
Whether in olive, black, or any other color of your choosing, the wooly bugger is a deadly pattern in the Pacific Northwest.
The traditional version is fantastic for trout, whereas a more complex pattern like an egg-sucking leech is a killer fly for steelhead.
No matter what you're fishing for, the wooly bugger is sure to get some attention, and it's a must-have if you're fishing in the Pacific Northwest. It's a great option to cast and strip in lakes as well.
Recommended sizes: 8 to 14
Egg Pattern
Rivers in the Pacific Northwest see all kinds of fish migration. Salmon and steelhead swim into inland rivers from the coast, and kokanee swim up from lakes into the rivers that feed into those lakes.
All of these annual spawning runs produce eggs, and those eggs are like candy for the fish that choose to feed on them.
Egg patterns work tremendously well for steelhead, trout, and pretty much anything in rivers where there are eggs!
Recommended sizes: 2 to 8 for steelhead, 12 to 18 for trout
Hopper
During the dog days of summer, nothing gets fish to the surface like grasshopper patterns.
They come in all different shapes and sizes, but when it comes down to the wire, any grasshopper pattern is king as summer starts to get hotter.
Almost every single river in the Pacific Northwest is hopper territory as summer begins to drag on, and catching a monster brown trout on a hopper is an experience like no other.
Recommended sizes: 6 to 14
Tungsten Beadhead Frenchie
Euro nymphing has seen a surge of popularity in the United States over the last couple of years, and the tungsten beadhead frenchie has been leading the charge for popularity.
It's strange pink hot spot and pheasant tail-like body don't seem to imitate any fly in particular, but the pattern works just the same.
Frenchies will catch trout and steelhead on pretty much every single river in the Pacific Northwest – go give a frenchie a try!
Recommended sizes: 14 to 18
Micro Mayfly
Mayflies are extremely common all across the country, and that remains true for rivers and lakes in the Pacfic Northwest.
A micro mayfly pattern is particularly deadly for trout in a large number of rivers, and it's the go-to for many anglers, particularly during the summer and fall.
Recommended sizes: 16 to 22
Conclusion
There are plenty of other flies that could easily make this list, but if you're equipped with the 13 here, you should have no problem approaching even the trickiest rivers and lakes in the Pacific Northwest.
Whether you're fishing for bass, trout, steelhead, or something else, these flies are proven to catch plenty of fish!
Now that you know the Pacific Northwest's best flies, try them out in the Best Fly Fishing Rivers in Oregon, Best Fly Fishing Rivers in Washington, and the Best Fly Fishing Rivers in Idaho.
From Carter Reschke: "Born and raised in Oregon, I'm an outdoor enthusiast, fly fisherman, and writer; I love to share adventures one article at a time. When I'm not writing, I'm probably out exploring all that Oregon has to offer."