Source: Carter Reschke
The lower Owyhee River below the Owyhee Reservoir is a beautiful trout stream located in the golden hills of Eastern Oregon.
The Owyhee River's brown trout fishing is so good this stream made our list of Best Fly Fishing Rivers in Oregon.
The lower Owyhee is nearly to the Idaho border. It's about a 7-hour drive from Portland, and you'll probably see as many anglers from Boise and Caldwell as from Oregon.
The majority of fish here are brown trout, which grow to impressive size, but closer to the dam in the area of the bridge there are lots of rainbows.
Most of the rainbows are small, but the Owyhee is famous for its fat "football" rainbows. There also are carp in the river.
Fishing here is allowed all year, but certain seasons stand out. River levels are dictated mostly by releases from the dam, not rain, so the Owyhee is much larger during the summer irrigation season than in spring.
Fishing for the browns is strictly catch and release.
You can keep rainbows, but Reschke says most anglers practice pure catch and release fishing on the Owyhee, and that's what keeps the fishery so good.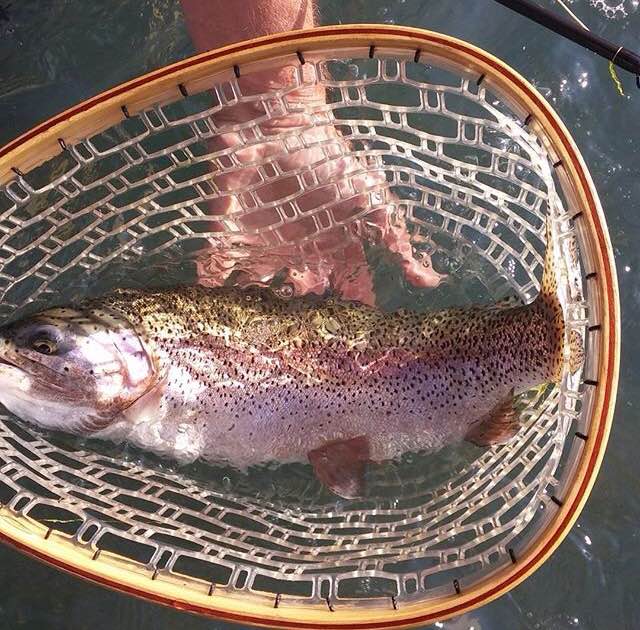 While bait-fishing is allowed under the regulations, Reschke believes the practice "is a terrible idea as it has a high fatality rate and you'll catch both browns and rainbows."
Reschke says that even though the river is open year-round, he avoids fishing the Owyhee from October through December so he doesn't disturb the spawning brown trout.
He says a 5- or 6-weight fly rod is appropriate with no lighter than 5x tippet.
Fish average 18 inches here and they fight, so you need to be prepared with usually 4x leader, but 5x works well also.
Where to fish Trout
The prime stretch for trout fishing on the Owyhee is above Snively Hot Springs up to the dam, a distance of about 10-12 miles through a canyon.
This stretch is upriver from the more agricultural valley below, where trout fishing is poor or worse. Owyhee Lake Road follows the river closely.
Fish will be everywhere throughout this section, but Reschke recommends skipping the long stretches of deep, slow-moving water. Most fish in these "still water" areas are small rainbows and browns, he says.
Instead, focus your attention on riffles and runs with some current. Those areas are easy to find on the Owyhee, and if you don't catch anything within 20 minutes, try somewhere else.
Best Time to Fish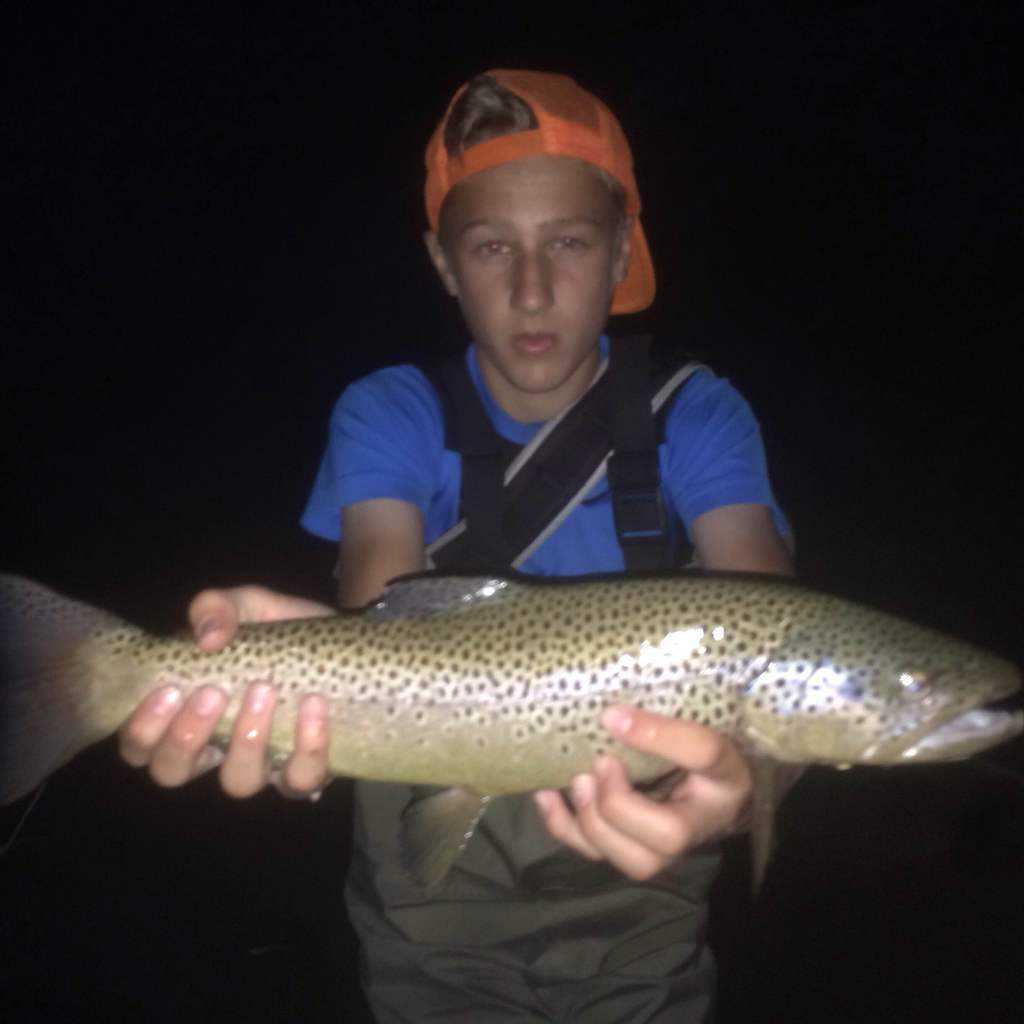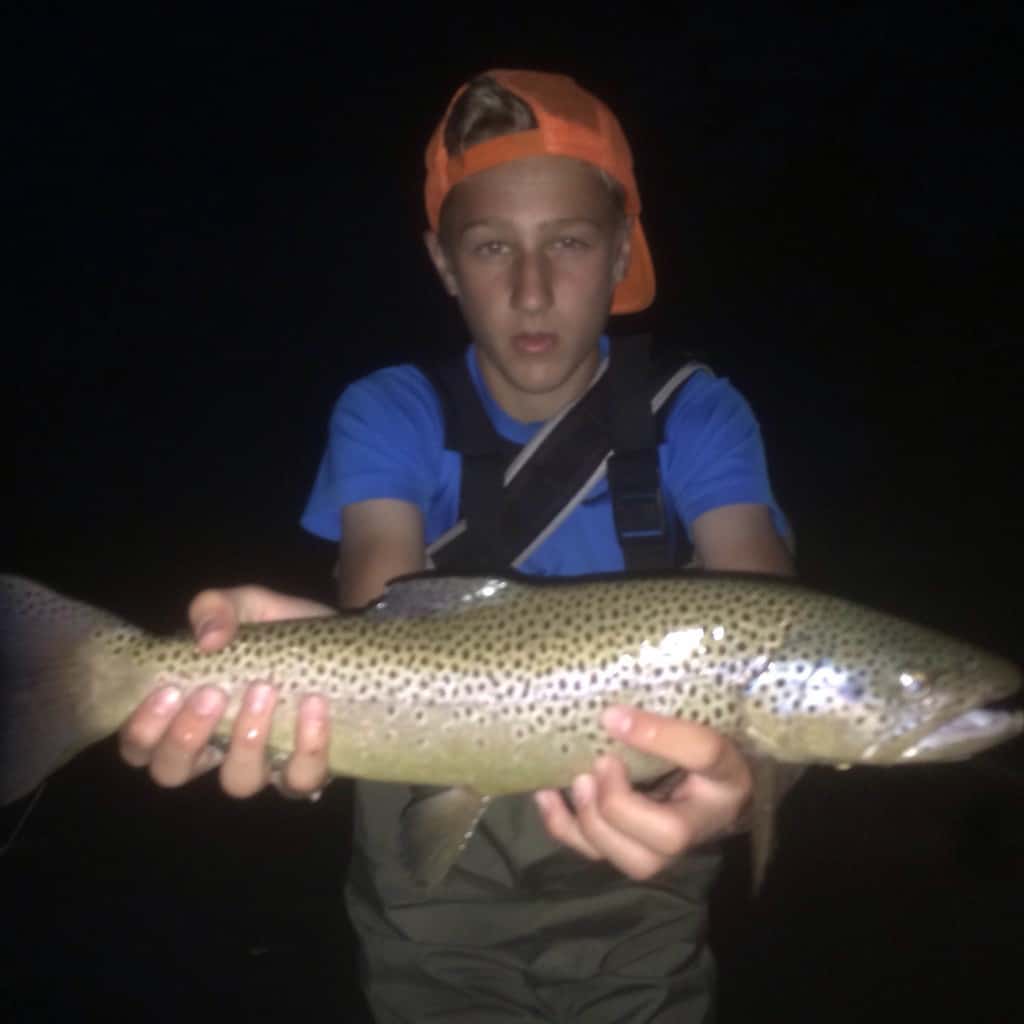 Like most trout streams, the Owyhee has diverse insect hatches, but Reschke says the two favorites are the Skwala hatch that comes off in March and grasshoppers during the summer. Midge nymphs are present all year.
The Skwalas are good-sized stonefly type bugs, but smaller than salmon flies. Patterns are readily available, but come ready with a few common sizes because the hatching insects vary a bit.
The first hatches start by mid-March and can continue into early April. Prime time is late March, often well-timed with Oregon's spring break.
When the Skwalas are hatching and fish are aggressively feeding, it is not uncommon to have 40- or 50-fish days on the Owyhee, Reschke says.
At this time of year, the Owyhee is a small stream as much of its water flow is being stored in the reservoir.
Also, the trout are coming off a long winter, so they will be skinnier in March than later in the year, but they are ready to gorge on insects.
The Skwala hatch is off and on. If you don't see any of the big bugs and the fish aren't hitting them, switch to size 20 zebra midge or pheasant tail nymph patterns.
From July to September, grasshoppers are everywhere on the Owyhee, and hopper patterns are the way to go. Reschke's favorite is the Fat Albert (in tan) from the Big Y Fly Co.
He says most anglers use hopper/dropper setups with a black or red zebra midge about 18 inches under the hopper.
"Browns will smash the hopper so be prepared!" he says. "If they don't hit the hopper, they'll hit the dropper. I've had 50 fish days on this setup."
Oregon Resources
ODFW Weekly Fishing Report
ODFW Trout Stocking Schedule
Oregon Fishing Regulations
National Weather Service
Carter Reschke is a "downright obsessed" fly fisherman from Bend who fishes premier and lesser-known trout streams across Oregon, including long trips to the Owyhee.