Bass might be the most popular game fish in Texas, but crappie hold a special place in the hearts of many Lone Star anglers. Who among us doesn't have fond childhood memories of filling a pail with these scrappy panfish?
Both white crappie and black crappie call Texas home. White crappie, also known as white perch, are most comfortable in muddier lakes and ponds, while black crappie thrive in deeper, clearer waters.
But both species are prized as table fare, and both put up a dogged fight on light tackle.
Sure, you can catch crappie in far more Texas lakes than we'll get into this article, we're confident these spots are among the very best places to catch big crappie, and plenty of them.
In most of the lakes on our list, it's easy to catch your limit of 10-inch-plus crappie on any given day, and many of these lakes are known for producing slabs that measure 15-plus inches and tip the scales at 2 pounds or more.
Crappie offer year-round fishing potential in Texas lakes.
Although early spring is traditionally the time when crappie are easiest to catch—they invade shallow waters in droves to spawn between March and May—there's no season when you can't catch these fish in Texas.
During the summer and winter months, it may simply be necessary to focus on deeper water. Crappies often spend these seasons in submerged brush and trees between 15 and 30 feet.
Live minnows and small jigs are the baits of choice for most crappie anglers, but small spinners, crankbaits and jerkbaits can be effective too.
No matter the season or your tactic of choice, the great Texas crappie lakes we reveal below are all deserving of your attention.
Eight Great Crappie Lakes
The following lakes are simply fantastic crappie fishing lakes. Some of the spots on this list are an easy drive from Dallas, Houston and Austin, while others are a bit farther out from major population centers in Texas.
Granger Lake
Perhaps the most reliable white crappie lake in Texas, Granger Lake is a 4,000-acre reservoir on the San Gabriel River northeast of Austin. White crappie are by far the most abundant game fish in the lake's turbid waters.
Crappie move shallow as early as February, when they start preparing to spawn.
Focus on drop-offs in the 10 to 20-foot range in late February, and follow the fish closer to the bank throughout the following month. By April, it's often possible to catch crappie in as little as one foot of water.
Shallow feeder creeks provide the best bite. The creeks in the upper end of the reservoir are loaded with fallen and standing timber, and willows along the shoreline are usually flooded during times of high water.
Crappie action around all this woody cover can be non-stop on a good spring day.
The best bait is a 1/16 to 1/8-ounce tube jig. There's also a solid fall bite around the lake's many brush piles.
Countless brush piles have been sunk in Granger Lake by local crappie anglers, most of them marked by buoys just below the surface. The best way to locate them is to watch your electronics.
Texas Parks & Wildlife has also placed fish attracting structures throughout the lake, many of them within casting distance of shore. A map of their locations is available here.
The U.S. Army Corps of Engineers operates four parks around the shoreline of Granger Lake. Friendship Park offers arguably the best shore fishing access, while Wilson H. Fox Park provides boat launch facilities, a fish cleaning station and fishing dock.
Granger Lake also is one of the best white bass fishing lakes in Texas.
Sam Rayburn Reservoir
114,000-acre Sam Rayburn Reservoir is the largest lake entirely within the state of Texas. And it's always been known for kicking out slab crappies in great numbers. It's also a great lake in which to target crappies outside of their typical "peak" season.
That has a lot to do with Sam Rayburn's status as a trophy largemouth bass lake. You can certainly catch a mess of crappies by beating the banks in early spring, but Sam Rayburn Reservoir is also swarming with bass boats this time of year.
When Sam Rayburn Reservoir's crappie fishery really shines is from post-spawn through fall, when crappies congregate around deep and mid-depth brush piles. Think 12 to 24 feet.
Like a lot of East Texas crappie lakes, local anglers and fishing guides have sunk countless brush piles in Sam Rayburn Reservoir. If you can find them, you'll find crappies, although the best brush changes with the seasons.
The most productive brush piles tend to be right along the creek channel. If you find a marker buoy, keep in mind that there may be peripheral brush piles around the one that's marked, and you never know which one will hold the most fish.
Also worth noting is that white crappies are most common in the upper third of Sam Rayburn Reservoir, where the water is more stained. Black crappie are most common in the clearer lower third, and the middle part of the lake contains a mix of both species.
There's still a lot of timber in some of Big Sam's creek arms too. The U.S. Army Corps of Engineers operates more than a dozen parks and access sites around the shoreline.
Sam Rayburn Reservoir, also among of the best bass fishing lakes in Texas, is about an hour and a half north of Beaumont and a bit over two hours heading northeast from Houston.
More: Complete Guide to Fishing at Sam Rayburn Reservoir
Lake Limestone
Located about an hour east of Waco, Lake Limestone is very much an under-the-radar crappie lake, and a great place for anglers to beat the crowds. Visit on a weekday, and you might feel like you have the whole lake to yourself.
A reservoir of around 12,500 acres on the Navasota River, Lake Limestone is fairly shallow, and the water tends to be stained. White crappies are the target here, and catch rates in recent years have been some of the highest on record.
In spring, head to shallow water in coves and the backs of creeks to target spawning crappies. A lot of fish will be in 2 to 5 feet of water from late March into April. Throughout the rest of the year, the best tactic on Lake Limestone is to focus on timber.
During late winter when crappie are just easing into pre-spawn mode⁠—and during summer after they've spawned out⁠—timber in 10 to 20 feet of water can yield huge catches.
Standing timber in Lake Limestone tends to exist in patches across most of its coves and creek arms. In many places, a single isolated tree can be productive for days. Often the biggest crappies will school together a bit deeper than the little guys.
Lake Limestone also has a couple of significant power line crossings, and local anglers like to target crappies around the pillars. Targeting boat docks can be productive too, especially in spring.
Four public use areas are available around Lake Limestone; two operated by the Brazos River Authority and two operated by Limestone County. Limestone County Parks #2 and #3 offer free camping, shore fishing access and boat ramps.
Toledo Bend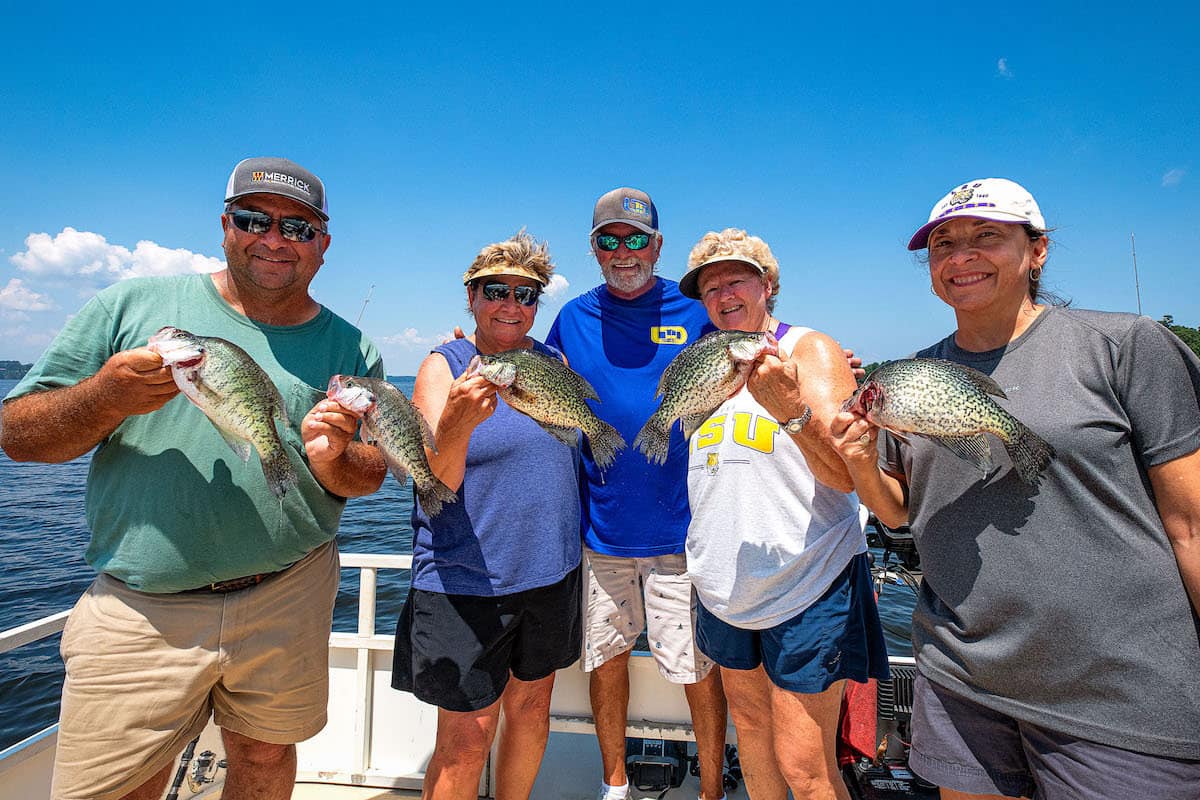 There's no place quite like Toledo Bend Reservoir.
A vast, sprawling impoundment that spans over 181,000 acres on the Texas/Louisiana border, Toledo Bend is easily one of the best fishing lakes in either state, and not just for crappie, but for bass, catfish and bluegill and sunfish as well.
T-Bend is a beast. The 4-pound Texas state record black crappie was caught here in 2002, and it's among a handful of lakes that could conceivably be labeled "best crappie lake in the world."
But with so much water to choose from, where does one even begin?
The best spot is probably the section of the lake known among local crappie connoisseurs as the Chicken Coop. This 2-mile stretch gets its name from the commercial chicken houses that once lined the ridge above the lakeshore.
The key feature of the Chicken Coop is the Sabine River channel, which swings close to the bank for an extended stretch, dropping off rapidly to a depth of over 80 feet. There are crappie here practically year-round, the main variable being depth.
The Chicken Coop is located about 4 miles above the Pendleton Bridge, in the mid-lake area on the Texas side. The Carrice Creek Boat Ramp is a good place to launch nearby. 
Keep in mind, though, that the Chicken Coop is far from the only great area for crappie fishing on Toledo Bend. The lower end of the lake features clearer water and a tremendous population of black crappie that go relatively unnoticed.
The South Toledo Boat Launch is a good starting point on the lower lake. Black crappies down here tend to be a little deeper throughout much of the year.
On the flip side, the Chicken Coop really shines in late winter and early spring as white crappies make their way toward the bank to spawn.
More: Complete Guide to Fishing at Toledo Bend Reservoir
Lake Arrowhead
Just shy of 15,000 acres, Lake Arrowhead is a white crappie powerhouse in North Texas. Just a few miles outside Wichita Falls, it's easily the top crappie lake in this part of the state.
Spring is prime time here, and it's fair to expect a lot of competition for the best fishing holes on weekends from February through April. That being said, this lake offers a lot of prime cover, including some man-made structures that offer unique fishing opportunities.
Crappies invade shallow water in tremendous numbers during the early spring months, and there's great fishing around boat docks, along rip-rap shorelines, and under the lake's several bridge crossings.
There are also several oil derricks—remnants of old oil wells that were capped and sealed before the lake was built—that extend well above the water's surface and provide great fish cover.
The water in Arrowhead lake is usually moderately stained, with visibility of just a foot or two.
A lure with a little flash is always a good idea here, and live minnows tend to be favored by local anglers. Try a skirted jig tipped with a minnow, or a jig/spinner combo like a Beetle Spin or Road Runner.
There's a lot of excellent bank and boat access around the lake, most notably at Lake Arrowhead State Park, which spans over 500 acres and includes boat ramps, a fishing pier, fish cleaning station and campground.
Texas Parks and Wildlife has also sunk numerous fish attractors in Lake Arrowhead, most of them right around the state park area of the lake. This map of their location is a great resource for anglers.
Lake Conroe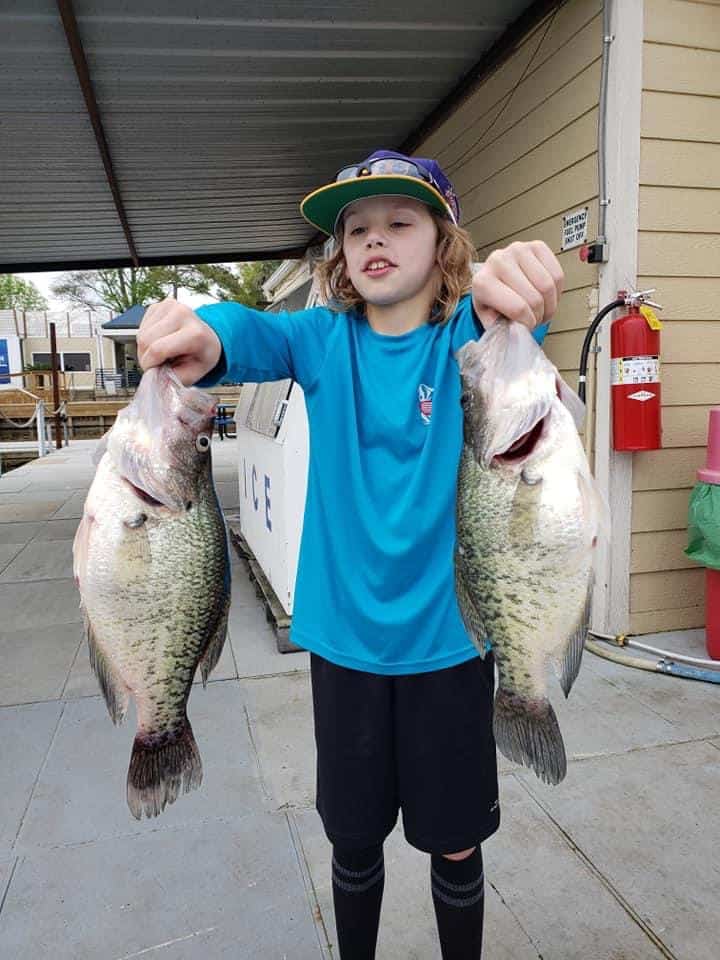 A 20,000-acre reservoir north of Houston on the West Fork of San Jacinto River, Lake Conroe is a reliable Southeast Texas crappie powerhouse. It's a large lake with numerous creek arms and inlets, providing plenty of options for crappie anglers.
Lake Conroe is mostly a numbers lake for crappie. Trophy size fish are rare, but you can really clean up if you're targeting keepers for the table. Black and white crappie are both abundant.
There's some standing timber along the creek channel in the upper reaches of Lake Conroe (the area encompassed by Sam Houston National Forest). These are great places to target in early spring. Try trolling in the creeks with a Road Runner jig.
But the majority of the main lake is noticeably lacking in natural cover. For crappie anglers, the key to success usually lies in targeting manmade structures.
That could mean seeking out brush piles, untold numbers of which have been sunk by local crappie devotees and marked by slightly-submerged buoys at various depths. Look for brush piles in 15 to 25 feet in winter and summer, and switch to shallower cover in spring.
Wear polarized sunglasses when scanning for buoys, and look for the ones that are covered in green algae growth to indicate they've been there a long time.
Lake Conroe also has an abundance of boat docks, boathouses and bulkheads that can hold crappie in spring. The Route 1097 Bridge Crossing is also a productive area.
The FM 830 Launch Ramp is a good place to launch, and there are also several privately owned marinas around the lake.
Lake Conroe also is among the best largemouth bass fishing lakes in the greater Houston area.
More: Complete Guide to Fishing at Lake Conroe
Lake Fork
There are a lot of great crappie lakes in Northeast Texas, but few that can match Lake Fork. This 27,000-acre Sabine River impoundment is about 90 minutes east of Dallas, and offers year-round crappie options.
We all know Lake Fork as one of the top trophy bass lakes in the Dallas-Fort Worth area and all of Texas, but it also produces some serious slab crappies. Few lakes give up more crappies weighing 2 pounds or more.
Black crappies are the dominant species here, but there are solid numbers of white crappie as well.
Most years, crappie in Lake Fork start to head shallow right around the time February turns to March. By late March, it's easy to load up on big crappies around docks, brush piles and the standing timber that dots many of Lake Fork's creeks and coves.
This is also a great winter crappie lake. Most local experts focus on deep water near the dam in January and February before the fish start moving toward the shallows. Look for timber and brush in 15 to 20 feet of water.
It's also worth keeping in mind that crappie will seek out the warmest water available in late winter and early spring. A stretch of unseasonably warm days in February can trigger crappies to move to depths less than 5 feet.
There's also a great post-spawn bite around bridge pilings. Lake Fork has several major bridge crossings, and they're great places to target crappies during late spring and fall. Try trolling or casting with crappie jigs or live minnows alongside the bridges.
Launch at the Highway 154 Ramp or the Highway 155 East Ramp for easy access to a couple of the lake's most productive bridges. Both are free public launch ramps.
More: Complete Guide to Fishing at Lake Fork
Lake O' the Pines
Spanning over 19,000 acres in the Piney Woods region of East Texas, Lake O' the Pines is a crappie factory that puts out incredible numbers of fish.
There are some real monsters in there too. It's possible to catch a limit of 15-inch-plus crappies on a good spring day.
Things can sometimes get moving a little late in this lake. Crappie may not spawn until late April or even May some years. Once they do, practically any cove can yield a livewell full of crappies.
As much fun as it can be to fish during the traditional peak season, Lake O' the Pines is also a phenomenal winter crappie lake.
The Route 155 Bridge is a prime spot in late fall to early winter, as crappies congregate around the bridge at 20 to 30-foot depths.
Come December and January, the bite really picks up in the lower lake.
The span from Johnson Creek and the dam is routinely productive this time of year, with huge schools of crappies gathering close to the channel edge at 25 to 35 feet.
A jig tipped with a minnow is impossible to beat this time of year.
A lot of timber was left in Lake O' the Pines when the lake was built. When the water starts to warm up a bit from late winter into early spring, crappie will start to stage around trees leading into spawning coves.
Johnson Creek Park is a great place to launch close to the lower end of the lake, with a fishing pier and boat ramp on a productive cove.
Up near the Route 155 Bridge, Cedar Springs Launch Ramp is another excellent launch site, though with more limited bank fishing access. 
There are some special regulations to watch out for on Lake O' the Pines. One we'll point out is that from December through February, anglers are required to keep the first 25 crappie they catch, regardless of size.
Honorable Mentions
Crappie are pretty much everywhere in Texas. So don't write off these honorable mention lakes just because they don't have the same name recognition as some of the heavy hitters listed above.
Any one of the following lakes can host an amazing day on the water leading directly to an amazing fish fry back on land.
Lake Livingston
Located about an hour north of Houston, Lake Livingston is a massive 90,000-acre reservoir on the Trinity River.
It's a lake that is, arguably, not the great crappie fishery that it once was. But don't let that put you off. There's still a lot of potential here.
Lake Livingston's water is usually quite turbid, and the lake has a ton of cover (manmade and otherwise). White crappie thrive here. The trick is finding them, and the easiest time to do that is during the spring spawn.
Crappie invade Lake Livingston's creeks from April into May.
On this particular lake, it's usually best to eliminate the shallower creeks right off the bat. Look for feeder creeks that offer 10 to 15 foot depths. Lake Livingston heats up fast, and crappies can comfortably stay in deep creeks longer.
The Kickapoo Creek Arm of the lake is one of the safest bets, and crappie often stack up around the Highway 190 Bridge as they head toward spawning sites in the back of the creek. Tigerville Park is a good place to launch nearby.
Lake Livingston also earned its reputation as one of the best catfish fishing lakes in the Houston area and also makes our list for best striped bass fishing in Texas.
And as you search around cover for crappie and bass, just be aware one of those logs may start swimming away … because the Trinity River and Lake Livingston have some of Texas' biggest alligator gar.
Coffee Mill Lake
Don't make the mistake of thinking only big lakes contain big fish. Coffee Mill Lake is a 650-acre speck compared to most of the lakes on this list. But it offers some of the best crappie fishing in North Texas, a stone's throw from the Oklahoma state line.
White crappie are the more abundant species here (though some black crappie are around too) and they bite readily on jigs and minnows.
The water tends to be stained, and crappies will come right up to the bank to spawn, especially in areas with flooded water willows.
During the pre-spawn and post-spawn periods, the best fishing is in the series of submerged brush piles in the lower end of the lake near the dam. It's common to see a dozen or more boats here on the weekends.
Coffee Mill Lake is located within Caddo National Grassland, and its shore is entirely undeveloped except for the dam itself and a single boat ramp at Caddo Lake Recreation Area.
You can also cast from the dam, which has some of the best bank fishing on the lake.
White Rock Lake
An urban fishing hole in the heart of Dallas, White Rock Lake is a great crappie fishing option for city dwellers.
At just over 1,000 acres, the lake is primarily fed by White Rock Creek, and it's not hard to find crappies when they move up toward the creek in springtime.
This lake harbors big, healthy white crappie in excellent numbers. They'll congregate along the upper shoreline in springtime.
There's also a great fall bite here. When the water cools off, crappies will head back up toward the creek mouth chasing schools of shad.
White Rock Lake has several parks along the shore that offer excellent bank fishing access just 20 minutes northeast of downtown Dallas.
There's also a footpath known as the White Rock Lake Trail that encircles the entire lake, so you can get to some great out-of-the-way spots if you're willing to hoof it.
White Rock lake also has a 10 horsepower limit on boats, which makes it a quiet lake, and a perfect place to fish from a jon boat or kayak.
Big Thicket Park, near the upper end of the lake, has ample parking, a fishing pier, and a launch suitable for small craft.
Twin Buttes Reservoir
West Texas doesn't have nearly as many crappie options as east Texas does, but Twin Buttes Reservoir is probably the westernmost of Texas' great crappie lakes.
This 9,000-acre reservoir near San Angelo has produced exceptional catches in recent years.
Angler surveys show Twin Buttes Reservoir has great numbers of keeper crappies, many of them measuring around 14 inches.
There are also lots of small fish, indicating that reproduction is good and the fishing should be solid for years to come.
Cover is limited in this lake, so the best tactic is usually to focus on structure like humps and creek channels.
When crappie head shallow in spring, the rip-rap face of the dam is a good place to target. If the water is up, look for flooded shoreline vegetation.
Twin Buttes Reservoir is surrounded by public hunting lands. Texas Parks & Wildlife maintains the property and provides launch facilities on the lake.
A special use permit (available anywhere Texas fishing and hunting licenses are sold) is required to access the water.
Lavon Lake
A 21,000-acre reservoir on the northeast edge of Dallas, Lake Lavon is a great close-to-home crappie lake.
As a crappie fishing lake, Lavon is known more for numbers than for size. Even so, there are plenty of keeper white crappie here, as well as a more limited black crappie population.
Anglers find success here in winter by targeting deep structure along south-facing shorelines. Dock and boathouse fishing can be productive too. Many locals have sunk brush piles under docks.
There's also a lot of good submerged timber in the Sister Grove/Pilot Grove Creek arm. This arm offers some particularly great spring crappie opportunities as the fish start to head toward the shallows.
The Route 380 bridge crossing is a productive spot on Sister Grove/Pilot Grove Creek arm. Nearby Twin Groves Park (one of more than a dozen Corps of Engineers parks around the lakeshore) has some great shore access as well as launch facilities.
Lake Lavon also happens to be one of the best catfish fishing lakes in the Dallas-Fort Worth area.
Lake Daniel
Located about an hour northeast of Abilene, or about twice that drive time heading west from Fort Worth, Lake Daniel has seen an explosion in crappie populations in recent years.
At 950 acres, Lake Daniel a small lake that isn't as well known as most on this list, but it remains one of the best options in this part of the state.
Recent surveys by Texas Parks and Wildlife have shown a huge abundance of white crappies here, including lots of 10- to 15-inch fish.
Crappie-holding cover includes brush at a variety of depths, along with abundant vegetation and shoreline willows.
Water levels are the wild card at Lake Daniel. A year in which there's high water in springtime allows crappie to reproduce more easily, and a banner crappie fishing usually follows.
Most of the lakeshore is undeveloped. The state-operated access site near the dam is your best bet for access, offering boat ramps, shore fishing and campsites.
Water level, again, is an important consideration when it comes to boat access, as the ramps can become unusable at 10 feet below full pool.
Coleto Creek Reservoir
Way down in South Texas, Coleto Creek Reservoir is an off-the-beaten-path crappie lake just outside Victoria.
Located within the Guadalupe River Basin, about two hours from either San Antonio or Houston, the lake spans 3,100 acres, and its waters support outstanding populations of both black and white crappie.
Coleto Creek Reservoir has a lot of shallow brush where crappies congregate in spring, especially in the Payton Branch and Sulphur Creek Arm. After the spawn, shift your focus to deeper timber along the main creek channel.
The water in Coleto Creek Reservoir is generally fairly clear, with the exception of the creeks, which are more stained. Small jigs including tubes and marabou are very effective, and live minnows will tempt crappies when all else fails.
Texas Parks & Wildlife has placed fish habitat structures in the lake, and this map to their locations can be a handy tool.
The best bank and boat access is at Coleto Creek Park, which includes a four-lane boat ramp and 200-foot lighted fishing pier.
Proctor Lake
Located about 90 miles southwest of Fort Worth, 4,500-acre Proctor Lake is a solid crappie fishery that has been producing great numbers in recent years.
As with many lakes, crappie populations can be somewhat cyclical here, but numbers never seem to decline too wildly.
Black and white crappie are both present, with the latter being more abundant. They get fat on the lake's ample population of small gizzard shad, and most local anglers favor live shiners as bait.
The best fishing is in spring, especially if the water is high. Proctor Lake has a lot of standing timber and willow trees in the upper end, and even more shoreline brush becomes inundated when the water is up the banks.
In low water years (and during the dry summer months) the fish habitat structures placed by Texas Parks & WIldlife in deeper water can be prime targets.
The Corps of Engineers operates parks with boat ramps at Sowell Creek, Copperas Creek and Promontory Park.
Navarro Mills Lake
Navarro Mills Lake is a 5,000-acre reservoir between Waco and Corsicana, and within comfortable reach driving south from Dallas. It was impounded in 1963, and produced Texas' long-standing game fish record for white crappie in 1968.
These days, Navarro Mills Lake isn't exactly known for producing fish like that 4.56-pound slab. But it still puts out great numbers of white crappie, including plenty of good-sized fish measuring 12-plus inches.
The water here tends to be quite muddy, and the best bet for crappie anglers is to target the flooded timber at the north end of the lake in late winter to early spring. Vegetation is sparse, so woody cover is often the only game in town.
Crappie are also caught around the marina and around brush piles that have been sunk by local anglers.
Shore access, boat launch facilities and campgrounds are available at Wolf Creek Park.