Catfish are everywhere in Texas. From vast impoundments spanning tens of thousands of acres to unnamed farm ponds, it would be impossible to name all the great catfish waters in the Lone Star State.
Of course, we're not going to let that stop us from trying. The 15 lakes listed here represent your best bets for catching catfish in Texas.
Overall, the best time to be out fishing for catfish is spring. Catfish spawn at various times from March through May in different parts of Texas, and this is the most reliable time to find them close to the bank in 10 feet of water or less.
In summer, catfish mostly spend their days a little deeper, but often return to the shallows to feed at night.
Catfish have sensitive eyes, and they prefer to reside in turbid waters and avoid too much direct sunlight. They also hunt using their senses of smell and taste much more than eyesight.
Texas Catfish Species
Texas lakes are home to three major species of catfish with great interest to anglers: channel catfish, blue catfish and flathead catfish.
Channel catfish are the most common. They typically weigh just a pound or two (just the right size for a fish fry) but are capable of surpassing 10 pounds. They're also the easiest to catch, biting readily on smelly, natural baits including chicken livers, nightcrawlers, shrimp and various dough baits and stink baits.
Blue catfish are the giants of the catfish family, capable of topping 100 pounds. Ther'ye usually caught using cut bait like shad, perch, bluegill, or whatever their native forage may be in any given lake. Blue cats bite year-round, but they're more active in late winter and early spring then other species.
Flathead catfish, also known as yellow catfish to some Texas anglers, are the apex predators of the catfish family. They're more likely to bite a live baitfish, and favor warmer water than other catfish species. Flatheads can grow to well over 50 pounds, and are often caught on summer nights in many of these Texas catfish lakes.
Texas also is home to a several other types of catfish, including the ubiquitous bullheads and a couple other species that fewer anglers pursue.
Must-Fish Catfish Lakes
If you want to fish the best spots in Texas, the following lakes have the very best catfishing.
Lake Texoma
A vast impoundment of the Red River, Lake Texoma spans more than 74,000 acres on the Texas-Oklahoma border. It's long been known as an incredible fishing destination, particularly for massive blue cats.
State record blue cats for both Oklahoma and Texas have been pulled from Lake Texoma. The latter, weighing a monumental 121.5 pounds, was also the world record for a time. The lake offers no shortage of channel and flathead catfish either.
Jug-lining with live or cut shad in deep water is a popular tactic for massive blue cats on Lake Texoma (the lake has a huge gizzard and threadfin shad population). The biggest blues are usually caught from January through March.
Setting a jug line here can be a large-scale operation involving teams of anglers, but plenty of big blue catfish are caught using good, old-fashioned hook-and-line techniques too.
The upper end of the main Red River Channel and other major creek channels are good places to drift live or cut shad.
When the water is warmer in spring and early summer, try fishing at night with cut bait in shallower coves and creek mouths. Some big blue cats and even a few flatheads are caught this way.
Of course, if all you really want is to catch a mess of channel cats for the table, you can do that almost any time of year.
The best time for numbers is spring, when channel catfish invade the many feeder creeks that empty into the lake.
Shad innards are used as bait by many local anglers in the spring, but cut shad seem to become more effective as the weather warms up in summer.
Lake Texoma has a massive shoreline with dozens of boat ramps and ample bank access. A couple of the best areas to fish from shore for catfish are Eisenhower State Park and Hagerman National Wildlife Refuge.
Lake Texoma is one of those places where you can catch just about everything, from smallmouth bass to stripers.
More: Lake Texoma Fishing
Lake Livingston
Lake Livingston is a huge reservoir on the Trinity River that encompasses approximately 90,000 acres. The place is simply loaded with catfish, although it's known more for numbers than for size.
About 50 miles north of Houston, Lake Livingston is relatively shallow despite its massive size, and the water tends to be fairly murky. That's not a bad thing for catfish.
Lake Livingston has two things that make it a perfect catfish lake: abundant forage, and a tremendous amount of natural cover at various depths. The upper end of the lake where the Trinity river enters is especially productive.
There's an area in the upper lake known as "the Jungle," which is an especially outstanding spring fishing spot with a variety of flooded timber and brush.
This is a lake where catfish can be caught pretty much any time of year. Try drifting over the main river channel, and in tributaries and creeks that merge with the main river channel using live or cut bait.
During the summer months, the biggest fish are caught along deeper parts of the channel. Try drifting cut shad, or anchoring over the channel and fishing vertically.
Shore fishing shallower coves and creek mouths is better at night. Try from the bank in Lake Livingston State Park.
Lots of folks come here to load up on smaller channel catfish for the table. But there are huge fish in Lake Livingston, including some trophy-size blues and yellow cats. The biggest ones are usually caught by setting trotlines.
Lake Livingston is known among Texas anglers for its generous bag limits on catfish. The limit for channel and blue cats is 50 in any combination, no more than 5 of which may be 30 inches or longer.
However, note that state officials recommend that people limit the consumption of blue and flathead catfish.
All in all, Lake Livingston is one of the best catfishing lakes close to Houston. Not surprisingly, it's also a good place to catch bass and crappie. Maybe a little surprisingly, you also can tangle with a 6-foot alligator gar in these waters.
Lake Tawakoni
A lake that has been officially dubbed the "Catfish Capital of Texas," Lake Tawakoni is an impoundment of over 37,000 acres on the Sabine River and Caddo Creek, within a comfortable drive of Dallas.
Lake Tawakoni has earned its moniker well. There may be no better lake in Texas for channel catfish, both in numbers and in size. As the 29.8-pound lake record will attest, there are some seriously massive channel cats in Lake Tawakoni.
Blue cats are common as well, and trophy-size blues are most often caught during winter. Flathead catfish are present in limited numbers.
The upper portion of the lake is dominated by coves fed by creeks and streams, and these are great places to target channel cats year-round (but especially in spring and fall).
Lake Tawakoni State Park offers ample fishing access for bank and boat anglers alike.
Local guides keep specific catfish holes productive on this lake by consistently baiting them with maize and caked livestock cubes. That's a good way to ensure 100-fish days, but you don't have to do that to catch a mess of catfish here.
When the water is high in springtime, a lot of catfish head toward flooded shallow vegetation in coves like Wolf Creek, and the best fishing is among or just outside the flooded willows and cattails.
In summer, catfish transition toward deeper stump fields along the river channel at 12 to 20 feet.
Tawakoni is just over an hour east of Dallas, and in addition to all those channel cats it's known as one of the best blue catfish lakes in this part of the state. Obviously, you're going to find Lake Tawakoni on our list of best catfish fishing lakes near Dallas-Fort Worth.
Trolling with freshly-caught gizzard shad is a popular tactic here, especially during cooler weather. Many local guides employ a drift sock to beat the wind while drift fishing.
Choke Canyon Reservoir
One of the southernmost major Texas fishing lakes, Choke Canyon Reservoir is a 25,000-acre lake on the Frio River watershed, between San Antonio and Corpus Christi.
Largemouth bass are the more popular species here, and it made our list of best largemouth bass fishing lakes in the San Antonio area. And the reservoir and the Frio River spilling into it also made our list of best white bass fishing spots in Texas.
But don't be too distracted, because this lake also is loaded with catfish.
Texas Parks & Wildlife surveys show that blue catfish are the dominant catfish species in Choke Canyon Reservoir, with channel cats second and flatheads bringing up the rear.
As is the case in many lakes, anglers here employ jug lines and trotlines for big cats.
Cut shad, perch and small bluegill are all bait options for jug lines. And while some of the biggest catfish are caught this way, there are plenty of opportunities for rod-and-reel fishing too.
A major key to finding catfish on Choke Canyon is to look for cormorant roosts. These fish-eating birds commonly roost in trees that overhang the water, and their droppings are like natural chum for catfish. Just don't look up while you're fishing.
Big blue cats seek deep water during the heat of summer before transitioning towards the shallows in fall. From October into December, look for catfish around ledges between 12 and 15 feet during the day, and on adjacent flats at night.
This is a great lake to fish after dark. And because of its southerly locale, Choke Canyon Reservoir is also a good winter and early spring lake.
Choke Canyon State Park provides an abundance of shore access and several launch sites around the lake. There's also a popular boat ramp just off Highway 99, near a bridge crossing up at the river end.
Sam Rayburn Reservoir
Sam Rayburn is a monstrous 114,000-acre reservoir in East Texas, and it's an equally one of Texas' great fishing lake for bass, crappie and catfish. The latter tend to get overshadowed by the former, but make no mistake; there are a lot of catfish in this lake.
Channel cats are the main quarry here, and Sam Rayburn Reservoir has a healthy population of channel catfish in every size class, including lots of great table-size fish, as well as bigger cats weighing upwards of 10 pounds.
Blues and flatheads, while not as abundant, offer trophy potential. The best fishing for catfish is in April and May, but there's solid action year-round on stink baits and cut bait. There's usually a second peak in mid to late fall.
The tactic locals use to find catfish on Sam Rayburn is somewhat non-traditional, but undeniably effective. It starts with following in the footsteps of crappie anglers.
Countless artificial brush piles have been sunk in Sam Rayburn Reservoir by crappie anglers, who often bait their brush piles with cottonseed cake in hopes of attracting more baitfish, which attract more crappies. Turns out, catfish like cottonseed cake too.
Most of the brush piles are sunk near the mouths of feeder creeks and coves. The best way to find them is to cruise from mid-lake to the dam, and keep an eye on your electronics.
Typically, brush piles are marked with submerged buoys, but there may be other, even more productive brush piles scattered around the one that's marked. Drifting or fishing vertically in these areas is a great way to load up on channel cats.
The U.S. Forest Service provides access to Sam Rayburn Reservoir at Caney Creek Recreation Area and Bayou Boat Ramp.
Toledo Bend Reservoir
A vast Texas/Louisiana border water spanning over 181,000 acres, Toledo Bend Reservoir is one of the best fishing lakes around for just about anything that swims.
Catfish anglers have a lot of options to choose from here. Channel cats are the most common, and anglers catch them in practically every creek mouth, especially in areas with flooded stumps, timber and other cover.
Big blue catfish are regularly caught on jug lines, and some anglers specifically target flatheads on live bait. Flathead catfish bite best at night, when they emerge from their deep holes to prowl the shallows.
Channel cats run small here, and anything over 5 pounds is a noteworthy catch. Some very big flatheads have been caught in Toledo Bend though, including a lake record over 71 pounds.
Overall, catfishing is at its peak when Toledo Bend is high and muddy, which is usually the case in late spring and early summer. The Sabine River feeds the lake at its northern end, and the upper end of the lake is reliably productive for catfish.
Much like Sam Rayburn Reservoir, Toledo Bend has a lot of brush piles that, while intended for crappie, are also productive for catfish. Some local anglers are also known to bait specific honey holes for catfish using soured grain or cottonseed cakes.
More than 30 public access areas are located on the Texas side of Toledo Bend Reservoir alone, so anglers have no shortage of opportunities to get on the water. Sabine National Forest offers access at Ragtown Recreation Area and Haley's Ferry Boat Ramp.
Also worth noting is that Toledo Bend has some of the most liberal catfish limits in Texas. The daily combined limit for blues and channel cats is 50 with no minimum size (only 5 may be 30 inches or more).
When you fill up on fish with whiskers, remember that Toledo Bend also has plenty of other top fisheries in both Texas and Louisiana, including bass and panfish. For example, it's on our rundown of the best crappie fishing lakes in Texas and the best catfish fishing in Louisiana.
Lake Palestine
Lake Palestine is a 15,000-acre reservoir on the Neches River, just outside Tyler, Texas. The Texas state record flathead catfish, a monster weighing 98.5 pounds, was caught here in 1998.
Although it's known for trophy flatheads, channel and blue catfish are actually more common. Drift fishing between Hawn Point and the Highway 155 bridges using baitfish, nightcrawlers and chicken livers is a common tactic on this lake.
If it's flatheads you're after, the time to go after them is the month of May. Throughout most of the year, flathead catfish are caught mostly on trotlines and jug lines baited with live shad or other baitfish. But in May, rod-and-reel anglers have their best shot from shore.
Flatheads spawn at water temperatures between 70 and 80 degrees, which typically encompasses all of May on Lake Palestine and, depending on the weather, possibly late April and early June as well.
Look for flatheads close to the bank this time of year. They nest in dens or cavities, which could mean anything from an overhanging bank or gnarled tree root, to a sunken tire or crumbling bulkhead.
Flatheads will rest in the cavity, heads facing outward, and viciously attack anything that comes close.
Overall, the best catfish fishing is in the upper end of the lake, and in the Cottonwood and Kickapoo Creek Arms. There's a great stretch of rip-rap near Villages Marina that's often productive and can be fished from shore.
Chandler River Park, located at the northernmost end of the lake, is another excellent spot, with shore access and a no-frills launch site. Backwaters and flooded trees in this area harbor catfish practically year-round.
Lake Conroe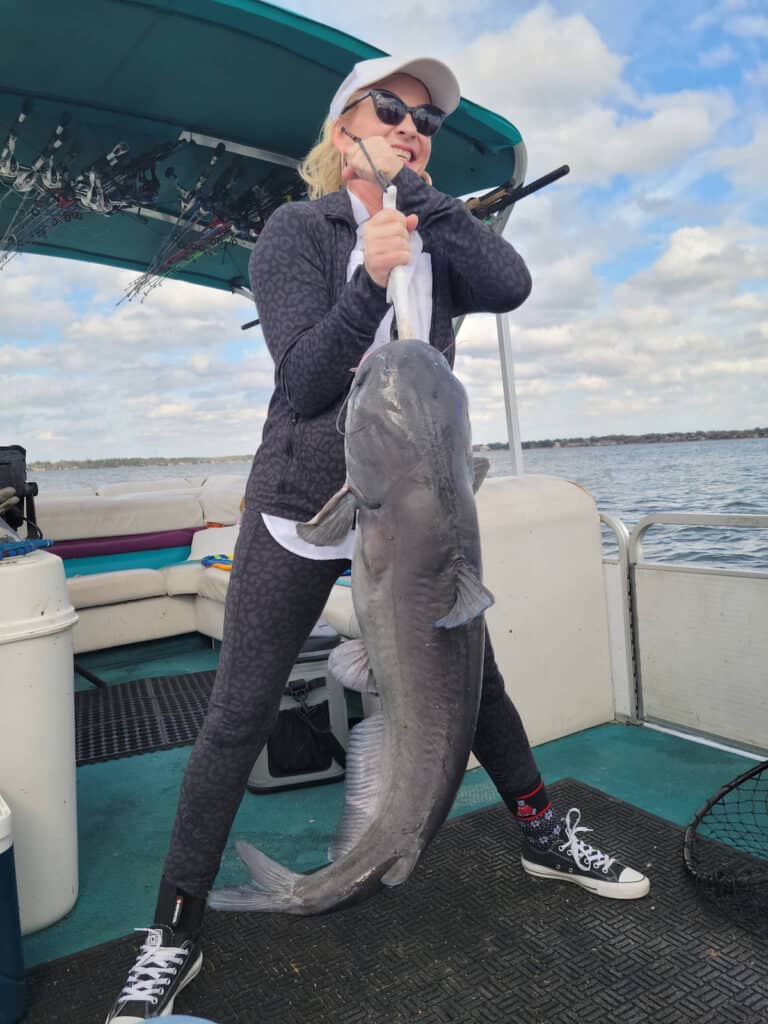 20,000-acre Lake Conroe is located on the West Fork of San Jacinto River, less than an hour north of Houston. Channel catfish are the most abundant game fish in the lake, even though it's better known for being among the Houston area's best bass fishing lakes.
There are very big channel cats in this lake, as evidenced by the 18.5-pound lake record. This is also a great place to catch smaller, eating-size cats by the dozen. The fishing can be non-stop on a good day using livers, nightcrawlers and catfish dough.
There are decent numbers of blue catfish too. Flatheads are less common, but some real monsters have historically been caught here.
Lake Conroe is mostly a broad, open reservoir lacking in natural cover. The best cat fishing is in the lake's upper third, where the water is usually a little more stained, and there's more timber and vegetation.
A lot of artificial cover has been placed in Lake Conroe, including a few areas of man-made "reefs" planted by Texas Parks & Wildlife, and untold numbers of brush piles sunk by anglers. These tend to be the most reliable places to find catfish.
Brush piles in 18 to 25 feet of water are most productive for most of the year, except when catfish move shallower in spring and fall. Most brush piles have been sunk around main-lake points, humps and creeks, and you'll need your sonar.
Some local anglers also take a more active approach, casting cut shad toward shoreline spots like rip-rap and brush in springtime.
Cagle Recreation Area is a good place to camp, fish from shore, or launch a boat on the upper end of the lake.
More: Complete Guide to Fishing at Lake Conroe
Honorable Mentions
Catfish are everywhere in Texas. While the aforementioned lakes represent the cream of the crop, there are also dozens of other bodies of water where big cats lie in wait.
Don't sleep on the following "honorable mention" catfish lakes:
Richland-Chambers Reservoir
Located an hour from Dallas, Richland-Chambers Reservoir is a large lake spanning 41,000 acres in the heart of the Texas Prairies and Lakes Region. It has two main arms, fed by Richland and Chambers creeks, and both offer great catfishing.
The lake harbors both channel and blue catfish, and during spring and early summer, there are times when one seems able to catch them everywhere. Cut bait, chicken livers, worms and stinkbait are all productive.
The upper reaches of both arms have stands of flooded timber, where lots of catfish are caught in 10 feet of water or less in spring.
Trotlines and jug lines baited with cut shad catch good numbers of blue cats, while channel cats mostly come via hook and line.
In winter, the action stays consistent but moves deeper. The Richland Creek Arm has some timber at 20 to 30 feet near the mouth of Crab Creek that produces throughout the cooler months.
Popular access and launch sites include the Crab Creek Ramp on the Richland Arm and the FM 2859 Ramp on the Chambers Arm.
Lake Fork
A 27,000-acre impoundment named after the Sabine River tributary that feeds it, Lake Fork is one of Texas' all-around great fishing lakes.
Although it's best known as a trophy bass lake popular with Dallas-area anglers, Lake Fork also offers one heck of a good catfish fishery.
Channel catfish are the most common species, but anglers often catch a mixed bag with a few flatheads and the occasional hefty blue mixed in.
Various dough baits and stink baits are effective for channel catfish, though live bait fish are more apt to nab a flathead.
Punch baits—a type of dough bait that one "punches" onto a treble hook using a stick—are popular here, and many anglers find success catching cats from deep water in summer. When the weather is hot, look for catfish at 30 to 35 feet.
Overall, the best time for catfish on Lake Fork is spring. This lake has an abundance of shallow coves that offer prime spawning cover, and catfish flock to these areas in May when water temps creep into the 70s.
Lake Fork also has several major bridge crossings, which are great spots to fish for catfish.
The Sabine River Authority operates W.C. Swearington Recreation Area on the western shore of the lake's East Fork, which offers boat ramps and bank fishing access close to the Highway 54 Bridge.
More: Complete Guide to Fishing at Lake Fork
Possum Kingdom Reservoir
Possum Kingdom Reservoir encompasses a little over 15,000 acres on the Brazos River west of Fort Worth, and like the river that feeds it, it's a great place to fish for catfish.
A twisting, turning reservoir with multiple arms and dozens of productive coves and creeks, Possum Kingdom Reservoir has a shoreline dominated for the most part by cobbled rock. There's productive catfish water at either end of the lake.
That being said, the best fishing tends to be in the upper end, above Costello Island. Look for areas of timber around Pump House Slough, Bird Island and various creek mouths. Bait your chosen area with maize, and then wait for the cats to come investigate.
Channel catfish are most common, and there are some big ones here pushing 10 pounds as well as scrappy 12- to 18-inch fish for the table. Shrimp, large nightcrawlers and punch baits work best.
Possum Kingdom also has some giant blue cats that will go for cut shad and sunfish.
Access points include Possum Kingdom State Park and several public use areas (many of them free) operated by the Brazos River Authority.
Try fishing the river below the dam as well for catfish.
Possum Kingdom Reservoir also has some of the very best striped bass fishing in Texas.
Falcon International Reservoir
A shared reservoir on the U.S./Mexico border, Falcon International Reservoir is known for its spectacular desert scenery, and for consistently kicking out big bass and catfish. It's a huge lake, spanning over 83,000 acres, primarily fed by the Rio Grande.
Trophy-sized blues and flatheads are caught here often enough that it's not unreasonable to expect to tangle with one, but pan-sized channel cats are the main attraction. On a good day, you can reel in 1- and 2-pound cats until your arms are sore.
Figuring out the bottom structure is often the key to success here. Follow the edges of the main river channel, and look for places where creeks and washes enter the main channel. If there's some sort of cover, like a brush pile or reef in the area, so much the better.
Local catfish anglers often bait productive holes using soured maize to keep them productive. In general, baiting is a great strategy on Falcon, and it often takes less than 24 hours for a spot to become productive after being baited.
During the peak period from March into May, you can catch catfish seemingly everywhere. In summer, focus on deep water during the day and shallow flats at night.
Access is available through Falcon State Park.
Lake Travis
A reservoir of about 18,000 acres on the Colorado River, Lake Travis is one of the better catfish lakes in the Austin area. A large lake with a variety of access in the midst of the Texas Hill Country, it's a perfect place for a family fishing trip.
Blue catfish are the dominant catfish species in Lake Travis, and although they don't get quite as massive here as they do in some other lakes, your odds of tangling with a 10-pounder are pretty good.
Channel catfish are fairly common too, and a few flatheads keep things interesting. Spring offers the best catfish action.
Cats come shallow in April, and are usually caught in under 10 feet of water by the end of the month. They hang around shallow creeks and coves until late May or early June, when they gradually transition out to 15-foot depths.
Lake Travis is such a long, narrow, meandering lake that it almost fishes like a river, especially in the upper end. The upper end also tends to have more stained water than the lower end, which is good for catfish.
There are dozens of parks on the shoreline of Lake Travis, but Pace Bend Park and Muleshoe Bend Recreation Area tend to be favorites among catfish anglers.
Lake Travis also is one of the best bass fishing lakes in the Austin area, so there's plenty to catch here.
Calaveras Lake
Calaveras Lake is a power plant cooling reservoir, spanning about 3,600 acres just outside of San Antonio. The warm water discharge from the plant, along with the lake's relatively southern locale, make it a good year-round fishery.
It's also a lake where the catfish, abundant though they may be, don't get too much fishing pressure. Largemouth bass, hybrid stripers and stocked redfish get most of the attention.
That leaves a tremendous channel catfish population as well as some hefty blue cats pushing 20 pounds. The best time to be on the water is March through May, when cats invade feeder creeks and bite readily on chicken livers and fresh cut shad.
In fall and winter, focus on areas with rapid depth changes. Calaveras Lake has a lot of steep points with deep water access, and catfish often bite dough, cheese and stink baits close to the bottom during the cooler months.
Calaveras Lake Park is the primary access point, offering a launch ramp and bank fishing access. The hours right around sunrise and sunset are usually the best time to have your bait in the water.
Calaveras Lake also is among the best in Texas for bluegill and sunfish fishing.
Lake O' the Pines
Tucked away in the Piney Woods region of East Texas, Lake O' the Pines is a sleeper catfish lake. Though it's best known for bass fishing, this 19,000-acre reservoir harbors healthy populations of channel, blue and flathead catfish.
Some of the best fishing is in the upper end of the main lake, and in backwater areas like Alley Creek, Johnson Creek and Hurricane Creek. Catfish bite readily in shallow water in spring and fall, but retreat to deeper water in summer and winter.
Night fishing with cut bait, earthworms and chicken livers is your best bet in summer, and there's a lot of good bank access for fishing after dark. Some local anglers catch cats using marshmallows fished around docks.
During winter, anglers can find success fishing deeper holes, ledges and creek channel bends using cheese and dough baits in 15 to 20 feet of water. Baiting holes with soured grain or cottonseed cakes is effective here year-round, but it's especially helpful in winter.
Cedar Springs Boat Ramp and Lone Star Boat Ramp are good places to launch in the upper end of the lake. Texas Parks & Wildlife has sunk numerous fish habitat structures around the lake, and a map of their location is available here.