Never believe a big fish story. Unless the fish was caught in Lake Fork.
A 27,264-reservoir in the Pineywoods region east of Dallas, Lake Fork has produced 15 of the 25 biggest bass ever caught in Texas, including all of the top five. An angler hauled the 18.18-pound state record out of Lake Fork in 1992. It's a lake where almost no tall tale is beyond belief.
Lake Fork is a deep, moderately clear reservoir with an abundance of points and coves, as well as ample forage and a wide variety of natural and artificial cover. In short, it has everything bass need to thrive.
But not just bass. While Lake Fork's reputation was founded on its status as a lunker largemouth lake, the reservoir also offers outstanding crappie fishing and an often-overlooked catfish population.
Although Lake Fork has dozens of productive coves and creeks, it's primarily a V-shaped lake, with a west fork formed by Lake Fork Creek and an east fork by Caney Creek. You will find outstanding fishing opportunities in both big arms.
Largemouth Bass Fishing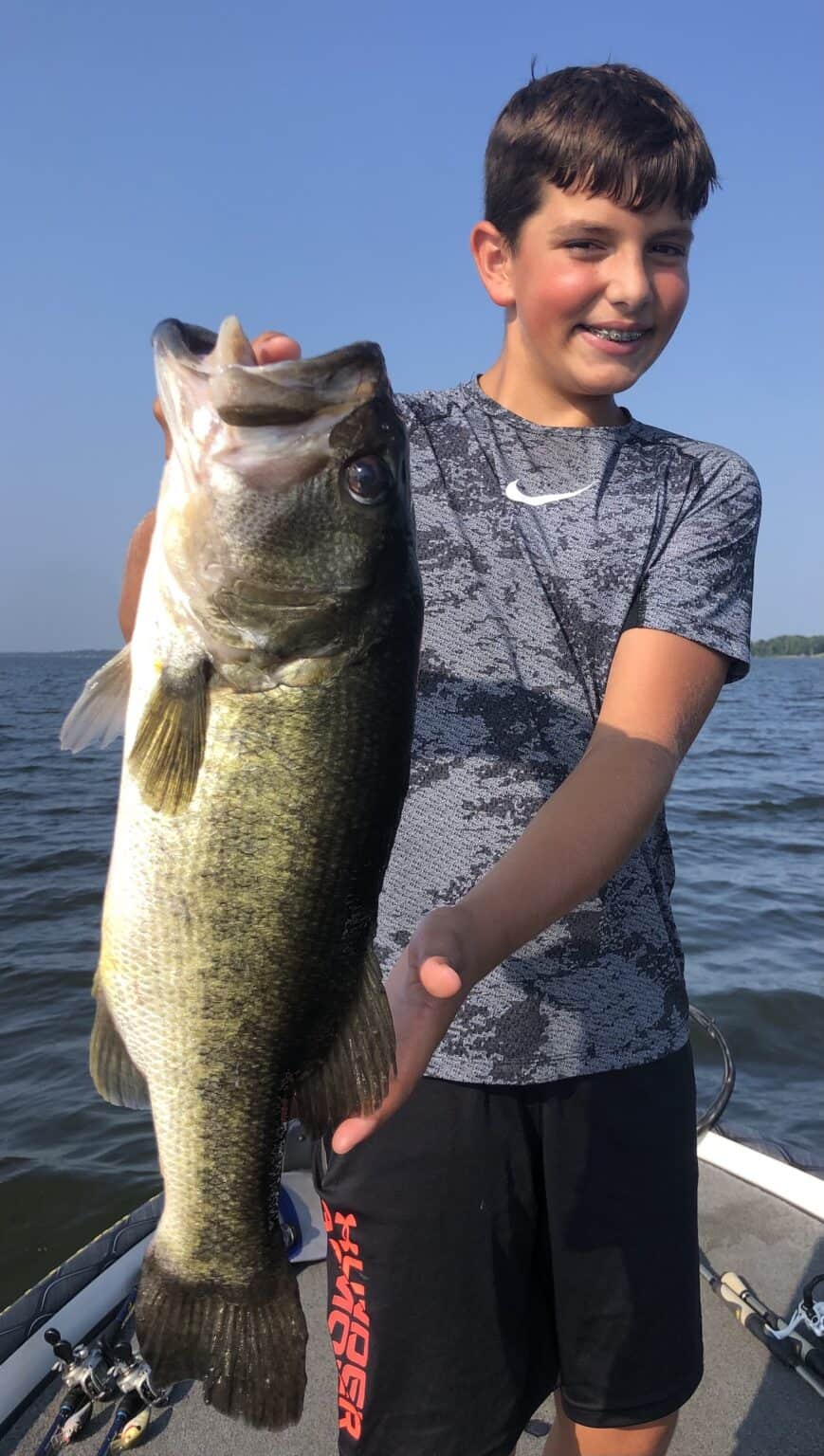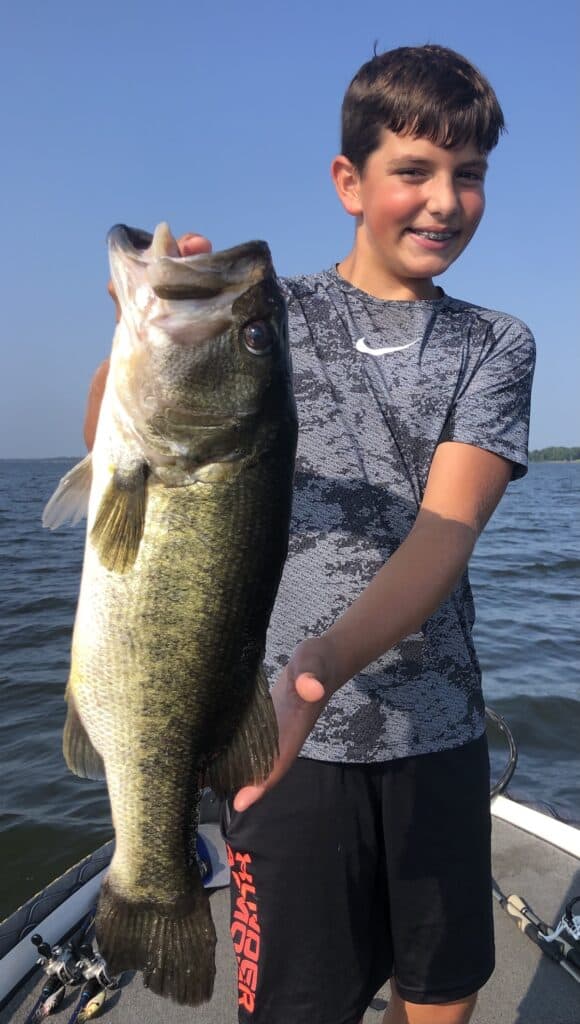 A tournament staple and fixture of fishing magazines and TV shows for decades, Lake Fork's reputation as a great bass lake would be secure even if another trophy largemouth was never caught here again. Fortunately, that scenario seems unlikely.
Lake Fork consistently appears on Bassmaster's annual "Best Bass Lakes" list, where it's been number one more than once. It continues to kick out 10-pound bass as a matter of routine, even if its heyday of producing 16-plus-pound monsters in the '80s and '90s may have passed.
When to Fish
Big bass are caught year-round in Lake Fork, though the cooler months generally produce the highest numbers and biggest fish. The period from February through April finds bass concentrated near shorelines to spawn and is arguably the best time to fish Lake Fork.
The spawn usually occurs in stages as water temperatures hover between 60 and 65 degrees. Afterward, there's often an incredible post-spawn bite in shallow cover throughout May and into June.
Summer is the only time bass fishing becomes challenging here. But, even then, anglers catch plenty of fish in the early morning and late evening, and some beat the Texas heat by fishing for bass after dark.
Bass start to school up on channel edges and main lake points from late summer into fall, and the fishing picks up again this time of year. Fishing tends to slow down somewhat from November to January, but finesse presentations can still be effective.
Where to Fish
Lake Fork is a big lake with widely varied cover and bottom structure. Bass inhabit areas all over the lake, so finding a good spot isn't so much about zeroing in on a single honey hole, but identifying a pattern that will work on any given day.
Early in the year, the upper end of the lake warms first. The earliest shallow bite will be in the backs of the northernmost coves. Look for corridors that bass use to migrate into shallow water, like creek channels, ditches and submerged road beds, and follow them.
In springtime, bass are usually active in 3 to 8 feet of water. Lake Fork has a lot of timber, which tends to be key cover during pre- and post-spawn periods.
During the spawn, bass bed down on shallow flats with firm, sandy bottoms, ideally near some kind of solid structure. Look for bedding bass next to isolated pieces of cover like tree stumps, bridge pilings, docks or brush piles.
The spawn progresses in a wave that generally moves northwest to southeast across the lake. As bass finish spawning, they feed voraciously in and around shallow cover, especially in the standing timber along the creek channels.
For post-spawn bass, it makes sense to start shallow and work your way deeper. Stumps, brush and laydown trees can be productive in as little as 3 feet of water, but timber ranging from 8 to 20 feet can also be excellent.
In early summer, fishing along the banks of windblown points can prove fruitful, with drop-offs, channel swings, and deeper main lake points between 12 and 22 feet becoming some of the best bets as the season progresses.
Lake Fork has no shortage of major main lake points that commonly hold bass, with Caney Point being one of the most significant.
Creek arms like Little Caney Creek, White Oak Branch and Birch Creek also offer some of the best bass fishing in Lake Fork.
Lake Fork Bass Tactics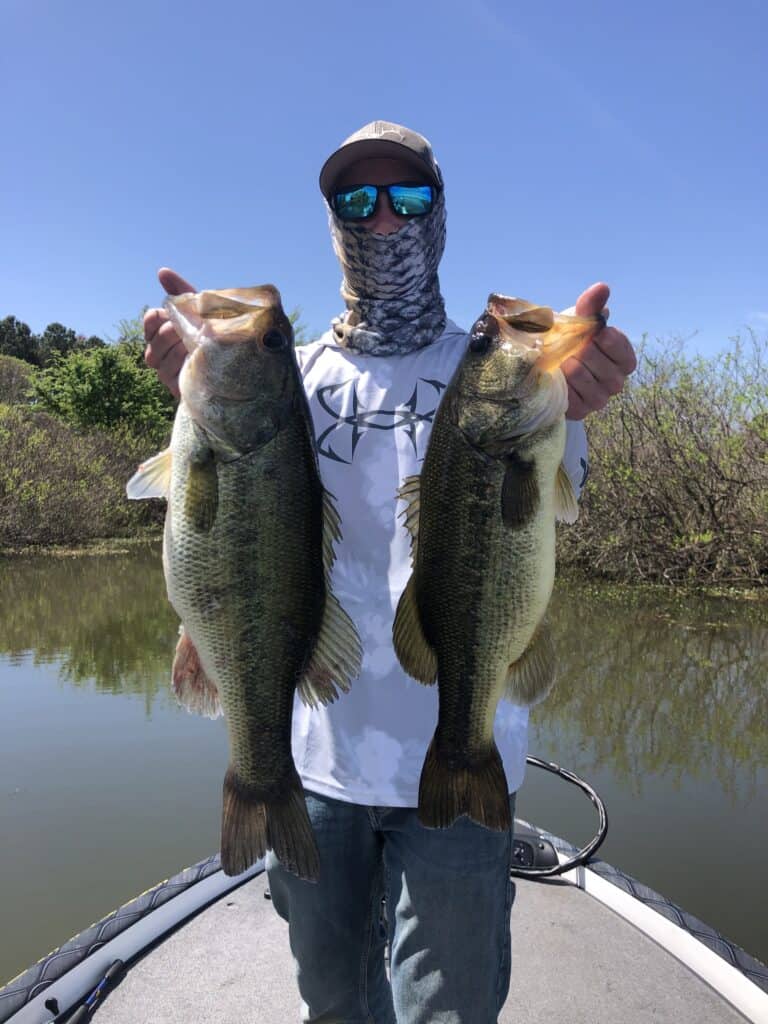 Spinnerbaits and lipless crankbaits are some of the most relied-upon lures early in the pre-spawn season, especially around shallow wood in Lake Fork's creek channels and coves. Jigs are effective, too, with Viper XP Jigs being local favorites.
As bass begin to bed down, sight fishing is usually possible, and soft plastics get the call. Carolina-rigged worms and lizards are excellent, and few things will tempt big spawning bass better than subtly shaking a creature bait or wacky worm in their beds.
Crawfish imitations that have some red in them are usually effective as well.
Shad are a major forage species for bass all year, but they're especially important during the shad spawn in April and May.
Just as bass finish spawning and leave their beds hungry, they have vast schools of spawning shad to dine on in shallow areas. Silver Rat-L-Traps, square-billed crankbaits, willowleaf spinnerbaits, and anything that looks vaguely shad-like will get torn up this time of year.
Bluegill and sunfish spawn in May and June, and bream-pattern lures become more effective this season. Try tossing blue/black or junebug-colored soft plastics around docks in parts of the lake that have fewer trees.
During summer, tossing crankbaits for bass that suspend on main lake points and channel swings is a good bet. Try topwaters like Scum Frogs and chatterbaits around lily pads, hydrilla beds, boathouses, and docks at first light and as the sun sets.
Shaky head worms are popular in fall for catching bass around stumps and timber, and jig fishing often picks up again as the lake cools. Try a Flutter Spoon or Strike King XD crankbait when bass school up out in the open.
In winter, when bass head toward deeper water and are less active, try a jigging spoon or deep-running crankbait along ledges, channel swings, and deeper timber areas that drop down to the main river and creek channels.
Catch More Bass
You'll find Lake Fork prominently listed in our Best Bass Fishing Lakes in Texas and in our more locally-focused Best Bass Fishing Near Dallas-Fort Worth.
For more fish-catching tips, check out our complete guide to bass fishing techniques and tips.
Other Fish Species
Crappie Fishing
Lake Fork supports an amazing crappie fishery, with sizable populations of both black and white crappie. Though crappie populations can be cyclical, most years offer great numbers of 12- to 16-inch fish.
In winter, anglers catch crappies mostly by fishing live minnows off points and near the dam in the main lake. Crappies may suspend in 40 or more feet of water this time of year, and anglers also catch plenty among the standing timber along the river channel.
Crappies transition toward shallow creeks and coves with the first major warming trend of the year, usually in February. It's common for crappie to seek out the warmest shallows they can find this time of year, but a cold front can drive them right back to the depths.
Spring is prime time for crappie fishing, and anglers clean up during the spawn in March and April.
Anglers should target standing timber, laydown trees along the shoreline, and the countless brush piles that local anglers have sunk.
Jigs ranging from 1/16 to 1/4 ounce are the lures of choice, and countless jig styles and colors are effective. Slab Buster jigs are a local favorite, along with more traditional tubes and curlytails in colors like hot pink, white, black and chartreuse.
After crappies spawn in spring, some of the most reliable spots are the many bridge crossings that span Lake Fork. Anglers find lots of crappie beneath the FM 514 and 515 bridges and the TX-154 bridge.
These are good fall spots too. Crappies commonly suspend at various depths under the bridges, and the best tactic is to work your way from shallow to deep, dropping jigs or minnows next to the pilings.
Night fishing for crappie can also be effective, especially in summer, when crappies are more likely to move into shallow water during the cooler nighttime hours.
When it's dark, fish near lighted marina docks with minnows or use lights over the side of the boat.
Catch More Crappie
You'll find Lake Fork among our listing of where to find the top crappie fishing in Texas. Check the list for other Texas lakes that are especially slab-worthy?
Also learn more tricks in our simple guide to crappie fishing, with lure and bait suggestions and more tips to get you into one of America's favorite panfish.
Catfish Fishing
Lake Fork has an excellent catfish fishery, including abundant channel catfish and potentially massive blue cats and flatheads. Channel cats ranging from 3 to 8 pounds are very common, and plenty are much bigger.
They'll bite on all manner of smelly baits like chicken livers, cut shad or commercial catfish doughs and stink baits. CJ's Punch Bait is a popular form of the latter.
Many local catfish anglers will chum their favorite spots with maize, soured grain or range cubes to attract catfish.
One of the best all-around catfish tactics throughout most of the year is to find a timber-filled point—there's no shortage of them—and work your way gradually from about 15 feet toward a depth of about 35 feet. Then, keep your bait on or just above the bottom until you start getting bites.
The exception is late spring and early summer, when catfish head into the coves to spawn. At times, anglers catch them in just inches of water.
You might catch some cats shallow all year (especially at night), but for the most part, it pays to look a little deeper most days.
Overall, summer is the season that produces the greatest numbers of catfish. Anglers catch plenty around bridge pilings and brush piles. Boat docks can be good, too, especially ones that reach deep water.
Catch More Catfish
Texas is a catfishing paradise. We've narrowed down the best catfish fishing spots across the Lone Star State. That was such a giant area, we also decided to get you into cats closer to home with the best catfish lakes in the great Dallas-Fort Worth area.
Make sure you get the most out of your next catfishing adventure with our easy guide to catfish fishing techniques and tips, including some great catfish bait options.
Bluegill & Sunfish
Few anglers specifically target bream in Lake Fork, but with ample numbers of bluegill and redear sunfish, there's no reason not to fill a pail with scrappy sunfish.
Plenty of Lake Fork bream are big enough to filet, and they make about as good a fish fry as you'll ever have.
They also bite readily on commonplace baits like redworms and crickets under a float. Small jigs work well too, especially on ultralight tackle, but you don't need anything fancy to catch a meal's worth of hand-sized 'gills.
Fly fishing for bluegill and shellcracker is also an option that has its devotees. Try tossing poppers, terrestrials and small streamers on a 3- or 4-weight fly rod.
Fishing for bluegill and sunfish is excellent from spring through fall, but is best in late spring and early summer when they spawn. Scan shallow flats with polarized glasses looking for colonies of nests, which are usually easy to spot and may number in the hundreds.
One key piece of advice to keep in mind is that if you're after larger bream, it often pays to look just a bit deeper. Smaller sunnies stick to the shallows, but the big ones over 9 inches often school around deeper weed edges, submerged humps and boat docks.
Catch More Bream
It's hard to find a freshwater lake in Texas where you won't catch these fish, but all lakes aren't created equally. For the biggest and most panfish, check out our curated list of the best bluegill and sunfish fishing in Texas.
And while there's hardly a fish more willing to bite a worm on a hook than a bream, there are plenty of extra fun ways to get it done. See them in Bluegill and Sunfish Fishing: Simple Techniques and Tips.
White Bass
White bass, often called sand bass, are quite common in Lake Fork. They represent an underutilized but—based on recent angler surveys—increasingly popular fishery.
Commonly reaching a pound or two, white bass are tough little fighters on light tackle.
During the winter and summer, anglers most often catch them by trolling or vertical jigging out in the open lake.
White bass favor cool, open waters throughout most of the year, and they roam the river channels, main lake humps and points following schools of shad. The key to locating them usually lies in pinpointing shad on your electronics.
But white bass are more likely to enter shallow waters in spring and fall.
Anglers catch the most in early spring, when they go on a major spawning run, heading to the upper reaches of Lake Fork where they first stage around shallow sandbars before heading up into the creeks.
The bite can be relentless when white bass are running, and hundred-fish days are not uncommon. Anything that resembles a small minnow can draw a strike, from spinners and spoons to soft jerkbaits and Original Rapalas.
Lake Fork also has a population of yellow bass, locally known as barfish, which are related to white bass and similar in appearance save for their yellow color.
Yellow bass are most often caught in winter, when they favor the same deep haunts that largemouths use this time of year.
Catch More White Bass
Let us point the way to the best white bass fishing lakes and rivers in Texas.
But be sure you take along all the right info (and tackle) by first reading our essential how-to guide for white bass fishing.
Planning Your Trip
Getting to Lake Fork
Lake Fork is about 90 minutes east of Dallas via I-30 and TX-275. Small towns around the lake including Emory, Alba, Quitman and Yantis offer a wide range of amenities, including restaurants and lodging.
The shoreline of the lake is also dotted with marinas, resorts, fish camps and RV parks that cater to anglers specifically. In addition to the public access sites listed below, private operations like the Minnow Bucket Marina, Lake Fork Marina & Motel and Pope's Landing are popular.
Bank & Boat Access
Lake Fork has fewer public access sites than many big Texas lakes, with the majority of the shoreline being privately owned. Even so, anglers have several excellent options to launch a boat or fish the bank.
2946 Ramp
Rains County operates a launch ramp at the north end of the FM 2946 bridge on the west fork of the Lake Fork. This two-lane ramp is open to the public free of charge, and bank fishing is permitted adjacent to the ramp. Launching here may not be possible during times of low water.
FM 17 Ramp
Operated by the Sabine River Authority, this two-lane concrete ramp is located on FM 17 just off the west end of the FM 515 bridge on the west fork of the lake. Launching is free of charge, and there is ample parking and bank fishing access at this site.
W.C. Swearingen Recreation Area
Listed on many maps simply as "SRA Day Use Area," the W.C. Swearingen Recreation Area is a free public park just north of TX-154 on the west bank of the east fork. Picnic areas, trails, a wheelchair-accessible fishing pier, and ample bank access are available here.
515 East Ramp
Situated on the west side of Caney Creek on Lake Fork's east fork, the ramp at 515 East bridge is a free public facility with plenty of parking and a good stretch of bank for fishing alongside the bridge.
Highway 154 Ramp
Adjacent to the Minnow Bucket Marina at the south end of the TX-154 Bridge, this free public ramp on the east side of the east branch offers a two-lane concrete ramp with vehicle and trailer parking, bank fishing access and a fishing pier.
In addition to the locations listed above, many privately owned marinas and RV parks around the lake will allow anglers to fish on their property as long as they seek permission first. In some cases, a small fee may apply.