The largest city in Texas, Houston is located a stone's throw from some of the best fishing lakes in the state. That includes some amazing opportunities to catch catfish.
Bottom dwellers that gobble up smelly, natural baits, catfish grow to impressive sizes and are prized as great table fare as well. Channel catfish are the most common catfish species in most Houston area lakes.
But you can also tangle with giant blue catfish, which are capable of exceeding 100 pounds. Aggressive and hard-fighting flathead catfish (also known as yellow cats) also inhabit many of these lakes, and are more likely to strike live bait than their scavenger relatives.
Springtime is the best time to catch catfish in shallow water in Houston, and most of these lakes have excellent access for bank fishing. Night fishing is also productive, especially in summer, and catching catfish is a great way to introduce kids to fishing.
Lake Livingston
Lake Livingston is one of the great catfish powerhouses of East Texas. And although this massive 90,000-acre reservoir is known primarily for numbers of fish rather than for size, it's also no slouch when it comes to producing giants.
Despite its vast acreage, most of Lake Livingston is fairly shallow. The main lake (usually defined as the part below the Highway 190 bridge) has good bottom structure and a well-defined river channel.
Dropping live perch and shad along the edge of the main river channel and the smaller creek channels that intersect it is a good way to tangle some good-sized flathead catfish.
There are big blue cats in here too, though they're more apt to snatch cut bait on a trotline.
The upper end of Lake Livingston, where it's fed by the Trinity River, has some amazing catfish water, especially in springtime when cats are shallow. The water is murkier at this end, and you can often catch channel cats all day long in April and May.
This upper area requires come caution, however. The thickets of semi-submerged timber and brush above the 191 Bridge have been nicknamed "the Jungle," but it might as well be called Snag City. Go slow and watch for hazards up here.
Lake Livingston is about 50 miles from Houston, and it has dozens of launch sites as well as some solid bank fishing options, including Lake Livingston State Park.
You'll find Lake Livingston prominently featured in our run-down of best catfishing spots in Texas, but check the article for well over a dozen more great places to hook some tasty cats.
You'll want to bring lots of different tackle to Livingston, including lures to take advantage of one of the better striped bass fishing options in Texas, especially for numbers of eater-sized fish.
Lake Conroe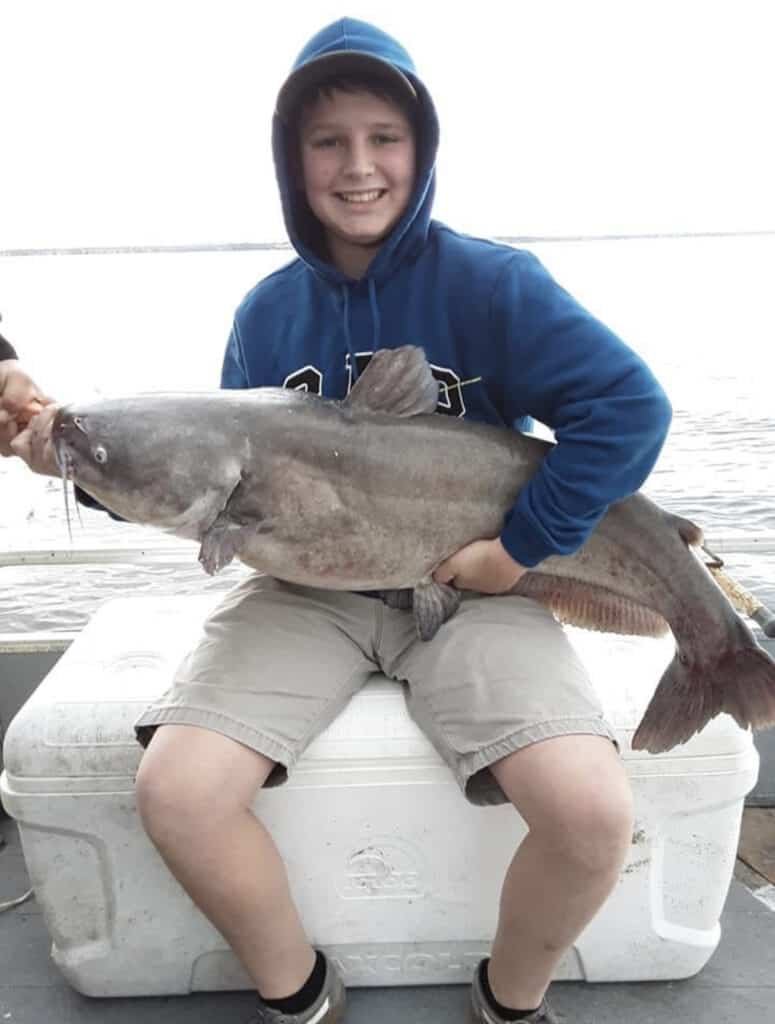 Though its reputation largely rests on its trophy bass fishery, one of the best in Texas, Lake Conroe is also one of the most reliable catfish lakes in the Houston area.
Largemouth bass might be the most sought-after game fish in this 20,000 acre reservoir, but channel cats are the most abundant.
They grow 'em big here too. Scrappy 1- and 2-pound catfish just right for the table are the most common size class, but the lake record is an impressive 18.5 pounds.
The best way to catch them is to bait a particular hole with soured grain or other chum, wait an hour or two, and then throw your dough or cut bait right in the same spot. Baiting is a popular practice on Lake Conroe, and it yields good results.
Catfish often hang around brush piles that have been sunk by local anglers, but Texas Parks and Wildlife has also sunk their own fish-attracting habitat structures (check out a map of their location here).
Most brush piles are located on a point, creek mouth, channel swing or other structure, and can be spotted on sonar. Focus on shallow water in spring, and move toward deeper brush piles in 18 to 25 feet as the water warms up in summer.
Another popular practice among local anglers is to "flip" cut baits toward likely shoreline spots. It's not dissimilar to the flipping tactic employed by bass fishermen. Springtime in Lake Conroe often finds catfish right up against shoreline rip-rap and brush.
Cagle Recreation Area is a great access point toward the upper end of the lake in Sam Houston National Forest. Numerous privately owned marinas offer launch facilities on the lower lake.
Besides the bass and catfish, Conroe also shines for panfish and has some of the best crappie and bluegill and redear sunfish fishing in Texas.
More: Complete Guide to Fishing at Lake Conroe
Sam Rayburn Reservoir
Sprawling across 114,000 acres in the Piney Woods region, Sam Rayburn is another massive East Texas reservoir. It's also another lake where baiting is a cornerstone of the local catfish fishery.
Some catfish anglers simply toss cottonseed cakes in a burlap sack and tie it off to a tree on the shoreline.
Others bait brush piles that have been set by crappie anglers, but also drawn in catfish, or the fish attractors placed in the reservoir by Texas Parks & Wildlife (here's a map of their locations).
April and May are the prime catfish months on Sam Rayburn Reservoir, and there's usually a reliable second peak in fall, as cats move from deep summer haunts into the creeks, usually in early November.
Channel catfish are far and away the most common species, but blues and flatheads both offer trophy potential. Jug liners and rod-and-reel anglers tend to do equally well on this lake, and a wide range of baits can get bites.
For big cats, shad is the go-to. Rig a live shad on a circle hook for flatheads, or string cut shad along your jug line or trotline for blue cats. Shrimp are a good substitute for cut bait in a pinch.
As usual, channel catfish are less discerning, and will usually gobble up cut bait and stink baits with equal relish.
You can choose among dozens of parks and marinas to get started on Sam Rayburn. U.S. Army Corps of Engineers parks like Mill Creek Park and San Augustine Park offer both shore access and launch facilities.
The fishing at Sam Rayburn Reservoir goes well beyond catfish, as it's one of the state's best fishing lakes for largemouth bass as well as being a top lake in Texas for crappie fishing.
Lake Houston
Lake Houston represents an excellent close-to-home option for anglers, including being one of the Houston area's best largemouth bass fishing lakes.
This lake tends to fly under the radar among anglers compared to some of the big, heavy-hitter Texas lakes, but there are loads of catfish here.
Lake Houston is a modest-sized reservoir at 11,800 acres, located where the east and west forks of the San Jacinto Rivers converge.
The waters tend to be moderately turbid and mostly shallow. Forage is abundant, and both blue and channel catfish are quite common.
The lower portion of Lake Houston below the Route 1960 bridge has steep drops and some excellent deep structure. This is where a lot of the biggest catfish are caught, particularly using cut shad around the channel edges.
Above the bridge, the two forks are mostly made up of shallow and mid-depth areas that harbor an abundance of smaller to mid-sized catfish. Expect to see a lot of 2- to 5-pounders up here.
The West Fork, in particular, has great catfish water, with lots of productive channels and sloughs that can be best explored by jon boat, kayak or other small craft. Look for catfish in less than 5 feet of water in spring, or down around 10 to 15 feet in summer.
A lot of the shoreline of Lake Houston is made up of suburbs, housing developments and private parks, which limits shore access somewhat. The West Fork, which tends to have the best cat fishing, is almost entirely lacking in public bank access.
Deussen Park, located near the dam, is arguably the best bet for bank fishermen. Several privately-owned marinas offer launch facilities, and a boat is really necessary to unlock this lake's full potential.
Honorable Mentions
Looking for more places to connect with big catfish in the Houston area? Don't skip out on these additional lakes and rivers, any of which can easily produce a mess of catfish (and maybe an occasional trophy).
Fayette County Reservoir
An often-overlooked catfish lake that nonetheless produces some impressive specimens, Fayette County Reservoir is located about halfway between Houston and Austin.
Fayette County Reservoir is a power plant cooling lake that spans about 2,400 acres. Healthy populations of channel, blue and flathead catfish reside here, and a local law banning trotlines allows them to grow big in this relatively small reservoir.
Local anglers favor nightcrawlers for channel cats, often rigging multiple worms on a single hook. Cut bait, particularly carp, also gets good results. Try rigging bait below a slip cork or popping cork.
Waterdogs, a type of salamander, are sometimes used as bait by Houston and Austin-area bass fishermen on Fayette County Reservoir, and some have discovered that they're also good at tempting hefty flathead catfish. The best fishing here tends to be right after sundown.
Fayette County Reservoir has ample shoreline access thanks to two parks along the shoreline—Oak Thicket Park and Prairie Park—which makes this an outstanding option for bank fishing.
Trinity River
Fishing for catfish in rivers is a very different ballgame from catching them in lakes. The Trinity River flows just east of Houston on its way to the Gulf of Mexico via Trinity Bay, and offers some of the best river cat action in Texas.
You'll catch all three species in the Trinity River, but flatheads are the main target for a lot of anglers. It's not uncommon to see 15-pound yellow cats being wrestled to the bank.
There are a ton of great fishing spots on the Trinity, but the area below the Lake Livingston dam and tailrace is one of the most productive. Local anglers ply deep holes in this stretch with live shad, perch and small carp, and frequently walk away with some impressive catfish.
Focus on the deepest areas where the current is slowest. The Trinity River offers one of the best opportunities for shorebound anglers to tussle with giant catfish. Fishing from a kayak is also popular here.
Somerville Lake
11,400-acre Somerville Lake is located about 90 minutes northwest of Houston, about mid-way to Austin.
Somerville Lake offers excellent fishing for channel catfish, along with a shot at trophy-size blue cats. The lake is accessible via Lake Somerville State Park.
The park is divided into several separate units on various areas of the shoreline, and includes multiple boat ramps and lots of excellent bank fishing access. The Rocky Creek Park unit, located on a peninsula on the lake's southern shore, is a great place to start.
The lake's shoreline is essentially a series of points and coves, and catfish can be found on both, usually between 5 and 15 feet deep, depending on the season.
Somerville Lake has a fair amount of timber—some visible above the surface and some not—including in the coves near Rocky Creek Park. Natural timber and the fish attractors placed in the lake by Texas Parks & Wildlife (here's a map) are usually productive for catfish.
Punch baits, chicken livers and cut bait are all effective. Chumming and baiting are popular here, and it doesn't usually take long for an area to become productive after chumming with soured maize or grain.
All that fish-holding habitat also helps rank Lake Somerville on our lists of best bass fishing lakes near Austin in addition to the Houston-area top bass spots.
Somerville also has some of the best white bass fishing in this part of Texas.
Sheldon Lake
A fairly small reservoir of around 1,200 acres, Sheldon Lake offers one of Houston's best urban fishing opportunities. Channel and blue catfish have been stocked here repeatedly over the years.
Sheldon isn't the kind of lake that folks come from all over to fish, but it's a great place for Houston locals who want to drop a line within the city limits. Some big catfish have been caught here, and some monster bass and crappie too.
The lake is shallow (maximum depth isn't much more than 10 feet) and offers good access for shore fishing. It can become overgrown with vegetation in summer, and the fishing tends to be best in early spring and late fall.
Sheldon Lake is accessible through Sheldon Lake State Park, which provides boat launch facilities and bank access. This is also a great lake to fish from a kayak or small boat, and a no-wake speed limit is strictly enforced.
B.A. Steinhagen Lake
A reservoir on the Neches River that spans over 10,000 acres, B.A. Steinhagen Lake is an often-overlooked hidden gem of a lake in East Texas. Anglers often pass it by in favor of neighboring Sam Rayburn Reservoir, but Steinhagen is loaded with catfish.
Channel and blue catfish are some of the most abundant fish in this broad, relatively shallow reservoir. The lake has an abundance of flooded timber and cypress trees, ample forage in the form of bluegill and shad, and water that usually stays murky year-round.
That all adds up to prime catfish water. Some of the best fishing is at the upper end of B.A. Steinhagen Lake, where the Neches River enters and forms a network of timber-filled backwaters and sloughs.
This is a great place to set a jug line for big blue cats, or bait groves of timber with grain before hook-and-line fishing for channel cats. Cut baits, livers and punch baits are effective.
Martin Dies Jr. State Park operates multiple units around the lakeshore. The Walnut Ridge Unit is a great place to camp, fish from shore and launch a boat on the upper end of the lake, just off the Highway 190 Bridge.