It must be nice to live in Houston, and find yourself just an hour or two from some of the best bass fishing lakes in Texas.
Some Houston-area lakes, like Fayette County Reservoir and Lake Somerville, are well-kept secrets that are little known outside the region. Others, like Toledo Bend and Sam Rayburn reservoirs, are among the best and most famous bass lakes in America.
Houston is located near the intersection of several distinct ecosystems—the Central Texas Prairies and Lakes region, the Piney Woods of East Texas, the lowlands along the Gulf Coast—and lakes in this area provide the perfect conditions for largemouth bass to grow fat and happy.
Although some Houston area bass lakes also have populations of spotted bass, largemouths are far and away the most common species of black bass, and also the most prized by anglers. Florida-strain largemouths have been stocked in most Houston lakes.
Whether you want to hit the water and slay modest-sized fish all day long, or set your sights on the single trophy bass of a lifetime, you can do it at one of these great bass lakes near Houston.
Lake Conroe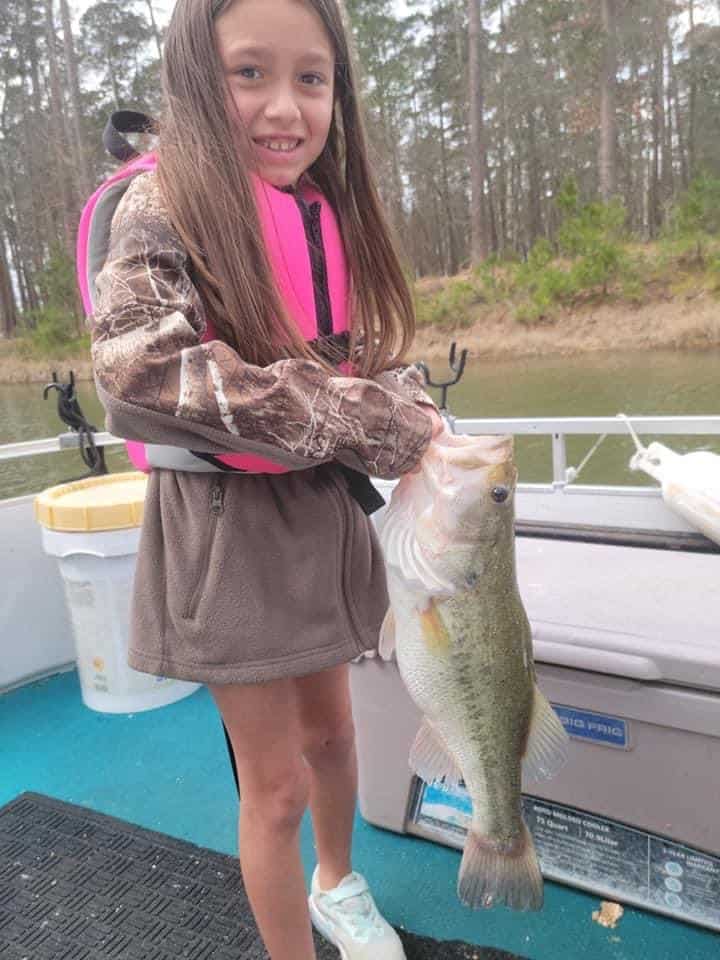 Look at any list of the best bass lakes in Texas, and you're sure to see Lake Conroe on it. The Bassmaster Classic was held here in 2017, and for a lot of lakes, an event like that would be what put them on the map. But Conroe has always been on the map.
Few lakes in Texas turn out big bass as regularly as Lake Conroe.
The Texas ShareLunker program, which recognizes bass greater than 8 pounds, had 23 entries from Lake Conroe in 2021, and bass in the 5-pound class are caught and released as a matter or routine.
A 21,000-acre reservoir about an hour north of Houston, Lake Conroe is a very large body of water with a diverse assortment of structure and habitat. A lot of different styles of bass fishing can be effective here.
A good amount of torpedo grass and water willow is available for anglers who like to fish vegetation. Those who like to fish standing timber will find it lining the creek channel in the upper reaches of Lake Conroe.
Dock fishermen can explore endless bulkheads and boat houses where they can practice their pitchin' and flippin' in the lower reservoir. Docks that extend into deep water along the sides of the main lake points are especially productive.
Lake Conroe is also the next-best thing to heaven for anyone who enjoys fishing rip-rap. The lake has extensive stretches of rip-rap along the dam, around the Lake Conroe Lighthouse, beneath the 1097 bridge, and around numerous smaller bridges that cross the creek arms.
Try fishing a worm or crankbait along the rocks in spring and fall. Rip-rap tends to be particularly good after a couple of sunny days.
Early in spring, the creek arms are a magnet for pre-spawn bass, and you can get some of the biggest largemouths of the year on shad-imitating cranks in February and March.
The creek arms are good year-round, but by summer, you'll mostly catch smaller bass here as the big ones move deeper.
The lower end of Lake Conroe is mostly developed along the shoreline. The FM-830 Boat Ramp is a great place to launch for free on the lower lake.
The upper end of the lake extends into Sam Houston National Forest, and Cagle Recreation Area provides launch facilities, shore fishing and camping.
More: Complete Guide to Fishing at Lake Conroe
Sam Rayburn Reservoir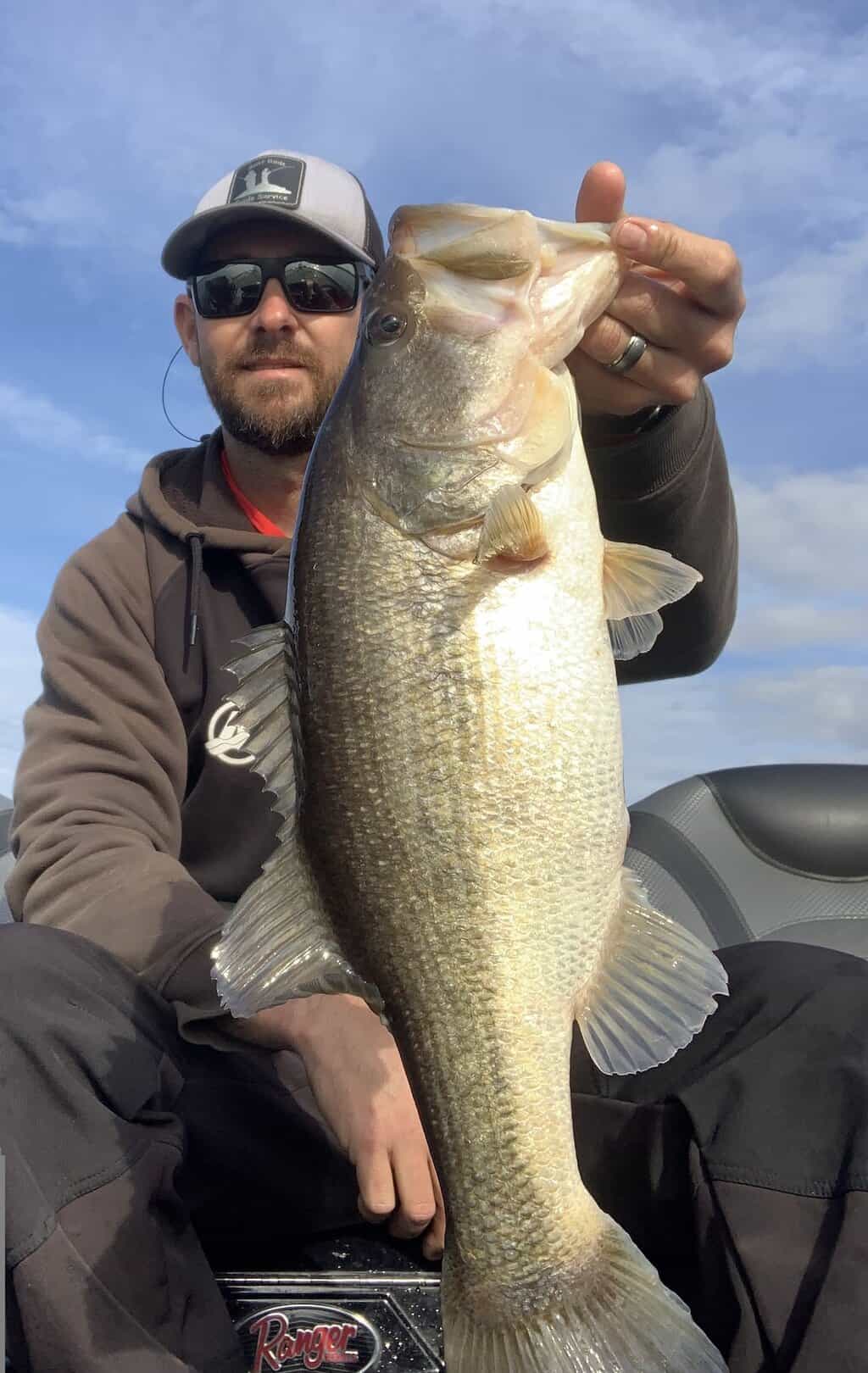 Another classic bass lake that needs no introduction, Sam Rayburn Reservoir is a legendary bass factory in the East Texas Piney Woods. It's over a 2-hour drive from Houston, but worth every minute.
Sam Rayburn Reservoir is fed primarily by the Angelina River, and it's a vast, sprawling reservoir of 114,500 acres.
It has just about everything a bass fisherman—or a bass, for that matter—could want. Weeds, rocky shores, boat docks, standing timber, creek channels, coves, points… this place has it all.
There are some serious bass here, too. The 16.8-pound lake record is one of the top 10 biggest bass ever caught in Texas.
The lower end of the reservoir, which is the end closest to Houston, tends to have relatively clear water and a greater abundance of vegetation than the upper reaches. Working the edges of hydrilla beds with plastic worms, crankbaits and topwaters is a great tactic in spring and fall.
In summer, bass mostly retreat to deeper waters, and can be found on main lake points and ledges using jigs and Carolina rigs.
There can be a good night bite here, and topwaters excel around sundown.
Like a lot of big bass lakes in Texas, your best shot at a trophy on Sam Rayburn comes early in the year. Look for them on flats in 8 to 12 feet of water as they transition toward spawning sites.
March and April offer excellent spawning action in the backs of various creek arms, especially Harvey Creek and Buck Bay.
Spinnerbaits are great "searcher" lures to find bass during the spawn and post-spawn periods. Slow down and toss a jig or wacky worm when you start getting bites.
Water levels fluctuate a lot at Sam Rayburn. Low water may force you to to focus on timber and bottom structure instead of vegetation.
When the water is high, however, there's often an incredible bass bite among shoreline vegetation and brush that's inundated with water.
There are more than 20 access and launch sites around Sam Rayburn Reservoir. Coming from Houston, spots like Caney Creek Recreation Area and Twin Dikes Park are most convenient. Both offer boat ramps, shore fishing access and campsites.
A lot of that good bass cover also helps serve up some of the best crappie fishing you'll find in Texas.
More: Complete Guide to Fishing at Sam Rayburn Reservoir
Lake Livingston
Located just 90 minutes north of Houston, Lake Livingston is best known as one of the best white bass lakes in Texas, and one heck of a good catfish lake. But largemouth bass tend to get overlooked.
That's a shame, but it's understandable. Lake Livingston is a massive, 90,000-acre reservoir on the Trinity River, but lack of traditional cover restricts largemouth bass to certain areas. There are a lot of bass out there, but you really need to know where to look.
Spring and fall are the best seasons for largemouth bass in Livingston Lake, and the best fishing tends to be not in the main lake, but in the bays and backwaters where there's more vegetation and timber.
The Kickapoo Creek Arm is a great place to start. It has a lot of fallen timber, weedy sloughs, and numerous docks and bulkheads along the shoreline. There's often good fishing where the Route 190 bridge crosses the Kickapoo Creek arm.
Another great bass fishing area is the section known as "The Jungle," which is an extensive area of semi-submerged timber and brush up near the Trinity River inlet.
The Jungle area is filled with boating hazards, so take your time exploring it, but more bass are caught here than just about anywhere else on the lake.
Lake Livingston isn't known for big bass, but it can be a great numbers lake. Bass are often bunched together, and you can catch a boatload of 2 and 3-pound largemouths on a good day, with a decent shot at bigger fish.
The lake is heavily stained more often than not, especially in backwater areas where the bass tend to be. Try something noisy like a buzzbait or chatterbait to get their attention.
Soft plastics on Texas and Carolina rigs also work well around timber and brush. Use scented soft plastics in dark colors to help bass find your bait. Worms and lizards are great choices.
When bass move a little deeper in summer, try a wobbling crankbait.
Dozens of marinas provide launch facilities around the lakeshore. Cauthan Public Ramp and Riverside Public Ramp offer free boat launching on the upper lake. Patrick's Ferry and the Blanchard Public Ramp are closer to the mid-lake area.
Lake Livingston has some other great fisheries beyond bass and catfish, including perhaps the best striped bass fishing near Houston.
Toledo Bend Reservoir
What can be said about Toledo Bend that hasn't been said? A legendary impoundment that straddles the line between Texas and Louisiana, it's a killer bass lake for both size and numbers.
It's also the kind of lake where you can pick your fishing tactic of choice, and find a place where it will work on any given day. But as great as Toledo Bend is, its size can be a little intimidating. At 181,000 acres, this is a truly gargantuan lake.
For today, let's focus on the lower end of Toledo Bend Reservoir. It's the closest part of the lake to Houston (still a 3-hour drive, but one well worth taking) and offers some great bass fishing opportunities.
Toledo Bend is primarily a reservoir on the Sabine River, but it's fed by hundreds of smaller tributaries that form the coves and arms.
These coves are full of bass, but also full of stumps, timber and other obstructions, so a good map is essential, and caution is warranted while navigating them.
The Sam Forse Collins Recreation Area and South Toledo Bend Boat Launch are good places to start if it's your first time on the lake. The nearby Buck Creek and Indian Creek Arms are notorious big bass haunts.
Explore the shallows slowly, and start with your favorite fishing technique.
If you like knocking your billed crankbait off of stumps, there are ample opportunities to do so. If you prefer working the edges of vegetation with a plastic worm, go for it.
Something to keep in mind about Toledo Bend is that the reservoir warms up faster at its shallower upper end to the north. Bass might start spawning as early as February up there, but in the lower lake, it's more common for bass to be on their beds in April and May.
It's common to find bass in less than 10 feet of water in spring or fall.
Spinnerbaits and crankbaits are great on days when the fish are most active, but try a stickbait or soft jerkbait when the bite slows down.
Shad are the main forage for bass on Toledo Bend, and in summer when bass head a little deeper during the day, you can clean up by casting shad imitations along ledges and creek channel drop-offs.
Have a topwater on deck when the sun goes down.
Beyond bass, the fishing options here are legendary. This website's publisher experienced probably the best bluegill fishing in his life here as a kid.
More: Complete Guide to Fishing at Toledo Bend Reservoir
Lake Somerville
Lake Somerville is located roughly halfway between Houston and Austin, about a 90-minute drive from either city. (It's also on our list of best bass fishing spots near Austin.)
Lake Somerville a great bass lake, with an abundance of prime habitat as well as numerous public access sites that make it fairly easy to fish.
Spanning over 11,000 acres, this is a fairly large reservoir, though most of it is quite shallow. The lake has kicked out several 10-pound bass in recent years, and generally produces a lot of largemouths in the 2- to 5-pound range.
Several different fishing tactics can be effective. Lake Somerville has a bit of fallen timber and brush, along with limited beds of hydrilla and lotus, and you can often pick off some bass by casting jigs and frogs close to cover.
Texas Parks & Wildlife has also sunk several manmade fish attracting structures throughout the lake, and you can see their location on this map.
For the most part, however, the most successful bass fishermen at Lake Somerville find fish by following the bottom contours. Lake Somerville has a very well-defined creek channel, and if you can locate the edge of the channel, you can usually find bass.
Try jigging or casting spinnerbaits and crankbaits around bends in the creek channel.
April usually offers the best bass fishing, as the fish transition into post-spawn mode and feed heavily, often moving towards shallow water in the morning and evenings, using the creek channel as a highway.
Boat launch facilities, shore fishing and a fishing pier are located in Lake Somerville State Park, which encompasses much of the shoreline in the upper part of the lake.
Several additional public parks and privately-owned marinas also offer access closer to the dam.
Lake Somerville also has one of the best white bass fisheries in this part of Texas.
Gibbons Creek Reservoir
Known as one of Texas' best trophy bass lakes in the late '80s and early '90s, Gibbons Creek Reservoir is generally considered to be past its prime. You simply don't catch fish like the 16.13-pound lake record here anymore.
But Gibbons Creek Reservoir has evolved into a great numbers lake, and there are times in spring and fall when bass on back-to-back casts are a common occurrence. Expect to catch a lot of 2-pound largemouths, with the occasional fish pushing 5 pounds.
The amount of vegetation in Gibbons Creek Reservoir has fluctuated quite a bit over the years, but there's usually decent growth of hydrilla and lotus. Fish the edges of the grass with Carolina-rigged worms, Senkos and jig-n-pigs.
Another good option is to head up into the creek arms, where there's a bit of standing timber.
For a long time, Gibbons Creek Reservoir was known as a great winter bass lake thanks to the warm water discharge from the Gibbons Creek Power Station. The plant was permanently shut down in 2019, so there is no longer a warm water discharge.
Even so, you can still catch some of the biggest bass of the year in February. Finesse plastics are a good option, and you may get strikes on a topwater worked ultra-slow during the morning hours.
Shore access and a public boat ramp are provided at TMPA Park, near the south end of the lake. Gibbons Creek Reservoir is a modest-sized lake of 2,770 acres, and it can be a lot of fun to fish from a kayak.
Fayette County Reservoir
Fayette County Reservoir is a 2,400-acre lake outside La Grange (they got a lotta nice bass there).
With a central location less than 2 hours from Houston, Austin and San Antonio, it's a very conveniently located fishery. Even so, this lake gets overlooked far too often.
Largemouths in the 2- to 5-pound range are abundant and quick to bite, and there have been reports of bigger bass as well.
Bass in the 8-pound neighborhood caught from Fayette County Reservoir have turned up in the Texas ShareLunker Program, often caught during the early season around the spawn.
Like a lot of lakes in this part of the state, March and April are great months to find bass on their beds, and there's an excellent post-spawn bite as well.
The lake has a fair amount of shallow vegetation, and several of its coves and creek arms are filled with standing timber.
Try casting a lipless crankbait among the trees, or work a suspending jerkbait one twitch at a time when the bite slows down.
Long, rocky points in this lake are great places to work a Carolina-rigged worm or lizard along the bottom, and the rip-rap along the dam often holds some fish.
Fayette County Reservoir is also a power plant cooling lake, and unlike Gibbons Creek Reservoir, the Fayette Power Plant is still active, and the warm water discharge is a great place to load up on bass in January and February.
Additional bottom structure including submerged road beds and a distinct creek channel can also be productive.
Park Prairie Park and Oak Thicket Park each offer campsites, shore fishing access, boat launch facilities and fishing piers.
Lake Houston
A large, mostly shallow reservoir on the east side of Houston, Lake Houston offers some excellent fishing opportunities close to home. It's not known as a trophy bass lake, but there are solid numbers of 1- to 3-pound largemouths here.
Although it spans over 11,000 acres, Lake Houston is just 45 feet deep at its deepest point (and most of the lake is much shallower than that) and the water clarity tends to range from moderately stained to a rough approximation of chocolate milk.
The best fishing in Lake Houston tends to be in the uppermost end of the reservoir, and in its various creeks.
The main body of the lake is nearly devoid of vegetation, but you'll find some productive weed beds, flooded brush, lily pads and water hyacinth in backwater areas.
Try fishing around the edges of emergent vegetation in Luce Bayou. You'll also find a few weeds here and there in the East Fork San Jacinto River Arm of the lake.
Dark-colored worms and soft plastics are favored by local anglers, and a scented worm usually draws the most strikes.
Have a few topwaters handy too. Buzzbaits and poppers can be attractive in the lake's muddy water.
If you're a fan of dock fishing, there are numerous docks, boat houses and bulkheads along the eatsren shore of the lake that often hold some bass.
The only public launch site is located near the dam at Deussen Park, which also has some bank access.
It may be more convenient to launch at Ponderosa Marina on Luce Bayou, or at BJ's Marina on the East Fork.
Lake Houston can also be an excellent crappie lake at times. In lake winter and early spring, you have a good shot at catching a mixed bag of bass and crappie, and this also happens to be one of the Houston area's better catfish fishing lakes.
Sheldon Lake
Sheldon Lake is something of a local fishing hole, located just 15 miles northeast of Downtown Houston.
It's a 1,200-acre reservoir that gets a lot of attention from bank fishermen, and also has two boat ramps within Sheldon Lake State Park.
This lake is best known for catfish and crappie, but there's a decent population of largemouth bass here as well.
Don't expect non-stop bass action, but an 11.16-pound lake record was set in 2018, so there are some hefty bass in the neighborhood. You'll catch fair numbers of smaller to mid-sized bass as well.
Soft plastic baits do well here, especially creatures, lizards and worms on a Texas rig. Wacky worms are also effective, and a weedless frog can sometimes provoke violent surface strikes.
Sheldon Lake has a lot of aquatic vegetation, and also a decent number of cypress trees. Fishing around the trees in early spring is a great tactic, and a lot of them are within casting distance of the bank.
Kayak fishing can also be a lot of fun on Sheldon Lake.
Keep in mind that this lake is very shallow—just 10 feet at its deepest point—and the water can get murky, choked with vegetation, and sweltering hot in summer. Spring and fall fishing is better.
Fishing here can be decent in winter too, and the lake tends to be less crowded.
Because it is located entirely within a state park, Sheldon Lake is regulated as a Community Fishing Lake, and no fishing license is required.