Baker County has some of the best smallmouth bass, crappie and catfish fishing anywhere in Oregon, thanks to a string of productive reservoirs on its boundary with Idaho.
For many anglers coming to Baker County, the destination is Brownlee Reservoir, the largest and often best of those three massive reservoirs, but the county also has plenty of other places to fish, ranging from lower-elevation warmwater fish to some very fine trout fishing in mountain settings.
The purpose of this article is to quickly introduce some of the very best places to fish in Baker County. For additional details on related topics, please click the links within the body of the article as well as at the bottom.
Baker County's neighbors also have great fishing, so click the county links to explore a wider area.
Regulations governing sport fishing in this area are mostly under the Oregon Department of Fish and Wildlife's Southeast Zone, but look for regulations on fishing in the Snake River and its reservoirs listed in the Snake River Zone.
Incorporated cities in Baker County are Baker City, Greenhorn, Haines, Halfway, Huntington, Richland, Sumpter and Unity.
Natural features here include parts of the Wallowa-Whitman National Forest, Eagle Cap Wilderness, Blue Mountains and the southern tip of the Hells Canyon National Recreation Area.
The National Historic Oregon Trail Interpretive Center (Museum) is located just east of Baker City.
Listed alphabetically, here are the best fishing spots in Baker County:
Anthony Lake
This lake is so high up that following a hard winter it can have ice on it until around the Fourth of July, but it's a stunning lake in a popular mountain area known for winter snow skiing.
It is typically stocked with rainbow trout in the early summer and again at mid-summer (often with trophy-sized fish) and also has resident brook trout.
It stays cool enough to fish into late summer or early fall.
Grande Ronde Lake to the north (just into Union County) and hike-in rainbow and brook trout lakes like Lost and Van Patten offer additional nearby high-mountain fisheries for summertime angling.
Balm Creek Reservoir
This 110-acre reservoir has both trout and warmwater fishing in the Wallowa-Whitman National Forest northeast of Baker City.
Balm Creek Reservoir is usually stocked with a good number of hatchery rainbow trout sometime in May.
Smallmouth bass and crappie fishing also are available.
Balm Creek can suffer from low water conditions in the summer.
It's located a little over an hour (30 miles) from Baker City.
Brownlee Reservoir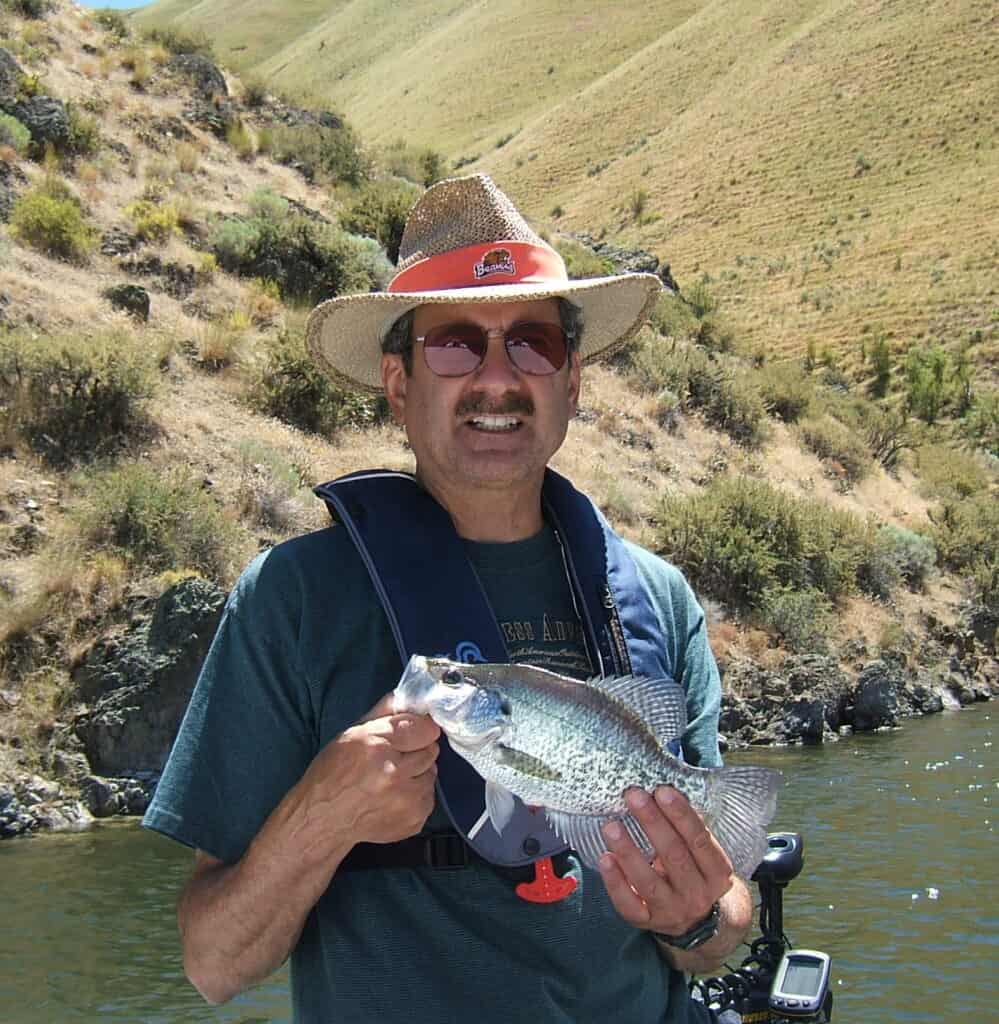 This massive reservoir (15,000 acres) is simply one of the best warmwater fisheries in Oregon and the Pacific Northwest.
Brownlee Reservoir is the uppermost and richest of three big impoundments on the Snake River, which forms the Oregon-Idaho border.
The most popular fish species that anglers target here are smallmouth bass, crappie and channel catfish.
Bass and crappie fishing tend to be cyclical, with an excellent period followed by some down years that mirror severe water level fluctuations.
Catfish always seem to be available in good numbers here.
Follow those links immediately above for articles about catching those species, including some more details on Brownlee.
The reservoir also has largemouth bass, bluegill, yellow perch and several more species of catfish, including big flatheads.
Brownlee even has a trout fishery. During the warm season, look for trout in cooler water, such as where creeks flow in and deeper areas.
Popular access points for all types of fishing (with camping and boating facilities) include the Powder River Arm (Hewitt Park) in the Richland area and Farewell Bend State Park in the upper reservoir, where late spring catfish fishing can be ridiculously good.
Additional bank access, camping and a couple more boat launches can be found along Snake River Road on the Oregon side between Richland and Huntington.
You will also find more about this fishery here: Best Fishing in the Snake River Zone.
More: Brownlee Reservoir Fishing
Burnt River
This is primarily a trout stream that flows out of the Blue Mountains east toward Brownlee Reservoir (Snake River) near Huntington.
A couple of stretches deserve particular notice. One to explore is a tailrace fishery below Unity Reservoir, which can produce some larger fish.
And for easy angling, the south fork of this stream well upstream from Unity Reservoir in the Wallowa-Whitman National Forest is typically stocked with trout around mid-spring. Fishing is good then but slows in summer.
The stocking area is in the vicinity of campgrounds along the creek and Forest Service Road 6005.
On the very lowest reaches near Brownlee, warmwater fish are present.
Eagle Creek
This high mountain stream flowing south out of the Eagle Creek Wilderness gets a good stocking of hatchery rainbow trout near Forest Service campgrounds on the upper mainstem and its west fork (meadows area) during the early summer.
The stocked area is accessed from Eagle Creek Road, a little over an hour and a half drive (40 miles) northeast of Baker City or slightly farther traveling southeast from La Grande.
This spot is a cool retreat from scorching summer weather in the valleys below.
Among the fishing lakes high in the Eagle Caps above this area are Crater and Heart lakes, which require hikes to reach rainbow and brook trout found in each. (Heart Lake is in Union County but fits in with a visit to this area.)
Fish Lake
This lake in the Eagle Cap Wilderness area is a very nice place to fish during the summer months, thanks to its high elevation and good trout numbers.
That elevation of over 6,000 feet could keep it inaccessible into late spring or early summer due to lingering snowpack.
Fish Lake is stocked with hatchery rainbows in the early summer and fishing typically holds up into the fall, until the weather turns again.
There also are plenty of naturally reproducing brook trout in the lake.
Boating and camping is available.
Fish Lake is located a little over an hour's drive (about 20 miles) north of Halfway.
Another good mountain trout fishery in the same neighborhood is Twin Lake, which is located about five miles north of Fish Lake on National Forest Road 66.
Haines, Highway 203 and North Powder Ponds
These ponds north of Baker City are all stocked with rainbow trout, typically in the spring.
Haines Pond is located alongside Highway 30 just north of Haines and often gets a good dose of trout at mid-spring.
North Powder Pond also is just off Highway 30, just southwest of North Powder and the I-84 interchange. It also gets a large bunch of trout, usually the same week Haines Pond is stocked.
Highway 203 Pond is at that highway's intersection with I-84 just a few miles north of Baker City. It is modestly stocked a few times during the spring.
Trout fishing will fade with warmer temperatures of summer, but these ponds also have some bass and/or bluegill that should be willing biters.
Hells Canyon Reservoir
The lowest of three large Snake River reservoirs (shared with Baker County) is most popularly fished for smallmouth bass, crappie, catfish and trout.
This reservoir isn't as good for warmwater fishing as Brownlee farther south, but it still can be quite good.
The trout tend to stick to cooler water, which in the summer means creek mouths and deeper water near the dam.
The reservoir also has an added attraction in the fall, when ODFW sometimes plants surplus hatchery steelhead that are trapped in the river just below the dam.
As a bonus applicable to those steelies, anglers can keep up to three fin-clipped trout over 20 inches (those are the steelhead) per day without needing a salmon and steelhead tag during the Sept. 1 to Dec. 31 period.
To reach the reservoir, take Highway 86 from Halfway northeast to the Copperfield area, where there is a boat launch.
Homestead Road and other roads offer access for bank anglers.
Also see: Best Fishing in the Snake River Zone.
Murray Reservoir
This is an easily fished reservoir of about 45 acres right along Highway 26 about nine miles southeast of Unity.
Murray Reservoir is typically stocked in mid-spring, and fishing will be great right after. Fishing holds up well in spring but definitely can slow during the heat of summer.
Fall fishing might produce some fair catches as well.
This reservoir is private but has been opened to public fishing.
In the same general area, Long Creek Reservoir can have pretty good fishing for rainbow and brook trout some years, but this 8-acre lake suffers during a harsh winter.
It also is harder to reach heading south near Unity.
Oxbow Reservoir
The smallest of Oregon's three Snake River reservoirs is popular for the same fish species present in Hells Canyon Reservoir below and Brownlee Reservoir above: smallmouth bass, crappie, catfish and trout.
There are extra-tight regulations for bass to encourage a trophy fishery here, including two-bass limits with length restrictions.
See regulations for specifics.
To reach the reservoir, take Highway 86 northeast from Halfway to the Copperfield area and then turn south (upstream) along Brownlee-Oxbow Highway, which closely follows the Oregon side for bank access and boat access.
Also see: Best Fishing in the Snake River Zone.
Phillips Reservoir
This very large reservoir (about 2,400 acres at full pool) on the Powder River near Baker City once was one of the state's true powerhouse trout fisheries.
There's still a trout fishery along with a variety of warmwater fish and some of Oregon's only tiger muskies.
What knocked the trout fishery way down was the illegal introduction of yellow perch, which substantially weakened the food chain.
Trout fishing still can be fair to good at times, particularly in spring and fall, with the potential for some winter ice fishing.
The yellow perch reproduced fast and number somewhere over a million, but they run too small to bring as much excitement as the large trout did before perch arrived. The perch also tend to accumulate naturally occurring mercury.
In response, ODFW experimented by stocking both tiger trout and tiger muskies, although recent reports suggest that those hybrid predatory fish haven't done much to solve the perch problem..
Tiger trout especially didn't fare well at Phillips and it appears unlikely at this point that you'll catch any.
This sterile hybrid of brook and brown trout are currently prowling Diamond Lake and Fish Lake in the southern Cascade Mountains. Both of those lakes have a different invasive species, chubs.
And the tiger muskies, a sterile hybrid of muskellunge and northern pike, at this writing have only been introduced in Phillips in Oregon but are used in other states (including Washington) for this purpose.
While the muskies also may be disappearing from Phillips by this time, they still must be released unharmed.
Phillips also has a growing bass fishery as well as some crappie fishing and the rare walleye.
Water levels tend to suffer during the summer.
There are plentiful amenities, including camping and boat launches.
Pine Creek, North
This small stream located northeast of Halfway is stocked with hatchery rainbow trout in late spring, probably around early June.
To reach the stocked area, take Highway 86 toward Copperfield but turn north on North Pine Road. You'll be in the Hells Canyon National Recreation Area.
Powder River
Most trout anglers who fish the Powder focus their attention on tailrace fisheries below Phillips and Thief Valley reservoirs.
The area below Phillips Reservoir, just southwest of Baker City, is the most popular of the two because it has excellent access and is supplemented each year with hatchery trout, which grow quickly in the cool waters released from the giant reservoir above Mason Dam.
Trout retention is allowed here.
Bait is allowed here these days, but fly anglers also do well.
The accessible area immediately below the dam at times also has been planted with a truckload or two of surplus hatchery spring Chinook salmon available to anglers, at least when plenty show up below Hells Canyon Dam (which is most years).
The public is also allowed to fish a short stretch below Thief Valley Reservoir north of Baker City, where the river also has rainbows to good size but no salmon.
The lower river forms the popular Powder River Arm of Brownlee Reservoir and has a variety of warmwater species. See the Brownlee entry.
Thief Valley Reservoir
This is a good-sized reservoir (nearly 700 acres at full pool) on the Powder River that is stocked with fingerling rainbow trout that quickly grow to keeper sizes.
Trout fishing at Thief Valley Reservoir (shared with Union County) is best in spring and fall when water temperatures are cool. Fishing tends to be slow in hot summer weather.
Trolling in a boat is most effective, but bait fishing from shore or a boat also can bring catches of trout to good size.
Ice fishing is popular here after a good freeze.
The lake also has some bass, yellow perch and bullhead catfish.
It is known for its winds that at times sweep across a barren landscape.
Thief Valley is due east of North Powder within reasonable reach to the north from Baker City or to the southeast from La Grande.
Unity Reservoir
This nearly 1,000-acre lake on the Burnt River a few miles north of the town of Unity is a popular destination for anglers seeking trout, bass and crappie.
Trout are typically stocked as fingerlings and grow to legal sizes and on up to about 18 inches. Fishing for them is best in cool seasons.
Bass fishing for both smallmouth and largemouth bass can be fair to good at times, but quality fish haven't always been numerous. Toward that end, ODFW only allows retention of one bass 15 inches and longer.
Crappie fishing success, like most places, fluctuates season to season and can be pretty good here some years.
The reservoir can suffer from low water conditions at times.
Ice fishing can be popular if conditions are safe, but cold-season anglers must stay away from the dam. See regulations for specifics.
Fishing in Neighboring Counties
Union County: To the northwest, a mountain-strewn land with trout lakes and streams to match.
Wallowa County: To the northeast, great fishing for world record kokanee and giant trout in Wallowa Lake, plus first-rate steelheading in the Grande Ronde and Wallowa rivers.
Malheur County: To the south, the massive Owyhee Reservoir is home to great bass, crappie and catfish fishing, and the river below is a mecca for trophy brown trout.
Grant County: To the west, smallmouth bass and trout fishing in the upper John Day River drainage.
More Fishing Resources:
In addition to other sources, the following websites were very helpful while compiling these county fishing pages, and the information there is valuable to all Oregon anglers.
For current regulations, trout stocking, weekly angling reports and more, find links on the Oregon Department of Fish and Wildlife's Fishing Resources Page.
For boating information about these waters, see the Oregon State Marine Board's launch locator map.
Return to Best Fishing in Oregon page
Oregon Resources
ODFW Weekly Fishing Report
ODFW Trout Stocking Schedule
Oregon Fishing Regulations
National Weather Service