Malheur County, one of Oregon's largest counties, has most of its populaton in the northeast corner, while the remainder of the area is vast and lightly populated.
But what anglers will find here are plenty of fish, including in sprawling waters such as Owyhee Reservoir and in fish-filled rivers like the Snake, Owyhee and Malheur.
This article serves as a simple introduction to the better fishing spots in this large and remote county in Oregon's far southeastern corner.
If you are looking for additional information, try clicking the links within the article and near the bottom, where you'll find additional resources including links to fishing spots in neighboring Oregon counties.
For regulations look to the Oregon Department of Fish and Wildlife's Snake River Zone for Oregonians fishing that river (where it serves as the state line between Oregon and Idaho border), while the county's other waters fall into ODFW's Southeast Zone.
The incorporated cities in Malheur County are Adrian, Jordan Valley, Nyssa, Ontario and Vale. Other communities include Arock, Basque, Brogan, Burns Harper, Junction, Ironside, Juntura, McDermitt (Nevada border) and Rome.
Listed alphabetically, here are some of the best fishing spots in Malheur County:
Beulah Reservoir
When precipitation has been reasonable, this reservoir can swell to over 2,000 acres and produce excellent fishing for rainbow trout that are stocked as fingerlings.
When drought conditions set in, fishing declines, the boat ramp at times is unusable, and the reservoir is much less of a draw for anglers.
Generally, the best fishing is in the spring, from after ice-out until about June.
Summer angling can be tough, but conditions may improve again in the fall if there is plenty of water.
There also are native redband rainbow and bull trout (the latter must be released unharmed) as well as whitefish.
Beulah is about an hour's drive north from Juntura.
Thanks to its periodic great trout fishing, this is on our list of Best Fishing Lakes and Reservoirs in Southeast Oregon.
A few miles farther to the northeast of Beulah on a rough road, little Murphy Reservoir also is stocked with fingerlings if there is enough water for them. Access is available near the dam.
​Bully Creek Reservoir
This 1,000-acre reservoir 10 miles northwest of Vale is most popularly fished for crappie, bass and bullhead catfish.
There also are yellow perch and sunfish.
When a strong age class matures, crappie fishing can be excellent for a year or two.
The lake also is sometimes stocked with trout, especially in the spring.
Trout fishing is best when the water is still cool but will drop off quickly in summer heat and low water conditions, which occur often.
Cow Lakes
At 1,000 acres when full, these lakes northwest of Jordan Valley are now primarily managed as warmwater fisheries.
At times they can be very good for crappie, but fluctuating water conditions take a toll on the fishing quality.
There also are bullhead catfish, bass and sunfish.
Trout stocking has been eliminated due to water conditions.
Ice-fishing can be an option at times.
Drought seasons are tough on the fishery.
The lower lake has gone completely dry some years, although the upper lake may come through in better condition.
There is good bank access and an unimproved boat launch.
Malheur Reservoir
This 1,200-acre irrigation reservoir is typically stocked with fingerling rainbows that grow quickly when there has been adequate precipitation.
Fishing is best in the margin seasons, spring and fall, and slows when summer brings warm and weedy water.
The reservoir is located north of Highway 26, roughly between Ontario and John Day.
Malheur River
Forks of this river can offer some excellent trout angling at times.
Especially of note in Malheur County are popular tailrace fisheries below Warm Springs and Beulah reservoirs.
The Warm Springs reach near the old town of Riverside is stocked with fingerling rainbow trout that help maintain a very good fishery from here downstream (flowing north) to about Juntura.
Fishing is best in spring after high flows subside.
Warmwater fish tend to take over the population closer to its junction with the Snake River near Ontario.
Due to the trout fishing, this is one of the Best Fishing Rivers in Southeast Oregon.
Owyhee Reservoir
This gigantic reservoir, nearly 14,000 acres at full pool, stretches through a flooded canyon southeast of Nyssa. It's also known as Lake Owyhee.
It is simply one of the great spots in Oregon to catch crappie and bass.
Crappie fishing here can often rival or even beat Brownlee Reservoir, but like any crappie fishery it tends to swing between feast or famine every few years as larger classes of fish mature.
Smallmouth bass are typically numerous and love the plentiful rocky structure, but tournament anglers also know that they can sometimes score bigger fish by targeting largemouth bass, often in the reservoir's coves.
Channel catfish also are a popular quarry, but they are more plentiful in the more remote upper reservoir.
There also are other warmwater species, including yellow perch and brown bullheads.
The majority of angler facilities, including boat launches and a state park, are on the lower reservoir (northeast side) closer to the county's main population around Ontario, Nyssa and Vale.
A remote launch is at Leslie Gulch at the southeast end.
We have this reservoir on the following lists: Best Crappie Fishing in Central and Eastern Oregon and Best Smallmouth Bass Fishing in Central and Eastern Oregon.
It also gets honorable mention nods for catfish and largemouth bass.
Much more on this fishing spot: Owyhee Reservoir Fishing
Owyhee River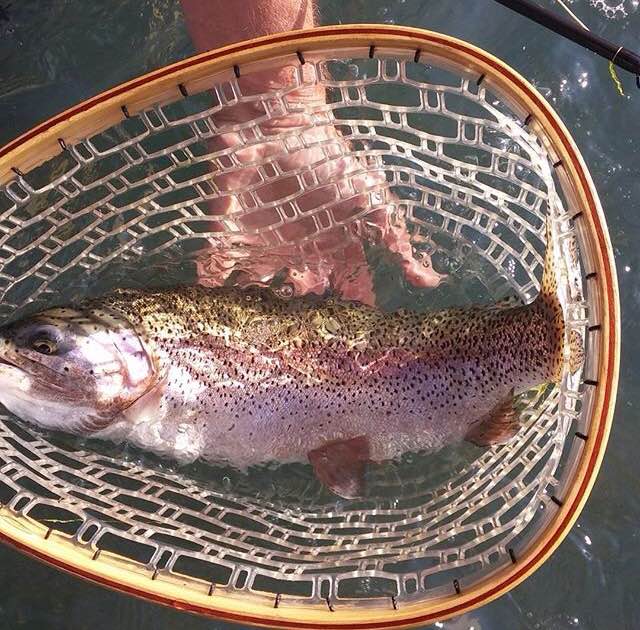 This is one river with two distinct personalities.
Below Owyhee Reservoir there is a tailrace fishery gaining in renown, especially among fly anglers, for consistently putting out plenty of good-sized brown trout.
The browns are fished strictly catch and release, but that section also has rainbows for anyone who wants fish dinner.
Bait fishing is allowed (mostly for folks aiming for rainbows) but beware because that form of fishing can result in unintended fatal hookups with the trophy browns.
The best times to target browns are late winter or early spring to early summer. Fall also can be decent (around October into December), but some anglers are careful about fishing around the brown trout spawning periods then.
Ice can form on the river in the winter, and the higher river temperatures of late summer can be tough on fish you catch.
The best public access and fishing for trout is in the several miles below the dam, including a park less than a mile downriver and other spots along Owyhee Lake Road.
For this fishery, check out our Owyhee River Fly Fishing for Trout article.
Farther down into farm country access is more restricted by private property and trout fishing is poor.
Warmwater fish become more prevalent closer to its junction with the Snake River between Nyssa and Adrian.
Upriver from Owyhee Reservoir, the river has some of the best smallmouth bass fishing anywhere in Oregon, though its chances at fame are hurt by its extreme remoteness.
Plus, there is relatively little bank access through this private ranching country, although you can find it if you look.
Experienced boaters can do multi-day floats to reach a ton of bass.
Channel catfish also are present in very good numbers, especially from Rome down to the reservoir. There are smaller numbers of other warmwater fish.
This river is also listed in our Best Fly Fishing Rivers in Oregon, Best Fishing Rivers in Southeast Oregon and Best Smallmouth Bass Fishing in Central and Eastern Oregon.
Pole Creek Reservoir
This reservoir just off Highway 26 is stocked with both fingerling and legal-sized rainbows during the spring, when fishing is best.
The 200-acre reservoir is located on private land but has public access for day use only.
Pole Creek Reservoir suffers during drought years and can go completely dry, but some years the fishing holds up here a bit longer than at nearby Malheur Reservoir.
It is located 43 miles northwest of Ontario.
Snake River
The river above Brownlee Reservoir (the upper reservoir near the county line) is one of the better places to catch catfish in Oregon.
As with Brownlee, the most popular and common catch is channel catfish, which are great eating and reach large sizes.
But this river section also is home to some monster flathead catfish and is where the 42-pound state record came from.
In addition to the catfish, river-loving smallmouth bass are right at home on the Snake River and can be caught in high numbers, with some to good size.
Other warmwater species found in Brownlee, including crappie, can also be found here but are more popularly fished in the reservoir.
Access can be a bit of a challenge, but is available. Several boat access points will give you greater access, including at the top of Brownlee.
This is on our list for Best Catfish Fishing in Oregon and also gets an honorable mention for smallmouth bass fishing.
Warm Springs Reservoir
This big reservoir (​nearly 4,200 acres when full and shared with Harney County) is very good for smallmouth bass and also has good numbers of yellow perch and catfish — mostly bullheads but some good-sized channel catfish as well.
There also are crappie and sunfish.
The reservoir also has a modest fishery for rainbow trout, thanks to the fingerlings planted here.
The reservoir can suffer mightily during drought years, sometimes leaving the boat ramps high and dry.
Still, it's good enough during better conditions that it's on our list of Best Fishing Lakes in Southeast Oregon.
Fishing in Neighboring Counties
Baker County: To the north, major access points to the excellent warmwater fishing mecca of Brownlee Reservoir, plus lots of trout and other fishing.
Grant County: To the northwest, excellent smallmouth bass and trout fishing in the upper John Day River system.
Harney County: To the west, excellent fishing in remote lakes and streams for native and stocked rainbow and cutthroat trout.
More Fishing Resources:
In addition to other sources, the following websites were very helpful while compiling these county fishing pages, and the information there is valuable to all Oregon anglers.
For current regulations, trout stocking, weekly angling reports and more, find links on the Oregon Department of Fish and Wildlife's Fishing Resources Page.
For boating information about these waters, see the Oregon State Marine Board's launch locator map.
Return to Best Fishing in Oregon page
Oregon Resources
ODFW Weekly Fishing Report
ODFW Trout Stocking Schedule
Oregon Fishing Regulations
National Weather Service