North Fork Reservoir is part of a Portland General Electric hydropower complex on the Clackamas River just east of Estacada, in the foothills of Oregon's Cascade Range an easy drive from the Portland area.
While the Clackamas is perhaps best known among serious anglers as a close-in steelhead and salmon fishing river from the dams downstream to the Willamette River, up here the narrow North Fork impoundment is primarily a family fishery with plentiful and cooperative rainbow trout.
If you want an easy fishing trip close to home in the Portland area, with the potential to catch trout all summer long, but yet still be out of the city surrounded by forested hills, I'd rate this a great option.
The Oregon Department of Fish and Wildlife generously stocks the reservoir with high numbers of catchable rainbows from mid-spring to early fall. Most of the catch is comprised of fresh hatchery planters.
Traditionally, many of those trout were in the 10- to 12-inch range, but on a recent trip there (as well as reports from other anglers) have found chunkier fish being planted. A recent couple of limits consisted of trout from 12 up to 14 inches, and some anglers occasionally catch larger fish.
North Fork Reservoir, named after the North Fork of the Clackamas that joins the mainstem at the lake, is the uppermost of a trio of stocked reservoirs that also includes Faraday Lake and River Mill Reservoir (a.k.a. Estacada Lake).
Fishing Regulations
North Fork Reservoir, in ODFW's Willamette Zone, uses the same river opener applied to salmon and steelhead rivers in the region. It is typically open from late May through Oct. 31, so check the regulations for specifics.
The daily limit is five hatchery rainbow trout, which must have a clipped and healed adipose fin. There is no longer a minimum length for fin-clipped trout; only one trout over 20 inches may be retained.
You can keep any non-native brown or brook trout caught here, but all wild trout (with intact adipose fins) and salmon and steelhead smolts must be released unharmed.
There are relatively few brook and brown trout in this part of the Clackamas system, but you will find more of them in the Oak Grove Fork of the Clackamas River above Harriet Lake.
There are some protected bull trout in the Clackamas River system that must always be released unharmed if accidentally caught, although most tend to be farther up in the mountains.
The Best Time to Fish
During cool springs, especially in years with healthy snowmelt, North Fork Reservoir's water can be a bit cold for ideal fishing in the first few weeks, but this reservoir will put out trout at a fair pace for its entire season.
A former fishing guide here, Ken Bear Cole, has found water temperatures in the low 40s at the opener, while the best bite often occurs when the water is closer to 55 degrees.
The ideal conditions usually exist from the opener, throughout June and into at least early July.
The fishing slows a bit in the hottest weeks of mid- to late summer, but there are still enough willing fish in the reservoir to make it worth your while.
Then thanks to cooler weather and late-season fish plantings, including some impressive numbers added in late August and early September, angling picks back up again from then up until the closure at the end of October.
Where to Catch Trout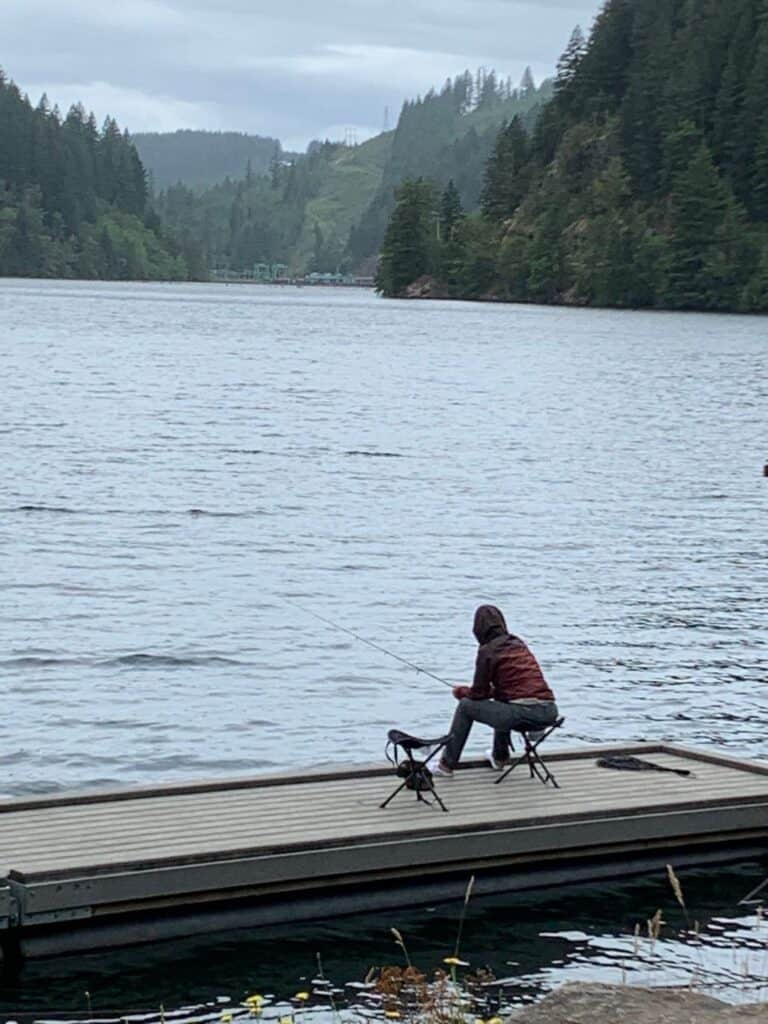 Shore anglers will find good access to willing fish near the boat ramp closest to the dam, which is at the northwest end of the reservoir (closest to Estacada). The area right near the parking has a moderate slope, but you can find deeper water in casting range by walking to some of the nearby points.
Another good bank fishing spot is on the lake side of the bridge that crosses the North Fork tributary at about mid-reservoir, just before reaching Promontory Park.
The parking is on the north side of the road near the namesake North Fork arm, but most anglers walk through a human tunnel under the road and fish the main lake on both sides of the outlet. I've done very well casting right off the mouth of the creek, which goes through a giant culvert.
At the park itself there is a more developed boat ramp, a full marina and an accessible fishing pier.
Bank fishing can be quite productive at North Fork Reservoir for much of the season, but there definitely are times when it slows and limits are quite tough to come by.
This is particularly true at mid-summer, especially about July, when the water temperatures peak and ODFW often takes a stocking break before picking up again in late summer and early fall.
You'll see a similar mid-summer lull if fishing from a boat, but boat anglers typically can find decent action throughout the open season.
For boat anglers, try fishing from under the large power lines downriver past the North Fork inlet area.
Or, another popular boat-fishing area is down the reservoir farther, from a natural point up past the lower boat ramp, which is where much of the stocking occurs.
How to Catch Trout
Fishing with bait is the preferred technique for shore anglers. Many use a small ball of Berkley PowerBait, floating the hook just off the bottom.
However, former guide Cole prefers the bobber method, which he said is exciting for many anglers because the bites are visible.
He often fishes a piece of nightcrawler, salmon eggs or PowerBait products between 3 and 6 feet beneath the float. When the fishing is a bit tough, he'll bait up with a small cluster of salmon roe.
Cole recommends a 4-pound test leader for North Fork Reservoir, where very few of the fish will threaten light leader. He likes Berkley Vanish, a fluorocarbon line that all but disappears in the water and holds up well.
Trolling also works well at North Fork Reservoir.
Flashy attractors help draw strikes, and Cole typically uses a smaller set of blades like many kokanee anglers employ to cut down on the drag that larger attractors create. It might take ¼ to 1 ounce of weight to drop the rig down to fish level.
He'll follow the attractor with about 3 feet of the Vanish leader and either a lure or a third of a nightcrawler.
When fishing with crawlers, he'll thread them on a No. 2 bait hook, which is large enough to help prevent smaller salmon and steelhead smolts from swallowing the bait.
Lures that work well include small spoons such as Luhr Jensen Super-Dupers. Cole sprays artificial lures with nightcrawler-scented Berkley Gulp Alive.
On my own trips with a buddy, we've taken a minimalist approach, simply trolling with a lure without all that hardware, which makes the fight more enjoyable on light tackle.
The reddish-colored Rooster Tail in the top photo was a trout slayer on the last trip, while chartreuse and other colors can sometimes be the hot tickets. Other types of spinners, spoons or just a plain nightcrawler will very often be just as effective.
While trolling, vary your motor speed and your trolling path to change the action of your bait or lure. "I kind of look like a drunken sailor out there," Cole said.
One Final Trout Fishing Tip
In the middle of summer, skiers can make the lake surface choppy, but it doesn't mean you have to quit fishing.
Cole has found that power boaters frolicking across the lake sometimes do him a favor by concentrating trout around the reservoir edges. At these times, focus your attention as close as 10 feet from the bank.
Power Boating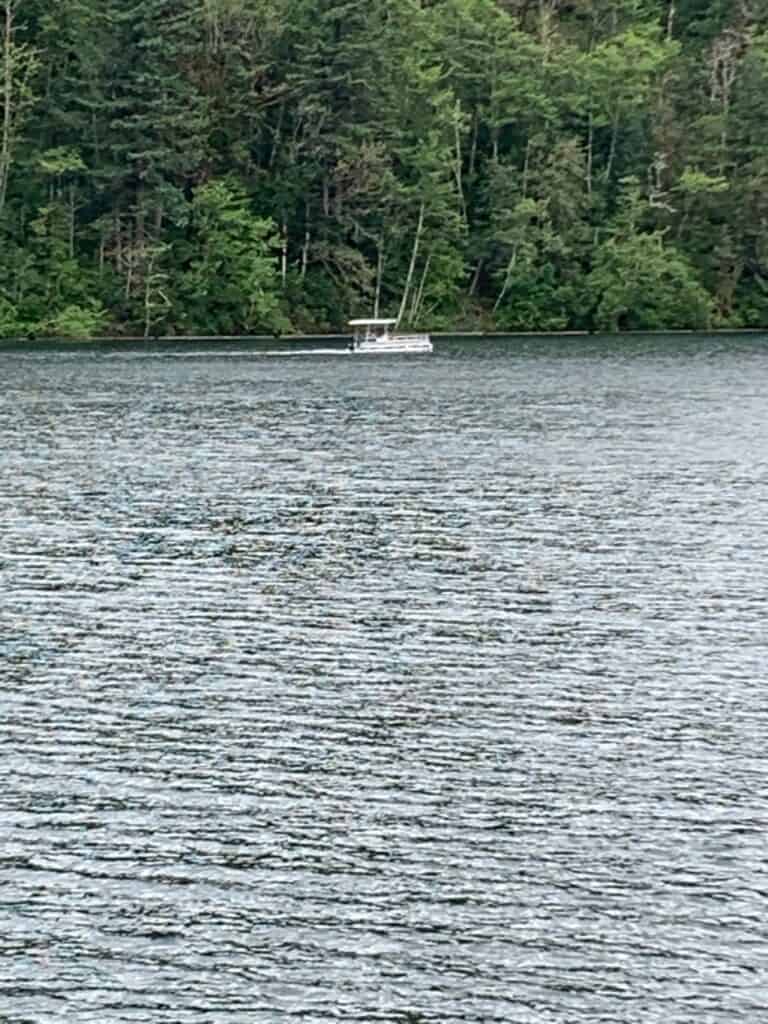 Just so you know before you go here to fish, North Fork Reservoir is popular with water-skiers and other types of boating enthusiasts on hot summer days.
There is a speed-restriction zone on the upper end that can help anglers and campers out.
Location and Facilities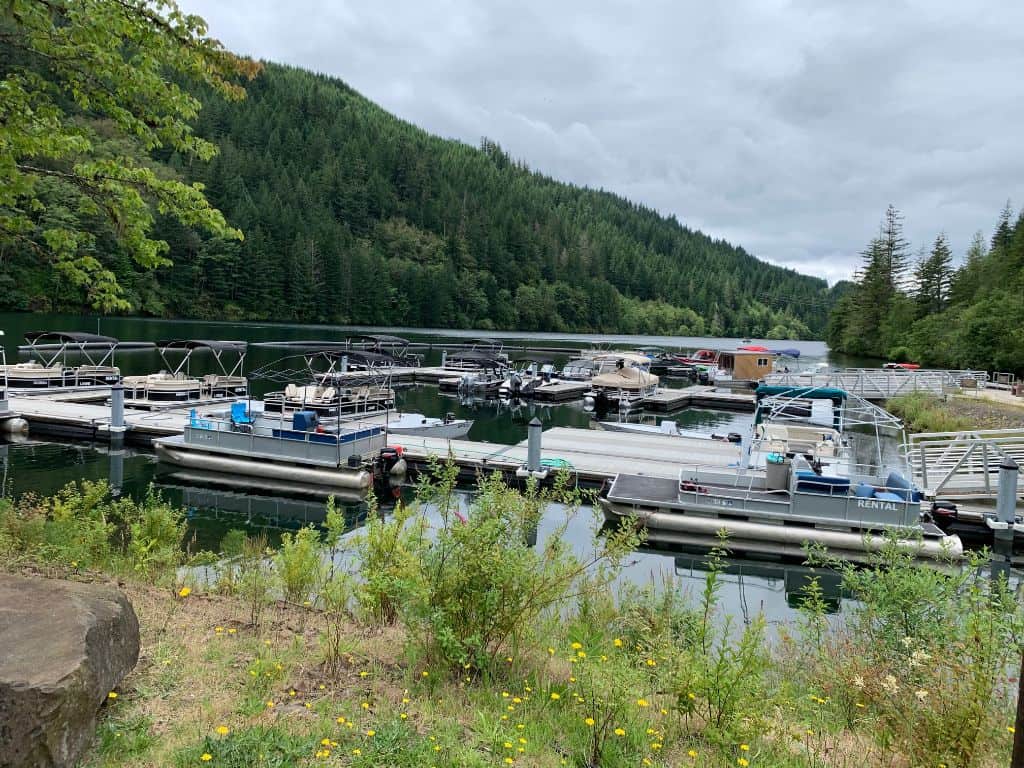 North Fork Reservoir is located along Highway 224 just 10 minutes southeast of Estacada.
The reservoir is under an hour's drive from downtown Portland.
While there are a few other great spots mentioned in this article to fish the lake, the hub of much activity here is at PGE's Promontory Park, just off the highway in the upper half of the lake.
As mentioned, boaters will find a fully appointed marina at the park, which includes boat, kayak and paddle board rentals.
There's also a camp store where you can get basic fishing and other supplies, and Estacada has additional supplies a short drive away.
Promontory Park Camping and Day Use Area
Besides the marina and store area, where you'll also find the accessible fishing pier, the park is best known for PGE's campground and day-use areas.
Promontory Park is designed as very family friendly, with a playground and hiking trails among the amenities.
There's even a tiny lake known as Small Fry Lake, which is usually stocked a few times each year and is only open to anglers who are age 17 and younger. (See the link below for a separate story.)
The campground has tent and RV sites as well as cabins and "yomes" (a dome-shaped, canvas-sided yurt).
Day-use visitors will find nice picnic facilities and there's a large-group picnic shelter available with advanced reservations.
Catch More Trout!
If you are a novice trout angler, or want to brush up a bit, try this article: Trout Fishing: Basic How-To Techniques and Tips.
Learn about other nearby trout fishing: Faraday Lake Trout Fishing, Estacada Lake Fishing, Timothy Lake Fishing, Trillium Lake Trout Fishing and Small Fry Lake Trout Fishing.
2023 North Fork Reservoir Trout Stocking
| | |
| --- | --- |
| 2023 Stocking | Total |
| May 8 – 12 | 6,666 |
| May 22 – 26 | 4,000 |
| May 29 – Jun. 2 | 5,000 |
| Jun. 5 – 9 | 4,666 |
| Jun. 12 – 16 | 1,666 |
| Jun. 26 – 30 | 2,000 |
| Jul. 10 – 14 | 2,334 |
| Aug. 14 – 18 | 5,134 |
| Aug. 21 – 25 | 11,134 |
| Aug. 28 – Sep. 1 | 2,334 |
| Sep. 11 – 15 | 2,334 |
Stocked fish are legal-sized rainbow trout unless otherwise noted. Stocking schedules are subject to change for a variety of reasons. The ODFW Weekly Fishing Report linked under Oregon Resources below may provide updated information.
Find more fishing spots in Clackamas County
Find more Oregon Trout fishing
Oregon Resources
ODFW Weekly Fishing Report
ODFW Trout Stocking Schedule
Oregon Fishing Regulations
National Weather Service
Ken Bear Cole has worked as a fishing guide on North Fork Reservoir, Henry Hagg Lake and Detroit Lake.