Come during the right time of year and you can probably fill your stringer with plump rainbow trout at Ochoco Reservoir near Prineville.
But if that doesn't work, you might still find plenty of action with the reservoir's good population of crappie and bass.
The reservoir, which is roughly 1,000 acres at full pool, was created by damming Ochoco Creek, which is part of the Crooked River watershed.
The reservoir supports irrigation for area farms and flood control, in addition to recreational opportunities..
In a typical year, it tends to get drawn down significantly as summer goes on and stays low until it refills for the following spring. In a drought year, it may not refill and access can be an issue earlier in the season as well.
Trout Fishing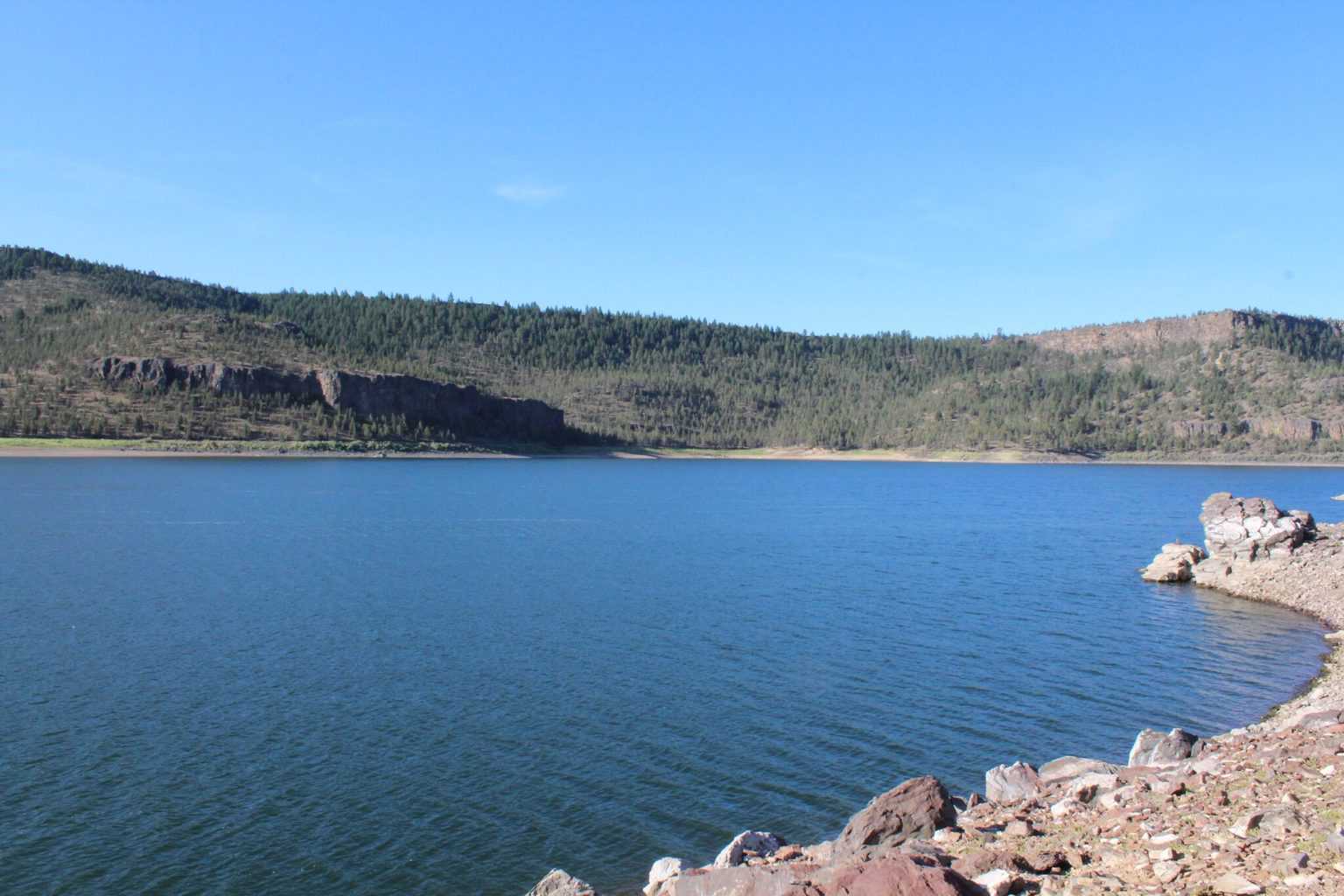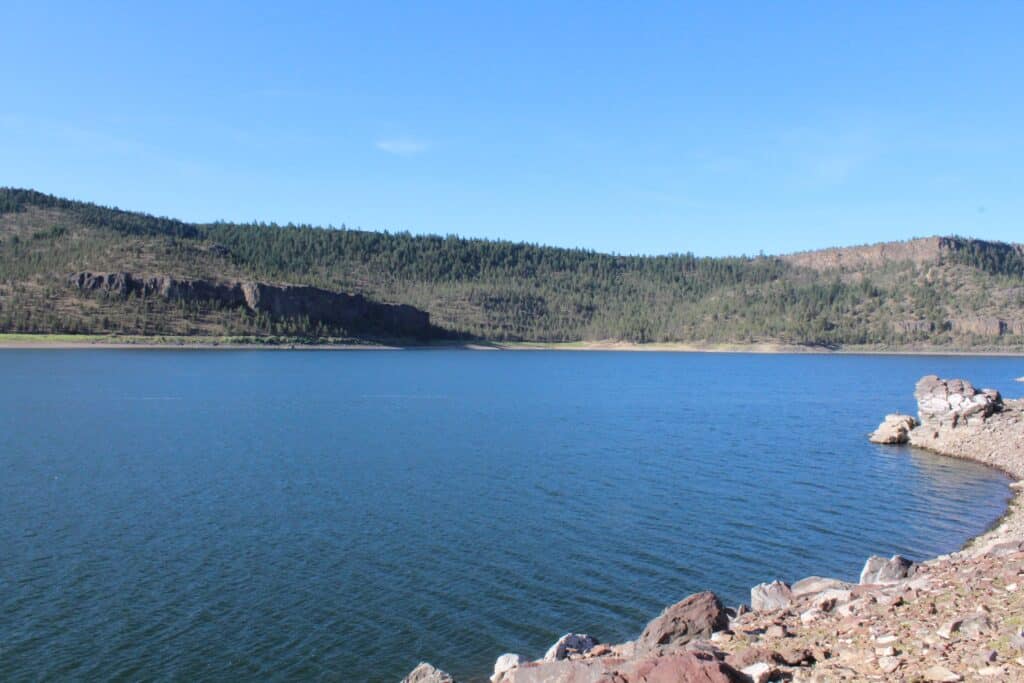 Trout fishing is popular here, and it can be quite good.
There are both planted hatchery rainbow trout as well as redband rainbow trout native to the Crooked River drainage found in the reservoir.
Most of the hatchery rainbows are planted below the legal size limit but grow quickly into 12- to 16-inch battlers fairly quickly.
A modest number of larger hatchery fish are planted to supplement the natives and the lake-fattened hatchery trout.
Much of the shoreline at Ochoco Reservoir, also commonly known as Ochoco Lake, is privately owned and off-limits to public angling.
However, you'll find productive spots to cast from the bank at the Ochoco Lake State Park operated by Crook County. Also check out the bank fishing near the dam, on the north side just off Highway 26.
Most bank anglers will still-fish with bait, such as nightcrawlers or prepared dough baits (such as PowerBait).
Boat anglers will have a leg up in the catching department here, with excellent access to fish anywhere in the man-made lake. Trolling lures, bait and combinations of both will catch trout here.
We have an article called Trout Fishing: Basic How-To Techniques and Tips if you need a few more suggestions.
The trout can be caught year-round, but the best fishing often is during the cooler months, with spring likely to be your very best bet.
Summer can still be good, but for best results try fishing early or late in the day when it's cooler.
If summertime fishing is slow, try fishing in cooler, oxygenated water where Ochoco and Mill creeks feed into the reservoir on the east side. Or plumb the deeper, colder water closer to the dam on the west end.
Fishing here also can be quite good in the fall and sometimes decent in the winter as the weather conditions allow.
And there might be windows of opportunity during December, January or February when the lake ices over enough that ice fishing is safe here, but check conditions locally before trying this.
Bass and Crappie Fishing
Bass and crappie fishing at Ochoco Reservoir can be very good, especially from mid-spring through summer and into early fall, when the warmer water keeps these species active and on the prowl.
In fact, fishing for black crappie here can be quite excellent and at times will rival the better-known Prineville Reservoir located to the south. (See our run-down of best crappie fishing in central and eastern Oregon.)
Crappie tend to be close to shore during the spring spawning period, when they aggressively bite jigs fished under a bobber or dangled down to them.
Crappie jigs imitate small minnows, which are a crappie's favorite meal.
Small spinners, very small crankbaits, little tube baits, and other lures that also look like fish will catch crappie.
Crappie prefer structure, such as branches, willows and other natural hiding spots.
Crappie, which are a schooling fish, will move off shore and into somewhat deeper water after spawning. Where you hook one you likely will catch others.
The bass here are primarily smallmouth bass, which are aggressive toward lures and hard fighters.
Smallmouths, also known as bronzebacks due to their coloring, also are structure-oriented but tend to prefer rocky hiding spots such as boulders, rock dam faces, ledges and drop-offs, and similar habitat.
Like crappie, bass will move into shallower water while preparing to spawn through guarding their nests, which occurs during spring.
Post-spawn they will move into somewhat deeper water but still look for rocky structures where they can hide and ambush passing prey.
Good smallmouth lures imitate their favorite meals, such as crayfish and smaller fish.
Soft plastic lures, crankbaits, spinnerbaits and other lures fished down among the hiding spots will most likely do the trick.
Smallmouth bass are so aggressive when they are on the bite that once you find them, you probably have any number of lures in your tackle box that will convince them to strike.
For more on prime smallmouth bass fishing east of the Cascades, read our article about Best Smallmouth Bass Fishing in Central and Eastern Oregon.
There are a good number of bullhead catfish in the reservoir, and some sources also list largemouth bass.
The largemouth, if available, will strike similar lures as smallmouth but tend to prefer muddier lake bottoms including inlet areas, and they often are found around woody structures such as branches and docks and near aquatic plants.
Bullhead catfish should be easy to catch at Ochoco. Try fishing with nightcrawlers, worms, cut fish or shrimp, or prepared catfish doughs.
While they will nearly always be found close to the lake bottom, they often move into shallower water at night to feed.
Camping, Boating and Day-Use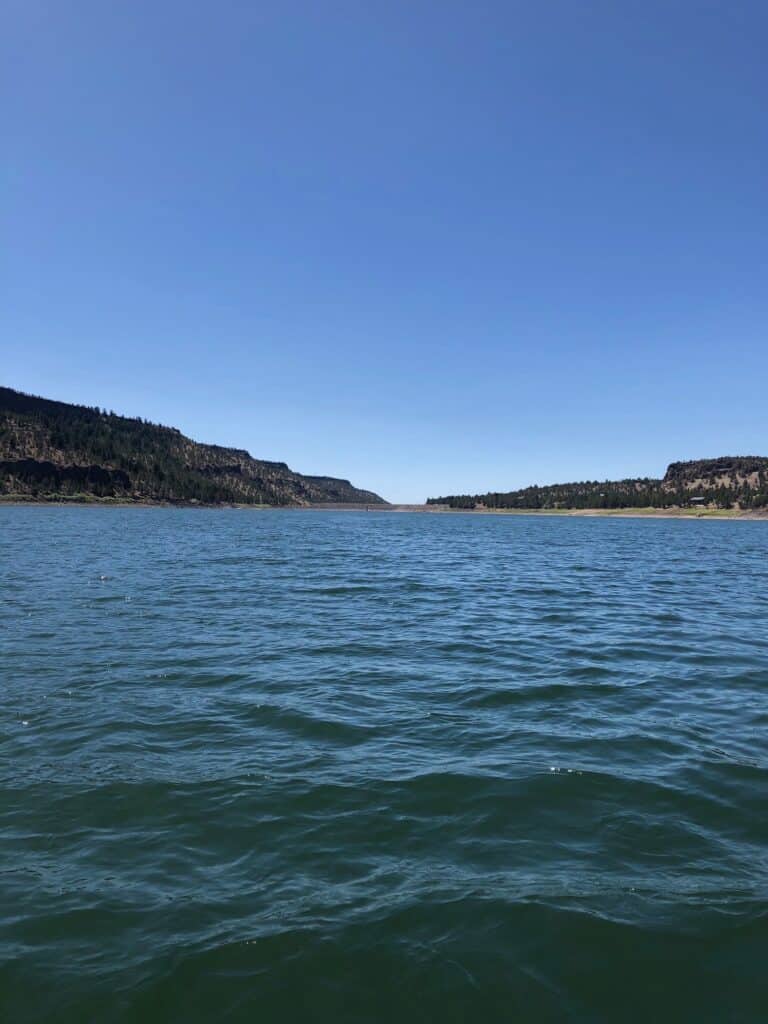 The public park has Ochoco Lake Campground for overnight stays as well as day-use facilities and a boat ramp.
The 22 camping self-contained camping spots are generally available from April through October, when fishing is most popular at the reservoir anyway.
The boat ramp can become inaccessible when the water is drawn down late in the season.
Check the campground website linked above for possible updates on water conditions.
Other types of boating, such as water-skiing, also are popular at Ochoco Reservoir, especially during the summer, so anglers seeking quieter water may do well to plan to fish early and late in the day when the lake is busier.
The reservoir is right along Highway 26 just 10 minutes east of Prineville. It's about a three-hour drive from the Portland, Salem or Eugene areas.
Find more fishing spots in Crook County
Oregon Resources
ODFW Weekly Fishing Report
ODFW Trout Stocking Schedule
Oregon Fishing Regulations
National Weather Service