Hankering for rainbow trout fishing, but not feeling like a long drive into the wilderness? How about fishing a trout lake right in the middle of Longview, Washington?
In the heart of Longview, population 38,000 or so, Lake Sacajawea stretches from state Highway 4 to PeaceHealth St. John Medical Center.
Bridges on Louisiana Street and Washington Way cross the lake on its sweep from north to south.
There are picnic spots galore and playgrounds for the kids and shady pathways begging to be walked. Just south of the highway (known locally as Ocean Beach Highway) at the lake's northern end, there are even stately Japanese gardens.
But you're here for fishing, and Lake Sacajawea has it.
The lake is stocked with rainbow trout a few times per year, and gigantic broodstock trout are likely to be planted in late winter.
Warmwater fish also call the lake home, including largemouth bass, bluegill and yellow perch.
The lake is a former channel of the Cowlitz River dredged in 1924 and is the defining feature of Lake Sacajawea Park. The park covers 67 acres and is maintained by the city of Longview.
Trout Fishing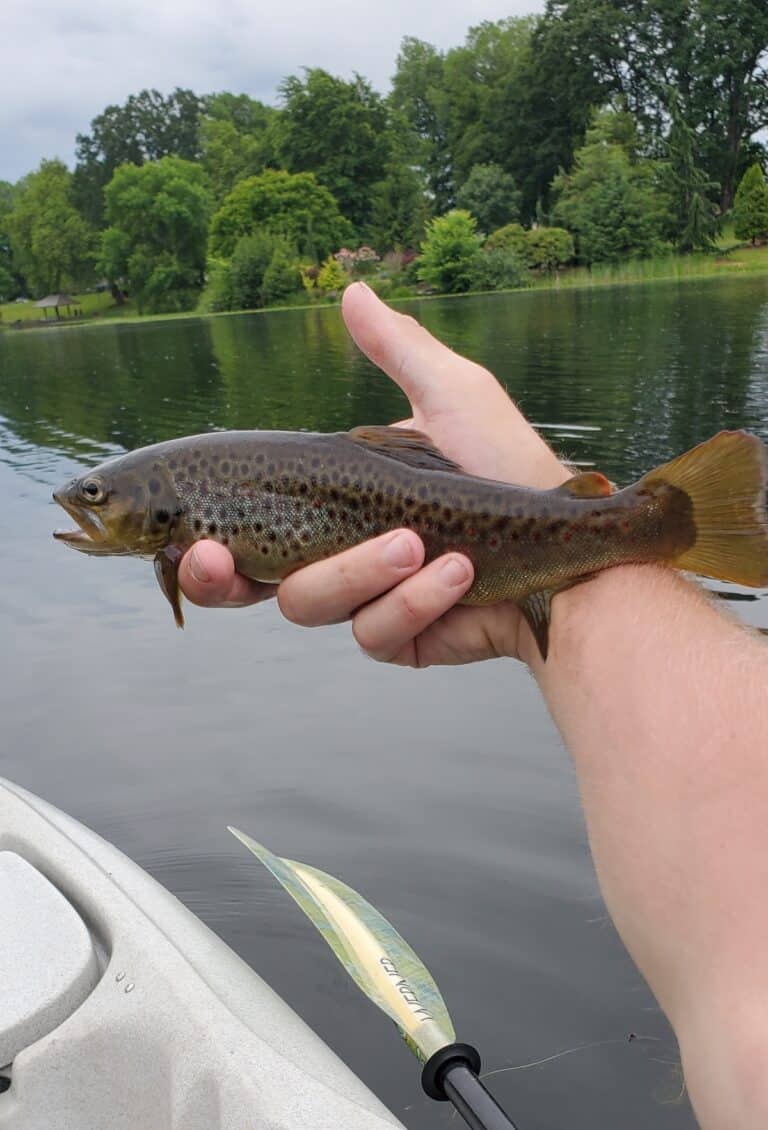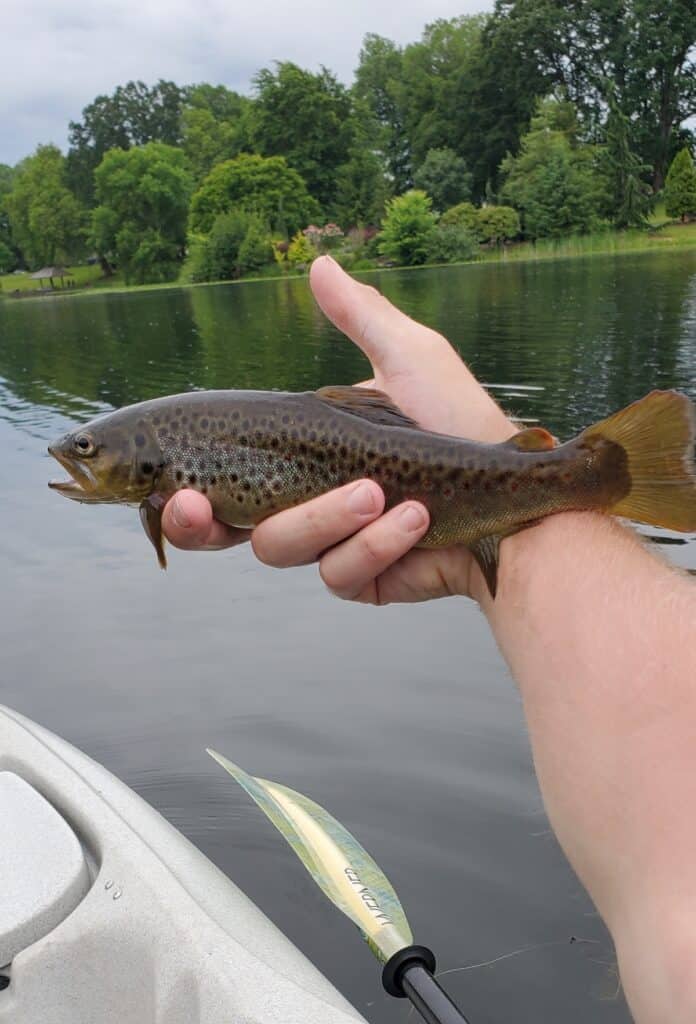 Rainbow trout are planted from December through April, and in excellent numbers. More than 16,000 were planned to be stocked in Lake Sacajawea during a recent calendar year.
Brown trout also have been stocked, typically in smaller numbers. For example, in the past few years, the Washington Department of Fish and Wildlife has planted several thousand of them, often sometime during the spring.
If you're looking for brown trout, check the state website linked below for the best time to go.
Fishing at Lake Sacajawea is open year-round, but the best prospects for trout fishing are in the late winter and spring months. The lake is too warm to support trout by the middle of summer.
The typical trout-fishing techniques will do the job here, whether you're tossing a bobber dangling a worm below or laying down the perfect fly-fishing cast.
Bass and Panfish Fishing
Lake Sacajawea is classified as a warmwater fishery.
Largemouth bass call the lake home, with the best opportunity to catch bass in the summer and early fall months.
Bluegill also inhabit the lake, along with a smaller population of yellow perch and other warmwater fish.
Soft plastic jigs make excellent lures for largemouth bass, and other favorites such as spinnerbaits and crank baits catch fish here.
In the warmer weather, try a topwater lure or frog imitation around the many lily pads and other weeds, or under bridges and other structures.
Topwater lures are particularly effective in early morning or evening, when lower light levels make the bass less wary.
Just about any time of day, bass lurk in and around cover to try to ambush prey such as passing fish and frogs.
Bluegill are best caught with smaller-size hooks with the bait firmly secured, as the fish have small mouths and can be bait bandits; you want them to bite on the hook so you can reel them in.
Tips for Fishing
There are spots with good shoreline access, and then there's the awesome bank access of Lake Sacajawea.
The entire lake is contained within a 67-acre park that stretches more than a mile and a half from north to south. There are 3.5 miles of trail in the park virtually encircling the lake with lawn going right to the bank in most spots.
Boating is allowed on the lake. However, be aware the lake is very narrow in places, and only electric motors of three horsepower or less are allowed.
Boats have to be carried from the lake to the street. If you want to go out on the water, you might be better off taking a lightweight but durable craft, such as a kayak or a canoe.
Sterile grass carp are occasionally stocked in Lake Sacajawea to control invasive plants. It's illegal to fish for or take grass carp, which can grow to impressive sizes and look like small submarines moving through the water.
If you fish Lake Sacajawea, make sure you can recognize grass carp, and put them back if you accidentally reel one in.
Where is Lake Sacajawea?
The lake is literally right in the middle of Longview.
Dock access is off Kessler Boulevard, on the east side of Lake Sacajawea Park, and Nichols Boulevard offers access from the west side.
Trout fishing is often best near the middle of the lake, where it most often is stocked.
Martin's Dock, next to the biggest playground at the intersection of Kessler and Hemlock Street, offers some of the better trout fishing. Just south on Lion's Island, connected to the Kessler side of the park with a small foot bridge, is another very good spot to catch trout.
From Interstate 5, take state Highway 432 westbound into town, then take a right onto 15th Avenue and a left onto Kessler Boulevard. From there, you're at the south end of the lake.
Ocean Beach Highway forms the northern boundary of Lake Sacajawea Park. Turn south onto Kessler Boulevard from Highway 4 if you're headed from that direction.
From Oregon, take the Lewis & Clark Bridge from Rainier over the Columbia River into Washington. It's a straight shot on Oregon Way onto 15th Avenue at the southern end of Lake Sacajawea Park.
Find more fishing spots in Cowlitz County
Washington Resources
WDFW Fishing and Stocking Reports
WDFW Fishing Regulations
National Weather Service forecasts