This article will show you the very best fishing in Stevens County, located in Northeast Washington.
We'll give you a peek at the better angling lakes and rivers in this county, which stretches along massive Lake Roosevelt from the Canadian border southward almost to Spokane.
Outside of Spokane County, Stevens County is the most populated county across northeastern Washington, with a population in the vicinity of 50,000 people. It still has fewer than a 10th as many people as nearby Spokane County, where some of its anglers come from.
Colville is the largest city here, and other cities include Chewelah, Kettle Falls, Marcus, Northport and Springdale.
Attractions in Stevens County include Colville National Forest with tons of camping and resorts, the Fort Spokane Visitor Center and Museum, the Little Pend Oreille National Wildlife Refuge, and a share with other counties of the popular Lake Roosevelt National Recreation Area.
Most of the remainder of this article will detail the places you might want to fish in Stevens County. We list them alphabetically.
But before we get there, we'd like to call your attention to the "Fishing in Neighboring Counties" feature at the end of this article. These links will take you to even more great fishing down the road.
Bayley Lake
Although stocked with rainbow trout and home to some brook trout as well, Bayley Lake is strictly regulated for fly fishing and catch and release.
The lake is open to fishing from late April through October, although its inlet stream is off-limits to angling all the time.
Bayley Lake is located in the Little Pend Oreille Wildlife Refuge northwest of Chewelah.
The public access has a boat launch, but motorized boats are prohibited.
The Washington Department of Fish and Wildlife suggests anglers call the Little Pend Oreille National Wildlife Refuge headquarters in Colville at (509) 684-8384 for the current lake level and fishing conditions.
Big Sheep Creek
This remote upper Columbia River tributary, shared with British Columbia, can be quite good for rainbow and brook trout fishing if you make the effort to get there.
Generally, the rainbows are more common closer you get to the Columbia, and the brookies are more common the closer you get to Canada.
Little Sheep Creek has easier access but likely fewer nice trout than Big Sheep, according to author Terry Sheely.
Black Lake
Often both tiger trout and rainbow trout are stocked here as small fish that grow larger feeding at the approximately 70-acre lake.
Black Lake is 20 miles east of Colville up Gap Creek Road, sitting at about 3,700 feet elevation. This lake opens from late April through October.
Shoreline access is limited, primarily near the boat launch, so a small boat will serve you better.
Redside shiners also inhabit the lake.
Cedar Lake
This lake just four miles south of the Canadian border can be a good producer of rainbow trout up to 18 inches.
Young trout are stocked in good numbers for the roughly 50-acre lake, which opens to fishing in late April through October.
Cedar Lake is just north of Leadpoint.
Colville River
This is a good-sized stream that flows into Lake Roosevelt (Columbia River) south of Kettle Falls.
The Colville has some pretty nice-sized trout, especially browns but also a few rainbows.
The biggest issue here is that most of its banks are on private property, so access is often difficult even though U.S. 395 runs near it in the Chewelah and Colville areas.
The lowest section of river gets some of the Lake Roosevelt species moving in, including walleye.
Sturgeon are off-limits here.
Deep Lake
This approximately 200-acre lake is most often fished for rainbow trout and kokanee, both of which are stocked here as younger fish and grow to size in the lake.
Deep Lake also has self-sustaining populations of Eastern brook trout and westslope cutthroat trout, which are caught in smaller numbers.
The lake, about 25 minutes southeast of Northport, is open for fishing from late April through October.
Deer Lake
This large lake best known for trout and kokanee is southeast of Chewelah, a couple miles east of Highway US-395.
Deer Lake, which is about 1,100 acres, also is stocked with Eastern brook trout and has a population of lake trout. Unlike in some waters, the brookies also count as part of the daily trout limit.
The lake has been stocked with kokanee in the past, and these landlocked salmon can grow quite big here.
Besides the coldwater fish, Deer Lake also is home to both largemouth and smallmouth bass, black crappie, yellow perch and several types of sunfish and bullheads.
Deer Lake has an atypical season, opening March 1 through November.
A WDFW access provides boat launching, which also is available from a private resort that provides camping and other amenities.
More: Fishing Deer Lake in Northeastern Washington
Elbow Lake
Previously known as Crown Lake, Elbow Lake is open for fishing from late April through October.
Young Eastern brook trout are planted annually to support the lake's best fishery. The brookies count toward your limit.
Elbow lake is about 10 miles west of Northport in the Colville National Forest.
First Thought Lake
First Thought Lake might not always be your first thought, but this hike-in lake is planted each year with rainbow trout, so it might be worth a thought.
This lake is located just northeast of Orient on the north side of First Thought Mountain.
It's open to fishing all year.
Gillette Lake
Open year round, this Little Pend Oreille chain lake is stocked with tiger trout and catchable rainbow trout.
Gillette Lake is about 50 acres in size and sits at over 3,000 feet in elevation.
It's northeast of Colville, just east of Highway SR-20.
There is a Forest Service campground, boat launch and resort.
Hatch Lake
This Colville-area lake is known for often excellent wintertime rainbow trout ice fishing.
Hatch Lake opens to fishing right after Thanksgiving through the end of March.
A WDFW access area provides a gravel boat ramp and toilet.
The best foot access is available when there is safe ice cover on the lake.
Heritage Lake
Heritage is a Little Pend Oreille chain lake best fished for tiger and rainbow trout, which are planted young and grow to catchable size here.
Heritage Lake is just north of Thomas Lake at about 3,000 feet elevation.
This lake is open year-round.
Jumpoff Joe Lake
Jumpoff Joe Lake is stocked with both rainbow and brown trout, which are its two most popular fisheries.
However, there also is pretty good fishing for largemouth bass and yellow perch, despite a goldfish infestation that cuts into the food supply.
Other fish you might catch at this 100-acre year-round fishing lake include pumpkinseed sunfish and brook trout.
A WDFW access on the east shore has a boat ramp. There is also a resort that offers boat launching, moorage and rentals, camping, RV spaces and other services.
Kettle River
This stream forms the boundary between Stevens and Ferry counties. See the entry under Ferry County above.
Little Twin Lake
Westslope cutthroat trout planted as young fish should produce good catches at this seasonal lake.
Little Twin Lake is east of Colville in the Colville National Forest. It sits at over 3,000 feet of elevation.
Loon Lake
Loon Lake produced a state record lake trout of over 30 pounds back in the 1960s.
The big lake will still turn out pretty big Mackinaw and also is known for its a kokanee fishery that can be among the best in Washington, as these landlocked sockeye salmon are planted in good numbers.
Also planted here a young tiger trout and maybe a smattering of big rainbows.
The lake also is home to largemouth and smallmouth bass, brown bullhead catfish, yellow perch, bluegill and some other fish species.
Just east of Springdale, this large lake is over 1,000 acres.
Its fishing season is from the end of April through October.
A WDFW access and two resorts provide boating access and other services.
Public shoreline access is limited to the area around state boat launch as well as some dock fishing for resort guests.
Loon Lake is located less than 10 minutes east of Springdale.
McDowell Lake
This walk-in lake has strict rules to preserve a sporting fishery for large rainbow trout.
McDowell Lake is open only to fly fishing and is catch and release. No motorized boats are allowed.
The seasonal lake is southeast of Colville and southwest of Park Rapids.
Mudgett Lake
This is a smallish lake stocked with pretty good numbers of rainbow trout.
Located just south of Fruitland, Mudgett Lake opens starting in late April.
Shoreline access is good for much of the lake shore, especially along the road.
Pepoon Lake
Pepoon Lake is fished mostly for rainbow trout and largemouth bass.
At times, trout stocking here has been suspended, but the lake was scheduled for planting with smaller trout at last check.
The lake is west of Northport in the headwaters of Rattlesnake Creek and offers year-round fishing.
Access is somewhat limited.
Phillips Lake
Annual plants of brook trout provide the main action at this small, high-elevation lake.
Phillips Lake is north of Chewelah and southeast of Bayley Lake.
Note that the brookies count in your trout limit here at this year-round lake.
Pierre Lake
Pierre Lake is planted with very good numbers of both rainbow and cutthroat trout, as well as more modest numbers of kokanee.
Additionally, the lake is home to largemouth bass, black crappie, bullhead catfish and green sunfish, which will bite best when the water is relatively warm.
The lake is open for fishing all year, but read up on the special regulations restricting lead use to protect loons.
About 100 acres, this lake is located northeast of Orient in Colville National Forest.
Shoreline access is good around the Forest Service campground.
Potters Pond
Also known as Potter Lake, this small water body is stocked with rainbow trout.
It opens in late April and has good shoreline access.
Potters Pond is located just north of Colville on the Little Pend Oreille National Wildlife Refuge.
Rigley Lake
This small lake is stocked with modest numbers of catchable and larger rainbow trout around time of its late April opener.
This lake has tight fishing rules requiring selective gear, plus restrictive bag limits for trout.
Internal combustion engines also are prohibited at Rigley Lake, locate northwest of Colville.
Rocky Lake
This small lake is primarily fished for rainbow trout, which are stocked as young fish each year to grow into keepers.
Bank fishing access is good from a DNR area and pull-outs alongside the road.
Rocky Lake is located just south of Colville and opens for fishing in late April.
Roosevelt, Lake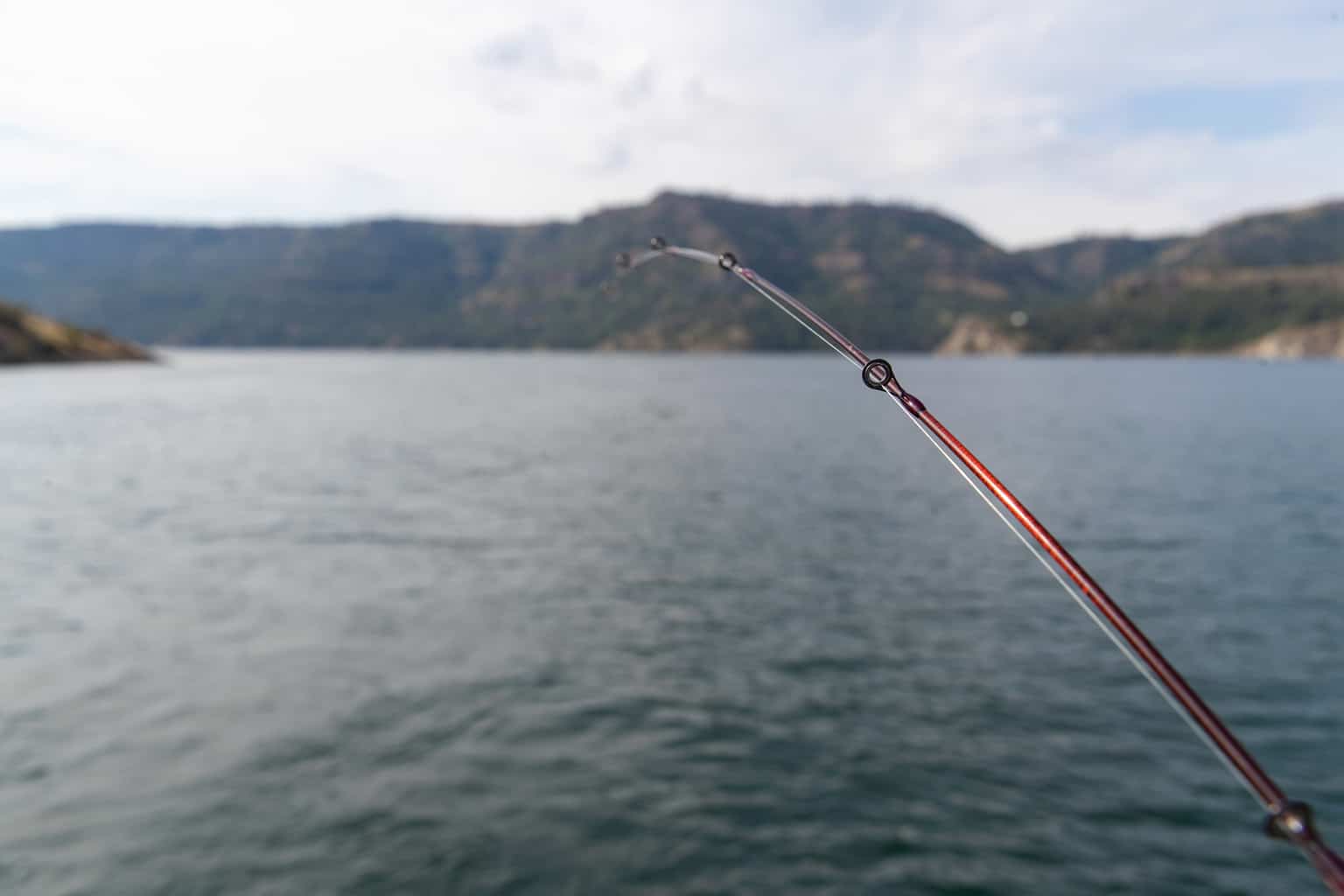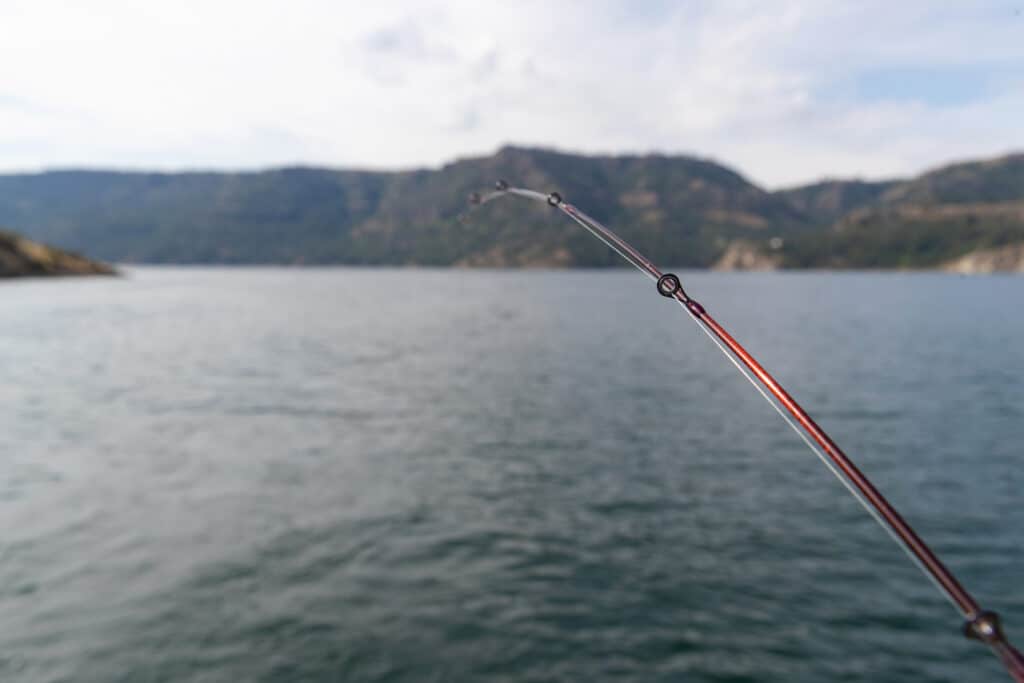 Washington's most massive reservoir stretches more than 150 miles and offers one of the state's most diverse fisheries.
The stars of this show are rainbow trout, kokanee, walleye, smallmouth bass and a fairly recent seasonal white sturgeon fishery.
Other game fish include burbot, lake whitefish and yellow perch.
The reservoir forms much of the boundary between Stevens and Ferry counties.
More: Lake Roosevelt Fishing
Sherry Lake
This lower-most of the Little Pend Oreille chain of lakes offers fishing for stocked tiger and rainbow trout.
The lake opens in late April and spring should offer the best prospects as the rainbows are stocked then as catchables. The tigers are stocked as younger fish.
Sherry Lake is 10 minutes northeast of Park Rapids.
Springdale City Pond (Lucky Duck)
Springdale City Pond is in the town of Springdale and also is known as Lucky Duck Pond.
While open all year, fishing will be best for qualified anglers once it is planted with some good-sized trout, often in April.
It is open to juveniles, seniors, and anglers with a disability who possess a state-issued designated harvester companion card.
Starvation Lake
This Colville-area lake is nicely stocked with young rainbow trout for its main fishery, with the best fishing in the spring after the late April opener.
A DNR campground provides a nice boat launch and fishing dock.
Starvation Lake is southeast of Colville near the Little Pend Oreille Wildlife Refuge.
Summit Lake
This smallish lake in the Orient area offers a good fishery, especially for rainbow trout stocked young and allowed to grow to size.
A small boat will serve you well as shoreline access is limited to the launch area.
Summit Lake is located northeast of Orient in the Colville National Forest.
The fishing season is late April through October.
Thomas Lake
This lake is open year-round, with generous plants of catchable rainbow trout providing the main attraction and tiger trout boosting the catches.
Thomas Lake is about 15 minutes northeast of Park Rapids between Heritage and Gillette lakes in the Little Pend Oreille chain. The elevation tops 3,000 feet.
This lake is open year-round.
Thomas Lake has a Forest Service campground with good nearby shoreline access.
Waitts Lake
This is an approximately 450-acre lake planted with rainbow trout of all sizes (including net pen-reared trout).
Waitts Lake also is planted with brown trout and has a diverse fishery that also includes largemouth bass, yellow perch and plenty of pumpkinseed sunfish to keep young anglers busy.
While public shoreline access is limited to the boat launch area, private resorts have some fishing docks.
A boat definitely will help you reach more fish.
Waitts Lake isn't far off State Route 231 near the community of Valley.
More: Waitts Lake Fishing
Williams Lake
This is another winter-only lake, and its primary quarry are rainbow trout mostly in the 10- to 13-inch range.
The rainbows are stocked both as catchables and young fish.
Williams lake is usually ice-covered during its open season, and at that time walk-in access is good.
Williams Lake is north of Colville via Williams Lake Road and opens to fishing from the Friday after Thanksgiving through March.
Fishing in Neighboring Counties
Ferry County: To the west, across the Columbia River, this somewhat remote area is worth exploring for trout and other gamefish in its lakes and streams.
Lincoln County: to the southwest, mostly rural farm country has access to big Sprague Lake and massive Lake Roosevelt and excellent smaller lakes.
Spokane County: to the southeast, although more heavily populated, this county is home to a large number of lakes filled with trout, bass, panfish and more.
Pend Oreille County: to the east, accessible to accessible and remote lakes with big trout and several other types of fishing in the far northeastern corner of Washington.
Washington Resources
WDFW Fishing and Stocking Reports
WDFW Fishing Regulations
National Weather Service forecasts