Ferry County sits along the Canadian border far from major cities, but what it lacks in people and convenience it more than makes up for with some epic fishing opportunities.
This article will show you the very best fishing in this Northeast Washington county.
Ferry County is just east of Okanogan County. It has fewer than 10,000 residents in Republic and several small, unincorporated communities.
Besides fishing, other attractions you'll find in Ferry County includes an historic Ferry County Carousel, Stonerose Interpretive Center and Fossil Site, and parts of the Pacific Northwest National Scenic Trail, Colville National Forest and Lake Roosevelt National Recreation Area.
Most of this article will help you explore the better angling prospects across this vast area. We've listed those waters alphabetically.
After that, you'll come to our "Fishing in Neighboring Counties" feature at the end of this article. The counties included there serve as links to even more prime fishing lakes and rivers across north-central Washington.
Curlew Lake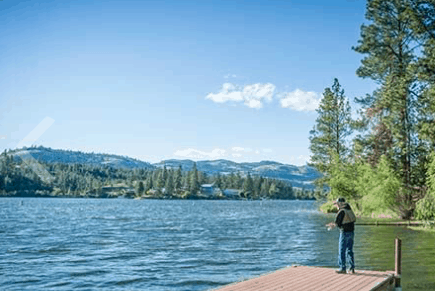 This is a good-sized lake with lots of different fish to catch and is relatively easy to reach near Republic, along State Route 21.
Curlew Lake's varied fishery including planted rainbow trout and kokanee, both planted as younger fish to grow into pan-sized and bigger fish.
Speaking of bigger fish, the lake also has a good fishery for largemouth bass and is among just a handful of Washington lakes stocked with tiger muskies to help control northern pikeminnows and provide an opportunity to battle one of these massive but difficult-to-catch game fish.
Feel free to keep as many tasty yellow perch as you want.
While spring through fall will provide the most fishing opportunities, this over 900-acre lake is open all year and at times is good for ice fishing.
Camping, picnicking, and public boat access are all available at Curlew Lake State Park and private resorts.
Curlew Lake is approximately 15 minutes driving northeast of Republic.
More: Curlew Lake Fishing
Davis Lake
This modest-sized high-elevation lake northwest of Boyds is primarily fished for pan-sized cutthroat trout, which are stocked young and grow to keeper sizes at the lake.
At more than 4,500 feet in elevation in the Colville National Forest, heavy winter snowfall years could impede your access to Davis Lake on opening day, pushing the better opportunity a bit later into spring.
Internal combustion engines are prohibited.
Ellen, Lake
This fair-sized lake in the Colville National Forest typically offers fair fishing for stocked rainbow trout as well as some warmwater species including largemouth bass and green sunfish.
Lake Ellen is open year-round.
There is a U.S. Forest Service campground and lots of bank access along a Forest Service road.
Lake Ellen sits west of the Columbia River (Lake Roosevelt). It's north of Inchelium and about 30 minutes driving southwest from Kettle Falls or roughly and hour east from Republic.
Empire Lakes
These three small lakes in a chain (6 acres total) are located about 17 miles north of Republic, at over 3,500 feet elevation in the Colville National Forest.
Eastern brook trout are regularly planted as young fish to grow to catchable size in the largest of the lakes. Brook trout here count toward your daily trout limit.
Open season is from late April through October.
Motorized boats are prohibited.
Ferry Lake
Open year round, Ferry Lake is nicely stocked with hatchery rainbow trout, including 2,500 catchables and 10 times that many very small ones.
Ferry Lake is located in the Colville National Forest about nine miles south of Republic, west of Highway State Route 21 and up Forest Road 53/Scatter Creek. It sits at over 3000 feet in elevation.
To protect breeding common loons, it is unlawful to use lead weights or lead jigs that measure 1.5 inches or less along the longest axis.
Shoreline access is good around a Forest Service campground.
Fish Lake
This little near-alpine lake, at 3,300 feet elevation, is open year-round.
Anglers primarily target a modest number of catchable-size rainbow trout planted here.
Fish Lake shares its name with a good number of lakes across Washington, but this one located about a mile south of Ferry Lake is one of the smaller ones at only about 4 acres.
Motorized boats are not allowed.
Kettle River
This Columbia River tributary with good access can be fished for trout during the warm season, but there also are options for whitefish and, down lower, even walleye that come up from the big river.
The Kettle River loops into and out of the county from Canada at the top of Ferry County, then plunges back down south to form the northeastern edge of the county. It enters the Columbia in Lake Roosevelt, northwest of Kettle Falls.
The trout season begins Memorial Day weekend and anglers primarily catch rainbows with a few browns in the mix. There are selective gear rules and tight harvest limits that result in relatively few keepers as trout fishing here is often fair at best.
There is a special winter whitefish season and these fish also can be taken during the regular season.
You can harvest walleye that will mostly be caught in lower reaches where the state's largest reservoir backs up into what is known as the Kettle River Arm, which is regulated as part of Lake Roosevelt.
You might incidentally catch a sturgeon in the Kettle Arm or lower river, but they can't legally be targeted.
Gas motors are allowed in the section that forms the county's eastern boundary.
Long Lake
This high-elevation fly fishing-only lake offers pretty good fishing for cutthroat trout, which are planted as young fish and grow to larger sizes for following seasons.
Long Lake is southwest of Republic in the Scatter Creek drainage. This high-elevation seasonal lake is designated as fly-fishing only. Flies may not have lead on them.
There is a U.S. Forest Service campground and boat launch, although motorized boats are prohibited.
Renner Lake
This small seasonal fishing lake is stocked annually with young brook trout and at times also has been stocked with brown trout.
The brook trout count in a trout limit.
Located in the Colville National Forest, Renner Lake is just west of Barstow and about six miles south of Orient.
There's a small campground and boat launch site but it is hike-in only. Internal combustion engines are prohibited.
Sanpoil River
This is a pretty good trout stream that a fair number of anglers ignore, producing both rainbows and brookies, some to decent size.
The Sanpoil's upper forks headwater east of Republic and the mainstem flows south into the Colville Indian Reservation, where tribal fishing rules apply except for at the mouth. See WDFW regulations for specifics there.
There is pretty easy access both off and inside the reservation, especially below Republic where SR-21 follows the river south toward its eventual confluence with the Columbia River.
The lower mainstem can also bring in walleyes and perhaps other gamefish from Lake Roosevelt.
Swan Lake
This approximately 50-acre lake is primarily fished for rainbow trout, which are stocked to the tune of about 25,000 fingerlings or fry per year and grow the larger sizes at the lake.
Open year round, Swan Lake is located about 15 miles southwest of Republic in the Scatter Creek drainage area of the Colville National Forest.
An improved U.S. Forest Service campground is located on the east shore and access is good around the campground. Motorized boats are not allowed.
To protect breeding common loons, it is unlawful to use lead weights or lead jigs that measure 1.5 inches or less along the longest axis.
Trout Lake
Not surprisingly, Trout Lake offers a popular fishery for trout, specifically rainbow trout planted as young fish that grow into larger rainbows.
Trout Lake is open from late April through October and is located about eight miles west of Kettle Falls, at the southeast end of Hoodoo Canyon.
There is a primitive boat launch at the campground suitable for small boats, but internal combustion engines are prohibited at this high-elevation lake.
Ward Lakes
Spring and early summer should provide good action for Eastern brook trout, which are planted here as young fish.
These two small lakes are about nine miles north of Republic in the Bacon Creek drainage, a part of the Colville National Forest.
The lakes are open seasonally and the brook trout count toward trout limits. Occasionally winterkill will hurt this fishery the following season.
The county prohibits internal combustion engines on this lake.
Fishing in Neighboring Counties
Okanogan County: To the west, the state's largest county is rich with lakes filled with trout, kokanee and other gamefish.
Lincoln County: to the south, mostly rural farm country has access to big Sprague Lake and massive Lake Roosevelt and excellent smaller lakes.
Stevens County: to the east, this county has tons of great choices if you're looking for trout, kokanee, bass and more.
Washington Resources
WDFW Fishing and Stocking Reports
WDFW Fishing Regulations
National Weather Service forecasts