Utah offers some of the best fly fishing in the country. While that might sound like a bold statement, we're sure you'll agree after you see what it has to offer.
Blue-ribbon fisheries like the world-famous Green River with its crystal-clear waters and brown trout that will put even the most seasoned angler through their paces, to tiny, pristine alpine streams teeming with native cutthroat and wild brook trout await the intrepid angler who steps off the beaten path.
The Utah Division of Wildlife Resources (DWR) has carefully managed the rivers and lakes to create genuinely epic fishing experiences.
Whether you prefer wading in a river tossing dry flies to eager rainbows and browns or stripping in a streamer for giant cutthroat on a lake, fly fishers can find everything you're looking for in Utah.
Everyone's heard of the Green River, and for good reason. It's an incredible water with stunning scenery.
Utah also has several other rivers that, while not world-renowned, offer a chance to catch trout in the 18- to 24-inch range on a consistent basis.
Utah's best fly-fishing rivers and lakes make quite a list for those looking to get away from the crowds and experience some breathtaking scenery and epic fishing.
There are a few things to keep in mind while venturing out in the Utah backcountry.
For starters, Utah has a sizable population of mountain lions that aren't very friendly. If you come across one, don't run away. Walk away but don't turn your back on them.
Be on the lookout for rattlesnakes as well. A snake bite will end your fishing trip in the worst way.
Finally, Utah does have bears, so be bear aware when in the mountains.
Best Fly Fishing Rivers in Utah
There are too many small creeks and rivers in Utah to list here, so we'll cover the major rivers and some smaller waters that need special mention.
When you're headed to a river in Utah, and you pass a smaller creek that looks promising, it most likely has trout in it. Give it a try, and you might find a new favorite spot.
Green River
The Green River tops the list. It hosts trophy brown, cutthroat and rainbow trout in one of the most scenic destinations in the country.
The famed fishery starts at the base of the Flaming Gorge Dam, which holds back Flaming Gorge Reservoir, another top fly-fishing destination you can read about in the lakes section below.
The Green has some shore access in the upper section, though to truly be experienced, you need to float it from the dam to Little Hole.
In this seven-mile section, the DWR claims there are up to 14,000 fish per mile of river. Whether or not you can catch them is a different story.
A trail along the river from the dam to Little Hole provides good shore access if floating isn't an option, though it can be a strenuous hike in parts.
Before you hit the water, be sure to visit one of the many fly shops in the area for current conditions and fly recommendations.
Located near Vernal, the Green River and Flaming Gorge are about 3 ½ hours from Salt Lake City (SLC).
Provo River
The Provo River is broken into three sections: The upper, middle and lower. Each section has its merits, with the upper section beginning in the Uinta Mountains.
If you go high enough, it's teeming with smaller brook, rainbow and cutthroat trout, and even the occasional arctic grayling.
Before entering the Heber Valley, the river flows through Jordanelle Reservoir, an excellent trout and bass fishery.
The valley section below is considered the Middle Provo, which has had intensive river restoration projects completed. The restoration added over four miles of extra river with slow corners and beautiful holes full of fish.
The river bottom is cobblestone with plenty of fantastic structures holding big browns. The browns in the Provo are all naturally reproducing.
The Middle Provo is best known as an excellent dry fly fishery, with mayflies, caddis, midges and stoneflies making up most of the menu.
The river then enters Deer Creek Reservoir before finally entering into the lower section.
The Lower Provo is a faster section of water running through Provo Canyon. The scenery is impressive, with waterfalls and ski resorts dotting the approximately 10-mile section.
The lower river has trophy rainbows along with big browns and the occasional cutthroat.
One of the biggest draws to this portion is its relative closeness to population centers. Provo and Orem are just a few minutes' drive from the river.
The lower section has a healthy population of sowbugs, midges and scuds to help fatten up the fish.
There also are great mayfly hatches on the lower and middle sections throughout the spring, summer and fall.
There are several fly shops in the area to get current flows and check on hatches.
Weber River
The Weber is another sectional river, and one of a few on this list that also are among the best fly fishing streams near Salt Lake City.
The upper section forms in the Uinta Mountains, where you're likely to catch rainbows, brookies, cutthroat and the occasional grayling. Downriver a bit, but still in the upper section, you're also likely to find whitefish.
The Upper Weber fills Rockport Reservoir, which has excellent trout and smallmouth bass fishing and is a great ice fishing spot.
Below the dam is the middle section of the Weber. The browns in this area are big and will take a streamer during any point of the year.
Dry flies aren't the go-to for the Weber. It fishes better with nymphs. There are a few major hatches that bring out the dry flies, but overall, nymphing or streamers are the preferred methods.
The lower section starts below Echo Reservoir and runs through canyons and valleys until it ends in Willard Bay.
Between the lakes, fishing with San Juan worms, nymphs, and woolly buggers should bring in good-sized browns along with the occasional whitefish.
Ogden River
The Ogden River holds good numbers of brown trout and native Bonneville cutthroat trout, along with a decent whitefish population.
The river section between Causey Reservoir and Pineview Reservoir is exceptionally good for brown trout.
Below the Pineview Dam, the Ogden River enters a tight canyon. The river itself is pretty shallow through here, never getting much over three to four feet deep.
Slower pools and eddies hold more browns than you'd think, and the river produces well from the dam clear through Ogden city center.
If you're visiting Ogden, it's got to be on your list.
Logan River
The Logan River starts in Southern Idaho and meanders through northernmost Utah. There are plenty of reasons to visit this beautiful river, first and foremost being the fantastic fly fishing.
Browns, rainbows and cutthroats live throughout the river's lower reaches, while the upper portions have more cutthroat, brook trout and the occasional whitefish.
If you're into big flies, this is the place. Salmon flies along with green and gray drakes are all over this freestone river throughout the late spring and summer. Giant bugs mean big fish.
The Logan flows through Logan Valley, about two hours north of SLC.
Blacksmith Fork
Located near the Logan River, Blacksmith Fork is another freestone river hosting epic brown and cutthroat trout fishing. The scenery is almost as big a draw as the fishing.
The upper section is a smaller, fast-moving creek that slows to a more fishable river through the lower canyon.
You'll find brookies and smaller cutthroat in the upper area, while the bigger fish hold in the lower section.
Bear River
The Bear River starts on the Uinta Mountain Range North Slope and heads into Wyoming and Idaho before returning to Utah.
The upper section is home to untold numbers of brookies and smaller cutthroats, with giants hiding in there along the way.
Deeper pools call for a streamer to coax the big fish out to play. The shallower portions are great for teaching kids the sport with fast action on smaller fish.
Once the river returns to Utah, the fish get bigger. There are sections filled with 18-inch browns, trophy rainbows, massive cutthroats and the occasional whitefish.
Strawberry River
The Strawberry River is a must-see destination. Cutting its way through incredible red rock sandstone and white-capped canyons, you're likely to catch rainbows, cutthroat, browns and brookies, and see some golden eagles.
The canyons also play host to mountain lions and black bears, so be aware of your surroundings in this remote location.
While this river is an epic destination, the reservoir it comes from is renowned for its cutthroat, rainbow and kokanee fishing. Strawberry Reservoir is one of the best trout waters in the state.
The easiest access points are near Duchesne, about 2 ½ hours east of SLC.
Duchesne River
The Duchesne (say "Do-Shane") is a major drainage for the South Slope of the Uinta Mountains. It consistently produces good numbers of browns, rainbows and whitefish. The upper reaches hold brookies as well.
Large sections of this river flow through private property, making access hit and miss, so it's important to obey posted signs along its length.
The Duchesne River winds its way through the valley to eventually meet with the Green River.
Fremont River
The Fremont is an exciting, fast-paced river with some giants lurking under its surface. From its headwaters at Johnson Valley Reservoir then down into its canyon, the river is 20 feet at its widest point.
The first several miles of river is on U.S. Forest Service land and has some of the best, undisturbed fishing of the entire length. The access is challenging and requires a hike through some rugged terrain.
The lower sections widen significantly, and fishing is still great. Scenery changes from high alpine views to red rock country.
The river borders Capitol Reef National Park, meaning there's plenty of eye candy provided by Mother Nature.
The Canyons
The Salt Lake Valley has several canyons with small rivers and streams perfect for a quick getaway. Big Cottonwood Canyon, which is home to several ski resorts, has ample camping and lodging for the intrepid angler during the summer months.
The canyon rivers host populations of cutthroat and brook trout, with some rainbows planted as well.
With quick access from SLC, these streams can become pretty busy on the weekends and evenings, though they are relatively free of anglers during the weekdays.
Uinta Mountains South Slope
The Uinta Mountains are home to hundreds of small rivers, alpine lakes and creeks. One of the best things about the Uintas is the ability to pick a road and find a pristine alpine stream teeming with fish and the occasional beaver pond.
If you're adventurous, hiking in the Uinta Mountains for three or four days can lead to some of the best fly-fishing experiences of your life.
Tiger trout, arctic grayling, rainbow, three strains of cutthroat trout, along with brown trout and mountain whitefish, are all waiting somewhere up there.
If you can catch all three strains of cutthroat (Bonneville, Bear River and Colorado River), you're well on your way to the Utah Cutthroat Slam.
Some of the backcountry streams and lakes see little to no fishing pressure and yet fly anglers can find some of the fastest action around.
Most of the South Slope can be accessed within a 2-3 hour drive from SLC.
Currant Creek
Currant Creek holds decent rainbows in the 15- to 18-range. The valley it's located in is pretty barren, but the creek itself is densely packed in with willows.
Bring along your waders and make a day of catching feisty 'bows in nice pools and beaver ponds, and then end the day tossing streamers at Currant Creek Reservoir.
Currant Creek is just north of Strawberry Reservoir, about 1½ hours from SLC.
Right Fork Huntington Creek
Huntington is a great destination due to its location and the sheer amount of fish it produces. Fishing Huntington Creek puts you at the top of the world.
Giant granite cliffs tower overhead, reaching above 10,000 feet, while this tailwater meanders across the flats before heading down the canyon and into Huntington Reservoir.
Native cutthroat and brookies are eager to take a dry fly, and the browns in the creek are everywhere.
It's located near Price, a 3-hour drive from SLC or two from Provo.
Sevier River
The East Fork of the Sevier has some truly epic fly-fishing opportunities.
What was once a washed-out river in the early 90s has since been restored by the DWR, with several miles of excellent access included. It's now been listed as a blue-ribbon fishery by the DWR.
Cast for big browns, rainbows, cutthroat and brookies. The brook trout are mainly in the upper sections of the river.
Try the Black Canyon section for the deepest pools and biggest fish. Kingston Canyon also has great access, with over 9 miles of public access land and incredible scenery (something sorely missing in Black Canyon).
The main catch through these sections are brown trout. Try tossing streamers like woolly buggers and bead head nymphs.
In the pools below waterfalls, try putting a split shot at the top of the fly to give it enough weight to fight the current.
Marysvale Canyon is another great area to try, but be ready for some hiking through willows and brush to access the river.
Terrestrials do well from mid-summer through fall for the rainbows, with streamers being best for browns.
The Sevier Drainage near Delta offers anglers the chance to catch some smallmouth bass on the fly. Try poppers or a Clouser minnow.
You could also tie a bigger streamer with a steel leader and go after the northern pike in the area.
Best Fly Fishing Lakes in Utah
Utah has several epic big water destinations for catching trophy trout on the fly. From small alpine lakes to ancient volcanic calderas, there's sure to be something on this list for you.
Strawberry Reservoir
Strawberry Reservoir is one of the most popular destinations in the state. The Berry has trophy rainbows and cutthroat trout, as well as lots of kokanee.
The lake's Utah state record cutthroat is in the vicinity of 27 pounds, so there are monsters to be found.
Streamers work great at Strawberry Reservoir with a sinking line. Check the current regulations before hitting the water.
The Berry is about 1 ½ hours southeast of SLC and an hour from Provo.
Flaming Gorge
Flaming Gorge borders Utah and Wyoming. When fishing this reservoir, it's a good idea to pick up a Wyoming use license if you travel across the border.
Lake trout, rainbows, kokanee, smallmouth bass, brown trout, burbot, tiger trout, and even channel catfish might grab hold of your streamer if you choose the correct location.
The Gorge is renowned for its trophy lake trout and smallmouth bass, with 30- to 40-pound lake trout regularly caught. It's also famous for kokanee fishing.
Hit the Green River just below the dam if you tire of lake fishing.
Boulder Mountain
Boulder Mountain is located in southern Utah, mixed with the red rock desert. Don't let that fool you, though. It holds some of the best tiger trout and brook trout fishing around.
The Boulder Mountain area has several small lakes, ponds and creeks that hold brook trout in the 3- to 5-pound range. Add tiger trout to the mix, and it's a destination that can't be missed.
Boulder Mountain is a 4-hour drive south of SLC.
Fish Lake
Rainbows, lake trout, splake, kokanee and yellow perch are abundant at Fish Lake. This high alpine lake was formed in the now extinct caldera of a volcano.
Shore fishing is difficult, as the accessible side is pretty shallow near the bank, and the other side isn't easily accessed. Boats are the go-to here, and streamers will often bring a limit to your net in no time.
Fish Lake is in central Utah, about 3 hours south of SLC.
Deer Creek Reservoir
Deer Creek impounds the middle section of the Provo River, and its dam releases the tailwater of the lower section we talked about above.
Trout, bass and walleye all thrive at Deer Creek Reservoir.
The entire lake is surrounded by public lands so that you can explore to your heart's content. Early mornings here call for dry flies and poppers, while later in the day, streamers are the go-to.
Deer Creek is a 20-minute drive up Provo Canyon from Provo or an hour from SLC.
It's proximity and variety of fish also make this one of the best ice fishing lakes in Utah during the winter.
Jordanelle Reservoir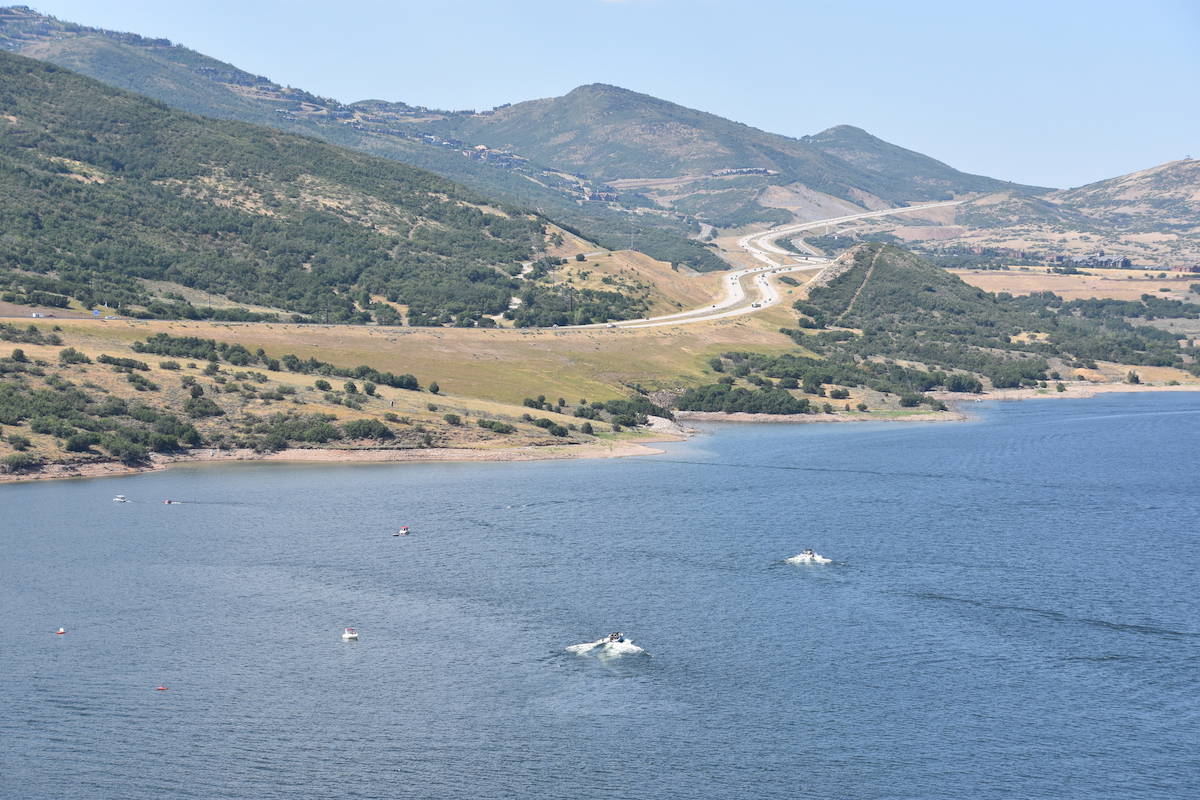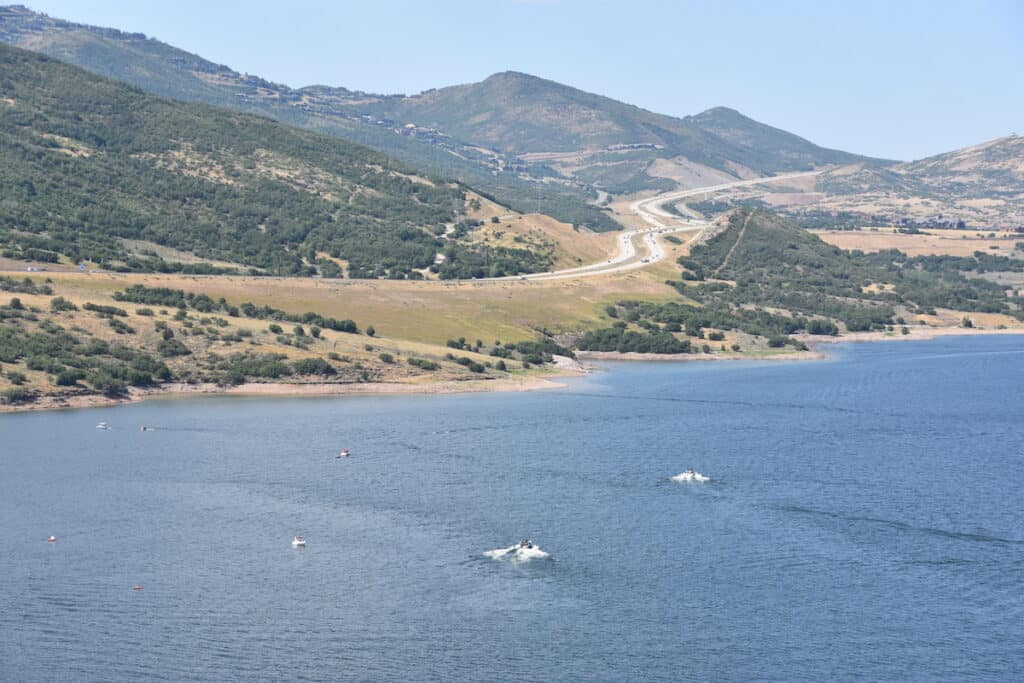 Jordanelle sits above Deer Creek and the Heber Valley, catching the upper Provo River. It has good numbers of rainbows, browns, splake, smallmouth bass, wipers, tiger muskie and kokanee.
The Rock Cliff area is excellent for launching float tubes and pontoons, and there is some great underwater structure in this area.
The main lake gets crowded in the day, so go early. It gets heavy use by water sports enthusiasts, making fishing challenging at times.
Jordanelle is a 45-minute drive east of SLC.
Lake Powell
Lake Powell is one of the best bass fisheries around. Hit it early with poppers, and you'll be in for some fantastic action.
Stripers, largemouth and smallmouth bass, bluegill, crappie, walleye, catfish and northern pike are all possibilities here.
Fishing in the canyons is an incredible experience, aided by the chance to see native American ruins etched into the cliffs as you pass by.
Lake Powell isn't near any big population centers. Page, Arizona, on the lower reservoir has amenities, though SLC is about 6 ½ hours north. Las Vegas is about 4 hours southwest.
Joes Valley Reservoir
Joes Valley is an excellent place for targeting big splake. It's also home to some trophy-sized tiger muskies, so bring along the big flies.
Splake in this lake can get to over 30 inches, so be prepared for a fight. They like to stay closer to shore in the spring and fall, so toss imitation minnows for your best chances.
Joes Valley is in Central Utah, about 2 ½ hours from SLC and 1 ½ from Provo. There are smaller towns nearby with amenities.
Rockport Reservoir
Rockport has a solid rainbow population and almost overwhelming smallmouth bass numbers. The Weber River inlet is a great place to catch rainbows and the occasional brown trout.
Just below the dam, there are some great spots on the middle section of the Weber River to target during your trip as well, as mentioned above.
Rockport is about an hour's drive from SLC.
East Canyon Reservoir
East Canyon can be great on the fly. The reservoir has browns, rainbows, kokanee, wipers and smallmouth bass to catch.
At the same time, the stream above and below offers some excellent freestone fly-fishing with boulders and beaver ponds, making deeper pools that hold bigger fish.
Early mornings are the best time here, as the water sports get out of hand later in the day.
East Canyon is a quick and beautiful 30-minute drive from downtown SLC.
Pineview Reservoir
Pineview is the place to go for tiger muskies. If you've always wanted to catch a 40+ inch fish on a fly rod, head up here.
The Ogden River feeds this reservoir, so if you tire of the lake, head upstream for some beautiful scenery and excellent trout fishing.
Pineview is located a short 30 minutes from Ogden and an hour from SLC.
Hyrum Reservoir
Hyrum Reservoir has great fishing early and late in the day. Lots of vegetation in the water means it has several hatches throughout the year.
Dry flies in the morning do well, and later in the day, you can be very productive with scuds or streamers fished deeper.
Located in the town of Hyrum, it's about an hour north of SLC.
Mirror Lake Area
Mirror Lake is one of the trophies of the Uinta Mountains. It's an awe-inspiring place with mountain peaks reflecting off the crystal-clear water. Plus, it's only an hour and a half drive east of Salt Lake City.
The DWR regularly stocks it with rainbow and tiger trout, and it has a healthy brook trout population. This lake is extremely popular during the summer, so getting a camping spot is nearly impossible on weekends.
Other lakes in the area also hold arctic grayling, so if that's on your bucket list, try Trial Lake and Washington, just up the road from Mirror.
The Mirror Lake Highway (State Route 150) gives you access to at least 40 lakes within a reasonable hiking distance.
Uinta Mountains North Slope
The North Slope has several lakes and rivers with incredible fishing. They receive little to no pressure, and when anglers do make the trek to fish them, they come back with tales of 100+ fish days.
Getting there is the hard part.
Most of these rivers must be accessed through Wyoming, then following gravel service roads for several miles back into Utah and the High Wilderness area.
But if you have the time, they're worth the trip.