Central Oregon's Walton Lake is a peaceful retreat where you can almost guarantee you'll catch trout among the towering Ponderosa pine trees of the Ochoco National Forest.
Walton Lake is just 18 acres in size. This small impoundment, located at the headwaters of Camp Creek, high up in the Ochoco Creek watershed, is lovingly treated by the U.S. Forest Service and the Oregon Department of Fish and Wildlife, the latter stocking it with good numbers of hatchery reared rainbow trout from mid-spring into summer.
Walton Lake has a popular campground, and local anglers from the Prineville area head up for an easy day of catching trout.
With spacious campsites all close to easy fishing, this is a great spot to plan a camping and fishing trip, if you don't mind the drive time from larger cities.
You won't be alone, as this is a popular spot with 30 campsites on location and others nearby in the Ochoco Mountains.
When we went in June, there was a pair of nesting bald eagles in a tree on the east bank and some ospreys working over the trout. There are ducks (and ducklings) and a few geese there as well.
The lake is named for the Izaak Walton League of America after members of the Prineville Chapter helped the U.S. Forest Service turn it into a jewel of a fishery when the present dam was built in the 1950s.
Previously there was a diversion dam located here that supported local mining operations, and the small body of water then was known as King's or King Reservoir.
ODFW treated the lake with rotenone in 2009, after illegally planted brown bullhead catfish became established and severely hurt the food chain and water quality in the lake.
From our experience in 2019, the trout fishing has responded very well after removal of the bullheads.
When to go Fishing at Walton Lake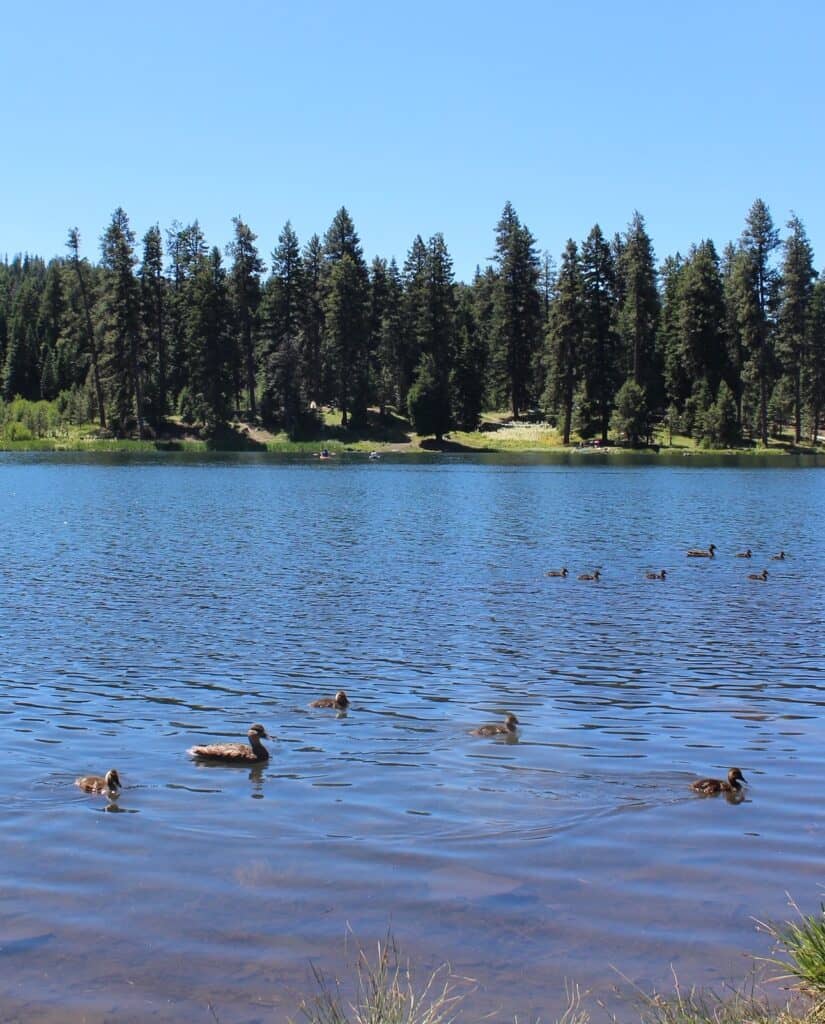 The best time to go fishing at Walton Lake is starting in late spring after most of the snow is gone and continuing through summer and into early fall.
When you really want to target this fishery is after ODFW starts bringing truckloads of trout, likely beginning in May sometime before the Memorial Day weekend.
There might be some larger trophy rainbows planted early and perhaps another time or two during the season, along with large numbers of legal-sized trout.
Trout fishing will be excellent immediately after the first large load of fish is delivered and will peak again for the week or two after each successive trout stocking.
If lots of action is important to you, use the trout stocking link below and try to plan your trip soon after trout are stocked. Fishing tends to slow a bit by a few weeks after a stocking, as catch rates here are high, but it's still worth your while.
Note that this lake is located at more than 5,100 feet in elevation, which means a spring or even a summer day can be quite cold. We got freezing nighttime temperatures and even a bit of morning snow during the third week of June.
Trout stocking typically will continue on a roughly monthly basis clear through summer, when that high elevation offers a cool retreat from the high desert heat. Total fish plants will equal multiple thousands of fish per year.
How to catch trout
All the usual methods will work here.
On our visit, bait anglers working the shoreline were using nightcrawlers, PowerBait and salmon eggs to easily catch trout. They were successful fishing on the bottom or under a float.
Fly anglers, especially from float tubes, were casting nymphs to willing fish. A fly caster there was doing well with a hare's ear pattern.
We got almost immediate strikes slow-trolling with sinking flies such as woolly buggers.
We even used a bubble cast from shore with a bugger on a long leader, with a very small split shot about a foot up from the fly to get it down a bit. We cast and worked that back to shore like a crappie angler might do, and the trout couldn't resist.
Also, with a little more speed, trolling a Rooster Tail spinner attracted vicious strikes and easy catches from our kayaks. Casting and retrieving spinners and other small lures would do the trick as well.
This lake is a great spot to learn and for beginners to find success. Are you new to trout fishing, or maybe need a few reminders? Check out some suggestions in our article, Trout Fishing: Basic How-To Techniques and Tips.
Where to fish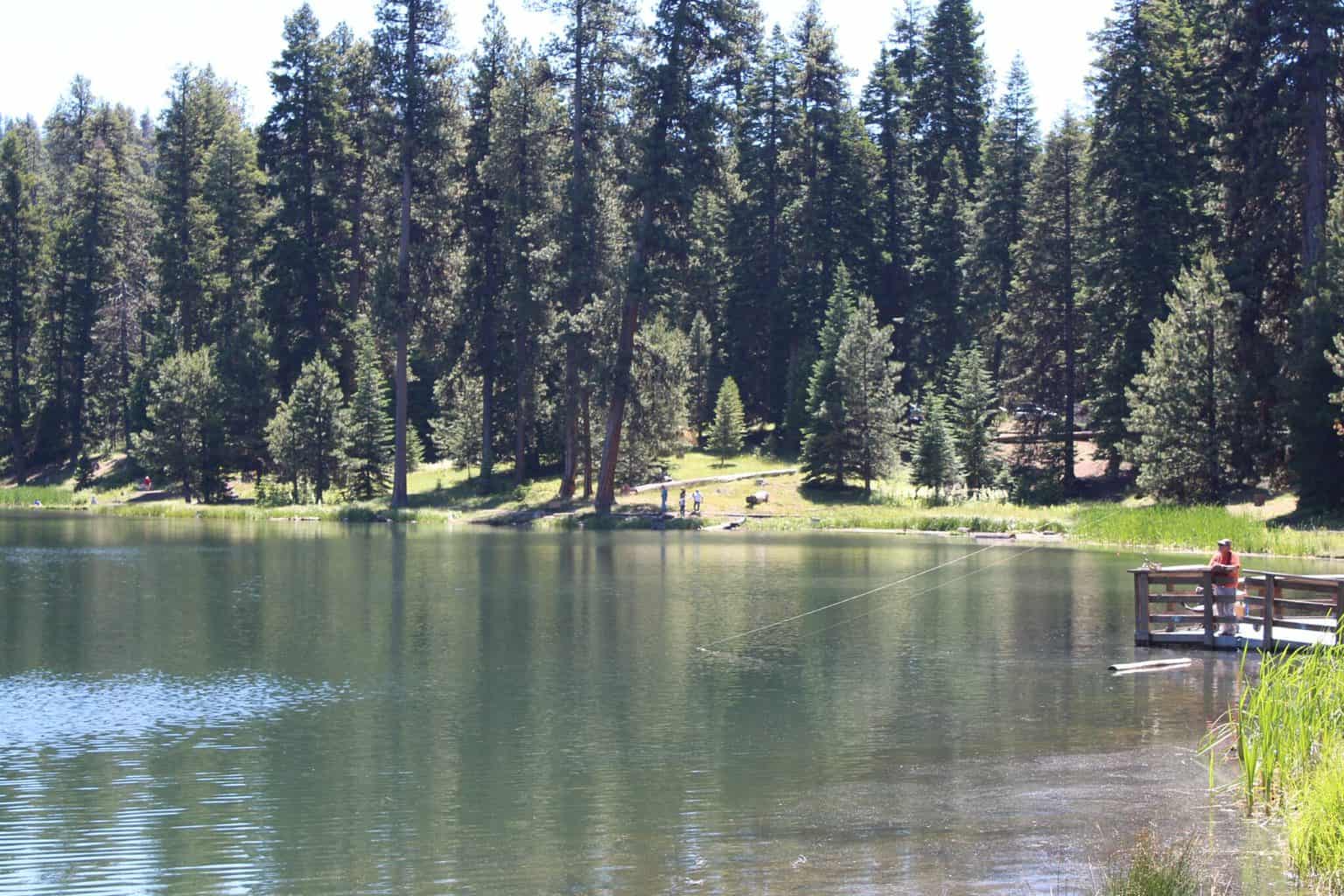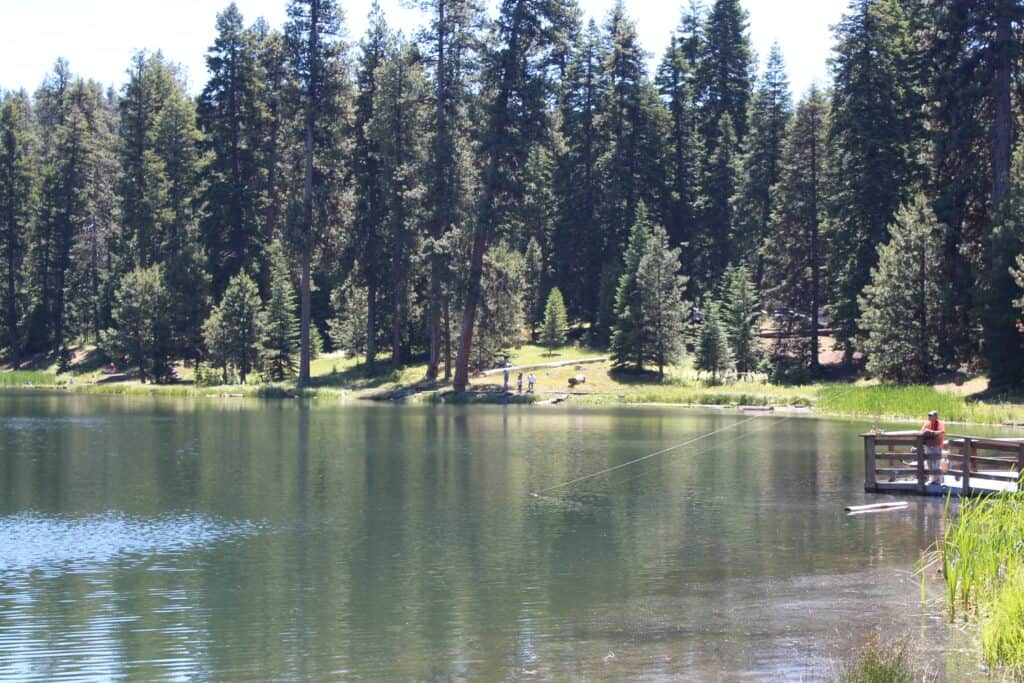 You really can't go wrong with locations here.
Bank access is excellent. There is a very good trail all the way around the lake, which is a relatively short walk and leads to plenty of spots to cast.
Part of the trail near the entrance and day use area is paved, making the lake accessible to more anglers, including wheelchairs and strollers.
There also are a couple accessible platform areas near the day-use parking area, located on the west side of the lake.
Bank anglers primarily fishing with bait were doing very well on or on either side of the earthen dam on the northwest end of the lake, where deep water is a short cast from shore.
Bank anglers also do well from both sections of the Walton Lake Campground on the south and north sides and from a slight point on the east side.
Boat anglers find success all over the lake, which is small enough that the trout quickly spread out.
You can launch a car-topper, kayak, canoe or other small craft from the day-use area. You can use an electric motor here, but many floating anglers were using their own power to get around.
Gas motors are prohibited and the lake and boat launch are too small for larger boats anyway.
The Best Sites at Walton Lake Campground
This is a wonderful campground that we found very well kept. Even the pit toilets were cleaner than most. Do be aware that the sites are non-electric and that there is one source of drinking water, located fairly near the entrance.
We camped in a tent site located on the north side of the lake.
From that experience, next time I'd reserve site numbers 22, 24 or 25 if I could get them. Those spots have awesome access to the bank, where you can land your small craft or fish from shore.
The trailer sites (numbers 26-30) just west of those tent sites also have excellent lake access, with numbers 29 and 30 being closer to the bank but also closer to the dam and heavier foot traffic.
The south side is where most of the larger rigs set up camp, and there also are a couple of group sites available on that side of the lake.
If I were reserving a spot over there, I'd choose numbers 4 or 5 if I needed to be in the accessible loop.
If accessibility or mobility isn't an issue, site numbers 10, 11, 13 and 14 are on the lake side of the road and appeared to have very close access to the lake shore down short trails from your RV or trailer.
Check the Walton Lake Campground website for more info.
Getting to Walton Lake
Walton Lake is in the Ochoco National Forest, which is located just east of Prineville.
The 30-mile drive from Prineville will take you from the more arid Central Oregon town into the deep forests of the Ochoco Mountains in under an hour, via U.S. Highway 26, Ochoco Creek Road and U.S. Forest Service roads.
There is good signage directing you to the lake. You can also come south via Highway 26 after visiting the John Day Fossil Beds National Monument or other attractions.
2023 Walton Lake Trout Stocking
| | |
| --- | --- |
| 2023 Stocking | Total |
| May 15 – 19 | 2,700* |
| Jun. 5 – 9 | 2,500 |
| Jul. 10 – 14 | 2,500 |
| Aug. 14 – 18 | 800 |
| Sep. 11 – 15 | 750** |
*This stocking date includes 200 trophy-sized rainbows.
**This stocking date includes 750 trophy-sized rainbows.
Stocked fish are legal-sized rainbow trout unless otherwise noted. Stocking schedules are subject to change for a variety of reasons. The ODFW Weekly Fishing Report linked under Oregon Resources below may provide updated information.
Find more fishing spots in Crook County
Oregon Resources
ODFW Weekly Fishing Report
ODFW Trout Stocking Schedule
Oregon Fishing Regulations
National Weather Service