Morrow County is bounded by some great walleye and smallmouth bass fishing in the Columbia River to its north out of Boardman and Irrigon, and by some nice trout spots into the Umatilla National Forest south of Heppner.
This article is a short discussion of some spots you might consider fishing in the county, depending on your interests.
If you want more detail, try following the links within the article and at the end of the page. The county links below are also a good resource to quickly explore nearby angling options.
For regulations governing angling here, look to the Oregon Department of Fish and Wildlife's Columbia River Zone for the big river and the Northeast Zone for other county waters.
Incorporated cities in Morrow County are Boardman, Heppner, Ione, Irrigon and Lexington.
Listed alphabetically, here are the best fishing spots in Morrow County:
Anson Wright Pond
This is a small pond in a park of the same name, located about 25 miles southwest of Heppner on Highway 207 (Heppner-Spray Highway).
The pond is stocked with hatchery rainbow trout a couple of times each spring, and fishing will be best soon after plantings.
The park has various amenities, including tent and RV camping.
Columbia River (John Day Pool)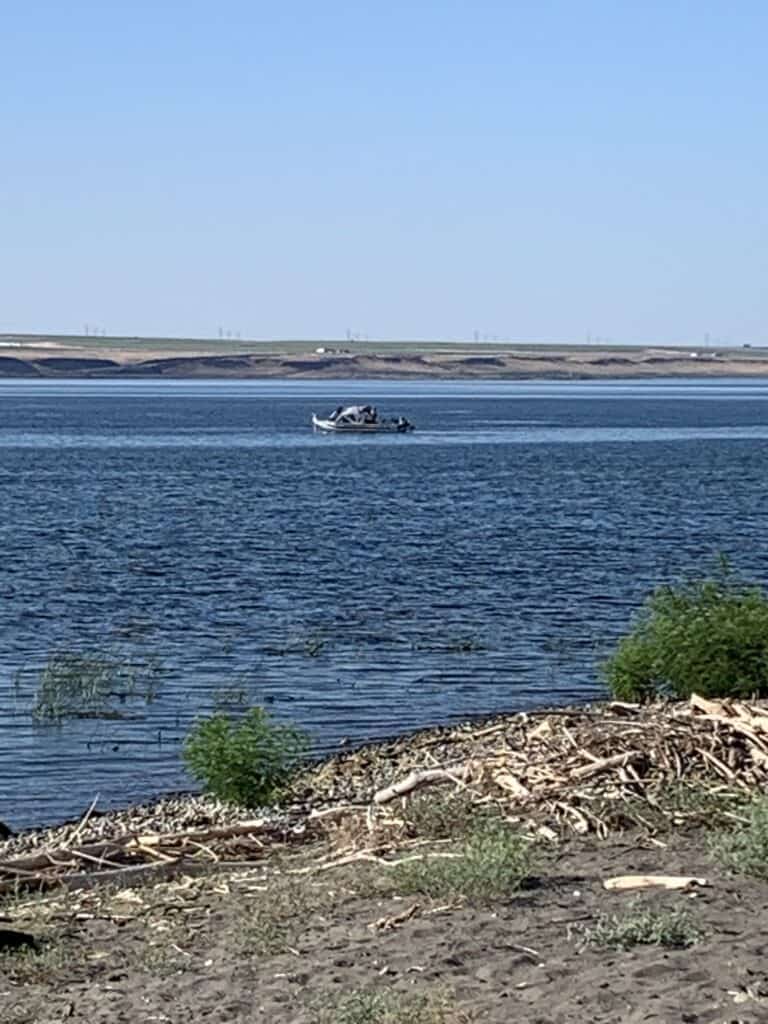 The John Day Pool (a.k.a. Lake Umatilla) of the Columbia is simply fantastic for both for both walleye and smallmouth bass.
It's very possible the next state (and possibly world) record walleye is swimming here.
The Boardman area has excellent river access and lots of holding water within reasonable distance.
The Columbia also is often ranked on national lists for its top-rate smallmouth bass fishing, with very good numbers of fish and enough good ones to make tournament anglers happy.
This pool also is pretty good for crappie if you can find holding water. Boat basins are one place to start for this.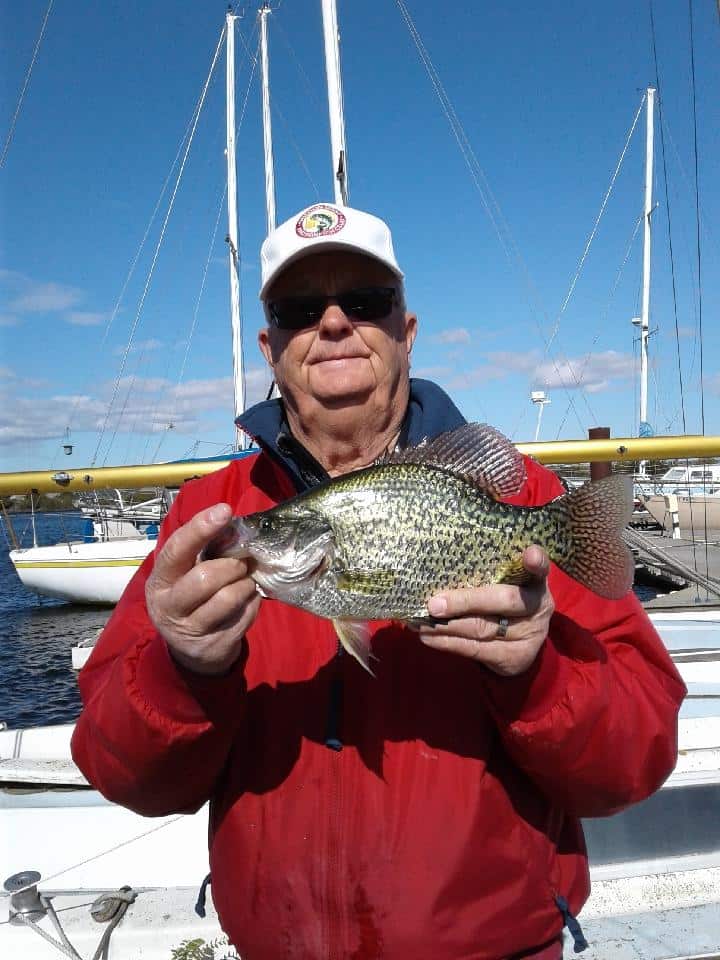 There are a variety of other warmwater fish species here as well, including yellow perch and some big catfish.
Some of the warmwater species also can be found in backwaters and ponds fed by the Columbia, including McCormack Slough between Boardman and Irrigon and perhaps Messner Pond near Boardman.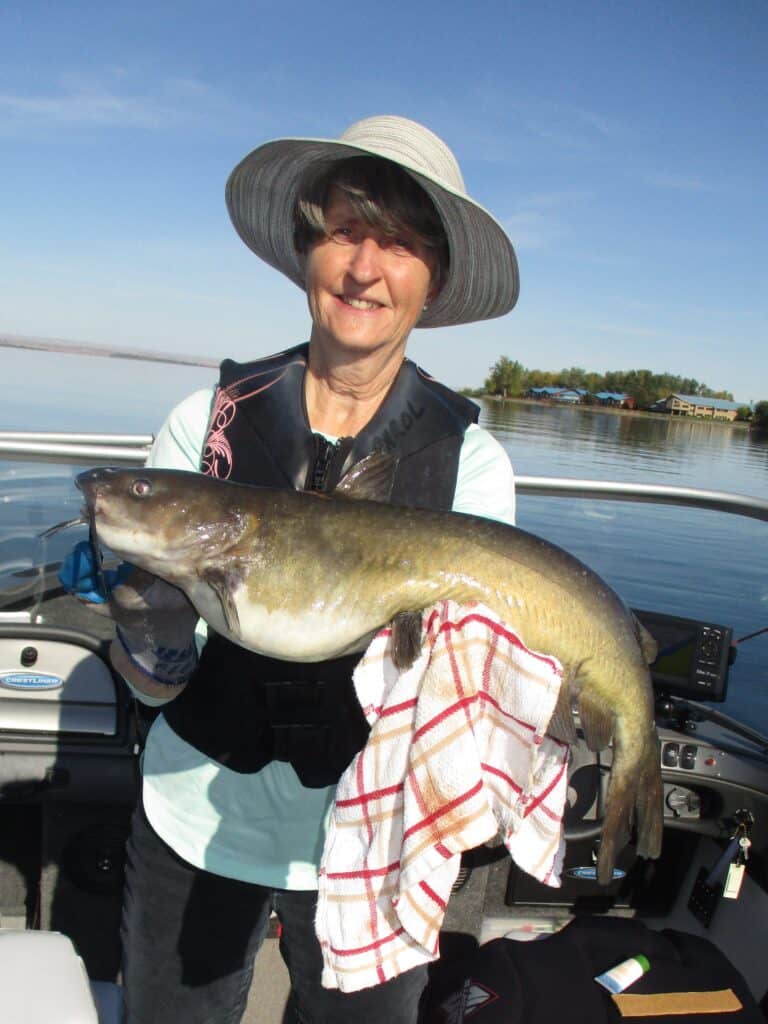 Salmon and steelhead migrate through this river section in pretty good numbers on their way to the upper Columbia River and Snake River systems.
Most of the actual catches are fall Chinook and summer steelhead, but spring Chinook salmon and coho salmon also come through.
Sturgeon are available for retention on a limited quota basis and shad can be caught in the late spring.
For more on mid-Columbia River fisheries, check this article.
To learn about all of the river's angling opportunities, start with Columbia River Fishing.
Cutsforth Pond
This half-acre pond is located in a park about 21 miles southeast of Heppner.
There is plenty of bank fishing, including wheelchair access.
Look for the best fishing at Cutsforth Pond soon after stocking occurs, usually around May.
There are day-use and camping facilities.
It is located right off Willow Creek Road at the edge of the Umatilla National Forest.
Lake Penland
This is a nice spot to spend a day catching trout, or to camp over.
The small reservoir is stocked at least once during the spring.
There is bank access, or use a small boat (electric motor only) or float tube to get to more fish.
Lake Penland is located about 28 miles southeast of Heppner, not far from Heck & Gone.
Morrow County OHV Park ponds
These four small ponds in the off-highway vehicle park (think ATVs) are typically stocked with hatchery rainbow trout once each spring.
Early May is a good bet for trout to be stocked, so keep an eye on the ODFW's stocking schedule for best results.
You might catch some crappie in some of the ponds as well.
This facility is in far-southern Morrow County off Highway 207, a few miles south of Anson Wright Park (see separate listing).
South Umatilla Forest Ponds
Several small ponds in the southern area of the forest are stocked with trout during mid- to late spring.
Some of these are within Morrow County, such as Ellis and Gopher Springs.
Tatone Pond
This small pond (1 acre) located between Interstate 84 and the Columbia River is stocked with hatchery rainbow trout a couple of times early in the spring, about March and April.
Take the Tower Road exit about five miles west of Boardman, turn north across the railroad tracks and then east on the pond's access road.
Willow Creek
This tributary stream running through Morrow County is stocked with trout around the town of Heppner, which is just below Willow Creek Dam.
Look for the best fishing after plantings, typically in April and May.
There are city parks and other public bank access spots.
Willow Creek Reservoir
This irrigation and flood-control reservoir immediately upstream from Heppner has a variety of fisheries, from stocked trout to bass and crappie.
Willow Creek Reservoir is about 100 acres at full pool but is drawn down through the dry season.
Trout fishing will be best right after the reservoir is stocked, usually in April.
Holdover trout can be taken all year, especially during cool months.
This reservoir used to be very good for both crappie and largemouth bass.
Crappie run in cycles, and when a good class of fish comes through it still can have a good year. There is a 25-crappie daily limit.
Largemouth numbers have fallen off, but there are still some nice ones in there.
The reservoir previously had Oregon's only catch-and-release largemouth fishery, but now the rules allow five total bass, but just one over 15 inches.
Fishing in Neighboring Counties
Umatilla County: To the east, includes great Columbia River access for many species, the productive warmwater fishery in McKay Reservoir and more.
Grant County: To the south, the upper John Day River system includes smallmouth bass and lots of trout fishing.
Wheeler County: To the southwest, includes much of the John Day River's prime water for smallmouth bass fishing.
Gilliam County: To the west, borders two of the state's best fishing rivers in the Columbia and John Day.
More Fishing Resources:
In addition to other sources, the following websites were very helpful while compiling these county fishing pages, and the information there is valuable to all Oregon anglers.
For current regulations, trout stocking, weekly angling reports and more, find links on the Oregon Department of Fish and Wildlife's Fishing Resources Page.
For boating information about these waters, see the Oregon State Marine Board's launch locator map.
Return to Best Fishing in Oregon page
Oregon Resources
ODFW Weekly Fishing Report
ODFW Trout Stocking Schedule
Oregon Fishing Regulations
National Weather Service