Cooper Creek Reservoir near Sutherlin offers excellent seasonal fishing for hatchery raised rainbow trout and coho salmon, and it also is a very good warmwater fishery, with largemouth bass and panfish.
This is a beautiful spot for a day of fishing, boating and picnicking, nestled among towering Douglas fir forests.
Located just 25 minutes north of Roseburg and about an hour south of the Eugene – Springfield area, the 160-acre Cooper Creek Reservoir offers year-round fishing with excellent bank and boat access.
The narrow reservoir stretches for more than a mile in a forested setting in a small canyon formed by Cooper Creek, a stream in the North Umpqua River's drainage.
Trout Fishing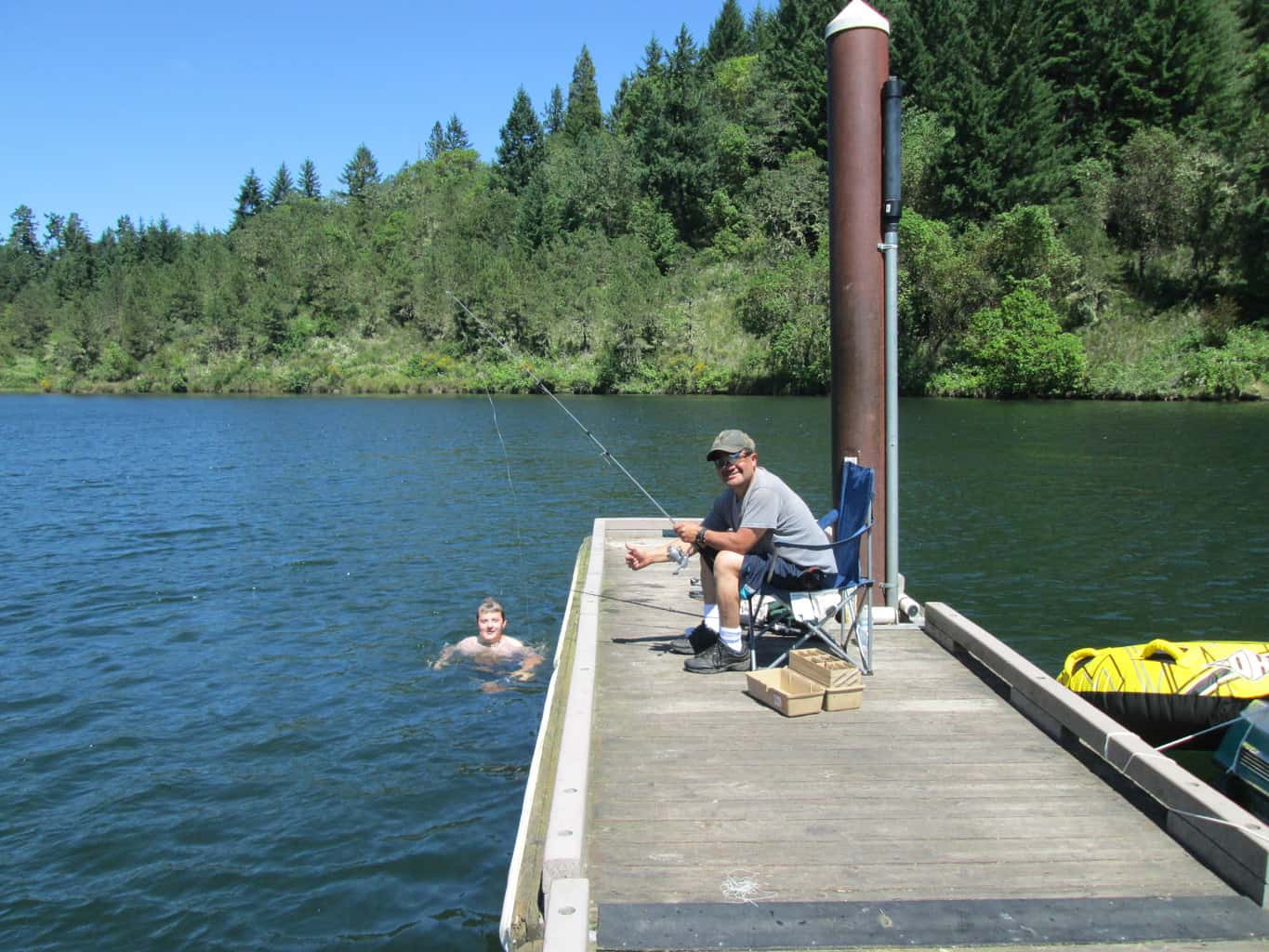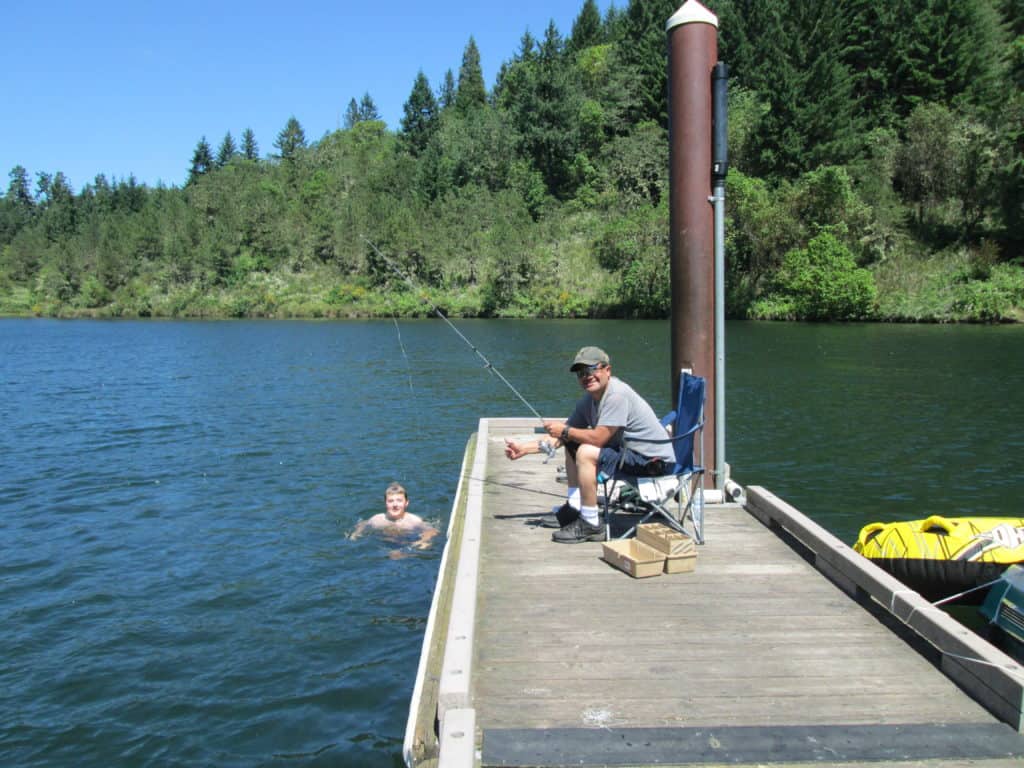 Trout anglers converge on this reservoir during the late winter and throughout spring, when the water is cool and the Oregon Department of Fish and Wildlife typically delivers a number of large batches of rainbows to the lake.
These early season fish are mostly legal sized (8-10 inches) but also often include some larger fish. Additionally, big trout hold over from the previous year.
Trout fishing slows a bit during the mid-summer season, but you can still pick some up. You may have to fish deeper water as the fish seek out cooler conditions.
Cooper Creek also is typically stocked in the late summer and potentially again in the early fall. These later fish can include some jumbo-sized trout, so come prepared for battle.
Typical lake-fishing techniques including still-fishing with bait or trolling lures will catch trout and coho here.
If you'd like to learn more about catching trout, start with our article: Trout Fishing: Basic How-To Techniques and Tips.
Salmon Fishing
In recent seasons, ODFW also has been planting the reservoir with coho salmon smolts.
The juvenile salmon look somewhat like kokanee (landlocked sockeye salmon) and can be caught with similar tactics used for kokanee and trout.
Landlocked coho salmon count as part of the trout bag limit.
Bass and Panfish
Largemouth bass can grow to very good size at Cooper Creek Reservoir.
Search for bass in coves and around cover. ODFW recommends dropping soft plastic lures into clear areas around the weeds that grow thick in summer and early fall.
At times, crappie have been found in good numbers, especially in the reservoir's coves during spring and early summer, where you can catch them in relatively shallow water fishing jigs, small swimbaits and other lures that imitate smaller fish.
Crappie are likely to move into deeper water during mid-summer and beyond.
Bluegill also can be plentiful and easy to catch here, as can brown bullhead catfish.
Fish Consumption
One thing to note before going is that the state has issued consumption warning for fish at this reservoir, due to naturally occurring mercury in the food chain.
See the annual ODFW regulations booklet for suggestions of how much fish caught from this reservoir is safe to eat.
Generally speaking, resident fish such as bass, panfish and catfish, especially the larger specimens such as trophy sized bass, tend to have higher mercury levels.
Planted trout will tend to have low levels of the toxin because mercury takes time to accumulate in fish flesh.
Where is Cooper Creek Reservoir?
Cooper Creek Reservoir is located only a few minutes outside of Sutherlin.
From Interstate 5 or in town, drive east on W. Central Avenue and then turn right (south) on Waite Street, which curves into Southside Road. It won't take long to reach Cooper Creek Road, where you'll turn right and quickly reach the reservoir.
Either turn off at Edgewater Drive to reach a boat ramp and day-use area on the northwest side of the reservoir (near the dam), or continue on Cooper Creek Road along the north side of the reservoir to another good bank and boat access point at the upper (eastern) end of the reservoir.
Bank anglers can fish from either access point or take advantage of a trail that encircles the lake to reach more water.
See Douglas County parks for more information on public amenities.
Nearby Fishing Spots
Plat I Reservoir, which has similar fishing opportunities but usually not as much trout stocking, is very close by in the Sutherlin area.
Ford's Pond is another public warm water fishery on the west side of Sutherlin and the North Umpqua River also is in the vicinity. Use the county link below to explore local fishing options.
2022 Cooper Creek Reservoir Trout Stocking
| | |
| --- | --- |
| 2022 Stocking | Total |
| Mar. 21 – 25 | 4,500 |
| Apr. 11 – 15 | 3,000 |
| May 9 – 13 | 2,000 |

Stocked fish are legal-sized rainbow trout unless otherwise noted. Stocking schedules are subject to change for a variety of reasons. The ODFW Weekly Fishing Report linked under Oregon Resources below may provide updated information
Find more fishing spots in Douglas County
Oregon Resources
ODFW Weekly Fishing Report
ODFW Trout Stocking Schedule
Oregon Fishing Regulations
National Weather Service