Spanning 8,800 acres just west of Tallahassee, Lake Talquin is known as one of the great multi-species fishing lakes in the Florida Panhandle.
Depending on the season, anglers can take advantage of excellent largemouth bass fishing, ample populations of bluegill, sunfish and catfish, and some of the best crappie fishing in the Sunshine State. Striped bass have been stocked here as well, providing a unique opportunity.
Created in 1927 with the construction of the Jackson Bluff Dam on the Ochlockonee River, Lake Talquin is long and meandering, with numerous creek arms and coves. The reservoir is also unusually deep compared to most Florida lakes.
Lake Talquin averages about 15 feet deep and has a maximum depth of 40 feet. This lake is also unique due to its relative lack of vegetation, which forces anglers to focus on hard bottom structure and woody cover.
Largemouth Bass Fishing
Lake Talquin offers excellent bass fishing, including perhaps the best odds to land a 10-pounder in the Panhandle. Lots of 5-pound largemouths swim here, along with plenty of healthy fish in every size class.
But Lake Talquin can throw some Florida anglers for a loop, especially those most familiar with the shallow, weedy lakes in the southern part of the state. Talquin's bass spend most of the year on deep channel edges and submerged humps.
That changes during the spawn, which usually spans a two-month period, peaking in late March to early April. That's when bass head toward shallow coves and creek arms, initially using channel edges leading to hard-bottomed flats as migration routes.
Stumps and timber provide key bass habitat. There are shallow stumps that bass use as spawning cover. Deep stumps line the river and creek channels down to the original river bed to provide additional cover when bass move down in the water column.
Anglers mostly throw Texas-rigged plastic worms and crankbaits on Lake Talquin. The artificial worms are excellent during the brief window when bass are shallow and when deeper bass prefer a less aggressive presentation.
Crankbaits are great search lures and are effective at covering a wide range of depths. They're outstanding during the rainy season when there's a bit more current in the lake.
Billed crankbaits like Shad Raps and lipless models like a Rat-L-Trap can both do the trick.
Bass forage on golden shiners, threadfin shad, gizzard shad and bluegill in Lake Talquin, so a wide range of crankbait color patterns can be effective. For soft plastics, darker natural colors like junebug, green pumpkin and watermelon tend to work best.
The mouths of Mews Creek and Hunters Creek are a couple of excellent spring bass fishing areas, but practically any shallow cove with some wood can attract bass this time of the year. The Little River Arm has some great spots.
The main river channel swings close to the south bank along the length of Lake Talquin State Park from Polk Creek to Williams Landing. Steep bluffs drop swiftly down to timber-filled ledges, providing top bass fishing throughout this stretch.
A little farther up the lake, the string of island-like cypress trees between High Bluff and Coe Landing is another excellent area. This spot is often called the Iron Curtain and has shallow flats on one side of the trees and a deep channel on the other.
Catch More Bass
We have a full but still simple guide to bass fishing techniques and tips.
Find the very best bass fishing lakes around Florida.
Crappie Fishing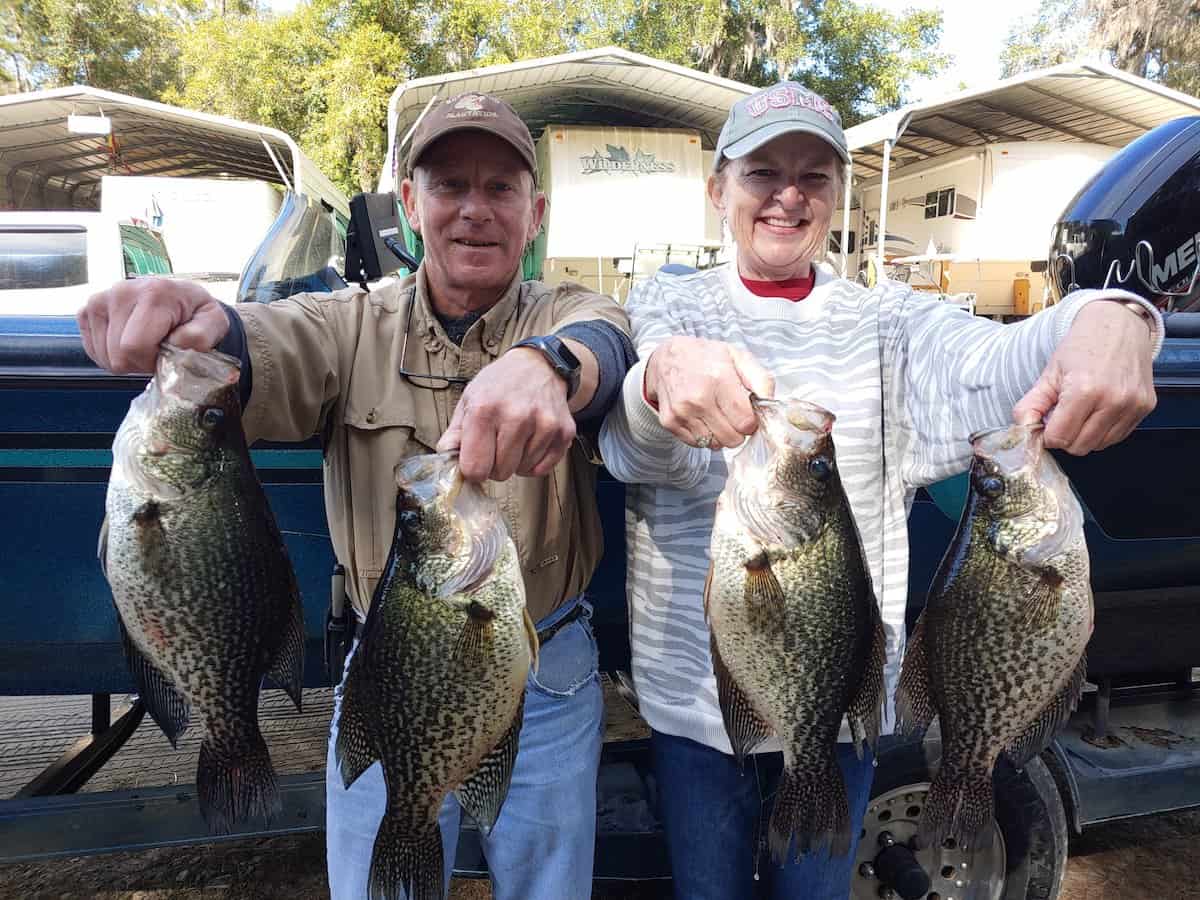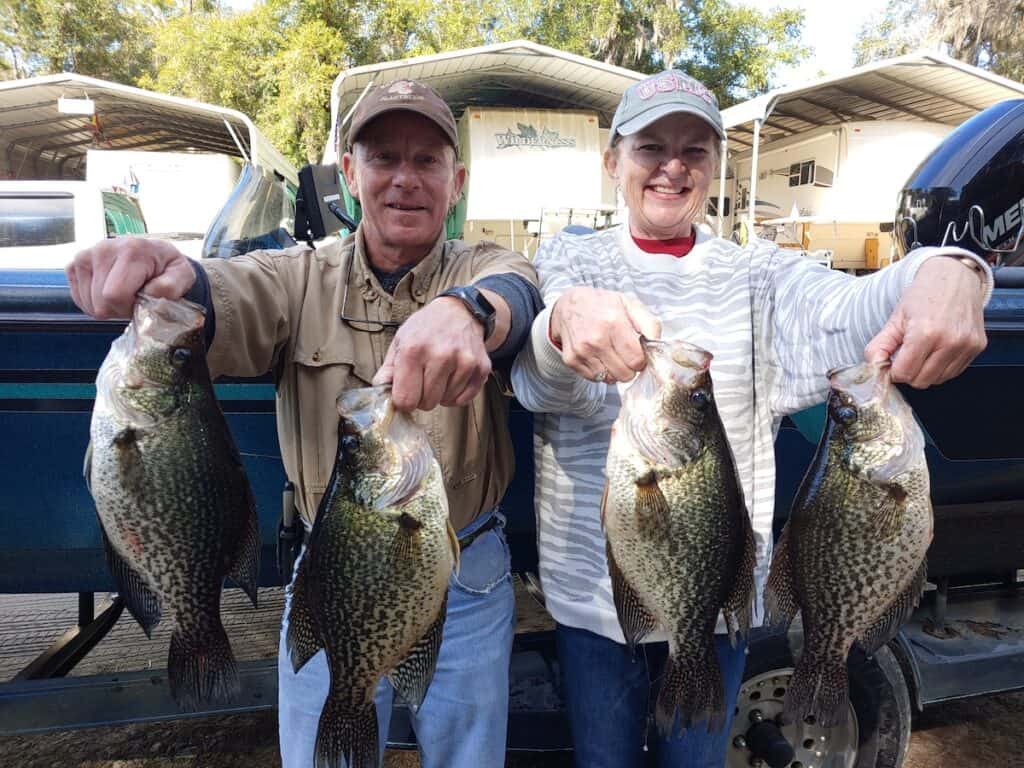 Lake Talquin is one of the best crappie lakes in Florida. Hundred-fish days are not uncommon when the bite is going strong, and anglers catch black crappies that weigh up to 3 pounds here most years.
Timing is one of the main keys to success for crappie fishing on Lake Talquin. Start the year trolling jigs along deep channels around 20 feet. The fish tend to suspend in January, so vary your depth until you get bites.
Crappies transition to pre-spawn patterns in February, so anglers will find them staging around the mouths of Lake Talquin's creek arms this month, gradually inching their way toward shallow backwaters.
Long lining and spider rigging can be effective when probing these offshore spots for crappies, which Floridians also call speckled perch or simply "specks."
Winter fishing can be excellent but also prone to severe fluctuations.
Crappies seek out the warmest water they can find this season, and a series of unseasonably warm days can draw crappies into the shallows. But a cold snap can send them back to the depths just as quickly.
The spawn is when crappie fishing really kicks into high gear. Crappies spawn a little earlier than bass, meaning they'll be in the backs of coves and creek arms throughout March during a typical year, possibly into April.
Although Lake Talquin lacks traditional submerged vegetation, it has lily pads in the backs of many coves. One of the best tactics in early spring is casting or "dipping" minnows and jigs into gaps between the pads.
The Little River Arm offers a tremendous shallow bite in the lily pads. Many crappies also congregate around docks in the Oklawaha Creek and Harvey Creek arms and linger in the area after spawning.
The Iron Curtain area is also a great section of the lake where crappies spawn among the cypress trees.
Night fishing can be productive too. Some locals will anchor out a ways from the lighted marina docks near the mouth of the Hammock Creek arm, and fish live minnows beneath a lighted float for an after-dark bite.
Catch More Crappie
Whether you're a beginner or more advanced, check out our easy guide to crappie fishing.
Striped Bass Fishing
The Florida Fish & Wildlife Conservation (FWC) has been stocking striped bass in Lake Talquin for decades, creating arguably the best landlocked striper fishery in the state. Stripers up to 30 pounds are occasionally caught, along with lots of 10- to 15-pound fish.
The cooler months offer the best striped bass fishing in Lake Talquin. However, stripers become stressed when water temperatures exceed 80 degrees, so they spend the summer months hunkered down in the deepest parts of the lake.
But striper fishing usually starts picking up in October as the fish become more active and roam the entire lake following schools of shad. As a result, December and January are traditionally the best months, and anglers might reliably catch stripers as late as April.
Watch for surface commotion and diving gulls, which are sure signs of stripers blitzing shad on the surface. Tossing a topwater or jerkbait into the melee is a great way to get into some striper action. When the fish are feeding actively, try walking the dog with a Zara Spook or Rapala Skitter Walk.
Main lake points and drop-offs along the river channel are the best areas to find stripers. Jigging spoons and diving crankbaits are effective when stripers are deeper. Anything that looks like a threadfin shad is likely to get a bite.
Stripers love open water, and it can be hard to catch them from shore consistently. The best bets for bank and pier fishermen are places where the river channel swings close to the shore, like Williams Landing and High Bluff.
A separate striper population resides in the Ochlockonee River. The Jackson Bluff Dam tailwater immediately below Lake Talquin is one of the best places on the river to catch them.
Catfish Fishing
The Ochlockonee River is one of the best catfish rivers in Florida. So it should be no surprise that Lake Talquin also offers some great angling opportunities for whiskery fish.
Channel catfish are highly abundant in Lake Talquin. Most channel cats are in the 1- to 3-pound "eating size" range, though it's not uncommon to hook into one weighing over 12 pounds. Bullheads are also common, and anglers land the occasional flathead catfish.
The summer months are prime time for catfish on Lake Talquin. Night fishing is traditionally the best way to catch catfish, but anglers also catch plenty of hefty cats during daylight hours, particularly on overcast days.
Catfish provide an excellent option for shore-bound anglers. In addition, the FWC has sunk brush piles near several fishing piers around the lake, including High Bluff, Hall Landing, and Pat Thomas Park. The submerged brush attracts catfish and other game fish.
Natural baits like chicken livers, nightcrawlers, cut bait and shrimp are effective when fished close to the bottom. Catfish often spend their days in deep water before heading shallow at night, and some anglers attract them by baiting an area with feed corn or fermented grain.
The Iron Curtain area is also a good stretch of the lake for catfish because it has easy access to a wide range of depths. Catfish also are often attracted by the dropping guano of cormorants and other birds that perch in the cypress trees.
Catch More Catfish
What are the best catfish baits? How should you rig for big cats? Where are likely holding spots? Learn all about catfishing with our simple catfish fishing tips and techniques.
Bluegill & Sunfish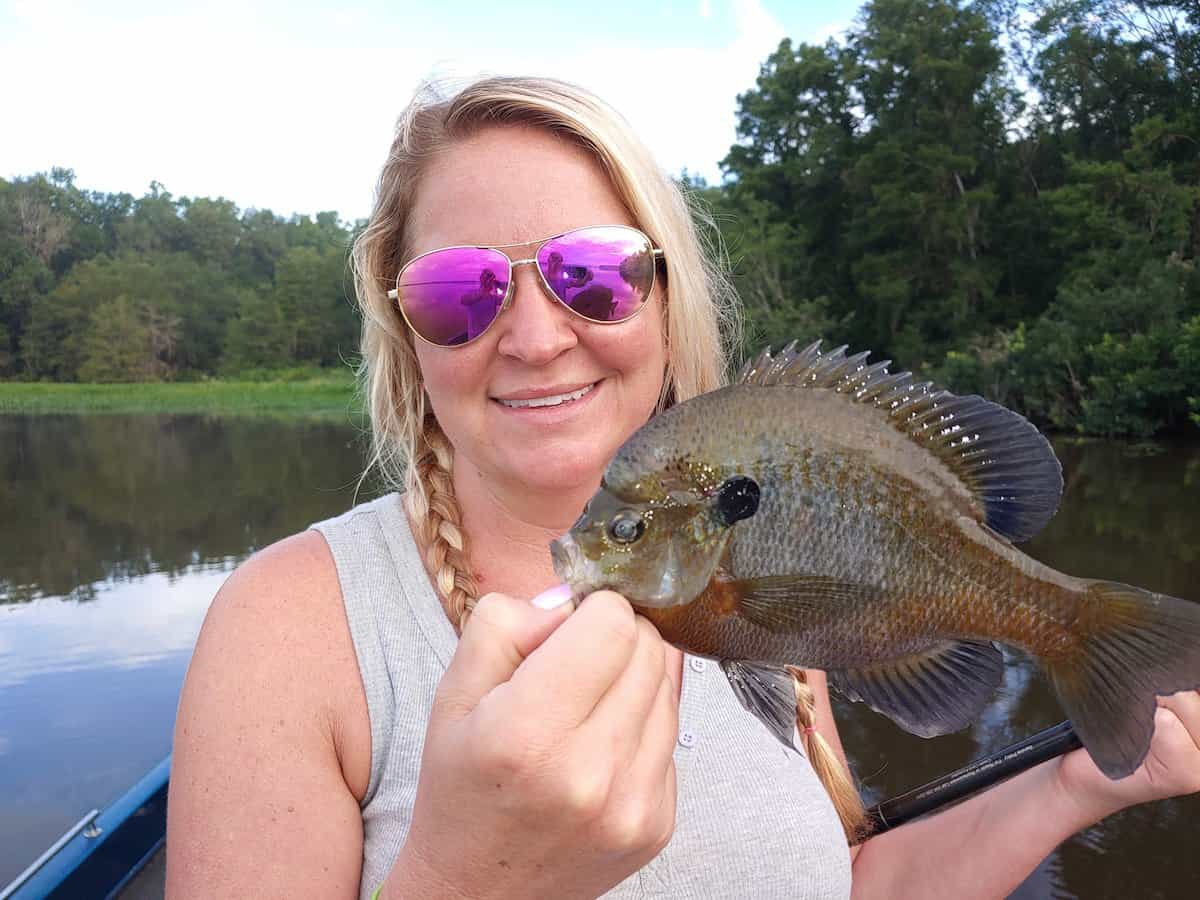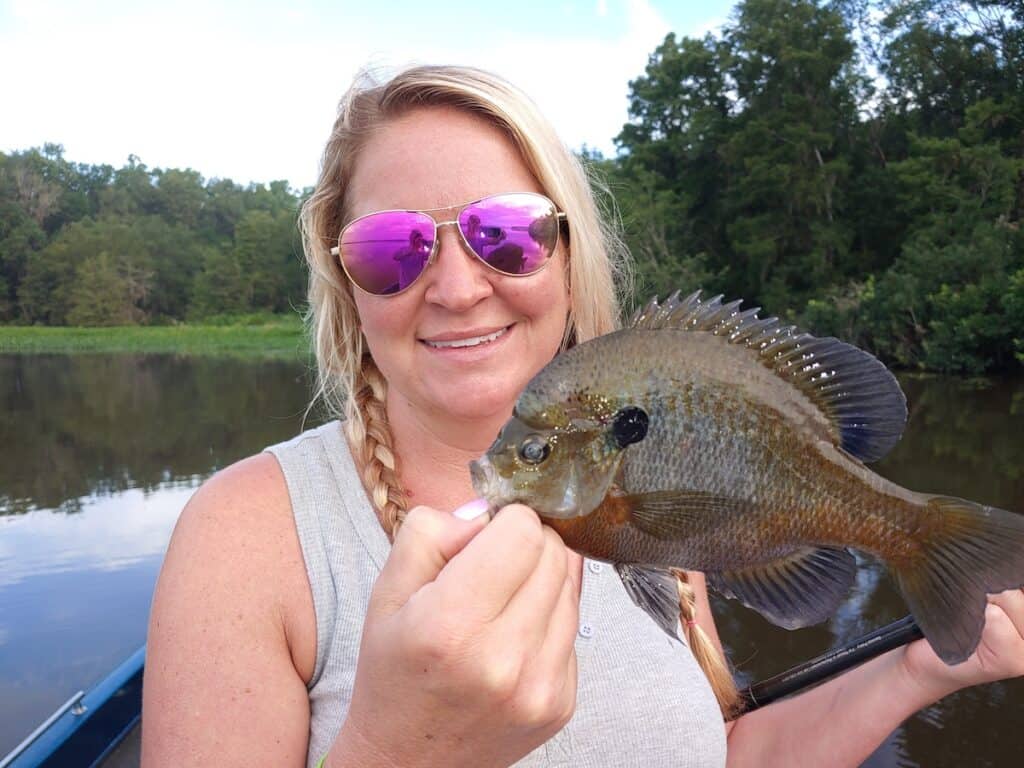 Panfish don't get a lot of headlines, but Lake Talquin offers some of the best fishing in Florida for bluegill and redear sunfish. Bluegills measuring 8 or 9 inches are common, and redear sunfish (also known as shellcrackers) get even bigger.
Some Talquin sunfish weigh a solid pound. These fish are quick to bite year-round at virtually any time of day, but the best fishing takes place during the warmer months of the year.
Bluegill and shellcracker spawn in spring and early summer, digging out shallow, nest-like depressions on flats all over Lake Talquin, especially in the bays and coves. It's common to see "colonies" of nesting bluegill and shellcracker numbering in the hundreds.
The spawn can be sporadic, with some fish bedding down as early as March and some stragglers still on their beds as late as July. They don't all spawn at once.
Panfish anglers catch lots of bream and other sunfish around lily pads, boat docks, cypress trees, and stump fields throughout the warmer months.
Live redworms and crickets are great baits. Grass shrimp are even better. Some local anglers catch shrimp in Lake Talquin using hand nets and fish them on small Aberdeen hooks below a float.
A variety of small artificial jigs, spinners and flies are also effective.
The best bite is right around the full moon every month.
Great areas for panfish include the Hammock Creek, Ocklawaha Creek and Little River arms, the fishing pier at High Bluff, and the upper end of the lake where the Ochlockonee River feeds it.
Catch More Bluegill and Sunfish
Catching bream and any sunfish doesn't have to be complicated. But there are many fun and effective ways to have a blast with these scrappy panfish. We show you the ways in our bluegill and sunfish fishing how-to article.
Planning Your Trip
Getting to Lake Talquin
Lake Talquin is in the eastern part of the Florida Panhandle in Gadsden and Leon counties. Tallahassee and Quincy are the nearest cities of size—the lake's name is a mashup of the two—and each is within a 30-minute drive of the lake.
Florida State Road 20 runs roughly parallel to the southern shore of Lake Talquin, and quite a few access points are just off this route.
Several bait shops, marinas, lodges and fish camps operate around the lakeshore.
Bank & Boat Access
Lake Talquin is a very angler-friendly reservoir and offers no shortage of access. In addition to state park and state forest land, the lake is also accessible through several county parks and boat landings, many of which have fishing piers.
Some of the best places to launch a boat or fish from shore on Lake Talquin include:
Lake Talquin State Forest: Spanning several separate tracts of land around the lakeshore, Lake Talquin State Forest offers multiple access points with bank fishing, boat launch facilities and camping. One of the best sites is High Bank Recreation Area, which has a fishing pier, boat launch and campground near the Iron Curtain area of the lake.
Lake Talquin State Park: Situated on the bluffs overlooking the lake's southern shore, Lake Talquin State Park offers a small fishing pier and a lakeside boardwalk where anglers can fish from the shore. The park also has a canoe and kayak launch.
Leon County Parks: The southern shoreline of Lake Talquin lies in Leon County, which provides several boat landings and parks, including Coe's Landing, Luther Hall Landing and Williams Landing, all of which have fishing piers.
Know Before You Go
Many hazards hide below the surface of Lake Talquin, including vast areas of stumps and timber, which require caution from boaters. Even anglers familiar with the lake occasionally bust a prop on a stump here.
Lake Talquin's water levels are more stable than many Florida lakes, but if the water drops even a foot or two—as it very well may during the dry season—the number of hazards just below the water multiplies. So use caution, go slow, and keep one eye on your electronics.