Let's get one thing straight. Anglers don't catch crappies in Florida; they catch speckled perch or 'specks' in the local parlance.
Call them what you will, the Sunshine State offers some outstanding fishing for these feisty panfish. Crappies thrive in shallow, fertile waters with ample weed growth, all of which are common characteristics of Florida lakes.
Most Florida anglers abandon speck fishing during the hottest months of the year, as these fish—notoriously prone to scattering in open water—become near-impossible to find. But fishing picks up as waters cool in autumn and usually remains productive well into spring.
Winter is the best time to fish for crappies in most Florida lakes. Crappies spawn as early as January in Southern Florida and as late as April in the northern part of the state, but cooler temperatures invariably attract them to the shallows.
Florida is somewhat unique in that it only offers fishing for black crappies. White crappies, though common throughout much of the South, are absent from Florida waters.
While crappie populations are known to follow cyclical highs and lows in even the best lakes, all of the waters listed below have the potential to produce huge numbers of speckled perch, including plenty of slabs that measure over 14 inches and tip the scales above 2 pounds.
Florida's Best Speck Fishing
Lake Okeechobee
Spanning 730 square miles, Lake Okeechobee is one of the largest natural freshwater lakes in America, and easily the largest in Florida. It's a crappie powerhouse, although, like most great crappie lakes, the fishing can be somewhat cyclical.
The "Big O" as anglers often call it, has been on an upswing recently, re-establishing itself as a top-tier crappie lake after a crash in the mid-aughts. Strong-year classes since 2018 have been a major boon for local anglers.
With such a vast amount of water, the challenge of fishing Lake Okeechobee comes simply from finding fish. Once you locate crappies, it's usually not too hard to catch your limit of 10- to 15-inch specks.
Timing and location are equally important, though the former is easier to pinpoint. Every year, crappie fishing in Lake Okeechobee begins to pick up throughout November and December as they prepare to spawn, and usually continues to be excellent through February.
Lake Okeechobee is surprisingly shallow for its size, maxing out at about 12 feet deep when lake levels are normal. During the winter, crappies typically hold close to vegetation, usually in less than 6 feet of water.
One of the best areas is the mouth of the Kissimmee River, which enters the lake at its northern end, forming a shallow bay north of Kings Bar Shoal. Big Bear Beach and the Indian Prairie Canal are excellent spots on the western shore, along with Coot Bay and the West Wall farther south.
The Rim Canal that runs parallel to much of Lake Okeechobee's shoreline is a major spawning ground for crappies. Some of the best crappie fishing areas are where this canal, and the smaller canals that feed it, meet the main lake.
Spider rigging, which involves drifting live minnows, sometimes on as many as a dozen rods at once, is a popular tactic among locals.
Casting small, flashy minnow imitations like Beetle Spins and Roadrunner Jigs is a more active approach to covering water quickly.
Multiple boat launch sites are available on Lake Okeechobee, including C. Scott Driver Park at the north end of the lake and the City of Clewiston Boat Ramps at the south end.
Much more information: Lake Okeechobee Fishing
Lake Tohopekaliga
Known for being one of Florida's best bass lakes, 18,810-acre Lake Tohopekaliga is also a standout for crappie fishing. The lake is located just south of Kissimmee in Central Florida, making it one of the best crappie lakes near Orlando.
Commonly referred to as Lake Toho, this lake is about 13 feet deep, and offers a diverse habitat that includes a sand and shell bottom, with abundant hydrilla, maidencane, knotgrass, eelgrass, and lily pads that form beds of submerged and emergent vegetation.
It's ideal for crappies, which are known for their size and abundance at Lake Toho. Some of the most reliably productive areas include Little Grassy Island, North Steer Beach, and especially Goblets Cove.
Goblets Cove is a shallow, weedy embayment off the east side of the lake. With ample vegetation and a maximum depth of about 8 feet, the cove produces huge numbers of crappies in winter and early spring.
Fishing can also be productive around floating marina docks and the fish attractors that Florida Fish and Wildlife Conservation (FWC) placed in various locations.
Crappies usually spawn from mid-to-late February in Lake Toho, and they do so in a wide range of shallow areas, including the numerous canals that adjoin the lake.
The St. Cloud Canal, which connects Lake Toho with East Lake Tohopekaliga, is one of the best places to fish during the spawn.
Anglers can fish the riprap along the banks of this canal either from a boat or shore. You can launch into this channel at Partin Triangle Park.
On the main body of Lake Toho, Kissimmee Lakefront Park provides bank access, a fishing pier, and a full-service marina. Another excellent spot for bank anglers is nearby Brinson Park.
Lake Toho also easily ranks among the best bass lakes near Orlando.
Much more information: Lake Tohopekaliga Fishing
Lake Talquin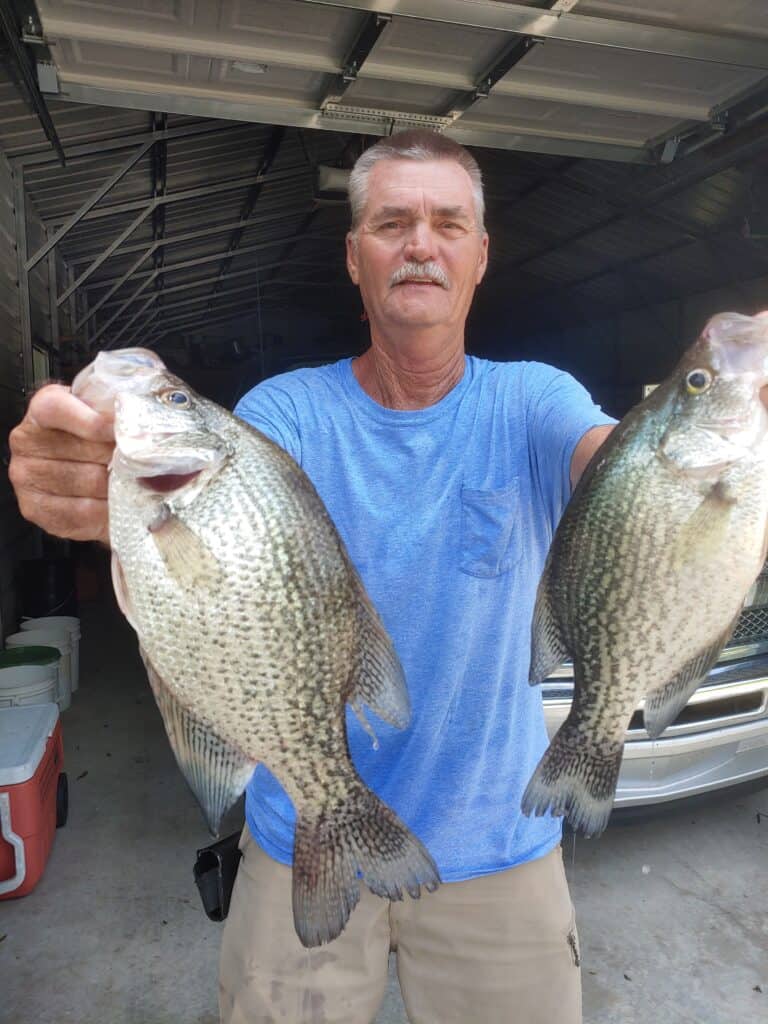 Just a few miles west of Tallahassee in the Florida Panhandle, Lake Talquin is an 8,800-acre reservoir on the Ochlockonee River. It's nationally known as a great crappie lake.
Lake Talquin had a banner season a few years back, when it kicked out an impressive number of 2-pound-plus black crappies. As is typical of crappie fishing, the population can be highly cyclical, but numbers have continued to be solid, and anglers continue to catch big fish.
Fishing at Lake Talquin is quite different than in the shallow, natural lakes elsewhere in Florida.
Talquin is a long, meandering reservoir with multiple creek arms. It has an average depth of 15 feet and a maximum depth of 40 feet.
That gives crappies a lot of room to roam during the summer months. But these fish congregate around predictable shallow cover in winter and early spring. As a result, the best crappie months are January through April.
Lake Talquin also stands out due to its relative lack of vegetation, but it has a ton of stumps, logs, and standing timber that attract crappies in early spring. Anglers do well slowly trolling over timber-filled flats with spider rigs.
Any of the creek arms can be highly productive this time of year, and anglers find many crappies in the shallow, upper end of the lake.
Numerous boat ramps and access sites are available. Lake Talquin State Park has a fishing pier and kayak launch, and boaters can choose among several county boat landings.
After the spawn, when the warmer weather sets in, crappies move deeper. Your best bet will then be trolling along the edges of the river channels at around 20 feet.
The best bite this time of year is right around dusk, and there can also be excellent night fishing for crappie.
Much more information: Lake Talquin Fishing
Lake Istokpoga
Lake Istokpoga is a massive lake that provides excellent crappie action in South-Central Florida.
The lake might look deceptively small on a map, sitting northwest of the incomparably giant Lake Okeechobee. However, Istokpoga is massive in its own right at 28,000 acres, though like many lakes in the region, it's also shallow.
You won't find water deeper than 10 feet in Lake Istokpoga, but crappies don't mind that a bit.
It's better known as a numbers lake than a trophy crappie fishery, but there are plenty of 10- to 12-inch specks to be caught.
Locals catch speckled perch year-round by drifting minnows and trolling with deer hair jigs in open water.
The lake is essentially a series of broad flats with abundant vegetation, and crappies often bite around dawn and dusk along weed edges.
As in most Florida lakes, the colder months bring crappies into more predictable areas, concentrating around weed beds near shore and feeding heavily in preparation for the spawn. November through March are prime crappie months on Lake Istokpoga.
Using a 10- to 12-foot cane pole to drop minnows rigged under a float into pockets among the lily pads—known as dipping or dabbing—is a popular tactic here.
There's a productive stretch of pads on the west side of the lake near Henderson's Fish Camp.
The lake's northeast side between Big Island and the north shore is another very productive area. During the spawn, look for crappies in and around the entrance to the Istokpoga Canal.
Several launch sites are available, including Istokpoga Park, at the north end of the lake, which also offers a fishing pier. There is also a boat launch and campsite on the Istokpoga Canal.
Istokpoga is centrally located for many Floridians, roughly a two-hour drive whether you're coming from Orlando, Tampa, Fort Myers, or West Palm Beach.
Much more information: Lake Istokpoga Fishing
Orange Lake & Lochloosa Lake
Neighboring Orange Lake and Lochloosa Lake offer tremendous crappie fishing in North-Central Florida, about 15 miles southeast of Gainesville.
The two lakes are less than a mile apart and connected by Cross Creek.
Both lakes are shallow, fertile, and dominated by extensive aquatic vegetation.
The plant communities in these lakes provide the setting for prolific crappie spawns. As a result, most years offer impressive abundance and size.
But all those weeds can also make fishing the lakes—and at times, even accessing them—a real challenge. Cross Creek is frequently impassable, and it's common for shallow, marshy parts of both lakes to be inaccessible. Fortunately, there are boat ramps on both lakes that are typically clear.
Orange Lake is the larger of the two at 12,550 acres and has the thickest weed growth. However, a long stretch of 10-foot-deep water at the lake's center usually stays clear. Trolling this stretch is the best bet throughout most of the year.
When crappies head shallow in winter, the best option is to dip minnows, grass shrimp, and small jigs into holes among the spatterdock (lily pads) and hydrilla at the north and south ends of the lake.
Heagy-Burry Park provides a boat launch on Orange Lake and a fishing pier with a sunken fish attractor nearby. Fishing nearshore areas from a kayak is a good approach when fish are shallow.
Lochloosa Lake is smaller at 5,700 acres and has a shoreline dominated by cypress trees, with widespread beds of eelgrass and spatterdock.
The best access is usually at Lochloosa Lake Park.
A similar approach works here; try fishing grass shrimp and minnows among the weeds and cypress knees from January to April. Trolling the same baits in open water is the best after the spawn in May and June and again as the lake begins to cool in fall.
Lake Monroe & Lake Jesup
The St. Johns River twists and turns through over 300 miles of eastern Florida, feeding dozens of lakes and marshes along the way. Countless areas along the river offer excellent crappie fishing, but lakes Monroe and Jesup are arguably the best of the best. 
Similar in size, 8,771-acre Lake Monroe and 8,068-acre Lake Jesup are each less than a 30-minute drive from Orlando. Both are shallow, fertile, weedy lakes fed by the St. Johns River.
Although crappies are prone to boom-and-bust cycles here, just like in any lake, Lake Monroe and Lake Jesup offer fairly good crappie catches even during off years. And then the lakes turn on, and they really turn on.
Lake Monroe has the most distinct bottom structure of the two lakes, including some prominent humps, moderately deep holes, and a well-defined river channel. These are all key crappie areas.
Grass beds are also productive, especially in springtime. The area around the Interstate 4 bridge and near the power plant on the northern shore can also be excellent.
Lake Monroe Wayside Park is a great place to launch near the I-4 bridge at the lower end of the lake.
Lake Jesup is shallower and has less discernible structure. Many anglers drift in open water around Bird Island, where depths are 5 to 7 feet in the middle of the lake. The Soldier Creek area can also be productive.
Try casting Road Runner lures tipped with minnows.
Lake Jesup has an abundance of bulrushes along the shore, and dipping minnows into the rushes produces a great bite in just a foot or two of water during the spawn.
Timing of the spawn can vary quite a bit, ranging from February to April, depending on conditions.
Honorable Mentions
Anglers catch crappies in countless places all over Florida, from unnamed canals and ponds to sprawling lakes and reservoirs.
While the lakes listed above are widely considered to be the cream of the crop, you also can't go wrong fishing for speckled perch at the following honorable mentions.
Tenoroc Public Use Area
Located in Central Florida, just a few miles from Lakeland, Tenoroc Public Use Area is a unique fishing destination known for excellent crappie, bass, catfish, and bluegill populations. The area includes 24 lakes ranging in size from 7 to 227 acres.
The land and water that comprises Tenoroc Public Use Area spans several thousand acres. It was mined for phosphorus from the 1950s to the 1970s before eventually being reclaimed as wildlife habitat.
The lakes are easily accessible, including numerous boat launches and bank fishing sites.
Anglers often catch crappies in brush piles, submerged timber, ledges, humps, and dredge holes commonly found in these small lakes.
Crappie fishing is more about numbers than size, but anglers catch many 10- to 12-inch specks in the Tenoroc lakes and ponds. This FWC map of the area is a handy tool for getting one's bearings in this maze of water.
Boats are limited to trolling motors and non-powered craft, so this is an excellent off-the-beaten-path spot to fish from a canoe or kayak.
Check the current regulations before going, as some special rules and limits are in place.
Lake Seminole
A massive reservoir of 37,500 acres, Lake Seminole straddles the state lines between Florida, Georgia, and Alabama. Although most of the lake lies in Georgia, Florida overlooks a significant portion of the Chattahoochee River Arm.
This area just so happens to be an outstanding part of the lake for crappie fishing. Bays and backwaters from Howell's Landing up into Apalachee Wildlife Management Area offer great action during the spring spawn.
Lake Seminole is large and deep, making crappies hard to find in summer (luckily, there's also excellent bass fishing that season). But specks inch their way back toward the shallows in fall.
This part of Florida is cool enough that crappies are often sent back to deeper waters by winter cold snaps.
The more northerly locale also pushes the spawn a little later here, typically in March or early April. Spider rigging is widespread, and many anglers slow-troll jigs such as Road Runners and Crappie Assassins.
Dipping minnows and jigs into shallow weeds is also effective.
Three Rivers State Park offers camping on the lakeshore, boat launch facilities, and a 100-foot fishing pier.
More: Complete Guide to Fishing Lake Seminole
Lake Weir
Located about midway from Orlando to Gainesville in North-Central Florida, Lake Weir has a longstanding reputation as a productive crappie lake.
That said, the natural highs and lows of crappie populations can make this lake a bit hit-or-miss.
Spanning about 5,700 acres, Lake Weir is deeper than your typical Florida lake, with a significant portion over 20 feet deep.
Crappies scatter during the warmer months, but fall finds them congregating in the deep holes along the western and northern shorelines.
These holes serve as staging areas as the water cools, and a couple of them are within casting distance of the fishing pier at Carney Island Recreation & Conservation Area. Boat launch facilities are available here as well.
The park also is a good place to be when crappies move into shallow areas to spawn in January and February.
There's a great stretch of nearshore weed beds north of the park. Beyond that, docks line a significant portion of the shoreline, and those structures also attract crappies in spring.
Lake Weir is atypically clear for a Florida lake and often busy with pleasure boat traffic.
As a result of all that commotion, fish can be spooky and tend to respond best to live bait or natural-colored lures. Troll with a long line and keep boat noise to a minimum.
Rodman Reservoir
Often considered one of the best bass lakes in northern Florida, Rodman Reservoir (also known as Lake Ocklawaha) is a real sleeper crappie lake in the central part of the state.
However, the Gainesville-area lake produces 2-pound slabs most years, and lots of healthy 10-inch fish are always available.
Rodman Reservoir is a long, bow-shaped reservoir that covers 5,261 acres at full pool (though the water is commonly lower).
The lake has some excellent shallow stump fields and grass beds, but deeper waters are often the key to crappie success.
Depths up to 30 feet are available along the old barge channel, which connects Rodman Reservoir to the St. Johns River. Throughout most of the year, the best way to catch crappies is to troll along the edges of the channel.
Of course, winter and early spring also have a great shallow bite. Many crappies spawn in shallow cover close to the barge canal at the lake's northeast end. Rodman Campground offers a boat ramp and access site at this end of the lake.
The Ocklawaha River feeds the upper riverine section of the reservoir, which also has some excellent winter crappie action.
The Eureka East & West Boat Ramps provide access to this upper area.
Lake Rousseau
An often-overlooked lake near the Gulf Coast in Central Florida, Lake Rousseau is a 3,700-acre impoundment fed by the Withlacoochee and Rainbow rivers. The lake was built as part of the original Cross Florida Barge Canal project in the early 1900s.
Among anglers, the lake is best known for producing an abundance of hefty stumpknockers (redear sunfish). But there's also a healthy crappie population that often goes unnoticed, aside from locals who dip for them with minnows.
Lake Rousseau has some shallow grass beds and lily pads that attract crappies during the winter and early spring months, but stumps are the primary structure in this lake. Vast portions of the bottom consist of shallow, stump-filled flats.
These are great places to target crappies in winter, and lots of 12- to 14-inch specks are pulled out of this lake by the few anglers who target them.
Crappies scatter in summer, but they start to school around deep holes along the river channel in fall, especially toward the dam.
The Lake Rousseau Dam & Recreation Area is a great place to start fishing the lake. The park offers a boat ramp, three covered fishing platforms, and a great stretch of riprap along the face of the dam.
Catch More Crappies
Even if you call them speckled perch or specks, be sure to check out our complete guide to crappie fishing techniques and tips.