These are the best places to go fishing in Contra Costa County, including a few of the very best fisheries anywhere in the Bay Area.
Contra Loma Reservoir
This 80-acre lake just south of Antioch is stocked with catchable rainbow trout, typically in the late winter.
Anglers can also hook warmwater species including bass, catfish, panfish and striped bass.
Boat ramps are provided for boat launching. The lake only allows a maximum boat length of 17 feet and non-gasoline outboard motors.
Alcoholic beverages are not allowed anywhere in the park.
The lake is patrolled for security.
For details: Contra Loma Regional Park.
California Delta
The California Delta is located within several counties.
For some bank fishing opportunities specifically in this county, the Antioch and Pittsburg piers are a couple of specific options.
Much more information: Fishing the Sacramento and San Joaquin River Delta
Heather Farm Pond
Heather Farm Pond is an urban community pond in Walnut Creek, offering a closeby fishing spot with great seasonal opportunities.
This pond is most productive after it's stocked with catchable rainbow trout in the late winter.
There are other various amenities in the park.
For more information, go to the Heather Farm Park website.
Hidden Valley Pond
This small urban pond in Martinez is most popularly fished for catchable rainbow trout, which are stocked in the winter.
The park also offers picnic areas during the season.
Visit the park website for more detailed information.
Lafayette Reservoir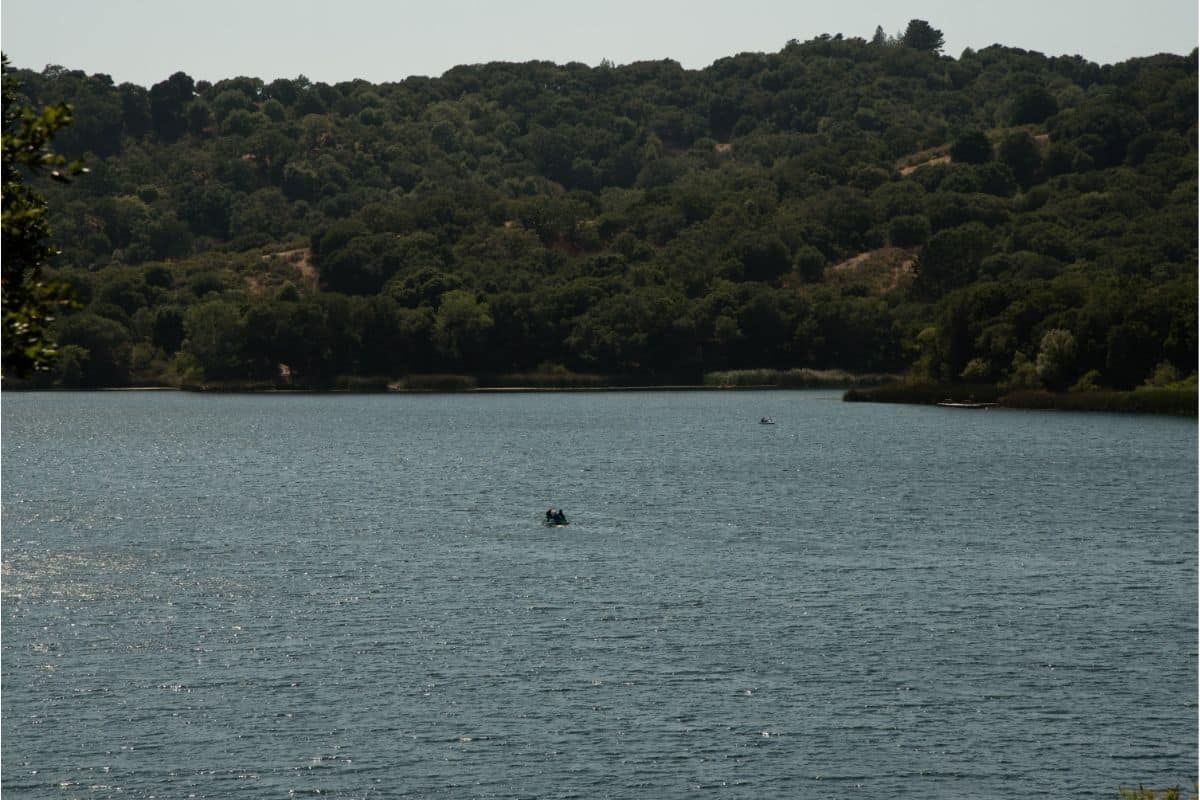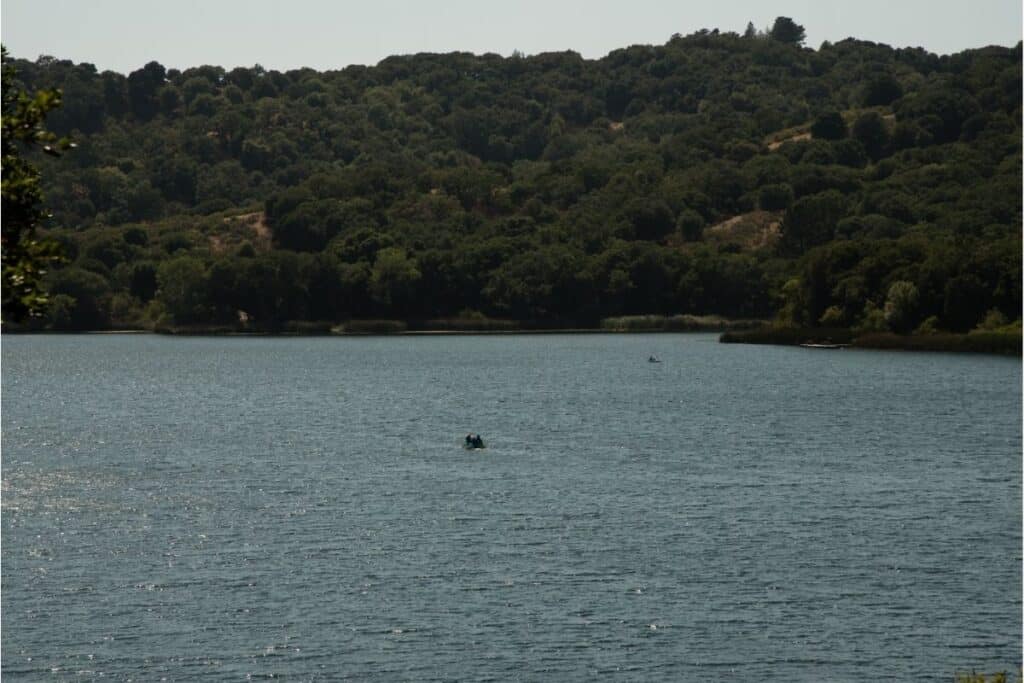 This 111-acre reservoir just west of Walnut Creek is quite a good fishing spot for trout along with warm water species including catfish in the summer.
Lafayette Reservoir is seasonally stocked with catchable rainbow trout, especially in the late winter but potentially at other times when the water is cool enough for trout.
Catfish are also stocked in the summer months.
Anglers have also reported catches of bass and panfish in the lake.
Shore fishing can be done but the shoreline is steep in many places.
There also are boat launches.
For more detailed information, visit the Lafayette Reservoir website.
Los Vaqueros Reservoir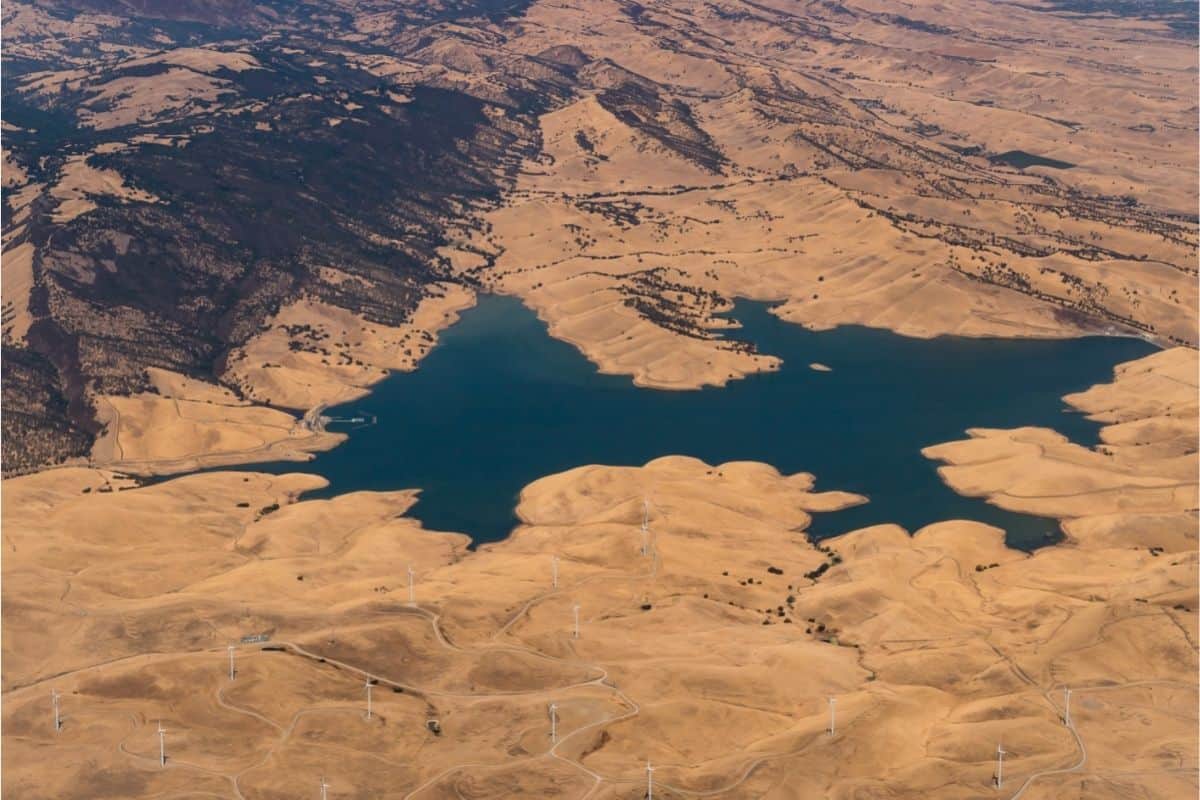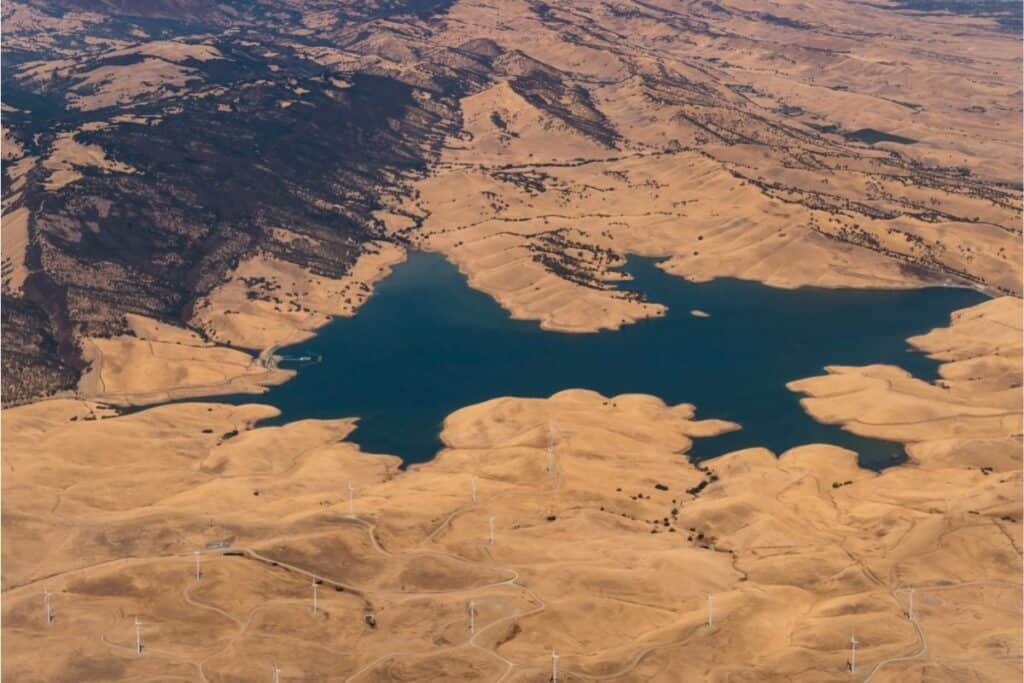 Los Vaqueros Reservoir is among the better fishing lakes in the Bay Area.
It's stocked with rainbow trout when the water is cool and also is popularly fished for largemouth bass, striped bass and catfish, among other species.
Amenities include boat rental, marina, courtesy fishing docks, hiking and multi-use trails, picnic facilities and other facilities.
Leave your own boat at home: Personal watercrafts and body-contact sports are not allowed in the lake, which stores drinking water.
More information: Los Vaqueros Reservoir Fishing
Saltwater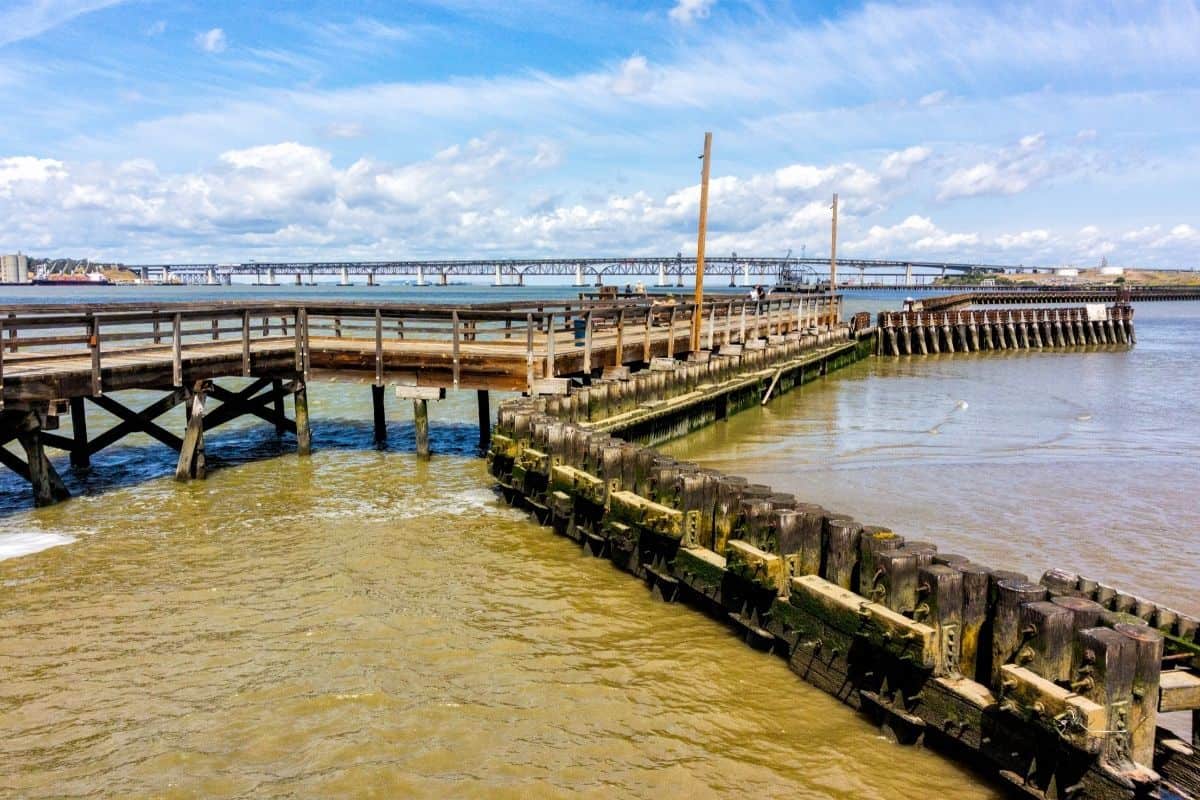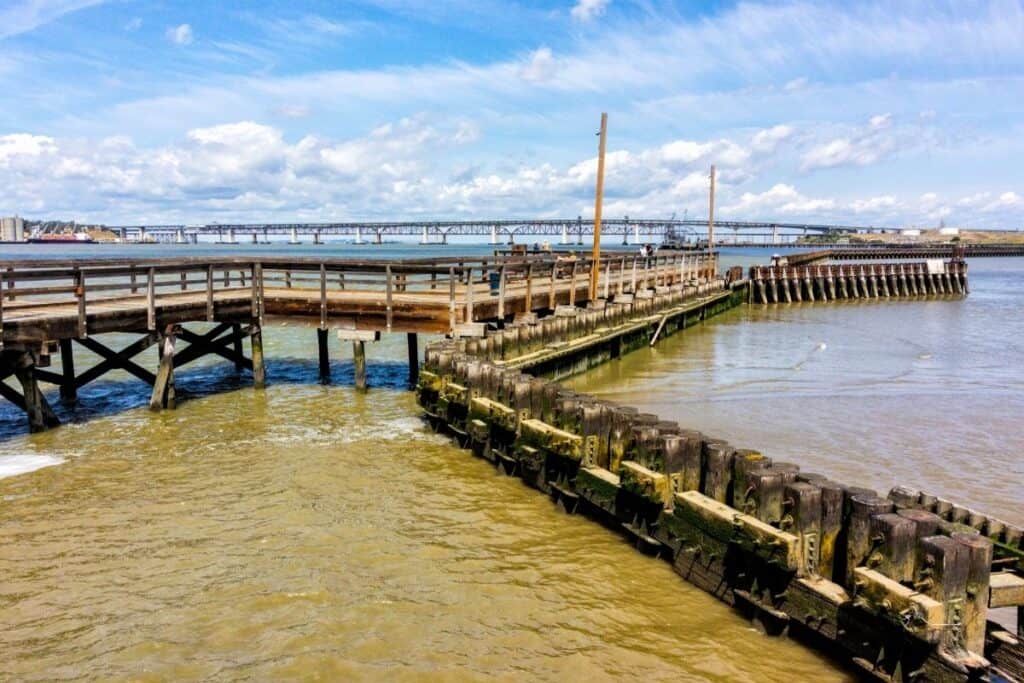 The saltwater and brackish water sections of the upper bay and lower delta region offer a variety of fishing opportunities.
The Martinez Pier is one shoreline fishing spot where anglers without a boat can catch larger game fish including striped bass and sturgeon.
For better odds still, launch your own boat in San Pablo or Suisun bays or hire a guide during prime striper, salmon or sturgeon seasons.
Point Pinole Pier, in a regional park in Richmond, offers saltwater angling. Most catches are various types of sea perch, with some flatfish and other species in the mix.
San Pablo Reservoir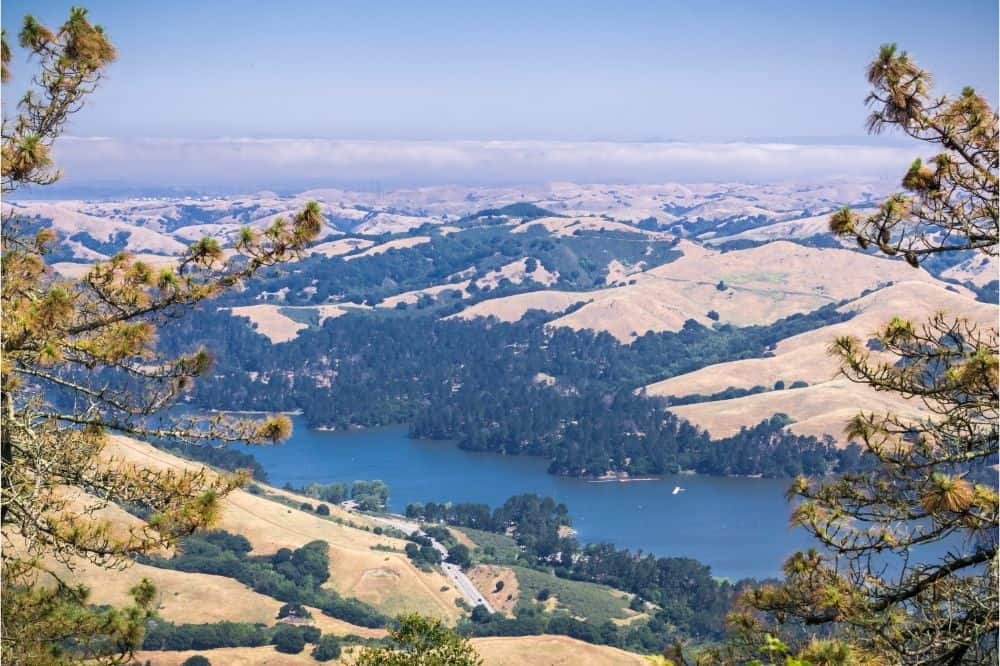 This long lake with 854-acre surface acres at full pool is another of the better Bay Area fishing destinations.
San Pablo Reservoir is stocked with catchable rainbow trout from late winter through spring, providing excellent trout action during those months.
When it gets warmer, catfish are stocked to keep the catches coming.
The lake at times also offers excellent fishing for bass including largemouth and spotted bass, as well as panfish such as crappie and bluegill.
The shoreline is steep in places but offers pretty good opportunities for bank fishing.
Boaters can launch their own boats or rent one from the marina.
More information: San Pablo Reservoir Fishing