If you're looking for one of the hardest fighting fish to swim in Arkansas lakes, rivers, and creeks, look no further than the smallmouth bass.
Arkansas is home to some fantastic smallmouth bass fishing, and some great places to catch them are closer than you think.
Whether you're chasing smallies from the bank, motor boat, or kayak, we have you covered below with the top smallmouth fishing spots in Arkansas.
Best Smallmouth Bass Lakes
Many of Arkansas's lakes have smallmouth swimming in them.
You stand the best chance of catching them from a boat, but you'll also be able to fish for smallies from the bank at some public access areas, including state parks and campgrounds.
Beaver Lake
One of the state's most popular bass fishing spots is Beaver Lake.
Many big tournaments are held here yearly, with anglers often weighing in mixed bags of smallmouth and largemouth bass.
Since smallmouth prefer clear water, you'll find the largest population on the lower end near the dam. However, this lake remains relatively clear throughout the year.
Big and Little Clifty Creeks are well-known areas to fish during the pre-spawn and spawn.
Also, Rocky Branch has an excellent mix of deep structure and shallow spawning flats, making it suitable for smallmouth fishing most of the year.
Bull Shoals Lake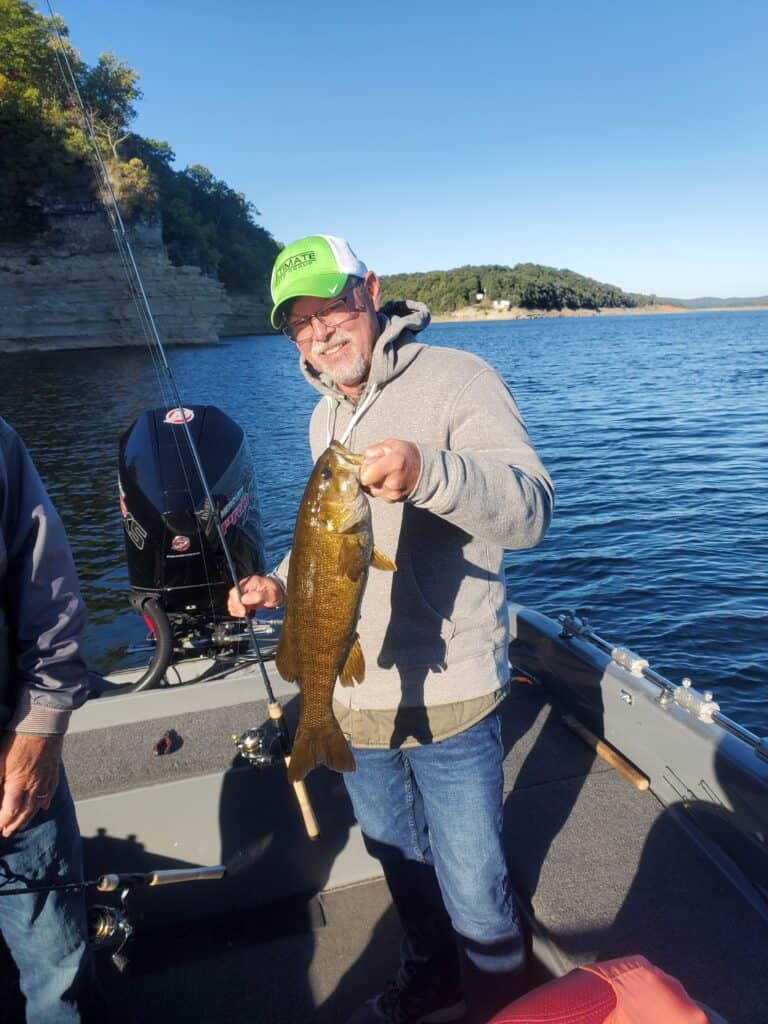 Another clear-water Arkansas lake is Bull Shoals. This large reservoir is home to three species of black bass, smallmouth, largemouth, and spotted bass.
If you're primarily targeting smallies, you might have to weed through a few bites from largies and spots.
With lots of shoreline access, you'll have plenty of opportunities to cast your lure in front of a hungry smallmouth. Bull Shoals is a rocky lake, and crankbaits and jigs can work well here.
However, because it's so deep and clear, you'll likely have to resort to finesse fishing the main lake points with a drop shot or ned rig.
Greers Ferry Lake
If you're looking for a bit more stained smallmouth fishing water, head to Greers Ferry Lake. This lake has produced a world-record walleye and crappie fishing can be great, but bass fishing is often overlooked here.
You might find the largemouth fishing a bit tough, but the smallmouth bass fishing is much better as the lake has a healthy population of smallies.
In the spring, you can catch spawning smallmouth close to the shore. However, as the shallow water warms up, they'll move deeper.
Norfork Lake
Often overshadowed by Table Rock and Bull Shoals, Norfork Lake is one of the state's top smallmouth fishing locations because it has a healthy population of quality fish.
The lower portion of the lake is where smallmouth are primarily caught because the water is a little clearer here.
In the spring, using bluegill or crawdad patterns works best when using a chatterbait, jig, or swimbait.
Try fishing the rock bluffs with a jig when the smallies are deep. Natural colors work best, such as green pumpkin, white, or PB&J.
During the fall, spinnerbaits and crankbaits begin to shine as bass follow the bait back to the shallows.
You may catch a mixed bag of bass as well as other species. For example, crappie fishing can be quite good at Norfork.
Table Rock Lake
Table Rock is one of the best lakes in Arkansas for most fish species. So it's no surprise it's home to excellent smallmouth bass fishing.
The water here is very clear, so you'll find smallmouth a little deeper, even during the spawn. Since it's clear, light lines and finesse fishing is the best way to catch smallies.
Electronics are a must to find the best spots that hold suspended smallmouth and the baitfish they feed on.
If you choose to fish shallow, target the docks around the shore. The best docks for smallmouth will be the ones in the deepest water.
Best Smallmouth Bass Rivers & Creeks
While Arkansas lakes are primarily known for largemouth fishing, smallmouth are the king of the rivers and streams.
Big Piney Creek
Whether you're looking to do a little wade or kayak fishing, Big Piney Creek is a favorite for many anglers.
There are public access and recreational areas throughout this stretch of water in northwestern Arkansas, so you won't have difficulty finding a place to fish.
If you're fishing from a kayak or canoe, be prepared to encounter rapids that can cause you to tip.
Visiting during the late spring and early summer means you'll have to share the water with other kayakers, while the late summer means low water levels, so you'll have to drag your kayak across the shallows.
The best fishing spots are below the rapids in deep pools. Moving lures such as small spinners, crankbaits, and jigs are best. If you can slow down and finesse fish, try using a Ned rig with a craw soft plastic.
Buffalo River
Many Arkansas rivers offer scenic views, but the Buffalo River stands out as one of the best places to catch quality smallmouth while standing in one of the most beautiful places in America.
The upper section of the Buffalo River is where you'll find the largest smallmouth bass population in the river.
Fishing the deep pools with current breaks will yield the best results. Some of the most popular lures on the Buffalo are a jig with a soft plastic crawdad trailer, a Rebel Crawdad crankbait, or a Whopper Plopper.
Fly fishing is another popular way to catch smallies here using the Boogle Bug Popper or Murdich Minnow.
Caddo River
If you want to get some good smallmouth bass fishing in while on the family float trip, head to the Caddo River.
The best smallmouth fishing is above DeGray Lake.
Smallies will hide in current breaks and deep holes, waiting for their next meal.
Crawfish and small baitfish are their primary food sources, so using lures closely resembling these critters will be the best option.
You might also hook some spotted bass in the Caddo.
Crooked Creek
Though it only has a few public access points, Crooked Creek is known as one of the best smallmouth waterways in the U.S.
Floating Crooked Creek is the best way to catch smallies; however, log jams and overgrowth come into the equation, so prepare to navigate these obstacles ahead of time.
Minnows and crawdads are the two primary food sources for smallmouth here, so small crankbaits, spinners, and jigs work well to match the local forage.
Fly fishing for bronzebacks is also popular along this stream, which is a tributary of the White River. (The White is famous for trout fishing.)
Eleven Point River
The Eleven Point River is often filled with logs. While this makes navigating it a little more complicated, it creates excellent smallmouth habitat.
You'll primarily catch smaller 1- to 2-pounders, but there's always the possibility of bigger smallies.
Light lines and finesse fishing often prevail because it's primarily a clear-water river. However, when the water is murky, crankbaits and spinners catch the most bronzebacks.
There are places to rent canoes if you don't own one. A kayak or canoe is highly encouraged as there is little public access to the river, which flows into the Spring River a few miles before the latter joins the Black River near the community of Black Rock.
Fourche LaFave River
A lesser-known smallmouth fishery is the Fourche LaFave River. Floating is the only way to access the best smallie holes. However, there are a few access points from which you can bank fish.
Crawfish and minnows are the typical forage here, so matching your lures to these food sources is often best.
It's a small river that makes for a nice day-long float trip with the bonus of smallmouth bass fishing in the Ouachita National Forest west of Little Rock.
Kings River
The Kings River is an Ozark Zone Quality Smallmouth Stream, which means you'll have a chance to land a lunker while floating in this small river in northwestern Arkansas. However, you'll have to obey special regulations because of that designation, too.
Don't bother fishing the fast-moving water; look for current breaks and pools where the bigguns will be hiding.
Crankbaits, spinnerbaits, and jigs work very well to target the bigger smallmouth in the river. Soft plastic minnows are another excellent lure to rotate through while floating.
Little Missouri River
The Little Missouri River is part of Arkansas' Natural and Scenic River system, so you know you'll have stunning views as you land smallmouth.
It's a short 11-mile stretch of river, but well worth floating when searching for a good day of smallie fishing.
If you're willing to fish with live bait, flip over a few rocks in the shallows and catch crawdads, smallmouth's primary food source.
When fishing with lures such as crankbaits and jigs, target the rock piles and deep holes.
Saline River
The Saline River is an Ouachita Zone Quality Smallmouth stream that offers anglers several hours of fishing and floating.
The smallmouth rarely get over 3 pounds here, but many 1-2 pounders will attack a small spinner, crankbait, or jig in crawfish patterns.
Thoroughly fish the deep pools and watch out for the low-head dam; you'll need to portage around it when floating this Western Arkansas stream.
Upper Ouachita River
Big smallmouth are found throughout the Upper Ouachita River. This is a clear water, fast-moving stream with many deep pools.
Fish the current breaks with jigs, crankbaits, spinners, and live bait for the best results.
Minnow and crawfish colors are the best for your lures, while crawdads, minnows, and earthworms are the best live baits.
You'll need a canoe or kayak to access the best smallmouth fishing spots thar are home to 3- and even 4-pounders.
Catch More Bass
Looking for bass with a bigger mouth (and maybe a bigger body)? Check out the best largemouth bass fishing spots in Arkansas.
Still learning the ropes when it comes to landing any of these related bass? Read through our basic guide to bass fishing methods and tips, including lures you should have in your tackle box.