Whether you're looking for elusive lunkers or a solid day of catching lots of largemouth bass fishing in Arkansas, there are many lakes and rivers worth wetting your line in this weekend.
Arkansas regularly has a few lakes on the BASS Top 100 List, and we'll share those with you.
Still, some incredible spots often get overlooked on those national lists, despite producing bass in the double-digit range. We'll show you the best of those as well, focusing on largemouth bass for this article.
Note: Who also doesn't love smallmouth? After you look through the best largemouth bass spots in this article, be sure to also check out our top Arkansas picks for smallmouth bass fishing.
Best Arkansas Largemouth Bass Lakes
Many lakes offer several bank fishing spots, while others require a boat to reach the best bass fishing areas on the lake.
No matter where you are in Arkansas, you're not far from some of the best largemouth bass fishing in the country.
Lake Ouachita
The largest reservoir entirely in Arkansas, Lake Ouachita is known for producing big stripers. While this clear water lake is one of the busiest in Arkansas, you can often find many spots to get away from everyone else, thanks to its immense 40,000-acre size.
Striped bass are the main draw, but you'll find largemouth, smallmouth, and spotted bass in high numbers throughout the lake.
There are plenty of ways to catch bass here, whether you prefer to stick to the shallows or go offshore.
When targeting largemouth, focus on the eastern portion of the lake. The time of year will determine the exact area to fish. However, transition areas are always an excellent place to begin.
The U.S. Army Corps of Engineers maintains the lake, so there is plenty of public access for shore fishing and several boat ramps. However, there is no fishing in the Jim Collins Net Pen area.
Because this lake is so large, I recommend sticking to one section or creek arm to figure out the fish. Otherwise, you'll spend most of your time running from one spot to another instead of fishing.
More: Complete Guide to Lake Ouachita Fishing
Lake Hamilton
Lake Hamilton is the next lake down the Ouachita River, and it's certainly worth testing the waters at this Hot Springs-area reservoir for largemouth bass.
It's a much smaller lake than Lake Ouachita; however, there is still plenty of access to the water via marinas.
Lake Hamilton boasts the most fish per acre of any reservoir in Arkansas, partly due to the nearby Andrew Hulsey Fish Hatchery that keeps the lake well stocked.
The lake's residential docks often hold bass throughout the year, but you'll need a boat to fish them.
Hot Springs, Big Mazam, and Little Mazam creeks are some of the most productive bass fishing areas, with good transitions and brush piles throughout these areas.
During the summer months, Lake Hamilton can get busy. However, fishing early on summer mornings or coming to the lake in the spring or fall often means you can have much of the lake to yourself.
The typical bass lures, such as a jig or soft-plastic worm, work well here. Since it is a clear water fishery, I recommend using natural colors.
More: Complete Guide to Lake Hamilton Fishing
Lake Catherine
The smallest of the three lakes on the Ouachita River is Lake Catherine, but that doesn't mean you shouldn't take advantage of the excellent largemouth bass fishing in one of the many coves and creeks.
Primarily a clear-water lake, it can get a little muddy in the northeast part of the lake, so your lure and color selection will need to change if you fish this portion of Lake Catherine.
You'll find many docks to fish or test the waters around one of the bridges that cross different lake sections.
There are a few public access points to launch a boat from or fish from the bank. One place to start is Lake Catherine State Park.
Bull Shoals Lake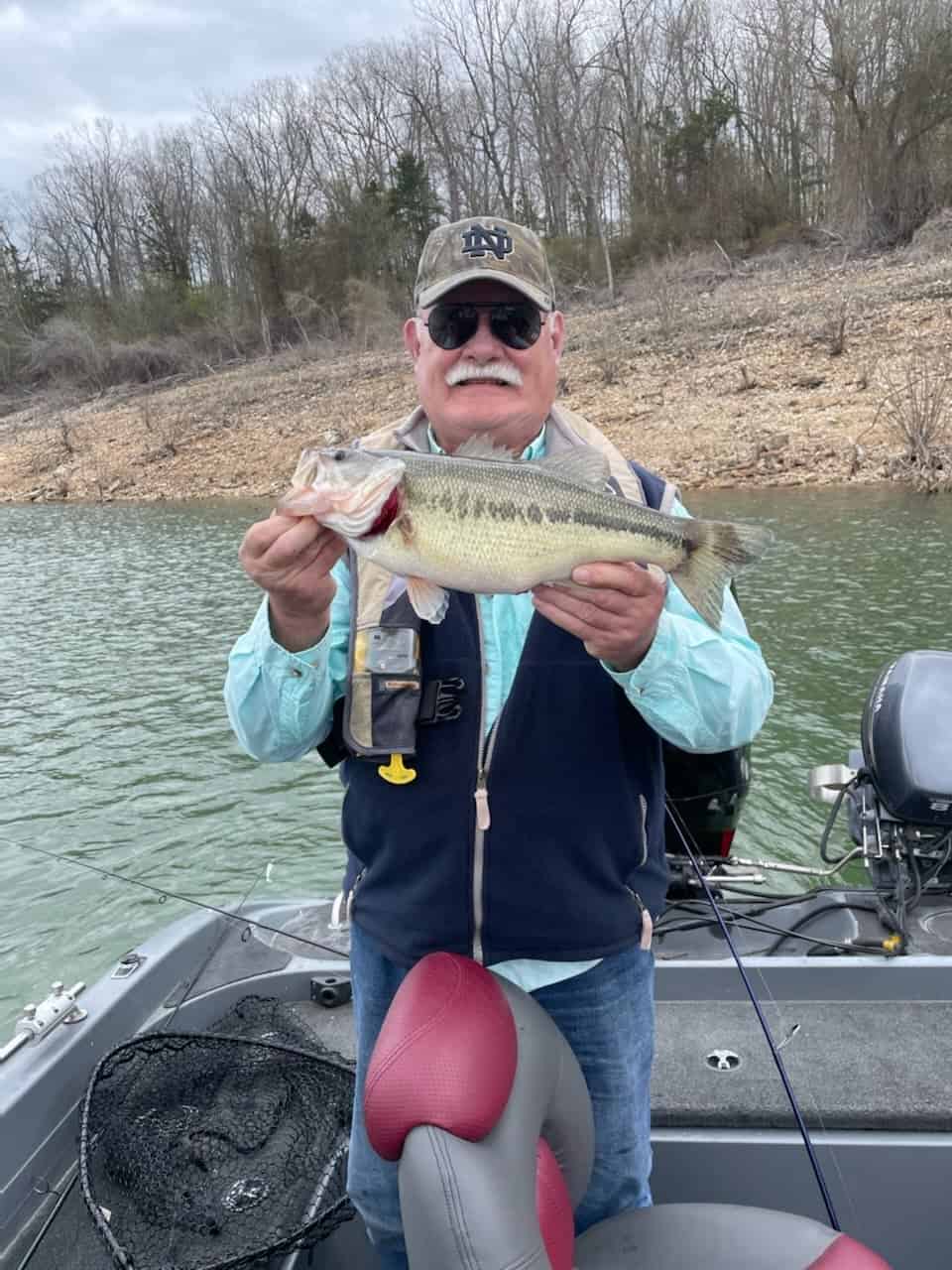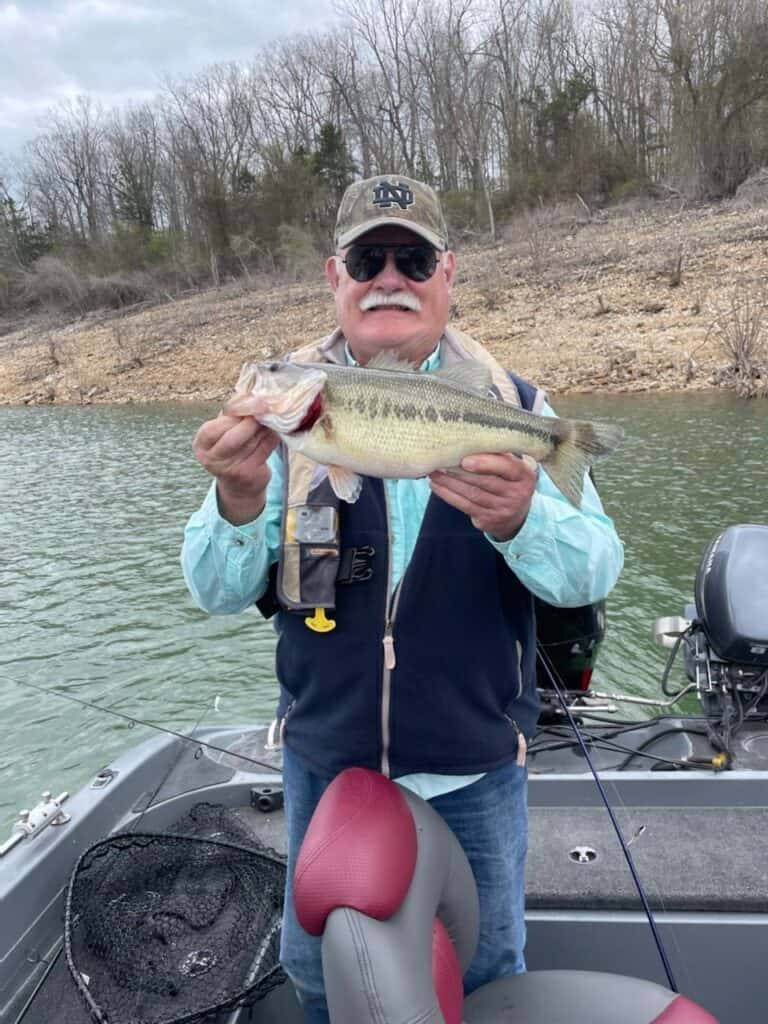 If you're looking to catch a lunker, Bull Shoals Lake has produced largemouth bass of over 12 pounds.
This large 71,240-acre lake is clear and offers anglers plenty of bass fishing opportunities in Arkansas and Missouri.
Bull Shoals is another lake where thoroughly fishing one creek arm, or portion of the lake, is the best tactic due to its enormous size.
Multiple channel swings, points, and islands hold bass all year.
Plastic worms, jigs, crankbaits, and spinnerbaits in natural colors, such as green pumpkin or silver, are the most commonly thrown lures on the lake.
More: Complete Guide to Bull Shoals Lake Fishing
Lake Charles
Whether you're looking for a good kayak fishing lake or a place to catch a bunch of bass, Lake Charles is worth checking out.
This small lake in Northeast Arkansas has a few public areas for bank fishing, including a handicap-accessible dock. You can also launch your boat from one of the boat ramps.
With a few docks, brush piles, and many coves, anglers of all skill levels can have a solid day of catching in this lake.
Lake Charles State Park is a good place to start your day.
Greers Ferry Lake
Greers Ferry Lake is known for its top-notch walleye fishing. But the largemouth bass fishing is another reason to visit this reservoir about an hour and a half north of Little Rock.
You'll do best if you launch a boat; however, there are a few spots to fish from the shore. The spring is the best time to bank fish as the bass tend to search for deeper water as it warms up during the summer.
You'll have your pick with plenty of structure; largies will relate to wood, brush piles, docks, and cliff ledges throughout the year.
This variety of habitats also means having a wide selection of lures will lend itself to finding what catches bass that day.
The lake is generally clear, so natural colors often work best.
More: Complete Guide to Greers Ferry Lake Fishing
Lake Frierson
The Arkansas Game and Fish manage Lake Frierson just north of Jonesboro in northeastern Arkansas.
With lots of shore fishing opportunities, including a handicap-accessible fishing dock, and boat ramps, Lake Frierson offers bass anglers loads of spots to wet a line.
As a small lake, it's not known for lunkers, but you can catch good numbers here.
It tends to turn muddy after heavy rains, so be prepared to have black and blue or chartreuse-colored jigs, spinnerbaits, and bladed jigs.
The lake is within Lake Frierson State Park.
Beaver Lake
Beaver Lake near Bentonville is another mammoth reservoir that has hosted some of the nation's top bass fishing tournaments. This stature means Beaver sees plenty of fishing pressure but is home to big bass.
You should think outside the box with your presentation and lure selection to give these bass something new and tempting to strike; however, there are a few key areas to begin your search for largemouth bass.
Prairie Creek and Monte Ne are prime spots to land big largemouth bass. They have plenty of structure and depth changes and hold fish year-round.
You likely will need a boat to get the most out of bass fishing at Beaver Lake, but there are a few publicly accessible docks and fishing areas for those without a boat to have a shot at a few largemouths.
Because Beaver Lake is so large, it's best to break it into smaller portions and thoroughly fish the area before moving on to the next one.
More: Complete Guide to Beaver Lake Fishing
Lake Monticello
While the lake was drained for levee repairs, the Arkansas Game and Fish Commission has already sprung into action to return Lake Monticello to a trophy fishing lake.
It's likely to take a few years after the initial stocking of Florida-strain largemouth bass in 2023 to see the rewards.
However, keep this one on your list. The city-owned lake north of Monticello is certainly an up-and-comer. Managers strategically placed brush piles and removed invasive species, setting it up for bass to move in.
Target the shallow areas covered with coontail and lily pads with a hollow-body frog or jig.
Because of the restocking, there are special fishing regulations in place at this writing, so check before you head out.
Norfork Lake
You'll find largemouth, smallmouth, and spotted bass in Norfork Lake, located on the Missouri border just east of Bull Shoals Lake.
Norfork is known for deep water, so you'll need to adjust your approach significantly if you're a shallow-water angler.
Rocks are the primary source of structure on Norfork Lake, as there is very little vegetation in the lake.
Deep-diving crankbaits, spinnerbaits, jigs, spoons, and drop-shotting are the most effective lures and techniques to get your lure in front of the deeper fish.
Norfork Lake also is among the best striper fishing lakes anywhere in Arkansas.
More: Complete Guide to Norfork Lake Fishing
Lake Maumelle
Not known for producing giants, Lake Maumelle does, however, produce a lot of 2-3 pounders just down the road from Little Rock.
A few essential lures are white spinnerbaits, chatterbaits, jigs, and hollow-body frogs.
The north shore has abundant aquatic vegetation where bass like hanging out.
Two locations offer boaters access to the water. However, many unique fishing and boating regulations exist, so read up on the Lake Maumelle regulations.
Millwood Lake
Southwest Arkansas' Millwood Lake is shallow, with many stumps, cypress trees, and even gators.
Braving these waters is well worth it for the chance of landing a double-digit largemouth.
You can use a wide variety of lures, depending on the season. Jigs, buzzbaits, spinnerbaits, and crankbaits work well here.
The best colors are black and blue, white and chartreuse, and red and orange, as the water isn't always clear.
You'll definitely need a boat to fish here, but look out for the stumps that are eager to rip the lower unit from your motor.
Lake Dardanelle
Another top bass fishing tournament location is Lake Dardanelle, an impoundment on the Arkansas River on the western side of the state.
You'll catch largemouth around bridges, rip-rap, and lily pads in this lake, which also means you can use various lures to catch largies.
Crankbaits around the bridges and rip-rap areas work well, while jigs and soft plastic frogs work well in the grass. Chatterbaits will get the job done in both types of places.
The time of year will determine the best place to fish. During the spring, look for shallow flats near a transition area. As summer sets in, head to the deeper holes, then fish the transition areas for fall.
There are a few places to fish from the shore or a dock; however, you'll need a boat for the best opportunity to land a biggun'.
Lake Dardanelle also made our list for having some of the best crappie fishing in Arkansas.
DeGray Lake
DeGray Lake offers bass anglers to catch smallmouth, spotted, and largemouth bass. However, largemouth and spotted bass are the primary species to target on this Caddo River reservoir.
You'll find that many anglers overlook DeGray because there are other excellent bass fisheries nearby.
This lake, a little over an hour southwest of Little Rock, has a good mix of shoreline cover to fish in the spring and early summer and drop-offs to fish in late summer and winter.
Crankbaits, jigs, spinnerbaits, and soft plastics will be the ticket to catching largemouth in this fairly clear lake.
Lake Chicot
Lake Chicot is a 20-mile-long oxbow lake on the Mississippi River in southeastern Arkansas. The lake has a boat ramp, a public dock, and a state park.
Florida-strain largemouth bass are stocked here, so you'll have a chance to land some lunkers.
Jigs, spinnerbaits, crankbaits, and soft plastics will be the go-to lures around the lake's edge in the stumps.
If you get tired of catching bass, you can also target catfish, crappie, and white bass.
Lake Dunn
If you want a good chance of landing a trophy-sized largemouth, Lake Dunn in Village Creek State Park is the place to visit. It's a small lake that's home to Florida-strain largemouth.
This lake has steep sides, a mud bottom, some rip-rap, brush piles, and standing timber, so you'll have your choice of lures to use. I'd definitely have a jig tied on, though.
There is a boat ramp; however, only trolling motors are allowed on the lake due to its small size.
Lake Austell
Lake Austell is another trophy bass lake in Village Creek State Park in eastern Arkansas.
It fishes very similarly to nearby Lake Dunn for Florida-strain largemouth. Both lakes offer excellent kayak fishing, as they only allow trolling motors.
Be prepared for very big bass, potentially in double-digit territory; anglers have caught plenty of 8-pound-plus bass here.
A crankbait worked along the rip-rap dam or a jig just about anywhere can trigger a bite.
White Oak Lake
White Oak Lake, located east of Hope and Prescott, is divided into two sections, Lower White Oak and Upper White Oak.
White Oak is filled with aquatic vegetation, stumps, and brush piles. It also is a relatively shallow lake, making it ideal for the Florida-strain bass stocked over the years.
Lower White Oak offers the best bass fishing, as the AGFC has managed the lake incredibly well by installing gravel beds and numerous brush piles during a 2012 lake drawdown that are paying dividends more than a decade later.
During early spring, a jerkbait can be deadly for those big largies, while a jig, hollow-body frog, and soft plastics work well at other times of the year.
Lake Columbia
Previously named one of Bassmaster's Top 100 lakes in the country, Lake Columbia is known for big bass.
This Southwest Arkansas hot spot didn't reach that status by producing a ton of double-digit fish, but it does have plenty of 5-plus-pounders, despite being a relatively small lake at 3,000 acres.
Swimbaits, jigs, spinnerbaits, and chatterbaits are some of the top-producing lures at Lake Columbia.
The lake has multiple boat ramps and fishing docks for all anglers to enjoy.
I would start by targeting one of the bridges that cross the lake and then head to a shallow area during the spring. Then, switch up and fish one of the main lake points in summer and early fall.
Best Arkansas Largemouth Bass Rivers
Sometimes the lakes just don't do it, and it's best to head to the river for some bass fishing.
While Arkansas rivers are especially known for their incredible smallmouth bass fishing, largemouth bass will definitely get in on the action in a the following big rivers.
Successfully fishing a river for largemouth bass often involves finding the current breaks where the baitfish and bass hang out.
Here are three excellent Arkansas bass fishing rivers.
Arkansas River
Parts of the Arkansas River are often muddy. That means lure selection is limited, but that's not a bad thing for river fishing.
Jigs and Texas-rigged soft plastics are often the best choices. When the water is muddy, use black and blue or purple colors. Use more natural colors like a white or green pumpkin when the water is running clearer.
Fishing current breaks such as channel swings and laydowns is best because bass use these areas to conserve energy and ambush their prey.
Ouachita River
While the Ouachita River boasts excellent trout fishing in its tailwaters and lots of smallmouth bass in parts, largemouth bass fishing shouldn't be overlooked so quickly. Remember, we had Ouachita River reservoirs on the list with excellent largemouth fishing, and those trophies are free to swim upriver.
This is a much clearer river than the Arkansas River, so while the lure selection might be similar, the color selection should vary slightly.
White and green pumpkin should are the go-to colors for your lures.
Fishing above Lake Ouachita will be the best bet for largemouth fishing as the waters released below the dams of the lakes remain much colder.
Finding current breaks and backwaters is still the key to catching bass on the river.
Felsenthal National Wildlife Refuge
The Ouachita River also runs through Felsenthal, and so does the Saline River.
This preserve was designated for its prime habitat for waterfowl and other migratory species, but at the same time, its rivers and sloughs provide excellent largemouth bass fishing.
Because it is a National Wildlife Refuge, there are special regulations anglers must obey, so be sure to check the refuge website before fishing here.
Catch More Bass
Are you still getting the hang of bass fishing? Check out our simple guide to many of the favorite techniques and other tips that will catch America's favorite game fish.