The Natural State boasts beautiful views from top to bottom.
And you can see many of these spectacular landscapes while pulling in panfish from Arkansas's best crappie fishing lakes, which we'll share with you in this article along with some tips to catch more of these delicious panfish.
At one time or another, Arkansas has had six lakes among the top 50 crappie lakes in the U.S. Considering it's not a large state, that's an incredible showing and a big draw for many anglers.
As you continue reading, you'll find those six lakes and many others that will give you plenty of fun while catching some slabs for dinner.
Let's get started!
Top Crappie Spots in Arkansas
No matter where you are in Arkansas, chances are you're a short drive from incredible crappie fishing.
Below are the state's best lakes to wet a line for these tasty fish.
Lake Dardanelle
Lake Dardanelle is a 34,300-acre lake located in the northwestern portion of Arkansas.
You'll find both species of crappie in the Arkansas River reservoir, accessible by boat via public boat ramps or along the 315 miles of shoreline near I-40.
You'll find nearly every type of crappie habitat available, which is good and bad. It means the crappie have plenty of places to live … and hide.
One of the best places to begin your search for crappie is Spadra Creek. It has plenty of depth changes and other types of crappie habitat to keep the fish happy and healthy.
Shoal Bay is another crappie hotspot on the lake where many anglers find success using the typical crappie lures and baits such as small jigs and minnows.
Nimrod Lake
The oldest Arkansas lake created by the U.S. Corps of Engineers is Lake Nimrod, a 3,550-acre reservoir located about an hour and a half west of Little Rock.
Nimrod is known for producing "SLAB" crappie. I capitalized that on purpose.
While catching big crappie is fun, it also means these fish are more intelligent and a little more pressured than smaller crappie in other lakes, so they'll be harder to catch.
When choosing your lures and baits, you'll need to think slightly out of the box without appearing too unnatural.
The lakeshore is open to the public, but some areas are challenging to walk and bank fish. Luckily, there are several boat ramps around the lake, and fishing from a boat is the best option here.
If you decide to fish from a boat, check out the Arkansas Game & Fish Nimrod lake map to locate marked brush piles where crappie tend to hang out.
Lake Greeson
Located north of Murfreesboro in western Arkansas, Lake Greeson is a crappie fisherman's paradise. You can expect to catch lots of crappie of quality size with several slabs mixed into the stringer.
This 9,500-acre lake has over 75 miles of shoreline of rock bluffs and forest accessible by several public use areas.
The best fishing takes place in the spring during the spawn because there are many coves for the crappie to find shallow submerged structures.
For the rest of the year, the best option is to have a boat with sonar and GPS to locate brush piles in deeper water that crappie frequent.
Lake Hamilton
Lake Hamilton is a 7,200-acre lake near Hot Springs known for solid crappie fishing.
However, it receives a lot of pressure because they claim it has more fish per acre than any other lake in the state.
The key during the spring is to find docks with brush piles in shallow water.
If you're a bank angler, there are handicapped-accessible public fishing docks you can use.
Your best bet during the rest of the year will be to bring or rent a boat and hit the deeper brush piles and docks.
More: Complete Guide to Lake Hamilton Fishing
Lake Dunn
Located in Northeast Arkansas's Village Creek State Park, Dunn is a small 80-acre lake known for its bass fishing.
However, anglers might overlook crappie fishing here. And while you're not likely to catch trophy-sized crappie, you will likely bring home a stringer full of eaters.
Due to the lake's small size, crappie are easy to find, especially in the spring.
The wooded coves on the north end of Dunn Lake are where the spawn most often begins in April.
You can only use a trolling motor to get around the lake, or it's a perfect kayak-fishing lake.
Due to the lower crappie fishing pressure, keep your approach simple, using jigs, minnows, or spinners.
Lake Austell
Austell Lake is another smaller lake located in the same state park as Lake Dunn mentioned above, and it offers anglers another excellent crappie fishing option.
Austell was created to be a trophy bass fishing lake, and it has become just that, producing a 15-pound, 12-ounce bass in the 1980s.
So you might notice several anglers on the water, but they'll likely be fishing for bass instead of crappie.
This means you'll likely be able to keep your approach simple.
Because it's only 55 acres, you can only use a trolling motor to propel your boat or kayak.
Having a kayak or other small watercraft will give you better access because the heavily forested terrain isn't always fishing-friendly.
Beaver Lake
Located in northwest Arkansas, Beaver Lake is known for producing monster striped bass. This large 30,000-acre lake has 480 miles of shoreline where crappie spawn every year.
There are several public fishing areas for bank anglers, but you'll need a boat to most effectively fish the lake. Rental boats are available if you don't bring one.
Because this lake is so large, I recommend breaking it down into sections, specifically creek arms.
During the spring, start shallow around structures such as logs, brush piles, and rock piles.
The rest of the year, move further off the shore to find brush piles in 15-30 feet of water.
Beaver Lake is often clear, so keeping your lure colors natural is often the best choice.
More: Complete Guide to Beaver Lake Fishing
Bull Shoals Lake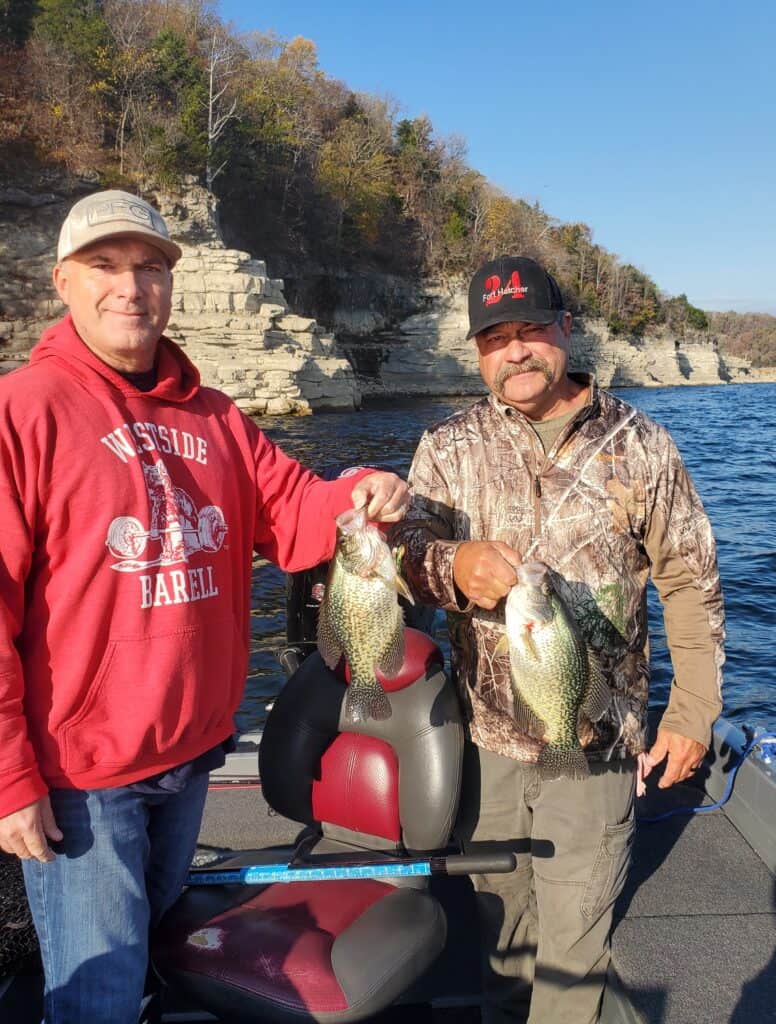 Bull Shoals Lake is the largest lake in Arkansas at 94,000 acres and 1,050 miles of shoreline. However, it's partly shared with Missouri.
Big bass typically bring anglers to the lake; however, crappie fishing is another big draw.
Bull Shoals is also a clear-water lake, so using lighter line and natural colors is a must.
You'll notice cliff banks and rock ledges around the lake that make bank fishing difficult, so a boat brings a definite advantage.
However, there are public access areas with fishing docks and water accessibility, so bank fishing is an option here.
Crappie anglers here may land a mixed bag that can include several species of bass (including some nice smallmouths) and walleye.
More: Complete Guide to Bull Shoals Lake Fishing
Blue Mountain Lake
Located in western Arkansas, Blue Mountain Reservoir is a 2,900-acre lake with 50 miles of shoreline.
Three public boat ramps allow boat anglers access to the lake, but there is no marina to rent a boat from, so you must bring your boat or kayak.
Minnows and jigs are the two most popular baits and lures used here.
During the spring, the lake typically floods due to heavy rains, and you can often find crappie along the bank near flooded trees.
The lake will turn dirty during these floods, so bright colors are often the ticket to catching fish.
Farther off the shore, many submerged fish attractors (marked on this AGFC lake map) are worth checking out the rest of the year if you own a boat.
DeGray Lake
DeGray Lake, a little over an hour out I-30 southwest of Little Rock, is a 13,800-acre lake with over 200 miles of shoreline and several boat ramps.
February, March, and April are the best months to fish for crappie in the upper end of DeGray Lake, especially in the Brushy Creek area at the western end of the reservoir.
There are many visible structures to fish on DeGray Lake, such as standing timber. That said, there are also lots of channels, humps, and brush piles under the water that often hold crappie.
Jigs, spoons, and minnows are the most popular lures and bait for crappie fishing at DeGray Lake.
I recommend fishing from a boat to access the best spots, but during the late winter and early spring, you'll have plenty of opportunities to catch them from the bank as crappies move to shallow water.
Greers Ferry Lake
The best crappie fishing on this north-central Arkansas lake is in the spring during the spawn because it allows bank anglers access to fish that typically aren't near the shore.
Greers Ferry Lake has up to 32,000 acres of surface water and 340 miles of shoreline, with plenty of access to fish.
Because spring is the best time to crappie fish at Greers Ferry Reservoir, you'll encounter many other anglers.
During the summer, start your search from 12'-30' deep around brush piles, as crappie will school in deeper water at this time.
Jigs and minnows are the best lures and bait to use at this reservoir, which is about an hour and a half north of Little Rock.
Sometimes fishing those deeper areas with minnows might also result in hooking another of Greers Ferry Lake's tasty fish, as this reservoir is among the best walleye fishing lakes in Arkansas.
More: Complete Guide to Greers Ferry Lake Fishing
Lake Chicot
Lake Chicot is a 5,300-acre oxbow lake in southeastern Arkansas, just off the Mississippi River.
There are several boat ramps giving anglers access to the entire lake.
You should expect solid crappie fishing on most days using minnows and jigs, especially if you find the brush throughout the horseshoe-shaped lake.
You can only keep crappie larger than 10 inches at Lake Chicot and no more than 20 per angler.
If you fill that stringer, maybe it's time to try to catch some of the biggest catfish in Arkansas.
Lake Jack Lee (Grand Marais)
Located in the Felsenthal National Wildlife Refuge in Southern Arkansas, Jack Lee is a 15,000-acre lake with standing green timber and cypress trees where crappie gather during the spawn.
Fishing the brushy edges during March and April yields the best results.
If you're a beginner, I don't recommend fishing Jack Lee because the tight quarters make it difficult to cast without landing your lure in a tree.
You can launch your boat from one of the public boat ramps to reach the best spots.
Trolling slowly for crappie using small crankbaits or inline spinners is excellent for fishing the open water here.
Lake Maumelle
Lake Maumelle in central Arkansas is an 8,900-acre lake with 70 miles of shoreline and multiple boat ramps a quick drive out Cantrell Road from Little Rock.
You must follow several special regulations when boating and fishing here, so be sure you're up-to-date.
At last check, anglers must fish from a boat or the designated bank fishing areas. Fishing from the road, bridges, and docks is not allowed.
There is little organic structure in the lake; however, AGFC has provided lots of artificial brush piles and marked the locations to give crappie something to hang around. See their fishing map for details.
Millwood Lake
Located in southwestern Arkansas west of Hope, Millwood Lake is a 30,000-acre lake with 60 miles of shoreline, offering several boat ramps and public access areas.
However, due to the thick forest, don't expect to do a lot of fishing from the bank outside of the campgrounds and public access areas.
The early season spawn is the best time to catch crappie on jigs near cypress stumps.
As the grasses begin to take hold, crappie will hang out under the safety of the grass near stumps and brush piles.
They'll also head out to the river channel and spend most of their time around 18-35 feet deep.
Chartreuse and black or purple and white are two of Millwood Lake's best jig color combinations.
Lake Ouachita
Lake Ouachita near Hot Springs is the largest lake entirely in Arkansas at 40,000 surface acres.
The key to crappie fishing at Lake Ouachita is locating brush piles. If you find the brush piles, you'll likely find the crappie.
Fishing from the bank here is difficult except at the public access areas, but if you have a boat during the spring, you can find a ton of places around one of the numerous islands where the crappie will spawn.
Because it's such a large lake, I recommend breaking it into smaller sections and focusing on the creeks in your chosen area.
The water is crystal clear, so you will be more successful if you are stealthy and use natural colors on light line.
More: Complete Guide to Fishing Lake Ouachita
White Oak Lake
White Oak Lake is known for producing big fish, despite being a relatively small lake, located east of Hope.
Public boat ramps are on both ends of the lake and White Oak Lake State Park, where you can camp and fish on the pier.
Upper Jack's Landing also has a fishing pier.
As usual, spring is a good time to catch crappie here; however, fall is another excellent time many anglers overlook.
The lake has dense stands of stumps and some bald cypress trees that crappie will gather around in the shallows.
Norfork Lake
Norfork Lake, in northern Arkansas east of Bull Shoals, also has some northern parts that reach north across the state line (where it's also on our statewide list of best crappie fishing lakes in Missouri).
The land surrounding the 22,000-acre lake is all public, so bank anglers has lots of opportunities to fish.
Crappie fishing is best when fewer anglers are on the water from October-April. In the late winter to spring, expect more crappie to move into shallow brush piles and other near-shore structure.
Don't be surprised if you catch big crappie in this clear-water lake; it's known for producing big ol' slabs.
Below the reservoir, the short section of the Norfork River leading to the White River is among the best trout fishing streams in Arkansas.
More: Complete Guide to Fishing at Norfork Lake
How To Catch Crappie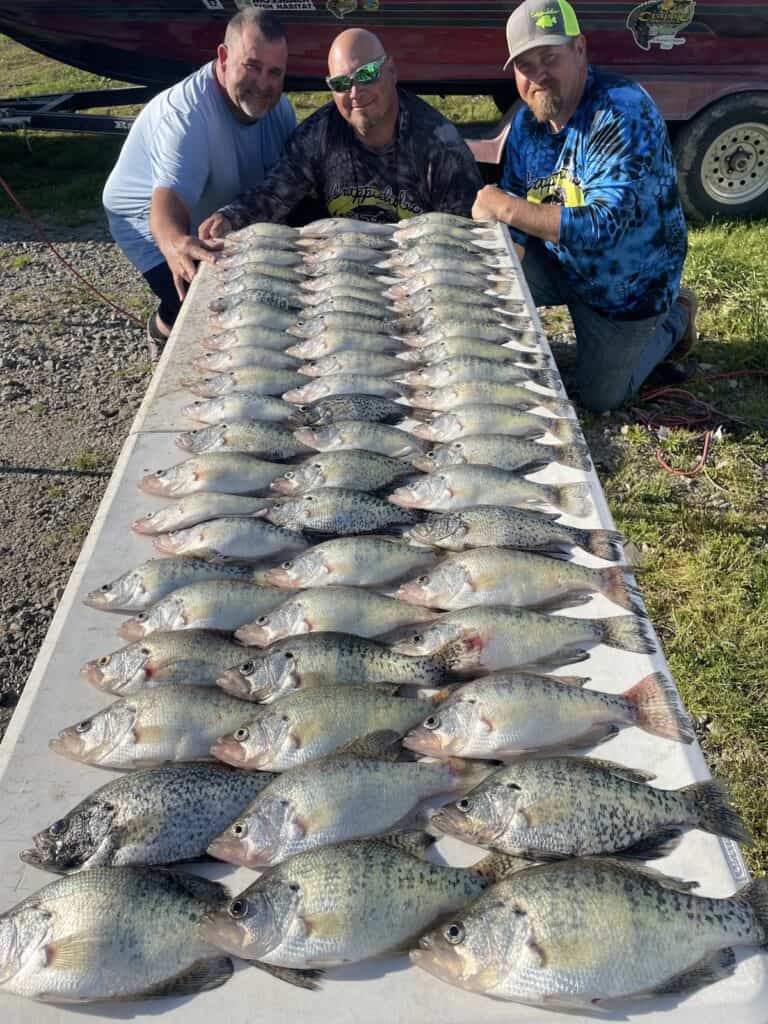 Compared to fishing for other species, crappie fishing rarely requires much sophistication. This is one reason why I enjoy catching them so much!
The gear you need is relatively inexpensive, and finding crappie typically takes little work.
Crappie Fishing Gear
I prefer an ultralight fishing rod and reel setup because crappie are known for barely biting. So having a sensitive rod ensures you can feel even the slightest bump.
Crappie Lures & Bait
While I've caught crappie on crankbaits and spinnerbaits, the best crappie lure remains the crappie jig.
I try to keep the jig's color as natural as possible in clear water. However, fishing in dirty water, I will use bright or dark colors that don't look as natural but stand out.
I use live minnows if I know the bite will be challenging and I want to bring home a mess of fish to eat.
Minnows are one of their natural food sources, so why try to trick them with something fake if you can use the real thing?
How to Find Crappie
Where to find crappie will depend on the conditions and time of year.
During the early spring, crappie spawn and are often found near the bank in 5 feet or less of water in tight to structure, whether a rock pile, brush pile, or under a shallow dock.
During the rest of the year, crappie move out to hang around structures in deeper water.
However, on some days, you still find them shallow throughout the year when they're not spawning. This is especially true in the early morning and evenings when they often move shallower to hunt.
When to Catch Crappie
The best time of year to go crappie fishing is during the spring unless you prefer to fish away from other anglers.
Anglers catch crappie throughout the year; however, the most challenging time to catch them is the summer heat when they typically stay deep and are less willing to bite.
It surprises some anglers that you can catch a lot of crappie shallow during the winter. The biggest problem is that you'll need a boat because, unlike during the spring, crappie tend to roam a bit more in the winter.
Whether you're a fair-weather angler or willing to bundle up and brave the elements, crappie fishing is a great way to spend a day on the lake.
Catch More Crappie
See our full guide to crappie fishing techniques and other tips, including top lures and baits.
Crappie Identification
Arkansas is home to both black and white crappie.
If both types are in the lake you are fishing, you'll likely catch both species, even though they differ slightly in water condition preferences.
They have identical diets and will live in similar areas so that you can catch both species on the same outing.
Once you learn the primary identifying tips below, you won't have trouble telling the two species apart when you catch them side-by-side.
Black Crappie
Black crappie are darker than white crappie in general. They have irregular dark spots and blotches all over their body.
Black crappie have a more rounded body and seven to eight dorsal spines (the fin on their back).
Black crappie prefer clear water with lots of cover or vegetation to hide amongst.
White Crappie
White crappie are paler than black crappie, with darker vertical bars instead of spots.
Their body is a bit longer and they have five to six dorsal spines. White crappie are more likely than their cousins to be found in dirtier water and suspended in the open, away from cover or structure.